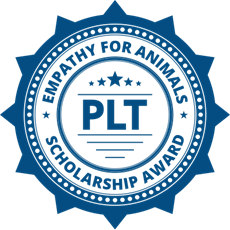 We're thrilled to announce that our committee has selected a recipient for the 2017-2018 EFA Veterinary Scholarship Award for the amount of $500. We received many highly qualified applicants and impressive essays, but our committee has recognized one applicant who stood out due to her passion for animal advocacy, community service, and ability to overcome obstacles in pursuit of her goals. Jenna Balk will receive $500 to put toward her education.
In addition to financial need, Jenna was selected because she has demonstrated academic distinction in animal sciences studies at an accredited undergraduate program in the United States. We were impressed by Jenna's extracurricular community experience and her passion for animal advocacy.
Jenna Balk
School: University of Maryland, College Park
Expected graduation date: May 2020
Major: Animal Science Pre-Professional
The scholarship is open to undergraduate students in good academic standing, with extracurricular community experience or demonstrated passion for animal advocacy and an interest in working to fight animal cruelty.
One of our goals is to raise awareness of animal cruelty in society and promote the public understanding of research that supports animal empathy and compassion. The EFA Scholarship is one way we can advance this mission, while also helping the next generation of animal advocates and future veterinary professionals reach their academic goals.
If you're eligible, apply next year. We look forward to receiving more highly qualified and remarkable applicants.