Feeding wild birds in your garden is an extremely satisfying endeavor but often you don't get a close look at your feathered friends. With window bird feeders, you simply attach them to a window in your home, giving you a VIP seat to watch the birds that eat from them. Some nervous birds may be reluctant to feed from a window bird feeder at first, but if you watch quietly, they should get brave enough to come closer.
We reviewed dozens of window bird feeders to identify the best of the best. To find our favorites, we compared a range of factors, including feeder type, size, capacity, and average customer ratings.
After careful consideration, we chose the Nature's Hangout Window Bird Feeder as the best option overall. It has excellent customer reviews, good drainage, and stays in place well.
The 5 Top-Rated Window Bird Feeders
*Ratings are from Amazon at the time of publication and can change
Best Window Bird Feeder Overall: Nature's Hangout Window Bird Feeder
Measuring around 12 inches long, Nature's Hangout Window Bird Feeder is large enough to feed several birds at once. The three strong suction keeps keep it securely in place, plus you'll receive three extra suction cups should you run into any issues or in case the originals wear out over time. The seed tray is completely removable, making both cleaning and refilling a breeze, plus it has adequate drainage to avoid seeds going moldy. Thanks to the rubber edging on the lip of the seed tray, birds can perch comfortably.
The whole feeder is made from high transparency acrylic, so you can see inside clearly to get the best possible view of the birds you're feeding. The top cover helps keep seeds and birds dry so that it's suitable for all-weather use. Considering its size and quality, the $26 price tag is extremely reasonable.
Nature's Hangout Window Bird Feeder Key Features: 
Good seed capacity so you won't need to refill as often
Highly durable and suited to use in all weather conditions
High transparency acrylic means your views isn't hazy or distorted
Best Window Hummingbird Feeder: Aspects Jewel Box Window Hummingbird Feeder
Hummingbirds are some of the most incredible birds to watch, and the Aspects Jewel Box Window Hummingbird Feeder could allow you to see them even closer. This feeder attaches to any glass window via suction cups and has three feeding ports on the opposite side. Simply fill the eight ounce reservoir with hummingbird nectar and watch these beautiful little birds flock to your window.
The lid and drinking ports are colored red to help attract hummingbirds but it may still take a little while before all your local hummingbirds are brave enough to come right up to your window. Once they do, however, you'll have the best view in the house. It's drip and leak proof, and the raised flowers around the drinking ports help divert rain so it won't dilute or contaminate the nectar. Retailing at just $23, we think this feeder offers great value considering the joy you'll get from it.
Aspects Jewel Box Window Hummingbird Feeder Key Features: 
Ant moat helps to stop ants and other crawling insects from reaching the nectar
Perch for tired hummingbirds to rest on
Made in the USA from high quality materials
Best Budget Window Bird Feeder: Wild Birds of Joy Window Bird Feeder
If you're looking for a window feeder that's affordable without scrimping on quality, try the Wild Birds of Joy Window Bird Feeder. At approximately 6 inches long, you're unlikely to attract more than a few small birds at a time but sometimes you have to appreciate quality over quantity. At less than $15, you won't find a better constructed or more durable window bird feeder at such an affordable price.
The feeder is covered to keep the worst of any rainfall away from the seeds, but the seed tray does features four drainage holes to get rid of any water that manages to gather there. The acrylic is crystal clear to give you the best possible view of the birds that come to your feeder.
Wild Birds of Joy Window Bird Feeder Key Features: 
Rugged design made from heavy duty acrylic
One year satisfaction guarantee with a full refund if you aren't happy
Held in place by two strong suction cups
Best Suction Cup Window Bird Feeder: Nature Gear Pure View Hanging Window Bird Feeder
The Nature Gear Pure View Hanging Window Bird Feeder has a hanging design that's quite different to most other window bird feeders. It eliminates any acrylic between your window and the seed tray so you get a completely clear view of any birds at your feeder with no haziness or distortion of any kind. In addition to the large, well-drained seed tray, there's an integrated water tray to help keep your neighborhood birds hydrated.
The hanging design is not only great for giving you a clear view, it also make refilling the seed tray a breeze. What's more, the extended roof aids in keeping out the elements, so seed stays drier and birds have a sheltered spot to eat in wet weather. Costing less than $22, this feeder offers exceptional value for money.
Nature Gear Pure View Hanging Window Bird Feeder Key Features: 
Large seed tray measures approximately 12 inches long
Three strong suction cups hold it in place
Hanging design gives you a completely clear view
Best Squirrel Proof Window Bird Feeder: Nature Gear Window Bird Feeder
Some people are more than happy to feed squirrels alongside birds, but if you want to keep these furry critters at bay, opt for a squirrel proof feeder, such as the Nature Gear Window Bird Feeder. Squirrels are determined creatures so even "squirrel proof" bird feeders are generally no more than squirrel resistant (a few clever squirrels may still figure out how eat from your squirrel proof feeder).
It's really the positioning more than anything else that helps this feeder keep squirrels at bay. If you stick it fairly high up on a window so squirrels can't climb in from the window ledge, they won't be able to get a purchase on the glass and therefore won't be able to get in. It's also a good idea to position it away from any trees and bushes that a squirrel could jump from into the feeder. All in all, this is a compact yet durable window feeder that will help you attract plenty of birds while baffling most squirrels. It costs $25, which is around an average price for a quality window bird feeder.
Nature Gear Window Bird Feeder Key Features: 
Cut-out in the rear for clearer viewing
Removable seed tray is easy to fill and clean
Sticks in place with three industrial strength suction cups
Who Should Buy a Window Bird Feeder
If you love birds, a window bird feeder is a perfect product. Not only will you be helping your local bird population by providing bird seed for sustenance, you'll also be giving yourself an excellent view of your backyard birds as they eat. Window bird feeders also make excellent gifts for anyone interested in birds and wildlife.
Important Features to Consider
A window bird feeder should have a few important features. Here's what to consider when selecting a window bird feeder:
Feeder type. The majority of window bird feeders are standard seed feeders with a tray for seeds or nuts. However, you can also find window hummingbird feeders, which are very different, with reservoirs that you can fill with hummingbird nectar. There are also a handful of window suet ball feeders on the market, which can help birds get through the harshest winter months.
Size. Consider the overall dimensions of your chosen feeder. Most seed feeders measure between 6 and 12 inches across the length of the seed tray, but hummingbird feeders are often smaller. If buying a large seed feeder, check it will fit your window.
Capacity. Some window bird feeders list either their seed or nectar capacities in ounces, which gives you a good idea of how often you'll need to refill them.
Clarity. Many window feeders are made from clear acrylic but their clarity varies. Look out for one made from crystal clear acrylic, or with a hanging or cut-out design for improved clarity.
Fixtures. Window bird feeders generally attach to windows using suction cups. This is great if the suction cups work well, but some cheap feeders have poor quality suction cups that don't adhere well, causing them to fall off or slide down your window.
Frequently Asked Questions
Are window feeders safe for birds?
Yes, window feeders are safe for birds. In fact, birds are less likely to collide with a window when a feeder is close to a window (or stuck right to it) than when a feeder is between 15 to 30 feet from a window. Birds will spot the feeder and fly to it, slowing down and landing on it when they approach it, preventing them from simply flying into the window at full speed.
How do you hang a bird feeder in a window?
Window bird feeders are almost universally fitted with suction cups. However, if you want to hang a standard feeder near a window, you can buy suction cup hooks that you attach to the window then hang the feeder on.
Should bird feeders be in the sun or shade?
Birds tend to prefer to feed in the sun, so we'd recommend positioning a window seed feeder in a sunny spot. However, hummingbird feeders are best positioned in the shade as too much sun can make hummingbird nectar spoil more quickly.
How do you squirrel proof a window bird feeder?
The best way to squirrel proof a window bird feeder is to simply position it around halfway up a window, so squirrels can't climb up to the feeder from the window ledge or clamber down from the top. Glass is incredibly smooth, making it basically impossible for squirrels to climb due to a lack of grip. Also make sure there are no large shrubs or overhanging branches nearby that a squirrel could climb up then jump from to get into the feeder.
Other Window Bird Feeders We Reviewed
We looked at 20 other window bird feeders. Even though they didn't make our 5 best window bird feeders list, they're the best of the rest and each is still a great option for the wild birds in your area. The information you'll need to compare each one is included with the listing.
Suction Cup Window Bird Feeders
AmazonBasics Window Suction Bird Feeder
This simple yet durable window feeder features three strong suction cups and is well-sized at 12 inches long.
Key Features: 
Comfortable perch
Drainage holes
Made from 100% clear acrylic
Cost: $17
This feeder is more like a standard feeder that attaches to windows than a true window feeder and, as such, you don't get such a good view of visiting birds.
Key Features:
Compact size
Built-in perch
Can be filled with mixed seed or sunflower hearts
Cost: $17
The solid metal roof frame makes it more attractive than most window feeders, while the clear back gives you a good view of feeding birds.
Key Features:
Two separate seed trays
 Hook-hanging option
Drainage holes in seed trays
Cost: $21
LANSCOERY Clear Acrylic Window Bird Feeders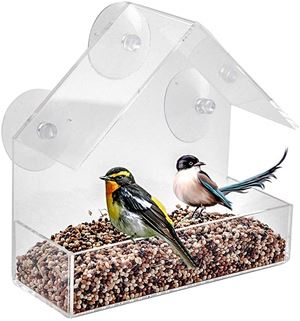 You can choose between four window feeder options within this listing, depending on what size and other design features you're looking for.
Key Features: 
Small and large options
Well drained
Strong suction cups
Cost: $17 to $30
Nature Anywhere Window Bird Feeder
With two separate seed compartments, you can offer different foods to attract various birds. Each slides out individually for easy filling and cleaning.
Key Features: 
Strong acrylic construction
Large viewing window
Strong suction cups
Cost: $25
Nature Gear Crystal View Window Bird Feeder
The suction cups on this feeder are positioned to either side, leaving the back completely open for optimal viewing without haze or condensation build-up.
Key Features: 
Sliding seed trays
Extended roof
Four suction cups
Cost: $20
Perky Pet Birdscapes Clear Window Feeder
A compact choice that holds up to a cup of seed. It's a bit more enclosed than some similar models, which not all bird like. However, some buyers report birds have used it as a house to nest in.
Key Features: 
Shatterproof
Large viewing window
Easy to refill
Cost: $10
Roamwild Beautiful Arch Window Wild Bird Feeder
This window bird feeder is different from most, the upside being that it has a huge seed capacity so you won't need to refill it as often, the downside being that it can only really accommodate two small birds at a time.
Key Features: 
Strong suction cups
Holds up to four pounds of seed
Stays put in all weather conditions
Cost: $30
Wild Birds of Joy Window Bird Feeder
A larger version of our best budget pick measuring around 12 inches long and sporting four super strong suction cups to keep it in place for longer.
Key Features: 
Sliding tray
Extra-large viewing window
Strong construction
Squirrel Proof Window Bird Feeders
Gray Bunny Deluxe Clear Window Bird Feeder
Attached to a high window, this feeder will keep all but the most determined and acrobatic of squirrels at bay.
Key Features: 
Sectioned seed tray
Wide, comfortable perch
Large capacity
Cost: $20
Thanks to the compact size and perch positioning, this feeder is hard for squirrels to access, especially when on a high window.
Key Features: 
Extra suction cups included
Shatterproof
Good clarity
Cost: $12
We love the addition of the bird swing to give birds a place to rest when not feeding. Assuming you position it correctly, it won't encourage squirrels.
Key Features:
Strong suction cups
Easy to clean
Large three-cup capacity
Cost: $24
This compact window bird feeder has a small entrance to help keep squirrels out, but it shouldn't fall down if any do manage to get in thanks to the five strong suction cups.
Key Features: 
Weatherproof
Slide-out seed tray
Viewing window
Cost: $19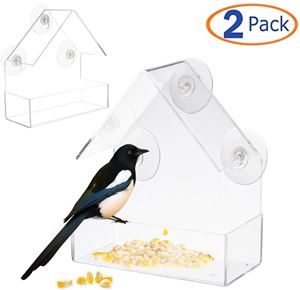 They may not be of the highest quality out there, but if you're looking for a bargain, this two-pack of window feeders might be up your alley.
Key Features: 
Small size deters squirrels
Made from sturdy acrylic
Three suction cups
Cost: $16 (for two)
VIVOHOME Squirrel Proof Window Bird Feeder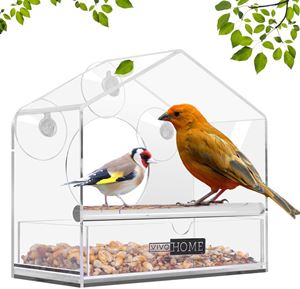 Careful positioning paired with the sloping roof design makes it extremely tricky for squirrels to access this window bird feeder.
Key Features: 
Removable seed tray
Comfortable perch
Viewing window
Window Hummingbird Feeders
Aspects The Gem Window Hummingbird Feeder
If a small hummingbird feeder is all you need, this is a great choice. It has two feeding ports and a four ounce capacity.
Key Features: 
Easy to remove and clean
High-view perch
Engraved nectar scale
Cost: $18
Juegoal Window Hummingbird Feeder
This window feeder has three ports and a removable ant moat. The red top helps attract hummingbirds to it.
Key Features: 
Hinged lid for easy filling
Perch
Eight ounce capacity
Cost: $15
Perky Pet Window Mount Hummingbird Feeder
The tall reservoir design makes it easier to monitor the nectar levels in your feeder, so you know when it needs to be cleaned out and refilled.
Key Features: 
Two feeding ports
Strong suction cup
Individual perches
Cost: $13
Sherwoodbase Window Hummingbird Feeder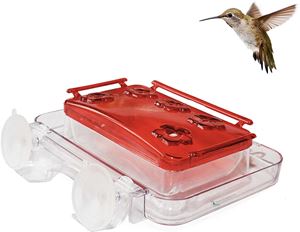 A larger option than most window hummingbird feeders, this one has an impressive five ports, though it still only holds a maximum of eight ounces of nectar.
Key Features: 
Perches on three sides
Ant moat
No leakage
Cost: $15
Songbird Essentials Window Wonder One Tube Feeder
The one-tube design is very different from other window hummingbird feeders, but it looks great and is perfect for those whole only get a handful of hummingbird visitors.
Key Features: 
Attractive copper wire design
Red details attracts hummingbirds
Glass tube
Cost: $12