It goes without saying that we all love our pets, but what many of us don't love is the accumulation of pet hair in our homes. The majority of traditional vacuums aren't necessarily up to the job of removing large amount of pet hair though. So if yours is having trouble, then it might be time to consider investing in a vacuum specifically designed to make the job of removing pet hair from your home easier and quicker.
We reviewed dozens of vacuums designed to deal  with pet hair in order to identify the best of the best. Features we considered included filters designed to remove allergens, specific attachments for cleaning pet hair from upholstery as well as how maneuverable and efficient each vacuum is. We also looked at whether a vacuum was bagless, or used bags. We looked at a range of vacuum styles including upright, canister, handheld, and cordless. We narrowed down our search to 5 of the top-rated vacuums for pet hair you can buy, depending on your individual needs.
During our research, one vacuum stood out as being a clear winner. The Shark Rotator Powered Lift-Away TruePet Upright Vacuum offers power, versatility and efficient removal of pet hair. The ability to convert this vacuum from an upright to a canister or handheld makes it the perfect all-round choice for cleaning every area of your home. The reasonable price and high amount of positive feedback from Amazon users is another reason this vacuum takes our top position.
The 5 Top-Rated Vacuums for Pet Hair
*Ratings are from Amazon at the time of publication and can change.
Our Top Pick: Shark Rotator Powered Lift-Away TruePet Upright Vacuum
The Shark Rotator Powered Lift-Away TruePet Upright Vacuum is all you need to keep your home free of pet hairs. The versatility of this upright vacuum is certainly impressive – choose from traditional upright mode, or convert this vacuum into powered lift-away mode for cleaning under furniture and hard to reach corners, above floor mode for stairs and drapes as well as attaching the mini motorized brush to deep clean your upholstery. The Shark Rotator Powered Lift-Away TruePet really does it all.
As well as providing impressive cleaning capabilities for pet hair, this vacuum also uses Complete Seal Technology combined with HEPA filters. This means that 99.9% of allergens such as pet dander are effectively trapped. Replaceable filters maintain the efficiency of the Shark Rotator Powered Lift-Away TruePet vacuum over time.
Shark Rotator Powered Lift-Away TruePet Vacuum Key Features:
LED lights on both the handle and nozzle highlight dirt in hidden corners for a complete clean
Four different modes allow for a truly versatile clean. Convert from upright to canister and handheld modes in one easy step
HEPA filter is combined with a sealed dust cup for effective removal of allergens
Our Runner Up Pick: NEQUARE Cordless Vacuum Cleaner
The NEQUARE Cordless Vacuum Cleaner takes our runner up spot due to the combination of quality features that make it an exceptional choice. For starters, it's one of the most highly-rated options on the market, with a mind-boggling 4.8 out of 5 star rating on Amazon. Customers have given it such a phenomenal rating thanks to stand out features such as its powerful but noise-free 200W brushless motor and excellent suction.
Personally, we particularly love the fact that its cord-free, as this makes it easy to maneuver all around the house. We also appreciate that it comes with not just one, but three different brushes. Whether you use the full-size multi-tasker LED power brush, mini power brush, or 2-in-1 dusting brush—or a combination of all three—once you start vacuuming with this cleaner, you'll soon find that lingering pet hairs around your house become a thing of the past.
NEQUARE Cordless Vacuum Cleaner Key Features:
Cord-free for easy maneuvering
Lightweight
Quick and easy waste disposal
Best Budget Pick: Bissell PowerEdge Hardwood Floor Bagless Stick Vacuum
If you're looking for an affordable vacuum that's well suited to cleaning pet hairs from hard floors, then the Bissell PowerEdge Hardwood Floor Bagless Stick Vacuum is the one for you. The unique V shaped head helps to move large debris into the center of the vacuum head where the strong suction easily removes them, while the sides capture finer particles. This head shape also comes into its own when cleaning around furniture legs as you can get a really accurate clean.
The wipers along the base of the cleaning head are manufactured from a rubber material which is specifically designed to capture pet hairs. The hairs are then suctioned into the easy to empty dirt cup through a filter designed to help remove allergens. The lightweight design of the Bissell PowerEdge Hardwood Floor Vacuum means it is quick and easy to clean your home of pet hairs in no time.
Bissell Poweredge Hardwood Floor Bagless Stick Vacuum Key Features:
Shaped head designed to clean tight spaces, around furniture legs and along walls with ease
Easy to empty dirt cup with in-built filter
Lightweight and easy to maneuver around your whole house
Best Canister Vacuum for Pet Hair
If you're looking for a canister vacuum cleaner that combines efficiency and value for money, the Eureka Mighty Mite Corded Canister Vacuum Cleaner ticks all the boxes. While this canister vacuum cleans carpets and rugs efficiently, it is ideally suited to wood and tile floors. This is due to the combination of the specialized bare floor brush and nozzle which provide a powerful and efficient clean.
The Eureka Might Mite uses vacuum bags to effectively contain the allergens filtered through the HEPA filter, with none escaping when the canister is emptied.  The 20 foot power cord of the Eureka Mighty Mite means that you can clean a whole room, set of stairs or a long hallway before you need to unplug. The fingertip controls allow for easy cleaning of all surfaces in your home, including upholstery and drapes. Due to its small size and long power cord, this canister vacuum is also perfect for cleaning car interiors or outdoor soft furnishings which your dogs may lie on.
Eureka Might Mite Corded Canister Vacuum Cleaner Key Features:
Complete accessories package for easy cleaning of stairs, upholstery, car interiors and drapes
Small canister size makes for easy maneuverability and storage
The in-built HEPA filter captures the majority of airborne allergens, including pet dander
Best Upright Vacuum for Pet Hair
If your home includes a range of different floor surfaces, you'll appreciate the Dyson DC65 Animal Upright Vacuum Cleaner. The DC65 is packed full of Dyson's patented technology. This vacuum uses a brush bar with 25% more power, designed to remove more dirt from your carpets by giving them a deep clean. For other surfaces, the self-adjusting head automatically seals in the powerful suction across all floor types. The DC65 has the best pickup of any Dyson vacuum, so you can be assured this vacuum will perform.
The eye-catching ball design of the DC65 not only makes steering this vacuum around and under furniture a breeze, it also contains all the technology which makes this vacuum so efficient. This results in a much lower center of gravity than a traditional upright vacuum, meaning that the DC65 is easy and light to steer. This vacuum comes with Dyson's five year warranty on parts and labor, meaning you can buy with confidence.
Dyson DC65 Animal Upright Vacuum Cleaner Key Features:
Easy manuverability thanks to the Dyson Ball technology
Radial Root Cyclone technology to remove the microscopic particles responsible for allergies
Turbines enhanced by Dyson's Tangle-free Turbine Tool which easily removes hair from all surfaces without them getting stuck in the turbine mechanism
Who Should Buy a Vacuum for Pet Hair
If your family includes pets of any kind, then you should definitely consider investing in a vacuum for pet hair. Even though certain breeds of cat and dog shed less than others, they will all lose hair or fur to a certain degree. Vacuum cleaners which aren't designed to be powerful enough to cope with the level of hair lost by high shedding pets will never get rid of all the pet hair in your house.
Families with allergy sufferers and pets will also definitely want to consider a vacuum specifically designed to deal with pet hair. Interestingly, pet hair isn't the main cause of allergies – it's actually the dander shed by pets which causes the majority of allergies. This dander is made up of microscopic particles of skin which left to build up in your house can cause allergies to flare up. Luckily, many vacuums designed to remove pet hair also contain filters designed to remove dander as well.
Important Features to Consider
A vacuum for pet hair should have a few important features. Here's what to consider when selecting a vacuum to help clean pet hair in your home:
Pet specific attachments. This is a great feature, with these attachments designed to help you efficiently remove pet hair from a variety of surfaces in your home. Many vacuums designed to deal specifically with pet hair will include crevice tools, dusting brushes and upholstery tools. Many brands include these as standard, while others offer them as additional extras available for purchase separately.
A HEPA filter. Many vacuums for pet hair come with a HEPA filter. This stands for High-Efficiency Particulate Air, and helps to remove microscopic particles of dust and dander. This dander is often what causes allergies to dogs and cats, so choosing a vacuum with a HEPA filter will keep your home as allergen free as possible. Depending on what model vacuum you choose, some filters are washable and others are replaced on a regular basis.
Suction power. Vacuums for pet hair will generally offer a higher amount of suction power than a regular vacuum. The extra power is important in order for the vacuum to effectively lift pet hair out of carpets and upholstery. The key terms to look out for are AW (air watts) and CFM (cubic feet per minute). AW measures how much power, or suction, a vacuum has. CFM tells you the amount of air (and therefore dirt) a vacuum pulls in over a minute.  You're looking for high numbers for both these measurements.
Type of vacuum. Depending on how you plan to use your vacuum the most, there are a number of different types of vacuums available. Upright vacuums are best if you have large floor spaces that need cleaning regularly. Canister vacuums have a longer hose and are generally more powerful and maneuverable than uprights. Canister vacuums can easily clean floors and furniture. Handheld vacuums are smaller, and perfect for cleaning upholstery and other small areas. As many of these are cordless, they're great for cleaning your car too. Cordless vacuums are a great way to clean your house without worrying about power cords getting in the way. These vacuums come with a charging station and will provide around 40 minutes of cleaning time before you need to recharge.
Frequently Asked Questions
What is a vacuum for pet hair and how does it work?
Vacuums designed specifically for pet hair tend to differ in a number of ways from a normal vacuum cleaner. Vacuums designed  to deal with pet hair tend to provide a higher level of suction in order to clean pet hair from a range of surfaces. They also often come with a filter which helps to remove dander, dust and other allergens. Vacuums for pet hair will also often come with specific tools to help remove hairs from upholstery as well.
Is a Roomba good for pet hair?
Roombas are robotic vacuum cleaners which are designed to clean your house without you needing to lift a finger. Sounds perfect, right? Well, if you're looking for a vacuum to specifically tackle pet hair within your home, then it will pay to do a little bit of research into this type of vacuum cleaner before you rush out and buy one.
Depending on the model, some Roombas don't fit under cabinets or other furniture, so if that's somewhere that you pet likes to hang out, then this area won't get cleaned of hairs and dander. While some of the Pet Series models do offer features such as HEPA filtration and tangle-free brushes, you'll still have to tackle cleaning upholstery and stairs with a different vacuum cleaner.
How do I remove dog hair from car upholstery?
The majority of vacuums designed to remove pet hair come with specific tools to help remove hairs from upholstery in your house, including crevice tools and small brush head attachments. These will work just as well on your car upholstery, so if your vacuum is cordless or handheld, simply use the pet specific attachments to give your car upholstery a good going over. If you have a corded vacuum cleaner, using an extension lead means you can give your car upholstery a good clean too.
How do I get dog hair out of my carpet? 
The key here is frequent cleaning. If you allow the dog hair to build up, then it will become a much harder job to remove it all. Using a vacuum designed specifically for pet hair is recommended, as the increased suction will make it easier to lift and remove hair.
Make sure you go over each area a few times, which will remove the maximum amount of hair. If there are any areas where the dog hair is particularly built up, such as if your dog likes to sleep in a sunny spot on the stairs, then use the upholstery attachments to give these areas a deeper clean.
Other Vacuums for Pet Hair We Reviewed
We looked at 20 other vacuums for pet hair. While they didn't make it into our 5 best vacuums for pet hair list, they're the best of the rest and each one is still a great option for keeping your house clean. The information you'll need to compare each one is included with the listing.
Canister Vacuums for Pet Hair
Dyson DC39 Animal Canister Vacuum Cleaner
The Dyson DC39 is certified allergy and asthma friendly by Allergy Standards Limited. The powerful Dyson technology allows this vacuum to  capture dust and pet dander with ease.
Key Features:
Easy on-off control using a trigger on the handle
Push button dirt cup emptying
Five year warranty
Cost: $598
Electrolux EL4335B Corded Ultra Flex Canister Vacuum
This Electrolux canister vacuum comes complete with a HEPA filtration system to remove allergens from your home. Suitable for all floor types.
Key Features:
Suitable for use on floors and upholstery
Compact and lightweight
Crevice tool and dusting brush
Cost: $225
Kenmore Elite 21814 Pet & Allergy Friendly CrossOver Canister Vacuum
The Kenmore Elite 21814 canister vacuum includes a HEPA filtration system which is certified by the Asthma and Allergy Foundation of America. The two motor system of this vacuum is designed to provide a powerful and efficient clean for your entire home.
Key Features:
Suitable for all floor types
Includes motorized accessory specifically for removing pet hair
Swivel steering and automatic cord rewind for easy cleaning
Cost: $430
Miele Complete C3 Cat & Dog Canister Vacuum
This canister vacuum is perfect for large floors of all types thanks to its five adjustable height settings. The Active Clean Air Filter uses charcoal to filter out both allergens and odors.
Key Features:
Comes complete with dusting brush, crevice nozzle, upholstery tool and mini turbo brush to remove pet hair from all surfaces
Variable suction control
Sealed filtration system to remove 99.9% of allergens
Cost: $1000
Prolux Tritan Pet Turbo Canister Vacuum Cleaner
This Prolux Tritan Pet Turbo vacuum is designed to provide a deep and effectie clean for your home. The sealed HEPA filtration system helps remove pet hair and other allergens using a three stage system.
Key Features:
Includes three accessories designed to help remove pet hair
Adjustable suction to make cleaning both embedded pet hairs and delicate areas easy
Comes complete with six bags and a filter
Upright Vacuums for Pet Hair
Black + Decker Airswivel Ultra Lightweight Upright Vacuum Cleaner
With this vacuum weighing only 8.8 pounds, it's perfect for cleaning the whole house. The large capacity dust cup means you can vacuum for longer before you need to stop.
Key Features:
Airswivel steering for extreme maneuverability
Washable dust cup and filter
Pet Tool for cleaning upholstery, pet beds and rugs
Cost: $47
Dyson Ball Animal 2 Upright Vacuum
This Dyson Ball Animal 2 upright has one of the most powerful suctions of any vacuum. Suitable for all floor types thanks to the self-adjusting cleaner head.
Key Features:
HEPA filter collects dust and allergens
Dust cup empties easily, with the push of a button
Includes stair and combination tool for whole house cleaning
Cost: $375
Hoover React Professional Pet Plus Bagless Upright Vacuum
This upright vacuum provides a professional and deep cleaning experience which is perfect for pet owners. The multi-cyclonic technology of the Hoover React is designed to provide powerful suction to remove pet hair and dust using a range of accessories.
Key Features:
Compatible with the Hoover App to maintain performance
Automatically adapts to all floor types
High capacity vacuum for whole house cleaning
Cost: $178
Kenmore Elite 31150 Pet & Allergy Friendly Upright Vacuum
The Kenmore Elite Upright Vacuum is perfect for asthma and allergy sufferers due to the HEPA filter which helps remove pet dander, dust and allergens. Suitable for all floor types.
Key Features:
Pet handi-mate tool for removing pet hair from upholstery
HEPA filter captures 99.97% of particles
Motor provides 20% more power than a standard vacuum
Cost: $230
Shark Rocket TruePet Ultra-Light Upright Corded Vacuum
This lightweight upright vacuum includes a pet multi-tool to remove pet hairs from all surfaces. The LED lights of the Shark Rocket TruePet allow you to easily debris and dust under furniture.
Key Features:
Swivel steering for easy maneuverability
Converts into a handheld vacuum
Suitable for all floor types
Handheld Vacuums for Pet Hair
Bissell Pet Hair Eraser Handheld Vacuum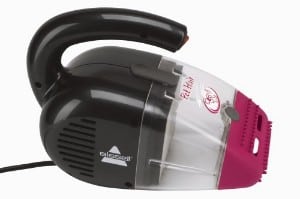 This small handheld vacuum is perfect for cleaning upholstery, car interiors and more. The two interchangeable and specially designed nozzles pull hair and dirt out of fabrics with ease.
Key Features:
Easy grip handle with power buttons located right at your fingertips
16 foot power cord allowing extended cleaning sessions without recharging
Multi-layer filtration and cyclonic technology for a deep clean
Cost: $27
Dyson v6 Top Dog Handheld Vacuum
The Dyson V6 Top Dog is marketed as the most powerful handheld vacuum designed specifically for pet owners. The combination of two cyclones helps capture pet hair, dust and debris from all surfaces.
Key Features:
Includes specific tools for pet owners to help remove stubborn pet hairs
20 minutes cleaning time per charge
Designed to remove both pet hairs and allergens
Cost: $316
Eureka EasyClean Lightweight Handheld Vacuum Cleaner
This corded handheld vacuum by Eureka uses the power of two motors to thoroughly clean your home of pet hair. One motor powers the brush, with the other providing suction.
Key Features:
Integrated filter
Crevice tool to help clean hard to reach spots
Efficient cleaning for floors, stairs, cars, furniture and more
Cost: $43
Shark Cordless Pet Perfect II Hand Vacuum
The pet brush of this Shark Pet Perfect II hand vacuum is designed to clean pet hair from any surface.
Key Features:
Crevice tool and dusting brush included
Strong suction thanks to the Twister Cyclonic Technology
Charging stand can be wall mounted in order to save space
Cost: $60
This ultra powerful and cordless vacuum by WELIKERA is designed to effectively remove pet hairs and allergens thanks to its powerful suction and HEPA filter.
Key Features:
Washable stainless steel HEPA filter to help remove allergens
LED light to help clean dark areas thoroughly
Full charge of 4 hours provides 25 minutes cleaning time
Cordless Vacuums for Pet Hair
Bissell Bolt Pet Lithium Ion Cordless Stick Vacuum
This cordless stick vacuum comes complete with a charging base for rapid recharge. The Bissell Bolt Pet comes fully equipped with specialized tools for cleaning pet hair from rugs, hard floors,  carpets and high surfaces.
Key Features:
2 in 1 design combines stick and handheld vacuum options
Folding handle allows you to clean hard to reach areas
Rechargeable lithium battery provides 25 minutes of cleaning time
Cost: $150
Black + Decker BDH2020FLFH Max Lithium Flex Vacuum
This Black + Decker cordless vacuum is extremely compact yet thanks to the cyclonic action it's also very powerful. The dedicated pet brush is designed to clean all your soft furnishings thoroughly.
Key features:
17 ounce capacity washable bowl with filter
Easy to use charging base
Choose between extension hose and stick vacuum options
Cost: $90
Black + Decker Powerseries Pro Cordless Lithium 2in1 Pet Stick Vacuum
With alerts for battery time, filter cleaning and automatic adjustments for different floor types, this cordless vacuum makes cleaning easier.
Key Features:
Accessory tools include pet brush and pet crevice brush
Removable canister for versatile use
Suitable for all floor types and upholstery
Cost: $180
Gtech AirRam High-power Cordless Vacuum Cleaner
This lightweight cordless vacuum cleaner provides 40 minutes of cleaning time per charge. The Gtech AirRam is perfect for removing pet hair thanks to the powerful brush bars.
Key Features:
Weighs only 7.7 pounds
Includes a two year warranty
Dirt is collected and compressed in the head of the vacuum, allowing for easy emptying
Cost: $395
Hoover Linx Cordless Stick Vacuum Cleaner BH50010
This Hoover Linx vacuum uses WindTunnel technology to deep clean your house, as it effectively lifts dirt and pet hairs from all surfaces.
Key Features:
Effective cleaning all the way into edges and corners
Wide cleaning path makes for shorter vacuuming times
Dirt cup is quick and easy to empty
Cost: $100
Products You May Be Interested In: