You may think a fish tank is the same as a turtle tank, but the needs of your turtle will vary from that of a fish or even other reptiles. Within the turtle species, even, there are variances of need. If you have a dessert turtle, you won't need the tank to be waterproof, but you will need it to withstand greater heats necessary to replicate his natural habitat. There are so many factors to consider in picking out a tank for your turtle or turtles, you may need a bit of help to start. If that's the case, you're in the right place: we've done the homework for you!
We reviewed dozens of turtle tanks to identify the best of the best. We looked for the best tanks for aquatic turtles, and for turtles that need less water in their environment. We found small tanks for smaller turtles and the bigger ones for large, or multiple, turtles. No matter what your turtle needs, we have the right tank for you.
If you're lost on how to care for a new turtle, try our handy guide, How To Take Care Of A Turtle. If you decide you need to get a turtle specific light for your tank, and for that search, you can want to start with The Best Aquarium & Fish Tank Lights.
Early in our research, we discovered that there really was a clear winner for best turtle tank – in each size. Because of this, we identified the top tank for each of the best selling sizes. Below you'll find our top picks for 10 gallon tank, the best 20 gallon, 30 gallon, 40, and 50 gallon turtle tanks. They have obvious and big differences between them, but the one thing they all have in common is high quality. For instance, our top 10-gallon turtle tank pick, the Aqueon 10 Gal Black Aquarium, has a quite filter and has an LED indicator light to let you know when it's time to change the filter cartridge.
The 5 Top-Rated Turtle Tanks
*Ratings are from Amazon at the time of publication and can change
Best 10 Gallon Turtle Tank: Aqueon 10 Gal Black Aquarium
The Aqueon 10 Gal Black Aquarium includes a filter that operates quietly so as not to disturb you or your turtle. Because your turtle creates so much more waste than fish, you'll want to make note that the cartridge will need changed more frequently than you may be expecting, or than the manufacturer recommends but the red LED light indicator will tell you when it needs changed. That's a huge help for when you first get your turtle and don't yet know how often it will need changed.
An ideal time for this tank is when you first get your baby turtle because a 10 gallon tank is best for smaller turtles. So this will also work if your turtle is a small breed. You'll need to create a basking area and pick up a heat lamp for your turtle, but the tank itself will easily accommodate these modifications.
There are right around 200 customer reviews for this tank earning it a respectable overall rating of 3.8 stars on Amazon. That's a lot of people satisfied with this tank and you have every reason to believe you will be, too.
Aqueon 10 Gal Black Aquarium Key Features:
Includes submersible heater with auto shut off
Hood has 3 sets of LED lights
QuietFlow Power Filter with replaceable cartridge
Best 20 Gallon Turtle Tank: Marina LED Aquarium Kit
Marina LED Aquarium Kit
To create a base for your turtle, the Marina LED Aquarium Kit will prove an excellent place to start.
The Marina LED Aquarium Kit is perfect for the base of any turtle habitat. At 20 gallons, you can get a slightly bigger turtle to keep in this tank, but you'll still want to steer clear of the biggest turtle types. The kit has fish-specific accessories, if you're brave enough to try to keep both together but even if not, plenty of those accessories translate well to exclusively turtles, as well. There are supplements and treatments included to turn tap water into a more biologically safe environment for marine life and your turtle will certainly thank you for that.
The filter is a Marina Slim S20 and it will easily clip onto the tank. It comes with the first set of quick-change filters and the replacements are easily switched out without needing to disassemble the filter at all. The included aquarium care guide will tell you how to set up your tank, but a bit more research may be required to maintain turtles within.
With over 300 customer reviews and an overall rating of 4.1 stars on Amazon, it's statistically likely that, should you purchase this tank for your turtle, you'll be pleased with it.
Marina LED Aquarium Kit Key Features:
24″ L x 12.5″ W x 16.5″H
3 size options available
Daylight LED lights
Best 30 Gallon Turtle Tank: Coralife LED Biocube Aquarium LED
The Coralife LED Biocube Aquarium LED has a more modern feel than a lot of its competitors and as such, may just fit your home and your decor tastes better than any other tank on the market. It also has a fun sunrise/sunset and moon rise/moon set function on its LED hood that your turtle may appreciate (and you may, too, if you place it somewhere that you'll notice these lighting trends.)
The filter included is a compact one that won't take up much space but may prove ineffective for your dirty turtle. Consider upgrading it if you're worried, or try to see what it actually can handle. If you opt for the latter make sure you're monitoring the water to keep your turtle healthy. This tank has two sizes available and as such, tackles a wide variety of aquarium needs. For a turtle, you will want to chose the bigger of the two options and the set up will be just as easy for the large as it is for the smaller tank.
Coralife LED Biocube Aquarium LED Key Features:
24-hour timer for LED lights
Submersible pump with dual intakes
Hinge-top canopy design cover
Best 40 Gallon Turtle Tank: Exo Terra Allglass Terrarium
Exo Terra Allglass Terrarium
For a tank that will give you plenty of hands-on access to your turtle, you won't want to miss the Exo Terra Allglass Terrarium.
The Exo Terra Allglass Terrarium is perfect for reptiles like the turtle because it provides you plenty of access with the french door-style double doors along the front. That means you'll be able to open the tank and bring your turtle out to roam whenever the mood strikes. On the front doors, there is a lock that will make sure your turtle won't be able to force his way out, making it completely in your control when he roams and when he stays in his little home. The cover is a full-screen design with stainless steel that will easily allow UVA and UVB rays to penetrate it and keep your turtle healthy.
The bottom has a few inches below the door that are sealed and waterproof, so you will be able to give your turtle a place to bathe and swim. (For aquatic turtles, you may find this isn't quite enough, but for more land-based turtles, it's perfect.)
With an overall rating of 4.2 stars and over 300 customer reviews on Amazon, this may be the best overall tank for an average-sized turtle. If you have any doubts, then take a look at those reviews and we think you'll be sold.
Exo Terra Allglass Terrarium Key Features:
Waterproof floor and bottom
Dual, locking front doors
Full-screen cover
Best 50 Gallon Turtle Tank Pick: SeaClear Acrylic Aquarium Combo Set
SeaClear Acrylic Aquarium Combo Set
If you want the freedom to customize your turtle's tank to fit his exact needs, the SeaClear Acrylic Aquarium Combo Set will give you just that.
The SeaClear Acrylic Aquarium Combo Set is an acrylic tank which means it's less likely to break in shipping and more likely to withstand even your most rambunctious turtles. If you dig a bit into customer reviews, you'll notice that very often the reason tanks take such a hit on the ratings is that shipping glass, no matter how many precautions are taken, is simply not a risk-free venture. You'll find plenty of glass tanks break before they get to your home and even if they aren't visibly damaged when you pull them out of the box, there will often still be unseen strain that will contribute to a shorter tank life. An acrylic tank will help mitigate this risk and may be your best bet for shipped turtle tanks. Acrylic will also maintain a more consistent internal temperature and will be less likely to fluctuate based on your room's temperature.
Included in this tank set up is the aquarium, a reflector, and a 24-inch lighting strip to provide a bit of light for your turtle. While this doesn't come with a filter, that fact may actually be the best part of this turtle tank because it will allow you to set the tank up however you choose. You can purchase a robust filter that submerges into the water which you can make as deep as you'd like, and create a basking area within the tank. It won't save you money to have to buy it on your own, but it will give you quite a bit of freedom and sometimes that's priceless.
There's every reason to pick this tank up for your turtle and with the support it has on Amazon, you'll feel very confident in the purchase. After all, there are more than 300 customer reviews giving this tank an overall rating of 4.0 stars.
SeaClear Acrylic Aquarium Combo Set Key Features:
9 size and shape options
3 background choices
24″ light
Who Should Buy a Turtle Tank
If you have a pet turtle, you'll need a place to keep him. Even if your turtle often comes out of the tank to roam your home or yard, you'll still need to put him up into a safe place when you're not there or when you're asleep. If you're not watching him, then he could unintentionally roam into a place where he gets stuck, or falls onto his back, or gets lost. Unlike some other pets, you can't call a turtle and expect him to come running, so even if you're there and not paying attention, he could be among a load of laundry on the floor and you never find him. Also unlike a dog or cat, he won't whine, meow, or bark to indicate where he is. Often turtle parents will tie a balloon full of helium to a roaming turtle to ensure he doesn't get lost. The absolute best way to avoid this, however, is to make sure he's in his tank when he's not being carefully watched.
Aquatic turtles won't want to roam long, if at all, and as such will need a tank all the more. The tank will give him a place to swim and, with the addition of a basking area, he'll be able to experience the best of both worlds. A tank that is climate controlled and contained will allow you to create a habitat personalized to your turtle's specific breed needs. That is, if he spends his time in the tank (as most pet turtles do) and not outside roaming, you can use a heating lamp to make the tank an appropriate temperature and give him the rays he needs. You can even create a type of ecosystem within the tank, giving him his own little world.
Note: Desert "turtles" are actually one of two types of tortoises and because they get pretty large, they may not need a tank once fully grown. For any of our desert turtle or desert tortoise tanks, you should consider what you'll do with your turtle once he's outgrown his tank.
Important Features to Consider
A turtle tank should have a few important features. Here's what to consider when selecting a tank for your turtle:
Side doors. If you plan on handling your turtle, even just occasionally, it may be worth looking into doors that will open wide to grant you maximum access. Most often these doors are in the front and will still give a few inches of a "bath" type of environment for your turtle. It's not intended for an aquatic turtle, because the water won't be deep enough for him to swim as needs. However, if you have a turtle that does a bit of both land and water, this will suit him brilliantly. Perhaps even better, though, is if you plan on using it for your desert turtle when you need to keep him contained. (Keep size in mind and don't stuff him into a tank that won't give him enough space, though.) You won't need to worry about changing out water and you will have plenty of access to the tank to dispose of your turtle's messes.
Waterproof. If you have an aquatic turtle, then it is probably obvious that you'll need a tank that can hold his water. It will need to provide water deep enough for your turtle to swim freely and exercise as needed. You may not need as much water should your turtle be a primarily land-based turtle, but even so, your turtle will want some water to wet himself in from time to time. And don't discount the fact that a leaking tank will allow outside sources to influence his habitat. That means even your home's air conditioning could ruin his tank.
Heating lamp. This may not be something you'll find in too many tank starter kits, but when you do, that's a big perk! If your tank does not include one, you'll need to make sure you can modify the tank to include it. He may not need it often, but for most turtles, even just a small temperature variance is a big added comfort that will bolster his overall health. We'd also be remiss to exclude the importance of UVB and UVA rays for your turtle. A heating lamp can give a turtle exposure to the sun without actually having to step foot outside. There is a statistically likely chance that exposure to these rays will actually extend his life, so even if the lamp isn't specifically for heat, your turtle still needs some exposure to light.
Filter. You may use a standard fish tank and filter for your turtle and a complete kit could save you a lot of time and money. But aquatic turtles are far dirtier than fish and may require a more heavy-duty filter than comes standard with a fish tank. If you opt for the fish tanks that are a complete kit, you'll need to make sure you're heeding this fact and either changing the filter or water more frequently or replacing the filter with a larger one. If you only have one turtle in a big tank, the fish filter may prove sufficient but it is definitely something you'll need to consider before purchase and monitor closely.
Basking area. Turtles will need a space to dry and warm himself from time to time. A basking area in direct light will help him maintain a healthy temperature and comfort level and will go a long way toward his overall quality of life. Your turtle may survive without a designated basking area, but it's certainly not as happy of an existence for him.
Plastic tubs. Strictly speaking the only thing your turtle needs is water to swim in and a space to exit the water, too. A more aquatic turtle will need deeper water and a land-based turtle more dry land. A plastic tub can be modified to give your turtle both. If you plan on keeping him forever, you may want a more robust setup, but if you just need something in the interim or until he outgrows his enclosure, this style will be fine. You can purchase tubs or plastic tanks that are specifically designed for turtles and have a place for him to bask, and swim, too. With this option, you can pick up a clip-on heating lamp and frequently change out the water to set up a turtle habitat pretty easily, for not a lot of money.
Frequently Asked Questions
What does a turtle need in its tank?
The question that often goes hand in hand with this is: Can I use a fish tank for a turtle? The answer is yes, you can but you'll need to set it up for a turtle. That means you'll need to add some sort of basking area for him; that may just look like setting up a platform and ramp for him or maybe just making sure his rock is elevated out of the water to give him a bit of dry land to bask. A piece of drift wood could also work; the real way you'll know is if he's actually using it the way he should. You'll, of course, need a feeding area for him and possibly also shelter or large climbing rocks. You'll definitely benefit from a filter of some kind; the more robust the better. Even if you skip the filter, though, you can change out his water frequently and that should suffice for his tank. He'll need a heating lamp that will give him crucial UV rays and you'll need to make sure his tank is well ventilated and escape-proof. In practice, that usually looks just like a screened cover.
What your turtle needs is pretty basic: Water, Food, Lamp, Basking Space. What you can add to improve his quality of life is a bit more personalized to your wants and for what he shows interest. You'll probably need to do a bit of trial and error when it comes to what kind of things he'll like in his tank.
What size tank do I need for a turtle?
The best rule for turtle tanks is "Bigger is Better." For a baby turtle or extra small turtle, you may be able to get away with a 10-20 gallon tank for a while, but for turtles measuring 6 inches and above, you'll want a minimum of 30 gallons for him to roam and swim. As the turtle gets bigger so, too should the tank. If you have a larger turtle measuring over 8 inches, you'll need a minimum of 75 gallons for your tank. Good luck getting a glass tank that large shipped to you, though – even if it survives shipping the cost will be tremendous! For tanks that big, the best bet is to venture into a specialized pet store or opt for the plastic tub that can hold as much water as he needs as well as give him the space to bask and roam.
You should keep in mind, though, that if your turtle spends the bulk of his time out of his tank and only uses the tank for sleep or when you're away, then a smaller tank may suffice.
What fish can live with turtles in a tank?
Yes, fish and turtles can live in the same tank, theoretically. Because a turtle's natural diet often includes small fish, you'll need to take steps to mitigate this risk. You may want to talk to a fish or turtle specialist (and not just a pet store clerk), and do your research. There are plenty of fish in the sea, as they say, and sometimes finding the type that will cohabit with your turtle is almost as hard as finding the right "fish" for yourself. Even after you've chosen the right fish, though, you'll still need to be careful introducing them into the environment; making sure your turtle is well fed and monitoring your turtle for signs of aggression toward your fish has to be a priority. (And it doesn't hurt to keep yourself from becoming too attached to those fish.) We highly recommend skipping the joint tank if you have sensitive children who will react poorly to missing fish or bitten turtles. After all, you may be surprised how much damage a fish can do on a turtle!
Do turtles need a heat lamp at night?
Turtles don't just need a heating lamp at night; they'll likely need it on and off for large portions of the day, too. The night does cool down, though, and you will likely see him enjoying the warmth more often at night – and don't you like to sleep comfortably warm, too? Turtles will thrive best with a variety of temperatures within their tanks. Should your turtle not necessarily need the additional heat provided by a heating lamp, investing in a lamp that will make sure he gets the UV rays will still help to keep him healthy. In fact, turtles without proper exposure to UV will statistically have a shorter lifespan. (You'll want to make sure he's getting both UVA and UVB rays. UVA rays improve his mood and activity as well as his feeding and breeding while UVB rays will give him essential Vitamin D to maintain a healthy shell and facilitate bone growth.
Other Turtle Tanks We Reviewed
SeaClear Acrylic Aquarium Combo Set
If you want the freedom to customize your turtle's tank to fit his exact needs, the SeaClear Acrylic Aquarium Combo Set will give you just that.
We looked at 20 other turtle tanks. Even though they didn't make our 5 best turtle tanks list, they're the best of the rest and each is still a great option for your turtle. The information you'll need to compare each one is included with the listing.
20 Gallon or Less Turtle Tanks
Aqua Culture 10 Gallon Reptile Kit
This kit comes with everything you'll need to set your turtle up from the minute you get him home.
Key Features:
21.8″W x 12″D x 14″H
17.4 lb shipping weight
Include heat lamp, bulb, and filter
Cost: $70
Aqueon 15 Gallon LED Aquarium Kit
This set up is ideal for an aquatic turtle and possibly a few fish, if (after doing your research) you're willing to risk it.
Key Features:
13.75"L x 13.625"W x 25"H
Includes net, thermometer, and water conditioner
90-day warranty
Cost: $95
Aqueon Aquarium Starter Kits LED NeoGlow
The included Aqueon 50W preset heater is calibrated to keep the water in your tank at a comfortable 78 degrees F.
Key Features:
Includes background, water conditioner, gravel and filter
4 size options
LED lights on cover and filter included
Cost: $70
Hamiledyi Turtle Tank Aquarium
This is a perfect starter tank for a turtle that you bring home, providing a place to swim as well as a basking area, too.
Key Features:
Includes food and water tray
Nonskid ramp
Made with strong plastic construction
Cost: $15
khonanpai 10 Gallon Aquarium Starter Kit Turtle Habitat
This waterproof tank will allow you to create the ideal environment, whether your turtle is an aquatic or land-based reptile.
Key Features:
Full screen cover
Includes heat lamp and bulb
12"H x 10.5" W x 20" L
Cost: $70
MarineLand Contour Glass Aquarium Kit with Rail Light
The included filter has a 3-stage filtration that will work three times as hard to maintain a healthy environment for your turtle.
Key Features:
Daylight and moonlight LED settings
2 size options
Rail lighting
Cost: $70
STS Suplies LTD Reptile Habitat Setup Aquarium Tank Kit
This turtle tank will give you all you need to start his life in your home, making the transition painless.
Key Features:
Waterproof design
Full-screen cover
Includes Tetra Whisper 2-10i filter
Cost: $110
Zehui Reptile Turtle Tortoise Vivarium Box Aquarium Tank
For a small turtle, this is the ideal set up for the turtle parents on a budget.
Key Features:
15″W x 9″D
Includes nonskid ramp, basking area, food, and water trays
Note: Heat lamp not included
Cost: $10
If you plan on keeping a dessert turtle in this tank (when he's small or for short periods of time), this comes with a guide on how to care for desert reptiles.
Key Features:
Full-screen cover and locking clips
2 reflective dome light fixtures included
Waterproof – will also hold aquatic turtles
Cost: $140
Zilla Reptile Starter Kit 10 with Light and Heat
While this is intended for land-based reptiles, it is waterproof and will easily accommodate an aquatic turtle, as well.
Key Features:
Humidity/Temperature Gauge
2 reflective dome light fixtures
Desert or tropical decor
Cost: $65
20-40 Gallon Turtle Tanks
Exo Terra Glass Reptile Terrarium
The bottom frame of this tank (or terrarium) is raised so you'll easily be able to fit a substrate heater beneath it.
Key Features:
Full-screen cover
Escape proof dual doors
Waterproof bottom
Cost: $60
Hagen Exo Terra Short All Glass Terrarium
The front doors on this tank will open easily to give you full access and latch closed to prevent escape
Key Features:
Waterproof bottom
24″L x 18″H x 12″W
Double front doors
Cost: $115
Tetra 20 Gallon Complete Aquarium Kit
This tank is ideal for the aquatic turtle but is easily adapted to the more land-based turtles, as well.
Key Features:
Includes filter, heater, LED lights, and plants
Simulated day and night time
24.2″ L x 12.4″ W x 16.7″ H
Cost: $140
Tetra Deluxe Aquatic Turtle Kit, 20-Gallon
This tank includes a filter that is designed to be more discreet with its rock fixture disguise.
Key Features:
Full-screen cover
2 dome lamps
30″L x 12″D x 12″W
Cost: $150
Zilla Premium Rimless Aquatic Turtle Habitat Kit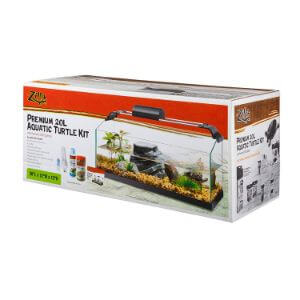 This tank features an open top that will allow you to maintain constant access to your turtle so you'll want to be careful in set up to ensure you're not allowing him to escape.
Key Features:
Includes aquatic turtle food and water conditioner
Incorporated heat and UVB lighting
Waterproof
Cost: $120
40 or More Gallon Turtle Tanks
Aqua Culture Aquarium Starter Kit
This glass aquatic tank is ideal for your larger turtles with a 55-gallon capacity.
Key Features:
50.62″L x 14.87″D x 23.12″H
Includes LED daylight light string
Empty tank weight: 72 lbs
Cost: $210
If you need a large base to begin your turtle's habitat this could be just what you need.
Key Features:
40 gallons
Clean silicone, waterproof edges
Glass construction
Cost: $250
REPTIZOO Reptile Glass Terrarium
This terrarium tank will give your turtle plenty of air circulation with the ventilation inlets along the side and its full-screen cover.
Key Features:
36″ x 18″ x 18″
5-minute assembly
Dual locking front doors
Cost: $290
SCA 50 Gallon Starfire Glass Aquariums Complete Package
This may be the most expensive tank on our list, but with the high-quality cabinet included it is, essentially, a piece of furniture.
Key Features:
50 gallon tank
Tank: 24″D x 24″L x 20″H; Cabinet: 24″D x 24″L x 31″H
120 lb empty weight
Cost: $850
This tank has an included filter, skimmer, water heater, thermometer, and two 24 inch hinged hoods.
Key Features:
55 gallon tank
LED lighting to simulate natural daylight
79 lb empty weight
Cost: $205