While you may not ever plan for your pet to bleed, the truth is that the unexpected sometimes happens – and it often happens when trimming your pet's nails and you accidentally cut into the quick. When you encounter this with your pet, you'll want something to stop the blood fast. For reference, the process to prevent or stop bleeding is called hemostasis, and a styptic powder is called a hemostatic agent or antihemorrhagic (something that prevents hemorrhaging). They can cause coagulation of the blood, or clotting, or they can cause vasoconstriction by contracting the blood vessels to disable their flow. Most commonly, the latter is used over the counter and will work to quickly stop the bleeding. If that all seems a bit overwhelming to contemplate when picking your pet's styptic powder, don't worry; we've done all the homework for you!
We reviewed dozens of styptic powder for pets to identify the best of the best. We looked for styptic powders to dip your pet's nails in and those that come compressed in a stick or pen. We found the best travel styptics and the ones that will work best for minor cuts and nicks. No matter why you need the styptic powder, we've found the best one for you.
If you're interested in being even more prepared for injury or sickness for a dog, take a look at The Best Dog First Aid Kits. For a step-by-step guide to prevent nail trimming injury on your pet, you can check out, How To Trim Cat Nails, and How To Trim A Dog's Nails. After consulting these articles, you may find yourself in the market for the best tools of the trade, so consider The Best Dog Nail Trimmers.
While doing our research, there was one product that stood out as the obvious choice for the best overall styptic powder, the Miracle Care Kwik Stop Styptic Powder. With its effectively formulated Ferric Subsulfate and Benzocaine composition, you can use this powder to stop bleeding on your dog, cat, bird, turtle, and more!
The 5 Top-Rated Styptic Powders & Solutions for Pets
*Ratings are from Amazon at the time of publication and can change
Best Styptic Powder for Pets Overall: Miracle Care Kwik Stop Styptic Powder
The primary hemostatic agent in Miracle Care Kwik Stop Styptic Powder is high grade, pharmaceutical Ferric Subsulfate to stop bleeding fast. You may not be able to control your pet for long after he's been injured so something that works as fast as this powder is a definite win for any pet owner.
You can use this for minor nicks or cuts as easily as you do for over-trimmed nails. Submerge your dog's wound into the powder directly (this method works best for injured paws and over-trimmed nails) or dip a moistened q-tip into the powder to apply directly to the wound.
With over 50 years of experience in styptics, this company knows what's it's talking about; and one look at the customer reviews and ratings proves that. There are over 1,000 customer reviews on Amazon with an overall rating of 4.4 stars.
Miracle Care Kwik Stop Styptic Powder Key Features:
2 size options
Includes Benzocaine for pain
Made in the USA
Best Stick Styptic Powder for Pets: Clubman Pinaud Styptic Pencil
The Clubman Pinaud Styptic Pencil uses aluminum sulfate, also called alum, to seal the damaged blood vessel to help knit your pet's wound fast. This is marketed for nicks and minor cuts that occur when a human is shaving but will work just as effectively for your pet, too. If you want to use it for both of you, make sure to remove the pieces you'll be using before use to avoid any blood transference. For a turtle's shell, this is a perfect choice to protect the wound and provide the hemostatic agent to stop the bleeding fast.
You'll simply wet the tip of the pencil and then use it as if you were writing, applying it directly to the wound to coat it in the effective hemostatic agent. If you are applying it to a nail, you'll likely be able to apply a little pressure, too, to aide in the cessation of blood flow, which is a big perk.
There are over 400 customer reviews for this styptic pencil on Amazon and they've awarded it an overall rating of 4.6 stars; that comes with 92% positive reviews. That's plenty to make the purchase tempting and for just around $5, that's probably enough to seal the deal, too.
Clubman Pinaud Styptic Pencil Key Features:
Comes with protective cover
Primary hemostatic agent is aluminum sulfate
0.33 oz
Best Budget Styptic Powder for Pets: Infalab Nick Relief Styptic Powder
The Infalab Nick Relief Styptic Powder takes up very little room, so you can add it to each of your medicine cabinets and store it any and everywhere it would be convenient. You'll dampen a q-tip and dip it into the plastic container (Or you can moisten a cloth and carefully pour a bit of the powder onto the cloth). You'll then just apply the powder to the wound to stop the bleeding. And the faster the wound is sealed, the faster it's protected from infection.
There is a warning on the container that you will want to heed: This powder will stain clothing. With your pet bleeding, there may be plenty of staining to go around but if you're taking precautions on the bloody mess, you will need to do so for the powder, as well.
There are around 150 customer reviews on Amazon with an impressive overall rating of 4.7 stars. But the real selling point is the price. You can get three vials of 0.13 ounces of the powder for $5 or you can buy more and save; for 12 of the same sized vials, you'll be paying less than $15!
Infalab Nick Relief Styptic Powder Key Features:
Each vial is 0.13 oz
2 packaging options
Active ingredient is Ferric Subsulfate
Best Styptic Powder Solution for Pets: Miracle Care Kwik Stop Styptic Solution
The Miracle Care Kwik Stop Styptic Solution may just be the easiest method for stopping your dog's blood on the market. You don't have to wet anything or dip his foot in the powder; just pull a pad from the container and apply it to the wound for five to ten seconds to stop the bleeding in its tracks.
There are 90 disposable, pre-soaked pads immersed within a styptic solution that uses Ferric Subsulfate to constrict the damaged blood vessel and slow the blood until its stopped completely. You shouldn't use this on deep wounds or inside body cavities, but for a shallow cut on your pet's side or leg, this will make soothing your pet a less painful ordeal.
With over 1,000 customer reviews on Amazon and an overall rating of 4.4 stars, these styptic pads are a perfect solution to your unplanned pet accidents; no matter where they come from or who causes them.
Miracle Care Kwik Stop Styptic Solution Key Features:
Made with Ferric Subsulfate and Benzocaine
Includes 90 pads immersed in solution
Free of the common allergen abalone
Best Travel Styptic Powder for Pets: Top Performance MediStyp Pet Styptic Powder with Benzocaine
The Top Performance MediStyp Pet Styptic Powder with Benzocaine comes in a few various sizes, but the two smallest are perfect for travel use. The containers are wide enough that you'll be able to dip your pet's toes into the powder without struggling or spilling and they're compact enough that you can fit either into your pocket or nearly any luggage pouch.
The hemostatic agent in this styptic is Ferric Subsulfate, but it also includes Aluminum Sulfate, making it a doubly effective astringent. With the added benzocaine, you can be sure that this will stop the bleeding and the pain fast, no matter why your pet is bleeding.
There are just over 200 customer reviews for this styptic powder on Amazon, giving it plenty of support for its overall rating of 4.3 stars. A few minutes skimming the reviews will have you sold on both its effectiveness and its quality.
Top Performance MediStyp Pet Styptic Powder with Benzocaine Key Features:
Ferric Subsulfate is the active ingredient
Include bezocaine for pain relief
3 size options
Who Should Buy Styptic Powder for Pets
There are a few situations that may require the use of styptic powder for your pet. When you trim your dog or cat's nails, there's always a risk of cutting too far down and nicking the quick of his or her nails. While the yelps will probably be the worst part of your accident, the blood that gets all over while you're trying to calm him and he's trying to get away isn't ideal, either. Also, if your pet has undergone any surgeries or procedures and he has some issues opening stitches or seeping, a styptic could help. (Check with your veterinarian before trying this at home, though.) However, if vet-approved, styptics can be used with great success on a docked tail or cropped ears to prevent the minor leaking of blood from getting everywhere.
If you have a pet, it's a good idea to have styptic powder on hand for emergencies. If your pet gets into something dangerous that has him scratched up or he play-fights with your other animals a bit too rough, you can fix his minor cuts and injuries by proper cleaning and styptic powder. You may not be able to predict the future, but you can prepare for the worst; and when you have a pet, a keeping styptic powder on-hand is a precaution you should definitely take.
Another use for styptic that you may not have considered is for a turtle's shell. If you have a pet turtle, there are few things as effective at healing your turtle's hurt shell as a styptic. He won't re-grow his shell but you can stop the blood and protect his injury with the right after-care. And, for those dog owners who have a fur baby who loves to hunt turtles, you can maybe rescue the intruding turtles with a bit of styptic before sending them on their way. Birds that suffer injury to their wings or feet can also use from the right styptic powder and we have more than a few that will fit the bill.
Important Features to Consider
Styptic powder for pets should do several things well. Here's what to consider when selecting a styptic powder for your pets:
Sticks, pencils, and bars. A stick, pencil, and bar will use the same styptic powder you're used to seeing for your pet and adds a bonding agent to make using it a bit easier. You'll need only wet the tip of the stick/pencil or edge of the bar and apply the styptic agent to the wound. For a pet's nails, this makes it incredibly easy because the nail will be solid and you can apply pressure with the pen while you apply the styptic. It will go on and begin working right away and by the time you remove the pressure, you'll probably have stopped the bleeding, as well.
Solutions and gels. If you can convince your pet not to lick his wound, then a solution or gel may be the best way to keep your styptic stocked. While powders, bars, sticks, and pencils are incredibly susceptible to drying out or getting moisture in them, making them unusable, a gel or solution will last in a wider variety of circumstances. If you've left it in the car, the heat or cold may ruin other styptics, and so will not quite sealing the container properly. The solutions and gels are a bit more durable and work wonderfully for his minor cuts and scrapes beyond his paws. If you have trouble with him licking it, you may consider wrapping it.
For your use. The beauty of having styptics on hand is that it's one of the few things you can use for your pet and yourself. Obviously human blood and pet blood are not the same, but in this case, they're similar enough. For example, if you have a small cut that is just refusing to stop bleeding, you can open up your pet's styptic powder and use a bit on yourself. You'll use it the same as you would on him, and if you're interested in acquiring a stockpile, they market plenty of styptics for humans, too. (And yes, you can use those for your pet.) Styptic sticks or pencils are often carried and used by barbers for shaving nicks. Keep one in the medicine cabinet for your use, too.
Benzocaine (or other pain relievers). When your styptic powder includes a topical pain reliever of some sort (most often benzocaine), it will make the whole process a bit less painful on your pet. Not only will the wound hurt, but the styptic you're putting on the wound will sting, too. Taking the edge off the pain will keep your pet from squirming and that will get the whole unpleasantness behind you faster.
Hemostatic agents. Different styptics use different types of hemostatic agents and each offers slightly different effectiveness to stop bleeding. You may find you prefer one to the other, but both primary sources boast roughly equal effectiveness. Aluminum Sulfate will be in a lot of the styptic pens or sticks and it will coagulate the blood to thicken the blood from a liquid to a gel and cease blood loss from the damaged vessel. Ferric Subsulfate, also known as Monsel's solution, is another common hemostatic agent used in styptic powders and it is intended for superficial damage to constrict the blood vessels and seal them to stop the blood flow. There are others that can aid in hemostasis, but these two are the most effective styptic sources.
Single-use. Because styptic comes into direct contact with blood, you'll want to be careful with it. We don't recommend, for example, sharing the same styptic pencil and applying it to both your dog and you. As long as you don't "double-dip" a q-tip or put your dog's paws directly into the powder, you can easily reuse this without transferring any blood. However, if you prefer the sticks, they make single-use sticks that resemble matchsticks to make sure you're getting full benefits of the styptic sticks without any cause for concern on blood contamination.
Frequently Asked Questions
What is styptic powder and how does it work?
Styptic powder is a substance used to prevent or stop minor bleeding. You won't be able to stop the bleeding of major injuries with this, but for minor cuts and superficial wounds, particularly on your pet, it's a perfect solution to make him comfortable sooner and minimize blood staining in the meantime. The styptic will either coagulate the blood, causing clots, in order to cease the blood loss, or it will constrict and seal the damaged blood vessel to slow and stop the flow of blood. Either will work to effectively stop the injury from bleeding.
When using a powder, you'll dampen a q-tip, dip it into the powder and apply it to the wound, increasing pressure to help stop the bleeding. For minor cuts and injuries, this is the best path, but you can also do it for a nail that was trimmed down too far. You could, alternatively, just dip your pet's paw into the container, immersing his nail into the powder. Hold it there for five to ten seconds and the bleeding should stop. You could also use a styptic solution or gel; just make sure you allow it to dry and take full effect before you let your pet go and the same goes for a stick or pen. Considering you won't want your pet to run off while still bleeding anyways, that probably won't be too difficult.
What can be used in place of styptic powder?
Other than powders, there are styptic gels, solutions, pens, and bars that all are included on our list. Because styptic isn't a specific product but any substance that's capable of hemorrhage cessation, there are plenty of substitutions that can be made. A steeped black teabag contains a hemostatic, tanin, which causes clotting. Antiperspirants contain aluminum chloride which will constrict blood vessels to slow bleeding (and shrink sweat glands). Alcohol and witch hazel both act as astringents to contract the blood vessels and skin cells to slow the blood and seal the damaged vessels. You should keep in mind that while each of these can aid your body's natural clotting and blood flow cessation, Aluminum Sulfate and Ferric Subsulfate are the fastest-acting by far.
If you're looking for a homeopathic solution, and don't mind that they're not quite as effective, yarrow flower can be used to slow the bleeding and so can corn starch. Ice will constrict the blood vessels and that will cause clots to form on their own more quickly. Remember that none of these will stop the bleeding, but they will slow it. Vaseline won't stop the bleeding, but they will protect the wound and provide a barrier that blood will not easily penetrate.
Is styptic powder safe for humans?
Yes! You can use styptic powder on humans just as easily as you do on your pet. In fact, the original development was intended for human use. This is one of the rare cases that human and pet blood is similar enough to respond equally well to the same treatment. Most human styptics tend to be aluminum sulfate or aluminum chloride, but Ferric Subsulfate, the more common ingredient in pet styptics will work just as well. And, an added bonus for you, at least you won't have to worry about squirming and biting when you put it on a human (probably).
One word of caution, though: Styptic powders can sting. You may not want to try it on your kids for that reason, but it won't harm them if you do. And it's probably smart to bear it in mind when you're putting it on your pet.
Can dogs lick styptic powder?
Styptic powder is non-toxic and shouldn't harm your dog, as long as he's not devouring the entire container behind your back. (And even in that case, he'll probably just have a tummy ache, with maybe a bit of vomiting – still call and check with the vet, but he'll probably be fine.) The bigger concern is that if he's licking the styptic off too quickly, it won't have time to work. While it only needs a short time to stop the bleeding, leaving it on could prevent future bleeding and for a wound that keeps getting re-opened, that is a big perk.
Be aware, though, that unless you prevent them from doing so, your dog will lick the styptic powder off of him. It will often be uncomfortable and can even sting, so he's going to want to lick it off as soon as he can. To make sure he doesn't take it off before the powder has a chance to work, you'll want to restrain him or at least hold tight to his paw to make sure he can't get at it. For a wound, it may be a bit more difficult to ensure he's never licking it off, but if for these instances, there is always the Elizabethan collar (AKA the cone of shame).
Other Styptic Powder for Pets We Reviewed
We looked at 20 other styptic powder for pets. Even though they didn't make our 5 best styptic powder list, they're the best of the rest and each is still a great option for your pet. The information you'll need to compare each one is included with the listing.
Standard Styptic Powder for Pets
This styptic powder uses Ferric Subsulfate and Aluminum Chloride to stop the bleeding of a pet's minor injury.
Key Features:
Includes application q-tip
.05 oz each
2 Pack
Cost: $15
ARC Laboratories Kwik-Stop Styptic Powder for Dogs, Cats, and Birds
This styptic powder will stop bleeding fast to help prevent infection.
Key Features:
14 grams (~0.5 oz)
Active ingredient is Ferric Subsulfate
Includes Benzocaine
Cost: $10
Bio-groom Sure Clot Syptic Powder
With a fast-acting styptic powder such as this, you'll minimize your pet's blood loss and have him back to normal in no time.
Key Features:
14 grams (~0.5 oz)
For external use only
Active ingredient: Ferric Subsulfate
Cost: $10
ClotIt Veterinary Blood Stopping Powder
This styptic powder acts to aid in blood vessel repair and speeds up the coagulation process.
Key Features:
1 oz
All-natural ingredients
Does not stain
Cost: $15
Espree First Aid Healing Basics Kit
This kit will give you a styptic powder to clot blood and stop its flow fast as well as all you'll need to treat a minor wound.
Key Features:
Includes styptic powder, healing cream, and protective bandage spray
0.5 oz powder
Made in the USA
Cost: $30
Four Paws Quick Blood Stopper Powder
This is an antiseptic powder with styptic properties to stop bleeding and protect your pet from contagions.
Key Features:
Works for nail cutting, docking, and cropping
0.5 oz
For external use only
Cost: $5
Gold Medal Pets Stop Bleeding Styptic Powder
By adding a pinch of this styptic powder to the affected area and applying moderate pressure, you'll be able to stop your pet's bleeding within seconds.
Key Features:
Ferric Subsulfate as a hemostatic agent
Dries liquid and moisture around wound
0.5 oz
Cost: $10
This styptic powder is ideal for all kinds of pets, no matter the age or size.
Key Features:
0.5 oz
Ferric Subsulfate as a hemostatic agent
Powder may stain
Cost: $10
Not only can you opt for a multi-pack, but if you use this enough, you can Subscribe and Save on Amazon to earn even more savings!
Key Features:
1.5 oz containers
2 packaging options
Ferric Subsulfate as a hemostatic agent
Cost: $5
Vet Worthy Styptic Powder for Dogs and Cats
This styptic powder will stop the bleeding on your pet's minor cuts, nicks, and injuries.
Key Features:
Ferric Subsulfate as a hemostatic agent
Alcohol-free
0.5 oz
Cost: $10
Styptic Solutions and Gels for Pets
This gel contains several ingredients to stop the blood flow and re-knit your pet's tissue fast.
Key Features:
Made with Ferric Sulfate, Aluminum Sulfate, and collagen proteins
2 fl oz
Leave on 2-3 hours and wash off
Cost: $20
Four Paws Pet Quick Blood Stopper Gel
This gel will coat your pet's injury, protecting it from contamination and preventing infection.
Key Features:
1.16 fl oz
Antiseptic styptic gel
Bismuth Subgallate as an active ingredient
Cost: $10
Infa-Lab MAGIC TOUCH Liquid Styptic Nails Stop Bleeding Skin Protector InfaLab
This liquid solution will protect your pet's wound and stop the bleeding fast.
Key Features:
Aluminum chloride as an active ingredient
Also includes witch hazel and alcohol to slow bleeding
0.5 fl oz
Cost: $5
Miracle Care Kwik Stop Styptic Gel
This styptic gel includes both of the most common hemostatic agents, Ferric Subsulfate and Aluminum Sulfate, for a doubly effective product.
Key Features:
Ferric Subsulfate and Aluminum Sulfate as hemostatic agents
1 fl oz
Include Benzocaine for pain relief
Cost: $10
Styptic Pencils and Sticks for Pets
Barbero Grooming Styptic Pencil
Wet the top of this stick and apply directly to small wounds and nicks to stop bleeding fast.
Key Features:
Aluminum Sulfate as a hemostatic agent
.21 oz
External use only
Cost: $5
BarberUpp Styptic Skin Soothing Alum Green Blok
While this may be intended for after-shave relief, there are countless ways this can translate well to use with your pets.
Key Features:
Storage case included
Fragrance-free
3.5 oz
Cost: $10
Whether you have travel frequently with your pup, or you want the option to use this on yourself if ever you need, these one-time-use styptic sticks are perfect for any bleeding from a minor injury.
Key Features:
20 sticks in each pack; 3 packs included
Aluminum Sulfate as a hemostatic agent
Fragrance-free
Cost: $10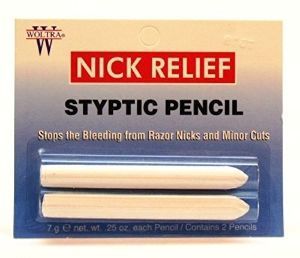 After use, be sure to rinse and dry the pencil between each use and this pack may just last you for years!
Key Features:
.25 oz for each pencil
3 twin packs
Aluminum Sulfate as a hemostatic agent
Cost: $10
Pacific Shaving Company Nick Stick
To soothe the injury for your pet, this formula also includes aloe and vitamin E.
Key Features:
Dries clear; no staining
3 packaging options
Made in the USA
Cost: $10
This styptic features a twist-up tube that's perfect for use and re-use!
Key Features:
0.25 oz
Coats injury to protect
Aluminum sulfate as a hemostatic agent
Cost: $5