Domesticated dogs have come a long way from their wolf ancestors. In some instances, we mean that quite literally. A dog that has been bred for shorter hair, or originated in warmer climates is not suited to the cold Northern winters. Yet, as humanity migrates, relocates, and travels, we bring our beloved pets with us; and that means that most breeds of dogs will need protected from harsh climates. (And honestly, even if they don't need it, we love them and will do anything to make them a bit more comfortable. And adorable.) So what's the solution? Possibly it's the same solution your mother told you when you complained of being cold as a child: Go get a sweater.
We reviewed dozens of small dog sweaters to identify the best of the best. We looked at sweaters that are extra warm, and those that are extra adorable. As most areas' cold temperatures coincide with the holiday season, we even included sweaters that celebrate snow and certain holidays.
If you have another furry companion who's a little bigger, check out our list of the best sweaters for large dogs.
The Chilly Dog Boyfriend Dog Sweater stood out as the clear winner among its peers as our top pick for small dog sweaters. With its wide range in size selection, you'll be able to pick a sweater that fits your little guy snugly, no matter how little.
The 5 Top-Rated Small Dog Sweaters
*Ratings are from Amazon at the time of publication and can change
Our Top Pick: Chilly Dog Boyfriend Dog Sweater
The Chilly Dog Boyfriend Dog Sweater will fit even your smallest pup; the sizing starts at 2 pounds, so you'll likely be able to dress even your toy breed puppy to make sure he's always warm and toasty. The V-neck style will allow you to pull it onto your dog with a bit of give and it sits low enough on his neck that it won't interfere with the collar and leash at all.
This sweater is made of 100% wool and dyed with only organic plant dyes. It's handmade following the fair trade guidelines so you can buy this sweater with a clear conscience. It's both safe for your pup to wear and made in a factory that doesn't take advantage of the production team. It runs a bit long, so look forward to it covering all the way to your pup's rump; which will do wonderful at keeping him warm, but you may need to keep a close eye on his potty habits.
With well over 800 customer reviews on Amazon, earning it a very respectable 4.4 stars, we're confident you'll love this sweater and so will your pup! A quick peek at the reviews will only confirm that, so take a look if you're still not sold.
Chilly Dog Boyfriend Dog Sweater Key Features:
Machine wash on delicate, lay flat to dry
100% handmade organic wool
8 size choices
Our Runner-Up Pick: Handmade Dog Poncho from Mexican Serape Blanket
Living in a post-"Taco Bell dog" world, is it even acceptable to own a small dog and not put him in a Serape? This Dog Poncho from Mexican Serape Blanket is handmade from an authentic Mexican blanket and secures around the neck and waist with Velcro. That means you won't need to pull anything over your dog's head and that makes this an incredibly easy dressing experience for you and your pup.
It's not just the "yo quiero Taco Bell" novelty that makes us want this sweater for our small dogs, though. It's also made with a quality, warm polyester and acrylic blend and a polyester interior lining that will prevent your dog from getting overheated while being gentle on any sensitive skin. Because they're handmade, each sweater is different so keep in mind that your sweater will likely not match the pictures perfectly.
This sweater has more than 600 customer reviews and an overall rating of 4.8 stars! You read that right, this little serape sweater, at just $20, has a nearly perfect rating. That's enough to convince us!
Handmade Dog Poncho from Mexican Serape Blanket Key Features:
7 size options
Each sweater is one-of-a-kind
2 color scheme choices
Best Budget Pick: Stinky G Aqua Blue Dog Pet Sweater with Green Polka Dot
The Stinky G Aqua Blue Dog Pet Sweater with Green Polka Dot will fit your dog as small as 3 pounds and as large as 20 pounds. There are front sleeves that will keep his front legs warm and you can roll them down a bit to extend their coverage. While this is a full sweater that will need to be pulled over your dog's head, there is plenty of room cut out of the bottom for your boy or girl to potty without messing up the sweater.
You can get this in either pink with white polka dots or blue with green polka dots, making it an excellent choice for either a boy or girl dog. The fabric is machine washable and the neck rolls down slightly giving room for you to pull it over your pup's head and for his ID tag to hang from without an issue. Should you take your little fur baby on a walk, there is a leash hole cut along the back letting you attach it without pulling on the collar or the sweater.
Nearly 200 customer reviews on Amazon have awarded this sweater an overall rating of 4.3 stars – not bad at all. And to sweeten the deal? It's only about $10. Now that's a deal that's hard to beat!
Stinky G Aqua Blue Dog Pet Sweater with Green Polka Dot Key Features:
Machine washable
2 color choices
4 size options
Best Fleece Sweater for Small Dogs: Gooby Stretch Fleece Pull Over Cold Weather Dog Vest
The Gooby Stretch Fleece Pull Over Cold Weather Dog Vest is a simple sweater that's an incredible find for any dog owner. It's made with a stretching fabric that allows you to pull the sweater on and off without having to fight your dog. The importance of a sweater that doesn't result in a wrestling match with your dog simply can't be overstated. And the snug fit could possibly even help your pup's anxiety while keeping him warm.
On the topic of warm, the fleece fabric of this sweater will do wonders to warm your pooch up on cold nights. And conveniently, it's machine washable so no matter what your dog gets into, you can just toss the sweater in the washer just like any other fleece sweater you own. You may want to hang it to dry or at the very least, tumble dry low, but however you decide – this sweater is ultra low-maintenance.
There are over 550 customer reviews on Amazon for this sweater and it has an overall rating of 4.5 stars; which makes this a great choice for your fur baby.
Gooby Stretch Fleece Pull Over Cold Weather Dog Vest Key Features:
10 size options
Stretchable fleece construction
8 color choices
Best Hooded Sweater for Small Dogs: Blueberry Pet Winter Dog Sweater
Blueberry Pet Winter Dog Sweater
Meet the Blueberry Pet Winter Dog Sweater, the sweater with a hood to keep your little dog's head warm and protected from the elements.
The Blueberry Pet Winter Dog Sweater is available with quite a few options, and not the least of which is any size from 8″ to 20″ down the length of your pup's back. You'll also get to choose whether you want a hood or not, between a couple different styles or you could even purchase a 2-pack and save a few dollars. If your dog will keep the hood up, then this is an opportunity for you to keep him more warm in this sweater. (If not, even without the hood up it's still pretty adorable.)
These sweaters are made of 100% acrylic yarn, which means you can machine wash them. You'll just want to make sure to wash them with like colors to prevent bleeding and tumble dry low to keep it from getting too beat up. There is also a slit along the back of the sweater for a leash to fit through and secure without bothering the fit of the sweater or the placement of the collar.
This sweater has just over 300 customer reviews on Amazon and an overall rating of 4.4 stars, so you can be reasonably certain that the product you're getting will be one that you love. And don't forget the value – for the hooded sweater, it's under $15!
Blueberry Pet Winter Dog Sweater Key Features:
6 size options
4 style and color choices
100% acrylic material
Who Should Buy a Small Dog Sweater
If you have a small dog and live (or plan on visiting) the northern half of the planet during any winter months, it's probably a good idea to invest in a sweater or two (or more) for your dog. Walks are necessary for a lot of dogs to get their energy out and to maintain good behavior (and this is all too important with some specific Napoleon-complex-ed little dogs). Cold doesn't keep this from being true, it just keeps the dog from wanting to go out without a sweater.
You may also be interested in accessorizing for your little dog, and sweaters are one of the most fun ways to do so. You can get him a bling collar, or leash, sure, but the sweater that matches yours or the season is sure to be a show stopper. If you have a great fashion sense then your dog can be yet another way to express yourself and an opportunity for you to express his personality for him.
For some small dog owners the question isn't whether they need a dog sweater, it's how many sweaters should they get? Keep in mind, especially if your small dog is sleeping with you, that there are a lot of gross little habits your dog may have that you don't notice, or gross articles he may poke his nose in (or rub his back in). Having him wear a sweater during the day and taking it off at night can protect you from inadvertently sleeping in a disgusting smell your dog wanted to roll in. Spoiler, it's usually another dog's poop. Consider getting him that sweater.
Important Features to Consider
A small dog sweater should have a few important features. Here's what to consider when selecting a sweater for your small dog:
Online shopping. Even if you've never bought a dog a sweater you can still make this purchase online without taking too much of a risk. First, you need to measure your dog thoroughly. You're also going to want to pick a product that allows for returns. You can order a few sizes and return the ones that don't fit. And if you want to avoid that, you can take your pup to a pet store and try a few until you get a better idea.As with so many products, you'll likely find the best selection and pricing for dog sweaters online.
A good fit. Most sweaters will have the size measurements written in the description to make the choice easier on you. You'll want to measure your dog around the neck, chest, waist, and his length from back of neck to tail. You can look up what is typical for your dog's breed if you have a puppy and you'd like him to be able to grow into it, but mostly, you'll want to buy for the size your dog is, just to be safe.
Collar/harness access. How warm or adorable your dog looks doesn't matter a bit if you can't take him anywhere to show him off. So make sure the sweater you're picking out for him gives room or provides holes where appropriate to fit the collar and leash hook through the sweater and to his leash. (Or harness, but be warned those are a bit trickier to find.) Don't put your dog's collar on top of the sweater because he will more easily be able to get it off and bolt.
Difficulty putting on.You want the sweater to be snug and fit well, but if you have to wrestle your dog to get it on, you may be teaching your dog to hate his sweaters. Look for a sweater that has some give, a little elasticity and you'll probably struggle less. Likewise, buttons or toggles work well to make sure your pup gets that good fit without the torture for you both.
Material. If you plan on putting the sweater on your pup because you see the beginning of cool weather as an excuse to dress your puppers in adorable clothing, then you will want to look for sweaters that don't do too terribly much to keep him warm. A nice jersey-type cotton sweater may be best. For those colder months, a nice wool could keep your dog warm, but may irritate his skin, too. Acrylic is only slightly less warm and you may find he prefers the feel.
Machine washable. This may seem like a no-brainer but you are going to want to make sure the sweater is machine washable before purchasing. You may be surprised by how many are still dry clean, hand wash or more commonly "wash delicate and hang dry." Look for a sweater you can put in the wash with your clothes. If you have to jump through hoops to wash your dog's clothing, there's a very high likelihood he won't be wearing a lot of clothing.
Frequently Asked Questions
How cold is too cold for small dogs?
There are several factors that go into determining the exact temperature your dog can handle without discomfort and every dog is different. However, you can typically expect most, if not all dogs, to remain comfortable until around 45°F. At this point, cold-averse dogs (whether that be because of size or health or just personal preferences of the dog) should be brought into a more comfortable environment. Small dogs and sick or extremely old or young dogs will need to avoid extended time in temperatures of 32°F or below. And all dog owners need to be careful at temperatures below 20°F. Exposure to small dogs below 32°F and all dogs 20°F may put your pup at risk for frostbite and hypothermia.
How do I tell if my dog is cold?
If you're just wondering for the comfort of your dog and not his safety, the easiest way to tell if your dog is cold is to feel his ears. If his ears are cold to the touch, then you'll know he's cold. When it becomes a bit more of a concern, your dog will start getting a bit anxious. He'll fidget and possibly whine, looking for a warmer location. When he's holding up one or more paws, trying to get them off the cold ground, or he starts slowing down in movement, it's time to get inside ASAP.
Do small dogs get cold more easily than large dogs?
Yes, as a rule, small dogs do get cold more easily than larger dogs. To be specific, smaller dogs tend to have more skin to release their heat than "insides" to keep that heat in. If you have a plump small dog with shaggy hair, however, he may not get as cold as your ultra skinny, short haired large breed dog. There are several factors that make exceptions to this, however. If your small dog has been conditioned to live in the cold all his life, then he may not be as bothered by a chilly fall day as a born and raised Cali dog. Sick dogs, as well as very old and very young dogs, all struggle to maintain a good body temperature and therefore will all need watched more closely than just small dogs.
How can I get my dog to wear a sweater?
You can likely answer this question better than we can, since you've trained him on other tricks and behaviors. The general answer is, however you trained him to sit will likely be the best tactic for getting him to wear his sweater. Most dogs respond well to treats and verbal praise as reward enough that he'll continue to wear the sweater without complaint. If he has anxiety with the sweater, you may want to try with a looser sweater or tighter, depending on the fit. A tighter sweater may help him feel more secure or it may end up making him feel trapped. Make sure that you can fit two fingers in between the sweater and your dog's skin.
If you're starting from scratch, you can get your dog used to the sweater by easing him into the idea of wearing it before you ever put it on him. Start by showing it to him for a few days, each time rewarding him after he smells it, touches it, etc. Don't force the issue. If he starts thrashing or falls over, calm him and then take the sweater off. (Don't take it off immediately because that may reinforce his fears. Calm him first by holding him if he's thrashing or wait for him to get up on his own if he falls over.)
Other Small Dog Sweaters We Reviewed
We looked at 21 other sweaters for small dogs. Even though they didn't make our 5 best small dog sweaters list, they're the best of the rest and each is still a great option for your dog. The information you'll need to compare each one is included with the listing.
All-Season Small Dog Sweaters
Azuza Vintage Classic Turtleneck Dog Sweater
This classic knit sweater is perfect for a chilly Autumn morning walk.
Key Features:
5 size choices
4 color options
Made of stretchable acrylic
Cost: $10
The Retro Stripe Sweater is a cozy stripe sweater for pups and their people. It's made from a soft yet durable cotton acrylic blend that makes for easy washing. Human sizes are unisex—women usually size down one size.
Key Features:
Matching sweaters for pups and their people
Every purchase helps a dog find their forever home
Ethically made and cut to avoid doggie mess
Cost: $42
BINGPET Security Patterns Printed Puppy Pet Hoodie Dog Clothes
Your little tough guy will feel even more like your protector when you give him this bouncer's sweater.
Key Features:
4 color choices
6 size options
65% cotton, 35% polyester
Cost: $10
Blueberry Pet Classic Cable Knit Dog Sweater
This extra warm sweater comes in so many colors, you can have your pup matching nearly anything or anyone!
Key Features:
6 size options
20 color choices
20% wool, 80% acrylic
Cost: $15
CHBORLESS Pet Dog Classic Knitwear Sweater Warm
This sweater is perfect for keeping those front legs protected from the harsh weather as well as his chest and back.
Key Features:
10 color choices
6 size options
Machine washable
Cost: $10
FAMI Cute Pet Clothes European Classical Pet Sweater
This turtleneck sweater will be sure to keep your little fur baby warm and comfortable all through the harsh winter.
Key Features:
3 size choices
3 color options
100% Aran wool knit
Cost: $10
Fitwarm Knitted Thermal Pet Clothes for Dog Pajamas PJS Coat Jumpsuit
This sweater is a full body one that looks like a baby's sleeper and will offer the most coverage for your dog.
Key Features:
6 size choices
Full coverage on all 4 legs
Thermal fabric
Cost: $15
Gooby Every Day Fleece Cold Weather Dog Vest for Small Dogs
This fleece sweater has a V-neck style that will make putting it on all the easier.
Key Features:
17 color options
5 size choices
100% polyester fleece
Cost: $10
Gooby Fashion Check Quilted Bomber Dog Vest with Stretchable Chest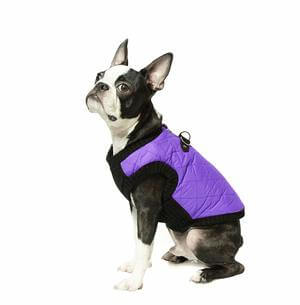 This quilted sweater has hoops on the back so you can attach the leash directly to it and not bother with attaching it to the collar at all.
Key Features:
14 color choices
5 size options
Water resistant
Cost: $30
HAPEE Pet Clothes the Diamond Plaid Cat Dog Sweater
This is an adorable sweater that's perfect for any occasion.
Key Features:
3 color choices
5 size options
Made of 100% acrylic yarn
Cost: $15
When this sweater gets dirty, as dog sweaters will, you can simply pop it in the washer with like colors and tumble dry low – it couldn't' be easier!
Key Features:
4 size choices
Made with 100% acrylic yarn
Machine washable
Cost: $30
POPforPETS Post Operative Protection Shirt
In case you're investing in a sweater to protect his stitches post-op, this is the perfect selection for you.
Key Features:
Protects surgical sites
Machine washable absorbent fabric
5 size options
Cost: $30
This sweater comes in so many varieties, it's hard to imagine you not being able to find a size and color for your pooch.
Key Features:
10 color choices
7 size options
100% acrylic
Cost: $10
Tooth & Honey full belly coverage surgery recovery shirt
This sweater is intended to help protect surgical sites and is designed for breeds that tend to have broader chests.
Key Features:
95% cotton 5% spandex
4 size choices
Full underbelly, mid-length sleeve
Cost: $35
Wiz BBQT Knitted Sweater for Dogs
This sweater comes with a bonus vinyl measuring tape so you'll be able to monitor your dog's growth.
Key Features:
5 color choices
6 size options
Made with 100% acrylic yarn
Cost: $15
Zack & Zoey Basic Hoodie for Dogs
If you can't wait for cool weather to wear your hoodies, then why would your dog feel any differently? Pick him up a hoodie and you'll be able to coordinate your wardrobes.
Key Features:
13 color choices
Machine washable
6 size options
Holiday Sweaters for Small Dogs
BINGPET Small Dog Puppy Sweaters Cute Reindeer
This sweater features two reindeer and a tree with a heart between them for a warm seasonal feel.
Key Features:
2 color choices
2 size options
Made with acrylic yarn
Cost: $10
Blueberry Pet Holiday Festive Christmas Collections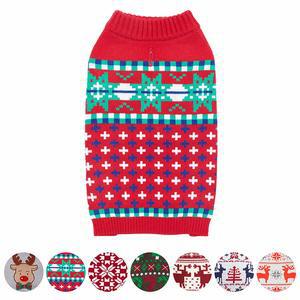 These sweaters are made with 100% acrylic fabric and as such, are ultra easy to clean and maintain.
Key Features:
10 style choices
6 size options
Scarf and hair clip selections available as well
Cost: $15
BOBIBI Dog Sweaters for Christmas Reindeer Pet Winter Knitwear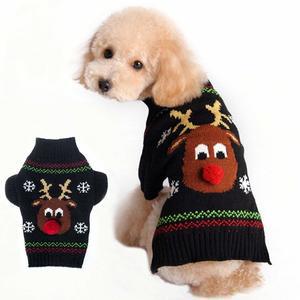 This sweater features the most famous of all reindeer, Rudolph, with his even more famous 3-D red nose.
Key Features:
5 size options
100% acrylic
Machine washable
Cost: $15
HAPEE Dog Sweaters for Christmas
Check out this adorable holiday sweater and try not to let your jaw hit the ground when you see the price tag of just $9!
Key Features:
5 size choices
Applique Santa with embroidered edge
Made of acrylic yarn
Cost: $10
Holiday Christmas Reindeer Vintage Classic Dog Sweater
Not only is this sweater a classy little number for your fur baby, but you can pick up a matching sweater for yourself from the seller here.
Key Features:
5 size choices
12 style choices
Machine washable
Cost: $10