The 25 Top-Rated Crates for Small Dog Breeds
When you get a puppy, you may be surprised with just how much trouble they can get into when they have free reign – especially while you're away! Some dogs even want their own little den to feel safe. There are some recommendations on how to crate train from the Humane Society of the United States here, but if you've found your way to this list, chances are you've already noticed your puppy has a need for her own secure space within your home.
If you are in search of large dog crate options, find our full list of the Top Large Dog Crates.
Below you'll find our top 25 picks for small dog crates, listed in alphabetical order. Ratings, based on Amazon reviews, are current as of the time of this writing.
Current Rating: 4.7
True to its name, the AmazonBasics pet crate has covered all the basics for your furry friend's needs. It gives you several different size options and door configurations, including one- or two-door options. The bottom tray slides out to take care of any potty training accidents, and there is even a removable divider for training or for pups who feel more comfortable in tighter spaces.
Key Features:
Double door for side and front entry
Sturdy metal construction
2 slide blot latches on each door
Cost: Est. $25
Current Rating: 3.7
This crate is a perfect fit for the dog you take with you. Whether it's in the car or taking him to your parents' house for the weekend, the crate folds up so easily that it transports just like a suitcase. The plastic tray on the bottom is sure to catch any potty accidents and the rounded edges make it safer for both you and your dog.
Key Features:
Color options
3 doors: front, side, and top

Steel wire construction
Cost: Est. $40
Current Rating: 4.5
If your pup is a princess, this all-pink crate is the one for her! The front entry dog crate includes a removable pan to police up any accidents and is made of all steel. The door's latching system keep puppy secure and safe.
Key Features:
All steel construction
Folds flat for easy travel

Best for dogs up to 25 pounds
Cost: Est. $35
Looking for more crates that make it easy to take your dog along on the trip? Read our review of the best dog travel crates.
Current Rating: 3.9
If you're looking for a permanent fixture in your home, this may be the dual-purpose solution for you. A far cry from the less attractive metal crates, this hevea wood is a classic addition to your home's decor. Your best friend will feel all the more a part of your home when his bed is such a cornerstone in your living room.
Key Features:
Hevea wood is a sustainable alternative to forest wood
3 wood color options

For dogs up to 20″ long and 12″ tall
Cost: Est. $85
Current Rating: 3.2
This crate may have the sleek look of wood, but its construction is actually ecoFlex, a composite material, making it more durable. The construction is fast and easy; the manufacturer claims it will take you less than ten minutes and you'll need no tools. This is such a clever design that most people won't even notice it's a crate right away.
Key Features:
10-year warranty
4 color choices
For pets up to 20 lbs
Cost: Est. $85
Current Rating: 4.0
When you order this crate, it comes pre-assembled. All you need to do is unfold it; no tools required. The three doors in the front, back, and side make it so versatile you're sure to find the right place in your home.
Key Features:
Non-skid rubber feet
Removable pan

3 doors
Cost: Est. $50
Current Rating: 4.3
This crate is perfect for a nomad lifestyle. If you want to take Fido on your camping trip with you, no problem! It even has seat belt handles to secure it in your car for road trips.
Key Features:
Includes removable floor mat
Indoor/outdoor
Mesh sides for air circulation
Cost: Est. $35
Current Rating: 3.9
This soft dog crate is perfect for an on-the-go pooch. If you plan on taking your buddy on a trip with you and need to leave him in a hotel, this may just fit your needs. And should he have any potty accidents, the entire crate is machine washable.
Key Features:
2 color choices
Fleece mat and carrying case included
Steel tube frame
Cost: Est. $50
Current Rating: 2.9
This unique dog crate stands out because it's made for your nonstandard needs! This little crate is set on 4 wheels to make moving the crate from one room to another a breeze, and should you need to store it, it folds virtually flat. The top and front doors add to the accessibility of the crate and the feeding door kicks this up a notch by making it all the easier to access your pup.
Key Features:
Removable tray
Heavy-duty steel construction
2 doors: front and top
Cost: Est. $200
Current Rating: 3.9
This is probably just the setup you imagine when you think of a pet crate, and for good reason: it covers all your standard needs. In a variety of sizes and with 2 latches on the one large front door, this crate provides a comfortable and secure home for your best friend.
Key Features:
8- and 11-gauge metal wire construction
Easy assembly; no tools required
Sliding removable bottom tray
Cost: Est. $50
Current Rating: 4.3
This fun crate has plenty of extra benefits other crates don't. The top is a mesh cloth material to create a better airflow for your furry friend. The lock is virtually dog-proof, keeping your pup secure. The door to the crate slides along the side rather than swinging out, which makes the space required for operation much smaller.
Key Features:
8 different color options
Dog proof safety latch

Sliding door
Cost: Est. $65
Current Rating: 4.3
This 2-in-1 is ideal to suit a wide variety of needs. If you just want to limit your little guy's access to a certain part of your house, remove the roof of the crate and spread wide to use like a gate. If you're planning on allowing your furry friend to have unrestricted access to your home with the exception of occasional blocks of time, then this crate is perfect.
Key Features:
Crate or gate
Easy to assemble in either form
Includes removable plastic tray
If you are in search of additional dog gate options, find our full list of the Best Indoor Dog Gates.
Cost: Est. $145
Current Rating: 3.6
This may not look like your standard crate but only because it's cleverly disguised. This crate has all the features of the standard metal wire crate, but the wood panels that encase it create a more homey, luxury-type feel. And the wood panels are protected from chewing by the metal crate, so you don't have to worry about your dog turning his create into a chew toy. This is perfect to take up permanent residence in your home as dual purpose: crate and end table.
Key Features:
Includes removable plastic tray
Classy wood panels

Easily assembled
Cost: Est. $135
Current Rating: 4.6
This single-door small pet crate may not have loads of extra features, but for the price, you have to take a good look! It may not be a fancy crate, but it does come with a divider, removable pan, and rubber feet. With those additions and the price, this little crate is a LOT of value.
Key Features:
1-year warranty
Folds flat for easy transport
Optional crate cover and bed
Cost: Est. $20
Current Rating: 4.7
If the pet crate is going to be a permanent fixture in your home, you may want to find one that matches your style, and this one may just fit the bill. It comes in 2 different wicker shades, and the wicker is over a metal frame, making the crate more durable. If your pooch is a chewer, though, this may not be the crate for you: he may not be able to get out, but he would certainly have plenty to chew.
Key Features:
Removable floor pan
Spring-loaded door latch
Door opens in or out
Cost: Est. $160
Current Rating: 3.8
This double-door crate folds and reassembles easily in just a matter of seconds with no tools required. The entire crate is 100% washable; the easiest cleaning method is probably to just take it outside and hose it down. Once taken down, it stores virtually flat for extra convenience and portability.
Key Features:
Removable plastic floor tray
Double doors
Includes divider for training pets
Cost: Est. $25
Current Rating: 4.2
This crate is the picture of versatility. It sets up and folds down with ease and comes with a convenient travel case. Its 4 ground stakes and loops make it the perfect little tent for your furry pal. The canvas is heavy-duty, but the sides roll up to reveal a mesh material, making the air ventilation a literal breeze. It even has storage pockets to keep all of Fido's must-haves.
Key Features:
Includes sheepskin pad
Indoor/outdoor

Ideal for pets up to 8″ tall, and 17″ long
Cost: Est. $35
Current Rating: 4.4
This may not be a forever crate for your dog, but as the name suggests, it will make crate training your dog much simpler. And while he's still learning the ropes of going potty, this crate is powder-coated and rust-resistant. The tray slides out and allows for fast clean up of inevitable accidents.
Key Features:
3 color choices
2 separate double-latched doors
Includes crate divider and polypropylene floor pan
Cost: Est. $30
Current Rating: 4.2
This crate is perfect to turn into your puppy's own little indoor dog house. If cleaning it out becomes a concern, the top is screwed on, but several reviewers have fixed this problem by simply not screwing the top piece in, instead just laying it on top. Others express dislike of the color and, it being wood, you'll discover it's easily re-painted to your tastes.
Key Features:
2 color choices
Fits dogs up to 20 lbs

Easy assembly; all wood is pre-drilled
Cost: Est. $70
Current Rating: 4.4
If the above crate is a dog house, this one is best described as a dog condo. This is a perfect house for the dog who loves his crate. Not only will he love having his own apartment for private afternoon naps, but when the door is open, you may find him just relaxing on the upstairs deck! There are some complaints that the picture makes this product seem bigger than it is, so be sure to note the measurements before buying. This is for your truly small dogs.
Key Features:
4 color choices
Removable bottom panels for easy cleaning
Easy assembly; all wood is pre-drilled
Cost: Est. $120
Current Rating: 4.5
This crate has 2 single latch doors, one on top and one on the front, to make your access to your fur baby all the easier. The heavy-gauge wire is coated in a rust-resistant, long lasting e-coat finish to prolong the crate's life. The edges are rounded so bumping into it won't hurt you or your pup nearly as much as some other crates. It folds up to about 2 inches, making travel with your dog much easier!
Key Features:
Collapsible to approx. 2″
Includes crate training guide, divider panel, and removable plastic floor pan
For dogs up to 25 lbs
Cost: Est. $50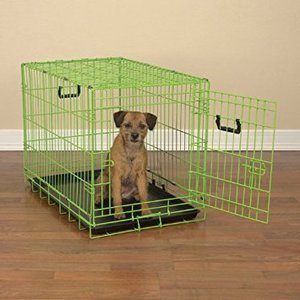 Current Rating: 4.3
This sturdy crate does just what it needs to: it keeps your pup secure! Other than color choices, it may not have a load of extra features, but it doesn't need to when you have the basics so well covered. The crate folds up and stows within seconds and that makes for an easy set up for your travel companion.
Key Features:
3 color choices
Includes a black floor tray and a removable divider
Folds for easy travel
Cost: Est. $55
Current Rating: 4.3
This crate's assembly is so easy – just a single step: unfold! Once in place, the sturdy construction ensures the crate isn't going anywhere and your pup is secure. With only one door and two latches on that door, even a Houdini dog struggles to escape this crate.
Key Features:
Double-latch door
Includes removable divider and floor tray

Folds and goes with a built-in handle
Cost: Est. $50
Current Rating: 4.2
This crate is such a neat little solution for a home with more than one small dog. It has a removable wire roof, a pet divider, and a sliding door with pet proof lock. This would fit great under a couch table or in unique spaces. The wood adds to a sophisticated look for your dog's little getaway.
Key Features:
Life-n-Lock side door
Expandable from 35.4″ to 60.6″

Includes floor tray and divider
Cost: Est. $200
Current Rating: 4.5
This crate comes on casters so you can wheel your little friend with you as you move about your home. As the product description for this crate says, "You have favorite places in your home; now your puppy can have his special place, too." The wheels lock in place for your dog's safety, and the entire crate lifts off the base making clean up a snap.
Key Features:
Removable wire roof
Washable plastic tray bottom
Pet-proof locking door
Cost: Est. $115
More Pet Product Reviews: 
The Best Aquarium Pumps
The Best Aquarium Lights
The Best Couches for Dogs
The Best Rolled Leather Dog Collar
The Best Dog Carrier Backpack
The Best Pooper Scooper for Dogs
The Best Hairball Remedy for Cats
The Best Dog Life Jacket
The Best Flea Shampoo for Pets
The Best Catnip Toys for Cats