Most pet owners can understand how challenging it can be to keep pet hair under control almost any time of the year. Depending on your pet's shedding habits, it might be necessary to vacuum your home multiple times per week, or maybe even daily if your pet's a frequent shedder or the weather's transitioning from cold to warm. A robot vacuum could be the perfect answer to keeping your floors free of pet hair by automating your vacuuming routine.
We reviewed dozens of robot vacuums for pet hair to identify the best of the best. A few important features we compared included suction ability, runtime, and smart mapping ability to keep your home as clean as possible with little to no intervention from you.
Samsung POWERbot Pet Robot Vacuum
The Samsung POWERbot works with Alexa for simple voice-controlled operation and uses powerful suction to remove pet hair from most surfaces.
We've identified the Samsung POWERbot Pet Robot Vacuum as the best robot vacuum for pet hair. This robot vacuum stood out as a clear winner because of its ability to clean both hard flooring and carpets, plus smart sensors to help you keep track of which areas have been cleaned. This versatile robot vacuum is a good choice for most pet owners. 
The 5 Top-Rated Robot Vacuums for Pet Hair
*Ratings are from Amazon at the time of publication and can change
Our Top Pick: Samsung POWERbot Pet Robot Vacuum
The Samsung POWERbot Pet Robot Vacuum is a Wi-Fi connectable pick that works with both Alexa and Google Home devices to help you power, stop, or schedule your vacuum wherever you are. This vacuum also features an onboard camera and numerous sensors to help it navigate your home with ease, and its sensors will relay back to you where it's been so you can keep tabs on what's already been cleaned.
The Samsung POWERbot has loads of perks for pet owners, like its EasyPass wheels that help it transition from carpeting or rugs to hardwood or tile floors with ease, making sure every inch of hair-covered flooring gets clean. It also has a self-cleaning brush that automatically detangles and removes any pet hair that clumps around its bristles during cleaning. Do you often find pet hair in the corners of rooms? This vacuum's edge cleaners brush up against every wall's edge and room corners to pull hair and debris into the suction areas.
One thing many pet owners who have reviewed this vacuum on Amazon can agree on is that it picks up almost any type of pet hair easily without leaving clumps behind as long as they stay diligent about emptying the canister after each cleaning. 
Samsung POWERbot Pet Robot Vacuum Key Features:
Edge cleaning
Remote control capable
Self-cleaning and detangling bristles
Wider than similar vacuums
Automatic recharging
Our Runner Up Pick: iRobot Roomba 980
iRobot Roomba 980
Meet the iRobot Roomba 980, a robot vacuum with super-intelligent navigation abilities and tangle-free extractors to prevent pet hair clogs.
The iRobot Roomba 980 is one of the best robot vacuums for pet hair because of its overall versatility in removing hair from carpets, hardwoods, and tile. This robo-vacuum is more costly than other options, but it also has features you'd be hard-pressed to find in another vacuum, like its AeroForce Cleaning System with CarpetBoost that makes it even more powerful, automatically, when gliding over carpeting.
If you're a smart technology fanatic, you'll love that you can hook up your Roomba 980 to Alexa to give it voice commands. This gives you even more control and automation over when your vacuum starts, stops, and docks itself. You can also set up cleaning schedules by connecting to your vacuum with the iRobot app. Thanks to its tangle-free brush system, pet hair won't get trapped in the iRobot Roomba 980. Its filter also captures the tiniest particles, like pet dander and other allergens, and contains them inside the vacuum rather than blowing them back out into the air.
The iRobot Roomba was one of the pioneers of robotic vacuums and it's clear to see why it's still such a popular pick. With over 2,000 Amazon reviews and a 4.1 out of 5 rating, the Roomba 980 has proven itself a reliable and trusted pick, especially for pet owners. Several fur-parents agree that this vacuum cleans pet hair with ease, regardless of how furry their pet is.
iRobot Roomba 980 Key Features:
Tangle-free brushes
120-minute runtime
Able to connect to Alexa
Smart scheduling and docking
Boosted power on carpets
Best Budget Pick: Ecovacs Deebot N79S
Ecovacs Deebot N79S
This Ecovacs Deebot gives you a lot of bang for your pet-hair-cleaning buck with three brushes, Wi-Fi connectivity, and voice commands.
Is a robot vacuum something you'd love to make cleaning up pet hair just a bit easier, but it's not quite within your budget? Well, the Ecovacs Deebot N79S might be. For under $200, this budget robot vacuum has many features the big dogs have, like Alexa connectivity, self-charging abilities, and status updates, but for a fraction of the cost. 
This Ecovacs Deebot model can connect to a Smart App for owners to control the vacuum when they're away or in another area of their home. Using the app, you can get status updates about what the vacuum has cleaned, change cleaning modes, or even directly control the vacuum. You can also connect to Alexa or Google Assistant for voice command control. Your vacuum will even return to its charging dock on its own once it senses that it needs a power boost. 
Although the Ecovacs Deebot N79S can work on most floor types, it tends to work best on tile, wood, and low-pile carpets. However, you can always clean up tough pet hair messes by switching it to Max Mode Power, which boosts its suction power to handle the biggest jobs. 
Ecovacs Deebot N79S Key Features:
120-minute max runtime
Three brushes work together for optimal cleaning
Smart App offers remote access
1-year warranty
Best Sweeping & Mopping Robot Vacuum for Pet Hair: Roborock E20 Robot Vacuum Cleaner
If you have mostly smooth-surface floors in your home, the Roborock E20 Robot Vacuum Cleaner might be the best choice for you. Not only does this vacuum automate your sweeping routine, but it can also mop the floors once it's done picking up pet hair. It comes with a built-in water tank that moves water only while the vacuum moves, so you won't have to worry about puddles getting left behind.
One stand-out feature of this vacuum is its efficient cleaning pattern that moves the cleaner in a smart, streamlined pattern rather than haphazardly all over the floors. In doing so, your Roborock vacuum will save its energy to get more of your home free of pet hair before it needs a recharge. A single charge can lat up to 100 minutes, and the vacuum will head back to its dock when it needs more power. 
You can choose from six different cleaning modes depending on your home's needs. For example, choose Spot Clean to have the vacuum clean a specific area of your home thoroughly, like your cat's favorite napping spot. The vacuum will go into automatic power boost mode when it senses its transition to carpeting. 
Roborock E20 Robot Vacuum Cleaner Key Features:
Connects to app for easy scheduling, mode-setting, and more
1800Pa of suction power
Self-charging
Efficient cleaning paths
Sucks up mop water to prevent puddling
Best Quiet Robot Vacuum for Pet Hair: Opodee Robotic Vacuum Cleaner
Opodee Robotic Vacuum Cleaner
The Opodee Robotic Vacuum Cleaner can clean pet hair from up to 1615 square feet of flooring on one battery charge without making unnecessary noise.
Vacuums make noise and it's something we expect. However, some robot vacuums, like the Opodee Robotic Vacuum Cleaner, are well-known for their quieter ambiance. This Opodee vacuum has a 65 dB noise level, which is about the noise level of someone typing on a keyboard. This is good news if your pet typically has anxiety when the vacuum cleaner turns on!
The Opodee Robotic Vacuum Cleaner works in an S-shaped pattern to clean your home efficiently. Its wheels help it climb over obstacles, like small changes in flooring height between rooms. Thanks to drop sensors, it will even stop itself before moving to dangerous areas, like stairs, that it can't navigate easily.
This vacuum has a 4.4 rating on Amazon and more than 170 reviews, proving that it's a contender among robot vacuums for pet hair. Several pet owners say that they are pleasantly surprised by how well the Opodee vacuum picks up pet hair around the home without it ending up tangled on the brush after cleaning. 
Opodee Robotic Vacuum Cleaner Key Features:
65 dB noise level
Includes boundary strips to block areas of the home
HEPA filter for clean air
Five cleaning modes
Who Should Buy a Robot Vacuum for Pet Hair
You might think that a robot vacuum couldn't possibly do as good of a job at picking up your pet's hair as your regular push vacuum can. However, these techie vacuums have come a long way and many of them do a surprisingly excellent job at navigating your home using built-in sensors and cameras, suctioning up debris and hair, and keeping your home free of allergens and tiny particles by filtering air inside.
Most pet owners can benefit from a robotic vacuum if it's within their budget, especially if you have only tile, laminate, or wood flooring, or low-pile carpeting in your home. Robot vacuums tend to work the best on these floor types because they can move and sense their surroundings with ease.
If automating your cleaning routine sounds like something you'd love to do, then a robot vacuum can help you with that, too. They're especially beneficial for pet owners who have chronic pain and might find some relief by skipping vacuuming. Many robot vacuums can be started, stopped, and scheduled using a mobile app for complete hands-free use. Most will even go back to their charging stations to recharge on their own!
Samsung POWERbot Pet Robot Vacuum
The Samsung POWERbot works with Alexa for simple voice-controlled operation and uses powerful suction to remove pet hair from most surfaces.
Important Features to Consider
A robot vacuum should remove pet hair from a variety of flooring surfaces to help you automate your cleaning routine. Here's what to consider when selecting a robot vacuum:
Budget. Robotic vacuums do tend to cost more than regular vacuums because of how intelligent and technical they are. However, they do come with a variety of price tags, so it's necessary to compare features of different robo-vacuums to decide what is and isn't necessary for what you're willing to pay.
Home layout. Not all homes are ideal for robot vacuums. Houses with a lot of stairs, tight spaces, and obstacles (like children's toys or varying floor heights) might not get an optimal cleaning from a robot vacuum, which uses sensors and navigation technology to move through your home. Open layouts and one-story homes tend to be the best for these vacuums. 
Type of flooring. Most robot vacuums aren't able to navigate through thick, high carpeting that gets in the way of their sensors. Hardwood, tile, laminate, and other smooth surface flooring are the best types for these vacuums, although many newer models do well with handling low-pile carpets, too. 
Height and width. Cleaning under furniture, where a lot of pet hair collects, is a crucial part of the vacuuming process. Robot vacuums can usually fit well under tables, chairs, couches, and other furniture, but you'll want to check the dimensions of the vacuum and your furniture before purchasing one. Look at the width and height, specifically, to make sure the vacuum won't be too high or wide to fit underneath your furniture. 
Suction power. Most robot vacuums have between 1500Pa and 2500Pa; the higher the number, the more suction it has, which means the better it will be for picking up pet hair, especially on carpeting. 
Battery life. A good robot vacuum should have a continuous runtime of at least one hour, but most of them last closer to two. This is important to ensure a thorough cleaning of your home before the vacuum has to return to its dock for a recharge. 
Filter. Some low-budget vacuums might have excellent suction without a good filtering system. High-quality filtering is essential for keeping allergens, dust, and other particles – like pet dander – out of your home. Look for a HEPA filter, microfilter, or something similar to trap unwanted particles inside the vacuum. 
Frequently Asked Questions
What is a robot vacuum and how does it work?
A robot vacuum is a small, usually circular, vacuum that does your vacuuming for you. Although it sounds like something from the future, a robot vacuum is becoming more commonplace in homes and offices because of their pure convenience of automatic vacuuming without a person pushing the device. Robot vacuums use the latest technology to sense where they're going around your home and create an efficient path for cleaning every inch. Many of them are even smart enough to know when they need to charge and make their way back to their charging docks on their own. 
Do robot vacuums work on tile?
Most robot vacuums can work on tile floors. Since these vacuums use a series of sensors, and sometimes cameras, to help them decide where to go, they don't have anything obstructing their view on a tile floor. Smooth surfaces, like tile floors, are optimal for robot vacuums.
Are robot vacuums safe for wood floors?
Since wood floors are among the most popular type of flooring, many robot vacuum manufacturers have developed them to clean wood floors safely. Most robot vacuums come with non-abrasive wheels that won't harm your wood floors as they form their cleaning paths. You will, however, need to be careful when using robot vacuums that both sweep and mop your floor, as some hardwood flooring won't handle water well. Check your specific type of flooring first before using robotic vacuums with a mopping feature. 
Do robotic vacuums work on high-pile carpet?
Although some robotic vacuums are made to work with almost any type of flooring, they generally don't maneuver high-pile carpet well. Not only can your vacuum have a tough time rolling over thick carpeting, but their sensors also might not work correctly with high carpeting in their way. It's best to look for a robot vacuum with large wheels and powerful suction if you want it to clean your carpeted areas, too.
Other Robot Vacuums for Pet Hair We Reviewed
Samsung POWERbot Pet Robot Vacuum
The Samsung POWERbot works with Alexa for simple voice-controlled operation and uses powerful suction to remove pet hair from most surfaces.
We looked at 20 other robot vacuums for pet hair. Even though they didn't make our 5 best robot vacuums for pet hair list, they're the best of the rest and each is still a great option for keeping your home clean. The information you'll need to compare each one is included with the listing.
Robot Vacuums for Carpets
Aiper Automatic Vacuum Cleaner Robot
The high suction power of this vacuum is perfect for cleaning a variety of floor types. 
Key Features:
Connects to Android and iOS devices
Intelligent detection of obstacles
Self-charging
Cost: $140
The 1400PA suction power of this vacuum reaches down into carpets to pull out pet hair. It also features a self-adjusting cleaning head to maximize power on carpeting. 
Key Features:
Anti-collision and anti-drop sensors
110-minute runtime
High-efficiency filter
Cost: $165
When this robot vacuum returns to its base, its dirt disposal cleans it out automatically to hold up to 30 bins of pet hair from carpets and other flooring. 
Key Features:
Works with Alexa
Traps allergens with high-efficiency filter
10x suction power of other vacuums
Cost: $950
Lefant T700 Robot Vacuum Cleaner
The Lefant robot vac has a 3-stage cleaning system to help it work on a variety of flooring, including maximum suction for carpeting. 
Key Features:
Low-profile design
Lithium-ion battery
Water tank for mopping
Cost: $330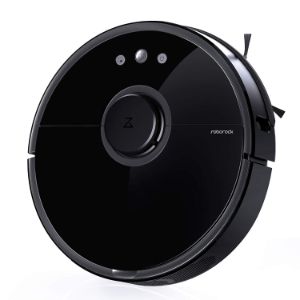 Switch between various cleaning modes to ensure an optimal clean on almost any surface, including carpets, with this robotic vacuum from Roborock. 
Key Features:
2000Pa suction
Multi-mode cleaning
Control with Mi Home app
Cost: $570
Robot Vacuums for Wood Floors
This Beauden's vacuum has two side brushes that are gentle on wood flooring but help to catch pet hair that hides in corners. 
Key Features:
HEPA filter
Anti-drop sensors
24-month warranty
Cost: $90
This eufy vacuum has 1300Pa of suction power, which is perfect for most hardwood floors. 
Key Features:
Automatically increases suction when needed
High-performance filter
Anti-scratch cover
Cost: $225
ILIFE A7 Robotic Vacuum Cleaner
With five cleaning modes, you can set this vacuum to run in a way that makes sense for your home and flooring. 
Key Features:
High suction mode
Automatic recharging
Schedule with mobile app
Cost: $210
Pure Clean PUCRC25 Automatic Robot Vacuum Cleaner
Keep your hardwood flooring free of pet hair with this vacuum, which has two side brushes to pick up any hair in its path.
Key Features:
Anti-fall sensors
Low-profile design
Non-clogging brushes
Cost: $90
The Tesvor robot vacuum uses efficient S-shaped pathways to completely cover every inch of flooring in your home. 
Key Features:
Voice control-capable
Low noise
12-month warranty
Cost: $200
Low-Profile Robot Vacuums
Amarey Ultra-Thin Robot Vacuum
At only 2.7-inches tall, this robot vacuum can wiggle under almost any piece of furniture to clean up hidden pet hair.
Key Features:
Anti-collision sensors
100-minute runtime
Four cleaning modes
Cost: $210
Bagotte BG600 Robotic Vacuums Cleaner
This 2.7-inch vacuum seamlessly moves under almost any obstacle for a thorough clean around your home. 
Key Features:
Two filters
Includes brush cleaning tool
Controlled noise
Cost: $230
Ecovacs Slim Neo Robot Vacuum Cleaner
This robot vacuum is not only thin at just 2.2-inches tall, but it's also compact in size to help it squeeze through every crevice.
Key Features:
Smart Motion navigation
High-efficiency air filter
Scheduled cleaning
Cost: $230
Pure Clean Robot Vacuum Cleaner
This low and compact robot vac has a unique design that allows it to reach in places others can't.
Key Features:
Up to two hours of cleaning
Two side sweeper brushes
350-ml dustbin
Cost: $120
A low-profile 2.6-inch design gives the Shark Ion robot vacuum an edge over others when it comes to cleaning up trapped pet hair from underneath furniture.
Key Features:
Detangling brushes
Easy-empty bin
Dual edge brushes
Cost: $215
Wi-Fi-Enabled Robot Vacuums
ECOVACS DEEBOT 711 Robot Vacuum Cleaner
This handy robot vacuum by ECOVACS hooks to smart tools like Alexa and comes with a Smart App to control schedules, paths, cleaning modes, and more.
Key Features:
1-year warranty
110-minute runtime
Alexa and Google Assistant-capable
Cost: $450
This eufy robotic vacuum connects to the EufyHome app to help you control when and how it operates to keep your home pet hair-free.
Key Features:
100-minute runtime
Automatic power boost when needed
Includes remote control
Cost: $300
This smart vacuum by iRobot connects to Alexa and other assistance devices for voice-activated controlling. 
Key Features:
3-stage cleaning 
Dirt Detect sensors
Several navigation sensors
Cost: $250
The Neato Botvac scans each room before cleaning to make sure it catches every piece of pet hair.
Key Features:
D-shape design for optimal cornering
Eco and Turbo modes
Connects to Neato App for controlling and reports
Cost: $500
ZIGLINT D5 Robot Vacuum Cleaner
Check what your ZIGLINT vacuum is up to by using its connected app, through which you can also set schedules and customize its cleaning process.
Key Features:
Anti-drop and anti-collision sensors
120-minute runtime
1800Pa suction
Cost: $190