Dogs need to chew, some more than others. If you are looking for a way to satisfy your dog's need to chew on items without sacrificing your slippers, rawhide is an option to consider. Made of cow hide, these treats come in many shapes and can be a delicious way for your dog to stay occupied with proper supervision.
We reviewed dozens of rawhide treats for dogs in an effort to bring you a list of the best ones available. We considered shape, value, and what Amazon users said about how much their dogs liked them.
Pet Magasin Natural Rawhide Dog Treats made our top spot. They're a great value, come from grass-fed cows, and have a shelf life of three years, making them a long-lasting option for both frequent and infrequent chewers.
The 5 Top-Rated Rawhide Chews for Dogs
Our Top Pick: Pet Magasin Natural Rawhide Dog Treats
As far as value goes, Pet Magasin Natural Rawhide Dog Treats are a great deal. This package of ten 4-5″ bones is perfect for small to medium dogs. They also have a similar package of larger bones for larger dogs. Each chew will provide hours of entertainment to your dog and can keep him from chewing on your shoes, furniture, and other items in the home.
Pet Magasin has a strict quality control system in place to minimize any risk to your dog by removing dangerous bacteria from the rawhide chews before they are sold. In addition, the chews are sourced from free-range, grass-fed cows. No preservatives or chemicals are used in processing.
Pet Magasin Natural Rawhide Dog Treats Key Features:
Package of 10
U.S. grass-fed cattle hides
Healthy for teeth and gums
No preservatives or chemicals
Treated for bacteria
Our Runner-Up Pick: Raw Paws Pet Premium 4-inch Compressed Rawhide Bones
The Raw Paws Pet Premium 4-inch Compressed Rawhide Bones came in at a close second during our evaluation of rawhide products for dogs. These chews are made from compressed rawhide; this means that they are stronger and often last longer than traditional rawhide chews.
These chews are naturally high in chondroitin and glucosamine to promote healthy joint function. They are sourced from grass-fed cattle, and no preservatives, chemicals or artificial flavors are used in their production. These bones are best for small dogs due to their small size.
Raw Paws Pet Premium 4-Inch Compressed Rawhide Bones Key Features:
Available in various quantities
Best for small dogs
Compressed rawhide might be safer than traditional rawhide
Sourced from grass-fed cows
No preservatives or chemicals
Best Budget Pick: Buffalo Range Rawhide Dog Treats
When looking for a rawhide treat that would be easy on the budget, our top pick went to Buffalo Range Rawhide Dog Treats. These are not made from cow hides; instead, they are sourced from grass-fed water buffalo and processed in certified facilities.
These hickory-smoke flavored treats are a hit with small and large dogs alike. They are also appropriate for many dogs who have allergies and intolerances because they contain no added dyes, added sugar, artificial preservatives, artificial flavors, artificial meats, chicken, fillers, GMOs, glue, corn, wheat, gluten, grain, or soy.
Buffalo Range Rawhide Dog Treats Key Features:
Good for all size dogs
Hickory smoke flavored
Contain no added dyes, preservatives, or fillers
Braided shape
Best Rawhide Rolls: Brazilian Pet Premium Retriever Rolls
The Brazilian Pet Premium Retriever Rolls made our top pick for rolled rawhide chews. These come in a pack of 10 and are available in two sizes for medium and large dogs. Unlike some rolled rawhide chews, these are each made from one large sheet of rawhide rather than several pieced together. This can prevent dogs from tearing off chunks and can help the rolls last longer.
Made in an eco-friendly facility, these whole grain rawhide chews include nutrients that help keep the joints healthy. They are also good for your dog's teeth and gums; they are firm enough to provide resistance and long-lasting fun but not so hard that they might damage your dog's teeth.
Brazilian Pet Premium Retriever Rolls Key Features:
Made from whole grain cow hide
Eco-friendly production
Good for joints, teeth, and gums
Long-lasting
Package of 10
Best Rawhide Chips: 123 Treats – Rawhide Chips for Dogs
123 Treats – Rawhide Chips for Dogs made our top spot for rawhide chips. These long-lasting chips come in a variety of package sizes, with the best value being the 11-pound box. You can choose to purchase them in a package as small as one pound, however.
Great for dogs ranging in size from small to large, these rawhide chips come from free-range, grass-fed cows in Southern Brazil. They are completely edible and should be used with proper supervision to ensure that your dog does not swallow large pieces. They are great for scraping plaque and tartar off of your dog's teeth for better oral health and more pleasant breath.
123 Treats Rawhide Chips for Dogs Key Features:
Great value
100% edible
Sourced from Southern Brazil cows
Good for oral health
Available in several package sizes
Who Should Buy Rawhide Chews for Dogs
All dogs need to chew, so if you have a dog and you have found that he chews on items he shouldn't, choosing rawhide chews or some other type of chew toy (like pig ears or cow hooves) can help save your belongings and your sanity. Having these types of chew toys on hand will help you teach your dog what he should (and should not) chew on.
Another reason you might want to purchase rawhide chews would be if you are bringing a new dog into your home. Having toys and chews available will make your new dog feel welcomed and like part of the household.
Important Features to Consider
Rawhide chews should have a few important features. Here are some things to consider as you decide which type of purchase.
Size. The chews you buy for your dog should be small enough for your dog to pick up easily without being small enough for him to choke on or swallow whole.
Origin. The safest rawhide chews are both sourced from and processed in the USA using methods that don't include harmful chemicals or preservatives. Another good option is those sourced from South America that come from free-range cows.
Ingredients. Most rawhide is made from beef hide. Some is made from horse or buffalo hide. If you prefer one ingredient over the others or if your dog has allergies, it is important to read the ingredients labels of the chews that you are considering.
Frequently Asked Questions
What is rawhide for dogs?
Rawhide is the hide of an animal (usually a cow, but occasionally a horse or buffalo) that is processed and treated to make it tough and chewy. This hide is then shaped into various products, including bones, rolls, chips, and braids. Rawhide is a popular ingredient in dog chews.
Should I supervise my dog while he's chewing a rawhide bone?
Yes, it is essential that you provide supervision to your dog while he is chewing any type of rawhide product. Make sure that the chew is in good condition and that your dog isn't tearing off large pieces that might be swallowed. Also, take away the chew before it gets small enough for him to swallow whole.
Is it okay for dogs to swallow rawhide?
Small pieces of rawhide can be swallowed. They won't be digested but they will pass through the digestive system. Larger pieces, however, can create a choking or obstruction hazard and should not be swallowed. The size that is okay depends on the size of your dog. If you notice your dog tearing chunks of the chew off and trying to swallow them, remove the toy, throw it away, and get a fresh one.
How do bones improve my dog's dental health?
Rawhide chews are tough and chewy, which makes them great at cleaning plaque off of teeth. They also stimulate blood flow to the gums and saliva production, both of which are important for good dental health. Most rawhide is soft enough that it cannot damage your dog's teeth. If the rawhide is brittle, it could cut your dog's gums, so check the chew frequently to make sure it is still smooth and chewy rather than brittle.
Other Rawhide for Dogs We Reviewed
In addition to the five rawhide products that we reviewed above, we also looked at 20 others. These did not make our top 5 list but they are still great options for your dog. The information you'll need to compare them is included with each listing.
Rawhide Bones
123 Treats Rawhide Bones Chews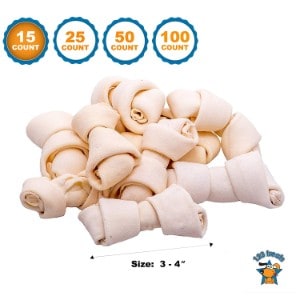 These rawhide bones are great for small dogs and puppies. Sourced from Brazilian cows that are free-range and grass-fed.
Key Features:
Great for dental health
No hormones, additives, or chemicals
Top quality rawhide
Cost: $13
Cadet HDP IMS Premium Pressed Rawhide Bone
Available in packages of 12 and 24, these pressed rawhide bones are good for small to medium-sized aggressive chewers.
Key Features:
Made from pressed rawhide
Good for clean teeth and fresh breath
Long lasting
Cost: $16
Dog Treat Outlet Rawhide Bones
This is a three-pack of high-quality rawhide chews that come in a variety of sizes to suit every dog. The rawhide is thick for long-lasting entertainment.
Key Features:
Strict inspection process
Good for aggressive chewers
100% guaranteed
Cost: $17
This box of 60 small rawhide bones will keep your little friend happy for a very long time. Choose from beef, chicken, or natural flavors.
Key Features:
Available in several flavors
Also available in a larger size
Manufactured under strict food safety guidelines
Cost: $16
Monster Hide 100% Premium Pressed Rawhide Bones
These large rawhide bones come in a package of 20, making them a great choice if you have a big dog with an enthusiastic chewing habit.
Key Features:
Heavyweight and true to size
100% pressed rawhide
Great for controlling tartar buildup
Cost: $35
Pet Factory 100% American Chicken-Basted Beef Rawhide Bone
This big rawhide bone will keep your large dog happy for hours and hours. This one is 15″ long; a 12″ long chew is also available.
Key Features:
Excellent for dental health
Chicken flavored
100% American made
Cost: $16
Rawhide Rolls
Better Belly Rawhides for Dogs
This chicken liver-flavored, highly digestible chew is excellent for small dogs and puppies. This package is for 20; you can also purchase smaller packages.
Key Features:
Gluten free
No fillers or binders
Also available in beef sirloin flavor
Cost: $12
This is a 15-pack of rolled rawhide chews. Sourced from pasture-raised cows in South America with no preservatives or artificial flavors.
Key Features:
Single sheet rolls
Chewy texture massages gums
Odorless
Cost: $20
Lucky Premium Treats Rawhide Chews
These rawhide chews are made in the USA and available in several flavors to suit any palate: beef, chicken, peanut butter, and plain.
Key Features:
10 in package
Good for medium sized dogs
Human-grade ingredients
Cost: $19
Pet Factory 78117 Assorted Flavored Chip Rolls
This 18 count of chip rolls are the right size for small to medium dogs. Two flavors, beef and chicken, are included with each package.
Key Features:
Made from American beefhide
100% made in the USA
Chicken and beef flavors
Cost: $15
Rawhide Chips
Brazilian Pet Premium Thick Cut Chips
These rawhide chips last longer than traditional rawhide because they are made from the whole grain hide rather than just the inner section. Ideal for heavy chewers.
Key Features:
10 lb box
Long lasting
Non-staining
Cost: $60
Golden Chews Natural Rawhide Chips
This 4 lb package of rawhide chips will keep your dog entertained for a long time. Good for all size dogs and sourced from South American cows.
Key Features:
Available in different package sizes
Great for oral health
No artificial colors, preservatives, or odors
Cost: $25
Pet Magasin Natural Rawhide Chips
These thick rawhide chips come in a tasty beef flavor that is sure to entice your dog. Best for medium to large sized dogs. This is a one-pound bag.
Key Features:
Sourced from free range cows
High standards for processing
Three year shelf life
Cost: $18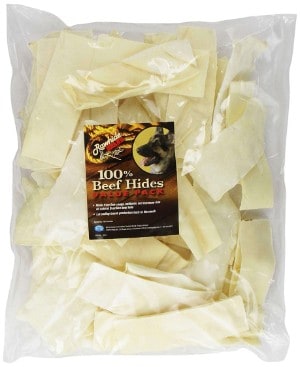 These natural chips come from grass-fed cattle. This is a 2-pound value pack and the chips are good for all size dogs.
Key Features:
100% beef hides
Great for dental health
Satisfies chewing instincts
Cost: $15
Other Rawhide Chews
Buffalo Range Rawhide Dog Treats
These treats offer the tasty blend of water buffalo rawhide and buffalo jerky for a taste explosion that your dog will be begging for.
Key Features:
100% grass fed water buffalo
Highly digestible
Long lasting
Cost: $10
Dingo Beef Flavored Rawhide Bones For Dogs
Your toy or small breed dog will love these rawhide treats, which are wrapped in beef jerky. This is a 21-count bag.
Key Features:
For toy and small breeds
Promote healthy teeth and gums
High in protein
Cost: $12
These unique treats are made from rolled rawhide and jerky. The jerky "kabobs" are liver, chicken and duck.
Key Features:
Contains 6 treats
Long-lasting entertainment
Wrapped in real meat
Cost: $3
This is a one-lb package of chicken-wrapped rawhide treats that make a great incentive for training puppies and small dogs.
Key Features:
100% natural ingredients
Low-fat
For puppies over 3 months of age
Cost: $18
Pawstruck 7″ Bully Stick Rawhide Braids for Dogs
This product is a 10-pack of braids made from rawhide and bully sticks. They are all-natural and made from free-range, grass fed beef cattle.
Key Features:
Sourced from South American cows
Keep your dog's teeth clean
Odor-free
Cost: $30
These rawhide braids are peanut butter flavored,d so if your pooch has a sweet tooth, these are the dental treats for him! This is a package of 6.
Key Features:
100% made in America
Very digestible
Long-lasting
Cost: $16
More Pet Product Reviews:
The Best Service Dog Vest
The Best Deshedding Tool
The Best Blankets for Dogs
The Best Chinchilla Cage
The Best Chew Toys for Cats
The Best Automatic Dog Ball Launcher
The Best Hoodies for Dogs
The Best Rabbit Cage
The Best Lighted Dog Collar and Leash
The Best Reflector Hoods for Aquariums