The ideal way to toilet train your puppy is with regular trips outdoors to eliminate and careful observation to watch for signs that he needs to go. However, puppy training pads can help avoid unfortunate accidents on the floor when you're out of the house or can't give your pup your full attention. Rather than getting unpleasant stains and odors stuck deep in your carpet, the training pad takes the hit. Proper use of puppy training pads can help to toilet train your puppy more quickly.
We reviewed dozens of puppy potty training pads to identify the best of the best. We examined a range of features including size, absorbency, odor-neutralizing ability, eco-friendly credentials, and reviews from existing users.
After some lengthy consideration, we chose Bulldogology Premium Puppy Pee Pads as our top pick. They might cost a little more than some similar options, but they're well worth it for the quality. Since they feature more layers than most disposable puppy training pads, they're much more absorbent. Plus, the optional adhesive means they're great for tile or hardwood floors, as well as carpet.
The 5 Top-Rated Puppy Training Pads
*Ratings are from Amazon at the time of publication and can change
Our Top Pick: Bulldogology Premium Puppy Pee Pads
After analyzing all the competition, Bulldogology Premium Puppy Pee Pads were our clear choice for top pick. They give you everything you could want from a disposable puppy pad. And, although you can find cheaper options out there, at roughly $25 for 50 pads, they won't exactly leave you bankrupt.
One of the key considerations when selecting puppy pads is absorbency. If they're not absorbent enough, urine will sit on the top of the pad, which can get on your puppy's feet and be tracked around the house. Whereas most of the leading brands of puppy training pads feature four or five layers, Bulldogology's pads have six layers, making them extra absorbent.
Not only are these training pads super absorbent, they also lock away odors, keeping your house smelling fresh. Better yet, they contain an attractant, which encourages your dog to use them, even when you're not around to point her in the direction of the pad.
Another excellent feature is the optional adhesive on the underside of these pads. When used on a hard floor, the average puppy pad will slide all over, but with the adhesive, these ones stay in place until you choose to remove them. Since the adhesive is optional, you can also use them on carpeted floors.
Bulldogology Premium Puppy Pee Pad Key Features:
Controls odors
Absorbs urine instantly
Twice as absorbent as average puppy pads
Optional adhesive
Our Runner Up Pick: Simple Solution Large Washable Training and Travel Dog and Puppy Pad
If you consider yourself an environmentally conscious person, you might want to try our runner up pick, the Simple Solution Large Washable Training and Travel Dog and Puppy Pad. Rather than throwing these pads into the garbage, you can throw them into the washer and they'll come out fresh and clean. Since they come as a pack of two, you can be using one and washing the other, so you'll never run out.
While it's great that these puppy training pads reduce the amount of garbage going to landfill, they're also excellent under their own merit. They can absorb up to 10 times more liquid than standard puppy pads and come with a completely leak-proof backing to protect your floors.
Measuring 30 inches by 32 inches, Simple Solution's washable puppy pads are big enough without being obtrusively large. The highly absorbent core and quick-drying top layer helps to avoid tracking. Although $20 for two might sound like a lot of money, two pads should be enough to see you through the potty training phase, where you may spend significantly more on disposable pads.
Simple Solution Large Washable Training and Travel Dog and Puppy Pad Key Features: 
Machine washable
Eco-friendly
Not an eyesore like conventional puppy pads are
No leaks or tracking
Best Budget Pick: Four Paws Wee-Wee Standard Puppy Pads
Costing less than $45 for 200 pads, Four Paws Wee-Wee Standard Puppy Pads work out at just a little over 20 cents per pad, which is exceptionally good value. Of course, if you don't think you'll need to use that many training pads before your puppy is housebroken, it may be better to consider a smaller pack, or a reusable option.
The "Floor Armor" system gives you a 100% leak-free guarantee, which is good news for your carpets, which can get stained or soiled by leaky puppy pads. With five layers, including two quick-drying top layers, these pads are well-known for being extremely absorbent and preventing tracking.
The built-in attractant will encourage your puppy to do his business on these pads, which is extremely handy at the start of toilet training, when he doesn't yet know what the pads are for. Good news for anyone with a canine companion who'll chew anything in her path, these puppy training pads are durable and tear-resistant.
Four Paws Wee-Wee Standard Puppy Pads Key Features: 
Completely leak proof backing
Five layer system
Quick-drying top layer
Built-in attractant
Best Dog Potty Patch: Patio Pet Life Farm Fresh Pet Grass with REAL Grass
Now for something completely different: the Patio Pet Life Farm Fresh Pet Grass. The trouble with conventional puppy pads is that some dogs don't differentiate between the pad and the rest of the house, which can lead them to start eliminating everywhere. This can be an especially big issue if you don't have a garden and can't taken your puppy to do his business outside until he's had all his vaccinations. However, with the Patio Pet Life Farm Fresh Pet Grass, your puppy learns that grass is the place you go potty, not carpet or hard floors.
The Farm Fresh potty grass is lightweight, soil-less and highly absorbent of liquid and odor, and lasts for roughly one to three weeks before it needs to be replaced. The trays are lightweight, durable, UV protected and raised off the ground for easy cleaning, and sold separate. For indoor and outdoor use.
It costs $31.99, which is a fair amount for a several weeks of use and the grass size.
Patio Pet Life Farm Fresh Pet Grass Key Features:
All pet grass deliveries include a complimentary roll of poop bags and an all natural treat!
Large Grass and Large Custom Tray available too. All products are also sold separately.
Size: 2'x2′.
Delivery to your door and ready for use!
Best Extra Large Puppy Training Pads: All-Absorb Extra Large Training Pads
If you're in the market for extra large puppy training pads, All-Absorb Extra Large Training Pads are our top recommendation. Measuring 28 inches by 34 inches, they're big enough for even the largest of puppies, as well as most adult dogs (for instance, for use by senior dogs who suffer from incontinence or adult rescues who aren't yet toilet trained).
Their absorbent core can hold up to three cups of liquid, which means they shouldn't be completely saturated, even if you have to leave your puppy for most of the day. All-Absorb's puppy training pads perform well all round, with a completely leak-proof bottom layer to stop leaks, a quick-drying top layer to prevent tracking, and a layer infused with baking soda to help neutralize odors.
At $20 for 40 pads, they're not the cheapest training pads out there, but they're not the most expensive, by far, and aren't badly priced considering their size.
All-Absorb Extra Large Training Pads Key Features:
Hold up to three cups of liquid
Odor neutralized properties
Built-in attractant
Leak-proof base layer
Who Should Buy Puppy Potty Training Pads? 
As the name suggests, the majority of people who buy puppy training pads have puppies. They can be a useful too to aid puppy toilet training, particularly if you're going to be out of the house for a few hours or you live in an apartment and don't have a private garden in which your puppy can do her business before she's had her vaccinations.
However, puppy training pads can also be useful for senior dogs who are suffering from incontinence and can't always hold it until you get home, or even until you get to the door to let them outside.
Top Pick
Important Features to Consider
A puppy training pad should do several things well. Here's what to consider when selecting puppy training pads:
Absorbency. It's vital that a puppy training pad is highly absorbent. If your chosen pads can't hold much liquid, they might end up sopping wet and dripping after just a single bathroom break. Not only does this make them more unpleasant to clean up, but it's more likely that your puppy will track urine over your floors after standing on them.
Quick drying top layer. Another way to prevent the tracking of urine is to have a quick drying top layer. This is a common feature in both disposable and reusable puppy pads.
Odor control. Nobody wants their home to reek of puppy pee, which is why many puppy training pads offer some kind of odor control, though some are more effective than others. Some brands also feature a fragrance to mask any bad smells, but not everybody likes these kinds of strong, artificial scents.
Attractants. Many puppy training pads are infused with "attractants," which are added ammonia, pheromones, or grass scents designed to tell your puppy that the pad is the best place to go. This increases the likelihood that your pup will go on the pad, rather than on your rug.
Leak-proofing. While all puppy pads have a waterproof backing, some are more effective than others. Some pads can leak urine through the underside if they get too full, leaving urine to soak into your carpet. Reusable pads are often the most leak-proof, but also look for brands that offer a 100% leak-proof guarantee.
Adhesive. If you'll be placing your puppy training pads on hard floors, such as tile or hardwood, they can slip around. Prevent this happening by choosing pads with an adhesive option.
Durability. If your puppy is an avid chewer, it's worth looking for durable puppy training pads that can't easily be destroyed.
Eco-friendly credentials. If you're concerned about the environmental impact of puppy pads (more plastic in landfill), opt for reusable pads, or something biodegradable, such as real grass potty patches.
Frequently Asked Questions
How do you use puppy training pads?
Puppy training pads shouldn't be an alternative to toilet training your new pooch, but rather a backup for those times when your little one can't make it outdoors. Every time your puppy does his business wherever he likes in your home, the more it reinforces the idea that the whole world (indoors and out) is his bathroom. Whereas, if he goes either on a puppy pad or outdoors, it's easier to completely wean him off the puppy pads when the time comes.
Since your ultimate goal is to have your dog go outside every time, it's best to place your puppy training pad right by the door to your garden (or, if you don't have a garden, whichever door takes you out of your home). Simply place them down and remove them when soiled—it's that simple.
Do puppy training pads really work?
If your goal is to avoid any accidents on your floors then, yes, puppy training pads do really work. Of course, you have to teach your canine companion to pee on the pad first (more on that later), otherwise she'll just end up going anywhere. They should also be used in conjunction with an outdoor toilet training routine, otherwise your puppy will think they're always meant to go indoors on a training pad, rather than in the outside world.
How do I get my dog to pee on the pad?
Teaching your puppy to pee on a puppy pad is much like teaching him to go outside. When you notice any signs that your puppy needs to pee (such as circling, sniffing the ground, whining, scratching at the floor or door, or returning to an area he's previously urinated in), pick him up and put him on the puppy pad. You'll probably need to use a collar and leash to keep him on the pad at first. Wait until he pees on the pad, then give him lots of verbal praise and a treat (this kind of positive reinforcement will encourage him to return to the pad in future). If he doesn't pee after a few minutes on the pad, you may have misinterpreted the signs and thought he needed to go when he didn't, so let him off the leash.
If your pup does pee in the wrong place, never punish him. This won't discourage the behavior, only make him fearful of you. Instead of punishments, focus on giving praise when he gets it right, and remember he's only a baby who's learning all this for the first time.
Can I put a puppy pad in the crate?
Anyone who's attempting to crate train their puppy might be wondering if they can put a puppy pad in their dog's crate. The answer is yes, although it may defeat the object of crate training. The idea behind crate training is that your puppy won't want to eliminate in such a small space, so she'll wait to go until you get back and let her out. Remember that young puppies can't hold it in for very long, so you shouldn't confine them to their crate for more than a couple of hours in the day time (and should listen out for any whining or barking if you crate them at night). That said, if your puppy needs to be crated for longer than a couple of hours in an emergency or because they're going on a long car ride, you can put a puppy pad in there to soak up any accidents.
Other Puppy Potty Training Pads We Reviewed
We looked at 20 other puppy potty training pads. Even though they didn't make our 5 best puppy training pads list, they're the best of the rest and each is still a great option for your dog. The information you'll need to compare each one is included with the listing.
Potty Patches
DoggieLawn Disposable Dog Potty
This patch of real grass helps stop any toilet training confusion when moving from pads to outdoors. Just throw away both the grass and the cardboard box when you're done with it; no need to clean.
Key Features: 
Measures 24.75 inches by 21 inches
Uses real grass
Biodegradable
Cost: $20
Downtown Pet Supply Premium Pet Dog Potty
This dog potty patch uses synthetic grass so you don't have to throw it out after a couple of weeks. The turf lifts up for easy cleaning.
Key Features: 
Washable
Soft feeling grass
Anti-microbial odor control
Cost: $50
Another artificial turf option that features a three-layer system to make clean up a breeze. A great tool for apartment toilet training.
Key Features: 
Available in small and medium sizes
Tray collects waste for easy cleaning
For indoor use only
Cost: $25
Sonnyridge Easy Dog Potty Training System
The realistic-looking synthetic grass helps with speedy potty training, the three-part system makes things easy to clean and helps stop odors.
Key Features:
Anti-microbial grass
Measures roughly 26 inches by 16 inches
Easy to clean
Reusable Puppy Training Pads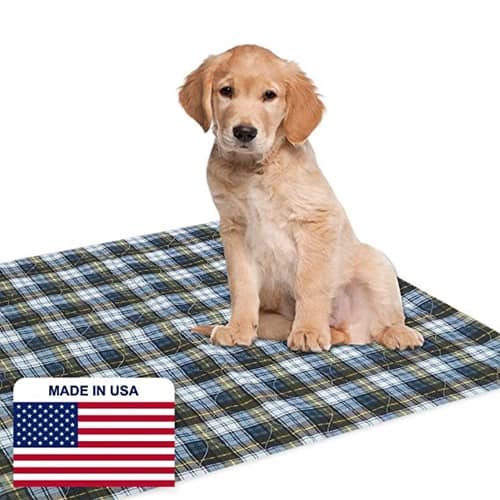 This cute plaid puppy pad is made in the USA, using a fast-absorbing triple layer design that holds moisture in while keeping the top layer dryer.
Key Features: 
Available in two sizes
100% waterproof backing
Durable and well-constructed
Cost: $15 to $20 for one pad, depending on the size
KOOLTAIL Washable Pee Pads for Dogs
Measuring 36 inches by 41 inches, this training pad is suitable for puppies and large adult dogs, alike. It's sturdy and completely machine-washable.
Key Features: 
Top layer stays dry while inner layer is highly absorbent
Leak-proof
Easy to wash
Cost: $30 for a pack of two
The four layer design of this reusable puppy training pad means that both the top and bottom are made of soft fabric, while the waterproof layer and the absorbent layer are both hidden away inside.
Key Features: 
Non-slip bottom
Generously sized
Machine washable
Cost: $15 for one pad
Pet Kindness Washable Pee Pads For Dogs
This puppy training pad set comes with two full-sized pads and one travel-size pad, which hold 10.5 and 3 cups of liquid, respectively.
Key Features: 
Vinyl backing is 100% waterproof
Holds a lot of fluid
Easy to keep clean
Cost: $30 for two large pads and one small pad
rocket & rex Washable Pee Pads for Dogs
Measuring 30 inches by 36 inches, these puppy pads are large enough for all puppies and many adult dogs. We love the cute bone design, too!
Key Features: 
Excellent absorption
Durable
Money back guarantee if you're not happy
Extra Large Puppy Training Pads
Bulldogology Puppy Pee Pads XL
Measuring 24 inches by 34 inches, these puppy pads are suitable for almost all dogs, plus the optional adhesive tabs prevent slipping on hard floors.
Key Features: 
6 layers for optimum absorption
Odor control
Built-in attractant
Cost: $30 for 40
Four Paws Wee-Wee Gigantic Potty Pads
You won't find much bigger than these mammoth 27 inch by 44 inch puppy training pads. They're also super absorbent and effective at locking away moisture.
Key Features: 
Guaranteed leak-proof
Quick-dry top layer
Built-in attractant
Cost: $20 for 18
Hartz Home Protection Lavender Scent Odor Eliminating Gel Dog Pads
The lavender scent isn't for everyone, but it certainly helps to mask any unpleasant puppy pee odors. The 30 inch by 30 inch size is extremely generous.
Key Features: 
Specially designed core turns liquid to gel to keep pad dry
Allows multiple uses per pad
Blocks leaks from the corners
Cost: $25 for 40 pads
IRIS Neat 'n Dry Premium Pet Training Pads, Extra Large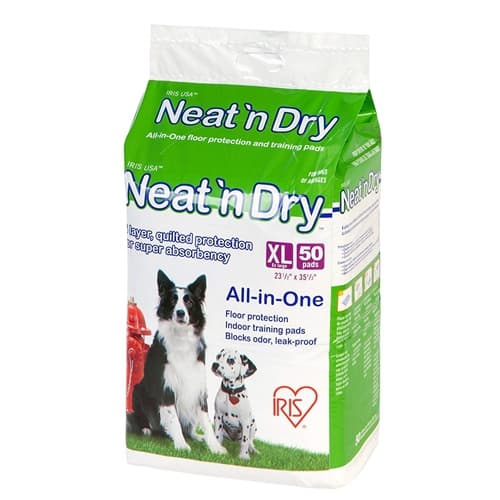 Measuring 23.5 inches by 35.5 inches, these puppy pads are big in size and big on absorbency, holding up to a quart of liquid.
Key Features: 
Quick-dry pillow top to avoid tracking
Turns liquid into gel
Odor control
Cost: $25 for a pack of 50
Parachute Pet Products Dog Training Pee Pads
These generously sized puppy training pads are leak-proof and reliable. And, if you don't like them, you can get your money back, plus 10%!
Key Features:
Approximately 35 inches by 23 inches
Four layer absorption
Comes with free training ebook
Cost: $30 for 30 pads
True Pet Love Extra Large Pet Wee Pads
The impressive polymer technology turns liquid into gel, which means you don't have to deal with sopping wet puppy pads, plus there's less chance of tracking or leakage.
Key Features: 
Hold up to six cups of liquid
Built-in attractant
Odor absorbing properties
Other Puppy Training Pads
California Pet Supply Dog Training Pads
Affordable, reasonably-sized, and high-quality, these disposable puppy training pads are a great buy if you don't need an extra large options.
Key Features: 
Insta-dry technology
No drips
Holds three cups of liquid
Cost: $30 for 100
Four Paws Wee Wee Odor Control Pads
These puppy training pads are specially designed to be twice as effective at eliminating odors. since they come from a trusted manufacturer, you know you're getting a quality product.
Key Features: 
Five layer design
Completely leak-proof
Eliminates odors more quickly
Cost: $30 for a pack of 100 pads
If you need a lot of puppy pads at an affordable price, these are an excellent option. The leak-proof design locks moisture away.
Key Features: 
Generous 23 inch by 24 inch size
Locks away odors
Holds up to 3 cups of liquid
Cost: $40 for 150
Petphabet Puppy Training Pads with Lavender Scent
While they perform much like their unscented counterparts above, these pads feature a lavender scent to mask and neutralize odors.
Key Features: 
Leak-proof
Double strength odor control
No tracking
Cost: $35 for 100
Containing at least 25% materials, these are a slightly more eco-friendly option for anyone who isn't quite ready for reusable puppy pads.
Key Features: 
Optional adhesive is suitable for hard floors
Measures 24 inches by 24 inches
Highly absorbent
Cost: $15 for 20 pads