As a beloved member of your family, you want your dog to have everything she needs to be happy and healthy. Dog toys provide entertain, mental stimulation, and comfort, so shouldn't be overlooked as an unnecessary extra. Choosing the best plush toys can be challenging, however, especially if your dog is an avid chewer who can rip through a standard plushie in minutes! You want to select something your dog will love that will also stand up to being chewed and dragged around. (Got an aggressive chewer on your hands? Check out our review of the best indestructible dog toys.)
We trawled through hundreds of plush dog toys to identify the best of the best. To determine our top five, we focused on various features, including durability, size, interactivity, design, and average customer reviews.
After carefully considering all our options, it was clear that the Outward Hound Hide-A-Squirrel and Puzzle Plush Squeaking Toys for Dogs was our top pick. Featuring plush squirrels for your dog to find inside a a larger plush log, it provides metal stimulation for your four-legged friend, while your dog can also treat the squirrels like regular plush toys.
The 5 Top-Rated Plush Dog Toys
*Ratings are from Amazon at the time of publication and can change
Our Top Pick: Outward Hound Hide-A-Squirrel and Puzzle Plush Squeaking Toys for Dogs
If you're looking for some more than just a standard plush toy, we'd highly recommend the Outward Hound Hide-A-Squirrel and Puzzle Plush Squeaking Toys for Dogs. Available in four sizes, from small to extra-large, it costs between approximately $10 and $20, size-dependent.
This toy consists of a plush log with several holes and a number of plush squirrels (the exact number depends on which size toy you select). Stuff the squirrels inside the holes and your dog will have to figure out how to remove them. Once your pup has removed the squirrels, they're fun to play with in their own right, containing a squeaker. If your dog happens to get a bit rough with the squirrels, the good news is you can buy replacements.
Due to the interactive nature of this toy, it's the perfect boredom-buster for times when your dog is home alone. And, with more than 10,000 reviews (the vast majority of which are positive), we can trust in this quality, durable plush dog toy.
Outward Hound Hide-A-Squirrel and Puzzle Plush Squeaking Toys for Dogs Key Features: 
Provides mental stimulation
Comes with between 3 and 6 squeaky squirrels
Your dog can play alone or with you
Our Runner Up Pick: Fluff & Tuff Walter Wabbit Plush Dog Toy
If your four-legged friend's main object in life is to rip open her soft toys and scatter the insides around your house, the Fluff & Tuff Walter Wabbit Plush Dog Toy should last longer than the average plushie. With concealed, double-stitched seams and Fluff & Tuff's highly durable Tuffweb™ mesh liner, it's hard even for aggressive chewers to breach this toy.
This toy is stuffed with non-toxic polyfill, plus contains a squeaker inside to delight your dog! What's more, the eyes are embroidered both for safety and to help prevent your canine companion from getting into the stuffing inside. It comes in just one size, measuring 12 inches in length, so it may not be suitable for very small or very large dogs.
Retailing at roughly $20, it certainly isn't the cheapest plush dog toy on our list, but it is worth splashing out if you need an extra durable option.
Fluff & Tuff Walter Wabbit Plush Dog Toy Key Features: 
Ultra plush outer fabric is appealing to dogs
Measures 12 inches long
Designed for durability
Best Budget Pick: Multipet Tick Plush Dog Toy
Let your dog get his own back on ticks with the Multipet Tick Plush Dog Toy! It might not be the most durable option around, but with a price tag of less than $8, it's ideal for dogs who treat their plush toys in a fairly gentle manner.
This cute plush dog toy has an appealingly soft and tactile outer layer that your four-legged friend will love wrapping his mouth around. It has "tick" embroidered on one side and "pinch me" on the other, to add to its kitsch charm. It also features a squeaker in the middle, to help keep your dog interested.
At 12 inches long, this is a fairly sizable toy, so it offers particularly good value for money when you consider the low price.
Multipet Tick Plush Dog Toy Key Features: 
Amusing design
12 inches long
Squeaker inside
Best Plush Dog Toy with Squeaker: HuggleHounds Plush Corduroy Durable Knotties Dog Toy
If your four-legged friend can't get enough of squeaky toys, the HuggleHounds Plush Corduroy Durable Knotties Dog Toy is the one for her. The exact amount of squeakers inside depends on which design you choose, but these toys generally contain at least 5: one on each limb and one in the belly.
You've got plenty of variety to choose from, too, with 2 sizes and 21 designs, featuring everything from foxes to gorillas to octopuses. Prices vary depending on which size and design you select, but tend to fall withing the $15 to $20 price range. Exact measurements vary between designs, but most small options measure between 8 and 9 inches long, and most large options measure between 12 and 14 inches long.
Not only are these plush dog toys great for squeaking, they're designed to be extra durable. The hidden seams, corduroy outer material, and Tuffut Technology Lining all help to keep those teeth from breaching the outer layers.
HuggleHounds Plush Corduroy Durable Knotties Dog Toy Key Features: 
Multiple squeakers inside
Knotted limbs are fun to chew on
21 designs to choose from
Best No-Stuffing Plush Dog Toy: Ethical Plush Skinneeez Rabbit Stuffingless Dog Toy
Fed up of your house looking like the scene of a stuffed toy masacre after your dog gets done playing with his plush toys? Well, the Ethical Plush Skinneeez Rabbit Stuffingless Dog Toy might help solve that problem without giving up on plush dog toys altogether.
While it doesn't feature any stuffing, it does have a squeaker inside to keep your pup interested in playing. What's more, the large 23-inch length makes it ideal for games of tug, big dogs, and pooches who love shaking their plush toys around. Since it's machine washable and dries quickly, sans stuffing, it's easy to keep this toy clean and hygienic.
Even better is the low cost; you'll only need to shell out around $10 to bring this stuffingless toy home for your canine companion.
Ethical Plush Skinneeez Rabbit Stuffingless Dog Toy Key Features: 
23 inches long
Features ripstop mesh for durability
Great for tug-of-war
Who Should Buy a Plush Dog Toy
If your dog enjoys playing with plush toys, then you—yes, you— should buy a plush dog toy! Although a small minority of dogs aren't at all interested in plush toys, any dog who is should have at least one plushie in his toy collection.
Some dogs enjoy carrying around or sucking on plush toys for comfort, whereas others prefer to try to get into their soft insides. If your dog falls in the latter category, opt for a durable plush dog toy and be sure to supervise him carefully while he's playing with it.
Important Features to Consider
A plush dog toy should have a few important features. Here's what to consider when selecting a plush toy for your dog:
Size. Small plush dog toys may only measure 4 or 5 inches long, whereas the largest options can be well over 20 inches long. Make sure the plush toy you choose is of an appropriate size for your dog. Too small, and she could swallow it. Too large, and she won't easily be able to carry it around.
Durability. If your dog is a heavy chewer, look out for extra durable plush dog toys. Features such as hidden seams, double stitching, layered fabrics, and ripstop materials all increase durability.
Interactive features. If you want a plush toy that will help keep your dog mentally stimulated, look for one with interactive features. These may be toys that hide smaller toys inside, make noises when moved around, or can be filled with treats.
Design. Plush dog toys come in all kinds of designs, from horses to handbags. While your dog isn't going to care much about the design, types with longs of extra dangly bits are generally easier to destroy.
Filling. Plush dog toys should have a non-toxic filling that's relatively safe should your dog manage to get inside. You can also find stuffingless plush toys, which may last longer with dogs who live to pull out stuffing.
Frequently Asked Questions
Is it bad for dogs to eat stuffing from toys?
Although it passes through in most cases, the stuffing from plush toys could potentially cause an intestinal blockage if your dog eats it, requiring emergency surgery. As such, always supervise your dog with plush toys, unless you can trust him not to remove the stuffing.
How do I get my dog to stop destroying toys?
If your dog generally destroys her plush toys, choosing extra durable options may stop her in her tracks. Also try removing plush toys from you dog as soon as she starts to aggressively chew or otherwise attempt to destroy them, redirecting her attention onto an appropriate toy for chewing, instead.
Why do dogs like the sound of squeaky toys?
Nobody can be certain why dogs like squeaky toys so much. Some people theorize that it's because the sound mimics that or injured prey, which appeals to their wolfy origins. However, it may simply be because it's a novel sound for dogs, because they enjoy the cause and effect of squeezing a toy and having a sound happen, or because canines have excellent hearing in the higher registers.
Why do dogs enjoy interactive toys?
Dogs can get bored just like we do. Since their human companions can't entertain them every waking hour, most dogs enjoy anything that engages their brain. Interactive toys are like puzzles for dogs. They get a sense of satisfaction from figuring out the interactive element and it helps give them a mental outlet.
Other Plush Dog Toys We Reviewed
We looked at 20 other plush fog toys. Even though they didn't make our 5 best plush dog toys list, they're the best of the rest and each is still a great option for your four-legged friend. The information you'll need to compare each one is included with the listing.
Interactive Plush Dog Toys
Hatchables Interactive Hide and Seek Puzzle Plush Dog Toy
Turn these plush toys inside out, into their "egg" and let your dog figure out how to turn them back the right way round. Stuff treats in, too, for another layer of fun.
Key Features: 
Safety tested to ASTMF963 standards
Suitable for light chewers
Comes as a pack of three
Cost: $20
Midlee Plush Purse Find-a-Toy Interactive Dog Toy
A stuffed comb, phone, and credit card hide inside this plush purse, ready for your pooch to uncover. The phone and comb contain squeakers and the credit card features crinkle paper inside.
Key Features: 
Purse measures 9 inches long
Toys measure 5 inches long
For lighter chewers only
Cost: $15
Outward Hound Kyjen Magic Hat with Rabbits Puzzle Plush Interactive Dog Toy
Another interactive offering from the same brand as our top pick, this time featuring rabbits that fit inside a magician's top hat.
Key Features: 
Comes with three squeaky rabbits
Helps relieve boredom
Durable construction
Cost: $10
Petbobi Automatic Dog Toys Interactive Plush Giggle Ball
This interactive plush ball makes noises, bounces, and shakes when your dog moves in it particular ways, keeping him engaged for longer.
Key Features: 
Plush cover removable and washable
Takes 3 AAA batteries
Comes with screwdriver to remove battery cover
Cost: $15
ZippyPaws Woodland Friends Burrow
An interactive hide and seek toy featuring three plush hedgehogs that fit inside a log. Its compact size makes it suitable for smaller dogs.
Key Features: 
Measures 7 inches by 7 inches by 4 inches
Hedgehogs contain squeakers
Spare hedgehogs available separately
Durable Plush Dog Toys
goDog Furballz Durable Plush Dog Toy with Chew Guard Technology
Its completely spherical shape means no weak spots for your dog to focus on. Features reinforced seams and chew-resistant layers.
Key Features: 
Super plush exterior
Squeaker inside
Comes in mini, small, and large sizes
Cost: $5 to $15, depending on size and color
Outward Hound Invincibles Tough Seamz Durable Plush Snake
Made from tough material with reinforced seams and no obvious weak spots, this will keep even aggressive chewers going!
Key Features: 
Contains 6 squeakers
Squeakers keep working even when punctured
Measures 40 inches long
Cost: $15
Pet Lou Petlou Colossals Durable Squeaker Dog Toys
This extra-large bunny measures roughly 2 foot when laid out flat and is made from super soft, yet highly durable, materials.
Key Features: 
Contains squeakers and crinkle material
Made from heavy-weight material
Perfect for large dogs
Cost: $10
P.L.A.Y. Garden Fresh Plush Carrot Toy
While it might not stand up the the most determined of chewers, the double stitching and double layer exterior makes it more durable than the average plush dog toy.
Key Features: 
Contains a squeaker
Stuffed with "Planet Fill" filler made from 100% recycled plastic bottles
Machine washable
Cost: $10
Youngever Durable Plush Fish Dog Toy
A durable fish toy made from super soft plush material, with an extra-large 3.5-inch squeaker inside to keep your canine companion happy!
Key Features: 
Measures 10 inches by 8 inches
Large squeaker inside
Comes with satisfaction guarantee
No-Stuffing Plush Toys
BeMiracle Dog Chew Toy Squeaky No-Stuffing Plush Snake
This super long stuffing-less plush snake measures an impressive 34 inches long, and is suitable for large and small dogs alike.
Key Features: 
Rope tail
3 squeakers inside
Durable corduroy material
Cost: $10
While this adorable floppy elephant toy might have no stuffing, but it's got plenty of features to keep your four-legged friend interested.
Key Features: 
Knotted rope hands and feet
Small and large sizes
Contains squeakers and various textures
Cost: $10 to $15
Petsafe Pogo Plush Beaver Dog Toy
It may be stuffing-less but it doesn't lack form thanks to its internal bouncy frame. It contains a free-floating squeaker, too!
Key Features: 
Available in small and large sizes
Machine washable
Extra soft plush exterior
Cost: $5 to $10
Zanies Plush Unstuffies Gopher Dog Toy
Dogs love to shake, toss, and play tug with this no-stuffing gopher toy. Also available in chipmunk, coyote, and red squirrel designs.
Key Features: 
22 inches long
2 squeakers inside
Hanging loop for easy storage when not in use
Cost: $15
ZippyPaws Z-Stitch Snake Dog Toy
Instead of stuffing, you'll find four large blaster squeakers, one round squeaker, and crinkle material inside this extra long plush snake.
Key Features: 
Durable with reinforced stitching
Measures almost 3 feet long
Double layered material
Other Plush Dog Toys
Bone Dry DII Squeaking Dog Toy
An adorably long-snouted alligator plush toy large enough for big dogs, but not too unwieldy for small pooches that like big toys!
Key Features: 
Measures 12.5 inches long
Easy to wash and dry in cold water.
Other character designs available
Cost: $10
Dog Diggin Designs Runway Pup Chewy Vuiton Plush Bone
If your love of designer fashion is only exceeded by your passion for puns, you need to buy this plush bone for your canine companion.
Key Features: 
Measures 6 inches long
Contains a squeaker
Super soft material
Cost: $15
Martha Stewart Squirrel Plush Dog Toy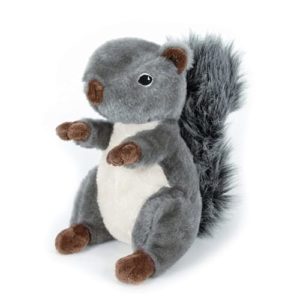 Although this cute plush squirrel dog toy is made from quality materials, it's only designed to stand up to gentle chewers.
Key Features: 
Measures 9 inches
Embroidered accents
Contains a squeaker
Cost: $5
MultiPet Deedle Dudes Mouse That Sings
Your dog might enjoy this "singing" plush mouse, but the humans in your household might need a break before too long!
Key Features: 
Sings a tune when squeezed or chewed
Measures 8 inches
Not for heavy chewers
Cost: $5
PAWABOO Plush Hedgehog Dog Toys
With a rattle inside, rather than a squeaker, these plush dog toys are ideal for pet parents who'd rather not hear 24/7 squeaking sounds.
Key Features: 
Minimal seams for durability
Measures 6 inch long
Comes as a pack of 2
Cost: $15