An outdoor cat enclosure could be your cat's new favorite haven. Designed specifically with the feline brain in mind, cat enclosures provide your cat with an enriched environment. They give outdoor cats a safer and more secure place to roam, rather than the streets or a predator's territory. Enclosures help inside cats safely explore the outdoors without the dangers and risks. They come in all shapes and sizes, but a cat enclosure will provide your cat with better quality of life.
We reviewed dozens of outdoor cat enclosures to identify the best of the best. In consideration of the average cat owner, we looked at convenience and portability in regard to the size and type of enclosure. After that, we considered how safe the enclosure is, and whether or not your cat might turn into Houdini and try to escape. Overall, we kept in mind what cat lovers determined their cats liked best.
We chose the EliteField 2-Door Soft Pet Playpen as our favorite because it's durable, portable, and has sizable space. This very popular playpen is zipper-based, which reduces the chance of escape, making this a safe and secure option for an outdoor enclosure.
The 5 Top-Rated Outdoor Cat Enclosures
*Ratings are from Amazon at the time of publication and can change
Our Top Pick: EliteField 2-Door Soft Pet Playpen
The EliteField 2-Door Soft Pet Playpen is large on space, with a 4-foot diameter and 32 inches of height. Six of the eight panels that surround the playpen feature mesh windows, while the other two mesh panels are zippered for easy access in and out of the playpen. But fear not, if your furry feline can unzip things with her nails, these zippers are lockable for added security.
The top of the playpen is a mesh window that is removable via a zipper. This allows you better access to the enclosure without having to open the doors. The floor mat is also removable via a zipper, and washable as well. The unit sets up quickly, and folds easily. You can store the playpen in the carrying bag, and it's light enough in weight that it's great for traveling.
Consumer's comments highlight the large play area and tall sides. Many use the pet enclosure for multiple cats, and have outfitted their playpen with a bed, litter box, scratching post, and food and water bowls. Hundreds agree it's a good choice, and give this product 4.3 stars.
EliteField 2-Door Soft Pet Playpen Key Features:
Carrying bag included
Ground stakes included
2-year warranty
Locking zippers
Our Runner Up Pick: Zampa Pet Playpen
Zampa Pet Playpen
This soft playpen has protected seams on waterproof material, with reinforced corners.
The Zampa Pet Playpen is our choice for runner up because it is also durable, spacious, and portable. This playpen is also zipper-based, but does not have the option to lock the zippers. However, the corners of the enclosure are reinforced, and the seams are protected for extra support. Your cat will have 45 inches in diameter and 2 feet of height to lounge and bounce around in.
The eight panels have mesh windows, and the two doors have the option to roll up the windows for no-barrier entry or exit. Side pockets and pouches let you store small toys, treats, or a water bottle for on-the-go convenience. In order to gain easy access to the inside of the pen, the enclosure's top mesh window is removable. The floor mat is attached to the rest of the enclosure, so your cat can't sneak out through the bottom.
Reviewers like the spacious design and reinforced seams. They share that the enclosure is big enough to fit a litter box, cat bed, toys, and food and water bowls. Many consumers use the playpen for multiple cats. It's easy to set up, folds quickly, and stores in the carrying bag that's included.
Zampa Pet Playpen Key Features:
1-year 100 percent money back guarantee
Strong seams and reinforced corners
Attached floor mat
Easy to clean
Best Budget Pick: ESK Collection Pet Playpen
If budget is a concern, the ESK Collection Pet Playpen is roughly $20 cheaper than our top choice. It has a 4-foot diameter, and stands 2 feet high. It's octagon shape features a total of eight panels, six of which have mesh windows. The other two panels are zippered doors with the option to roll up and fasten the mesh window to the top of the playpen. The top of the playpen is also a mesh window, which is removable so you can reach right down into the pen.
This airy, spacious enclosure is roomy enough for added comfort accessories, such as your cat's favorite bed or scratching post. Whether she spends her time lounging in the yard or she keeps herself busy with the toys you place in the pen, your cat has room to stretch out and wiggle her paws. The durable material is made of waterproof Oxford fabric, making the playpen lightweight and easy to carry.
Thousands of reviewers love this product for its durability and spaciousness. But despite the roomy interior, many customers applaud how easy it is to use. The enclosure folds easily, and is compact enough to store almost anywhere.
ESK Collection Pet Playpen Key Features:
Made from Oxford cloth
48 inches in diameter
Carrying bag included
Zippered windows and doors
Best Wooden Outdoor Cat Enclosure: PawHut Wooden Outdoor Catio Cage
The PawHut Wooden Outdoor Catio Cage is our choice for an outdoor wooden cat enclosure. With all the space and vantage points, your cat will love hanging out in this catio. At just under 6 feet in height, the sturdy structure is made from fir and hefty wire. It's nearly 6 feet in length, and is just over 3 feet in width. It features six platforms on multiple levels, and a large door with two safety latches. There's plenty of room to put toys, bowls, beds, cat grass, and more.
The roof is covered with asphalt to help keep inclement weather from hindering your cat's good time. The fir frame is waterproofed with an animal-safe, non-toxic sealant so you can rest easy with your cats in the catio. The metal mesh windows prevent your cat from escaping while giving him plenty to watch in the yard. Place the catio on the lawn so your kitty can enjoy the grass, or put it on your deck or patio.
Customers love this catio for its large size, sturdy structure, and multiple-level platforms. Many note their cats took to it right away. Some reviewers made slight modifications to put the catio up next to their home, in order for their cats to have access from inside the house. Tools and assembly are required, but customers like how easy it is to put together.
PawHut Wooden Outdoor Catio Cage Key Features:
Multiple-level platforms
Made from fir wood
Large, oversized door
Asphalt-covered roof
Best Outdoor Cat Tent: Outback Jack Outdoor Kitty Compound Play House
We chose the Outback Jack Outdoor Kitty Compound Play House as the best outdoor cat tent due to its large tent and connecting tunnel. With 30 square feet of space, your cat will have a 360-degree view in the mesh-only enclosure and ample running room in the tunnel. Setting up the kitty compound play house is as simple as taking it out of the bag, pulling the top rope tight, and locking it into place. In a matter of minutes, your cat can bathe in the sun or sleep in the shade, away from dangers.
Attach the tunnel to the door of the tent via the zippers, and your cat can enjoy added running space. The enclosure is sizable enough to house accessories, such as toys, a bed, water or food bowl, and a litter box. The combo cat enclosure is lightweight and portable, and comes with a carrying bag for convenience.
Customers love this tent and tunnel combo cat enclosure for the large amount of room. The tent is completely enclosed, so while your cat can not escape, some reviewers mention being unable to extract their cat when needed. Other customers attached the open end of the tunnel to a window on their house, supported with a ramp. This way their cats had access to the tent outside from the comfort of their home.
Outback Jack Outdoor Kitty Compound Play House Key Features:
More than 30 square feet of activity space
Easy to set up and take down
Lightweight and portable
Tent and tunnel can be used together or separately
Who Should Buy an Outdoor Cat Enclosure
Has your cat been climbing your curtains? Knocking knick-knacks off the counter? Lounging on your window sill? Escaping out the front door? Perhaps you and your cat need a catio. An outdoor cat enclosure will provide your cat with a stimulating environment, using all of his senses so he's fully engaged. An enclosure allows your kitty to safely venture outside and lie in the sun or shade, breathe in the fresh air, and watch the birds and squirrels. If your cat is outside regularly, you'll want to use a good flea collar or other flea treatment to protect your pet.
Great for indoor and outdoor cats, an enclosure can also add space and vertical territory for multiple-cat homes. The more entertained your cat can be, the less destructive she'll be in your home. Enclosures come in a wide variety of shapes, sizes, and types, but they are designed to keep your cat safe while enjoying the perks of being outside. This helps protect the wildlife population, as well as your cat, which can reduce veterinarian bills.
Important Features to Consider
An outdoor cat enclosure should keep your cat safely contained, but give her room to move around comfortably. Here's what to consider when selecting an outdoor cat enclosure:
Size. First, you're going to have to think about the size you want the enclosure. Do you have one cat, two, 10? Enclosures can be small – big enough for one cat, or large – big enough for half a dozen cats, and everything in between. With increased size comes increased cost, so your smaller enclosures are more economical. Do you want to be able to put things in the enclosure? Keep in mind the space available for your cat to play, rest comfortably, and whether or not there is any more room for other items, such as your cat's bed, scratching post, toys, or bowls.
Portability. Consider if you want the enclosure to be portable or more permanent. Smaller enclosures can typically fold or collapse into a compact form for easy storage, and often come with a carrying bag. Larger enclosures are more permanent fixtures placed outside of your home, and are not meant to be taken down after one use.
Accessibility. For you or your cat, evaluate how easy it will be to access the inside of the enclosure. Will your cat go into the enclosure, or come out of it? Will she mind a small, one level enclosure, or will she adapt better to being off the ground? Is the door large enough for your cat? Will she come when called, or does the enclosure need to be big enough for you to get her out?
Location. Determine where you want the outdoor enclosure. Where you put the enclosure can make a big difference in whether or not your cat will use it. Are you looking to put the enclosure out in the middle of the yard, or do you want it up against the house? Look for quiet areas where your cat won't get spooked. She will also need the option of retreating from the sun or rain. Measure the area you want the enclosure to make sure you have adequate space for it.
Safety. A cat enclosure needs to contain your cat. If he can escape, it's not much of an enclosure. Different types of enclosures have different ways of keeping your cat safely contained. Some have zippers, which may or may not lock, and others have latch-hook or pin locks. Outdoor enclosures are covered in some kind of mesh, ranging from a soft material to a sturdy wire.
Other things to consider. A few other important points to consider are how easy the enclosure is to set up – and if it requires tools or assembly – clean, maintain, and store.
Frequently Asked Questions
Do cats like outdoor enclosures?
Most cats love outdoor enclosures because most cats love being outside. Indoor cats who have never seen the outside may be skittish at first, and need time to acclimate to their new found freedom. Outdoor cats who aren't used to being confined may also be skittish and need time to acclimate.
Other factors, such as where the enclosure is located, how easy it is to access the inside, or what items are placed in the enclosure, can determine whether your cat will like it or not.
How big should a cat enclosure be?
How big your cat enclosure should be really depends on your cat, or cats. Your cat's personality should determine the type of cat enclosure you select. A lazy, sleep-all-day cat might only need a small amount of space to sunbathe, while a high-energy cat would need a much larger space. Consider what other items you want to put in the enclosure to keep your cat occupied and happy. A cat hammock, for instance, gives your kitty a comfortable place to lounge.
Can cats live in a catio?
Cats should not live in a catio. Dr. Karen Becker doesn't even recommend leaving them alone in an outdoor enclosure when you're not home. However, catios provide a safe outdoor environment for cats who are kept inside, or for outdoor cats who need to be kept inside.
What do you put in a cat's outdoor enclosure?
If an outdoor enclosure is large enough, you can put a number of different cat accessories inside the pen. Some are large enough to have your cat's bed, scratching post, toys, litter box, food and water bowls, and cat-friendly plants.
Other Outdoor Cat Enclosures We Reviewed
Tent Outdoor Cat Enclosures
Kittywalk Outdoor Net Cat Enclosure
This netted walkway enclosure gives your cat maximum visibility as he enjoys the outdoors.
Key Features:
Travel bag included
Weatherproof material
Easy to put together
Cost: $104
Nala and Company Pop Up Lounger Tent
This pop-up tent provides a safe spot for your cat to lounge around outside in the shade.
Key Features:
Opens and closes easily
Good size for one large cat
Dual zipper with security clip
Cost: $35
Petsfit Outdoor Cat Enclosure Portable Tent
Made from steel wire and lightweight cloth, this tent is stable, yet easy to set up and store.
Key Features:
Thick mat with fleece bed
Carrying bag included
Zippered, U-shaped door
Cost: $60
PURR…FECT FENCE Purrfect Play Tent
A detachable waterproof cover, with roll up sides, is included so you can create shade, shelter, or privacy.
Key Features:
Easy to set up
Carrying bag included
Stakes included for grounding
Cost: $100
RORAIMA Outdoor Portable Cat Tent
This cat tent has a rain fly, and allows for the hook-up of a 17-inch round tube for extra fun.
Key Features:
1-year warranty
Easy to set up and take down
Carrying bag included
Cost: $50
Wildwhiskers Outdoor Feline Funhouse
Made with weather resistant nylon, this tent lets your cat watch the fun around him without the risk of him running off.
Key Features:
Comes with carrying bag
Zippered doors for easy access
Comfort pad included
Cost: $60
Outdoor Cat Enclosures Under $35
Best Choices Products Pet Playpen
Give your cat some exercise in a matter of seconds with this easy to set up pet playpen.
Key Features:
Zippered doors with roll-up option
Removable mesh cover
Waterproof Oxford cloth material
Cost: $34
Made with rust-resistant metal, this playpen is sturdy and long-lasting, and comes with metal stakes for grounding.
Key Features:
Two zippered doors
Easy to set up and take down
Includes carrying case
Cost: $29
Your cat can breathe in fresh air while safely napping in this shaded mesh playpen.
Key Features:
Easy to set up and take down
Top is removable
Zippered front door
Cost: $30
Ruff 'n Ruffus Foldable Pet Playpen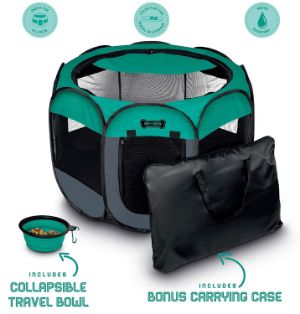 The floor mat is attached to the playpen to enhance the safety of your cat.
Key Features:
Includes carrying case and travel bowl
Zippered door for easy access
No assembly required
Cost: $30
Strong Camel Pet Fun House Playpen
This tented enclosure unfolds easily and comes with a carrying bag for compact storage.
Key Features:
Waterproof floor
Easy to zipper door
Netted for maximum viewing
Cost: $32
Outdoor Cat Enclosures Over $35, but Under $50
Made with rubber-coated nylon mesh, this playpen has a zippered door that rolls up for convenience.
Key Features:
Removable top
Waterproof floor
Easy to set up
Cost: $40
Your cat will enjoy hanging out, and look cute, in this enclosure that's easy to set up and stake into the ground.
Key Features:
Zippered door with roll up option
Zippered mesh roof
Water resistant floor
Cost: $37
Fabulous Pet Portable Pet Playpen
Give your kitty extra space to romp around. Easy to set up and take down, this soft playpen is extra wide.
Key Features:
Attached floor mat
Removable top
Easy to zipper door
Cost: $49
With protected seams and reinforced corners, your cat can safely lounge while she enjoys the outdoors.
Key Features:
Removable zipper top
Zippered door
Water resistant
Cost: $48
Pawdle Deluxe Premium Foldable Pet Playpen
Lightweight but strong, this plush mesh playpen is a secure way for your cat to bask in the outside air.
Key Features:
No assembly required
Carrying case included
Removable top and bottom
Cost: $40
The mesh windows create better air circulation, so your cat can breathe in the fresh air while remaining enclosed.
Key Features:
Waterproof material
Removable zippered top
Easy to set up and take down
Cost: $40
Outdoor Cat Enclosures Over $50
The top and bottom of this cat playpen are removable for easy cleaning.
Key Features:
Waterproof flooring
100 percent money back guarantee
No assembly required
Cost: $50
IRIS Wire Pet Cage Cat Playpen
Heavy duty, powder-coated wire makes up this 3-tier cat enclosure.
Key Features:
Three pin-lock doors
Solid, molded base
Six wheels with casters, and two wheel stoppers
Cost: $103
Pet Gear Travel Lite Portable Playpen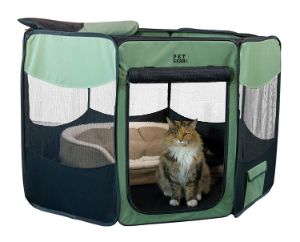 The waterproof nylon and PVC-coated mesh lets your cat hang out in the fresh air while staying safe and enclosed.
Key Features:
Removable top
Lightweight and portable
No assembly required, and folds easily
Cost: $86