Despite the name, moss balls for aquariums and fish tanks aren't actually moss at all, rather they're balls of algae with the appearance and texture of moss. They're also known by the name marimo moss balls. Not only do these moss balls look attractive in a home aquarium, they also have a range of benefits, such as producing oxygen and absorbing pollutants. Some fish will enjoy nibbling on these balls of algae too, giving them something extra to do and enriching their environment.
We reviewed dozens of aquarium moss balls to identify the best of the best, focusing on a range of features including size, shape, number in a pack, overall quality, and average customer reviews.
After carefully reviewing the best moss balls out there, Aquatic Arts Giant Marimo Moss Balls stood out as the best overall. They're nicely sized and you get 10 to a pack, which is ideal if you have a large a aquarium or multiple tanks.
The 5 Top-Rated Moss Balls for Aquariums and Fish Tanks
*Ratings are from /amazon at the time of publication and can change
Best Moss Balls for Aquariums Overall: Aquatic Arts Giant Marimo Moss Balls
Decently sized aquarium moss balls can be hard to come by, but Aquatic Arts Giant Marimo Moss Balls tick the right boxes. For just under $26, you'll receive 10 moss balls of between 1.75 and 2.25 inches in diameter. This might seem like quite a large amount of money to spend on moss balls, but when you consider that works out at around $2.50 per moss ball, it isn't a bad deal. There are occasional reports of receiving undersized balls, but when this is the case, extras are included to make up for the smaller size.
The majority of buyers report that these moss balls arrive green and healthy, but if there are some small brown spots, they should recover with time when put back in water. Upon arrival, you simply need to rinse and squeeze them to get them clean, then roll them in your palms to help retain their shape.
Aquatic Arts Giant Marimo Moss Balls Key Features: 
At least 10 moss balls in a pack
Sustainably harvested from areas where marimo are abundant
Each ball is between 8 and 15 years old
Best 2 Inch Moss Balls for Aquariums: Aquatic Arts B Grade Giant Marimo Moss Balls
What's great about these moss balls is their large size. Some are listed as "giant" while only measuring a little over an inch across, but Aquatic Arts B Grade Giant Marimo Moss Balls measure between 2 and 2.5 inches in diameter. Since they're B grade, they may arrive with some minor flaws, such as being slightly misshapen or having small yellow or brown patches, but any cosmetic issues will resolve with a little TLC. If you prefer, you can cut each moss ball into smaller pieces, roll them into a ball shape, and they're continue to grow.
Since marimo moss balls are slow-growing, each ball you receive will be somewhere between 8 and 15 years old. Each pack of moss balls contains five marimos and costs $15, proving you don't have to spend a lot to get extra-large moss balls for aquariums and fish tanks.
Aquatic Arts B Grade Giant Marimo Moss Balls Key Features: 
Five moss balls to a pack
Large size between 2 and 2.5 inches across
Slightly misshapen balls give a more natural appearance than perfect spheres
Best Budget Moss Balls for Fish Tanks: Fluval Moss Ball
Fluval Moss Ball
An alternative to standard moss balls is you like the look but prefer to avoid live plants.
At first glance, the Fluval Moss Ball looks like any other moss ball, but it isn't really algae at all. Instead it's a plastic sphere filled with charcoal and covered in a synthetic moss-like outer layer. It advertises some of the same benefits as live moss balls, such as purified water and a reduction in algae. However, it does this thanks to its charcoal center rather than any natural properties. Effectively, it's a small charcoal filter that sits inside your fish tank.
If you're looking for a real moss ball to take care of and grow over the years, you might be disappointed. On the other hand, it doesn't require any extra attention, just plonk it in your aquarium and it will work for around two months. Retailing at just $5, it isn't a strain on your wallet, either.
Fluval Moss Ball Key Features:  
Traps phosphate inside
Suitable for both fish and shrimp tanks
Treats aquariums between 10 and 20 gallons
Best 1 Inch Moss Balls for Aquariums: Luffy Marimo Moss Balls
Despite being listed as "giant," we wouldn't consider Luffy Marimo Moss Balls a giant option. Sizes can vary somewhat, but these aquarium moss balls generally measure between 1 and 1.5 inches, so if you're looking for a quality mid-sized option, these should be at the top of your list. While there are some reports of receiving browned or yellowed marimo, the majority of buyers receive them in excellent condition, ready to be rinsed, squeezed, and added to your fish tank.
The 1 inch size is ideal for smaller aquariums where they won't overwhelm the environment, or if you want to keep a large number of smaller moss balls rather than a few large ones. A pair of these moss balls costs around $9.
Luffy Marimo Moss Balls Key Features: 
Can be added to a fish tank or kept in water for display purposes only
Help to reduce algae growth
Two to a pack
Best Half Inch Moss Balls for Aquariums: Luffy Nano Marimos
Small half inch moss balls for fish tanks are also known as nano marinos or nano moss balls. Luffy Nano Marimos actually measure 0.4 inches across, so just under half an inch. They're ideal for small tanks or for anyone who wants to see their moss balls grow from small to large over the years. Marino moss balls grow around 0.2 inches in diameter each year, but they can live for over 100 years, so a devoted owner can get the satisfaction of seeing their moss ball grow from tiny to giant.
For $9, you'll receive a pack of six nano moss balls measuring roughly half an inch in diameter. Most buyers have no issues but some people have received moss balls with parasites hanging on for a ride, so always inspect them and rinse them carefully before adding to your aquarium.
Luffy Nano Marimos Key Features: 
Pack contains six half inch moss balls
Ideal for small tanks or decorative features
Cleaned, cultured, and ready to add to an aquarium
Who Should Buy a Moss Ball for Aquariums and Fish Tanks
If you'd like to start keeping live plants in your fish tank without the hassle, moss balls are an ideal place to start since they don't require any special lighting or much in the way of care. They're also great for adding to tanks with problem algae build-ups because they tend to curb the growth of other types of algae.
You can also keep marino moss balls even if you don't have a fish tank or aquarium. Some people keep them as decoration as they make a nice change from plants that grow in the earth. In Japan, they're often passed down through generations because they live for so long.
Important Features to Consider
A moss ball for aquariums and fish tanks should have a few important features. Here's what to consider when selecting a moss ball for your aquarium:
Size. You can buy aquarium moss balls in a range of sizes from approximately 0.5 inch to 2.5 inch in diameter. Marimo moss balls can grow up to 10 inches in diameter but they grow slowly, so it's rare to find any for sale larger than a few inches across.
Shape. As the name suggests, moss balls should be spherical. However, you can occasionally buy marimo moss balls in other shapes, such as heart shapes. They get their ball shape from rolling around on the bed of the freshwater lakes they grow in, so you must occasionally roll them between your palms when cleaning your fish tank to help maintain their shape.
Sustainable sourcing. Marimo moss balls are becoming endangered in some of the lakes in which they grow (and they're protected in Iceland and Japan). Look out for moss balls that are sustainably sourced. They may be grown commercially, rather than harvested from the wild, or they may be harvested from areas where these moss balls are abundant.
Number in pack. Check how many moss balls you'll receive for your money. Packs can contain anywhere up to 10 or 20 moss balls, though smaller packs are more common.
Frequently Asked Questions
What are moss balls for fish tanks and how do they work?
Although you can find some synthetic options, moss balls for fish tanks are generally marimo moss balls. These are actually balls of algae rather than moss. Like all live plants, their natural respiration and photosynthesis absorbs CO2 and nitrates from the water and releases oxygen, which helps create a more healthy environment in your fish tank. Likewise, they can harbor colonies of good bacteria which can break down ammonia and more. Since they complete with other, unwanted types of algae, they can slow or prevent problem algae growth.
How many Marimo moss balls do I need per gallon?
This really depends on the size of each moss ball and what you want to achieve (some people keep them for decoration more than for their benefits to fish tanks). For the best results in terms of absorbing pollutants and producing oxygen, you should keep between 1 and 3 moss balls of approximately 2 inches in diameter per gallon.
How do you take care of moss balls in an aquarium?
Moss balls require very little care but there are thing you can do to keep them in good nick. Position your aquarium somewhere than gets indirect sunlight, because they do need light to thrive but direct sunlight causes brown spots. Ideally, you should have some water movement in the tank to maintain their spherical shape, but if this doesn't suit your fish, you can take the balls out of the water and roll them between your palms once every few months. Moss balls also like clean water (as your fish do, too), so keep on top of regular partial water changes and install a decent filtration system.
How long do moss balls last?
When carefully cared for, marimo moss balls have been known to live for more than 200 years, so you shouldn't need to replace yours any time soon.
Other Moss Balls for Aquariums and Fish Tanks We Reviewed
We looked at 20 other moss balls for aquariums and fish tanks. Even though they didn't make our 5 best moss balls for aquariums and fish tanks list, they're the best of the rest and each is still a great option for your aquarium. The information you'll need to compare each one is included with the listing.
2 Inch Moss Balls for Aquariums
Aquarium Plants Discounts Marimo Moss Ball
This single large 2 inch moss ball works out a little pricier than some alternatives but most arrive lush and green.
Key Features: 
Large size of at least 2 inches in diameter
Imported from Europe
One per pack
Cost: $5
Aquatic Arts 3 Betta Fish Balls
These large 2 inch moss balls are ideal for betta tanks but suited to other fish and aquatic creatures too.
Key Features: 
Pack of 3 balls
Quality control program helps avoid pests and contaminants
Absorb nitrates
Cost: $10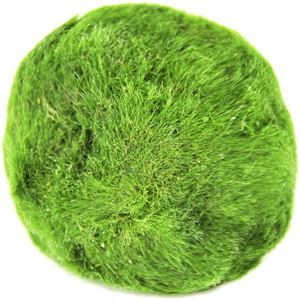 A pair of 1.5 to 2-inch marimo moss balls, though most are on the larger end of the spectrum. Some arrive slightly brown but should perk up.
Key Features: 
2 marimos to a pack
Ideal for large tanks
Affordably priced
1 Inch Moss Balls for Aquariums
Aquatic Arts 1 Inch Marimo Moss Balls
If you want a large number of moss balls, this pack contains 10 balls of 1 inch each, more than enough for most aquariums.
Key Features: 
Nicely dense and not artificially inflated
Guaranteed to be healthy
Pack of 10
Cost: $16
A single moss ball that measures between 1 and 1.75 inches across, though is more likely to be on the smaller side.
Key Features: 
Ideal if you want to try out a moss ball without committing to a large pack
Likes cool water
Great for fish, snails, and more
Cost: $2
We're focusing on the option that measures between 1 and 1.4 inches, but you can also choose a larger 1.5 to 2 inch moss ball if your prefer.
Key Features: 
Choose between packs of 3, 8, or 17
Balls may arrive with some brow spots
Best to rinse before use
Cost: $11 to $23
Although advertised as large, these moss balls should have a diameter of 1.2 inches, though some will be slightly larger or smaller.
Key Features: 
Choose between a 2 pack and a 4 pack
Naturally vibrant green
Promotes clear water
Cost: $6 to $13
The name is slightly misleading because they're no different than other moss ball, Sure, guppies should like them, but so will other fish.
Key Features: 
Pack of 2
Each ball measures roughly 1.5 inches
Easy to maintain
Cost: $10
Luffy Marimo Moss Balls for Snails
Despite the different name, these are much the same as the choice above but work out slightly cheaper.
Key Features: 
Diameter of 1 to 1.5 inches
Comes as a pair
Great for aquatic snails, but also for fish, shrimp, etc.
Cost: $6
Measuring around 1.5 inches across, this is a great mid-sized choice than may be better for small aquariums than large moss balls.
Key Features: 
Sold as a single moss ball only
Needs to be rinsed and squeezed before adding to tank
Size may vary slightly
Cost: $4
While these moss balls can arrive lush and green, the quality is variable, so you might receive some excellent moss balls or you might get brown or even rotten specimens.
Key Features: 
Pack of 4
Approximately 1.5 inches across
Can be eaten by fish
Cost: $10
Buyers report receiving green, healthy moss balls and at a reasonable price, as well. You can't ask for much more than that.
Key Features: 
5 moss balls to a pack
Each measures approximately 1.6 inches but may be smaller
Excellent condition
Half Inch Moss Balls for Aquariums
Though other sizes are available, we're focusing on the nano option here. Yes, they're great for betta tanks but they're not exclusively for betta fish.
Key Features: 
Choose between packs of 6 and 10 nano balls
Sized between 0.4 and 0.6 inches
Perfect for compact tanks
Cost: $9 to $15
If spheres don't do it for you, these adorable marimo mosses are shaped like hearts. They look cute though maintaining the shape over time may be tricky.
Key Features: 
Approximately 0.4 inches across
Pack of 2
Suited to a range of fish and other aquatic creatures
Cost: $12
At 0.6 inches in diameter, these moss balls are slightly over half an inch, but not enough to be significant. Plus, all moss balls can naturally vary in size a little.
Key Features: 
Pack of 6
Sized to suit small fish
Generally arrive in good condition
Cost: $9
Sova Marimo Store Nano Marimo Moss Balls
They may be a little costlier than some, but the more you buy, the more you get free. Plus, they're cultivated in the USA.
Key Features: 
Measure 0.5 inches in diameter (though expect a little variation)
Green and healthy upon arrival
Shipped fresh and alive rather than dried
Mixed Size Moss Balls for Aquariums
Aquarium Equip Marimo Moss Balls
Apart from a few exceptions, these moss balls arrive with good color, though the shape can be a little irregular, requiring some rolling.
Key Features: 
Pack of 6
Sizes anywhere between 0.6 and 1.2 inches
Good value for money
Cost: $13
Aquatic Arts Marimo Family Pack
This family pack contains 6 moss balls of various sizes and is a great way to buy moss balls if you want a range of sizes in your tanks.
Key Features: 
Pack includes 2 giant 2 inch, 2 large 1.5 inch, and 2 small 1 inch moss balls
Excellent condition upon arrival
Sizes and quantity can occasionally vary
Cost: $17
With BREEZEY Marimo Moss Balls, you don't receive a mixed pack as such, but you can choose between 5 sizes from XS to XL, so you can mix and match as you please.
Key Features: 
Sizes range from 0.2 to 1.2 inches
One per pack
Little maintenance required
Cost: $3 to $8
Plants for Pets Giant Marimo Moss Balls
This pack contains two large moss balls than can vary in size anywhere from 1.5 to 2.5 inches, though no exact sizes are guaranteed within this range.
Key Features:
Densely rolled to prevent rotting
Generally good quality (but check for hitchhikers)
Large but not really giant
Cost: $10