Whether you have an indoor or outdoor cat, we all know how much our furry friends love to play. Interactive cat toys are a great way of providing a fun way for you and your cat to play together. More than that though, they also provide your cat with mental and physical stimulation, allowing them to use those innate hunting instincts.
We reviewed dozens of interactive cat toys to identify the best of the best. We looked at features such as whether toys contained catnip, if they were battery operated or manual, as well as if they provided an opportunity for your cat to 'hunt' for part of their diet. (If you're looking for more ways to keep your favorite feline's healthy diet in check, we've also reviewed the Best Automatic Cat Feeders and the Best Organic Cat Foods.)
The Petlinks Silly Chute Cat Tunnel Toy stood out as a clear winner thanks to how entertaining it is, as well as its innovative design and the rave reviews it has received.
The 5 Top-Rated Interactive Cat Toys
*Ratings are from Amazon at the time of publication and can change
Our Top Pick: Petlinks Silly Chute Cat Tunnel Toy
Petlinks Silly Chute Cat Tunnel Toy provides your cat with hours of fun with its simple but stimulating design. The tunnel, which can expand to 26″, combines both tactile and audio elements to ensure your cat is thoroughly entertained each time they enter it. By setting up an environment for your cat to independently play, this toy is designed to provide your cat with as a constructive outlet for them to unleash their natural instincts.
They'll no doubt love the stimulation from the fringe and feathers in the tunnel, as well as its crackly surface. Cat parents will appreciate the fact that this toy is easy to set up as well as pack away. With a rating of 4.3 out of 5 stars on Amazon, from nearly 300 reviews, you can be confident that Petlinks Silly Chute Cat Tunnel Toy is a fun interactive cat toy which many cats just can't get enough of.
Petlinks Silly Chute Cat Tunnel Toy Key Features:
Expands to 26″
Easy to set up and pack up
Fun feather and fringe elements
Crackly surface for audio stimulation
Our Runner Up Pick: Petstages Tower of Tracks Cat Toy
Our Runner Up Pick goes to the Petstages Tower of Tracks Cat Toy. This track toy combines three levels of circular tracks, each with its own brightly colored ball. This expert design is specifically intended to stimulate your cat's instincts and encourages them to play.
The balls within this track are fixed in place thanks to the closed tracks, meaning no more hunting for lost cat toys under your furniture. This toy is perfect for encouraging your cat to play independently, but it also provides options for you to play with your cat by pushing the balls around the tracks. It's also great for multiple cats to enjoy playing together.
While the center of this toy is open, there is a safety bar across the top track, to prevent over enthusiastic cats getting their heads stuck. The Petstages Tower of Tracks Cat Toy has over 3,000 reviews on Amazon, with a rating of 4.5 out of 5 stars.
Petstages Tower of Tracks Cat Toy Key Features:
3 levels of fun
Provides mental and physical stimulation
Closed top and non-slip base
Brightly colored balls to attract cat's attention
Best Budget Pick: Hexbug Nano Robotic Cat Toy
Have a spare $7? That's all the Hexbug Nano Robotic Cat Toy will set you back. It's an ideal choice for anyone who wants to ensure their cat is thoroughly entertained, but at the same time doesn't want to spend too much on an interactive toy. If they're anything like the other cats who have played with this vibrating bug, they'll find swatting at it absolutely irresistible.
The Hexbug Nano Robotic Cat Toy the definition of simple but effective design. Just try not to smile as your cat excitedly interacts with it as it moves its body and colorful feather tail around on your floors. It's so well-designed that not only can it flip itself over if it ends up on its back, but it can also smoothly navigate its way around objects and corners.
Paws & Pals Bird Dancer Cat Toy Key Features:
Suitable for cats of all ages and sizes
Navigates around objects and corners
Can flip itself over
Includes batteries
Best Treat Puzzle Toy: Petstages Rainy Day Puzzle & Play Cat Toy
While the Petstages Rainy Day Puzzle & Play Cat Toy may not look too flash, you'd be wrong to underestimate it how entertaining it is for cats. Just check out the adorable (and hilarious!) videos customers have shared on Amazon of their cat playing with it. As you'll see, cats can't get enough of it! You can see their minds ticking as they strategize how to catch a hold of the feather toy that unpredictably moves around the plastic mat.
With four speed settings (slow, medium, fast, and random) to choose from, you can pick a speed that best suits your cat's needs. This interactive cat toy is designed to simultaneously satisfy your cat's natural instinct to hunt and encourage them to get moving. It has over 1900 reviews on Amazon, the majority of which are positive. All of these features and benefits, combined with its very reasonable price tag, makes the Petlinks Mystery Motion Electronic Motion Cat Toy a fantastic toy for any kitty.
Petlinks Mystery Motion Electronic Motion Cat Toy Key Features:
Four adjustable speed settings
Unpredictable movements ensure they won't get bored
Easy set up
Plastic parts made out of recycled plastic
Best Laser Cat Toy: PetSafe Bolt Interactive Laser Cat Toy
The PetSafe Bolt Interactive Laser Cat Toy is packed full of features that mean your cat will be kept entertained and exercised through healthy play. This well-designed, cat-safe laser toy uses random movements to maintain your cat's attention. You can either choose to create your own light patterns for your cat to pounce at, or leave it on automatic mode while you're busy with other tasks.
A great feature of this laser toy is that it has an automatic timer which shuts off after 15 minutes. This stops your cat from becoming overstimulated or overtired from playing for too long. With a 1-year warranty, this laser toy has received solid reviews on Amazon for its great design, automatic timer, and the fact it provides hands-free laser entertainment for your cat.
PetSafe Bolt Interactive Laser Cat Toy Key Features:
Automatic cutoff after 15 minutes
Automatic and manual modes
One year warranty
Who Should Buy an Interactive Cat Toy
Any cat owner should definitely consider buying an interactive cat toy. Toys which allow your cat to chase or hunt pretend 'prey' will help them use all their senses, allowing them to feel satisfied and happy. Playing with your cat is also a great way of getting to know them better. Watching and helping them use their intelligence to solve puzzles or catch toys is a fabulous way to spend time with your furry friend.
Indoor cats will particularly benefit from interactive cats toys. Depending on the sort you choose, these will help your cat satisfy their natural instincts for hunting, foraging, scratching and playing. Interactive cat toys which dispense your cat's food in small doses are a great option for keeping your cat active rather than eating too much food from a stationary bowl.
Important Features to Consider
When you're selecting an interactive cat toy, there's a few important features to consider to make sure you're choosing the best toy which is suited to your individual cat.
Battery operated or manual. If you work away from home during the week, or have an indoor cat that requires a lot of stimulation, then a battery operated interactive toy is a great choice. Many have an automatic on-off timer, so will come on as your cat initiates play and then turn off after a set period of time. Manual toys are great if you want to sit and play with your cat, for instance by encouraging them to play with a fabric wand or chase a ball.
Containing catnip or catnip free. If your cat is particularly sensitive to catnip, then you may want to avoid toys that contain this herb, as your cat may become over-stimulated and a little too playfully aggressive as a result. The other side of the coin is that if catnip encourages your otherwise lazy indoor cat to get up and run around, then using a catnip toy can be a great way to ensure they get enough exercise.
Feeder toys. Interactive toys which encourage your cat to naturally 'hunt' for their food are a great way to both increase the amount of exercise your cat gets as well as allowing them to play as they eat. This mimics the natural behavior of cats in the wild, which will prevent your cat feeling bored. Another benefit is that feeding this way helps control your cats weight by making sure they get enough exercise.
Frequently Asked Questions
What is an interactive cat toy?
Interactive cat toys allow you to do just that – interact with your cat through play. There are a range of great benefits that these sort of toys bring. This includes encouraging your cat's natural instincts for hunting, but in a safe environment. This is particularly important for indoor cats. Interactive toys aim to stimulate all your cats senses – touch, hearing, taste, sight and smell.
Another great benefit of some interactive toys is that they allow your cat to 'hunt' for their food, which can be released slowly as your cat plays with their toy. This is a very natural and satisfying way for your cat to eat. For cats who need a controlled diet, this is a great benefit. Last but not least, interactive toys allow you to bond with your cat while you watch them use their intelligence to problem solve.
Why do cats like laser pointers so much?
Laser pointers appeal to cats because their erratic movements can fool them into thinking its a form of real prey. Cats have a strong hunting instinct and chasing a moving target like a laser pointer can be a very satisfying game for them!
Are laser pointers really safe for cats?
There's a couple of different points to cover here. Firstly, looking directly at laser beams can damage both your eyes, and those of your cats. So be careful to choose a toy that is within the safe range of 1 to 5 milliwats. Never point the laser directly in your cats face.
Secondly, because your cat will never really 'catch' the laser pointer, they never get the satisfaction of a successful hunt. Some cats won't mind this and will continue to be entertained for hours. Others will become frustrated and decide that the game is no longer fun. We recommend ending your laser pointer play sessions by allowing your cat to 'catch' a toy mouse or ball, allowing your cat to feel the satisfaction of catching their prey.
Are toys with catnip safe for cats?
Catnip affects different cats in different ways. Some don't appear to be affected by it at all, while others can end up anywhere along a scale from practically sedated to seriously hyperactive. Whatever reaction your cat has, once the effect wears off it takes approximately two hours before they will respond to catnip once more.
Catnip is veterinary approved, so there's no need to worry about using this treat. If your cat has a strong reaction to it though, you might want to limit playtime with catnip toys to prevent them becoming overstimulated.
Other Interactive Cat Toys We Reviewed
We looked at 20 other interactive toys for cats. While they didn't make our 5 best interactive toys for cats list, they're the best of the rest and each of them is still a great option for your cat. The information you'll need to compare each one is included with the listing.
Electronic Cat Toys
PetFusion Ambush Interactive Cat Toy
Ambush Interactive is an automatic cat play device based on the idea of simulating a hunting experience using moving objects. The feather will randomly pop out from 6 holes at different time intervals. With added color LED lighting, cats are drawn into the experience to catch the feather. Great for daytime or nighttime hunting. Interactive toy for both kittens and older cats.
Key Features:
Captivates your cat's attention and satisfies their hunting instincts
Helps keep your cat nimble, physically fit, and mentally stimulated
Anti-skid bottom
Cost: $23
The Hexbug mouse toy is perfect if your cat loves to pounce and chase. With realistic and random movements, your cat will have hours of fun with this mouse.
Key Features:
Able to navigate around furniture
Can flip back onto its feet when overturned
Suitable for hard floors only
Cost: $12
The futuristic cat toy, with its furry tail, is sure to captivate any cat. Using vibration technology, the Hexbug Nano toy will scurry around hard surfaces in your home. Colors are selected at random.
Key Features:
Soft and furry tail attracts your cat's attention
Can find its way out of corners and around furniture
Batteries included
Cost: $8
SmartyKat Feather Whirl Cat Toy
Feather based toys are almost always guaranteed to catch most cat's attention. Combine this with the erratic spinning of this electronic toy and your cat is bound to be fascinated by the SmartyKat Feather Whirl toy.
Key Features:
Unpredictable motion designed to maintain interest
Quiet motor which won't scare cats
Replacement feather wands available
Cost: $10
This circular toy is designed to entice your cat into thinking there is some sort of prey hiding under the fabric cover. This is achieved through a combination of a moving wand and lights.
Key Features:
Two speeds settings to suit different cats
Durable fabric and plush toy wand
Replacement wands available
Cost: $34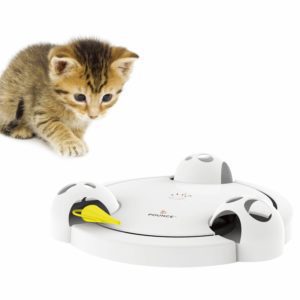 This electronic toy is designed to stimulate your cat's natural instincts. The PetSafe Pounce helps to keep cats active by encouraging them to chase the moving mouse around a circular path.
Key Features:
Four adjustable speed settings
Automatic timer turns this toy off after 10 minutes
Durable design
Laser Cat Toys
Innozon Laser Pointer Chaser 2 Pack
This interactive laser pointer chaser toy by Innozen is the perfect way to play with your cat. Keep them busy and entertained by shining this laser around the house for your cat to chase.
Key Features:
2 in 1 function. Works as a laser pointer and flashlight
Safe for your cat to play with
12 month guarantee
Cost: $8
PetDroid Boltz Hanging Automatic Interactive Laser Cat Toy
If your cat knocks over laser toys left on the ground, then a hanging toy is the perfect solution. The PetDroid Boltz is designed to be wall-mounted and will move randomly over your floors and walls.
Key Features:
Automatically switches off after 5 minutes to prevent overstimulation
Requires 3 AAA batteries (not included)
Can be hung on the wall, or attached using the suction cup
Cost: $23
If you're looking for a laser cat toy with loads of play options, then the Playdot! is the one for you. Four modes mean your cat will never get bored of playing with this toy.
Key Features:
Lightweight and stylish design
Requires 3 AA batteries (not included)
3 self play modes and 1 handheld manual mode
Cost: $20
The Runfish laser cat toy 2 pack offers great value for money. If you're looking for a handheld laser so you can play with your cat these are definitely worth a look.
Key Features:
Stylish and cute design, with paw buttons used to control settings
Requires 2 AAA batteries (not included)
Small size means you can carry them into the garden or other rooms easily
Feeder Cat Toys
Cat Amazing Treat Maze & Puzzle Feeder
This simple yet effective maze encourages your cat to sniff out hidden food or chase balls and catnip toys around the maze. Perfect as a slow feeder to use as part of a meal management plan.
Key Features:
Three difficulty levels
Encourages natural play
Recommended by veterinarians
Cost: $16
Doc & Phoebe's Indoor Hunting Cat Feeder
This pack of 5 interactive feeders are designed to appeal to your cat's hunting instinct. They provide a natural, bowl-free way to feed your cat.
Key Features:
Helps to alleviate anxiety
Dishwasher safe
Suitable for all kibble sizes
Cost: $34
KONG Cat Wobbler Treat Dispensing Toy
The KONG Cat Wobbler comes with a catnip stuffed tail which encourages your cat to play. Designed to slowly dispense food or treats, to help manage your cat's weight, or fight boredom.
Key Features:
Slows rapid eating
Durable and easy to use
Translucent top lets cats see food inside
Cost: $13
PetSafe FUNKitty Egg Cersizer Interactive Toy and Food Dispenser
The shape of this interactive toy and food dispenser is designed to wobble unpredictably, making it irresistible to your cat. The FUNKitty Egg Cersizer helps to combine small meals with exercise, a natural way to feed your cat.
Key Features:
Dishwasher safe
Adjustable opening sizes to suit all types of kibble
Helps with portion control
Cost: $6
PetSafe SlimCat Interactive Toy and Food Dispenser
Designed to help you control the amount of food your cat receives, but in a way that encourages both play and exercise. Adjustable openings mean you can increase the level of skill required.
Key Features:
Dishwasher safe
Available in a range of colors
Suitable for all types of kibble
Manual Cat Toys
Cat Dancer Rainbow Cat Charmer
This colorful cat charmer from Cat Dancer is a cheap and cheerful way to make playtime with your cat more fun and interactive. The rainbow ribbon is designed to catch your cat's attention and encourage them to play.
Key Features:
Nontoxic and colorfast material
Made in the USA
Four feet long
Cost: $4
Catit Design Senses Play Circuit
This track with peek-a-boo sections allows your cat to chase and swat the included balls. There are many layout options as well as the possibility to include additional circuits for even more fun.
Key Features:
Includes specially designed balls which catch your cat's attention
Uses sight, sound and touch to engage your cat
Easy to put together
Cost: $8
Pioneer Pet SmartCat Peek-a-Prize Toy Box
This simple looking wooden box is designed to keep your cat entertained and mentally stimulated. Hiding toys inside the box helps to encourage your cat's natural hunting instincts.
Key Features:
Heavy-duty construction
Includes two ball toys
Works with catnip and a range of appropriately sized toys
Cost: $23
This collapsible tunnel is designed to provide three zones for your cat to play in, as well as openings designed to allow you to interact with your cat. This collapsible tunnel by Prosper Pet is a great option if you need a fold-able toy for easy storage.
Key Features:
Durable construction with ultra-strong and tear-resistant material
Collapsible and portable
Available in a wide range of colors
Cost: $17
SnugglyCat The Ripple Rug Play Mat
If you're looking for a large interactive toy with plenty of play possibilities, the Ripple Rug play mat by SnugglyCat could be just what you need. This multi-function activity center provides a range of places for your cat to hide, play and nap.
Key Features:
Double mat allows endless combinations of shapes
Hiding food and treats inside stimulates your cat
Perfect for multiple cats
Cost: $40
More Pet Product Reviews: 
The Best Robotic Vacuum for Pet Hair
The Best Cat Bowls
The Best Dog First Aid Kits
The Best Spiked Dog Collars
The Best Automatic Dog Feeders
The Best Dog Crate Furniture
The Best Dog Steps And Stairs
The Best Cat Harness
The Best Unique Gifts For Cat Lovers
The Best Gifts For Dog Lovers