Just like your human children will always be your babies, your dog will always be your puppy. Unfortunately, for some that's all too real when they have a dog that, even when he's full-grown still carries on with typically "puppy-like" destructive tendencies. You may expect a puppy to destroy his fluffy bed a time or two, but for a bigger dog, his destruction can be so much more damaging to your home than just his bed. If you can give him a bed that is indestructible, then you may be able to discourage the behavior before it spreads. You may also want to make sure there isn't something bigger at play; separation anxiety, for example, is a very common motivation for your dog's destructive behaviors, and while leaving him is unavoidable, buying a new bed won't solve the root of his problems, of course. Talk to your vet and make sure you're not just slipping a band-aide on a bigger problem to be sure.
We reviewed dozens of indestructible dog beds to identify the best of the best. We looked for the elevated beds that are chew-proof and luxurious beds that are waterproof (for his struggling potty habits). We found nesting beds to keep him cozy as well as the orthopedic beds that will help keep your older dogs with sore joints more comfortable.
Early on, we determined the Brindle Waterproof Designer Memory Foam Pet Bed had to our top pick for the best overall indestructible dog bed. With its waterproof design and its orthopedic composition, this bed stands out among its peers as top dog.
The 5 Top-Rated Indestructible Dog Beds
*Ratings are from Amazon at the time of publication and can change
Best Indestructible Dog Bed Overall: Brindle Waterproof Designer Memory Foam Pet Bed
The Brindle Waterproof Designer Memory Foam Pet Bed features a 100% waterproof encasement cover that will keep all moisture and liquids away from the more delicate memory foam padding. Atop that casing is a zippered velour cover that is soft and plush but highly durable. The seams are reinforced and the entire cover can be removed and machine washed with ease.
The four-inch-thick padding is split in half with two inches being the memory foam that will form to his body and the base is a higher density foam that will provide him stronger support and keeping him up off the floor. It's simple in its design; just a rectangular mattress, really, but then if humans don't need more, why should dogs? This is a perfect bed for the dog who will tear through plush fluff, chew extra edges, or has accidents on his bed.
Should the bed's physical features alone not be enough to convince you, consider the 3-year warranty and feel confident that your purchase is a sound one. And if you need more facts to help you make your decision, here are a few more: There are over 2,400 customer reviews on Amazon with an overall rating of 4.2 stars. Not bad!
Brindle Waterproof Designer Memory Foam Pet Bed Key Features:
4″ thick foam padding
6 colors available
3 size options
Best Orthopedic Indestructible Dog Bed: Dogbed4less Orthopedic Gel Cooling Memory Foam Dog Bed
The Dogbed4less Orthopedic Gel Cooling Memory Foam Dog Bed is an excellent option for your dog with aches and pains as he tries to get around. The memory foam is gel-infused to make sure your pup remains cool, even on hot days, and the way it conforms to his body as he lies on it will provide his poor joints and muscles some therapeutic relief. (And keep in mind that a dog no longer in pain may be less likely to take his frustrations out on his bad!)
The fabric cover is a very durable 1680 denier nylon which means that he won't be getting through it easily. The heavy-duty, ballistic cover is removable with a zipper and you can pop it in the washer making messes and accidents an easy cleanup. The second layer of the cover is also removable and is a waterproof liner that will make sure that any of those little accidents won't ruin the bed.
This bed has an overall rating of 4.6 stars on Amazon, earned by over 300 customer reviews. That's plenty enough to suggest your dog will be just as pleased with it as any of the other hundreds of customers.
Dogbed4less Orthopedic Gel Cooling Memory Foam Dog Bed Key Features:
7 sizes available
10 color options
Removable and machine washable cover
Best Budget Indestructible Dog Bed: The Original Elevated Pet Bed by Coolaroo
If you're looking for an indestructible bed for your dog, but don't have a lot of money to spend on it, this is one you won't want to look over. The Original Elevated Pet Bed by Coolaroo is made with a powder-coated steel frame that's lightweight, yet strong. That means there is less material for him to chew, claw, or tear and the material that is used in the bed's design is a high-density polyethylene fabric that he won't find easy to destroy.
This bed will support your dog's weight and keep him off the ground, too. It will use gravity to prevent pressure on his joints and the large bed offers nine square feet for him to stretch out. It's suitable for indoor and outdoor use and the clean up couldn't be easier: you can just hose it off or use a sponge with soap and water.
There are 14,000+ customer reviews for this dog bed, giving it an overall rating of 4.2 stars on Amazon. Those numbers probably seem like plenty to persuade you, but we definitely don't want to gloss over the biggest selling point: it's under $40!
The Original Elevated Pet Bed by Coolaroo Key Features:
6 color options
Weight limit: 75 lbs
3 sizes available
Best Chew-Proof Dog Bed: K9 Ballistics Chew Proof Dog Bed
The K9 Ballistics Chew Proof Dog Bed is made of materials so durable that they may never need to be replaced. With a fully aluminum base and a ripstop fabric for the sling, your pup won't be able to chew through anything on this bed. These materials also make for an especially easy to clean bed – just wipe clean or take a soapy sponge to it, hosing it off afterward.
This bed is designed to also fit into most standard-sized crates (although make sure you're measuring appropriately), so you'll be able to make his crate a bit more comfortable for him. This is especially helpful if your dog has some volatile feelings about his crate time. (Talk to your vet though, if you think there's something wrong and he could benefit from some more help with separation anxiety.)
With well over 200 customer reviews, there's more than enough to build your confidence in its overall rating on Amazon; and considering that rating is 4.4 stars, we think you'll be more than just tempted.
K9 Ballistics Chew Proof Dog Bed Key Features:
180-day chew proof warranty
5 size choices
3 colors available
Best Elevated Indestructible Dog Bed: K&H Pet Products Original Pet Cot Elevated Pet Bed
The design of the K&H Pet Products Original Pet Cot Elevated Pet Bed minimizes your dog's temptation to destroy by utilizing functional materials. The cot is made with a removable and washable cover that includes a 600 denier fabric and the durable frame will ensure he gets nowhere when he tries to chew through it.
Putting it together is so easy, you may find yourself taking it apart and bringing it (and your dog) with you on more and more trips. The mesh fabric will give him a comfortable surface on which to lie and he'll love the cooling sensation that's provided by the maximum air circulation. This is an indoor or outdoor bed that will keep him up off your cold tile floors, or out of the mud and either one are big perks.
There's no way around it, there are just impressive numbers for this bed. Hundreds of reviewers give it an overall average rating of 4.7 stars on Amazon, so it's likely you'll also be a satisfied customer.
K&H Pet Products Original Pet Cot Elevated Pet Bed Key Features:
2 color options
4 sizes available
1-year warranty
Who Should Buy an Indestructible Dog Bed
If you have a puppy, you will likely be faced with the choice of either repeatedly buying replacement beds for your pup, or finding an indestructible bed for him. A puppy will chew on nearly anything and his bed is no different. He may also be prone to aggressively fluffing and that may end in an irreparably torn bed. (Note, if you have a large breed dog, as he grows, this will probably be a common occurrence and that will require an indestructible bed all the more.) Waterproof will help you maintain a clean house while you're house training him, too.
If your dog is getting on in years, you may need to resort back to an indestructible bed for him. Older dogs will often lose control of their bowels so a waterproof bed will be so very useful as you deal with the aftermath of his many accidents. Additionally, older dogs who begin to lose their senses are easily put on edge. If they're losing their hearing and eyesight, then they're more prone to defensive and aggressive behavior. That may mean they're more likely to bite or fight with other dogs, but it also means they're more apt to take their frustrations out on their personal items, like their beds.
If your dog has any internal conflicts in his life, you may see that may manifest in the destruction of his bed, even if he's neither especially old or young. You may want to talk to your vet if he's only destroying his bed under specific circumstances (I.E. if he's tearing up the bed when you leave, then he may be suffering separation anxiety and there are more actions you can take to help him along the way.) Sometimes, though, his destructive tendencies have nothing to do with his age and everything to do with his personality. Some personality traits or habits can be typical of breeds, so depending on your dog's breed, you may struggle with this kind of behavior throughout your dog's entire life.
Important Features to Consider
An indestructible dog bed for dogs should have a few important features. Here's what to consider when selecting an indestructible bed for your dog:
Nesting. If your dog is a cuddly dog, then a nesting bed may help him get his comfort even when you're away or too busy to snuggle him. It may help with separation anxiety but it's not a guarantee. The comfort also does not mean he'll avoid taking his frustrations out on the bed. With the luxuriously padded sides, he'll have more additional comfort, but that also means more seams to tear as he's acting out or fluffing to get into the most comfortable position.
Aluminum frame. Many elevated beds are made with an aluminum frame because they're durable enough to support the weight of your dog, no matter his size, and lightweight enough that you can move it around with your dog. The metal will likely be strong enough to withstand your dog's tantrums and the elevation will also keep him off the ground and that will keep him warmer in cold months and provide a bit more air circulation, as well. Other materials used for the frame are PVC – less durable but less expensive, as well – and steel – more durable, and much heavier.
Chew-proof. A chew proof dog bed will most often be one that either has an incredibly durable material or one that minimizes the material entirely. (Like the aluminum-framed ones, for example.) The more plush and soft the stuffing of the bed, the more tempted your dog may be to get to the fluffy center, and that may make it difficult to find a nesting dog bed if that's his usual preference. It can certainly be done, but you'll need to look for especially robust materials and ruggedly durable design. To that, end, don't overlook the following:
Reinforced fabric and seams. A dog bed that minimizes or reinforces the fabric and seams is one that has considered preventative measures to keep your dog's bed from destruction. Nylon doesn't tear as easily, but it's not the soft bed you may think your dog prefers; the same could be said for heavy-duty canvas and denier or ripstop fabrics. Keep in mind, though, your dog has fur that protects him from the fabric, so even if you gave him a bed with the softest fabric imaginable, he probably won't be able to tell the difference.
Waterproof. This is a particularly useful feature for those dogs and puppies who struggle with their house training. This could be a puppy who's still learning or an older dog who's struggling to keep himself under control. Even a properly trained healthy adult dog will have accidents from time to time, and a waterproof design will help you minimize the ill-effects of them. If you're dog's a licker, a waterproof bed may even keep him from doing so on the bed, as the texture and sensation will prove unpleasant to him.
Memory foam or orthopedic. Another big talking point for an indestructible dog bed may come if your dog struggles with his joints or back. Lying down and getting up becomes difficult when you have aches and pains and if it's possible for you to make that easier on your dog, then the overall comfort and quality of his life will drastically improve. You may even see a noticeable difference in his mood; a happier dog that isn't in pain won't lash out at his family or strangers and he won't be as likely to act out to destroy his bed.
Frequently Asked Questions
What makes a dog bed indestructible?
An indestructible dog bed is one that your dog won't be able to destroy. There are a few main tactics that your dog will use to destroy his bed and an indestructible dog bed will tackle one or more of each to make sure your dog's specific bad habits aren't ruining his bed. A waterproof bed will prevent any of your dog's accidents from rendering the bed un-fixable. Luckily, waterproof materials are often chew-proof, as well. Nylon is frequently used as a waterproof (or at least water-resistant) material and a higher denier will denote how durable it is. (Denier is the unit of measurement that determines the thickness of individual threads.) A heavy-duty fabric that uses a reinforcing technique that makes them resistant to ripping or tearing (called "ripstop") will work beautifully for preventing destruction and can be made with a few different fabrics.
Minimizing the seams and the fabric will make a bed more indestructible, too, so an elevated bed that is made with a heavy-duty PVC, aluminum or steel frame and allows gravity provide to the "cushion" for the bed and will minimize the places where it even can be destroyed. If you can get a bed with just one or two seams (and maybe even double sewn), that's all the better and if you can get one without the plush, "fluffy," cushioning, you're less likely to be picking that stuffing up every few days.
Why does my dog destroy his bed?
Puppies tear up their beds because they're chewing and they don't know what proper behavior is, much less how to do it. They're teething, and want to stimulate their gums to ease the discomfort, and their digging, tearing, and "fluffing" of their bed happens because they're trying to get more comfortable or they're curious. When your dog is no longer a puppy, though, he may still be doing these things, but with an entirely different motivation. He may just be working out some of his stress. If a dog is anxious or stressed for any reason, many will start showing this by destructive behavior. If his bed is where he limits it to, that's not necessarily a bad thing for your home, but you can definitely still help him by giving him a bed he won't be tearing up every time he stresses about something.
If he's not a puppy, and he's not stressed out, though, you may simply be paying for letting him get away with too much when he was, now that he isn't. That is, if he tore up his bed when he was a puppy or has used this as an outlet for his stress in the past, you may have to contend with it as a developed habit, now. That's definitely not an enviable position for you to be as a dog mom, since breaking a habit will be a bit more difficult than removing the cause.
How do I stop my dog from tearing up his bed?
You can spray deterrents on your dog's bed to keep him from chewing, and sometimes that will prevent his tearing, as well, but these sprays may result in your dog avoiding the bed entirely – and that's certainly not your goal. If he's anxious (separation anxiety when you leave him alone in the house is very common for dogs), then you will probably have the best results in preventing this behavior by working with your vet to remove his anxieties. That may be medications, or routines, or bribes, but you will likely want to stop the behavior in conjunction with purchasing an indestructible bed so that he doesn't redirect his destruction somewhere else when he finds he can't get the results from his bed.
Chewing may be the easiest destructive habit of your dog's to break because most often it's a simple case of redirecting. You may struggle to find something that holds his interest like his bed does in the beginning but keep at it and you'll find something for him to destroy that is okay to chew to smithereens. A chew toy, bone, rope, treats – something exists that will allow your dog to chew as he wants and needs without destroying something you need to keep protected.
Is it okay to let a dog sleep in your bed?
Yes! Sleeping with your dog will firm your bond and make you both feel loved and safe. In fact, when you're spending most of your day away from home and away from him, you may find that sleeping together is a time that you can devote to just your dog. Despite some early research, more recent research has determined that sleeping with your pooch won't necessarily have a negative impact on your sleep quality so you can stop worrying about that, too.
There are a few circumstances where you won't want to share with your dog, and although you may not want to hear them, you probably should know them, just in case. The most concrete no answer comes when combining your fur babies and human ones. You do not want your small children sleeping with your dogs in their bed – no matter the breed. In all likelihood, nothing will happen, but your dog could, potentially, inadvertently, accidentally harm your child while they sleep. Consider how your dog kicks and flails while he's dreaming and you're halfway there; he could also react poorly if he's awoken from a dead sleep to a stray arm hitting him as your child tosses and turns. Additionally, you don't want to risk sleeping with your dog if he's not regularly washed; he will have several types of foreign bacteria and possibly worse on him through his adventures and you don't want to invite illness on yourself by cuddling up next to them.
Other Indestructible Dog Beds We Reviewed
We looked at 20 other indestructible beds for dogs. Even though they didn't make our 5 best indestructible beds for dogs list, they're the best of the rest and each is still a great option for your dog. The information you'll need to compare each one is included with the listing.
Nesting Indestructible Dog Beds
AmazonBasics Water-Resistant Pet Bed
The interior comes out of this bed, so you can remove it should the extra fluff provide too tempting for your chewing dog.
Key Features:
Made of durable oxford, water-resistant fabric
5 sizes available
1-year warranty
Cost: $20
BarksBar Gray Orthopedic Dog Bed
If your dog is a nesting sort, this bed will be a perfect fit for him while still giving him a durable bed that he won't be able to tear apart.
Key Features:
2 sizes available
Solid orthopedic foam base
Removable cover is machine washable
Cost: $70
Friends Forever Orthopedic Dog Bed Lounge Sofa
This bed has a firm enough filling that it won't necessarily invite chewing and "fluffing" behavior and the durable fabric will withstand what little he does.
Key Features:
4 sizes available
4 color choices
1-year warranty
Cost: $70
K9 Ballistics Round Dog Bed Deep Den
If your enthusiastic chewing and tearing dog also loves a good snuggle, this may just solve all your (and his) problems.
Key Features:
3 color options
1680 denier ripstop ballistic nylon cover
4 sizes available
Cost: $110
K9 Ballistics Tough Bolster Nesting Dog Bed
This bed will give a strong enough support to keep him comfortable while also giving him the sides for a bit of nesting in, as well.
Key Features:
12 color options
5 sizes available
120-day chew-proof guarantee
Cost: $220
This indestructible dog bed is water-resistant and will withstand the worst of your dog's tantrums.
Key Features:
3 color choices
4 sizes available
Removable cover is machine washable
Cost: $120
The Dog's Bed Orthopedic Dog Bed
This bed has nine-inch tall sides that will let him snuggle into his bed comfortably, and with high-density foam and extra waterproof liner, this bed definitely isn't going to be destroyed right away.
Key Features:
4 color options
4 sizes available
Waterproof design
Cost: $115
Elevated Indestructible Dog Beds
AmazonBasics Elevated Cooling Pet Bed
With a breathable mesh sling and a durable metal frame, this bed is safe for (and from) your dog.
Key Features:
2 color options
5 sizes available
Elevates 7″ off ground
Cost: $25
Fiksu Pets Heavy Duty Elevated Pet Bed
The PVC frame on this is a durable kind that will hold your dog up to 100 pounds and give him plenty of space to spread out.
Key Features:
3 sizes available
Frame is made with steel tubing
Weight limit: 100 lbs
Cost: $40
K&H Pet Products Original Bolster Pet Cot Elevated Pet Bed
With 600-denier nylon fabric, this is waterproof as well as bacteria, mold, and mildew resistant.
Key Features:
3 sizes available
2 packaging options
1-year limited warranty
Cost: $40
Kuranda Dog Bed – Chewproof Design
With a heavy-duty PVC tube frame, this bed is abrasion and chew resistant.
Key Features:
4 color choices
6 sizes available
100 lb weight limit
Cost: $85
This is a great option for even your more aggressive dogs and should the worst happen to the sling, they do make replaceable covers for just around $10. (But you can definitely count on nothing happening to that frame!)
Key Features:
2 size choices
Replacement covers available
Waterproof fabric
Cost: $30
Petsure Outdoor Elevated Dog Bed
This may be marketed as an outdoor bed, but really, that just means the bed is made of more robust materials and if you just want to make sure your destruction pup can't ruin his bed, this would make a fine candidate for an indoor dog bed, as well.
Key Features:
3 sizes available
Elevated 8″ off the ground
40-85 lb weight capacity
Cost: $20
Flat Indestructible Dog Beds
Carhartt Durable Canvas Dog Bed
The cover of this bed is made with a firm, hand cotton duck canvas fabric and coated with a water repellent.
Key Features:
2 sizes available
3 color options
Removable and machine washable cover
Cost: $80
Dogbed4less Extreme Comfort Memory Foam Dog Bed Pillow
There are two layers of cover for this dog bed; the bottom is a waterproof liner and the top, durable nylon with double stitching to prevent pulled stitches.
Key Features:
4 sizes available
5 color options
Made with 1680 nylon external cover
Cost: $60
JoicyCo Dog Bed Crate Pad Dog Mat Mattress
This durable dog bed has firm padding that won't tempt his fluffing and features an anti-slip bottom to keep the pad in place, no matter how he tosses and turns.
Key Features:
3 sizes available
4 color choices
Removable and machine washable cover
Cost: $35
K9 Ballistics Tough Orthopedic Dog Bed Rectangle
This bed is virtually chew-proof and nearly indestructible, but also utilizes a Certi-PUR foam mattress that will give your dog the support he needs to make sure he never sinks all the way to the floor while lying on it.
Key Features:
5 sizes available
15 color and style choices
120-day chew-proof dog bed warranty
Cost: $100
Niiyoh Mighty Dog Bed with Super Durable 1800D Ripstop Fabric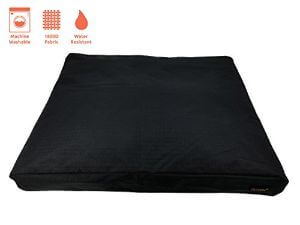 The cover of this dog bed is made with an 1800 denier fabric that is removable and machine washable.
Key Features:
2 color choices
2 size options
Water-resistant fabric with superhydrophobic coating
Cost: $50
Pet Craft Supply Super Snoozer Calming All Season Durable Dog Bed
With a UV treatment, fade-resistant polyester fabric, and additional water resistance, this bed won't deteriorate over time, protecting it from age and from your dog's aggressive tearing and chewing.
Key Features:
2 sizes available
2 color choices
Machine washable
Cost: $35
The Dog's Bed, Premium Waterproof Dog Bed
This bed is made with a tightly woven Oxford fabric that's coated to become waterproof, adding to its overall durability.
Key Features:
4 sizes available
3 embroidery options
1-year warranty
Cost: $50