Next to radiators, on sunny window sills, and even on your laptop keyboard, many cats tend to curl up and fall asleep wherever it's warmest. If your kitty is a fiend for all things warm and cozy, she'll probably love a heated cat bed. From plug-in electric beds to slim heating pads to plush self-warming beds, you can find a wide range of heated cat beds on the market, so you should find one to suit even the fussiest feline.
We reviewed dozens of products to find the very best heated cat beds, examining various important features, such as size, warmth, material, and design.
On our quest to find the best heated cat beds out there, the K&H Pet Products Leopard Deluxe Heated Hooded Cat Bed stood out as the clear winner. With over 1,000 (predominantly positive) reviews on Amazon, this is clearly a bed that both cats and their humans are fans of. We love that it's cozy, easy to use, and looks adorable, too.
The 5 Top-Rated Heated Cat Beds
*Ratings are from Amazon at the time of publication and can change
Our Top Pick: K&H Pet Products Leopard Deluxe Heated Hooded Cat Bed
Compact and comfortable, the K&H Pet Products Leopard Deluxe Heated Hooded Cat Bed is the perfect heated cat bed for a single feline, especially one who likes to curl up in smaller spots. That's not to say that this bed is too small, just that it wouldn't be suitable for multiple kitties to share or for large cats who like to stretch out, rather than curl up.
With four watts of power, this heated cat bed provides a nice, warm spot for indoor kitties, but isn't suited to outdoor use. If you're concerned about using a cat bed that plugs into a power outlet, know that this model bears the MET Mark, meaning it has been independently evaluated for safety. The hood provides extra insulation, plus it can make nervous cats feel more secure. However, it easily zips off, just in case your feline friend doesn't like it. The covers are removable, too, so you can easily wash and dry them when they get dirty.
While it features a stylish leopard print inner, the outside of this bed comes in a choice two different colors: mocha and tan. At roughly $45, this isn't the cheapest cat bed out there, but is reasonably priced, considering the heating capabilities and the quality.
K&H Pet Products Leopard Deluxe Heated Hooded Cat Bed Key Features: 
Zip-off hood
Washable covers
Removable heating element
Comfortable padded interior
Our Runner Up Pick: ALEKO PHBED17S Electric Thermo-Pad Heated Pet Bed
Measuring 19 inches by 19 inches, the ALEKO PHBED17S Electric Thermo-Pad Heated Pet Bed is big enough for cats who like a bit of room to stretch. You might even find it large enough for two cats, if they're the sort of kitties who love snuggling up close. With a price tag under $35, you won't have to break the bank to buy this heated cat bed.
The generous six foot cord means you don't have to position this bed right next to the outlet, if it's not convenient. What's more, the cord is durable and chew-resistant, so you don't have to worry about your cats doing themselves a mischief. The heating element has a built-in thermostat, which monitors and regulates the temperature, so the bed won't get uncomfortably hot.
You can remove the heating pad for this bed, and the rest of it is machine-washable, which means you won't have to put up with a ripe cat bed in the corner. One common complaint from buyers is that, while the sides are well-padded, there's not enough cushioning on the base. This could, however, be remedied by added extra cushions or blankets inside.
ALEKO PHBED17S Electric Thermo-Pad Heated Pet Bed Key Features: 
Non-slip, water-resistant base
Tall, plush sides
Internal thermostat
Chew-proof power cord
Best Budget Pick: Downtown Pet Supply Thermal Cat Warming Bed
Looking for a heated cat bed on a budget? The Downtown Pet Supply Thermal Cat Warming Bed is an option worth looking at. While not a traditional heated cat bed, this warming bed has a specially designed core that reflects your feline friend's own body heat back at him, providing extra warmth. And, at just $12, even if it's not cozy enough for your kitty, you won't have spent a lot of money.
Measuring 22 inches by 19 inches, this is a sizable cat bed. It's also available in a larger size: 31 inches by 18 inches, which is plenty of room for several cats. You can also choose between four different shade of leopard print, depending on your preferences.
Since the Downtown Pet Supply Thermal Cat Warming Bed is machine washable on a cold cycle, it's easy to keep clean.
Downtown Pet Supply Thermal Cat Warming Bed Key Features: 
Comes in a range of colors and sizes
Machine washable
Self-warming core
Best Heating Mat Pick: K&H Pet Products Thermo-Kitty Mat
Some cats aren't keep on beds with tall sides, preferring mat-style beds. If you want an electric heating mat for your cat, the K&H Pet Products Thermo-Kitty Mat is our top choice.  The six watt internal heating element with built-in thermostat will keep your kitty warm, without causing her to overheat. It's also MET approved, so there's no need for any safety concerns.
The K&H Pet Products Thermo-Kitty Mat is designed to warm to around 12 to 15 degrees above the ambient air temperature. When your cat lies down on it, it warms to her approximate body temperature, so it will feel cozy, but not too warm. Measuring around 12 inches by 25 inches, this bed is definitely large enough for felines who like to stretch out for their cat naps. Retailing at less than $20, this heating mat offers exceptional value for money.
If you can't live without washing your cat's bed, that's no problem. It comes with a removable cover, which is machine washable. With over 1,000 reviews on Amazon, we've heard from a lot of satisfied customers and are convinced this is the best heating mat around.
K&H Pet Products Thermo-Kitty Mat Key Features: 
Heats to your cat's body temperature
Available in two colors
Comes with one year warranty
Five foot electrical cord
Best Self-Heating Pick: Best Friends by Sheri OrthoComfort Deep Dish Cuddler
Available in both standard and jumbo sizes, and 14 different colors, the Best Friends by Sheri OrthoComfort Deep Dish Cuddler offers a wide range of choices for the discerning cat owner. While the 20 inch by 20 inch standard size is ideal for single cats, you might prefer the 24 inch by 24 inch jumbo size for felines who like to bed share.
The self-warming faux fur material helps to keep your cats at a comfortable temperature, plus it mimics the feeling of a mother's fur, which provides comfort and can promote better sleep—not that most cats need any help snoozing. The high sides are cozy and comfortable, as well as providing extra support for cats who like to curl up. Not only is the whole bed machine washable, the sturdy bar stitching helps to keep the stuffing in place, preventing lumps and unevenness.
At roughly $35 for the standard and $50 for the jumbo, the Best Friends by Sheri OrthoComfort Deep Dish Cuddler doesn't exactly come cheap, but this is an extremely well-made bed that will last a long time and is worth the extra cash.
Best Friends by Sheri OrthoComfort Deep Dish Cuddler Key Features: 
Extremely well-padded and comfortable
Waterproof bottom
AirLOFT fibers stay plush for longer
Cozy self-warming faux fur interior
Who Should Buy a Heated Cat Bed?
You might be wondering who, exactly, should buy a heated cat bed. Well, first off, cat owners! If you don't have a feline friend in your life, then you probably have no need for a heated cat bed (unless you plan to use it for a small dog or other pet).
But, not all cat parents need a heated cat bed. Some cats are obsessed with warm places. If you can't get your kitty off your laptop keyboard or she's always lying in even the tiniest slivers of sun, then she'd probably love a heated cat bed. Likewise, senior or unwell felines often benefit from having a warmer place to rest.
Top Pick
Important Features to Consider
A heated cat bed should have a few important features. Here's what to consider when selecting a heated cat bed:
Electric vs. self-heated. Do you want an electric cat bed that plugs into a power outlet or a self-heating model made from special materials that reflect your feline friend's own body heat back at them. While electric models are warmer, we wouldn't recommend using them without someone in the house. Self-warming models are safer and can be placed anywhere—no proximity to a power outlet necessary.
Indoor vs. outdoor. Most of the beds in this post are designed for indoor use, but you can find warmer models which are meant to be used outside, or in unheated outbuildings. These can be useful for any stray or semi-feral cats you look after, who don't like to come indoors. They can also provide a warm spot for indoor/outdoor cats to hang out when they're enjoying the great outdoors.
Power cord. The power cord should be long enough that you can position the cat bed in an appropriate place without using an extension lead. We'd also recommend models with chew-resistant power cords, as it could be very dangerous if your cat decided to attack the cable.
Thermostat. Electric heated cat beds should have some kind of internal thermostat to regulate temperature and make sure it remains at a safe level. You can even find some models that let you adjust the temperature, within a safe range.
Size. You can find heated cat beds in sizes big and small. The size you choose will depend on how your cat likes to sleep (curled up or stretched out), whether you have multiple cats who like to share, and how much room you have for a cat bed.
Shape. Most cat beds are either round or rectangular, with or without high sides. Small round beds with high sides are great for cats who sleep curled up, whereas rectangular options are better for loungers.
Padding. Make sure your chosen heated cat bed is well-padded to provide your feline friend with a comfortable places to catch some zees.
Frequently Asked Questions
What is a heated cat bed and how does it work?
You'll find two different types of heated cat beds: electric and self-warming. Electric heated cat beds contain a heated element inside them, attached to a power cord. Simply plug it in to a power outlet and it will start working. Self-warming cat beds are constructed from certain types of materials that reflect a cat's body heat back at them and/or retain heat effectively.
Are heated cat beds safe?
Some people may worry about the safety of electric heated cat beds, but on the whole, they're very safe. The heating elements inside have a very low wattage and usually contain an internal thermostat, so that they remain warm, but nowhere near hot enough to hurt your cat or cause him to overheat. Of course, there's a small fire risk inherent with any electrical product, so we wouldn't recommend leaving it plugged in while you're out of the house (though, this is a judgement call).
How long can I leave a heated cat bed plugged in?
This depends on the make and model of the bed. Some heated cat beds are suitable for 24/7 use and manufacturers state they only need to be unplugged when you're going away for more than a day or two. Others are only designed to be plugged in for 6 to 10 hours at a time. Always check the instruction manual before the first use.
Can I wash a heated cat bed?
Yes, you can wash a heated cat bed, but not when fully assembled. Some models have removable, washable covers, whereas others allow you to remove the heating element from inside the bed and wash the whole thing. Never attempt to wash an electric heated cat bed with the heating element in place.
Other Heated Cat Beds We Reviewed
We looked at 20 other heated cat beds. Even though they didn't make our 5 best heated cat beds list, they're the best of the rest and each is still a great option for your cat. The information you'll need to compare each one is included with the listing.
Heating Pads
This 12-inch circular heating pad can be used solo or added to an existing cat bed to turn it into a heated model. The chew-resistant cord helps keep your cat safe.
Key Features:
Cover is removable and washable
Adjustable temperature
Can be used as is or added to a bed
Cost: $25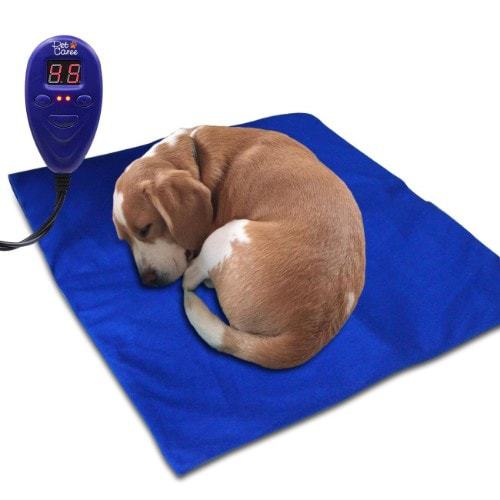 Although this heating pad is suitable for both dogs and cats, don't let that put you off… and don't tell your feline friend! Heats to your cat's body temperature to create a comfortable level of warmth.
Key Features: 
Comes in two sizes
Pressure activated
Anti-slip base
Cost: $20 for the smaller version and $35 for the larger
Kane PHM28T 18×28 Heater Pet Pad
Looking for a large, heavy-duty heating pad? This model measures 18 by 28 inches, is suitable for indoor and outdoor use, and could last a cat's entire lifetime.
Key Features: 
Automatically adjusts to optimum temperature
Extremely hard wearing
Weatherproof
Cost: $220
Pet Fit For Life Snuggle Soft Cooling and Microwave Heating Gel Pad
An alternative to a standard plug-in model, this heating pad warms up in the microwave to provide a warm spot wherever you need it, even in spots without easy access to a power outlet.
Key Features: 
Doesn't require mains power
Comes with a soft fleece cover
Doubles as a cooling pad
Cost: $20
RIOGOO Dog Cat Electric Heating Pad
Available in two sizes, the larger of these heating pads is suitable for multi-cat households where everyone likes to pile into one bed.
Key Features: 
Made from waterproof fabric
Temperature adjustable up to 104 degrees Fahrenheit
Chew-resistant power cord
Cost: $25 for the small pad and $35 for the large pad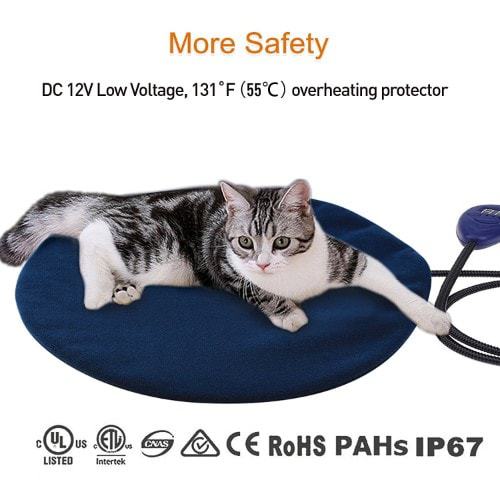 With seven adjustable heat level, you can set this heating pad up to 131 degrees Fahrenheit, though the 104 Fahrenheit setting is more suitable for indoor use.
Key Features: 
Available in three colors
Easy to adjust temperature
Washable cover
Self-Warming Cat Beds
This snuggly 19-inch round cat bed features a Mylar core to reflect your furry friend's body heat back at her. Plus, the faux sheepskin lining is incredibly cozy.
Key Features: 
No need for electricity
Non-skid bottom
Made from durable corduroy
Cost: $15
Best Friends by Sheri Luxury Shag Faux Fur Donut Cuddler
Available in three generous sizes, this warm and comfortable donut cat bed uses faux fur to trap and retain heat and provide a self-warming function.
Key Features: 
Waterproof underside
Fully machine washable
Soft and well-padded
Cost: $35 to $135, depending on size
Hollypet Self-Warming Comfortable Cave Cat Bed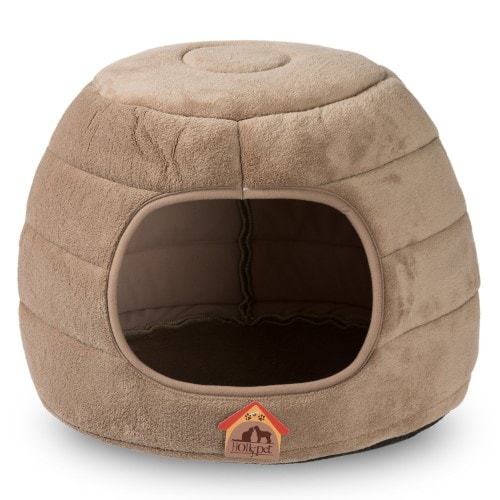 This innovatively designed 2-in-1 self-warming cat bed can be used cave style or folded down for use as a regular open-topped bed.
Key Features: 
2-in-1 design
Machine washable
Padded and comfortable
Cost: $25
K&H Pet Products Self-Warming Lounge Sleeper Pet Bed
Its two-layer fabric means that this bed is effective at both trapping and retaining heat, and at reflecting it back at your pet, meaning it provides the ultimate in self-warming technology.
Key Features: 
Filling made from recycled plastic bottles
Comes in three color choices
Easy to clean
Cost: $20
The Milliard Thermal Cat Mat comes in two sizes (21 by 17 inches and 23 by 30 inches), either of which will provide ample room for your cat. The reversible design means you can flip it before you wash it.
Key Features: 
High-quality construction
Thermal center reflects heat
Machine washable
 Cost: $15
Mojonnie Soft Self-Warming Cat Bed
If your cat loves to squeeze in tight spaces, he'll adore this soft, cave-like bed. Both the shape and the insulating material give it its self-warming properties.
Key Features: 
Soft and highly-padded
Can be folded down for use as a flat bed
Extremely warm
Cost: $20
Pet Magasin Self Warming Cat Thermal Bed
Is your cat so fickle that her favorite sleeping spot changes from one day to the next? This bed can be configured in four different ways, so you'll always find something to please Miss Kitty.
Key Features: 
Made from heat-retaining fleece and foam
Four configuration options
Machine washable
Large Heated Cat Beds
This heat mat for pets is so large the stock photo has a dog on it, but that's no reason to avoid it, because it's perfectly suitable for cats, too.
Key Features:
Measures 23 by 29 inches
Comes with soft fleece cover
Suitable for indoor and outdoor use
Cost: $100
K&H Pet Products Thermo-Kitty Fashion Splash Heated Cat Bed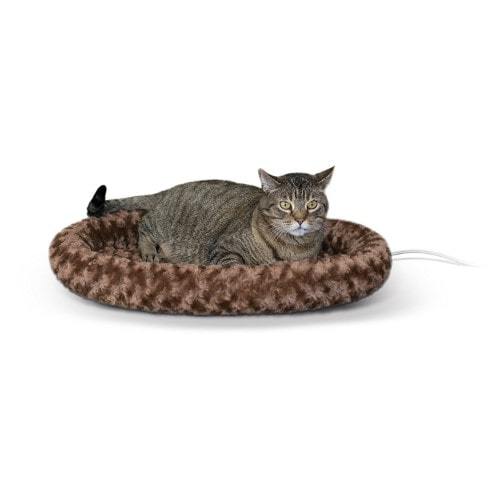 Measuring a respectable 16 by 22 inches, this soft, padded cat bed is suitable for large cats, sharers, or kitties who like to stretch out as much as possible.
Key Features: 
Warms to your cat's body temperature
Removable heating element
Well-padded for comfort
Cost: $40
PawHut Electric Heated Pet Bed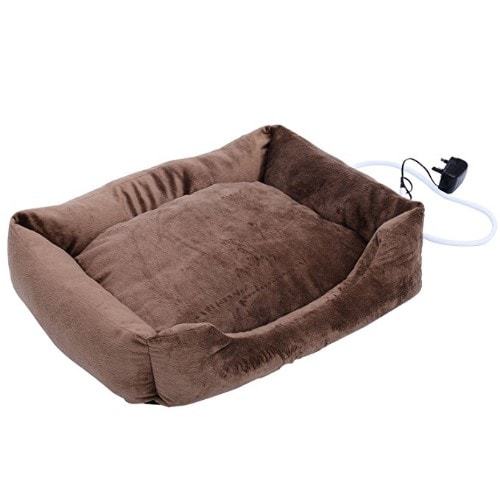 This heated cat bed is so soft and inviting that all the cats in your home will want to pile on, so it's just as well it measures a spacious 19 by 24 inches.
Key Features: 
High sides for support
Heater is removable for easy cleaning
Durable construction
Other Heated Cat Beds
ALEKO PBH20X16X8 Electric Thermo-Pad Heated Pet Bed
Although it's not as comfortably padded as some beds, this is a solid and affordable option that heats up well. The sturdy sides provide plenty of support.
Key Features: 
Made from soft fleece
Chew-proof power cable
Internal thermostat for temperature regulation
Cost: $30
K&H Pet Products Thermo-Kitty Heated Cat Bed
From the major brand in heated cat beds, this offering comes in three different colors and styles, so you're bound to find something that suits you can your cat.
Key Features: 
Heats to feline body temperature
Comfortable with plenty of padding
Removable heater for machine washing
Cost: $40 to $50, depending on the size and color
K&H Pet Products Kitty Sleephouse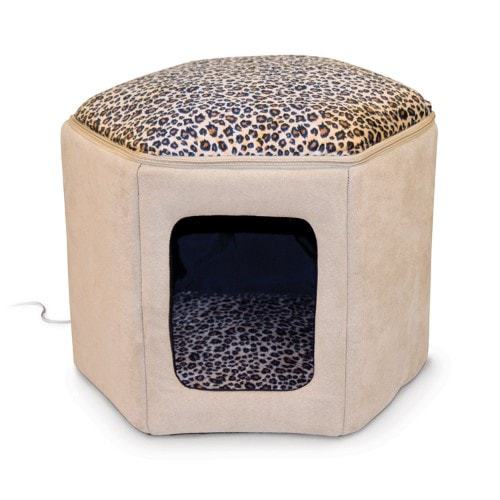 This cozy, comfortable hexagonal kitty sleephouse will make your cat feel safe and secure—not to mention toasty warm!
Key Features: 
Easy assembly
Pressure sensitive—warms up when your cat lies down
Fully removable heater
Cost: $55
K&H Pet Products Outdoor Kitty House
Designed for outdoor use, this heated cat house will help keep your cat warm and dry, whatever the weather—ideal for semi-feral cats or strays.
Key Features:
Two exits so cats can't get trapped by predators
Door flaps help retain heat
Water-resistant
Cost: $65
More Pet Product Reviews: 
The Best Dog Kennels
The Best Dog Sweaters
The Best Retractable Dog Leashes
The Best Dog Exercise Pens
The Best Diet Dog Foods
The Best Diet Cat Foods
The Best Dog Car Harnesses
The Best Cat Flea Collars
The Best Heated Cat Beds
The Best Tick Sprays