Every dog needs at least some level of exercise, but getting enough can be a problem for man's best friend. Whether your lifestyle simply doesn't allow for longer dog walks, your home means they can't get outside as much as you'd like, or adverse weather conditions get in the way, getting enough exercise for your dog can be a challenge. And making sure your dog moves enough is a vital component of their comfort and their health.
Yet treadmills aren't cheap, and other exercise equipment can make it difficult to judge exactly how much exercise your dog is getting. And with some of the equipment coming in at four figures, making the right decision is hugely important.
We looked at loads of different options for dog treadmills and other exercise equipment to help up your dog's routine at a variety of budgets. We've considered factors such as size, storage, different dog breeds, online reviews, and other considerations, in order to find 25 of the very best.
Based on reviews, features and price, we've identified the dogPACER Minipacer Treadmill as the best bet. It comes at a very reasonable cost, and is a good size to fit in most houses or apartments. It's also completely portable and made from high quality materials, meaning it should last well. With an average Amazon rating of 4.4 stars, it's a smart choice for most dog owners.
The 5 Top-Rated Dog Beds
*Ratings are from Amazon at the time of publication and can change
Our Top Pick: dogPACER Minipacer Treadmill
If you're looking for a dog treadmill to suit a huge variety of needs, look no further than the dogPACER Minipacer Treadmill. A great option for those just beginning their doggy fitness journey, this is relatively affordable at $675.25. And reviewers say it's well worth its moderate price. The treadmill is constructed from high quality, strong carbon steel, but it's also fully collapsible. This means it can be stored out of sight when not in use – perfect for those who require the treadmill as a result of a lack of space.
Suitable for dogs weighing up to 55 lbs, the tread of the Minipacer measures 38″ Long" x 16″ Wide. The whole treadmill weighs just 48.4 lbs, making it easy to transport and store. The incline has an angle of 4.5 degrees, and can run at a speed of between 0.5 to 7.5 MPH. And dogPACER are happy to back up the high quality of their treadmill, offering a lifetime warranty on the frame.
A brilliant feature of this treadmill is its wide variety of speed settings. It starts at just 0.5 miles per hour, and increases at 0.1 mph increments up to 7.5 miles per hour. This makes it an ideal choice both for dog rehabilitation after an accident or operation, and for exercising healthy dogs. The Minipacer also includes inbuilt exercise programs to optimise dog halth and happiness.
Customers love how quiet and unobtrusive this model is, making it more pleasant for the owner and easier for the dog to get used to. The Minipacer is also easy to assemble and learn how to use.
dogPACER Minipacer Key Features:
A wide variety of speed settings
Easy to assemble and store
Fairly small and unobtrusive
At a reasonable price
Our Runner-Up: GoPet Treadmill in Small Medium
Coming in at a slightly higher cost is the GoPet Treadmill, coming in at $900. It's a slightly bigger option at 15 x 123 x 74 inches and weighing 123 pounds. It comes on wheels, which makes it very easy to move around and take in and out of storage.
The GoPet range is designed to fit any size of dog, but most dogs of average size will most likely enjoy the Small Medium option. Its adjustable speed can be changed via buttons on the treadmill or by remote control, which is perfect if your dog doesn't like mid-run interference. The 1 horsepower engine offers a range of speeds from a gentle walk of 1 mile per hour for an ageing or injured dog, to a quicker sprint of 8 miles per hour for a more energetic customer. The incline can also be adjusted, to help burn more calories for a dog in need of losing some pounds.
This treadmill is designed to be quiet, so as not to spook your dog, and has the clever design feature of a metal eyelet to allow a toy to be attached. This is intended to help motivate your dog to get moving. There is also protection along the sides to ensure fur won't get caught, making it an ideal choice for longer haired dogs. The GoPet treadmills come with a one year warranty.
GoPet Treadmill in Small Medium Key Features:
Suitable for dogs up to 132 lbs
A special eyelet to hang a dog toy from
Wheels to allow for easy movement
Potential for remote operation
Best Budget Pick: dogPACER 3.1 Dog Pacer Treadmill
Another option from dogPACER, the dogPACER 3.1 Dog Pacer Treadmill has a patented and unique folding feature and a sleek design. It's extremely lightweight, and easy to transport and store, making it a great option for space saving. It's 10 x 26 x 47 inches and weighs 97 pounds. And while it's a similar price to the Minipacer, it's more budget friendly as it is suitable for dogs up to 180 lbs, and costs just $675.49.
Considering it's a smaller, more portable and more budget friendly option, the 3.1 Folding Dog Treadmill is actually surprisingly powerful, packing 1.5 horsepower. The tread on this option is 71 x 16.5 inches, making it suitable and safer for a longer dog. And again, the frame comes with a lifetime warranty.
The speed range is from 0.5 miles per hour to 7.5 miles per hour, with 0.1 mile per house increments to allow you to find the speed that's right for your dog. The degree of the incline can also be adjusted from 5 to 9 degrees. Like our other dogPacer pick, the 3.1 Folding Dog Treadmill also features the handy inbuilt computer programs to maximise your dog's fitness regime.
dogPACER 3.1 Folding Dog Treadmill Key Features:
Patented folding frame for easy storage
Large speed range with small speed increments
Lifetime warranty on the frame
Suitable for a large range of dog sizes
Best Treadmill For Small Dogs: PetZEN Dog Treadmill
Ideal for small dogs in small spaces, this is the ideal choice for your more petite pets. It's an attractive, sleek design and is without any small gaps or holes where a smaller dog may become trapped. It also offers a whisper-quiet motor to keep your dog from becoming overwhelmed or spooked.
The PetZen Dog Treadmill For Up To 30 Pounds can fold up at be stored on its nose, which is a wonderful space-saving feature. It again comes on wheels, making transportation and storage much easier. As you may expect, it's a smaller size of treadmill at 44 by 21 by 21 inches, and weighs just 47 lbs.
Unlike other treadmills, the incline on the PetZEN Dog Treadmill is much lower (from 0% to 14%), making it easier and safer from a smaller dog to use. The treadmill can be controlled remotely, for user ease, and the treadmill features a handy LCD screen. The speed range is also designed to be more suitable for a smaller dog, at 0.3 miles per hour to 5 miles per hour
A nice bonus feature on the PetZEN is its recessed treats holder. This allows the treadmill to dispense treats at intervals throughout your dog's training. The PetZEN comes with a 1 year warranty, an optional 5 year warranty for $150, and a 30 day money back guarantee. It can be purchased from the manufacturer's site for just $399.
PetZEN Dog Treadmill Key Features:
Easy storage thanks to folding mechanism and wheels
Quiet and vibration free
A low price
Unique recessed treat dispenser
Best Treadmill for Large Dogs: GoPet Treadmill For Large Dogs
Suitable for dogs up to 175 lbs, the GoPet Treadmill For Large Dogs is a great option. It is fairly big at 90 inches by 24 inches by 16 inches, although it can be folded for more convenient storage. The treadmill also offers a substantial 71 inch by 16 inch tread area and weighs 137 lbs.
The GoPet For Large Dogs offers remote controlled access, and a speed range from 0.6 to a whopping 10 miles per hour, making is great for dogs with a longer gait or faster pace. The incline is also adjustable to allow your dog to get the very best workout possible. This option also features a gradual start, which can help dogs get used to working out on a treadmill.
The treadmill also runs very quietly, which is key for a treadmill for dogs. It features a safety lock, too. Like our other GoPet option, there is an eyelet feature which allows for a dog toy to be attached to help motivate your dog during their exercise regime. It features a one year warranty and comes in at $1185.
GoPet Treadmill For Large Dogs Key Features:
Suitable for dogs up to 175 lbs
Large tread and higher top speed
Fold for more easy storage
Option to attach a dog toy to help your dog get used to the treadmill
Who Should Buy A Dog Treadmill?
All dogs, no matter how big or small, require some degree of exercise. However, there are a variety of reasons why conventional walking may not be the best option for some people.
One is time constraints. If you work long hours and don't want to walk your dog at the crack of dawn or late at night, a treadmill can really help you out. Another is weather. If you live somewhere prone to inclement weather, whether that is too warm or too cold, snow or other harsh weather conditions, being able to walk your dog from inside your home can be a huge benefit.
Sometimes dogs require more wearing out than an owner can feasibly give them, too. If this is the case, supplementing your walking schedule with some treadmill time can help keep your pets calmer and happier. Another reason which may warrant a dog treadmill is allergies or pollution. If you or your dog find being outside during the summer months unpleasant or unbearable, a treadmill offers a viable alternative. Finally, safety is an important factor. If you live in a build-up area surrounded by busy roads and can rarely allow your dog to run off the leash, getting some running in using a treadmill could be a good idea.
Dog treadmills are also useful for dogs who are struggling with their weight. Obesity in dogs is highly dangerous and can shorten their life while denigrating the quality. A good exercise regimen can be seminal in maintain your dog's health and happiness. In addition to ensuring that your dog gets enough physical activity, check out our list of the best diet dog foods if your pup needs to shed a few pounds.
If a dog has recently suffered an injury or had an operation, a dog treadmill can also be a good way to rehabilitate them, almost like a form of dog physiotherapy. This is because they can go at very slow and steady speeds, in order to rebuild both muscle and confidence.
Important Features To Consider
A dog treadmill can be a great thing for both you and your dog. However, if you purchase an unsuitable one, it can be difficult to use or even potentially dangerous. Here's what to take into account when purchasing your dog treadmill:
Appropriate sizing. You should first consider where you are planning to put your dog treadmill. This means both when it's in use, and when you're storing it. All sites offer measurements, so make sure you check your space and dimensions before ordering.
Your dog's size. You want to make sure your dog will comfortably fit and be able to walk upon the treadmill. To do this, you need to check the "tread" length of the treadmill – ideally it should be around twice the length of your dog.
Your dog's weight. In order for the treadmill to work and not become damaged, you must make sure that it's built to stand up to the weight of your dog. It's also not advised to get a treadmill designed for dogs much heavier than yours, as this may make it difficult for them to get traction and could pose a huge safety issue.
Speed settings. If you're buying your treadmill to allow a younger or more energetic dog to blow off some steam, you'll want it to have a higher maximum speed. However, if you're purchasing to help an older or injured dog get back on their feet, you'll want a lower minimum speed. Speed is also worth considering in terms of the size of your dog. A small dog with shorter legs will need a lower speed setting than a larger dog with a longer stride.
Incline. Incline is an important factor, particularly if the treadmill is intended to help a dog lose weight. A higher incline means more calories can be burned. However, if you have a small dog, you'll need to consider whether the incline can be flattened enough to allow your dog to be safe.
Noise. All dog treadmills are designed to be as quiet as possible, as a loud humming noise can make a dog afraid to use them. But if you have a particularly skittish dog, it can be worth checking reviews to see if any other owners have a similar experience. You don't want to splash out on a treadmill if your dog will be simply too afraid to use it.
Extra features. When purchasing, it's worth checking out any extra features to see if you think they'll be well suited to your dog. For example, if you imagine your dog will be reluctant to work out, an in-built treats dispense may be helpful. Or, if you know your dog is fond of a particular toy, being able to attach it could help them get used to and enjoy the treadmill.
Size and portability. If you live in a smaller space, it's unlikely you'll want to keep your dog treadmill out at all times. Therefore, one which can be folded and put away could be a better option. Similarly, if you aren't particularly strong, the addition of wheels can be massively beneficial for moving your treadmill around.
Warranty. It's definitely worth considering paying a higher price for a lengthier warranty, particularly if you suspect you may end up breaking it. If you are unsure whether your dog will take to a treadmill, buying one with a money back guarantee is a smart idea.
Frequently Asked Questions
What is a dog treadmill and how does it work?
A dog treadmill is, in many ways, similar to a human treadmill – with some obvious differences. Dogs do not move in the same way humans do. Dog treadmills are designed to be suitable for the movement of four (as opposed to two) legs, with low guards at the side to boost safety. They have a "tread" which rotates, allowing dogs to perform the motion of walking or running while staying in the same place.
Can you use a human treadmill for a dog?
Put simply, no. There is no way to guarantee a dog's safety whilst using a human treadmill, as they are just not designed for that purpose. One feature that must be different on a dog treadmill is the position of the motor, which must not be at risk of catching on fur from your dog's feet. Dog treadmills must also be much quieter and have fewer vibrations, and have much lower side rails. The tread must also be wide and long enough for your dog – and if you have a large dog, a human treadmill is unlikely to cut it. Dogs also need a wider variety of speeds than a human. A small dog, or one who is older or recovering from an injury will not be able to use a human treadmill even on its lowest speed.
How long should I put my dog on a treadmill?
Training your dog to use a treadmill is a longer process, and must be built up to over time. Starting with one minute intervals, build up to longer sessions, taking nonverbal cues from your dog. Most dogs need at least 20-30 minutes of exercise per day.
How do you get a scared dog to use a treadmill?
Firstly, you must set up your treadmill in an appealing way. For dogs, this means never facing the wall, as they may think they'll run straight into it and be unwilling to try the treadmill at all. Familiarise your dog with the treadmill in its "off" setting, and allow them to build positive associations with it by offering them treats and playtime around it. Then encourage your dog to walk on the treadmill in its "off" setting, giving them lots of encouragement. Show your dog how the treadmill works by walking on it yourself, then encourage them to walk on it at the lowest setting, using a leash if necessary. Stay at the front of the treadmill encouraging your dog with verbal cues and treats. You can then build up the speed and time spent on the treadmill, always looking to your dog for clues as to their happiness. If they become scared, let them take a break before continuing.
Other Treadmills & Exercise Equipment For Dogs We Reviewed
We looked at a variety of different exercise equipment for dogs, including agility equipment, hoops, hurdles, and treadwheels. Although they didn't make the top five, there are still some great options here, particularly if you're on a very tight budget or have extremely specialized needs.
Hoop Style Dog Exercise Equipment
Designed for indoor and outdoor use, this is a great cost effective way to up your dog's exercise regime. It's best suited to small and medium dogs, and is made of soft foam. It measures 4.7 x 12.6 x 26.8 inches and weighs 1.8 pounds.
Key Features:
Cost effective
Easy to assemble and store
Lightweight foam construction
Cost: $35.85
Dog Agility Equipment-Practice Tire/Hoop Jump
The lightweight PVC hoop has a 29 inch diameter, making it suitable for fairly large dogs. The hoop has an adjustable height, and is designed for extremely easy assemblage.
Key Features:
More sturdy and suited for outdoor use
Comes apart for easy storage
Lightweight and durable
Cost: $59.99
This is designed for beginners or older dogs, offering a hoop without the necessity for jumping. It's freestanding and works in any location, and is very easy to set up.
Key Features:
Low to the ground for easier agility training
Made of UV resistant PVC pipe
Good quality and won't fall over
Dog Agility Sets
Zip Zoom Indoor Dog Agility Starter Kit with Dog Tunnel Weave Pole, High Jump Obstacles
This agility set features 1 high jump, 1 square tunnel, 4 weave poles, 1 setup and training tips booklet and 1 storage bag. It's designed to test both your dog's fitness and their IQ, alongside helping you to build a relationship with them.
Key Features:
Wide variety of activity options
Low price
Great for beginners
Cost: $21.29
Zip & Zoom Outdoor Agility Kit, 3 Obstacle Dog Agility Kit with Dog Tunnel Weave Pole High Jump by Outward Hound
This set offers 1 high jump, 1 tunnel, 6 weave poles,1 setup and training tips booklet and 1 storage bag. It offers an even wider and more challenging variety of activities to allow you to make exercise with your dog into play.
Key Features:
Even more different activities
Easy to store
Best for outdoors
Cost: $33
This clever set consists of just 3 cones and 6 bars, but offers a surprising amount of variety, thanks to the cones different height settings. This makes it a great choice for a lot of different sized dogs.
Key Features:
A small amount of equipment offering a lot of variety
Good value for money
Suitable for many dog sizes
Cost: $59.95
Cool Runners Agility Weave Poles
If it's specifically weaving you and your dog are interested in, this is the purchase for you. They're lightweight and easy to assemble, and offer a straight or offset configuration.
Key Features:
Meets competition standards
Full adjustable for a variety of weaving training
Lightweight and easy to assemble
Hurdle Style Dog Exercise Equipment
This extremely lightweight hurdle is made from foam, making it very easy to assemble, move and store. It can be adjusted to a wide variety of heights.
Key Features:
Very lightweight
Adjustable at different heights for different sized dogs
Easy to assemble
Cost: $23.41
Pawise Dogs Outdoor Games Agility Exercise Training Equipment Hurdle
This lightweight and easy to assemble plastic hurdle also comes with a handy storage bag. It's easy to set up and has an adjustable height. It measures 46.1 x 2.4 x 2.4 inches and weighs 1.8 pounds.
Key Features:
Lightweight yet sturdy
Very easy to set up
Poles can also be used for weaving training
Cost: $29.58
ZOIC Pet Dogs Outdoor Games Agility Exercise Training Equipment – Jump Hurdle bar Obedience Show Training For Doggie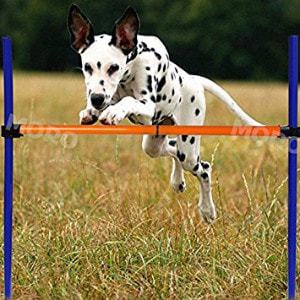 This is a better option for the larger or more clumsy dog, thanks to the heavy duty spikes to hold the hurdle in place. Again it is adjustable to different heights, and comes with a carrier bag for easy transportation.
Key Features:
Heavy duty spikes for maximum security
Lightweight and easy to assemble
Easy height changes thanks to snap out buttons
Cost: $31.99
Prism Fitness Smart Adjustable Height Hurdles
If you want to train for continuous hurdle jumping, then this is the product for you. With the option to buy three hurdles in three different sizes, this is hurdle training for a more advanced dog.
Key Features:
Easily adjustable
Sturdy base
Lightweight and easy to transport
Tunnel Style Dog Exercise Equipment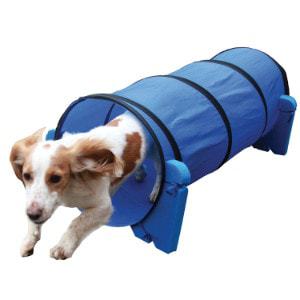 This tunnel is ideal for a smaller dog, at 4 inches high and 20 inches wide, and comes with foam supports. Thanks to its size it can be used indoors and outdoors, and is extremely easy to transport.
Key Features:
Ideal for a small dog or puppy
Can be used inside or outside
Easy to transport and set up
Cost: $33.70
Yaheetech Pet Dog Agility Obedience Training Tunnel Blue
Made from lightweight but surprisingly durable Oxford dacron, this tunnel also comes with stakes to secure it to the ground. It's easily portable and can suit even quite large dogs.
Key Features:
215 x 23.6 x 23.6 inches
Easy to collapse and transport
Long lasting thanks to durable material
Cost: $35.59
HDP 18 Ft Dog Agility Training Open Tunnel
Featuring seven inch stakes and metal grommets, this tunnel can be very secure, making it a great choice for fast or boisterous dogs. It's 18 ft long with a 24 inch opening.
Key Features:
Comes with an easy transporting case
Made of strong and durable material
Will not scratch your pet
Dog Treadwheels
GoPet CG4012 Dog Powered Tread Wheel – Small
This is "dog powered" – meaning the dog can choose their ideal speed. This means they can get a run in even when you're not at home.
Key Features:
Suitable for dogs up to 25 lbs
Lightweight yet stable design
Resistant to mildew and easy to clean
Cost: $652
GoPet Treadwheel – Indoor / Outdoor Exercise For Large Dogs
This is a slightly bigger version of a treadwheel, which allows dogs to run indoors without use of electricity. It's mildew resistant and suitable for any dog under 150 lbs.
Key Features: 
Safe and stable
Allows dogs to exercise even when you're not home
Easy to clean
Dog Walking Exercise Equipment
Walky Dog Plus Hands Free Dog Bicycle Exerciser Leash Newest Model with 550-lbs pull strength Paracord Leash Military Grade
This clever device can be fastened to a bike to allow your dog to exercise along with you. Made of high carbon stainless steel, it fastens to virtually any bike.
Key Features:
550 lbs pull strength
Internal shock absorbing system
Quick lock and release capability
Dog Treadmills
This is ideal for any very large dog who needs a treadmill, and is suitable for dogs up to 265 lbs. It measures 24 by 38 by 104 inches.
Key Features:
Allows for a toy to be attached
Goes at 1-10 miles per hour
98 inches by 25 inches tread
1 year warranty
Cost: $2734.51
Designed for the very smallest of dogs, this treadmill is suitable for dogs under 44 lbs. Like all GoPet items it allows for attachment of a toy.
Key Features:
Speed range from 1 to 8 miles per hour
28 by 16 inch tread
Remote control
1 year warranty
Cost: $649.99
GoPet Petrun Pr710 Foldable Dog Treadmill
With dolly wheels to allow for optimum movement, this is suitable for dogs up to 88 lbs. It has incline adjust and allows for a gradual start.
Key Features:
Speed range from 1 to 8 miles per hour
42 by 16 inch tread
Ability to attach a toy
1 year warranty
Cost: $776.45