A dog travel bowl is a food or water bowl that is easy to travel with. Anyone with a dog who goes places should have at least one travel bowl; preferably, you should have two so one can be used for food and one for water. Travel bowls are typically lightweight, and some are collapsible or foldable. In addition, many have features that reduce spillage.
Looking for other travel items? Check out our list of The Best Dog Travel Water Bottles or our list of The Best Dog Travel Beds.
We've reviewed dozens of dog travel bowls to identify the best of the best. We looked at value, features that made the bowl suitable for travel (small size, the ability to collapse or fold it, etc.) and how well Amazon purchasers liked the product once they were using it.
The IDEGG Collapsible Silicone Dog Bowl was the clear top pick. These handy bowls come in a set of two. They are brightly colored, they collapse easily, and they are well-suited for dogs of all sizes. This is an excellent pick for dog owners who want to be sure they have a way to provide their four-footed pal with food and water no matter where they go.
The 5 Top-Rated Travel Dog Bowls
*Ratings are based on Amazon at the time of publication and can change
Our Top Pick: IDEGG Collapsible Silicone Dog Bowl
The IDEGG Collapsible Silicone Dog Bowl is our number one pick for so many reasons! They come in a set of two, so you'll always have one for food and one for water; since they come in two different colors, they won't get mixed up, either. They collapse down to a nearly flat disk and attach via carabiner to your backpack or purse strap. The carabiners can also be used to fasten the bowls to the side of your dog's crate to prevent spillage. (A dog crate, by the way, is an essential when it comes to traveling safely with your pet; check out our lists of both small and large dog crates if you don't already have one!)
The bowls are safe to wash on the top rack of the dishwasher. They are made of food-grade silicone and are BPA-free. IDEGG is committed to helping dog rescues: They recommend that you clip one of the brightly colored bowls to your dog's leash while out and about so that your dog will be easy to identify should he or she get loose and go missing in an unfamiliar area.
IDEGG Collapsible Silicone Dog Bowl Key Features:
Dimensions are 7 x 5 x 2.8″
100% lead and BPA-free
Includes two collapsible bowls
Comes with two carabiner clips
Dishwasher safe
Our Runner Up Pick: Roysili Collapsible Dog Bowl
The Roysili Collapsible Dog Bowl is our runner-up choice.  The bowls come in a pack of two and they are made from FDA-approved food grade silicone for the ultimate in safety for your pet. In addition, the bowls have a BPA-free rigid rim to help them keep their shape as your dog eats and drinks.
These bowls each hold 34 oz of food or water and they collapse into a disk for easy transport. In addition, the set contains two carabiner clips to keep the bowl from sliding around and to make it easier to keep track of them. The large set is linked; there is also a set of smaller bowls for smaller dogs.
Roysili collapsible Dog Bowl Key Features:
Dimensions are 7 x 5 x 3″
Includes two carabiner clips
Eco-friendly materials
One-year warranty
Our Budget Pick: COMSUN Collapsible Dog Bowl
The COMSUN Collapsible Dog Bowl was our top budget-friendly choice. From its convenient size and durability to its eco-friendliness and ease of use, this travel bowl represents everything that a dog bowl should be. We think you will agree that it is the top option available for those who are on a budget.
These are available in both a two-pack (which is linked) and a three-pack. Fill one with food and one with water; the three-pack can be used for separate food bowls if you have two dogs. The bowls will hold 1.5 cups of food or 12 oz of water, making them a convenient size for small or medium-sized dogs. Large dogs can also use them and their smaller size helps to reduce waste.
COMSUN Collapsible Dog Bowl Key Features:
Eco-friendly silicone and BPA-free materials
Dimensions are 5 x 2″
Includes two carabiners
Collapses to a nearly flat disk
100% money back lifetime warranty
Our No-Spill Pick: Petmate No Spill Bowl
The Petmate No Spill Bowl is a great option for dog owners who would like a sturdy bowl that they can use both at home and while on the go. The bowl is constructed of sturdy plastic and includes a splash-proof guard. Whether your dog tends to be a messy eater/drinker or you are using the bowl in the crate as you drive, food and water will stay put rather than spilling on the floor or in the crate.
The bowl is dishwasher-safe and easy to clean, so you can always have it sanitized and ready to go. It holds 6 cups of food or water, making it an ideal choice for large dogs or long trips.
Petmate No Spill Bowl Key Features:
Splashproof design
Can hold 48 ounces of water
Sturdy plastic design
Dimensions: 5 x 2 x 4″
Our Dog Travel Set Pick: Overland Dog Travel Food Set
The 7-piece Overland Dog Travel Food Set contains what you need when you are taking your dog for a trip to the park for a week-long vacation. Two collapsible bowls hold your dog's food and water. Keep up to ten cups of food or treats in the two carriers, and use the scooper to measure out the amount of food your dog will eat. Serve it on the place mat to minimize mess, and when you're not using your bowls, scooper, and place mat, store it all in the handy bag.
Each collapsible bowl holds five cups of food or water. The place mat is non-skid, so your dog won't push it around on a slick floor or on the floor of his crate. The set is available in black, blue, and red, so you can choose the color that will best complement your dog's leash and collar.
Overland Dog Travel Food Set Key Features:
7-piece set includes bowls, carriers, scooper, place mat, and a drawstring bag
Bowls hold 5 cups each and collapse for easy transport
Place mat is non-skid
Food carriers are lined for easy cleaning.
Who Should Buy a Travel Dog Bowl
Anyone who has a dog and who travels should consider purchasing a travel dog bowl. Having a bowl for water is a necessity; without a way to drink water, your dog could quickly become dehydrated. This is particularly true if you travel during the warm weather months, but it applies in the winter, too.
Since your dog is likely used to drinking from a bowl (as opposed to drinking from a bottle of water that you spill out for him to lap up or eating off of the floor of his crate), it's best to offer a bowl to keep your furry friend as comfortable as possible. Having your own travel bowls is also preferable to using communal dog water fountains, as it reduces the risk that your dog will pick up a communicable disease while using a shared fountain.
Important Features to Consider
A travel dog bowl should include a few important features. Here's what you should consider when purchasing a travel dog bowl for your pet:
Ease of carrying. Most travel dog bowls include a way to carry the bowl conveniently. Some collapse into small disks or fold up into a flat package. Others include clips that allow you to clip the lightweight bowl to your backpack or to your dog's crate. Choose a travel bowl that is easy to take along with you wherever you go.
A way to minimize spills. Whether you are staying in a hotel or camping in bear country, you will want to avoid spilling dog food and leaving a mess behind. A non-skid bottom, a place mat, and other features help you to keep messes to a minimum. A carabiner clip can also be used to clip the bowl to the dog's crate to reduce the amount of jostling it is subjected to.
Safe materials. Anything you feed your dog out of should be safe and not contain any toxins. Look for lead-free and BPA-free food-grade materials.
Size. You will want to look for travel bowls that are large enough to hold the amount of food or water you dog needs while being small enough to fit in your luggage or in your dog's crate.
Frequently Asked Questions
What are dog travel bowls?
Dog travel bowls are bowls that you can use while traveling with your dog. While you could use any bowl while traveling, these bowls are made specifically to minimize spillage or to fold or collapse down to fit in a suitcase or backpack.
Are dog travel bowls dishwasher-safe?
Most dog travel bowls are dishwasher-safe. You will need to check the manufacturer's instructions to find out whether the one you have chosen is safe to use in the dishwasher. Remember that unless specified, all dishwasher-safe travel bowls should be used on the top rack only.
What's the best material for a dog travel bowl?
Always look for a dog travel bowl that is made from food-grade material. Silicone, hard plastic, or waterproof fabrics may be used, but make sure that it is BPA- and lead-free to keep your pet safe. It is important to note that some of these materials are not chew-proof, so discourage your dog from chewing on his travel bowl.
What's the best dog bowl material to be used outside?
If you will be using the travel bowl outside, look for a non-porous material that is easy to clean, lightweight, and will resist mold. Stainless steel, hard plastic, and silicone are all good options.
Other Travel Dog Bowls We Reviewed
We looked at 20 other travel bowls for dogs. Even though they did not make our top 5, they are still great choices for anyone who will be traveling with their dog. The information you'll need to compare each one is included with each listing.
Collapsible Travel Dog Bowls
These bowls are made out of soft, food-grade silicone. They come in a set of six so you will always have one at the ready no matter how long your trip!
Key Features:
Holds 12 ounces of water or 1.5 cups of food
Comes in a rainbow of colors
Includes carabiner clips
Cost: $15
This sturdy bowl will not crack or leak. In addition, it expands from a 2-cup capacity to a 5-cup capacity, making it ideal for small to large dogs.
Key Features:
Includes a carabiner clip and a water bottle holder
Dishwasher safe
Collapses to a 7″ disk
Cost: $11
Guardians Large Collapsible Dog Bowls
This two-pack of bowls can be used for food or water for dogs or cats. They are made from a flexible plastic that contains no BPA or lead.
Key Features:
Dishwasher safe
Includes carabiner clips
Holds 34 ounces of water or four cups of dog food
Cost: $11
Mr. Peanut's Collapsible Dog Bowls
This four-pack of brightly colored bowls is perfect for small to medium-sized dogs. The bowls hold 1.5 cups of food or 12 fluid ounces each and fold down into a small disk.
Key Features:
Dimensions are 5 x 3.5 x 2″
Dishwasher safe
Non-toxic materials
Cost: $10
Northern Outback SUPERSIZE Travel Pet Bowl
This large, bright green bowl is perfect for medium to large dogs. It includes a water bottle holder and a carabiner clip for convenience no matter where you may roam.
Key Features:
FDA-approved food-safe material
Holds five cups of food or 40 ounces of water
100% guarantee
Cost: $8
Outward Hound Port-A-Bowl Collapsible Travel Dog Food and Water Bowl
Made from a completely foldable waterproof fabric, this travel dog bowl fits easily into a purse, backpack, or even a pocket.
Key Features:
Dries quickly
Holds up to 48 ounces
Suitable for both food and water
Cost: $5
PetBonus 4-Pack Silicone Collapsible Dog Bowls
These super-durable collapsible dog bowls are made of 100% silicone for safety and longevity. They are the right size for small and medium dogs.
Key Features:
Holds 12 ounces of water or 1.5 cups of food
Includes carabiner clips
Dishwasher safe
No-Spill Travel Dog Bowls
AmazonBasics Stainless Steel Dog Bowl
Made of rust-free stainless steel, this lightweight bowl has a no-tip design and a no-skid rubber ring to prevent it from sliding around as your pet eats or drinks.
Key Features:
Holds 38 ounces
Resists rust and doesn't hold onto odors
Dishwasher safe
Cost: $8
Indipets Stainless Steel Spill Proof Dish
This stainless steel no-tip dish features a convenient handle to allow you to travel with it easily. Add your own carabiner clip to keep it handy!
Key Features:
Splash-free design
Scratch resistant
Easy to clean
Cost: $15
Lixit Waterboy Travel Water Bowl
This unique bowl allows you to fill the reservoir with enough water for your whole car or plane trip. It won't spill even if your dog flips it upside down.
Key Features:
BPA free
Holds three quarts of water
No-spill design
Cost: $16
This no-spill water bowl features a floating disk that stops your pet from drinking too quickly or slobbering in his crate while en route to your destination.
Key Features:
Made of antibacterial, non-toxic plastic
Keeps water free of insects and debris while camping or outdoors
Easy to clean
Cost: $18
Pet Supply Imports Anti-Splash Waterhole Dog and Cat Bowl
This bowl's anti-splash design makes it ideal for camping, RVing, and visiting others. The bowl holds 48 ounces of water; remove the top and you can fill it with food, instead.
Key Features:
Weighs just over 6 ounces
Made of high-impact plastic
Available in both beige and light blue
Cost: $12
This spill-proof bowl holds an impressive 64 ounces and is perfect for travel. Its unique design helps to prevent spillage even if the bowl is turned upside down.
Key Features:
Easy to clean
Made of sturdy plastic
Removable lid
Cost: $27
YYVIGO Pet Supplies Slow-Down Pet Water Bowl
This bowl features a floating bowl within the main bowl to reduce the amount that your dog drinks at once; this can help prevent carsickness as well as spillage.
Key Features:
Lid protects water from insects and debris
Made of silicone
Can be used for food or water
Travel Dog Bowl Sets
Aigou Set of 2 Portable Travel Dog Bowls
Taking care of Fido while on the road has never been simpler with this travel dog bowl set. It includes dog waste bags, a dispenser, and a clicker for those who have clicker-trained their pet.
Key Features:
Two collapsing silicone bowls
Includes carabiner clips
Comes with clicker and dog waste bags with dispenser
Cost: $7
If you are looking for not only a regular set of bowls for your home as well as travel bowls, this set has you covered with two collapsible bowls, two stainless steel bowls, and a mat to prevent messes.
Key Features:
Includes two stainless steel bowls that hold 15 ounces each
Also includes two collapsible silicone bowls with carabiner clips
A silicone mat prevents skidding and messes
Cost: $16
These two stainless steel bowls slip into a non-skid mat for extra security while on the road. A silicone collapsible bowl with a carabiner clip finishes off the set.
Key Features:
BPA-free set
Dishwasher safe
Rubber mat for neatness
Cost: $20
MCBInfinity Small Dog Bowls Set
Travel worry-free with everything you need for an easy and clean dining experience for your best four-footed friend. Includes bowls, mat, and food scoop.
Key Features:
Non-skid rubber mat
Perfect for small dogs and puppies
BPA-free set
Cost: $20
Two large bowls and a mess-free mat make feeding your medium- to large-sized dog a snap no matter where you are! Stainless steel bowls resist rust and are BPA-free.
Key Features:
Bowls hold 53 and 27 ounces, respectively
No-spill silicone mat
Non-skid surfaces
Cost: $30
YOUTHINK Spill Proof Dog Cat Travel Bowl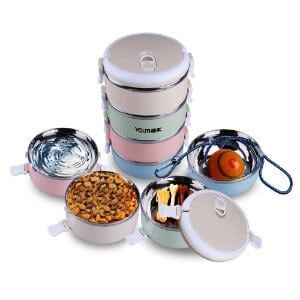 If you have several pets or you'd like to portion two days' worth of food for your dog, this four-bowl set will keep their food fresh and ready to go.
Key Features:
Stackable layered design
Each bowl holds 24 ounces of food or water
Includes a lid with a handle for easy transport
Cost: $22