Getting your dog from point A to point B can be difficult for any number of reasons. He could have anxiety in social situations, you could struggle to keep him from running off if he sees another animal or he could have health concerns that prevent him from keeping up with you. Having a dog stroller could make each of those problems (and then some!) a thing of the past. If you've thought about getting a dog stroller in the past but have no idea what's available and what to look for, don't stress; we've done the legwork for you.
We reviewed dozens of dog strollers to identify the best of the best. We looked at the number of wheels, the size of those wheels, weather resistance, frame composition, undercarriage, owner's console and so many more features to make sure you get the best option for your pup.
In our research, we found quite quickly that the HPZ Pet Rover Premium Dog Stroller stood out as a clear winner. With its oval frame made of aviation-grade aluminum, you'll never worry about the durability and the compact folded size makes it ultra-portable.
The 5 Top-Rated Dog Strollers
*Ratings are from Amazon at the time of publication and can change
Our Top Pick: HPZ Pet Rover Premium Dog Stroller
The HPZ Pet Rover Premium Dog Stroller is a heavy-duty stroller with convertible compartments and zipperless entry to make traveling with your dog fun and easy no matter where the road takes you. But, don't let its heavy-duty construction scare you: this stroller maintains a lightweight, durable stainless steel and aluminum alloy frame.
The stroller can be folded and unfolded using only one hand and the rear braking system adds to the ease of use in a big way. The front wheels rotate a full 360-degrees which makes steering a breeze and the two pet compartment pads that come with it will make sure your pup's ride is a comfortable one. You can use this stroller for virtually any dog, small, medium or large; the weight capacity is an impressive 75 pounds.
The wheels are covered for full replacement for three years while the entire stroller has a limited lifetime warranty. With an Amazon rating of 4.6 stars with nearly 300 reviews you can buy this dog stroller with confidence in your satisfaction.
HPZ Pet Rover Premium Dog Stroller Key Features:
Premium-grade suspension with comfort-ride wheels
Convertible internal compartment gives you the freedom to change its size to accommodate dogs of different sizes
Large-volume basket underneath, three smaller accessory bags, and bottle holder give dog parents plenty of storage space
Weatherproof, breathable mesh top cover
Our Runner-Up Pick: Paws & Pals Three-Wheel Pet Stroller
Paws & Pals Three-Wheel Pet Stroller
This 3-wheeled dog stroller will fit all your needs and solve problems you didn't even think to consider!
Check Price
The Paws & Pals Three-Wheel Pet Stroller is a single-hand fold and unfold, making transport super convenient. It has both a front and rear mesh window that can be lifted for your very well-behaved dog to enjoy the openness and provides options for entrance to your picky dogs.
The stroller includes a cushion mat for your pup's smooth ride and also included is a cover that will match the stroller color you choose (you have 3 colors to pick from). There is a sizable undercarriage and an owner's console with a tray and two cup holders to hold everything you'll need for your trip out with your dog.
With an Amazon rating of 4.3 stars from more than 800 customer reviews, this stroller is quality certified and meets stroller safety and production industry standards.
Paws & Pals Three-Wheel Pet Stroller Key Features:
Rear security brakes
Retractable waterproof rain hood
Mesh windows for ventilation and to keep out bugs
Best Budget Pick: Pet Gear Ultra Lite Travel Stroller
On-the-go dog parents appreciate the lightweight, ultra-compact Pet Gear Ultra Lite Travel Stroller. This stroller folds in seconds so you can be off and walking with your pet around your neighborhood or in your favorite vacation spot in no time.
The stroller comes in three color options which will make it easy for you to customize to your pup's gender (pink, blue or black are available). This is designed for a small dog; in fact the weight capacity is only 15 pounds. And while there are some complaints on the wheel steering, this stroller is perfect to pop in the backseat or trunk and leave it. That way you'll always be prepared to take your pooch with you without having to plan and pack.
This stroller is your more basic style, with a lot of similarities to a child's umbrella stroller; it even folds the same. But with the enclosure and the removable liner, this is a stroller that has earned the distinction of intended for dogs. And for just under $40, it's hard to find too many complaints!
Pet Gear Ultra Lite Travel Stroller Key Features:
Six-inch wheels ideal for strolling
Lightweight and easily portable
Folds into ultra-compact size in mere seconds
Best Jogging Dog Stroller Pick: Pet Gear No-Zip NV Pet Stroller, Ziperless Entry
Dog parents who don't want to hassle with zippers love the Pet Gear No-Zip NV Pet Stroller, Ziperless Entry. The latest no-zip technology makes this dog stroller one of the top choices for accessing your pet easily.
The large 12 inch Air Ride tires make the ride smooth for your pup and pushing it while you jog a piece of cake. You'll also be able to lock the front wheel to provide a bit more stability during your jog. The fabric is made with a 600 Denier water-resistant canvas-like material so you won't need to worry about your pup getting wet should your run turn cloudy or you pass through a sprinkler.
With an Amazon rating of 4.3 with nearly 700 customer reviews, it's not hard to see why it's Amazon's Choice for Pet Gear Stroller.
Pet Gear No-Zip NV Pet Stroller, Ziperless Entry Key Features:
Elevated paw rest
Panoramic view windows give pets the best look possible while they ride in comfort on the included plush bolster pad
12-inch AirRide tires for a smoother ride on any terrain
Suitable for dogs up to 70 pounds
Best Stroller for Large or Multiple Dogs Pick: Pet Gear No-Zip Expedition Zipperless Entry Pet Stroller
If you are a dog parent who is frustrated by the limited number of strollers available for larger dogs, look no further than the Pet Gear No-Zip Expedition Zipperless Entry Pet Stroller. It features a spacious pet compartment that is a perfect fit for large dogs or multiple pets.
The Expedition model of the Pet Gear No-Zip line is for your biggest dogs; it will carry a dog (or multiple dog) up to 150 pounds, which is a spectacular feat that hardly any of its peers can boast. The same stroller in a slightly smaller size, the Excursion, (also available at the link above) will offer all the same features but will be a bit more compact with only a 100 pound weight maximum – which is still nothing to scoff at!
Without a lot of choices when it comes to large dog strollers (and even fewer of high quality), you may be surprised to discover this stroller still maintains a rating on Amazon of 4.3 stars.
Pet Gear No-Zip Expedition Zipperless Entry Pet Stroller Key Features:
Easy-locking, no-zip entry
Load pets from the front or rear with dual-entry, which also makes it easier for the pets to exit because they do not have to turn around to do so
Multi-position, adjustable handle
Who Should Buy a Dog Stroller
At first sight, it may seem strange to see people pushing their dogs in pet strollers. After all, dogs enjoy taking walks and sniffing their surroundings. But, smart pet parents know that dog strollers can save their pets from unfriendly dogs, fast-approaching children, hot macadam, and other dangers. If you have puppies that haven't been vaccinated yet but you want to start socializing them some, a stroller can accomplish that while still protecting them.
Many owners of small dogs don't know how they ever lived without a pet stroller to keep their dogs safe and calm. And, owners of larger dogs understand how much easier it is to transport them in a large stroller after surgery, when they're getting too old to keep up on a run, and when they face a stressful situation like going to the vet. Not to mention that the ease of getting your dog through an over-crowded park full of distractions and stimulation with a stroller is unquestionable.
Important Features to Consider
A dog stroller should have a few key features. Here's what to consider when selecting a stroller for your dog:
Suspension system. This is important if you plan on jogging, certainly. But, if we're being honest, this will make the ride easier for your pup, no matter how you're using the stroller. And if you opt for a stroller with suspension system, your pushing will become much easier as well. So a suspension is very nearly a must-have for a jogging dog stroller, but still a very nice feature for others, too.
Tires. Get the tires that fit the use. If you plan on jogging, the large tires with good traction are the way to go. If you plan on walking with him through the park you can get the lightweight plastic/EVA foam tires. And if you're planning on using a convertible stroller that will double as a bike trailer, look out for those traditional air-fill rubber tires.
Weight capacity. You'll obviously want to get a stroller that your pup can use at his full-grown size, so make sure you're thinking long-term when making your purchase. Keep in mind any of your pup's friends that you may want to carry in your stroller when you're looking at the weight capacity. If you plan on taking more than one dog, you may have to adjust your needs.
Water-resistant. You may be able to find a stroller that's entire fabric design is water resistant or even water proof, if you're lucky. But more common is that your stroller comes with a removable waterproof cover that will protect your pup (or you can purchase one separately). Consider the benefits of each because while we can predict the weather, there's no 100% accurate weatherman. You'll want to choose something to be safe rather than sorry.
Enclosures. A stroller that can be completely enclosed so that your pup can't escape is an invaluable feature when you're just training your dog. And, if your dog is a runner or easily distracted, it may always be the most important feature. Even if your dog is well-behaved sometimes you'll need to protect him from the outside, instead of the outside from him.
Multiples. To go hand-in-hand with weight capacity and planning ahead for potential puppy friends, if you have more than one pup, you may want to look into strollers that have a way to separate multiples. Because even if your pups get along great most of the time, the one time they won't will definitely be when it's most inconvenient for you. (Picture in the middle of a crowd during a moment of silence or some other bad time.) Be prepared by having a separator for your stroller.
Frequently Asked Questions
When does a dog need a stroller?
A dog could need a stroller for several reasons. He could be working on social anxiety or bad on a leash. You could want to jog, but his little legs can't keep up with you. If your dog is elderly, has bad joints, or is recovering from an injury a stroller could genuinely help him (and you). He could even need protection from other dogs if he's un-vaccinated, if the pavement is too hot for his paws, or if you know there are likely to be poorly-behaved dogs where you're going.
And even if none of those reasons fit your specific needs; consider that a good pet stroller can simply be a way to pamper your pet. Even if he doesn't necessarily have a need, you're his owner and you know him best. Would a stroller be something he would enjoy? If you think so, then that's the only need you have to consider.
What size dog stroller does my dog need?
First and foremost, you'll want to make sure the stroller you're getting is capable of holding your dog at full-size. Don't just get a stroller that will carry your dog while she's a puppy or you'll have wasted money. In order to find out what your dog's likely adult size is, you can search her breed or, perhaps the smartest idea, talk to your vet for educated predictions.
Measure your dog and compare his measurements with the stroller's. If he would have at least a few inches all around him while he's in the stroller, then he's going to be comfortable in that stroller. If you plan on using the stroller for more than one dog, you'll want to use their combine weight and size. They will likely be cuddled into each other so sizing may be difficult, but the next time they're lying together, try to take measurements to get an idea what their preferred size would be.
Are dog strollers better than pet carriers?
This depends entirely on what you intend to use these products. If you plan on using this for airline travel, it's probably a better bet to find a carrier that is airline certified. (You could still use your stroller in parts of the terminal, but you'll need to check it and that seems like an excessive hassle, even if we are huge fans of strollers.) However, if you plan on jogging or walking, a stroller is definitely the way to go. Generally, a stroller is more for being out and about and a carrier is more for going somewhere. The carrier is about the travel; while with the stroller it's all about moving and doing. Road trip? Carrier. Festival? Stroller.
What type of wheels are best for a dog stroller?
For stroller wheels, there are a few most common types: plastic/EVA, rubber and Air Ride. Plastic/EVA wheels are a plastic and foam construction that makes them both durable and relatively easy to push. They're also easy to get stuck but are ultra-lightweight. They don't typically have great traction but work perfectly for use on paved paths.
Traditional rubber wheels are ideal if you plan on taking your stroller on the road. They're what you want if you plan on hooking the trailer/stroller onto your bike and taking our pooch down the road. They're lightweight and have excellent traction, but will need to be checked for air pressure and are susceptible to flats.
Air Ride wheels are best if you plan on jogging or going off-road with your dog stroller. The large wheels are typically 12-inches and the front wheel locks into place to provide added stability for rough terrain or the rigors of jogging.
The 25 Top-Rated Dog Strollers (Full List)
One again, here's our list of the five top-rated dog strollers:
Other Dog Strollers We Reviewed
We also looked at 20 other strollers for dogs. Even though they didn't make our 5 best strollers for dogs list, they're the best of the rest and each is still a great option for your dog. The information you'll need to compare each one is included with the listing.
Bike Trailer Dog Strollers
Aosom Elite II Dog Bike Trailer Stroller & Jogger with Suspension
@BeAosom
Aosom is known for their quality, cost-effective products, and their Elite II Dog Bike Trailer Stroller & Jogger with Suspension is no exception. Dog owners will love the flexibility of this versatile dog stroller that transitions from being a bike trailer to a stroller or jogger quickly and easily.
Key Features:
Fix the front wheel for jogging or allow it to swivel for strolling
Adjustable handle bar to suit various dog pet parents' heights
Pocketed seat secures dog better
6.5-foot flag for more visibility
Suspension eases bumps for your dog
No tools needed to set up or break down the stroller
Cost: Est. $186
Booyah Large Dog Stroller & Pet Bike Trailer with Suspension
@booyahstrollers
Booyah Strollers offers attractive, affordable dog strollers, such as this two-in-one stroller and bike trailer for medium-sized dogs with a maximum weight of 40 pounds. With premium features such as pneumatic wheels and suspension, this stroller and bike trailer will help your dog stay comfortable even if you venture off the beaten path.
Key Features:
Pulls directly behind the center of a bicycle
Suspension and 12-inch front swivel wheel with rear pneumatic wheels
Bike hitch method eliminates a bent frame and worn bike point
Includes cushion
Cost: Est. $205
Booyah Small Dog Bike Trailer
@booyahstrollers
If you love to ride your bike but hate leaving your dog at home or running the risk of getting a leash tangled on your bike or handlebars by having him run alongside you, the Booyah Small Dog Bike Trailer is the solution. This small trailer is ideal for small dogs because it gives them just enough room without making them anxious for being in a space that is too large.
Key Features:
Reflectors on front, back, and tires with side reflecting strips
Three-layer sunroof: closed, mesh, screen, or open
Trailer connects to the axle rather than the frame to eliminate bent frames
Designed for dogs weighing 15-20 pounds
Removable interior cushion
Cost: Est. $135
DoggyRide Novel Dog Stroller
@DoggyRide
A market leader in dog bike trailers and strollers, DoggyRide offers a novel dog stroller designed to ensure your pet's comfort and style. Its many upgrades make this stroller ideal for dogs up to 110 pounds.
Key Features:
Lightweight aluminum alloy frame with stainless steel spokes and hubs
Quick-release wheels
Padded front headrest and additional front reflecting stripes
Large rear pouch with water bottle pocket
Cost: Est. $379
Sepnine 2-In-1 Dog Bike Trailer and Jogger Stroller
A two-in-one option for dog parents who enjoy having their dog along for bike rides, walks, and runs, the Sepnine 2-In-1 Dog Bike Trailer and Jogger Stroller transforms quickly and easily to meet the needs of your adventure. Designed to keep your dog comfortable and safe, this bike trailer and stroller folds flat for easy storage when you are not hitting the trails.
Key Features:
Front and back dual entry for easily loading your dog
Medium size appropriate for dogs up to 66 pounds
Safety leash prevents your dog from jumping out of the stroller
Mesh windows ensure airflow and visibility
Large Dog Strollers (>40lbs)
Gen7Pets Promenade Pet Stroller
Dog parents of pups weighing 50 pounds or less will love the Gen7Pets Promenade Pet Stroller. With a huge storage compartment underneath and a parent tray featuring two cup holders and a large accessory compartment, this dog stroller was made with convenience in mind.
Key Features:
Front convertible wheel swivels for smooth terrain and locks for rough terrain
Enhanced safety with front wheel shock absorbers and a rear single break bar
Contain your pet and increase his safety with two interior adjustable tethers
Upper mesh window provide ventilation and easy viewing for pets
Lower mesh opening increases ventilation for maximum breathability
Cost: Est. $130
OxGord Double Pet Stroller with Four Wheels
If you have two dogs or one dog and one cat, you should consider purchasing the OxGord Double Pet Stroller with Four Wheels. This stroller is durable and features a roomy design so your pets can travel comfortably together.
Key Features:
Twin carriage
Multiple windows for ventilation and breathability
Large undercarriage storage container
55 ln max capacity
Cost: Est. $60
Pet Gear No-Zip Excursion Pet Stroller
@PetGearInc
Whether you want to jog with an older dog who can no longer keep up or take a larger dog for a safe walk, the Pet Gear stroller is one of the best options available. With its 100-pound capacity, this stroller is ideal for large dogs.
Key Features:
Large, protective pet compartment
Adjustable stroller height to handle
Ergonomic multi-position handle
Easy-fold mechanism
Internal pad with waterproof tray
Interior safety tether
Cost: Est. $199
PetsCaptain Premium Quality Pet Carrier & Stroller
Available in a three-wheel or four-wheel model, the PetsCaptain Premium Quality Pet Carrier & Stroller is perfect for parents of small or medium-sized dogs. It also includes a bonus sturdy collar, durable leash, and full-body harness that adjust to fit your pet.
Key Features:
600D polyester fabric and quadrangle plastic mesh
Construction-quality steel tubing for maximum durability
Large undercarriage storage compartments
66 lb weight capacity
Small/Medium Dog Strollers
Paws & Pals Deluxe Three-Wheel Foldable Pet Stroller
Paws & Pals Deluxe 3-Wheel Pet Stroller folds for convenience and storage. It also doubles as a travel carrier for pet parents who are frequently on the go with their dogs.
Key Features:
Large padded main compartment with two built-in leashes and three zippered access points that open completely for easy access to your dog
Mesh window for safety and ventilation at each access point with an additional mesh window on top for keeping a close eye on your dog
Includes two cup holders, a center tray, a lower storage basket, and one-button folding design for the ultimate travel solution
Lightweight yet sturdy to support pets up to 55 pounds
Two locking rear wheels
Cost: Est. $55
PetLuv Soothing Happy Pet Premium Soft Sided Cat & Dog Carrier for Travel
Available in navy blue, pink, pink with lace, tan or red, the pet carrier stroller is an ideal choice for dog parents who enjoy traveling with your furry friends. Use the large compartment as a pet carrier, or affix it to the frame and transform it to a stroller. Either way, it folds in seconds and has all the accessories you need for a day out with your dog.
Key Features:
Cup holders
Stronger, more durable joints and zippers
Large storage basket for storing toys, treats, or water bottles
Front and rear entry with top, front, and rear mesh windows for ventilation and to protect your dog from insects
Large six-inch wheels assist in traversing rough terrain
Cost: Est. $115
BestPet Extra Wide Four-Wheel Pet Stroller with Rain Cover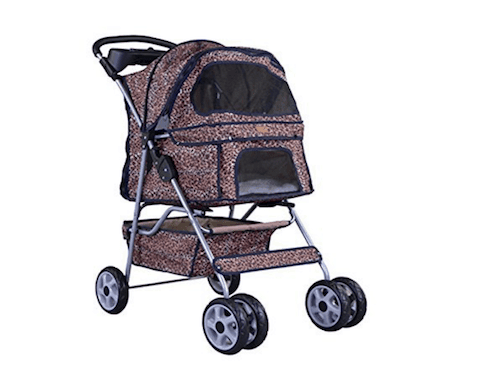 If you enjoy being trendy and fashionable with your pet, you're going to love this extra-wide, four-wheel pet stroller from BestPet. Available in leopard skin, the stroller features a quick-fold design and handy storage areas.
Key Features:
Opens and folds in five seconds
Two cup holders
Convenient front and rear entry
Extra wide to give your dog more space to stretch out and enjoy the ride
Rain cover to keep your dog dry and comfortable
Cost: Est. $95.99
BestPet Posh Pet Stroller with Cup Holder
If you're looking for a new design in dog strollers, consider this posh design from BestPet. Suitable for small dogs, the stroller boasts a colorful plaid fabric with wide mesh windows on the front and top to ensure proper ventilation and comfort.
Key Features:
Cup holder
Compact size: handle to floor – 33″; wheel to wheel (side to side) – 19.5″; carrier interior front to back – 21.5″; carrier interior side to side – 15.5″; carrier interior height – 20″
Suitable for everyday use or travel
Cost: Est. $45
Gen7Pets Promenade Pet Stroller with Smart Canopy
Dog parents will appreciate all of the smart features in the Gen7Pets Promenade Pet Stroller with Smart Canopy because they all enhance performance, comfort, and convenience. Despite all of its innovative features, this dog stroller remains affordable.
Key Features:
Smart-canopy mesh opens up and out of the way to give your dog more space
Smart-reach handle is ergonomic and provides more kick space for an easier, more comfortable stroll
Smart-basket closes with a rear zipper to secure belongings while enabling easy access
Cost: Est. $100
HPZ Pet Rover Premium Heavy Duty Pet Stroller Travel Carriage
If you are looking for a spacious dog stroller that doubles as a carrier, the HPZ Pet Rover Premium Pet Stroller would be a great option. This stroller features a sturdy and durable steel frame that folds for easier storage.
Key Features:
Over-sized wheels for comfort ride
Made with UV-reflective material
Overall dimensions: 30.3″L x 22″W x 42.1″H
Mesh windows for ventilation
Folds for easy storage
Cost: Est. $196.86
Paws & Pals City Walk N Stride 4 Wheeler Pet Stroller for Dogs
With four wheels, this OxGord pet stroller ensures easy walking for pet parents. It also ensures that your dog will travel in style, as it is available in navy blue, purple, black, plaid blue, rose wine, and red.
Key Features:
Two cup holders
Seat belts and leash
Easy front and rear entry
Retractable rain hood
Cost: Est. $40
DODO PET by WorldWide Selection Pet – Pet Stroller with 4 Wheels
The DODO PET Four-Wheel Pet Stroller is all about keeping your pet safe and comfortable. From water-resistant cloth, to wheels designed to ensure a smooth ride, this stroller also ensures your comfort with an adjustable handle.
Key Features:
Lightweight, durable aluminum frame
600d Oxford water-resistant cloth
Can hold up to 55lbs.
360-degree rotating front wheels plus safety rear braking system
Made with tear-resistant nylon mesh
Undercarriage storage compartment
Cost: Est. $165
Pet Gear No-Zip Double Pet Stroller
@PetGearInc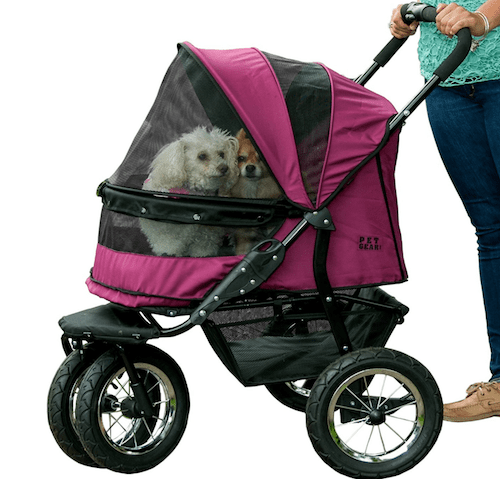 If you have two pets but have not been able to find a stroller with a large enough weight capacity for them, the Pet Gear No-Zip Double Pet Stroller may be right for you. Its 90-pound capacity and extra-wide carriage make it perfect for people who want to take their dogs on an adventure at the same time.
Key Features:
No-zip, easy-locking entry
Includes plush bolster pad and two interior safety tethers
12-inch quick-release air tires with included air pump
Quick-locking rear foot break
600D water-resistant material with included weather cover
Cost: Est. $325
Suitable for pets weighing up to 30 pounds, the VIVO Four-Wheel Pet Stroller keeps your dog rolling in style with five color options. It also keeps him comfortable, thanks to the large mesh windows that provide ventilation and breathability.
Key Features:
Choose from black, blue, orange, pink and white polka dot, or purple
Top of carrier collapses back to create a large opening for loading or unloading your dog
Features removable screen and small door below the large compartment for increased ventilation
Cost: Est. $65
If you love to jog but your small dog cannot keep up, you should consider the VIVO Three-Wheel Pet Stroller. This dog stroller ensures a smooth, comfortable ride for you pet even as you pound the pavement.
Key Features:
Three zipper access points for convenient loading and unloading of your dog
Spacious interior with padded bottom
Front and back windows feature breathable mesh for enhanced viewing
Keep an eye on your dog through the top mesh window
Cost: Est. $55
More Pet Product Reviews: