When it comes to picking out gifts this year, you can't forget your dog – or gifts for dog lovers! After all, they love you unconditionally all year long, and this is your chance to show them that it's reciprocated. Whether you want to take the time to hand select each and every item going into your furry friend's stocking or you want to buy a quick kit that's already put together, your dog will love it because it comes from you – his most favorite person in the world!
We've rounded up top-rated dog stocking. Ratings are based on Amazon reviews and are current at the time of this publication.
Looking for other ways to get into the holiday spirit? See our list of The Best Dog Christmas Dog Sweaters.
Current Rating: 4.3
This stocking is a complete set – meaning you can just click "Add to cart" and be done shopping for at least one "person" on your list. The set includes a red and green tennis ball, a rubber squeaker newspaper, a rope bone, and a rubber squeaker boot – all to your dog's delight.
Key Features:
Includes 4 toys
Made with red and clear plastic material
12″ H x 5.5″ W
Cost: $7
Current Rating: 4.8
These stockings don't necessarily scream, "Dog Stockings," but we love that they don't really scream "human" either. This is a perfect one-click buy that can take care of your whole family in one fell swoop. And that's just what your pups are: family.
Key Features:
4 pack
Choose 4 burgundy or 2 burgundy and 2 white
18″ H x 5.9″ W
Cost: $20
Current Rating: 4.3
This felt stocking is one that will fit right in with your family's normal stocking but the little paw prints and embroidered name will give your pup her own individual stocking that will make sure she feels extra loved this holiday season.
Key Features:
Customize with pet's name
Made with felt and trim embellishment
17.5″ H x 9″ W
Cost: $12
Current Rating: 4.4
This puppy paw print is so very obviously for your pup that we think even she may even recognize that it's hers – especially when she sees you fill it full of her toys and delicious treats. There is a small size available for under $10, and it's still 14.5″. The large is 18″ for just under $20.
Key Features:
2 size choices
Made of soft plush
14.5″ H x 7″ W for small and 18″ H x 9″ W for large
Cost: $9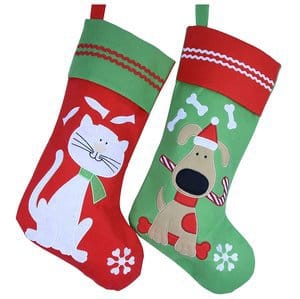 Current Rating: 4.6
This stocking is wonderful if you have both a cat and a dog, and you'd like to get stockings for both that don't exactly match but do coordinate. You will still need to buy them separately, but both are available from the same seller and are made to match.
Key Features:
Choose Cat or Dog
16″ H
Made with felt material
Cost: $15