Toy time is the best time, at least according to your dog. But how do you know which kind of toys to buy your dog? Every pooch is different. Some of them love a stuffed dog toy and others you'll find hiding under the bed after one small squeak. Plushies can be some of the cutest toys on the market, but is there anything worse than coming home to find Teddy's eyes and filling in a pile next to your smiling pup? As owners, we want to make sure we are buying durable toys that our fur babies can enjoy for years to come.
So how do you do that? Well, one thing is true for nearly every dog: they love a good game of fetch or tug of war. That's why we reviewed over two dozen rope toys for dogs to find the most durable, the best value for your money, and the one guaranteed to make your pup come running, based on price, style, and customer reviews. Here are the 5 dog rope toys that owners agree are the best of the bunch.
The Mammoth Flossy Chews Cottonblend 5-Know Rope Tug is the perfect rope toy for any sized dog. It comes in two different sizes and is durable, meaning your dog will be able to play with it four hours and hours before it wears out. The rope fibers are specifically designed to floss your pups teeth as they play, so it's also multi-purpose.
The 5 Top-Rated Dog Rope Toys
*Ratings are from Amazon at the time of publication and can change
Our Top Pick: Mammoth Flossy Chews Cottonblend 5-Knot Rope Tug
This dog rope toy offers many ways to keep your dog fit and healthy. With two sizes available, it is perfect for medium and large dogs. If you do have a smaller dog, simply cut the toy down by one or two knots and you're good to go.
The Mammoth Flossy Chew is made to last. The design of the toy ensures that even if you have an aggressive chewer on your hands, the toy will hold itself together because of the multiple knots. You can also play with your dog in different ways with this toy. It is great for fetch but excellent for tug-of-war, too, between you and your pooch or your pup and its pals.
The best part? The fibers the toy is made out of actually clean your dog's teeth as he or she plays! They are the perfect size to slide in between canine chompers in a flossing motion that will maintain your dog's healthy bite as part of the fun.
Mammoth Flossy Chews Cottonblend 5-Knot Rope Tug Key Features:
Flexible, durable design for dogs of all sizes
High-quality rope fibers
Dental cleaning abilities
Perfect for fetch and tug-of-war
Our Runner Up: The Natural Pet Company Quality Dog Toys
What's better than one high quality, durable rope toy that your dog will love? How about two high quality, durable rope toys that your dog will love! With The Natural Pet Company's Quality Dog Toys, you get a two-for-one deal on rope toys, delivered to you in a special gift box that doubles as a storage space for when your pups are tired out from an afternoon of play time with mum or dad. Each of the toys is great for medium to large sized dogs.
More than one toy means more options for how you can entertain your fur baby. One of the toys included in the pack is designed as a long-distance thrower for games of fetch. With one end weighted by the ball and an easy to hold handle on the other, you'll be able to swing this toy around and launch it, so your pup can go long and get a good run out of your game of fetch. Instead of your typical rope ball toy, though, the ball on the end of this one is made entirely of rope, meaning it will last as long as the rest of the toy.
The other rope toy included in the pack is the perfect tug-of-war solution for you and your pooch. Made of soft, durable cotton fibers, the toy is comfortable for you to hold, while your furry friend tugs away on the other end.
The Natural Pet Company Quality Dog Toys Key Features:
Two for the price of one
Double the ways to play with your pup
High quality material, safe for your dog to chew
Storage box included with purchase
Best Budget Pick: Booda 2-Knot Rope Bone Dog Toy
If money is a little tight, don't worry, you can still give your puppy hours of joy without breaking the bank and without sacrificing quality. At less than 4 dollars, the Booda 2-Knot Rope Bone Dog Toy offers a perfectly suitable rope toy for dogs of all sizes. It can be used for fetch or as a chew toy to keep your buddy occupied while you're out.
Better yet, the fibers are designed to help floss and clean your dog's teeth, helping you to maintain his or her dental health without costly vet bills. Customers love how durable the toy is and that it can be machine washed to freshen it after so many hours of play.
Aspen/Booda Corporation 2-Knot Rope Bone Dog Toy Key Features:
Affordable
Durable
Flossing action keeps your dog's teeth clean
High quality, durable fibers
Best Dog Rope Ball: StarMark Everlasting Fun Ball on a Rope Dog Toy
The final of our top 5 picks, the StarMark Everlasting Fun Ball on a Rope Dog Toy has a feature that is different from the rest. This toy has a ball hung on the end of it that StarMark boasts is virtually indestructible. The nylon rope is looped through the middle of the ball, so there is no way for the ball to loosen or become unattached to the rest of the toy. At the other end of the rope there is a firmly knotted handle for comfort and ease of use.
This toy can do it all. It is great for playing fetch, as the extra weight of the ball makes it easy to send the toy flying for your dog to chase after. The ball is the right texture for dogs to grab onto with their teeth, making the toy perfect for tug-of war, too. You can even hide treats inside it for training! When it's time to take the pup down to the lake or into the pool in the summer time, this toy will float until your dog retrieves it. If you're playing in a smaller area, the ball bounces off solid surfaces, making for a great game of jump-fetch.
StarMark Everlasting Fun Ball on a Rope Dog Toy Key Features:
Floats and bounces
Indestructible ball end
Durable nylon rope
Free from latex, vinyl, and phthalates
Best Dog Tug-of-War Rope Toy: SatisPet Large Dog Interactive Rope Tug Toy
Designed specifically to please dogs of all sizes, this SatisPet Large Dog Interactive Rope Tug Toy is a great option for any dog owner. It is made to be extremely durable and suitable for all different types of dog training and play, including fetch and tug-of-war. The toy features a comfortable loop for owners to hold when tossing the toy for their pup or battling in a tug contest. Customers love how strong the tightly woven fabric is. Even the heaviest dogs and toughest chewers can't destroy this rope toy.
SatisPet ensures dog owners that their toys are made from 100% cotton and are completely safe for your dog to play with and chew on. Other rope toys are made from synthetic fibers that can include plastic or chemicals pieces that can harm your dog if ingested, but not this one. This toy is a great option to keep your doggie entertained while you're out running errands or washing the dog drool off your clothing.
SatisPet Large Dog Interactive Rope Tug Toy Key Features:
Great for dogs of all sizes
100% cotton fibers are safe for your dog to play with
Tightly wound knots offer durability
Machine washable
Who Should Buy a Dog Rope Toy
We all know what it's like to be around an energetic pup who doesn't have any way to release its energy and we've all come home to scratched up floors and destroyed shoes. Every dog needs an outlet for its pent-up energy and a way to stay entertained when, inevitably, Mum or Dad has to leave the house for a while and can't take Rover with them. Rope toys are a great solution for this, so, frankly, anyone who owns a dog should buy at least one.
Dog rope toys are great for dogs of all sizes. They can be a fun way to spend time with your pooch and keep him or her occupied when you can't give them all your attention. Most dog rope toys are made to help keep your dog's teeth clean, too. This is another reason all dog owners should consider buying rope toys for their pets. Dental bills for dogs can be extremely expensive and anything that helps maintain your pup's teeth is a good idea. Plus, they're fun!
Important Features to Consider
Choose the right size. As funny and silly as it might be to watch Tinkerbell the Chihuahua try to drag around a rope that is three times her length, she will probably have more fun with one made to fit her mouth and easier for her to toss around. The same is true if you have a big dog. You don't want to give your large dog a toy small enough that they could easily destroy or, worse, eat. Making sure the rope toy you buy for your dog is the right size for their mouth and physical stature will guarantee your dog has the most fun with his or her new toy.
Durability and materials. The great thing about rope toys is that they are durable, but durability does depend on the dog. Some small dogs can tear apart a toy that a big dog wouldn't even be able to get a bite out of and vise versa. Knowing your dog and which kinds of toy materials last the best in your house will be a key factor to consider when purchasing a dog rope toy. You also want to make sure that the toy isn't made of anything that can harm your dog if it is accidentally ingested during playtime.
Style of toy. Every dog is different. Not all dogs want to play tug-of-war but are fetch fanatics instead. The reverse is true, too. What is most important is getting the kind of toy your dog will enjoy the most and this will only happen through trial and error and learning what kind of toys your dog prefers to play with. The benefit of rope toys is that they come in all kinds of different styles, so without a doubt there will be one out there that your dog will like.
Frequently Asked Questions
Are rope toys good for dogs?
Yes, rope toys are good for dogs, if used properly. Any toy that is ingested by your dog can cause them potential harm, but if you carefully monitor your dog while they are playing with their rope toy the toy is perfectly safe for your dogs to enjoy. In fact, rope toys can actually benefit a dog's dental health, as the fibers they are made from can gently floss in between a dog's teeth.
Is tug of war good exercise for dogs?
Tug of war is great exercise for dogs. It allows them an outlet to release pent-up energy and can increase the bond between you and your dog. Tug of war is also a sanctioned place for a dog to release healthy aggressions.
Is tug of war bad for dogs' teeth?
If your dog has dental health issues already, it is not advised that you play tug of war with her. Tug of war can also be damaging for very young dogs and puppies, because their teeth and jaws are still growing. But for your fully grown, healthy dog tug of war is a great form of exercise, should not cause any damage to his or her teeth, and can be a part of maintaining your dog's dental health.
Are rope balls more durable than regular dog balls?
Durability can often depend more on your dog than on the toys you are giving him. While rope toys are usually more durable than most other dog toys, some dogs will be able to chew through and destroy virtually anything you give them. Rope toys are made to be very durable and can often last longer than toys made of other materials.
Other Dog Rope Toys We Reviewed
We looked at 20 other dog rope toys, too. Even though they didn't make our 5 best dog rope toys list, they're the best of the rest and each is still a great option for your dog. The information you'll need to compare each one is included with the listing below.
Rope Ball Style Rope Toys
This Tirebiter Chew Toy has all the benefits of a rope ball design with the capabilities of great tug-of-war battles.
Key Features:
Specially formulated extra tough rubber tire
Great for tugging and tossing
Strong, durable material
Cost: $12.99
This ball on a rope toy is a fantastic training tool, used by Police K-9 and military dog units around the world.
Key Features:
100% natural rubber ball
Rope design allows for further throwing
Strong nylon rope
Tug-of-War Style Rope Toys
Booda Fresh N Floss Tug Rope Dog Toy
This rope toy is specially designed for flossing your puppy's teeth, as it is wrapped in an extra layer of mint flavored dental floss for dogs.
Key Features:
Great for teething puppies
Flossing motion
Non-fraying, all-natural fibers
Bundles of Rope Toys
Dog Rope Toys for Aggressive Chewers
This bundle of toys includes extra long and extra tough rope toys for extra big dogs that love to play tug-of-war and fetch.
Key Features:
Three large toys
Perfect for big and aggressive chewers
Money back guarantee
Cost: $16.99
Jalousie Puppy Chew Dog Rope Toy Assortment
Get the biggest bang for your buck with these 14 dog rope toys.
Key Features:
14 different rope toys
Great for dogs of all breeds
Affordable option for dog owners
Cost: $20.95
Otterly Pets Assorted Tough Ropes
If you have an extra active dog, you'll need extra tough toys to keep them busy.
Key Features:
Made from 100% cotton
Machine washable
Clean teeth and gums while dogs chew
Cost: $16.87
Otterly Pets Puppy Dog Pet Rope Toys
Otterly offers a bundle of toys great for any activity you want to play with your dog.
Key Features:
Four different rope toys for endless fun
Machine washable
Storage bag included
Cost: $9.87
For medium to large dogs, this diverse bunch of rope toys ensure your pup's teeth will continue to shine.
Key Features:
Great for medium to large dogs
Five high quality rope toys
Made from all natural fibers
Cost: $17.49
Pacific Pups Dog Rope Toys for Aggressive Chewers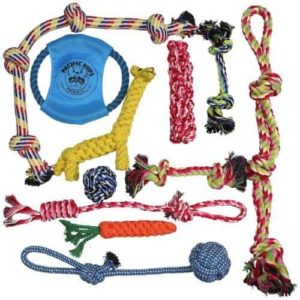 By purchasing this bundle of rope toys, you are helping to support the Pacific Pups Rescue in California.
Key Features:
Comes with an extra giraffe flossing chewer
Versatile toys to be used for tugging, shaking, chewing, tossing
Great for lowering puppy anxiety
Cost: $21.99
Puppy Chew Teething Rope Toys Set
This toy bundle is perfect for puppies or other dogs that love chew toys.
Key Features:
Clean teeth and gently massage gums while chewing
Diverse shapes for tossing and chewing
Great for training bad biting away
Cost: $9.95
These unique and fun styles of dog toys will give you and your dog new ways to play and hours more fun.
Key Features:
Extra thick fibers make toys extra tough
Comes with a resealable bag for storage
100% natural cotton fibers
Cost: $15.99
Washable Cotton Rope Toys for Dogs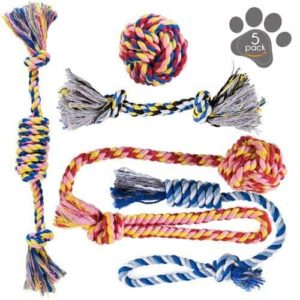 These durable rope toys are machine washable for when your pup is all tuckered out from hours of fun.
Key Features:
Safe materials
Machine washable
Versatile toy bundle
Other Rope Toys
This set of dog rope toys comes in cute animal shapes that offer something different than the classic style.
Key Features:
Includes 5 animal shapes
Removes plaque
A bouncy ball is included with the rope toys
Cost:$20.99
Dental Teeth Cleaning Chew Toys
These three dental chewer toys work well to help teething puppies redirect their biting into a healthy outlet.
Key Features:
Durable materials withstand lots of chewing
Perfect for small mouths of small breed dogs
Different shapes add unique challenges for young pups
Cost: $17.59
Mammoth Flossy Chews 3-Knot Rope Tug
This is a great basic rope toy option for your dog to enjoy tugging and fetching.
Key Features:
Assorted sizes available
Rope fibers floss dogs' teeth as they chew
Cotton-blend materials
Cost: $9.99
Mary & Kate Pets XL Dog Rope Toy
This toy is made longer and tougher for the largest and most aggressive chewers.
Key Features:
Virtually indestructible
One free replacement for the most aggressive chewers
Design great for tugging and chewing
Cost: $12.99
Pet Champion Medium Cotton Dog Rope Toy
This fun toy can be used for tossing, fetching, and shaking.
Key Features:
Affordable
100% pure cotton materials
Available in different sizes and formations
Cost: $3.97
Dogs of all sizes and breeds can enjoy this teething toy by chewing, tugging, or tossing.
Key Features:
Use for training away bad biting behavior
Machine washable
Flossing ability
Cost: $12.90
Zanies Cotton Knotted Rope Bone Dog Toy
The three-knotted design of this toy is made for plenty of fun for dogs of all sizes.
Key Features:
5 sizes available
Made from durable material
Colored only with vegetable dyes that are non-harmful
Cost: $16.97
Zanies Crazy Eight Rope Pet Toy
This uniquely shaped rope ball makes for lasting chewing and tossing fun.
Key Features:
Eight rope arms
Durable cotton material
Unique playtime possibilities
Cost: $10.00