Whether lounging in the family room or settling in for the night, your four-legged friend deserves to be as comfortable as you are. Sometimes only a plush and cozy dog pillow will do! Dog pillows are great for dogs who like to stretch out, as the sides or bolsters of bed or baskets can get in the way and infringe on vital stretching room.
We reviewed dozens of dog pillows to identify the best of the best. We considered a wide range of factors, including size, shape, material, and overall comfort, in addition to perusing reviews from people who bought these pillows for their dogs.
After some extensive research, we settled on the DogBed4Less Premium Orthopedic Dog Pillow as our top pick. This lofty pillow is well-stuffed with shredded memory foam to provide comfort and support for your canine companion. It comes in a wide range of sizes to suit big dogs, small dogs, and those in the middle.
The 5 Top-Rated Dog Pillows
*Ratings are from Amazon at the time of publication and can change
Our Top Pick: DogBed4Less Premium Orthopedic Dog Pillow
If you want your dog to have a truly comfortable night's sleep, the DogBed4Less Premium Orthopedic Dog Pillow is a clear winner. Not only is is plush and comfy, it's designed to provide orthopedic support, which is great for older dogs, or those with back or joint complaints.
Size-wise, this pillow has got you covered, no matter the size of your dog. You can choose between six sizes from medium (37 by 27 inches) to jumbo (55 by 47 inches). Depending on which size you choose, you'll pay between $60 and $90. This might sound like quite a lot of money for a dog pillow, but we think it offers excellent value, when you consider the quality.
The DogBed4Less Premium Orthopedic Dog Pillow features two covers. One waterproof cover to secure the filling and one outer synthetic microsuede cover, which is removable and washable. Four color options are available: brown, espresso, gray, and khaki.
DogBed4Less Premium Orthopedic Dog Pillow Key Features:
Ensures you dog's body is properly aligned while sleeping
Doesn't flatten over time like polyfill does
Handmade in the USA
Our Runner Up Pick: Majestic Pets Super Value Dog Pillow
If the top pick isn't for you, or you're looking for something more affordable, the Majestic Pets Super Value Dog Pillow is another excellent choice. It comes in a wide range of solid colors and patterns (43 in total), so you won't have to search to find something you like or that goes with your decor.
You can opt for either medium (35 by 25 inch) or large (46 by 35 inch) or large sizes, which cost around $35 and $45 respectively, although there is a small amount of price variation between different colors.
The outer material is polyester and the stuffing is a high-loft poly fiber filling. As such, the whole bed is machine washable on a gentle cycle, so there's no need to mess around with fiddly covers.
Majestic Pets Super Value Dog Pillow Key Features:
Can be machine washed and tumble dried
Soft lofty filling
Durable and well-constructed
Best Budget Pick: Petmate Aspen Pet Self Warming Dog Pillow
Nobody said providing for a dog was cheap, but it's still surprising how much various canine costs can add up, which is why it's great to save a few bucks where possible. The Petmate Aspen Pet Self Warming Dog Pillow is a great product at a low price, which is perfect for anyone needing to watch their pennies. At just $20 for a 36 by 27 inch pillow, you won't be left out of pocket.
Not only has this pillow got a cozy fleece and corduroy outer, it also contains a heat-reflecting layer inside, which means your dog's body heat gets bounced back to him, keeping him extra warm.
Although there's only one color choice, it's a fairly neutral red and cream that looks great with most styles of decor.
Petmate Aspen Pet Self Warming Dog Pillow Key Features:
Non-slip underside so pillow won't skid on hard floors
Self warming design
Hand washable
Best Large Dog Pillow: Majestic Pet XL Pet Pillow
Finding pillows the right size for giant breed dogs can be a challenge, but the Majestic Pet XL Pet Pillow fits the bill. Huge and plush, this is the perfect pillow for the largest of dogs to stretch out on, or for multiple smaller dogs to share.
Although smaller sizes are available, we're focusing on the XL size pillow, which measures a whopping 60 by 42 inches—that's five foot at its longest side! You can choose between seven different colors, too.
The poly fiber filling is extremely soft and lofty, though you can expect it to flatten somewhat over time. Although you can't wash the whole bed, it has a removable cover that's machine washable.
Majestic Pet XL Pet Pillow Key Features:
Top side made from cozy fleece
Easy-clean removable covers
Durable construction
Best Small Dog Pillow: Carolina Pet Company X-Small Sherpa Puff Ball Pet Bed
Looking for a compact dog pillow that won't overwhelm your small canine companion? The Carolina Pet Company X-Small Sherpa Puff Ball Pet Bed is just the thing! This extra puffy pillow is essentially a round ball of fluff until your pet settles on it and flattens it down.
The extra-small size measures just 18 inches across and is suitable for toy breed dogs, up to around 10 pounds. Retailing at around $30, it seems quite pricey for a small bed, but it's durable, well-made, and extremely comfortable for your pooch, so we think it's worth shelling out for!
Not only is the sherpa fleece cover soft and cozy for your four-legged friend, it's removable and machine washable, which is a huge bonus when the pillow gets dirty or smelly.
Carolina Pet Company X-Small Sherpa Puff Ball Pet Bed Key Features:
Easy to clean
Extremely soft and plush
Larger sizes also available
Who Should Buy a Dog Pillow
Dog pillows are great sleeping or resting spots for many dogs, but who should buy one and who would be better off with a different product? If your canine companion prefers stretching out flat over curling up, a dog pillow is ideal, as there are no sides or raised edges to get in the way of a hearty stretch.
Dog pillows are, of course, designed with dogs in mind, but there's no reason why cats can't use them, too. If you're looking for a different type of dog bed, we've also reviewed the best small dog beds and the best large dog beds in separate posts. If you live in an area with a frigid winter climate, you might also consider a heated dog bed.
Important Features to Consider
A dog pillow should have a few important features. Here's what to consider when selecting a pillow for your dog:
Size. Make sure the pillow you choose is large enough to accommodate your dog when fully stretched out. If you're unsure, you'll need to measure your dog. The longest side of the pillow you choose should be at least as long as your dog from the tip of her nose to the base of her tail, and the shorter side should be equal or longer than your dog's height from the floor to the top of her head.
Loft. The term "loft" refers to the height of a dog pillow as it lays flat on the floor. A lofty pillow is tall and puffy, whereas a pillow with low loft is flatter. As a rule, loftier dog pillows will be more comfortable. Many will flatten somewhat over time, so if they're flat to begin with, they won't age particularly well.
Filling material. The most common filling material for dog pillows is polyester fiber, also known as polyfill. However, you can find some dog pillows filled with shredded memory foam, which is arguably more comfortable and won't compress over time.
Outer material. Polyester is common outer material, though some are made from more durable nylon, which is good for dogs to tend to chew. Some options have a fleece outer layer, which makes the pillow more soft and cozy.
Ease of cleaning. The majority of dog pillows either feature removable washable covers or are completely machine washable. This makes cleaning easier. Some models, however, are hand-wash only, which is more effort when they get dirty or smelly.
Frequently Asked Questions
What is a dog pillow?
A dog pillow is a pillow designed for dogs to use as a bed at night or a daytime spot for sleeping or lounging,
What is a dog snuggle ball?
A dog snuggle ball is essentially a pillow that's spherical, rather than rectangular or circular. They flatten down somewhat when your dog lies on them, but are puffier and contain more filling than standard dog pillows.
How do you clean a dog pillow?
If your dog pillow is machine washable (or has a machine washable cover), it's as simple as just throwing them in the washing machine. Some options can even be tumble dried on low, too. Otherwise, you'll need to hand wash your dog pillow, or wipe it clean, but this isn't as effective.
How do I get my dog to stop chewing on his pillow?
This depends on why your dog is chewing. If it's due to boredom, try placing some chew toys near his pillow, so he can chew on those instead. If it's lack of exercise, walking him more often or for longer may help curb his chewing habits. You can also give a firm "no" and redirect his attention onto something that he's allowed to chew (such as a Kong or other chew toy) every time you catch him chewing his pillow. Never punish him for chewing, as will only make him scared of you and won't solve any behavioral issues. Some dogs are just chewers and would be better off with a more durable dog bed.
Other Dog Pillows We Reviewed
We looked at 20 other dog pillows. Even though they didn't make our 5 best dog pillows list, they're the best of the rest and each is still a great option for your four-legged friend. The information you'll need to compare each one is included with the listing.
Rectangular Dog Pillows
ALL FOR PAWS Lambswool Pillow Bed for Dogs
Although advertised as lambswool, this is actually made from a cozy synthetic fleece and stuffed with soft polyfill.
Key Features:
Three color choices
Available in small, medium, and large sizes
Well-made and comfortable
Cost: $30 to $40
With its waterproof, non-slip base and soft fleece upper, you can be sure your pooch will relax in comfort on this quality pillow.
Key Features:
Available in three sizes
Removable cover for easy cleaning
Soft and well-filled
Cost: $20 to $30
Dallas Manufacturing Co. Pillow Dog Bed
With a denim outer and soft sherpa fleece center, you won't find another dog pillow quite like this stylish option.
Key Features:
Measures 36 by 26 inches
Machine washable
Double stitched for durability
Cost: $55
FurHaven Oxford & Suede Pillow Pet Bed
Although the two sizes are labelled "large" and "jumbo," they're smaller than some options, so be sure to measure your pooch before buying.
Key Features:
Nine color choices
Machine washable cover
Water resistant base
Cost: $30 to $45
FurHaven Pet Kennel Pillow Pad
While this dog pillow was designed to be used inside a kennel or crate, it's certainly not mandatory. It isn't as thick or lofty as some similar options.
Key Features:
Soft, plush top
Non-slip base
Available in six sizes and nine colors
Cost: $10 to $45
Measuring just 24 by 18 inches, this pillow is suitable for small dogs only. The reversible design lets you flip it when it gets dirty to go longer between washes.
Key Features:
100% recycled filling
Waterproof liner and polyester cover
Cover is removable and machine washable
Cost: $40
Orvis Tattersall Pillow Dog Bed
This might cost a bit more than your average dog pillow, but it's extremely well-made with quality materials and a choice of attractive plaid patterns.
Key Features:
Three color options
Medium or large sizes available
Spun polyester filling doesn't clump or flatten
Cost: $70 to $90
Stuffed with cedar and polyfill, this pillow bed is supposed to deter dogs from chewing it, but buyers give mixed reviews on that front.
Key Features:
Machine washable cover
Durable construction
Measures 40 by 30 inches
Cost: $45
Petmate Microban Deluxe Gusseted Pillow Bed
The gusseted design gives this pillow slightly more loft than standard options. We love the attractive striped design and soft plush top.
Key Features:
Stuffed with high loft polyester filling and a small amount of cedar chips
Anti-microbial material
Zippered cover is removable and machine washable
Cost: $40
If you and your dog are big fans of WWE wrestling, this is the perfect pillow. Available in three WWE-related designs, it's the prefect pillow for wrestling enthusiasts, but not for everyone else!
Key Features:
Measures 36 by 27 inches
Removable, washable cover
Plush and well-filled
Cost: $20
Round Dog Pillows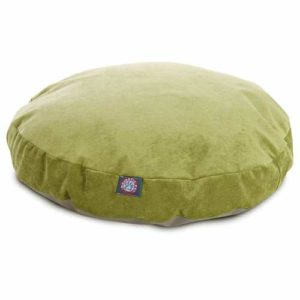 Filled with extra plush poly-fiber filling, this pet pillow is extra lofty and comfortable for your pooch to snooze on.
Key Features:
Removable cover can be spot cleaned only
Available in small, medium, or large
10 color choices
Cost: $30 to $50
Majestic Pet Navy Blue French Quarter Indoor Outdoor Dog Bed
With a waterproof base and special UV-protected fabric, this attractive pillow bed is suitable for both indoor and outdoor use.
Key Features:
Small, medium, and large size options
Slipcover is removable and machine washable
Warm and comfortable poly-fiber filling
Cost: $55 to $70
MidWest Homes Round Dog Pillow Bed
The choice of two modern geometric designs gives these comfy pet pillows a cool, contemporary look that might be more stylish than your own throw pillows.
Key Features:
34 inch diameter
Over-stuffed for extra loft
Cover can be machine washed and tumble dried
Cost: $40
Available in either 40-inch or 50-inch diameters, these round dog pillow beds are large enough for most big dogs, but are also great for small dogs who like extra room.
Key Features:
Soft machine washable cotton cover
Three color choices
Well-filled with poly-fiber
Cost: $40 to $50
This round pillow style pet bed has a poly/cotton blend washable outer cover, with a polyfill and cedar mix inside.
Key Features:
Small, medium, large, and extra-large options
Available in a variety of colors and patterns
Well-filled with lots of loft
Cost: $40 to $90
Dog Snuggle Ball Pillows
A small, super soft and squishy snuggle ball that's the perfect pillow for a little dog who likes to lounge in comfort.
Key Features:
Made from soft, plush material
Well-filled
Small size only
Cost: $50
Furhaven Round Plush Ball Pet Bed
Looking for the softest and loftiest pet pillow out there? This should be high on your list. The only complaint some buyers have is that is has too much filling.
Key Features:
Comes in small, medium, large, and jumbo sizes
Six color choices
Machine washable outer
Cost: $30 to $70
K&H Pet Products Cuddle Cube Pet Bed
While not technically a ball, this plush pillow gives you all the extra loft of a cuddle ball, but in cube form.
Key Features:
Two color and three size options
Poly-fiber filling is 100% recycled
Soft fleece cover can be machine washed
Cost: $30 to $50
K&H Pet Products Self Warming Cuddle Ball
This super cozy cuddle ball pillow has the added bonus of self warming technology to keep your dog toasty warm, whatever the weather.
Key Features:
Two colors and three sizes
Non-slip base
Removable, washable cover
Cost: $60 to $115
SportPet Designs Luxury Waterproof Pet Pillow Bed
With its extra soft plush cover, your dog will be beyond comfortable in this excellent snuggle ball. Both small and large options are available.
Key Features:
Machine washable outer
Soft, lofty filling
Waterproof lining
Cost: $35 to $55