Ask any pet-parent about the hardest thing they do everyday, and they'll probably mention leaving their fur-baby home alone. Because dogs can be mischievous and get themselves into trouble when unsupervised, many pet parents look to technology for solutions. Enter dog monitor cameras. If you've looked into these products, you've probably discovered options galore. From surveillance monitors to motion detectors, activity monitors, automatic feeders, pet collar cameras, and even smartphone-controlled toys, there's no shortage of options for keeping tabs on your pup (and keeping him entertained) while you're away from home.
We looked at dozens of dog monitor cameras to find the best of the best, considering cost, ease of use, features and functionality, Amazon reviews, and extras such as treat dispensers and other fun features that can keep your pup engaged when you can't be by his side. We narrowed our search to 5 of the best dog monitor cameras pet parents can buy.
Nest Security Cam
Meet the Nest Security Cam, a mid-priced camera that outperforms more expensive options.
We've identified the Nest Security Cam as the best of the best. A moderately priced cam that can serve a variety of roles, the Nest Security Cam can be configured to be the absolutely best option for your pooch monitoring. The Nest technology brand has earned a reputation for its reliability, so pet parents can buy this dog monitor camera with confidence knowing that the glitches and kinks have been ironed out. Performing well above its peers, the Nest is a good buy for most dog parents.
The 5 Top-Rated Dog Monitor Cameras
*Ratings are from Amazon at the time of publication and can change
Our Top Pick: Nest Cam Security Camera
Nest is a big name in home security, but did you know it also offers one of the best dog camera options? The Nest Cam Security Camera has a quality camera with great streaming, but what sets it apart are the extras. Once you download an app to your phone, you'll get alerts based on motion detection so you'll know when your pup is getting into something. The motion sensor can even differentiate between types of movement. So if your pup is just rolling over, that classifies as an activity alert, but if someone's entering the room, that's a person alert and you can set your notification to only notify you for the bigger movements.
The night vision clarity is superior to several of its peers and the talk and listen functionality allows you to peek in on your pup and interact with him. You can program different activity zones, each with different settings, so you know what's happening and where. It will also sync into your smart home seamlessly; connecting to other Nest devices and with your Amazon Echo so you can control it with your voice, too. And you can expect to pay about on par with other Nest devices, at roughly $160.
You can mount this to the wall with the included wall-mounting plate or place it on a flat surface; it has a magnetic base so placing it on a metal surface will keep it even more secure. With the app feature 'Nest Aware' you can see a fast forward of the day within seconds allowing you to pick out key moments to go back to look at. And Sightline will give you still shots to review of the last 3 hours of activity, as well.
Nest Cam Security Camera Key Features:
Set up phone notifications, and know the moment your sound or motion sensors are activated
With this camera, night vision is done right: you can see an entire room, not just a limited spotlight view
Quick & easy setup requires no hub; just download the app and you're ready to go
Syncs with your Amazon Echo for voice controls
Our Runner Up Pick: Whistle GPS Tracker and Activity Monitor
Although this isn't a camera, sometimes when you're monitoring your dog, the camera just doesn't tell you what you really need to know. If your pup is one who is pleasingly plump and needs to shed a few pounds, you can download an app and make sure he's getting enough activity. You'll love receiving automatic updates as to your dog's activities, which you can use to help set custom activity goals for your pup, based on his breed, age and weight.
More than just a dog activity monitor, the Whistle Activity Monitor is a system that implements a central communication hub to communicate with anyone who's caring for your furry friends – family, dog walkers, neighbors and friends, alike. You'll be able to look at reports of his activity and locations from your phone whenever you want. The battery of the tracker will last up to 7 days, with only a 2 hour to full charge time, that alone make it worth the $80 price tag.
The GPS locator on this monitor may come in especially handy if your pup is a runner. You will need to pay a monthly subscription fee (starting at $6.95) and you'll have access to him no matter where in the U.S. he goes. You'll even have real time notifications sent to you as soon as he leaves his designated safe zone, which you outline.
Whistle GPS Tracker and Activity Monitor Key Features:
Encourage healthy habits: Coordinate with dog walkers and other care-givers to ensure optimal activity levels, based on your dog's individual needs
GPS tracking will locate your dog should he get lost
Automatic updates mean you'll never again worry about how your pup's day is going
Works with iOS and Android smartphones enabled with Bluetooth 4.0
Best Budget Pick: TENVIS HD IP Camera
TENVIS HD IP Camera
A great choice for the budget-minded pet parent who doesn't want to sacrifice safety.
The TENVIS HD IP Camera is great for monitoring your pet, day or night. The HD camera offers night vision with a 32 feet range, and you can connect it to any of your mobile devices to keep an eye on your pet throughout the day. With the "Smart Eyes" technology, the clarity of the night vision is 1280×720 megapixels and provides a super sharp image allowing your check-in to be one that will answer questions not lead to more.
With a downloadable app, you can set the motion sensor to alert you immediately via a smart alarm for any unexpected motion allowing you to make sure all is well by watching the live feed. You can access real time video from multiple phones, so you and your family will all be able to check in on your pooch. And you will all have access to the two-way audio so everyone can also say hi to pooch while you're all at school and work.
You can purchase and add an SD card to record the live feed to browse later. It can support up to a 128GB SD card and will record until it runs out of space. Then it will delete old videos to record new. This feature comes in very handy if you have more than one pooch and find yourself with a mess on your hands. Those puppy eyes won't be able to fool you anymore; you'll know exactly who did what after a review. And considering it's only $40, we'd say you get more than your money's worth!
TENVIS HD IP Camera Key Features:
High-definition LCD color display ensures strong visibility
Night vision
1280 x 720 Mega Pixels and high-tech optic lens
2-year warranty
Best Dog Camera with Treat Dispenser: PetChatz HD Two-Way Audio/Video System
Stay connected with your pup while you're away, thanks to PetChatz HD Two-Way Audio/Video System capabilities. You can make sure your pup sees and hears you with a 2 way camera with microphone so you can interact with him even while you're gone. This is a wonderful feature for the dog (or owner) who suffers separation anxiety. You can still entertain him from wherever you are, allowing him to be stimulated even while alone.
This kind of camera is also a great idea for your deviant doggie; especially if he needs verbal and visual cues to reinforce good behavior. You'll be able to give him the verbal commands along with your hand commands so this is incredibly useful if your pup is still learning. It is a pricey monitor, at $379, but all the bells and whistles may make it worth it to you.
To further your interaction, you can also control a treat dispenser which will help any positive reinforcement training you have established and then some. You will simply download an app onto your phone and giving him rewards becomes possible from anywhere. With a push of a button, you can make sure your pup gets his treat and his encouragement so your break at work won't be as boring and his training won't go interrupted.
PetChatz HD Two-Way Audio/Video System Key Features:
Two-way video means you can see and hear your pup, and he can see and hear you!
Smartphone-connected treat dispenser that you can access from anywhere
If you sense your pets are stressing, dispense calming scents
With paid subscription, monitor will stream DOGTV for your pooch
Best Dog Camera Ball: Vimtag VT-361 Super HD WiFi Camera
If your pups are always on your mind, you'll appreciate the Vimtag VT-361 Super HD WiFi Camera, which blends 1280 x 720p HD recording, H.265 video compression, 320-degree x 120-degree pan and tilt functions, and 12 infrared LEDs (for night vision). So not only will you get to see your pup, you'll get to see him clearly no matter what time of day it is and for a mid-low range price tag, at $80.
It has a 32GB SD card capacity for recording your favorite moments, but you will need to purchase the SD card separately. The 3 dbi antenna provides an extremely reliable WiFi connection, and the built-in microphone and speaker allow you to communicate with your pup remotely. You can access the camera from multiple devices; Apple or PC, android or iPhone.
Set up is a breeze with the plug-and-play feature, taking just 5 minutes from start to finish. It also has a heavy rubber base for strength and stability, and you can link up to 8 cameras onto one account. The motion sensors can be customized to take a picture when set off and immediately alert you when it detects motion.
Vimtag VT-361 Super HD WiFi Camera Key Features:
Record your pets, no matter where they are, with live video streaming, motion detection, and remote pan and tilt
Two-way voice recording with built-in mic and speaker, allows you to listen in on your pooches, as well as to communicate commands or comfort anxious pets
Your choice of easy setup, either via QR code, plug-and-play, or WPS button (takes under 5 minutes, no matter your setup)
Video features a 4x digital zoom
Who Should Buy a Dog Monitor Camera
If you plan on leaving your dog at home while you go to work on a regular basis, a dog monitor will help your family adjust to the time apart. You may even want to consider a two-way monitor so that your dog can hear your voice. Not only will that help soothe him, it will also provide you the opportunity to tell him to stop chewing on the couch.
Special needs dogs may also be excellent candidates for monitors. Whether you just need the extra comfort that seeing your pup will bring you or if you need to monitor his activity and location, you'll be able to find the right product to ease your mind. If he tends to get into trouble by running away, you can use a GPS tracking monitor to make finding him easier.
A dog camera is also a great option if you just have an undying curiosity about your dog. You may find yourself checking in on him simply to get to know him better. You'll see what actually interests him while you're away and you'll better be able to provide entertainment, even while you.
Nest Security Cam
Meet the Nest Security Cam, a mid-priced camera that outperforms more expensive options.
Important Features to Consider
A dog monitor camera needs to do a few things exceptionally well. Here's what to look for when searching for the best dog monitor camera:
2-way cameras. This feature is a huge bonus if you plan on interacting with your dog. If your pooch has separation anxiety, this could go a long way towards making him feel more comfortable. And finding a monitor that pulls double duty for both comfort and correction is a huge bonus. So if your pup responds well to your voice commands, this is a great training tool, as well. Because you just don't get paid leave for getting a new puppy.
Indoor/outdoor. If you want to monitor your dog's outdoor behavior, then setting a monitor up outside is a great idea. This way, you can take a peek at your house-training puppy to make sure they do their business while still making dinner. This will save a lot of staring out a window! And if your dog is a digger, you can make sure to monitor his bad habit even when you're laid back on the couch.
Remote access. If you haven't looked into dog cameras before, we'll go ahead and spoil it: You're very likely going to want this feature. If you can download an app to your phone and use WiFi or your data to monitor your dog while you're gone, all the better. In fact, having remote access will allow you to use your dog camera from anywhere. So if you're at work or on vacation, you can always peek in to see what Fido is getting into. And if for no other reason, this is a great tool for satisfying your curiosity.
Night vision. This convenient feature may come in more than you plan. If you're gone longer than you mean to be, and it gets dark before you get home, you won't have to worry about not being able to check on your pet to make sure he's okay and everything is going as it should. When you're on vacation and have hired a pet sitter to come walk him a few times a day, you'll still be able to check on him before you head to bed; even when all the lights are off. And if you work third shift, regularly leaving your pooch at night, this is a must-have feature. This can even work wonders for a burnt light bulb or cloudy days. It's a good "just in case" feature for everyone and a necessary one for other pups.
Motion detection. If you're not worried about all the fuss of constantly checking in on your dog, then this may be the kind of feature you choose. A motion detection camera can be set up to send you alerts when there is movement within it's range. You can use this to determine when your furry friend is getting into something he shouldn't be or as a security feature for break-ins. You could even use this jointly to alert you when your teenager is sneaking home past curfew.
Field of vision. If your dog has limited access in your house then you likely know just where your camera is going and pointing it in the right direction will allow you access to your dog's entire area. But if your dog can move around a bit, you may want to consider a camera that can move with him. And that allows you to control its movements. If you have an open floor plan, choose an ideal location that will let you scan from one side of your house to the other and pre-program the angles so you can scan through quickly to find your dog when you check in on him.
Frequently Asked Questions
Where's the best place to buy a dog monitor camera?
Without a doubt Amazon will have the widest variety of dog monitors and cameras. Unfortunately, there are no physical stores, so you won't be able to go and physically pick one up. If you find yourself in need of a physical store, either because you can't wait for shipping or you want to actually see and touch the product before you buy it, then you are stuck looking at several stores to get the same variety.
You can try your luck at your local pet store but typically they'll have only one or two models at best. If you go to an electronics store, you may have a bit better selection, so you should try stores like Best Buy.
How much should I spend for a quality camera to watch my dog?
There's such a wide price range on pet cameras that you can spend anywhere from $30 to well over $300. Most people don't want the cameras on either extreme, either because the quality or the price are undesirable.  The adage is true for most things and certainly of dog monitors: You get what you pay for. The more money, the more features.
It's also true, however that the longer camera tech has been out, the cheaper it becomes. So you can get a high quality camera with a long list of features for right around $100.
Where in my house should I set up my dog camera?
You may find you'll need to change your dog camera location based on what your dog really does while you're gone. If his movements are limited, you'll have a better chance of getting placement right the first time. But if he has free reign of the house or even multiple rooms, you may want to hold off on a permanent mount until you can determine where he spends most his time. You may be surprised to find out what he gets up to while you're away.
No matter what room you place the camera in, you should hang it high on the wall and aim it down, allowing you maximum visual access. That way you can see anything he sees and you'll know what he's responding to and interacting with.
Can I use the camera outdoors?
Most cameras are designed to be either outdoor cameras or indoor; but some are capable of being both. Each model is different, though and you'll need to check on your specific model. It is important to note: If it does not clearly specify if it is indoor and/or outdoor, you must assume it's an indoor only camera. Base models are very rarely designed hearty enough to withstand outdoor weather.
Other Dog Monitor Cameras We Reviewed
Nest Security Cam
Meet the Nest Security Cam, a mid-priced camera that outperforms more expensive options.
We reviewed 44 other dog monitor cameras. While the options below didn't make our top 5, they're still the best of the rest and worth considering if one of our top 5 doesn't meet your specific needs. The information you'll need to compare each one is included with the listing.
Standard Dog Monitor Cameras
Amotus 2-Way Audio/Visual Pet Cam
You love when you can get the basics+ at a great price, so you're going to appreciate this dog monitoring camera: equipped with motion detection, night vision, high-definition streaming video, remote viewing, and two-way talk, this day-or-night surveillance camera keeps an eye on your dogs, from the wee morning hours and late into the night.
Key features:
Two-way talk lets you calm an anxious pup, correct bad behavior, or simply tell your pooch you love her
View 720p HD video remotely, via your smartphone, tablet or computer
360º pan and 120º tilt allows you to remotely change a camera's viewing angle
Blink Home Camera Kit with Free Cloud Storage
Meet Blink, a battery-operated, one-of-a-kind pet monitor that employs HD video, motion and temperature sensors, and a super-simple, DIY setup. The Blink app works with iOS and Android devices, and you'll love that there's never any subscription fee to pay.
Key features:
Battery-powered and totally wireless, so you can easily place your cameras in whatever rooms your pet frequents
Cameras are motion activated; the active camera is where your pet is
Free cloud storage for up to two hours of video
Dogtek Eyenimal Camera with Built-In Night Vision
If you've ever wondered what the world looks like from a dog's eye view, check out this very different kind of dog monitoring camera. See the world as your pup does, with this wearable, high-tech camera that sports built-in flash memory, night vision, 736x480p video, and autofocus, to record what your dog sees (and does).
Key features:
Choose from two recording modes: static or motion-detection
Autofocus CMOS sensor ensures a clear image, even in night-vision mode (up to 7 feet)
Rechargeable lithium-ion battery affords 2.5 hours of recording time
D-Link Day & Night Wi-Fi Camera with Remote Viewing
If you're looking for a home and dog surveillance camera in one, give this system a try: using day and night vision, WiFi connectivity, volume-activation, and motion-activation, this system hooks you up with the ability to check in on your pets and home, from anywhere, even in the middle of the night and with the lights off. You can even add a MyD-Link camera recorder (optional), to record and store your video.
Key features:
See your pups, day or night, thanks to crystal-clear imaging and low-light/night vision (even in complete darkness) of up to 16 feet
Remote access allows you to control your cameras, including pinch-zoom up to 4X
App works with iOS, Android and Windows phones and tablets
DMZOK 720p Mini Wifi Camera – Day Vision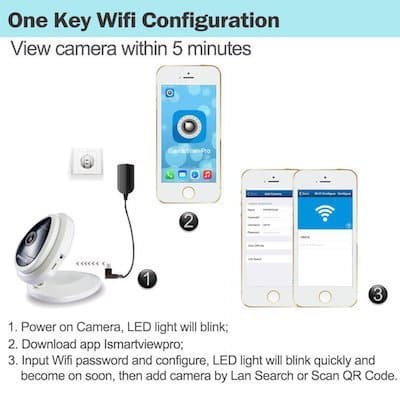 If you're looking for a budget-friendly, non-intrusive way to keep an eye on your pets, check out this mini dog monitor camera. It connects to your smart phone, sports high-def video, won't kill your WiFi connection, and has one-way audio, so you can calm, correct, or just chat with your pooch. Mobile apps are compatible with iPhone, iPad, and Android devices.
Key features:
One-key WiFi configuration is as easy as it comes: just connect the camera to your smartphone by scanning the QR code
1280x720p HD recording with H.264 compression, to ensure quality picture without using too much bandwidth'
Full 1-year warranty and lifetime technical support
HawkCam Wireless Dog Monitor Camera
Ease of use is the name of the game with this wireless camera system, which employs 720p HD video, remote streaming, and audio functionality to deliver dog monitoring at a great price. You'll deeply appreciate the lifetime warranty and, even better, that there are no subscription fees – ever.
Key features:
Watch and listen via your smartphone, tablet or computer
5-minute setup is fast, simple and easy
Lifetime warranty
These security cameras do perfect double-duty as a dog surveillance camera, thanks to 720p wireless recording and streaming and two-way audio. Not only can you look in on your pets, but your cameras record them – never again wonder which pup shredded the sofa cushion! – and you can use the chat function to hear and be heard.
Key features:
See, listen and talk with your dogs – anywhere, anytime
Smart motion detection alerts your device, whenever it detects motion
720p HD cameras, with 120º view and 360º rotation, for the highest quality videa
SD card support, so you can save all the sweetest moments
If you're looking for a slightly more robust system, check out the Pet Scout600, one of the best dog camera options on the market. It offers many of the features of its 500-level cousin, and tacks on an additional camera to better cover all your home's angles. Note that this system does not offer remote accessibility via smartphone; you must be within range.
Key features:
4 GHz FHSS wireless technology achieves a huge range of up to 520 feet
4" color LCD monitor is equipped with night vision, so you can see your pups day and night
Ease homesickness with high-sensitivity microphone that make it easy to connect and communicate with pets, even when you're far away
If you're after a dedicated dog monitor camera with all the basics, and then some: HD-quality video streaming, infrared night vision, motion-activation, in-room temperature display, two-way communication, and more. Even better, the motion-activated camera helps you catch (and video) your dogs at the perfect moment. Bonus: setup's a breeze!
Key features:
Remote HD-quality video streaming means you can check in on your pets wherever you have an Internet connection
Free app is simple to set up in just seconds
Two-way communication via high-sensitivity microphone, so you can hear and be heard
If you're looking for a dedicated pet monitor camera for in-home use, designed specifically with your dogs in mind, give Motorola's dog surveillance camera a try. You'll appreciate just-for-pet features, like two-way communication and low-light infrared LED lights, as well as the ability to easily switch between cameras. Note that this system does not offer remote accessibility via smartphone; you must be within range.
Key features:
4GHz FHSS wireless technology with two-way communication
4" color LCD screen with infrared night vision
Digital pan and tilt function, with up to 520 ft Range and an "Out-of-Range" alert
Motorola Scout1100 Indoor/Outdoor Pet Monitor
Another excellent option from Motorola's Pet Scout line, this top-of-the-line model is equipped for indoor/outdoor use, so you can record your pets both during naptime and backyard playtime. In addition to outdoor durability, the system includes upgrades like a 3.5" color LCD screen, boosted 590-foot range, and even emits soothing pet sounds, to keep anxious dogs calm.
Key features:
5″ color LCD screen with infrared night vision
Never miss a heartwarming moment, thanks to remote pan, tilt, and zoom function
For outdoor use; you can add up to four cameras for total coverage
If you'd like wireless dog monitoring with a brain, check out this well-equipped system. It pulls together quality features, like 720p HD video and a 120º wide-angle view, with great extras including two-way talk, live video feed, superior night vision, and even cloud recording, so you never lose and important video. What's more, you'll love the self-learning function, which understands sound and motion to avoid sending false alarms.
Key features:
Do it all with this fully featured system, which combines tight security (enterprise-level security and access rights share) with night vision, two-way audio, and sound & motion detection
Go hands-off: self-learning smart notifications will alert and notify you to sounds, movements, or camera changes
Top-quality night vision recognizes movement and records video, even in the darkest rooms
This wireless camera system uses motion detection to record only where your dogs wander, and then employs two-way talk to let you comfort, encourage and otherwise interact. You can even here their happy barks, when they realize you're just a smart app away.
Key features:
One-touch setup couldn't be easier
Remote video and audio means you can not only see your pets, but also talk with them (and have them talk back)
Set your cameras to activate upon motion detection, so you only record when your pets are in the room
If your pup hates being home alone, relieve some of the stress with Petcube, an interactive dog monitor camera with 1080p HD video and night vision. This camera not only puts a visual on Fido, but also lets you talk and play with him, via a camera, microphone and toy laser you control with your smartphone.
Key features:
A wide-angle, HD lens lets you see your pets, no matter where they are; you can even share photos and videos
Two-way audio lets your pets hear your voice (and you to hear theirs)
Built-in laser toy gets your pets playing
iOS and Android compatible
Furbo Dog Camera with Two-Way Audio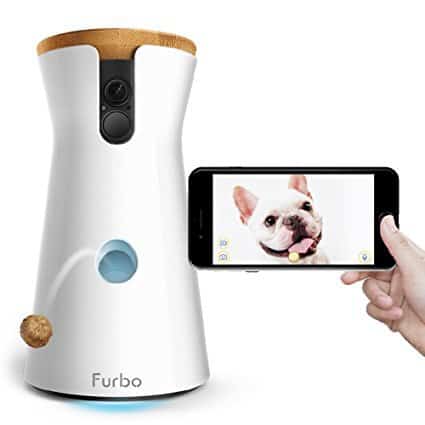 Record quality video, then view it from anywhere, thanks to this wireless dog monitor camera system. Two-way audio means you can chat with your pups remotely; night vision means you can check in on them any time; and easy setup means you'll do little more than plug in and download an app, to get you recording immediately.
Key features:
Full-duplex, two-way speech, so your pup can hear you (and you can hear her response)
Remote monitoring via smartphone (iOS or Android) or desktop computer
1080p video resolution and connects via Wi-Fi or Bluetooth
Vimtag® P1 Premium IP Wireless Camera
If you're looking for a high-end home and dog surveillance camera system that won't break the bank, you'll get the best of both worlds in this system. High-definition video, superior pan/tilt/zoom, clear night vision, motion detection, and remote accessibility are all available. Even better, installation is a snap via QR code scan or the 3-minute plug-and-play option.
Key features:
Cloud storage uses smart technology to sync your video (box purchased separately)
HD-quality video (1280x960p), with 320º pan, 120º tilt, and 4x zoom, delivers high quality streaming video from every corner of your home
Rest easy on late nights; superior night vision delivers a super clear image
Wansview 1080p WiFi Pet Monitor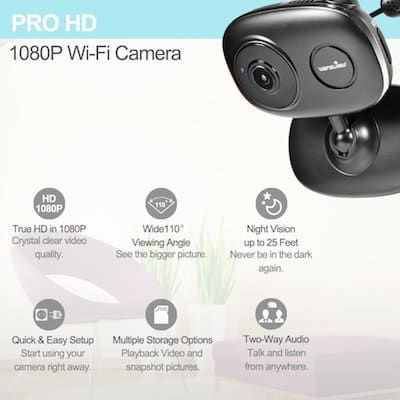 This fully equipped, full HD WiFi camera is an excellent option for monitoring your dogs while you're away. Smart technology connects the camera feed to your phone or tablet, and an app enables full functionality: HD video streaming, two-way audio, and even temperature and humidity display, to ensure that your pets are comfortable, even in extreme weather.
Key features:
Save your favorite moments, recorded onto the Micro SD card (max 64GB)
1080p pro HD display provides superior video resolution (30 fps), even in night vision mode
3-step setup is as simple as downloading the app and scanning the QR code
YI Home Camera with Motion-Detection
Simple setup gets you online and ready to monitor, with this camera to watch your dog and home. Great features including 1280x720p recording, a 111º wide-angle lens with 4x zoom, a motion detector, and even infrared sensors to enable night vision. Set your system to alert you to bad behavior, then use the two-way audio to remind your dog that chewing on the furniture is prohibited!
Key features:
Capture clear audio & visuals of beloved pets, thanks to 720 HD video and a high-quality microphone
Know when your pets go somewhere they shouldn't! Real-time streaming delivers pre-set alerts to your phone, whenever motion is detected.
Built-in, single-band 2.4 Ghz WiFi offers reliable access to your video feed
Zebora WiFi Night Vision Camera
Keep in touch with your pets morning, noon and night, with this easy-to-use, easy-to-install WiFi camera. You'll love the 960p HD remote live streaming, which covers every angle with 355º pan, 120º tilt, and 4x zoom, as well as night vision (up to an impressive 33 feet!), two-way talk, and intelligent motion detection with alerts. You can even record and play back your favorite photos and video, via the local MicroSD card.
Key features:
Stay constantly by your dog's side, with streaming video and two-way audio
Your choice of plug-and-play or QR code installation gets you up & running in seconds, then connects your system to your smartphone
Full 1-year US warranty and lifetime support
Zmodo 1MP 720p Pan & Tilt Smart Camera
If you're looking for a fully equipped smart camera with dog monitoring capabilities, your search may be over. Equipped with pan & tilt functionality, microSD card recording, smartphone streaming, and 720p HD recording, this camera has what you need to keep and eye on your furry loved ones. Two-way audio even lets you chat with your pups, comfort a nervous Nelly, and even tell them to stop chewing the cushions.
Key features:
Even the best hiders can't hide! Remote pan & tilt can hit almost any angle, giving you full view of every corner of your home.
Easy Smartlink setup gets you up & running just a few seconds, with no configuration necessary
3-year US warranty and lifetime support
Zmodo Camera with Two-Way Audio
When you're away from home, you don't have to be away from your pets, thanks to this dog monitor camera. Equipped with two-way audio, 115º field of view, versatile WiFi frequencies, and superior video compression, this system offers much of what you need, without all the fluff you don't.
Key features:
Compressed video files take up less space, so a 16GB SD card can record an incredible 300 hours of video
A fast connection gives you high-speed video browsing, even if you don't have a lightning-fast network connection
Quick & easy setup gets you online and ready to monitor, via tablet, smartphone or desktop computer
Ball Cameras for Dogs
When you're not at home but wish you were, this fully equipped pet surveillance monitor does the trick with HD-quality video, live streaming, and remote-accessibility via your smartphone or tablet. Conveniently offered in a 3-pack, so you're immediately ready to install (it's easy!), setup, and look in on your pets, no matter where they are in your home.
Key features:
Streaming video at 1280x720p HD quality, for crystal clear images; H.264 compression means smaller file sizes that allow you to store 3-5x more video than you could with MJPEG compression
For overly anxious pets and boisterous, not-yet-trained puppies, two-way audio offers a way to hear and be heard, whether it's to give a command or a soothing word
Connect wired or wirelessly, as your home network requires
Amcrest IP2M-841 ProHD 1080p WiFi Pet Camera
Never be too far away from your pooches, thanks to this dog monitoring camera, which uses WiFi to link your smartphone with your home's video feed. Easy setup gets you up and running quickly, while night vision, remote pan/tilt, two-way talk, a 90º viewing angle, enhanced digital zoom, and auto-notifications keep you constantly apprised of the situation at home.
Key features:
Full HD (1080p) video at 30 fps, for the highest quality video (which you may record to microSD card)
Superior field of view, thanks to the wider-than-average 90º viewing angle, as well as remote pan & tilt
Fast & easy WiFi setup via iOS or Android smartphone, using the included and free app
DIY home security/surveillance cameras often pull double-duty as pet monitors, and the Bavision WiFi IP Camera is a highly rated dual agent. Using your smartphone, tablet or PC, you can hook into the camera's feed to check on your fur-babies, no matter where they are in the house.
Key features:
A 60-second wireless setup gets you up and running in a flash
Live-stream video from any compatible mobile device or computer
Two-way audio lets you talk to (and be talked to) your pets
Pan/Tilt: 355º horizontal and 120º vertical, to see anywhere in your home
DMZOK 720p Mini Wifi Camera – Day + Night Vision
If the mini camera above sounds right up your alley but you need more than night vision, give this version a try. This is basic camera to watch your dog: without the frills but with the things you need, like high-definition video, easy WiFi connect, H.264 compression, and low-light and night vision, so you can see (and talk) with your dogs, whether they're in a dark room or you're away at night.
Key features:
One-key WiFi configuration is as easy as it comes: just connect the camera to your smartphone by scanning the QR code
1280x720p HD recording with H.264 compression, to ensure quality picture without using too much bandwidth'
Full 1-year warranty and lifetime technical support
Home Valor® GuardianAngel Monitor
Does your fur-baby need a guardian angel while you're away? Home Valor understands, and delivers with this solid option: a 960p HD IP camera, automatic transition from full-color day vision to illuminating night vision, and 355º pan and 120º tilt. You'll love the pre-set positions, which let you angle the camera to four of your most-requested views.
Key features:
Receive automatic alarms to your smartphone, when your cameras detect motion
Live monitoring with night vision means you can check in on your dogs, no matter the time or light conditions
Compatible with iOS and Android smartphones and tablets, as well as desktop computers
This bargain dog surveillance camera offers high-def video, a steady 25 fps, a strong WiFi antenna, and remove-access features like 4x zoom, 320-degree pan, and 120-degree tilt. And if you install your cameras in rooms where dark is key, you'll appreciate Night Mode, which turns off the camera's lights while allowing it to remain fully operational, thanks night vision from 12 infrared LED lights.
Key features:
Full PTZ controls, including 320-degree pan, 120-degree tilt, and 4x digital zoom
12 infrared LED lights (for night vision) ensure an operational range of 32 feet
Forget complicated IP setup; install your camera by scanning a simple QR code
iFamCare Helmet Night Vision Camera with Built-in Laser
One of the best dog camera options out there, iFamCare does a great job blending the features you need – 1080p full HD video, a full 360º view, night vision, and two-way talk/listen – with a lot of what's on your wish list, including sound and motion alerts, photo- and video-records, air-quality sensor, and even a pet laser, so you can play chase, even when you're away from home.
Key features:
Super-simple installation in under 30 seconds
Smart sound & motion visual alerts, delivered to your iOS or Android device
Pet laser is perfect for interactive play while you're away
Juning Day/Night WiFi Camera System
If you think the best dog camera is a relatively simple affair – high-quality video streaming, remote access, wide angles, two-way audio, and day/night vision – then this one's for you. You'll enjoy whole-room coverage with 270º horizontal pan and 80º vertical tilt, with 720p recording capabilities, plus presets to follow your desired view path, this is a basic camera to watch your dog – and chat with him, if necessary.
Key features:
720p HD video recording leverages high-quality optics, auto-exposure, auto-white balance, and contrast-rich night vision
Apps enable remote connection; compatible with iOS and Android smartphones and tablets, as well as desktop computers
Super simple setup via one-key WiFi configuration
Ouvis Veezon VZ1 Wireless Camera
Now you can check in with your furry friends, anytime and anywhere via your computer, tablet or smartphone. This handy wireless camera is equipped with two-way audio, live-streaming, 30-foot night vision, and multiple (and customizable) presets, including smart alerts.
Key features:
Easy 60-second setup with QR Scan technology
Record high quality, 720 HD video, day or night, thanks to IR night vision
Multiple preset support, so you can set time triggers or ITTT scenarios
See everything with 355º pan and 90º tilt
Leave your worries behind, when you leave your pets home alone. This real-time dog monitor camera uses your home's WiFi connection (with advanced H.264 technology, to minimize bandwidth usage), 1280x720p high-resolution recording, and real-time streaming video to keep you apprised of what's going on at home. Infrared night vision even records well in low light.
Key features:
Remote-access your cameras to control pan, tilt and zoom
Two-way audio talkback means that you can hear your pups and, more importantly, lets you talk, sooth, and comfort them, no matter where you are
Access your dog surveillance camera via smartphone/tablet app (Android and iOS) and desktop
If you're after a well-equipped, sleek camera on a budget, give SkyGenius a look. This dog surveillance camera employs all your basic functions, like HD-quality recording, remote pan and tilt, WiFi streaming, and motion detection, and adds on you'll-appreciate-them extras like two-way talk, infrared night vision, remote-access pan/tilt/zoom, and the easiest setup imaginable.
Key features:
Remote-access pan, tilt and zoom functions to spot your pets, no matter where they are
Two-way audio talkback is helpful for calming an upset pet, or for reminding Fido that he's not allowed on the sofa
Monitor via smartphone app or any computer with an Internet connection
When is a baby monitor more than a baby monitor? When it offers pet-monitoring capabilities, of course! This basic monitor offers video recording and remote-streaming, via the free app for iOS and Android. The two-way mic and night vision upgrade this monitoring system to round-the-clock and under-any-circumstances capabilities.
Key features:
With the two-way microphone, you can not only hear your pets, but also speak with them to offer a comforting word or gentle reprimand
Night vision lets you check on pets, even in the dark
Simple setup takes just a few minutes to install your cameras, then connect your system to your smartphone
If you're after high-definition dog monitoring, but don't want to shell out an arm and a leg, consider this system: 720p video, superior pan and tilt, microSD recording, and live video streaming to your smartphone or tablet are just the beginning. You'll especially appreciate the dual-stream technology, which enables HD recording with smooth delivery to your phone – no more choppy video!
Key features:
Resolution up to 1280x720px (720p)
Pan & tilt achieves 350º x 100º views, to cover every corner of your home – even at night, thanks to the 12 infrared LEDS for night vision
Live video streaming via smart phone, tablet or via web browser

YI Dome Camera Pan/Tilt/Zoom Wireless IP Indoor Security Surveillance System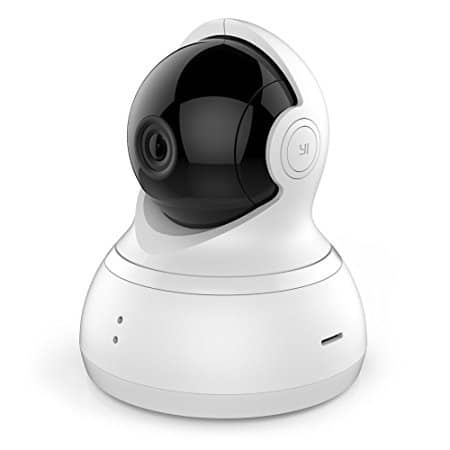 If you're after a dog monitor camera with extra safety options, the buck stops here. Offering not only 720p video streaming with smartphone access, this system also hooks into your existing safety devices (like smoke detectors) to both watch and watch over your pets.
Key features:
Enjoy crystal-clear, 720p real-time streaming in every corner, thanks to 345º horizontal pan and 115º vertical rotation via remote control
Simultaneous viewing means that pet parents and grandparents can all check in on Fido
Intelligent alarms hook in with your gas detectors, smoke detectors, and window/door alarms, to provide a full surveillance and security package
With clear 720p HD streaming video, 355º pan and 120º tilt, this dog monitor camera offers a superior field of view and recording quality. Good enough without being more than is needed, the video doesn't take up all your bandwidth, and yet offers full, remote access (even to zoom, tilt and pan) via your smartphone.
Key features:
Simple app is designed to be very easy to use, even if you're not big on technology and smartphone apps
Incredibly easy setup via QR code scan or WiFi setup
30-day warranty
Feeder/Treat Dog Monitor Cameras
A different take on pet monitoring, this is a smart feeder: completely reliable, this food bowl can dispense wet or dry food, as well as treats, whenever you designate. And with the built-in webcam, you can check that Fido is fed and happy, although real-time notifications will automatically let you know when food and treats have been dispensed.
Key features:
60-second WiFi setup
The only smart feeder to dispense wet food, dry food, treats and medication, in six compatments
Check in on your pets via the built-in webcam
Compatible with iOS, Android and Windows phones and tablets
For additional options, see our list of The Best Automatic Cat Feeders.
If you've already installed a dog monitor camera, you may have noticed a common problem: When you pooch runs out of food, even the fanciest camera can't fill his food dish! Enter this techy smart-feeder, which you can not only program to dispense food at set intervals, but can feed with a swipe on your smartphone. The built-in camera, microphone and voice-call interaction options also connect you with your pet, whenever he's snacking.
Key features:
Optimize your dog's diet, by recording daily feeding, setting exact food weights, and then activating the auto-generated health curve, to adjust accordingly
Enjoy real-time interaction via the HD camera, sensitive mic, high DB speaker, and voice calls
60-day warranty
If you're after more than just a camera to watch your dog, if you need to have it all and you need it to be tailored specific to pet-parents, the Pawbo delivers with high-def wireless cameras, two-way talk, a laser and sounds to get your pets playing, and a treat dispenser. It's almost like you're home with them (minus the snuggles).
Key features:
720p streaming and two-way communication makes it easy to see and talk with your dogs
Video recording capabilities make it easy to download favorite videos into cloud storage
Get your pets moving with the built-in pet laser, sound effects, and treat dispenser
Share photos instantly via built-in social media options
Compatible with iOS and Android
If you want to more than just have eyes on your pets, you're going to love the Petzi Treat Cam, one of the best dog cameras on the market today. This smart device combines a camera and treat dispenser, so you can connect with your dogs – see them, talk to them, and reward them with a treat.
Key features:
Combination camera and treat dispenser, with high quality audio
Capture photos of your pet to share with friends and family, or share online
Petzi hooks in with your smartphone or tablet
Health and Fitness Monitors/GPS Dog Collars
Abbott AlphaTRAK 2 Blood Glucose Monitoring System
If your dog has diabetes, you understand the importance of regular and constant blood glucose-monitoring. This starter kit does the trick with easy-to-use testing that requires only a tiny blood sample and provides results in just seconds. This glucose monitor gives results as accurate as your vet's monitor.
Key features:
Designed specifically for use with dogs and cats
Included with your meter is a lancing device, 30 lancets, 25 test strips, and a convenient carrying case
Achieve the same accuracy as your veterinarian
You love your pup, so you want her to be healthy. The problem is, you can't always be there to throw a ball, take her for a walk, or encourage her to run around. That's where the FitBark dog activity monitor comes in: it's an exercise partner for your furry friend, combining an aesthetic design with a sensor that monitors activity and sleep.
Key features:
24/7 monitoring gives you a full and accurate picture of your dog's overall health, from sleep to exercise
Change in doggy behavior? Compare past habits with current activity, sleep, and playtime, and identify the problem
Tiny monitor is both attractive and waterproof
Here's dog monitoring of a different kind: a pet activity tracker, similar to what you use to track your own steps, exercise and activity. Now, even when you're away from home, you can check in on Fido – mood detection, sleep tracking, calorie expenditure, health analysis, and other observations allow you to track his overall wellbeing.
Key features:
Bluetooth 4.0 BLE technology connects you with your pup via free app (iOs or Android), without wasting energy or bandwidth
Keep peace of mind with automatic updates about your dog's day, delivered directly to your phone
Simple setup installs in minutes
Pod 3 GPS + WiFi Pet Tracker & Activity Monitor
Offering the smallest and lightest activity monitor/GPS tracker for dogs, this tech device is a great addition to your dog monitor camera system. Enabled with WiFi capability and GPS tracking, Pod monitors and record's your dog's activity and his exact location. Note that while Pod is WiFi-enabled, it depends on your 2G coverage; be sure to use the coverage checker tool (on the Pod website) before purchase.
Key features:
Dual GPS functionality not only tracks your pet's activity, but can locate him in real-time, indoors and outdoors, with the click of a button; you can even enable escape alerts to your phone
Activity monitoring tracks your pet's fitness levels, while recording up to 8 hours of Fido's "secret" life
Works in 175 countries, and even enables location between countries
More Pet Product Reviews: