Pug or poodle, the breed doesn't matter, they all look adorable (and funny) dressed as a cowboy or Superman. Dog Halloween costumes spread the fun and joy of Halloween to everyone in your family, including the furry four-legged one. Costumes come in all shapes and sizes, and they let you turn your Shitzu into a princess or your lab into a lion.
We reviewed dozens of dog Halloween costumes in our search for the best of the best. We looked for costumes with a wide range of sizing options. After all, you might want to dress up your Mastiff as much as you do your Dachshund. But, we also took comfort and dressing ease into consideration.
UPS Pal Dog Costume
Many a dog loses his cool when a delivery man comes to the door. The irony of a costume transforming him into his favorite foe (or friend) adds to the Halloween fun.
It's hard not to love the UPS Pal Dog Costume. The quality and creativity make it a standout. The foam-filled arms even let your dog deliver a package. However, it's easy to get on and comfortable to wear, although it might take some dogs extra time to get used to the hat.  This costume is perfect for the pooch who can't help but welcome (or scare) every delivery person that comes to your door.
The 5 Top-Rated Dog Halloween Costumes
*Ratings are from Amazon at the time of publication and can change
Best Dog Halloween Costume Overall: UPS Pal Dog Costume by California Costume Collection
The UPS Pal Dog Costume makes the perfect get up for the dog that goes berserk when the delivery person arrives. Whether your dog loves the UPS truck or tries to protect his territory, he'll look adorable (and hilarious) with his very own brown suit and package ready for delivery. We love the foam-filled arms that make it look like your dog is off to deliver a package. While normally a delivery person may send him into overdrive, on Halloween, he's the special visitor.
With three measurements – neck, chest, and back length – you can pick one of four sizes, which fit breeds from Bichon Frises to Labrador Retrievers. The costume is made of comfortable polyester fabric that doesn't restrict movement. Be sure to check the measurement chart when ordering. You may need to add an inch or two to the measurements if your dog has long hair. Most dogs don't have a problem adapting to the shirt, but the hat might take some getting used to. But, once the break-in period is over, your dog can happily welcome trick-or-treaters and other Halloween visitors.
UPS Pal Dog Costume by California Costume Collection Key Features:
Includes hat and shirt
Four (4) sizes, fitting chest measurements between 12 and 28 inches
Comfortable polyester fabric
Best Small Dog Halloween Costume: Alfie Pet Oscar Formal Tuxedo
The Alfie Pet Oscar Formal Tuxedo gives you so many costuming options. The pinstripe jacket is fully attached to a white shirt, though they have separate snaps for a fully layered look. It comes with both a tie or a bowtie. This tuxedo comes with fine details like a full satin lining and brass buttons. The jacket itself is made of real tuxedo fabric to give it the right heft and drape. You do have to snap the shirt first then the jacket, but it's not hard to do.
We love that it comes in eight sizes, which makes it doable for both large and small dogs, even though it's our top pick for the smaller breeds. While it may not fit every dog, you have a good chance of finding a size that will work. The sizes span a chest girth from 14 to 35 inches. You may have to order up a size if you have a long-haired dog as their hair adds inches to the chest. This tuxedo isn't just for Halloween. It can work for weddings, parties, birthdays and other special occasions. Anything that's multi-purpose gets extra points in our book.
Alfie Pet Oscar Formal Tuxedo Key Features:
Eight (8) size options, fitting chest measurements between 14 and 35
High-quality tuxedo fabric with satin lining
Includes a tie and bow tie
Best Budget Dog Halloween Costume: NACOCO Pirate Costume
NACOCO Pirate Costume
Ahoy mateys! With this shirt and hat, your dog goes from ordinary to a hook-handed pirate of the open seas.
The NACOCO Pirate Costume adds sea-worthy hilarity to Halloween. The shirt includes foam stuffed arms and one hand with a hook. Top it off with a pirate hat, and a tiny pirate will be trouncing through your house come Halloween. The shirt and hat are made of soft cotton, so they shouldn't irritate your dog's skin. A Velcro closure and elastic along the bottom of the chest make sure it fits without restricting movement.
You'll have to do some careful measuring to make sure you get the correct size. Thank goodness you've got four sizes from which to choose, which generally fit dogs ranging from Pomeranians to Pit Bulls. However, your dog's measurements will determine whether or not a pirate is in his future.
NACOCO Pirate Costume Key Features:
Includes shirt and hat
Cotton fabric with foam filled arms and hand
Four (4) sizes, fitting neck measurements between 11 and 21.3 inches
Best Large Dog Halloween Costume: TOMSENN Dog Lion Mane
TOMSENN Dog Lion Mane
Your dog may be ferocious, but when wearing this fluffy lion's mane, you won't be able to stop the laughter.
A canine wearing the TOMSENN Dog Lion Mane transforms from a person's best friend into the king of the jungle. He may be a dog, but he'll make an awesome feline, too. This mane has ears and fits medium to large dogs with a neck circumference range of 23.5 inches to 31.5 inches. It also includes an elastic lion tailpiece to complete the look. It's made of wool and polyester fiber, but, thankfully, it's fairly easy to clean.
The mane slips over the dog's head and has enough stretch to fit comfortably. An elastic band tightens around the head to hold it in place. Like other costumes, it may take time for your dog to get used to it. However, most don't seem to mind once they've adjusted. The tailpiece, on the other hand, seems to be more problematic as it tends to slip off the end of the tail, or the dog pulls it off.
TOMSENN Dog Lion Mane Key Features:
Fits medium to large dogs with a neck circumference between 23.5 – 31.5 inches
Made of wool and polyester
Includes elastic-fit tailpiece
Best Funny Dog Halloween Costume: DC Comics Wonder Woman Pet Costume by Rubie's
The DC Comics Wonder Woman Pet Costume by Rubie's features a dress and headpiece that turn your dog from ordinary into a fan favorite. Wonder Woman's iconic red, white, and blue complete with stars and the Wonder Woman logo look amazing in this officially licensed costume.
The Wonder Woman costume comes in six sizes, and Rubie's provides an excellent video to help you order the correct size. Take measurements based on the training video and follow the recommendations for sizing up to make sure your dog can move comfortably. There's a bit of stretch to this costume, so your dog can move freely and maybe even forget about her superhero status.
DC Comics Wonder Woman Pet Costume by Rubie's Key Features:
Six (6) sizes and detailed sizing charts and video
Includes dress and headpiece
Stretchy fabric for a better fit
Who Should Buy a Dog Halloween Costume
Halloween used to be a kids-only holiday, but it's become a family affair that often includes your four-legged friends. A costumed dog makes a great trick-or-treat companion or greeter when little hands knock on the door. And, what themed costume ensemble doesn't look better with a dressed-up pup? If you love Halloween, want to rock your neighborhood Halloween party, or simply want a good giggle at your dog's expense, a dog Halloween costume is a solid investment.
Halloween costumes are a fun way to involve your pet in the holiday. They won't break the bank, and chances are you can use it year after year since your dog only wears it for one night. Okay, two nights if you decide to take him to a party too.  Some costumes can even be used for other occasions like weddings or birthdays. A dog Halloween costume is really just another way to integrate your dog into your life.
UPS Pal Dog Costume
Many a dog loses his cool when a delivery man comes to the door. The irony of a costume transforming him into his favorite foe (or friend) adds to the Halloween fun.
Important Features to Consider
A dog Halloween costume should cover a few basic features. Here's what you need to keep in mind when selecting a costume for your dog:
Size and fit. Size and fit have to be two of the most important things to think about. Costumes should have a sizing or fit guide to help. Many manufacturers recommend adding two inches to your dog's measurements to make sure the costume fits comfortably without restricting movement. If your dog falls between sizes, size up for his comfort. While a costume may take some getting used to, it shouldn't leave marks or get in the way of your dog's normal activities. Stretchy fabrics, elastic bands and cuffs, and Velcro closures (so they open if your dog gets caught or it's too tight) can make them more comfortable for your dog.
Fabric. Durable, stretchy polyester and cotton are usually the most comfortable for your dog. Cotton, however, wins for breathability. For those who live in cool climates, various fleece costumes can be fun and keep your dog warm. Faux fur is often a part of Halloween costumes, but be sure it's attached to breathable fabric, so your dog doesn't overheat.
Multi-purpose costumes. A devil or witch may be fun at Halloween, but some costumes like a tuxedo, lion's mane, or superhero costume could be multi-purpose. If your dog comes with you to special events, a formal tux or dress could make an adorable addition to your party. Animal and superhero-themed costumes could make an appearance at birthday parties. To get the most use out of your dog's costume, think about other holidays or events where you might like to have your dog wear it.
Frequently Asked Questions
Is it bad to dress your dog?
It's not bad to dress your dog as long as he doesn't seem to mind. Even if he's reluctant, as long as it doesn't make him incredibly unhappy, anxious, or aggressive, he'll probably get used to it and think nothing of it after a while.
Do dogs like getting dressed up?
Since dogs can't see themselves and can't take pleasure from their appearance, they probably don't care one way or the other. However, dogs can sense when you take pride or pleasure in their appearance. You're probably more attentive and fun when he's wearing a costume. Plus, your dog loves to be where you are. If wearing a costume means he gets to ride in the car or participate in a party, you can bet he likes it. It's more about what the costume does for your relationship with your dog than what it does for your dog alone.
What should I be for Halloween with my dog?
What's more fun than Batman and Robin or Dorothy and the cowardly lion? Coordinating your costume with your dog can be fun, festive, and downright hilarious. If you're not sure where to start, look at the world in pairs. What are a few classic pairings or groups that you could do? You could be a box of crayons or a classic superhero pairing. Pirates, cowboys, fruit, or even a Disney theme can have the two of you going together like peanut butter and jelly. You could even switch places with you dressing like a dog and your dog dressing up like you.
How do I dress my dog up?
Dogs may not like wearing a costume at first. However, if you approach it like other dog trainings, you'll have a better chance of success. Set yourself up for a positive experience by putting him in a good mood. Make sure he's exercised, fed, and well-rested before putting on the costume.  Put on the easiest part of the costume first. That could be a cap, shirt, or collar. Go slow, like one leg at a time, and give him a treat after each successful step.
Once you've got that part of the costume on, try more uncomfortable parts like a hat, crown, or other headpieces that will cover his ears. Again, once you put it on, give him a treat. Then, stand back and let him get used to it. Give him a treat as he successfully keeps the costume on. You may need to distract him if he tries to roll, scratch, or bite off the costume. Try taking a walk or playing fetch, so he's not thinking about the costume. Then, you guessed it, give him a treat.
Other Dog Halloween Costumes We Reviewed
UPS Pal Dog Costume
Many a dog loses his cool when a delivery man comes to the door. The irony of a costume transforming him into his favorite foe (or friend) adds to the Halloween fun.
We looked into 20 other dog Halloween costumes. While these didn't make our 5 best dog Halloween costumes list, they still stood out for their quality, sizing options, and funny factor. We've included the information you need to compare and decide whether one of them will be at your next holiday party.
Small Dog Halloween Costumes
iChoue Pet Hoodie Dinosaur Costume
The combination of the hoodie with the adorable dinosaur tail makes this costume hard to resist. We recommend it for small dogs, but it comes in large dog sizes, too.
Key Features:
Machine washable cotton fabric
Five (5) sizes
Cute, zip-up hoodie style
Cost: $28
Hogwarts has a new student. This adorable costume includes tiny glasses.
Key Features:
Four (4) sizes
Velcro closure
Lightweight and easy to wear
Cost: $12
Simple but adorable, this shirt transforms your small dog without looking too much like a costume. It can be paired with a hat to make it a lumberjack or simply add glasses for a sophisticated style.
Key Features:
Eleven (11) sizes that work for small or big dogs
Nine (9) color options
Comfortable cotton fabric
Cost: $21
Kuoser Suit and Bow Tie Costume
This isn't the only suit on our list, but this one's designed specifically for smaller dogs.
Key Features:
Cotton blend fabric
Button details
Single piece jacket, shirt, and bow tie
Cost: $13
Get ready for your little cowboy to rustle up some cattle. This adorable costume's foam-filled arms and lasso add a new level of humor.
Key Features:
Four (4) sizes
Polyester fabric
Foam-filled arms with lasso
Cost: $16
NACOCO Cowboy Rider Dog Costume
This costume comes in four sizes, but there's something so adorable and funny about a small dog carrying a cowboy through his herd. We love the look and easy fit of this costume.
Key Features:
Four (4) sizes
Velcro closures
Easy to fit around neck and chest
Cost: $16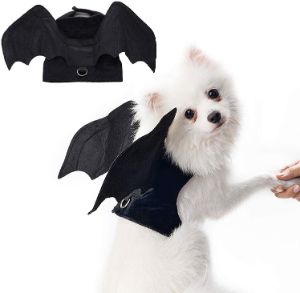 This is another costume that works for small and large dogs. However, your lap-sized pooch will look especially fierce when he's ready to take flight.
Key Features:
Three (3) sizes
Velcro closures
D-ring on back of costume
Large Dog Halloween Costumes
Casual Canine Lobster Paws Costume
Head under the sea with a fun lobster costume that will definitely spice up your Halloween.
Key Features:
Seven (7) sizes for small to large dogs
Made of polyester fabric
Velcro closure
Cost: $18
DC Comics Superman Shirt and Cape by Rubie's
Your dog will be ready to save the day in this fun, comfortable Superman costume.
Key Features:
Six (6) sizes
Detailed size chart and fitting instructions
Long, full-body cape
Cost: $25
Evursua Large Dog Tuxedo Costume
Your dog can walk you down the aisle or blend in with black-tie dinner guests.
Key Features:
Three (3) sizes
Coat, shirt, and bow tie are all attached
Comfortable cotton fabric
Cost: $22
FLAdorepet Large Dog Dinosaur Costume
Kids will love taking a stegosaurus with them around the neighborhood. This costume keeps your dog warm, too.
Key Features:
Five (5) sizes, all intended for large dogs
Snap closures
Made of short fleece
Cost: $25
Gimilife Disney Stitch Costume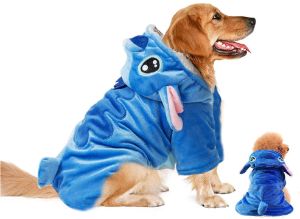 Warm, simple, and delightfully Disney, this costume will keep your dog warm and cozy even when it's blustery outside.
Key Features:
Five (5) sizes
Comfortable shorn velvet and sponge fleece material
Velcro chest closure
Funny Dog Halloween Costumes
A simple design lies underneath the stripes of this fun costume. The hood and snap closures are easy to use, so you can quickly get your dog ready for trick-or-treating.
Key Features:
Snap closures
Includes antennae headband and mesh wings
Easy fit front leg holes
Cost: $17
Bull Dog Costume by Zoo Snoods
If you have a bulldog, you definitely need to take his name literally. The play on words will certainly bring a smile to your neighbors and friends.
Key Features:
Three (3) sizes
Slides over your dog's head and neck
Made of soft yarn
Cost: $27
Business Suit Pet Costume by Rubie's
Rubie's does it again with a fun business suit for pets. Your dog can be a CEO, the president, or ready for a formal occasion.
Key Features:
Six (6) sizes
Single piece suit, shirt, and tie
Manufacturer provides detailed measuring instructions and sizing guide
Cost: $20
Casual Canine Glow Bones Costume
You can't go wrong with a classic Halloween skeleton.
Key Features:
Five (5) sizes
Two pieces, including hood and shirt
Fitted front and back legs for a better fit
Cost: $21
This simple costume keeps your pet warm while transforming him into one of his wild relatives.
Key Features:
Fits small to medium dogs, weighing 15 to 60 pounds
Soft, breathable yarn
Protects ears and adds warmth
Cost: $20
Baby shark just found its way into your home. This fun costume can also keep your pet warm on a chilly Halloween night.
Key Features:
Elastic leg holes
Two (2) colors and six (6) sizes
Warm microfiber fabric
Cost: $13
If you live in a cool climate, this bear costume looks hilarious and keeps your pup warm on a cold Halloween night.
Key Features:
Four (4) sizes
Adjustable drawstring around chest
Soft, comfortable fabric
Cost: $34
Spider PUP Costume by California Costume Collection
A giant spider is enough to send children running on Halloween. When it's your adorable pup, their screams will quickly turn to laughter.
Key Features:
Includes two pieces
Made of polyester fabric
Four (4) sizes
Cost: $27