One of the first things you'll need to do when you bring Fido home is pet-proof your home. You'll need to keep your little guy safe from things that can hurt him… and protect your things from him, too! You'll need to keep puppy in areas designated for him and gates allow you to do just that. When you're shopping, you'll notice a lot of these gates will say "infant" or "child-proofing." Don't worry; baby gates work for your furry babies, too.
We reviewed dozens of indoor dog gates to identify the best of the best. We looked at free standing gates as well as those that mount permanently. We found walk-through gates and pressure ones, too. If you're looking for the best gate to keep your dogs where they need to be in your home, look no further – there's a gate on this list that works for just about any configuration you may need.
Early in our research, we determined the Regalo Easy Step Walk Thru Gate simply had to be our top pick. With its mounting bumpers and pressure mounted design, along with its extended width and safety lock, it stands well above its peers.
The 5 Top-Rated Dog Gates
*Ratings are from Amazon at the time of publication and can change
Our Top Pick: Regalo Easy Step Walk Thru Gate
The Regalo Easy Step Walk Thru Gate is a walk-through gate that you can open with just one hand, making it especially useful if you're also wrangling small children or often have your hands full. It locks in place with a safety latch that means your fur babies won't be operating it, to be sure. In fact, if you're only using it for your pup, you may not even need to use the safety lock, and just latching will suffice. (Without opposable thumbs, it'll be difficult for your dog to open this, no matter how smart he is.)
Because of the installation options, this gate is probably best described as semi-permanent. While it is pressure-mounted, it also comes with hardware to drill additional bumpers into the wall if you're so inclined and while that doesn't keep your walls 100% unscathed, it does make the damage to the walls minimal. So rather than gaping dents and holes where the suspension has pushed into the wall over time, you'll just have small screw holes, easily repaired by a touch-up. And to add to it's appeal, the bumpers also mean that you can take the gate down when the need arises. So if you have a party, you won't need to ask your guests to learn how to operate a safety gate.
There are an impressive number of customer reviews on Amazon, nearly 10,000. And while that leads us to take great confidence in the accuracy of the overall rating (4.2 stars) it also makes it rather obvious why it's Amazon's #1 bestseller for indoor safety gates, and why it's our top pick.
Regalo Easy Step Walk Thru Gate Key Features:
Wall-saving pressure mount
Steel construction
Walk-through gate
Our Runner Up Pick: Evenflo Soft and Wide Gate
The Evenflo Soft and Wide Gate is Amazon Choice for both "mesh baby gates" and "baby gates extra wide" and with just one look, you'll be sure those titles could be applied to fur babies, too. It is undoubtedly a no-muss, no-fuss gate. It installs simply and fits nearly all your basic needs. If your pet is ambitious, this gate may be knocked or jumped over; it is only 27 inches high, but for the well-trained or small dog, it's the complete package.
The fabric material will allow you to machine wash away any stains, but that also means your pup can push on it, so it may not be the right choice for the top of the stairs or for a puppy still training. But this gate may be perfect for your dog's every day needs, especially if all he needs is the physical reminder not to go to a certain area. It will work as a wonderful deterrent but we can't deny it will work best with a well-behaved pooch.
Sitting at an overall rating of 4.3 stars on Amazon isn't bad, but doing so will well over 1,000 customer reviews makes it all the more appealing. This gate may not be for all dogs, but for the right dog, it can be absolute perfection.
Evenflo Soft and Wide Gate Key Features:
No tools required; fast and easy install
Non-marring rubber bumpers to prevent wall damage
Expand from 38″-60″ wide
Best Budget Pick: Carlson Pet Products Lil' Tuffy Expandable Gate with Small Pet Door
Carlson Pet Products Lil' Tuffy Expandable Gate with Small Pet Door
For a dog gate that will protect your home and your budget, check out the Carlson Pet Products Lil' Tuffy Expandable Gate with Small Pet Door.
Check Price
If your best friend is a little guy, the Carlson Pet Products Lil' Tuffy Expandable Gate with Small Pet Door is an adorable house gate that may be just the solution for you. No walk-through is needed here: it's only 18″ high, so stepping over is no problem. It's a pressure-mounted install, but with a bar running horizontally down the center, it is more sturdy than you may expect.
You'll find the Carlson patented small pet door for your little ones to pass through in this gate as well, so you won't need to pull the barrier down for them. That will work perfectly for little dogs who get free reign while still holding back kids or bigger dogs (and for cats who absolutely know the rules don't apply to them). And if all you need for your bigger dog is a physical reminder of his boundaries, this is a perfect solution for that, as well.
The overall rating on this gate is nothing to scoff at; 4.6 stars and that is earned with close to 100 customer reviews. But the real selling point on this product has to be the bang you get for your buck. You can pick up one of these for right around $29 – a total steal!
Carlson Pet Products Lil' Tuffy Expandable Gate with Small Pet Door Key Features:
Small pet door
Rubber bumpers
Only 18″ tall; stepping over is a breeze
Best Walk-Through Dog Gate: Summer Infant Multi-Use Deco Extra Tall Walk-Thru Gate
Installing the Summer Infant Multi-Use Deco Extra Tall Walk-Thru Gate will keep you from constantly climbing over or taking down your safety precautions. Because of it's height, an impressive 36 inches tall, you can count on this to hold back even your larger breed dogs. Plus you'll be able to open the latch one-handed, making it a gate that won't hinder your day-to-day activities.
It's pressure-mounted, also, so you can take it with you, and with optional hardware you can still maximize the stability for a longer install, should that be a more effective use for your family. You'll also have your choice in two colors so you'll be able to ensure that even if you can't match your decor exactly, you'll at least be able to minimize the color clashing.
With nearly 6,500 customer reviews on Amazon, it makes the overall rating, 4.3 stars, all the more impressive. There's every reason to believe that you'll be one of the literal thousands of satisfied customers, should you purchase this gate.
Summer Infant Multi-Use Deco Extra Tall Walk-Thru Gate Key Features:
Pressure-mounted to prevent wall damage
Auto-close and stopper to prevent gate from opening both ways
36″ tall to block jumpers and bigger dogs
Best Freestanding Dog Gate: Richell Wood Freestanding Pet Gate
The Richell Wood Freestanding Pet Gate is a free-standing gate that is portable, so it can move with you. The side panels add additional stability without encroaching on room space. The wood and metal design gives it a classy and functional feel. You can expand the barrier from 39.8″ to 71.3″ and the one-screw addition will keep the size from changing unintentionally. And, should this size be just a bit out of your needs, there is a small size available as well. Combined with the three wood options, this is sure to customize to your home perfectly.
You can easily step over this gate, but because there's no installation you may just want to slide it in and out of the way when you're going from room to room. And because it has the sides also fenced, you can easily use this as just a barrier to your entertainment center for the extra curious dog.
There are nearly 2,000 customer reviews on this gate, giving it an overall rating of 4.3 stars. That's more than enough to convince us and we think one look at the reviews will have you more than tempted, as well.
Richell Wood Freestanding Pet Gate Key Features:
Side panels add stability
Design options: 4 wood colors
Easily installed and portable
Who Should Buy a Dog Gate
Whether it be protecting your guests from an over-zealous pup or protecting your furry friend from the room in your home where you store toxic cleaners and anything else that can be a danger to your pet, a gate will help you and your new four-legged family member adjust to life together. Blocking your buddy off into a room with a closed door where he can't see you and he's not getting as much air ventilation isn't going to make your dogs big fans of yours and even if you do still keep him in his own room for a period of time, you'll still want him to get a good look at what's going on elsewhere. A gate that he can see through will still let him feel involved and not as alone and isolated – but still keep everything and everyone protected.
And even if your dog has free reign in your home and guests just have to deal (hey, it's your home, you share it with your guests and your furry buddy however you choose), you may still need a dog gate. There will always be a time in your pup's life that he'll need held back from one thing or another. If for no other reason, then for his safety. For example, you may never use a gate for your dog, except when you're moving and he needs to be protected from being stepped on by movers who aren't used to him. You can bring the gate with you when you take him with you on trips and save yourself a lot of escape worries. And, having a gate "just in case" means you won't be limiting your visitors to people who love dogs. (Keep in mind, you may have or make friends with special needs and there may come a time where you just can't reason with the guest's fear of your pup.)
Sometimes you don't have the layout in your home for a traditional indoor dog gate, so you may not think your home is a good candidate for such a purchase. After all, all dogs have different needs, and so do different homes. The good news, though, is that there's a gate that can suit just about any setup, whether you need to block access to a room or create a free-standing play area, if you have a wide or narrow doorway, or need a gate that can expand for use in different areas. Safety for your home and your pup exists. You might also want to check out our reviews of the best large dog crates and the best small dog crates. For convenient options for traveling, we've also reviewed the best dog travel crates in a separate post.
Important Features to Consider
An indoor dog gate should have a few important features. Here's what to consider when selecting an indoor gate for your dog:
Permanent mounts. If there's a room or area in your home where you know, beyond a shadow of a doubt, that there will never be a time you want your pup to enter, why bother with anything but a permanent mount? You won't want to have to constantly bother with taking it up, or re-positioning it. The biggest selling point for any gate that you have screwed or nailed into the wall of your home is the stability. It won't wobble or fall, and re-positioning won't be necessary at all.
Pressure mounts with bumpers. With any pressure mount, the best part is either the portability or the protection to your wall. It may be slightly less stable or need more adjusting to fine tune the security, but you won't need to drill into your walls – unless you want to. You can sometimes drill bumpers that fit the pressure pads of the gate allowing you to install the gate without the larger damage that those pressure pads being installed and re-installed can often cause. With the addition of bumpers, though, you can add the stability and keep the wall safe as well as keep it a temporary, or at least a semi-permanent fixture.
Walk-through. Permanent or not, if you plan to have the dog gate up for more than just occasional use, you're very likely going to appreciate the ability to walk through the gate without having to uninstall it. While you can have a walk-through in multiple ways, pressure, swing, or sliding gates, there's a fairly good chance it'll be a permanent installation. A walk-though gate will make installation of a pressure mounted gate a bit more difficult, to be sure but once you have it installed and secure you may not even notice the difference between the pressure mount and the permanent install.
Portability. Clearly a pressure mount will be more portable than something permanently installed into your wall, but that's not the only thing you should consider. Consider also, how compact the gate is while you're transporting it. That is, how "flat" will it lie? Or is it so thick that it still won't slide under the couch? Free-standing gates are portable enough that you can use them anywhere without ever installing and they won't damage your walls even a little. But when they fold "flat" they're most often still fairly thick; a few inches at least.
Wood vs. plastic vs. metal. Most of the, "What material is best for a dog gate?" question is up to personal preferences. Not only is there such a wide range in quality of even the most durable steel, there are huge selling points for other materials as well. Wood is generally inexpensive, plastic is lightweight, metal is hearty. Wood is less durable, plastic will often be easily tackled by your big dog and metal can be pricey. Your preference, your dog's breed and your price range will be the three determining factors, but you can find a quality product of each.
Doggie door. It may not make sense right away to have a doggie door in a gate intended to block your dog's access to certain areas, but consider the possibilities that open up with doggie doors. Not only will you be able to keep the gate as a permanent installation if you use a dog door for the occasional times your pup is allowed into a certain area, this can be just the solution you need if you have more than one pet. It will come in particularly handy when you have a well-behaved small dog or cat and a rambunctious big dog that needs to have his access limited. You can leave the door open but the gate up, making the cat able to reach specific area; for example, a room with her litter box, while keeping your dog from being gross with it.
Frequently Asked Questions
What is a dog gate and how does it work?
A dog gate is a fence that will go inside your home to protect it and your dog and set boundaries for your pet. By putting a gate in your home, you'll be able to keep them out of the trash and away from harmful substances, or maybe just away from your guests. You can have a temporary gate put up that you can move from room to room, containing him for a party or for when you have workers in your home. You can limit your pet's access to your home while you're away to make sure they're not revenge-peeing on your pillow in anger of you abandoning them. (For 10 minutes or 10 hours, your dog's sensitivity can be unpredictable, so protecting your belongings can be a be help.)
There are three main designs that you can utilize for your pet gate: pressure mounted, wall mounted, and free-standing. Any of these can have a place where you can walk through, but you'll find them primarily in the more permanent wall mounted gates. You can also pick them out in a variety of materials; mainly wood, plastic, and metal. You can coordinate the gate to your home or you can opt for the least expensive or most portable. If you want to make sure your home is perfectly customized to your dog, dog gates are a good way to accomplish this.
Can I use a baby gate for my dog?
You can absolutely use a baby gate for your dog. For the most part, they function the same. There are a few things you'll want to check to make sure when you're getting it, though. You'll need to take in mind your dog's demeanor with limitations as well as his strength. If he's a big dog who doesn't like to be reminded where he should and shouldn't be, you're going to want to make sure your gate is stronger than what you may consider is typical of baby gates. If the gate is strong enough, you'll next need to keep in mind that dogs, unlike babies, can jump; get a taller gate if your dog's a jumper.
What is the tallest pet gate available?
The generic size of a pet gate must be a minimum of 22 inches, but really, that will hold very few breeds of dogs back. You'll very likely want something a bit more restrictive for your pup. The tallest standard pet gate is 42 inches high. You can always figure out extensions and work around that will add length and, while it's not especially sturdy, you can use pressure mounted gates, one on top of the other. There are also special order gates like these from the Rover Company, that can cover nearly the entire height of your door (6 feet).
In case you were wondering, just like with the height, the width is definitely something you can build on. Most gates can't just be connected side by side, so purchasing two won't work (unless you get free standing gates). But there are a lot more width extensions for dog gates, especially metal gates that have wall mounts. You can just add a few extensions to cover a wider area. Bear in mind though, you may lose a bit of the stability with additional expansions. Most gates width will naturally expand to cover a standard door and a little bit extra, but not much. (Standard entry doors are 36 inches wide, and the typical interior door is somewhere between 28-36 inches.) If you have an over-sized entry to an area that your pet doesn't belong, you may be looking for a pretty robust gate with several panels joined together and mounted to the wall on either side.
Are pressure mounted baby gates safe for top of stairs?
Again, just to reiterate, "baby gates" will apply to your "fur baby," too. Both baby and dog gates will need to be especially high and durable at the top of the stairs because the risk at the top of the stairs is as high as the gate. On a level surface, knocking over a gate will likely just cause a bit of a mess and maybe a scratch or bruise. But from the top of the stairs, the fall from a knocked over gate could cause serious harm. For that reason, we highly recommend a very secure and tall gate at the top of the stairs. Not only will your little loved ones be less likely to knock it over, but jumping will be more difficult as well. The easiest way to ensure the security is a permanent installation with a walk-through gate.
A gate at the top of the stairs that will prevent your dog from entering a place he should not be and if your pup doesn't sleep with you, a gate keeping him downstairs may help the nighttime routine go a little easier and keeping him upstairs out of the basement can help keep him out of the materials that can harm him. Blocking the stairs is important for older dogs who cannot get up and down the stairs easily and will unintentionally injure themselves as they try to maintain their independence. You may want a gate at both the top and the bottom.
Other Dog Gates We Reviewed
We looked at 20 other indoor dog gates. Even though they didn't make our 5 best indoor dog gates list, they're the best of the rest and each is still a great option for your dog. The information you'll need to compare each one is included with the listing.
Freestanding Dog Gates
Arf Pets Free Standing Wood Dog Gate with Walk Through Door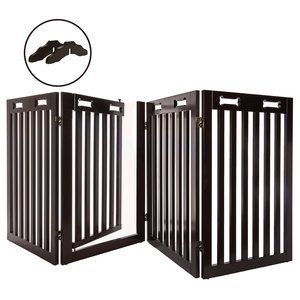 This indoor gate might be the perfect solution for any temporary living situations. If you plan on taking your pooch with you on vacation or having a friend watch them, this is the way to dog-proof without the permanence of hardware installation. And if you hate bothering with the struggle of the pressure gates, this may be your long term fix, too. You can even turn this 4-section gate into a mini dog play yard for a temporary pen for your pup.
Key Features:
Free-standing
Portable and easy to take down
Wood composition with decorative bones along the top
Walk through gate with latch
Cost: $100
IRIS Exercise Panel Pet Playpen with Door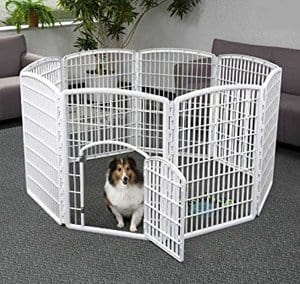 There may come a time when you realize no matter how much you dog-proof your home, you just have to put your pooch in an all-enclosed play pen, if for no other reason than because you just can't afford to replace all your shoes every time you leave the house. If you're finding yourself facing this dilemma, popping this guy in the center of a room before you head out may be your solution. You can add or subtract panels as is appropriate for your space and pup.
Key Features:
Customize with color choices
Doggy door with locks to prevent escape
It folds in half to store when not in use
Cost: $40
Much like its larger counterpart listed above, this is a possible solution to the dog who is mischievous while his parents are away. If your fur baby is a smaller dog or you just have a smaller home, this is the option for you. It's only 24″ high, so be aware of your little guy's jumping capabilities. But with a width of just under 3 feet, it fits in your cramped spaces much more comfortably.
Key Features:
Customize with color choices
More compact for smaller dogs and spaces
Portable so you can take it with you
Cost: $40
PETMAKER Freestanding Wooden Pet Gate
This gate folds flat to just 2 inches, so will easily slide behind a bookcase or under a couch to tuck it perfectly out of sight when you don't need it. The wood gate is free-standing, so there's no installation required, but it wouldn't take much determination from your pooch to work his way through. If your puppy only needs to know his boundaries and you prefer the attractive wood style, though, this is a good fit.
Key Features:
Wood gate comes in 4 colors
No installation required
Easily folds for storage
Cost: $35
Primetime Petz 360 Configurable Gate with Door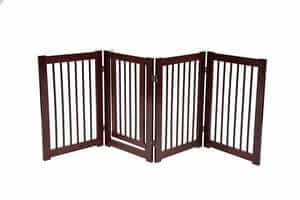 This barrier's hinges make it easily configured to your individual space. As another free-standing gate, there is no installation and it is easily stowed. Its portability makes it easy to move from one place to another if you don't need a permanent gate in a fixed location.
Key Features:
Easily stored
Classy wood finish
Walk-through gate
Cost: $90
Primetime Petz 360˚ Configurable Gate with Door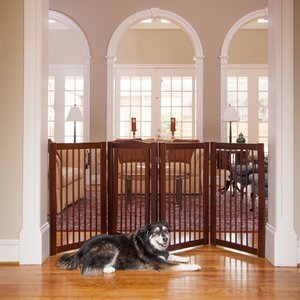 At 36 inches high, this is one of the tallest gates on the list. Because it's freestanding, a determined dog can push the edge away from the wall. This is for your extra big dogs who just need the reminder that not everything is their playground.
Key Features:
Extra height keeps dog in
All wood construction
Walk-through gate
Walk-Through Dog Gates
Carlson 76 Inch Wide Flexi Configurable Walk Through Pet Gate
Because you can configure this gate at nearly any angle, there are countless possibilities. You can bow the gate out or make a squared angle to attach to your nonstandard walls. The mounting is permanent so you don't have to worry about it falling down. And the steel design makes it unlikely your chewing puppy will be able to get through this gate. The walk-through option means this will simply become a part or your daily routine – just like opening the garage door.
Key Features:
Human walk-through inside gate and separate small dog or puppy gate
3 configurable panels with rotating hardware to adapt to unusual spaces
Folds down for easy storage
Cost: $55
Carlson Extra Wide Walk Through Gate with Pet Door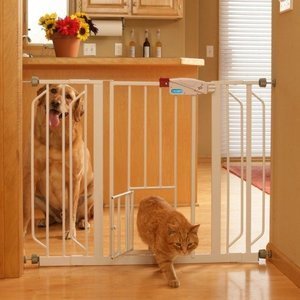 This gate is perfect if you want to install something semi-permanent and don't want to drill into your walls. You may lose some steadiness in the pressure installation and the install may be a just bit trickier, but your walls will thank you. The lock is one that there's zero chance your pooch will figure out. Opposable thumbs required!
Key Features:
All-steel construction makes the gate extra durable
Human walk-through PLUS pet door for cats or smaller dogs
Pressure mount system makes the gate portable
Cost: $40
Carlson Pet Products Design Studio Home Decor Walk Through Pet Gate
This may look like the Carlson Extra Wide indoor, walk-through gate listed above on paper, but in life it looks like it's received the designer upgrade. The black steel and wood panel at the top make this gate more likely to blend in with your home, rather than stand out. If the only thing keeping you from purchasing a dog gate so far has been what an eye sore most gates are, then this gate's for you.
Key Features:
Sleek black steel with decorative cherry panel
Human walk through PLUS pet door for cats or smaller dogs
Wall-saving pressure mounts
Cost: $60
Evenflo Expansion Swing Wide Gate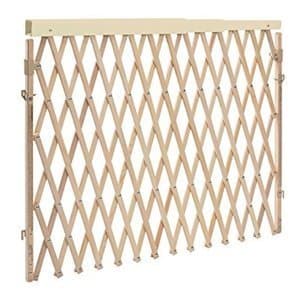 This gate is for the already-trained dog who still needs to know his boundaries. The gate is hardware installed with a latch and therefore it won't simply fall if the pressure isn't just right. Calmer dogs would be best-suited for this gate, because the wood may prove too tempting for teething puppies. Only one hand is required to open, close, and expand the gate, though that convenience can't be overlooked in a busy dog parent's life.
Key Features:
Provides a barrier for openings up to 60″ wide
Swings open to allow passing through without taking down
One-hand operation
Cost: $30
Fusion Gates for Baby & Dogs with Autumn Ginkgo Art Screen Design
You don't have to sacrifice style and design with this gate! Fusion Gates are elegant, purposeful and safe. They're great for keeping your dogs out of specific areas and also work for keeping babies or small children safe and in certain rooms. Not only are these gates designed as a work of art, they're also engineered for safety. Fusion Gates are available in three colors, seven sizes (3 on Amazon) and over 20 different designs that are interchangeable.
Key Features:
Available in three colors
Aesthetically superior (patented art screen system)
Lowest threshold of all pressure-mounted gates on market (making it safe and easy to pass-through)
Durable steel hinge and latch system
Cost: $250
Munchkin Loft Aluminum Baby Gate
If you want the best of both installation worlds, this indoor dog gate is a great choice. You mount the gate using hardware to affix permanently to your wall, but the quick release allows you to pull a lever and simply remove it from the wall entirely. Because most walls aren't perfectly straight, the integrated tuning system (ITS) lets you adjust the mount to create a perfect fit. The right fit provides a huge increase in steadiness.
Key Features:
Fast removal
Perfect fit with the ITS
Walk-through door swings open in both directions
Cost: $40
North States Superyard 3 In 1 Arched Decor Metal, Matte Bronze
Dog-proofing an open floor plan is difficult. Having 12 feet of barrier can surely help. The possibilities with this gate are almost endless. You can enclose it and create a play yard; use it as a wall and door type barrier; you can remove pieces or add additional. Your imagination may help you find the perfect way to configure this gate to suit your needs. You can use the hardware to install it permanently, or you can rely on the length to zigzag it to make a freestanding gate.
Key Features:
Large size allows for several configuration options
Hardware mount to secure the gate
Walk-through door
Cost: $180
Regalo 192-Inch Super Wide Gate and Play Yard
If your dilemma is a large and unusual space needing blocked off, this 8-panel walk-through gate is a possible solution. You can use it as a play yard or mount it for a more permanent room partition.
Key Features:
Easily customized to fit your specific needs
All-steel construction makes it durable and prevents chewing
Can block up to a 16-foot opening
Cost: $90
Summer Infant Retractable Gate
A retractable gate may not be the solution if your pooch is overly enthusiastic, but if he just needs to know his boundaries, this is great for him. It retracts, so storing won't be an issue at all and you won't have to worry about guests struggling with how to get through. Sometimes, the hassle-free aspect just can't be over sold. Once it's mounted, you don't have to worry about it again.
Key Features:
Hardware-mounted
Baseboard kit for an even install
Simple open and retracting release
Cost: $65
Summer Infant Metal Expansion Gate, 6 Foot Wide Extra Tall Walk-Thru
This gate is extra wide, fitting a bigger opening up to 72″, and extra tall, at 36″ for larger dogs or those who love to jump. The walk-through gate latches, and operation only requires one hand.
Key Features:
Hardware install for stability and permanence
72″ wide and 36″ tall
Walk-through gate
Cost: $100
Summer Infant Multi-Use Extra Tall Walk-Thru Gate
This pressure-mounted gate has additional hardware cups to screw into the wall for the top of the stairs. This provides added stability so your pup won't fall down the stairs if he tries to knock it down.
Key Features:
Pressure-mounted
Walk-through
Metal gate
Extra hardware for top-of-stairway installation
Pressure-Mounted Dog Gates
Ergo Pressure or Hardware Mount Plastic Gate
This gate is likely the one you've seen the most, and for good reason. Most gates aren't really meant to be permanent. If a homeowner wanted an area permanently blocked off, they would likely block it with a wall or heavy furniture. If you only want to have one gate to keep your pup in the room you're in then having one that takes mere seconds to take down and put up is the way to go. This gate does have the option of a hardware install, too, though. If you're gate-experimenting, this makes for a great tester to find out what works.
Key Features:
Simple install; fast removal
Incredibly portable
Hardware OR pressure mount
Cost: $30
Evenflo Position and Lock Tall Pressure Mount Wood Gate
You may be able to guess from the title what sets this indoor dog gate apart from its shorter counterpart: it's tall, at 32″ high. Therefore, if you just need a basic dog gate for your furry guy who happens to be a big one, then this is it.
Key Features:
The height makes it great for taller dogs
Pressure-mount makes install easy
Easily moved and stored
Cost: $25
Safety 1st Pressure Mount Lift, Lock and Swing Gate
You can use the pressure mount or use the hardware and turn this gate into a swing gate. This is a great option to choose if you're not yet sure which will work best for your dog. Try the pressure-mount out and if you find yourself wishing you didn't have to step over it, then use the hardware to install the swing gate feature.
Key Features:
Mount and swing-open or pressure-mount
One-hand release on top
Fits most standard openings, expanding from 28″-42″ wide
Cost: $30
More Pet Product Reviews:
The Best Hamster Cages
The Best Guinea Pig Toys
The Best LED Dog Harnesses
The Best Aquarium Sand
The Best Cat Dewormers
The Best Cat Hammocks
The Best Decorative Dog Crates
The Best Dog Anxiety Medications
The Best Dog Bandanas
The Best Dog Ear Cleaners