The 26 Top-Rated, Indoor Dog Gates to Keep Your Dogs Safe and Contained
One of the first things you'll need to do when you bring Fido home is pet-proof your home. You'll need to keep your little guy safe from things that can hurt him… and protect your things from him, too! You'll need to keep puppy in areas designated for him and gates allow you to do just that. When you're shopping, you'll notice a lot of these gates will say "infant" or "child-proofing." Don't worry; baby gates work for your furry babies, too.
We've listed 26 of the top-rated, most functional indoor gates for your dog below, in alphabetical order. Ratings, based on Amazon reviews, are current as of the time of this writing. If you're looking for the best gate to keep your dogs where they need to be in your home, look no further – there's a gate on this list that works for just about any configuration you may need.

Quick Overview: Best Dog Gates
Product
Details

TOP PICK

Arf Pets Free Standing Wood Dog Gate with Walk Through Door

Free-standing
Portable and easy to take down
Walk through gate with latch

Carlson 76 Inch Wide Flexi Configurable Walk Through Pet Gate

Convenient
With safety locking feature
Easy set up and storage

Carlson Extra Wide Walk Through Gate with Pet Door

All-steel construction
Human walk-through PLUS pet door for cats or smaller dogs
Portable

Carlson Pet Products Design Studio Home Decor Walk Through Pet Gate

Sleek black steel
Human walk through PLUS pet door for cats or smaller dogs
Wall-saving pressure mounts

Carlson Pet Products Lil' Tuffy Expandable Gate with Small Pet Door

Small pet door
Rubber bumpers
Only 18″ tall; stepping over is a breeze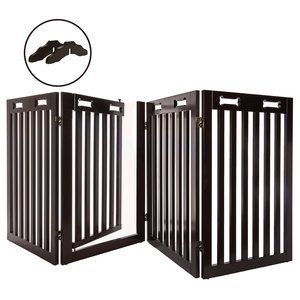 Current Rating: 3.7
This indoor gate might be the perfect solution for any temporary living situations. If you plan on taking your pooch with you on vacation or having a friend watch them, this is the way to dog-proof without the permanence of hardware installation. And if you hate bothering with the struggle of the pressure gates, this may be your long term fix, too. You can even turn this 4-section gate into a mini dog play yard for a temporary pen for your pup.
Key Features:
Free-standing
Portable and easy to take down
Wood composition with decorative bones along the top
Walk through gate with latch
Current Rating: 4.0
Because you can configure this gate at nearly any angle, there are countless possibilities. You can bow the gate out or make a squared angle to attach to your nonstandard walls. The mounting is permanent so you don't have to worry about it falling down. And the steel design makes it unlikely your chewing puppy will be able to get through this gate. The walk-through option means this will simply become a part or your daily routine – just like opening the garage door.
Key Features:
Human walk-through inside gate and separate small dog or puppy gate
3 configurable panels with rotating hardware to adapt to unusual spaces
Folds down for easy storage
If you're looking for outdoor dog door, see our list of The Best Electronic Dog Door.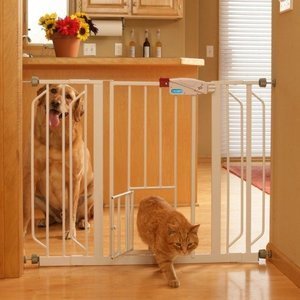 Current Rating: 4.3
This gate is perfect if you want to install something semi-permanent and don't want to drill into your walls. You may lose some steadiness in the pressure installation and the install may be a just bit trickier, but your walls will thank you. The lock is one that there's zero chance your pooch will figure out. Opposable thumbs required!
Key Features:
All-steel construction makes the gate extra durable
Human walk-through PLUS pet door for cats or smaller dogs
Pressure mount system makes the gate portable
Looking for electronic pet doors? Read our list of the best electronic dog doors.
Current Rating: 4.2
This may look like the Carlson Extra Wide indoor, walk-through gate listed above on paper, but in life it looks like it's received the designer upgrade. The black steel and wood panel at the top make this gate more likely to blend in with your home, rather than stand out. If the only thing keeping you from purchasing a dog gate so far has been what an eye sore most gates are, then this gate's for you.
Key Features:
Sleek black steel with decorative cherry panel
Human walk through PLUS pet door for cats or smaller dogs
Wall-saving pressure mounts
Current Rating: 4.4
If your best friend is a little guy, this adorable house gate might be just the solution for you. No walk-through is needed here: it's only 18″ high, so stepping over is no problem. You'll find the Carlson patented small pet door for your little ones to pass through in this gate as well, so you won't need to pull the barrier down for them. It's a pressure-mounted install, but with a bar running horizontally down the center, it is more sturdy than you may expect.
Key Features:
Small pet door
Rubber bumpers
Only 18″ tall; stepping over is a breeze
Current Rating: 3.9
This gate is likely the one you've seen the most, and for good reason. Most gates aren't really meant to be permanent. If a homeowner wanted an area permanently blocked off, they would likely block it with a wall or heavy furniture. If you only want to have one gate to keep your pup in the room you're in then having one that takes mere seconds to take down and put up is the way to go. This gate does have the option of a hardware install, too, though. If you're gate-experimenting, this makes for a great tester to find out what works.
Key Features:
Simple install; fast removal
Incredibly portable
Hardware OR pressure mount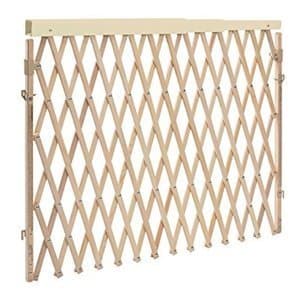 Current Rating: 4.3
This gate is for the already-trained dog who still needs to know his boundaries. The gate is hardware installed with a latch and therefore it won't simply fall if the pressure isn't just right. Calmer dogs would be best-suited for this gate, because the wood may prove too tempting for teething puppies. Only one hand is required to open, close, and expand the gate, though that convenience can't be overlooked in a busy dog parent's life.
Key Features:
Provides a barrier for openings up to 60″ wide
Swings open to allow passing through without taking down
One-hand operation
You don't have to sacrifice style and design with this gate! Fusion Gates are elegant, purposeful and safe. They're great for keeping your dogs out of specific areas and also work for keeping babies or small children safe and in certain rooms. Not only are these gates designed as a work of art, they're also engineered for safety. Fusion Gates are available in three colors, seven sizes (3 on Amazon) and over 20 different designs that are interchangeable.
Key Features:
Available in three colors
Aesthetically superior (patented art screen system)
Lowest threshold of all pressure-mounted gates on market (making it safe and easy to pass-through)
Durable steel hinge and latch system
Current Rating: 3.7
You may be able to guess from the title what sets this indoor dog gate apart from its shorter counterpart: it's tall, at 32″ high. Therefore, if you just need a basic dog gate for your furry guy who happens to be a big one, then this is it.
Key Features:
The height makes it great for taller dogs
Pressure-mount makes install easy
Easily moved and stored
Current Rating: 3.2
This wood and plastic gate is your good old standby: a basic gate to block the path of your dog. It may not have loads of bells and whistles, but for $10, it's a superb value!
Key Features:
Customize your gate with color options
Pressure mounted with a locking bar that makes the temporary install feel extra sturdy
Great value
Current Rating: 4.3
This #1 best seller on Amazon is a no-muss, no-fuss gate. It's a simple install and fits most basic needs. If your pet is ambitious, this gate may be knocked or jumped over; it is only 27 inches high. The fabric material will allow you to machine wash away any stains, but it will also let your pup push and weaken it over time. This gate may be perfect for your dog's every day needs, but will work best with a well-behaved pooch.
Key Features:
No tools required; fast and easy install
Non-marring rubber bumpers to prevent wall damage
Expand from 38″-60″ wide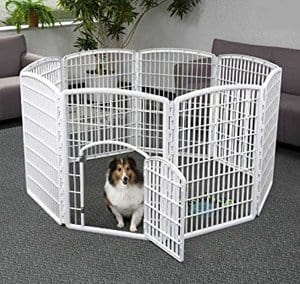 Current Rating: 4.2
There may come a time when you realize no matter how much you dog-proof your home, you just have to put your pooch in an all-enclosed play pen, if for no other reason than because you just can't afford to replace all your shoes every time you leave the house. If you're finding yourself facing this dilemma, popping this guy in the center of a room before you head out may be your solution. You can add or subtract panels as is appropriate for your space and pup.
Key Features:
Customize with color choices
Doggy door with locks to prevent escape
It folds in half to store when not in use
Want more indoor playpen options? Read our list of The Best Indoor Playpens for Dogs and Puppies.
Current Rating: 4.1
Much like its larger counterpart listed above, this is a possible solution to the dog who is mischievous while his parents are away. If your fur baby is a smaller dog or you just have a smaller home, this is the option for you. It's only 24″ high, so be aware of your little guy's jumping capabilities. But with a width of just under 3 feet, it fits in your cramped spaces much more comfortably.
Key Features:
Customize with color choices
More compact for smaller dogs and spaces
Portable so you can take it with you
Current Rating: 4.5
If you want the best of both installation worlds, this indoor dog gate is a great choice. You mount the gate using hardware to affix permanently to your wall, but the quick release allows you to pull a lever and simply remove it from the wall entirely. Because most walls aren't perfectly straight, the integrated tuning system (ITS) lets you adjust the mount to create a perfect fit. The right fit provides a huge increase in steadiness.
Key Features:
Fast removal
Perfect fit with the ITS
Walk-through door swings open in both directions
Current Rating: 3.2
A retractable gate may not be the solution if your pooch is overly enthusiastic, but if he just needs to know his boundaries, this is great for him. It retracts, so storing won't be an issue at all and you won't have to worry about guests struggling with how to get through. Sometimes, the hassle-free aspect just can't be over sold. Once it's mounted, you don't have to worry about it again.
Key Features:
Hardware-mounted
Baseboard kit for an even install
Simple open and retracting release
Current Rating: 3.3
This gate folds flat to just 2 inches, so will easily slide behind a bookcase or under a couch to tuck it perfectly out of sight when you don't need it. The wood gate is free-standing, so there's no installation required, but it wouldn't take much determination from your pooch to work his way through. If your puppy only needs to know his boundaries and you prefer the attractive wood style, though, this is a good fit.
Key Features:
Wood gate comes in 4 colors
No installation required
Easily folds for storage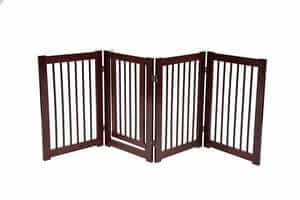 Current Rating: 4.0
This barrier's hinges make it easily configured to your individual space. As another free-standing gate, there is no installation and it is easily stowed. Its portability makes it easy to move from one place to another if you don't need a permanent gate in a fixed location.
Key Features:
Easily stored
Classy wood finish
Walk-through gate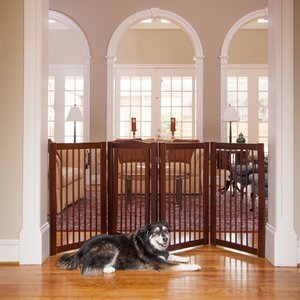 Current Rating: 4.0
At 36 inches high, this is one of the tallest gates on the list. Because it's freestanding, a determined dog can push the edge away from the wall. This is for your extra big dogs who just need the reminder that not everything is their playground.
Key Features:
Extra height keeps dog in
All wood construction
Walk-through gate
Current Rating: 4.4
If your dilemma is a large and unusual space needing blocked off, this 8-panel walk-through gate is a possible solution. You can use it as a play yard or mount it for a more permanent room partition.
Key Features:
Easily customized to fit your specific needs
All-steel construction makes it durable and prevents chewing
Can block up to a 16-foot opening
Current Rating: 4.2
This is a walk-through gate that you can open with just one hand, making it especially useful if you're also wrangling small children or often have your hands full. Because of the installation options, it's probably best described as semi-permanent. While it is pressure-mounted, it also comes with hardware to drill additional bumpers into the wall if you're so inclined.
Key Features:
Wall-saving pressure mount
Steel construction
Walk-through gate
Current Rating: 4.4
This free-standing gate is portable so it can move with you. The side panels add additional stability without encroaching on room space. The wood and metal design gives it a classy and functional feel. You can expand the barrier from 39.8″ to 71.3″, and the one-screw addition will keep the size from changing unintentionally.
Key Features:
Side panels add stability
Design options: 4 wood colors
Easily installed and portable
Current Rating: 3.7
You can use the pressure mount or use the hardware and turn this gate into a swing gate. This is a great option to choose if you're not yet sure which will work best for your dog. Try the pressure-mount out and if you find yourself wishing you didn't have to step over it, then use the hardware to install the swing gate feature.
Key Features:
Mount and swing-open or pressure-mount
One-hand release on top
Fits most standard openings, expanding from 28″-42″ wide
Current Rating: 4.0
This gate is extra wide, fitting a bigger opening up to 72″, and extra tall, at 36″ for larger dogs or those who love to jump. The walk-through gate latches, and operation only requires one hand.
Key Features:
Hardware install for stability and permanence
72″ wide and 36″ tall
Walk-through gate
Current Rating: 4.3
Installing this walk-through gate will keep you from constantly climbing over or taking down your safety precautions. It is pressure-mounted, though, so you can take it with you, and with optional hardware you can still maximize the stability.
Key Features:
Pressure-mounted to prevent wall damage
Auto-close and stopper to prevent gate from opening both ways
36″ tall to block jumpers and bigger dogs
Current Rating: 4.0
This pressure-mounted gate has additional hardware cups to screw into the wall for the top of the stairs. This provides added stability so your pup won't fall down the stairs if he tries to knock it down.
Key Features:
Pressure-mounted
Walk-through
Metal gate
Extra hardware for top-of-stairway installation
Current Rating: 4.7
Dog-proofing an open floor plan is difficult. Having 12 feet of barrier can surely help. The possibilities with this gate are almost endless. You can enclose it and create a play yard; use it as a wall and door type barrier; you can remove pieces or add additional. Your imagination may help you find the perfect way to configure this gate to suit your needs. You can use the hardware to install it permanently, or you can rely on the length to zigzag it to make a freestanding gate.
Key Features:
Large size allows for several configuration options
Hardware mount to secure the gate
Walk-through door
Whether it be protecting your guests from an over-zealous pup or protecting your furry friend from the room in your home where you store toxic cleaners or anything else that can be a danger to your pet, a gate will help you and your new four-legged family member adjust to life together. All dogs have different needs, but the good news is there's a gate that can suit just about any setup, whether you need to block access to a room or create a free-standing play area, if you have a wide or narrow doorway, or need a gate that can expand for use in different areas.
Products You May Be Interested In: