There is perhaps nothing more prolific than a dog catching a frisbee. While we usually only imagine larger dogs catching frisbees, the truth is that nearly every type of dog can learn to catch a frisbee with a little practice. If you're looking for something active to do with your pooch, then playing frisbee might be the way to go. It is both fun and encourages both of you to be active and focused. For puppies who aren't exactly big enough for frisbees yet, you might want to check out our list of the best puppy toys.
We reviewed dozens of dog frisbees and flying discs to identify the best of the best. We considered flexibility, durability, color choices, thickness, size options, safety, and comfort when considering each product.
It quickly became apparent that the Original Flippy Flopper Hyper Pet Frisbee is the best dog frisbee on the market. It is designed to be durable for long-lasting use and is flexible enough to be folded and easily transported. Whether you're new to dog frisbees or have been using them for years, the Flippy Flopper is for you.
The 5 Top-Rated Dog Frisbees
*Ratings are from Amazon at the time of publication and can change
Our Top Pick: Original Flippy Flopper Hyper Pet Frisbee
There is no better dog frisbee on the market than the Original Flippy Flopper Hyper Pet Frisbee. It is designed to provide long-lasting fun to you and your pet for years to come. You don't have to worry about it tearing or ripping during use or transportation; the high-quality canvas stands up to even the toughest teeth and tosses. Even if your pooch as a stronger than average bite or tends to get a bit aggressive with their toys, this frisbee will be able to stand up to the challenge.
It is also incredibly soft and flexible. Some other frisbees can hurt your pet's mouth or be quite uncomfortable to throw. The soft material this frisbee is made out of prevents this from happening, however. It's flexibility also means that it can be easily squeezed into a bag or shoved into your back pocket. Frisbees can be awkward to transport and carry due to their size and round shape. But, you don't have to worry about that with this one.
Plus, it even comes in a variety of bright colors. Unlike some of the competition, this coloration makes it easier to find the frisbee after a missed catch, especially if you're laying in the snow or a wooded area. The bright colors easily standout amongst natural scenery.
Original Flippy Flopper Hyper Pet Frisbee Key Features:
Durable
Soft
Flexible
Brightly Colored
Our Runner-Up Pick: Kong Flyer
Everyone has heard of the famous Kong dog toy brand. You probably know that they make incredibly durable balls and chew toys, but did you know that they also make a dog frisbee? The Kong Flyer is made much long Kong's other products, with high-quality rubber taking center stage. This rubber construction makes it extremely durable. If your dog has managed to break through every plastic or canvas dog frisbee created, then this one is a great option to try next. It is also a particularly good choice for dog breeds who have a particularly strong bite. Plus, the rubber also helps clean your dog's teeth while they play. Many dogs have problems with built-up plaque and tartar. This toy helps clean their teeth while they play. The rubber is also soft and safer to use than many other frisbee materials. You don't have to worry about it cracking and accidentally injuring your pooch.
This dog frisbee only comes in two colors – red and black. While neither color is particularly bright, the red one will probably be easier to find in most situations. The black coloration might work for many cases, but in forested or darker environments, it can quickly become lost. However, this dog frisbee does come in three different sizes. If you're looking to play frisbee with a smaller dog, these sizing options make it far easier to pick one that your dog can play with.
Kong Flyer Key Features:
Cleans teeth
Rubber
Three size options
Two color options
Best Budget Pick: Booda Tail-Spin Flyer
Some dogs don't like to play frisbee. Whether they're scared of it or have no interest, it is nearly impossible to encourage your dog to play frisbee if they aren't into it. No one wants to spend money on something they might never use, and a dog frisbee is not different. If you aren't sure that your dog will even play frisbee, to begin with, you might be interested in the Booda Tail-Spin Flyer. It is inexpensive when compared to many other dog frisbees that are currently available, but is still decently durable. It is made out of durable cloth and rubber tubing, which should be more than enough to withstand most dogs.
Like our top pick, it is also lightweight and flexible. This makes it easy to transport and use, especially if your dog is smaller and has difficulty using heavier frisbees. The rubber tubing prevents accidental injuries to your pet's mouth and even allows the frisbee to float if thrown in the water. It comes in three different sizes to better fit your pooch.
However, as with most things, you get what you pay for. The frisbee is made out of cloth, and while this cloth is durable, it is not able to withstand as much punishment as other materials. This frisbee is an excellent option if you are unsure whether or not your dog will even play frisbee. But, if you already know your dog loves the game, we recommend choosing a more durable option.
Booda Tail-Spin Flyer Key Features:
Floats
Lightweight and flexible
Soft
Three sizes available
Best Durable Dog Frisbee: West Paw Zogoflex Zisc
If your pooch is particularly hard on frisbees, then you need one that is designed to be extra durable. The West Paw Zogoflex Zisc is made with a hard, durable plastic. This prevents the frisbee from tearing like many others and allows it to withstand even the toughest dogs. No matter how often you play frisbee or how strong your dog's bite is, this frisbee will be able to withstand it. It even comes with a 100% guarantee against dog damage from the manufacturer. If your dog does manage to damage this frisbee, you can get your money back.
Despite its extreme durability, this dog frisbee is entirely safe for your pet to use and is not made with any potentially toxic materials. It is BPA- and Phthalate-free contains no toxic chemicals, and is compliant with FDA regulations. The rubber design is gentle on your pet's mouth and allows them to grip the frisbee without tearing it apart. The rubber is soft and comfortable for both you and your pet. Plus, it is even dishwasher safe and recyclable. Even if your pooch gets it absolutely filthy, you can throw it in the dishwasher, and it'll be ready for your next game.
West Paw Zogoflex Zisc Key Features:
Floats
Durable rubber construction
100% guarantee against damage
Safe and non-toxic
Best Soft Dog Frisbee: Chuckit! Paraflight Dog Toy
Some dogs have a more sensitive mouth than others. Even the slight abrasion can quickly become a real problem, especially if your pooch already has oral difficulties. Some dogs might even refuse to use a toy altogether if it is uncomfortable. For these dogs, the Chuckit! Paraflight Dog Toy is the way to go. It is made of multiple layers of nylon, ensuring that it is both gentle on your dog's mouth and durable against long games of frisbee. It is designed with raised sides and a smooth rubber edge for maximum comfort and catching ease. Many customers reported that even their sensitive dogs enjoyed playing with this frisbee.
This frisbee is also aerodynamically designed, allowing you to throw further and higher without any extra effort. Even if you aren't very good at throwing frisbees, this product will make you look like a professional. It floats in the water, allowing you to take playtime to lakes and ponds and retrieve the frisbee after an accidental throw. It also comes in three bright colors so that you can easily find it in any terrain or time of day. Plus, it comes in two different sizes – small and large.
Chuckit! Paraflight Dog Toy Key Features:
Rubber and nylon construction
Aerodynamic
Floats
Available in bright colors
Who Should Buy a Dog Frisbee
Dog frisbee is a versatile game that is enjoyed by all sorts of dog owners and their canines. It can be played on both land and water as long as a floatable frisbee is used, and it can easily shake up the usual game of catch. Though you might only think of larger dogs playing frisbee, dogs of any size can enjoy a good game if the correct size frisbee is provided. It is an easy way for both you and your dog to get some much-needed exercise while also having fun. Plus, you don't even have to be necessarily good at throwing a frisbee for your dog to enjoy the game. After all, they aren't going to judge you on your throwing skills.
If you have a dog that enjoys catch or has natural retrieving instincts, then frisbee is the obvious next step. But, even some dogs when don't enjoy catch very much can enjoy frisbee. It depends on your particular dog's instincts and personality. But, because frisbees are so inexpensive, there isn't a reason to not try one.
Important Features to Consider
A frisbee for a dog should have a few essential features. Here's what to consider when selecting a frisbee for your dog:
Material. Frisbees are made with all sorts of things. Some might be rubber, while others are crafted using only cloth. The material a frisbee is made out of has a significant effect on how it flies, stands up to the test of time, and whether or not it will float. When you first begin looking at a frisbee for your dog, we recommend looking at the material first. Usually, dog frisbees that are made of a high-quality material are also high-quality in many other ways, while frisbees made with low-quality materials are generally better skipped. You might also have to try a few different materials to find one that your dog likes. Some dogs do not like how rubber feels in their mouth, for example.
Size. This usually is not a problem if you have a larger dog. But, if you have a smaller dog, it is imperative to check both the width and weight of a dog frisbee before purchasing it. A little dog is not going to be able to handle the same frisbee that a large dog can. They are not as strong due to their smaller size. We recommend choosing a frisbee that comes in a smaller size tailored explicitly for smaller dogs.
Color. People lose frisbees all the time. Even if you're playing with a dog, you should expect the frisbee to go astray at least every-so-often. Having a frisbee that is a bright color is far easier to find than one that blends into its surroundings. Look for frisbees that are unusually brightly colored and won't blend into the natural environment you're planning on playing with. Usually, the brighter and more unnatural looking the better.
Flotation. If you're planning on playing in or around water, it is imperative that the frisbee you are using floats. While many dog frisbees do float, some do not. It is always best to not assume and to always read the frisbee's description carefully to ensure that it does float.
Frequently Asked Questions
Do hard or soft dog frisbees fly better?
Frisbees made of heavier, harder materials will fly better than those made of a softer material. However, this does not mean that you should select the hardest and heaviest frisbee you can find. Hard frisbees are also inherently more dangerous than soft ones. They can cause accidental injuries, break your dog's teeth, and even seriously injure them, especially if they are beginning to learn the game. Unless you are planning on entering in disc competitions, we do not recommend selecting a hard frisbee just for its flying distance. Even then, all dogs should be trained using a soft frisbee first to prevent injury.
What's the right way to throw a dog frisbee?
You throw a dog frisbee just like you throw any other frisbee. When you are first starting out, we recommend keeping the distances short and getting the basics down. Focus on your grip and your "flicking" wrist motion. The frisbee should move in an even, straight line. If the path of the frisbee seems off, try adjusting your grip. As you begin going for more distance, try setting up targets or indicators of just how far you're throwing. This will help you know if you're improving and provide you something visual to aim for.
How do you teach a dog to catch a frisbee?
If your dog already knows how to play fetch, then learning how to catch a frisbee is usually pretty simple. Start with baby steps. Toss the frisbee only a couple of feet and encourage your pooch to bring it back to you. Many dogs pick up the concept quite quickly, but others might need extra encouragement. If your pooch does not show interest in the frisbee or does not know how to play fetch, your next order of business should be to get them interested in the frisbee. Feed them out of it for a couple of weeks. Bring it inside and lay it in their bed. Allow them to chew on it. Once they learn that good things come from the frisbee, most dogs will begin catching it naturally. But remember, practice makes perfect. It usually takes a few weeks of consistent practice for a dog to get good at catching a frisbee.
What's the most durable material for a dog frisbee?
Rubber is the most durable materials that are used for dog frisbees. But, multi-layered nylon and certain types of canvas are also pretty durable. Of course, the particular quality of the material is also essential. High-quality canvas will almost always be better than low-quality rubber. Check the customer reviews to ensure that whatever frisbee you pick is durable enough to withstand your pooch.
Other Dog Frisbees and Flying Discs We Reviewed
We looked at 20 other frisbees for dogs. Even though they didn't make our five best frisbees for dogs list, they're still the best of the rest, and each is always a great option for your canine. The information you'll need to compare each one is included with the listing.
Durable Dog Frisbees
Aerobie offers this Dogobie K9 Dog Disc. This particular product comes in a set of 3 discs. These discs are flexible, durable, and puncture and tear resistant.
Key Features:
Flexible
Aerodynamic
Tear resistant
Cost: $19
This disc is the world's toughest canine competition disc, with its tough and puncture resistant material. It is capable of setting record distance throws.
Key Features:
Durable
Duel grip
World's toughest canine competition disc
Cost: $16
Monster K9 Dog Toys Indestructible Dog Frisbee
The Monster K9 Dog Toys Indestructible Dog Frisbee is made of the toughest, highest-grade natural rubber and a solid shock-absorbing design. This Frisbee is puncture resistant and virtually indestructible.
Key Features:
Made of natural rubber
Virtually indestructible
100% safe and non-toxic
Cost: $14
Orka Flyer Rubber Durable Frisbee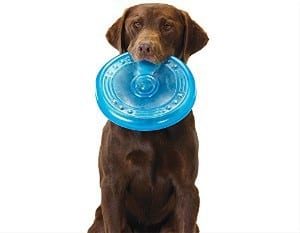 With this durable dog frisbee, you can play fetch with your dog while both of you can get exercise and spend time together. This Frisbee is tough and easy on your dog's mouth.
Key Features:
Tough
Easy to grip and toss
Easy on dog's mouth
Cost: $7
XPangle Interactive Dog Frisbee Training Toy
This dog frisbee is great for your dog's health by keeping them active. This Frisbee is tons of fun for your dog because you both get to spend time outdoors.
Key Features:
Aerodynamic
Great for keeping your dog active
Natural and safe rubber
Cost: $13
Soft Dog Frisbees
This dog frisbee will delight all dogs even ones who don't want to play. This Frisbee has a unique design that is double sided and floats in water.
Key Features:
High-quality material
Floats in water
Non-toxic material
Cost: $14
The Chuckit! Lite Flight is a lightweight Frisbee that offers a soft rubber edge and easy to pick up for dogs. This interactive fetch toy is great for land and water play.
Key Features:
Lightweight
Durable
Floats in water
Cost: $8
Designed with speed in mind, this lightweight, aerodynamic frisbee will take your games to new heights without injuring your pet's mouth or causing discomfort. With two highly visible colors available, this frisbee is easily located after long-distance throwing.
Key Features:
Lightweight
Durable
Floats in water
Cost: $8
Hartz Tuff Stuff Toss Around Plush Frisbee
This Frisbee will hold up with tough tuggers with its flexible and heavy-duty design. This Frisbee is constructed from ballistic nylon and is great for medium and large dogs.
Key Features:
Made of ballistic nylon
Great for indoor and outdoor
Flexible
Cost: $11
The TEESUN Dog Frisbee is made of 100% soft silicone that is safe for dogs to bite and play with. This Frisbee is ideal for small dogs and puppies because it won't hurt their teeth.
Key Features:
Soft and safe
Good for all dog sizes
Made of silicone
Cost: $13
Glow-in-the-Dark Dog Frisbees
Chuckit! ZipFlight Max Glow Frisbee
This dog frisbee allows you to play at night and get exercise with your dog. It can charge in minutes and has an aerodynamic design for high-flying games of fetch.
Key Features:
floats in water
Safely made
Aerodynamic
Cost: $13
Hyperflite Jawz Disc, Glow-in-the-Dark
The Hyperflite Jawz Disc, Glow-in-the-Dark glows in the dark, has a patented dual grip, and is designed by world champions.
Key Features:
Puncture resistant
Patented duel grip
Capable of setting record throws
Cost: $18
Nite Ize Flashlight Dog Discuit
You can play fetch all night with this soft-touch plastic Frisbee. It is also designed for superior flight and has a color changing LED.
Key Features:
Color changing LED
Not a chew toy
Soft-touch plastic
Cost: $13
SLR Brands 175-gram Star Sport Frisbee
The SLR Brands 175-gram Star Sport Frisbee is a lightweight and safe Frisbee. This Frisbee is also water and child safe.
Key Features:
Made of quality materials
Lightweight
Water safe
Cost: $15
West Paw Zisc Disc Frisbee Glow-in-the-Dark
This is made with durable and buoyant Zogoflex material. It is designed to withstand as much play as dogs can dish out while also being gentle on your pet's mouth.
Key Features:
Durable
Buoyant
Gentle on soft mouths
Cost: $23
Competition Dog Frisbees
DISCDOG Bite-Resistant Jawz Dog Flying Disc
This DISCDOG Bite-Resistant Jwaz Dog Flying Disc is made of a safe material for your dogs and is made of professional grade materials for maximum fun. This particular Frisbee can also float in water.
Key Features:
Professional grade
Good training tool
Floats in water
Cost: $30
DISCDOG Bite-Resistant Jawz Dog Flying Disc Toy
This disc is great at hovering and staying truly balanced for a long straight flight. This can also float on water and is great to give you plus your dog some exercise.
Key Features:
Cost: $20
Hyperflite K-10 Competition Standard Dog Disc (6 pack)
This competition disc set the light-plastic world canine distance record of more than 104 yards. It will supply your dog with loads of fun while also being extremely affordable.
Key Features:
Cost: $33
Hyperflite K-10 Pup Competition Standard Dog Disc
The Hyperflight K-10 Pup Competition Standard Dog Disc is just 30 percent smaller than the original K-10 competition disc and is just as aerodynamic and durable.
Key Features:
Competition approved
Lightweight
Aerodynamic
Cost: $7
Hyperflite K-10 Soflite Dog Disc
The Hyperflite K-10 Soflite Dog Disc is a great Frisbee for playing with your dog outside to provide them with exercise. It is durable and can float in water.
Key Features:
Lightweight
Floats in water
Durable
Cost: $12