Some dogs are perfectly neat and tidy when they eat and drink, whereas others could spread food and water for miles. If your canine companion is a messy eater, you may find yourself constantly wiping or scrubbing the area around his bowls. However, with a dog feeding mat in place, you can catch all the drips and crumbs, saving your floors and cutting down the time you spend cleaning up after your pooch. Wondering what to feed your pup? Check out our reviews of the best organic dog foods and the best canned dog foods.
We reviewed dozens of dog feeding mats to identify the best of the best. We compared a range of features, including material, size, ease of cleaning, appearance, and average customer reviews. 
Interested in dog water bowls or automatic feeders? Take a look at our pet bowls, feeders and waterers articles.
After searching far and wide for dog feeding mats, the Humble Pet Food Mat Feeding Tray stood out as the the clear winner. It might not look flashy, but it gives you everything you could need from a feeding mat. The raised edges mean that water won't spill onto your carpet and the non-slip underside stops it from sliding around.
The 5 Top-Rated Dog Food & Bowl Mats
*Ratings are from Amazon at the time of publication and can change
Our Top Pick: Humble Pet Food Mat Feeding Tray
A dog feeding mat doesn't need to be fancy or decorative, but it should have a range of features that make it practical and functional. The Humble Pet Food Mat Feeding Tray certainly fits that bill.
First off, it's made from premium FDA food grade silicone, so you can be certain it doesn't contain any harmful chemicals that could make your dog sick. In fact, it would be safe for you and your human family members to eat off (not that we're suggesting you do)! The generous 24- by 16-inch size is more than large enough to comfortably fit food and water bowls.
The back of the mat features raised bumps to prevent slippage, even on tile and hardwood floors. On the top side, you'll see a raised paw print design, which is not only cute but also helps keep the bowls in place on the mat while you're dog's eating or drinking.
This silicone feeding mat is completely waterproof, so there's no chance water will seep through onto your flooring, and the half-inch raised edge keeps water from leaking over the edge. It's also stain-resistant and easy to clean—just pop it in the dishwasher.
With a retail price of roughly $20, it's not the cheapest dog feeding mat out there, but it is long-lasting and even comes with a lifetime warranty.
Humble Pet Food Mat Feeding Tray Key Features: 
Made from food grade silicone
Non-slip design
Dishwasher safe
Our Runner Up Pick: iPrimio Dog Food Mat with Paw Logo
It was an extremely close call between out top pick and the iPrimio Dog Feeding Mat with Paw Logo. The slightly higher raised edge and larger size made us choose the Humble Pet as our number one, but you won't go wrong with this feeding mat from iPrimio, either! At also retails at close to $20, so there's not much in it price-wise.
Let's tackle those measurements first. The mat measures 12- by 24-inches, which is slightly smaller, but still a perfectly decent size for most. The raised edge is 3/8-inch high, which will catch most spills, but might not be quite tall enough for the messiest drinkers.
Both the top and bottom sides feature non-slip bumps, plus the top side has a fun design on it, with two large paw prints and the word "dog." If you're worried about safety, note that this feeding mat is crafted from a heavy-duty FDA grade silicone.
While it's easy enough to wash or wipe down by hand, it's also dishwasher safe, which makes cleanup even easier.
iPrimio Dog Feeding Mat with Paw Logo Key Features: 
Durable construction
Easy to clean
Features cool paw logo
Best Budget Pick: Bone Dry DII Non-Slip Dog Bowl Mat
Looking for a quality dog feeding mat that's a little bit cheaper than our top pick and runner up? We'd highly recommend the Bone Dry DII Non-Slip Dog Feeding Mat as an alternative. With a price tag of just $7 for a small or $10 for a large, these mats offer exceptional value for money.
If you're expecting something flimsy for this kind of price, think again! Constructed from 100% recycled natural rubber, these mats are super sturdy and kinder on the environment, too. The underside of the mat is textured, which helps to prevent it sliding around on the floor. The top features circular spots to help keep bowls in place, plus a raised paw print design, which also has non-slip properties.
The small version of these mats measures 10 by 17.5 inches and the large version measures 14 by 24 inches, so you can pick the one that best suits the size of your dog and her bowls. You can select from three designs of the Bone Dry DII Non-Slip Dog Feeding Mat. One says "hungry" on the food bowl side and "thirsty" on the water bowl side. One says "food" on one side and "water" on the other side. And the last design reads "good dog."
Bone Dry DII Non-Slip Dog Feeding Mat Key Features: 
Slightly raised edge helps prevent spills
Waterproof
Easy to clean
Best Plastic Dog Food Mat: Easyology Premium Pet Food Tray
If you'd prefer a ridgid option for your dog feeding mat, the Easyology Premium Pet Food Tray is a fantastic choice. This sturdy plastic food mat costs a little of $15, which makes it a solid mid-range option.
The 1-inch raised edge can contain a lot of liquid and is perfect for extremely messy dogs, or canines who intentionally knock over their water bowl. Plus, since it's made from rigid plastic, it's easy to transport the whole mat to the sink to empty it, without spilling water en route.
On the underside of the mat are four rubber feet, which should stop the mat from slipping around, even on shiny floors. There's also a raised pattern on the top to prevent the bowls from sliding on the mat. Measuring approximately 17 by 14 inches, this mat is large enough to fit both food and water bowls.
With over 1,000 reviews, most of which are positive, we're confident that this is a high quality dog feeding mat.
Easyology Premium Pet Food Tray Key Features: 
Made from 100% recycled polypropylene plastic
Safe and non-toxic
Easy to hose down or wash in the sink
Best Extra-Large Dog Food Mat: WooPet! Pet Food Mat Extra Large
Sometimes a standard dog feeding mat just isn't large enough to fit the bill. Perhaps your dog is so messy that you don't trust him to keep his spillages within the confines of a more compact mat, or maybe you have a multi-dog household and want to feed all your pups on the same mat. If big is what you're after, the WooPet! Pet Food Mat Extra Large is what you need!
Measuring a whopping 34 by 23 inches, it's ideal for protecting large areas of flooring. It works well with elevated feeders, but you can place your dog's bowls directly on the mat, too! While the large size can make it a bit awkward to clean in the sink, any caked on food easily sides off the smooth silicone. The reinforced lip design works well to stop spilled water running off onto the floor.
Since this mat is designed for either dogs or cats, the top features a design with raised dogs, cats, bones, and fish skeletons, but your dog won't mind the feline addition, if you don't! At $35, this is the most expensive feeding mat on out list, but it makes up for it in both size and quality.
WooPet! Pet Food Mat Extra Large Key Features: 
Made from food-grade silicone
Sturdy raised edge
Non-slip design
Who Needs a Dog Food & Bowl Mat
You might not know it now, but we think any dog owner could benefit from a dog feeding mat. You can't expect your pooch to be perfectly neat when eating his food and drinking his water, so some spillage is inevitable. If you feed your pup on carpeted floors, the water can sink in and cause issues with mold and the food can get trodden into the pile, making it a pain to clean up. It's not such a huge issue on non-carpeted floors, but nobody wants to step in a puddle of water with socks on or squelch their bare foot into a chunk of wet dog food. Plus, hardwood floors can warp if they're constantly getting soaked.
A dog feeding mat contains any mess your four-legged friend might make while chowing down or quenching his thirst, preventing any damage to your flooring and making cleanup easier.
Important Features to Consider
A feeding mat for dogs should have a few important features. Here's what to consider when selecting a feeding mat for your dog:
Material. Common dog feeding mat materials include silicone, rubber, plastic, and absorbent fabric. There's no best or worst material for a feeding mat, so as long as it fits all your other requirements, don't worry too much about the material. Of course, if you have a preference for one material over another, that's fine, too.
Waterproofing. A quality dog feeding mat should be 100% waterproof, not just water-resistant. If it's not waterproof, liquids can seep through the mat and onto the floor beneath, causing issues over time.
Size. Make sure your chosen feeding mat is large enough to accommodate your dogs bowls, with some room around them to catch any mess that might be flying around!
Ease of cleaning. If you want a dog feeding mat that's exceptionally easy to clean, look for one that can go in either the dishwasher or the washing machine. Otherwise, you'll need to wash it by hand in the sink.
Color and pattern. While the color and pattern of your chosen feeding mat won't matter one bit to your dog, you may want to choose something that goes with your decor or that matches the color of the floor, so it will blend in
Raised edge. A raised edge on a dog food mat helps to keep spillages on the mat, where they belong, rather than running off onto the floor.
Frequently Asked Questions
Will a dog food mat keep water off of my floor?
The vast majority of dog feeding mats are waterproof and therefore should keep water off your floor. If your four-legged friend is an extremely messy drinker, absorbent mats or those with reasonably high edges will do a better job keeping your floor dry.
How do you keep a dog bowl mat from sliding on the floor?
Sliding generally isn't an issue on carpeted floors, but it can be on wooden floors, vinyl, or tiles. Most dog food mats are either made from non-slip materials or have non-slip feet. Unless you have carpeted floors, avoid any dog food mats that aren't non-slip. If you already own a dog feeding mat that slides on your floor, you can buy your own non-slip feet to stick to the bottom.
Are silicone dog food mats safe for dogs?
Quality silicone food mats are completely safe for dogs. However, there's a very small chance that poor quality silicone dog food mats could be made with some potentially toxic materials. If you're concerned, look for one that's made from FDA grade silicone.
How do you clean a dog feeding mat?
Plastic, rubber, and silicone dog feeding mats simply need to be wiped down or scrubbed with a food-safe cleaning product, such as dish soap, and left to dry. That said, some are dishwasher safe, which makes cleaning even easier. You can put most fabric dog feeding mats in the washing machine.
Other Dog Bowl Mats We Reviewed
We looked at 20 other dog feeding mats. Even though they didn't make our 5 best dog feeding mats list, they're the best of the rest and each is still a great option for your pooch. The information you'll need to compare each one is included with the listing.
Plastic Dog Bowl Mats
Shaped like a speech bubble with the word "woof" emblazoned across the middle, the design of this feeding mat is a bit more interesting than an average plastic model.
Key Features: 
Available in three sizes and two colors
Raised edge
Anti-slip rubber feet
Cost: $8 to $15
Loving Pets Bella Spill-Proof Pet Mat for Dogs
Shaped like a bone with little raised bones on top, this dog feeding mat is nothing if not adorable. It's available in small and large sizes.
Key Features: 
Comes in black or tan
BPA-free
Skid resistant feet
Cost: $17
Mr. Peanut's Multi-Purpose Pet Feeding Mat
This sturdy plastic feeding mat has a 1.2-inch raised edge, which is perfect for messy eaters or dogs who often spill their water bowls.
Key Features:
Textured top helps prevent bowl slippage
Large 30- by 15-inch size
Made from recycled plastic
Cost: $20
Since it's suitable for dogs and cats, you'll find raised cartoon-style illustrations of each species on this feeding mat. You'll either receive it in blue or white.
Key Features: 
Measures 20 by 12 inches
0.8-inch raised edge
Sturdy construction
Silicone Dog Food Mats
Available in six colors, you're sure to find a hue that suits your home decor. Raised bumps on the top and underside prevent slipping.
Key Features: 
Available in large and extra-large sizes
Raised edge
Made from food grade silicone
Cost: $10 to $15
PetFusion Waterproof Pet Food Mat
This extra-large mat measures a gigantic 34 by 23 inches with a 1.3-inch raised edge. However, it's also available in small and large sizes, if you'd prefer something more compact.
Key Features: 
Anti-slip design
Dishwasher safe
Non-toxic
Cost: $30
The raised paw print design on top of this dog feeding mat is both cute and functional, preventing your pooch's food and water bowls from sliding around.
Key Features: 
Made from FDA grade silicone
Four color options
Measures 24 by 26 inches
Cost: $15
Super Design Bone Shape Pet Feeding Mat
The bone shape might be cute as heck, but that doesn't mean this sturdy and reliable feeding mat doesn't do its job well!
Key Features: 
Approximately 20 by 14 inches
Made from food grade material
Raised edges
Cost: $15
Available in five colors and two sizes, you're bound to find a feeding mat that fits your requirements. The anti-slip design keeps them in place.
Key Features
FDA grade silicone construction
Dishwasher safe
Comes with lifetime warranty
Cost: $10 to $15
WQYK Pet Food Silicone Mat Waterproof
At 11.5 by 18.5 inches, it might be slightly more compact than some, but the quality is decent and you can't beat the price!
Key Features: 
1/8-inch raised edge
Made from non-toxic food grade silicone
Easy to clean
Absorbent Dog Feeding Mats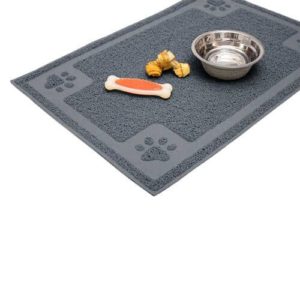 Made from absorbent material with a waterproof backing, this feeding mat soaks up water and locks it in, keeping your floor dry.
Key Features: 
Available in four colors and two sizes
Non-slip design
Easy to clean
Cost: $20 to $25
This feeding mat comes from the same manufacturer as the one above and is made from similar materials, but it has an attractive rounded shape and paw print detailing.
Key Features: 
Anti-slip base
Absorbent top and waterproof base
Measures 22 by 15 inches
Cost: $30
Not only does this absorbent feeding mat come in one of four contemporary designs, it's also customizable to include your pet's name.
Key Features: 
Waterproof
Machine washable
Made from recycled materials
Cost: $25
Drymate Personalized Placemats For Dogs
Another set of designs from Drymate. Made from a special "Drymate Max" material crafted from polyester fiber, these mats are highly absorbent with a waterproof layer underneath.
Key Features: 
Small and large sizes
Three designs to choose from
Personalized with your dog's name
Cost: $25
PetMat Ultra Absorbent Dog Feeding Mat
This large 30- by 21-inch feeding mat can absorb five-times more than a standard mat. It doesn't have a waterproof backing, however, so you'll need to wash and dry it regularly.
Key Features: 
Attractive design
Durable and long-lasting
Made from ultra-soft fabric
Cost: $25
Crafted from super-absorbent microfiber, it quickly soaks up whatever your dog spills. The non-slip backing stops it from sliding around, but isn't waterproof.
Key Features: 
Cute bone design
Four color options
Absorbs five-times the amount of a regular mat
Other Dog Feeding Mats
AquaShield Dog Bowl Wave Pet Feeder Mat
A sturdy dog feeding mat made with waterproof and slip-resistant SBR rubber. You'll be spoiled for choice with the 19 color options available!
Key Features: 
Measures 18 by 27 inches
Ridged construction traps moisture
Made in the USA
Cost: $30
Petmate Le Bistro Single Food Mat
Looking for a compact dog feeding mat? This one's for you! Each mat is large enough for just a single food or water bowl.
Key Features: 
Anti-slip base
Ribbed design keeps water from spilling on the floor
Easy to clean
Cost: $15
PetRageous Designed Tapestry Placemat
This doggy placemat might not be up to containing large spills, but it's great for catching crumbs and drips, plus we love the bold design.
Key Features: 
Waterproof, non-slip rubber backing
Measures 13 by 19 inches
Machine washable
Cost: $7
PetRageous Serve it Up Non-Slip Pet Placemat
Made from flexible yet somewhat rigid rubber, you can easily carry this dog feeding mat to the sink to tip out large spills.
Key Features: 
Anti-skid design
Raised edge contains liquids
Measures 12 by 21 inches
Cost: $15