The best thing you can dog for your dog's oral hygiene is brush his teeth, but dog dental chews are an excellent top-up between brushes or for dog's who won't let you get anywhere near their teeth without a struggle. Dental chews come in both edible and non-edible varieties. Many dogs love the taste of edible chews and think of them as a tasty treat. Non-edible varieties are like toys for lots of pooches and satisfy their natural urge to chew.
We reviewed dozens of dog dental chews to identify the best of the best. We considered all kinds of features, including size, palatability, effectiveness, cost, and overall customer reviews.
After some intensive research into the best dog dental chews out there, we chose the Nylabone Dura Chew XL Textured Dog Chew as our top pick. As your four-legged friend chomps on it, the ends become more textured, which helps keep teeth and gums healthy.
The 5 Top-Rated Dog Dental Chews
*Ratings are from Amazon at the time of publication and can change.
Our Top Pick: Nylabone Dura Chew XL Textured Dog Chew
If you want a dog dental chew that will last for months, rather than being devoured in 30 seconds, we'd highly recommend the Nylabone Dura Chew XL Textured Dog Chew. This huge chew is designed for dogs of 50 pounds and up, but you can find smaller Nylabones, too.
This chew is covered in various ridges and nubs, which help massage the gums and improve overall oral hygiene. What's more, as your dog chews, she'll scrape away small particles of the bone, creating a highly textured, toothbrush-like surface that aid in removing plaque. Your four-legged friend will think she's simply having a fun chewing session, but really she'll be cleaning her own teeth!
Most dogs love to chew, anyway, but to make it even more appealing, this chew is infused with a tasty beef jerky flavor, though you can choose from other flavors, too, including bacon, chicken, and peanut butter. Priced at around $15, this dental chew isn't the cheapest option, but offers excellent value, considering its benefits.
Nylabone Dura Chew XL Textured Dog Chew Key Features:
Designed for aggressive chewers
Long lasting
Made in the USA
Our Runner Up Pick: Natural Balance Dental Chews
Is your canine companion a sucker for a treat? Try feeding him one of these Natural Balance Dental Chews each day, instead of his regular treat, and you'll soon notice an improvement in his dental hygiene.
We especially like these dental chews over other similar products since they're made from natural ingredients, such as vegetables and meat, and are available in limited ingredient formulas, which are ideal for dogs with sensitive stomachs. Their grain-free formula is also suitable for dogs with grain allergies or gluten sensitivities.
Although we've focused on the Fresh & Clean Formula treats, they're also available in Limited Ingredient Duck Formula, Limited Ingredient Sweet Potato & Chicken Meal Formula, and Pumpkin & Chicken Meal Formula. They come in two sizes: small (for dogs between 5 and 25 pounds) and medium (for dogs between 25 and 50 pounds).
At $16 for a 13 ounce packet, they cost more than many other dental treats, but they're worth it for the ingredient quality.
Natural Balance Dental Chews Key Features:
Help reduce plaque and tartar
Freshen breath
Easy-to-digest formula
Best Budget Pick: Arm & Hammer Gator Dog Dental Toy
Not only does the Arm & Hammer Gator Dog Dental Toy feature a range of textured areas to help scrape away plaque, it's also infused with baking soda, which aids in cleaning your canine companion's teeth as she chews. Priced at just $8, it offers exceptional value for money, too!
In addition to cleaning your pooch's teeth, this dental chew also freshen's breath, which is great news if your dog's mouth is starting to get a bit whiffy.
Made from natural rubber, it isn't quite as durable as our top pick, so we wouldn't recommend it for the heaviest of chewers, despite claims from the manufacturer. It will, however, suffice for light and moderate chewers.
Arm & Hammer Gator Dog Dental Toy Key Features:
Dishwasher safe for easy cleaning
Infused with baking soda
Fun alligator shape.
Best Dental Sticks for Dogs: Greenies Original Dental Dog Treats
It can be tough to choose the best dental sticks from the wide range on the market, but with well over 10,000 positive reviews, Greenies Original Dental Dog Treats are tried and tested favorites. Made from all-natural ingredients, plus vitamins and minerals, they're suitable for the vast majority of dogs.
Available in four sizes, you can find Greenies for pooches big and small, from 5 pounds all the way up to 100 pounds. Prices vary depending on the size of the treats and the package size (which ranges from 6 ounces to 72 ounces), but we're focusing on the 36 ounce large size sticks, which cost around $40.
Greenies dental sticks help clean away plaque and tartar right down to the gum line and freshen breath, too.
Greenies Original Dental Dog Treats Key Features:
Accepted by the Veterinary Oral Health Council (VOHC)
Easy to digest
Palatable taste for most dogs
Best Puppy Dental Chew: Nylabone Puppy T-Rex Chew Toy
It's never too early to get your dog started on a good oral hygiene routine, and the Nylabone Puppy T-Rex Chew Toy is a great place to start. Crafted from soft rubber, it's just right for little mouths and helps to clean teeth, freshen breath, and lessen the discomfort of teething.
Not only that, but it can also help develop good chewing habits in puppies—teaching them to chew on appropriate items, rather than anything they can sink their teeth into.
With its natural chicken flavoring, it's both fun and tasty for your puppy to chew on. And, with a price tag of just $7, it won't put you out of pocket!
Nylabone Puppy T-Rex Chew Toy Key Features:
Suitable for puppies up to 25 pounds
Covered in massaging nubs for teething and gum health
Long lasting
Who Should Buy Dog Dental Chews
Anyone who owns a dog and is concerned about their dental health should buy a dog dental chew. Whether you choose edible or non-edible dental chews is up to you, but either option can help keep your canine companion's teeth clean and his gums healthy.
Dog dental chews aren't the only piece in the puzzle that is canine oral hygiene, but they're certainly a step in the right direction. We've also reviewed the best dog toothpastes in a separate post. (Check out our helpful guide on how to brush your dog's teeth.) If your pup suffers from stinky breath, dog breath spray can help.
Important Features to Consider
A dog dental chew should have a few important features. Here's what to consider when selecting a dental chew for your dog:
Edible vs. non-edible. You can find both edible dog dental chews (treats that have tooth-cleaning properties) and non-edible dental chews (chew toys specially designed to clean the teeth while your dog gnaws on them). Choose whichever you think your dog would get on with best, or use a both to pack an extra punch.
Cleaning power. Sure, a dog dental chew might claim to keep canine teeth clean, but does it deliver? Not all dental chews are equally effective, so it's worth looking at reviews from people who've given them to their dogs, to see if they have adequate cleaning power.
Flavor and palatability. If your dog won't touch a dental chew because she doesn't like the taste, it obviously won't do anything to clean her teeth. Choose a canine dental chew that seems to be palatable to most dogs or comes in a flavor your pooch generally enjoys. While this mostly applies to edible dental chews, some non-edible models are infused with flavor to encourage dogs to chew them more.
Size. Choose a dog dental chew of the correct size for your four-legged friend. If it's too big, your dog won't be able to wrap his mouth around it. If it's too small, it poses a choking hazard for your canine companion.
Durability. When selecting a non-edible dog dental chew, look at its durability and make sure it's strong enough to stand up to your pooch. If it's not durable enough, your dog may be able to bite off large chunks, which is dangerous.
Frequently Asked Questions
What are dog dental chews and how do they work?
Dog dental chews are either chew toys with ridges and nubs or chew treats with slightly rough ingredients. They're designed to scrape plaque off the teeth and massage the gums to improve dental health.
Do dental chews work for dogs?
While dental chews do help lessen the amount of plaque on your dog's teeth and generally improve oral hygiene, they shouldn't be a replacement for regular tooth brushing (if your dog will allow it) or dental check ups with a veterinarian.
Can puppies have dental chews?
Yes, puppies can have dental chews, but you'll need to make sure they're the right size for their current weight (not their future weight when they're fully grown).
Will dog dental chews get rid of my dog's bad breath?
Bad breath in dogs is often a sign of gum disease. Dental chews can help to reverse gum disease, as part of a comprehensive oral hygiene routine, so they should help to get rid of bad breath.
Other Dog Dental Chews We Reviewed
We looked at 20 other dog dental chews. Even though they didn't make our 5 best dog dental chews list, they're the best of the rest and each is still a great option for your pooch. The information you'll need to compare each one is included with the listing.
Edible Dog Dental Chews for Small Dogs
Greenies Weight Management Dental Dog Treats
Tiny treats for dogs between 5 and 15 pounds. The low-calorie formula is perfect for small dogs on a diet.
Key Features:
Made from natural ingredients
Fight plaque and tartar
Freshen breath
Cost: $30 for 96
Merrick Fresh Kisses Mint Flavor
These small dental chews are designed for dogs between 15 and 25 pounds and will leave your canine companion's breath minty fresh.
Key Features:
Grain and potato free
Palatable flavor
Cooked in the USA
Cost: $30 for 36 treats
Nutri Dent Mini Edible Dental Chews
With their specially designed 360-degree nubs, these miniature sized dental chews clean all surfaces of the teeth.
Key Features:
No artificial flavors or colors
No added sugar or salt
Palatable formula
Cost: $43 for 72 treats
Affordable dental chews from a well-known brand, though the quality may not be as high as those from smaller boutique manufacturers.
Key Features:
Suitable for dogs between 5 and 20 pounds
Textured finish removes plaque and tartar
Freshens breath
Cost: $18 for 78
Purina DentaLife Daily Oral Care Mini Adult Dog Treats
The porous texture of these dental chews allows them to get into those hard-to-reach spots while the chicken flavor is highly palatable.
Key Features:
Cleans teeth and freshens breath
Cleans right down to the gum line
For dogs between 5 and 20 pounds
Cost: $9 for 58 treats
Whimzees Natural Grain Free Dental Dog Treats
All-natural dog treats that are both grain-free and made to a vegetarian formula.
Key Features:
Extra-small size for dogs of 5 to 15 pounds
GMO-free
Unique shape helps clean teeth effectively
Cost: $15 for 48
Edible Dog Dental Chews for Large Dogs
Merrick Fresh Kisses Coconut Oil + Botanicals
Infused with coconut oil and a range of herbs with a double brush design to more effective remove plaque and tartar.
Key Features:
Designed for large dogs over 50 pounds
Leave breath fresh
Grain-free formula
Cost: $24 for 14 chews
Pedigree Dentastix Dog Dental Treats Original Flavor
The same Dentastix featured in our small dog section, but for large pooches, of 30 pounds and above.
Key Features:
X-shaped design helps scrape off more plaque
Triple action formula
Chicken flavor
Cost: $9 for 18
The Missing Link Once Daily All Natural Omega Dental Chew
Not only do these chews help clean teeth and promote dental hygiene, they're also great for joint health, which is perfect for large dogs.
Key Features:
Suitable for large and extra-large dogs
Abrasive ridges help remove plaque
No artificial colors, flavors, or preservatives
Cost: $30 for 28
Ultra Chewy Double Treat Bone Peanut Butter Flavor
With their delicious peanut butter-filled centers, these chews are highly palatable, while keeping teeth clean as a bonus.
Key Features:
Double layered design is great for plaque and tartar control
Easy to digest
Made in the USA
Cost: $21 for 12 chews
VetIQ Minties Dog Dental Bone Treats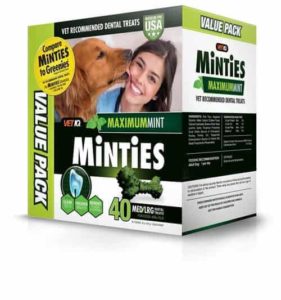 The nubs all over these dental bone treats increase their plaque-reducing power, while the minty flavor freshen's your dog's breath.
Key Features:
Suitable for medium and large dogs, over 40 pounds
Contains chicken flavor and brewer's yeast for increased palatability
American made
Cost: $27 for 40
Whimzees Natural Grain Free Alligator Dental Dog Treats
Not only are these cute alligator dog treats great at reducing plaque, they're made from quality grain-free and vegetarian ingredients.
Key Features:
Suitable for dogs between 40 and 60 pounds
Palatable recipe
No GMOs
Cost: $13 for 6 chews
Non-Edible Dog Dental Chews
Benebone Maplestick Real Wood Durable Dog Stick Chew Toy
A safe alternative to chewing on sticks, this toy combines real wood and real nylon to produce a chew that dogs love and that helps scrape away plaque.
Key Features:
Three sizes available
Easy for dogs to grip and chew
Made from real maple wood
Cost: $11 to $18
Benebone Real Flavor Dental Dog Chew Toy
A double-sided dental chew toy available in three sizes and four flavors: bacon, chicken, mint, and peanut.
Key Features:
Ridges help stimulate gums and reduce plaque
Flavors are infused through the whole chew
Made in the USA
Cost: $10 to $18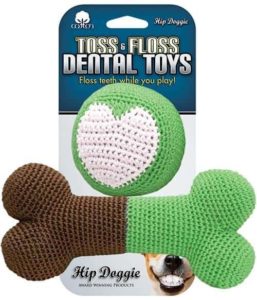 Different from the majority of non-edible dental chews on the market, these ones are designed to act like floss as your dog chews, cleaning between the teeth.
Key Features:
Ball and bone included
Machine washable
Veterinarian recommended
Cost: $20
A tough and durable dental chew toy from a respected manufacturer with specially designed ridges to clean teeth.
Key Features:
Available in three sizes
Can be filled with treats
For average chewers
Cost: $15 to $20
Made from natural rubber, this dental chew stick isn't tough enough for heavy chewers but is effective at removing plaque in dogs who chew more gently.
Key Features:
Cleans from all angles as your dog chews
Fresh minty smell
Designed to be easy for dogs to hold as they chew
Cost: $25
Nylabone Dura Chew Axis Bone Dog Chew Toy
The innovative "axis" design makes it easier for dogs to chew from any angle. Ridged design helps scrape plaque and tartar away.
Key Features:
Long lasting
Designed for powerful chewers
Bacon flavor
Cost: $10
Nylabone Textured Ring Dog Chew Toy
All the nubs and ridges on this dental chew help remove plaque and tartar, as well as encouraging gum health.
Key Features:
Tasty flavor medley
Designed for heavy chewers
Suitable for large dogs over 50 pounds
Cost: $7
A simple original flavored Nylabone in a wishbone shape. The bristles raised while chewing clean your dog's teeth.
Key Features:
Suitable for medium dogs up to 35 pounds
Stands up to heavy chewers
Satisfies the natural urge to chew
Cost: $7