Every dog needs a dog crate. They provide a safe place for your dog to go and unwind and make potty training far easier. However, crates can take up a lot of room and are commonly an eyesore, especially if your dog is large. Luckily, a dog crate end table is a wonderful way to integrate a dog crate into your space. It prevents it from ruining your home's aesthetic and is multi-purpose, allowing you to use your space wisely.
We reviewed dozens of dog crate end tables to identify the best of the best. We considered sizing options, style, color options, Customer Reviews, and durability when ranking each product.
After reviewing each product, the Casual Home Wooden Pet Crate easily beat out the competition. This crate is not an eyesore and works very well for many dogs. Plus, it is easy to put together and made of chew-resistant wood.
The 5 Top-Rated Dog Crate End Tables
*Ratings are from Amazon at the time of publication and can change
Our Top Pick: Casual Home Wooden Pet Crate
If you're looking for a stylish yet practical dog crate end table, the Casual Home Wooden Pet Crate can't be beaten. The design provides all the benefits of a usual end table but also doubles as a strong dog crate. It is made of solid wood and is resistant to chewing, unlike some other options. The door easily stays open by itself, allowing your pooch to enjoy their safe space freely. There is also a secure lockable latch on the door, so you can contain your dog when necessary. The sides and door feature slits for ventilation and airflow, while also keeping your pet securely in the crate. This crate does require some assembly. However, many dog owners reported that the assembly was very easy and quick. All hardware is included, and the pre-fabricated holes are accurate.
The wood used to make this product is sustainably sourced, so you can feel good about buying from this company. While this exact crate cannot fit extra-large dogs, the company does make an extremely similar crate for larger dogs. If you need something to fit a big dog, just head over to Amazon and look at the other options this company offers. This dog crate also comes in four different colors, allowing you to choose which option best matches your style. This crate does not come with a dog crate pad or dog crate pan, so you might want to consider purchasing one to protect the wood, especially if you have a puppy or larger dog.
Casual Home Wooden Pet Crate Key Features:
Easy Assembly
Solid wood
Stylish
Comes in four colors
Our Runner Up Pick: Merry Pet 2-in-1 Configurable Pet Crate n Crate
Out of all of our featured dog crate end tables, the Merry Pet 2-in-1 Configurable Pet Crate n Crate is the most versatile. It functions well as a dog crate end table. However, it can also be transformed into a large gate. No matter how you want to contain your canine, this crate is for you. You can turn it into a dog crate when you need your pet completely put away, or you can use it as a gate to confine them to a certain area of the house. Unlike many dog crate end tables, this product has a removable plastic tray on the bottom. This prevents any possible accidents your pet has from damaging the crate itself and makes clean up easy.
There are two sizing options for this crate: medium and large. The large is actually quite big and should be able to fit most larger dogs. Assembly is easy and should only take a matter of minutes. All you really have to do is line up the hinges and drop the hinge pens in. Because this crate can be transformed into a gate, it can be easily moved when necessary, even if you keep it in a house with small doorways. This dog crate does not come in different color options. However, it is still pretty stylish the way it is.
Merry Pet 2-in-1 Configurable Pet Crate n Crate Key Features:
Converts to gate
Two sizes available
Removable plastic tray
Easy to assemble
Best Budget Pick: New Age Pet ecoFlex Pet Crate/End Table
Looking for a crate that won't break the bank? The New Age Pet ecoFlex Pet Crate/End Table is a great option for those who are budget conscious or just don't want to spend hundreds of dollars on a dog crate. It looks nice and comes in four different colors, including white, espresso, grey, and russet. It is made out of an environmentally friendly, plastic-wood polymer, which is quite durable. It won't crack, warp, or split – making it the perfect material for a dog crate end table. It is also non-toxic, so you don't have to worry about it making your dog sick. It also features a stainless-steel latch to keep your pet safely contained when necessary. Spindles made of stainless-steel tubing also help keep your pet safely inside the crate while also allowing proper ventilation.
This dog crate end table does require some assembly. However, it requires no tools to put together and is quite straightforward. There are multiple sizes available from small to XL. Of course, the larger the size is, the more expensive it gets. If you have a larger dog, you should still plan on investing quite a bit of many, even though this option is cheaper than many others.
New Age Pet ecoFlex Pet Crate/End Table Key Features:
Stainless steel latch and spindles
Made of plastic-wood polymer
No-tools assembly
Four colors available
Best Dog Crate End Table for Small Dogs: Merry Products Cage with Crate Cover Set
Even small dogs need crates. Though most small dogs do not have the destructive power of larger ones, crates are still useful to provide them with a safe place to go and to help with potty training. The Merry Products Cage with Crate Cover Set is a wonderful option for any small dog. This crate is very open and covered with wire on all sides. While this does take away from some of the aesthetic, it also provides more ventilation. The top is solid and makes a very practical end table. You can store personal items and drinks on top easily. There are three sizes available to accommodate different sized dogs. Even if you don't necessarily have a very small dog, this crate might be a good option for you.
This crate also comes with a divider that can be used down the center. This allows the crate to grow with your dog or accommodate your two smaller dogs at one time. Having a crate that is too big can be just as bad as having one that is too small, so the removable divider is particularly helpful for small dogs. There is also a removable plastic tray for cleaning purposes. The front panel of the crate easily pulls off, allowing the tray to be removed and cleaned. The crate is also useable without any of the wooden parts, so it can be easily transported if necessary. However, this is not a travel dog crate.  If you need a crate that can easily travel in the car or on an airplane, you should check out this article.
Merry Products Cage with Crate Cover Set Key Features:
Divider included
Removable tray for cleaning
Useable without wooden parts
Lots of ventilation
Best Dog Crate End Tables for Large Dogs: Contemporary End Table Pet Crate
Large dogs understandably have more destructive capabilities than smaller dogs. They're more powerful, stronger, and can reach places tinier dogs can't. They also have larger accidents than small dogs. Because of these reasons, they absolutely need a crate. However, it can be difficult to find a crate that is built to withstand larger dogs, especially in their puppy-phase. Luckily, the Contemporary End Table Pet Crate is a great option for large dogs. It is made with 100% ecoFLEX – a wood-polymer composite. This composite is extremely strong and durable, making it the perfect option for big dogs. It is non-toxic as well, so even if your dog does manage to bite into it, you don't have to worry about it harming them.
The large and extra-large crate options come with two latches, so you don't have to worry about your canine forcing the door open. There are also five different color options available, allowing you to choose the best option to match your space. Assembly is required, but it is fairly easy. The kennel is also fairly easy to clean and just needs to be wiped down with a damp cloth from time to time. You can treat it just like the rest of your wooden furniture; just make sure that whatever cleaning products you use are safe for your pet. If you aren't sold on this crate, you can view more large dog crates here.
Contemporary End Table Pet Crate Key Features:
Aesthetically pleasing
Two latches
Five colors available
Easy to clean
Who Should Buy A Dog Crate End Table
All dogs need a dog crate. After being properly crate trained, dogs will find security in their crate, and many will choose to spend time in their crate willingly. A dog crate provides a space for your dog that is specifically theirs, allowing them to escape stressful situations. Crates also help tremendously with potty training. They allow you to safely contain your dog to one area, preventing accidents inside the house and allowing you to potty train them faster. For some dogs, crates are necessary for them to potty train at all! When used appropriately, crates can also lessen the chance of aggression. A crate provides a place for your pet to escape to should they become stressed or scared. This prevents them from acting out aggressively.
Of course, crates can be quite large and take up a lot of space. Because of this, dog crate end tables are becoming quite possible. They allow you to make the most out of the space by doubling as a dog crate and an end table. They also tend to look nicer than other dog crates, which is particularly good if your house is on the small side.
Important Features to Consider
A crate end table for dogs should have a few important features. Here's what to consider when selecting a dog crate end table for your home:
Durability. This feature is particularly important for puppies and dogs that are not yet used to crates. Every dog is going to attempt to escape their crate at least once; it is vital that whatever crate you purchase is durable enough to prevent this from happening. Not only does this keep your dog safely where you want them to be, but it also prevents your dog from injuring itself during the escape attempt. Choosing a durable crate will also prevent you from needing to regularly replace it, which can save you lots of money in the long run.
Ease of Cleaning. It isn't rare for dogs to have accidents in their crate, especially when they're potty training. A good crate will be easily cleanable. The best types of crates have removable trays that can be easily cleaned should your pet have an accident. Of course, as long as the crate is cleanable, a tray is not 100% necessary, especially if you have an older dog that is already potty trained. If you need help potty training your dog, check out our helpful guide on how to crate train your dog.
Safety. A crate should be completely safe for your dog to stay in for extended periods. It should not come apart easily when chewed on and should be made of non-toxic materials. The crate should also be adequately ventilated to prevent overheating and poor air quality.
Style. One of the main reasons to purchase a dog crate end table instead of a regular, wire dog crate is because they typically look better. Dog crates that also function as an end table generally feature wood in their design and blend in more easily to your décor. If you don't have much room in your home, this can make finding room for a dog crate much easier. Of course, not all dog crate end tables look the same. Some are going to fit your personal tastes better than others. Choose one that you personally like that matches your home décor.
Assembly. Almost every dog crate is going to need some assembly. However, some require lots of time and effort to put together, while others just need the separate pieces snapped together. Some require tool on-hand, while others don't require any at all. Choosing a dog crate end table that is easy to put together will save you time and stress.
Frequently Asked Questions
What is a dog crate end table?
A dog crate end table is a dog crate that also doubles as an end table. The top is usually flat and capable of holding drinks and other personal items, while the underside is designed to be a dog crate. These crates typically feature a wood design and are more aesthetically pleasing than a usual dog crate.
Should I put my dog in a crate at night?
This typically depends on your particular dog. Is your dog potty trained and typically unrestrictive? Then it probably isn't going to be a problem to let them roam around at night. However, if your dog is not yet potty trained, destructive, young, or new to your home, it is usually better to put them in a crate at night. This not only protects your belongings, but it can make their transition into your home easier, allow them to potty train faster, and prevent them from injuring themselves at night.
Unlike what many may think, a dog crate is not a punishment. Most dogs have a natural instinct to seek out a den and enjoy the security a crate offers. A dog who is properly crate trained will often choose to sleep in their crate even when the door is wide open.
How long can you leave a dog in a crate?
This depends on their age and activity needs. Younger dogs need to be taken out more to use the bathroom than older dogs. While it is possible to put puppy pads inside their crate, crates should typically not be large enough for them to have accidents in and puppy pads often elongate the potty-training process. It is usually far easier to take them out often than resort to using puppy pads or leaving them in the crate for long periods. It is recommended that a puppy remains in a crate no longer than an hour at a time. As the puppy gets older, they will be able to stay in their crate for longer stretches. Smaller puppies will need to be taken out more than larger puppies because their bladders are smaller.
Dogs with high activity needs should be let out of their crate often. Dogs need exercise just like people. If your dog is left in a crate for long periods of time regularly, they will likely not get the full amount of exercise they need. This will impact their physical health and can make them more destructive. A bored dog is typically not a good dog. Eight hours is typically the max for most dogs, and you should be certain they get ample amounts of time exercising when they are not in their crate.
Should you put food and water in your dog's crate?
You should typically leave water in a dog's crate but not food. Dogs can become very anxious if they do not have any water available to them, and this is the last thing you want when they are in a dog crate. You do not want your canine associating their crate with thirst and dehydration. However, you should not just leave an open water bowl in their crate, as this can spill and make your pet very uncomfortable. Instead, we recommend placing a water bottle in your pets' crate or another crate-worthy water dispenser.
You should not leave food in your dog's crate because they should be on a feeding schedule. Obesity is a huge problem in the dog population. Leaving your dog's food out for them to snack on can cause them to gain unhealthy amounts of weight and contribute to tooth decay.
Other Dog Crate End Tables
We looked at 20 other crate end tables for dogs. Even though they didn't make our 5 best dog crate end tables list, they're the best of the rest, and each is still a great option for your dog. The information you'll need to compare each one is included with the listing.
Best Dog Crate End Tables for Small Dogs
Boomer & George Wooden Pet Crate End Table
This crate is made of stylish espresso stained wood and can be assembled in around an hour. Customers defined the craftsmanship as 'outstanding' and loved how seamlessly it blended into their decor.
Key Features:
Made of wood
Closes with a latch
DIY assembly
Cost: $175.00
OS Home and Office DB-112 Dog Box
This crate features Victorian-inspired design work and is ideal for a traditional home. While this product is yet to be reviewed, with such a standout design it is likely this crate will soon become a bestseller.
Key Features:
Locking door with a removable raised panel
Scratch resistant melamine floor
Quality metal and wood construction
Cost: $216.00
Paws & Purrs Pet Bed and End Table
Constructed from espresso-colored melamine, this crate comes with a padded foam cushion for pet comfort. While customers could only speak highly of the end table's construction, some pets were disinterested in the product.
Key Features:
Affordable
Constructed from melamine
Comes with padded foam cushion
Cost: $67.00
Polar Bear's Pet Shop End Table 2 Door White Wood Bed
This end table features two hinged doors which allow for easier access to your pet. Customers found this product was as advertised and easy to assemble.
Key Features:
Features two hinged doors
Constructed from wood
Latch Closure
Cost: $327.00
Polar Bear's Shop Pet Wooden Pet Crate End Table
This end table is made from espresso stained wood and has a secure latch for pet safety. Buyers found that this crate was easy to assemble and found their pets enjoyed resting in it.
Key Features:
Made from wood
Assembly tool provided
Latch Closure
Cost: $125.00
SUNCOO Wooden Dog House End Table
This end table comes in many colors and sizes. It features a removable sliding tray for easy cleaning. This product is currently unreviewed, making it ideal for pet owners looking to try something new.
Key Features:
Removable tray for cleaning
Available in four colors
Available in four sizes
Cost: $125.00
Best Dog Crate End Tables for Medium Dogs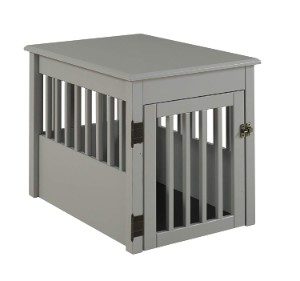 Available in a cool gray and made from 100% wood, this end table also comes with four floor protectors to prevent scratching. Customers loved the crate's stylish design and quality construction.
Key Features:
Made from 100% wood
Wrap-around swing door
Floor protected by a rubberized coating
Cost: $202.00
Crown Pet Products Wood Pet Crate End Table
This end table has a melamine-coated MDF floor for easy cleaning and odor prevention. Customers found this crate was easy to assemble and found their dogs loved using it.
Key Features:
Available in two wood stains
Available in medium and large sizes
Melamine floor
Cost: $233.00
eHomeProducts Large Size Pet Dog Kennel Crate
Highly affordable, this end table features an open design which is perfect for anxious dogs, and also comes with leatherette padding for comfort. Customers loved that it gave their pets a sturdy and cozy hiding spot.
Key Features:
Affordable
Open design
Made from MDF and Leatherette
Cost: $30.00
Internet's Best Decorative Dog Kennel with Pet Bed
Unlike many end tables on the market, this crate comes with a removable padded pet bed. Customers were happy with how easy assembly was, but found the bars were quite weak and liable to breakage.
Key Features:
DIY assembly
Wood with brass hardware
Comes with a removable pet bed
Cost: $230.00
Pinnacle Woodcraft Chew Proof Dog Crate Amish Wooden
This end table serves as both a quality piece of furniture and a dog crate. Customers were stunned by the high-quality oak and appreciated the superior customer service they received from Pinnacle Woodcraft.
Key Features:
DIY assembly
Chew-proof wire cage
Made from oak
Cost: $359.00
Polar Bear's Shop Furniture Pet Crate Dog Kennel White Medium End Table
This crate comes in stylish white and features a latch-style closure. Customers found this crate to be more fragile than they expected but liked its overall appearance.
Key Features:
DIY assembly
Affordable
Left opening door
Cost: $112.00
Primetime Petz End Table Kennel
This end table is handcrafted from New Zealand pine and is stained a rich brown. While many customers loved the overall look and feel, some buyers did state they had issues with the product's durability.
Key Features:
Handcrafted
Comes with protective floor pads
Available in medium or large
Cost: $174.00
Richell Wooden End Table Crate Large
This crate features a removable tray which makes for easy cleaning, creating a perfect solution for those with pets who shed heavily. Customers found this product was well worth its price as it offered a durable solution for their pets.
Key Features:
Well-ventilated design
Removable sliding tray for cleaning
Available in small, medium, and large
Cost: $221.00
Unipaws Pet Crate End Table with Cushion
This crate features a unique cross-hatch design which allows for a durable crate without hindering the dog's view. Customers fell in love with the crates design and found that the colors were accurately depicted in the listing.
Key Features:
Anti-scratch floor protectors
Comes with a pet bed
Available in three colors
Cost: $200.00
Zoovilla Medium Slide Aside Crate and End Table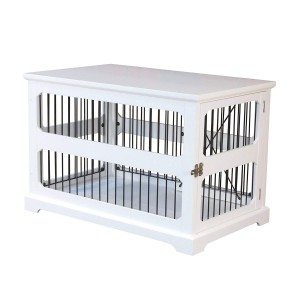 Available in black or white, this end table features metal bars which are ideal for pets that chew or are not crate trained. Customers loved the crate's sliding door feature as well as how easy the product was to assemble.
Key Features:
Sliding front door
Metal Bars
Made from MDF
Cost: $145.00
Best Dog Crate End Tables for Large Dogs
DenHaus Mahogany Townhaus Wooden Pet Crate
This crate is made in the U.S.A, has a non-toxic finish, and has a removable door. Customers loved that they gained both an attractive end table as well as a comfy home for their pet upon buying this product.
Key Features:
DIY Assembly
Made from kiln-dried tropical wood
Made in the U.S.A
Cost: $370.00
Newport Dog Crate Kennel Cage End Table Wood
This crate features a well-ventilated design and a secure latch closure. While some customers did find this crate tricky to assemble, once put together they were happy with its durability.
Key Features:
Constructed from 100% solid wood
Assembly tool provided
Affordable
Cost: $130.00
Pinnacle Wooden Dog Crate Furniture End Table
This end table is constructed from maple wood and has a sturdy latch closure as well as chew-proof wire bars. Customers loved the supreme quality of this crate.
Key Features:
Constructed from maple wood
Available in medium and large
Available in 5 different stain options
Cost: $439.00
Polar Bear's Shop X Large Pet Crate Cage End Table
Made from 'ecoFLEX,' a blend of wood fibers and recycled polymers, this crate comes in an extra-large size that is ideal for even the largest sized dogs. Customers loved how easy this product was to assemble.
Key Features:
Stainless steel spindles
Made from recycled materials
Ideal for big dogs
Cost: $334.00