Dogs have a natural urge to chew and it also helps to keep their teeth and gums healthy. Rather than trying to curb this behavior completely, buy your dog some chew toys and they'll learn to chew on appropriate items, rather than your shoes or anything else that could possibly damage your dog's teeth – if your dog has a chipped tooth, learn what our vets say about tooth fractures in dogs. All dogs need both mental and physical stimulation, and playing with or chomping on their chew toys can help keep their brains and bodies occupied. (Check out our list of the best interactive dog toys for more options for keeping your pups entertained.)
We reviewed dozens of dog chew toys to identify the best of the best. We based our choices on a variety of factors, including size, durability, material, and average customer reviews.
Nylabone Dura Chew Plus
The ridges and nubs of this Nylabone stimulate the gums and make for a satisfying chew.
After examining all the options, the Nylabone Dura Chew Plus stood out to us as the best dog chew toy on the market right now. It might have a simple bone-style design, but it's a classic chew that satisfies all kinds of dogs. Made of a solid nylon material, this dog chew toy can be slowly worn down by your dog, giving off small shavings, no bigger than a grain of rice, that are safe to ingest. Your canine companion will feel satisfied that she's making progress with the chew and it gives a tactile sensation that's pleasing to dogs. Plus, with around 6,000 reviews, most of them positive, this chew toy is clearly a favorite!
The 5 Top-Rated Dog Chew Toys
*Ratings are from Amazon at the time of publication and can change
Our Top Pick: Nylabone Dura Chew Plus
Out of all the dog chew toys available, the Nylabone Dura Chew Plus is our favorite and your dog should love it, too! Despite being a good, solid chew toy, the Nylabone only costs around $15, so you won't be out of pocket. That said, Nylabones do wear down over time and need to be replaced. Depending on how voracious a chewer your canine companion is, you'll need to replace this chew toy every one to six months.
The model we're reviewing is the medium size (also known as "wolf"), which is suitable for dogs up to 35 pounds, but it's also available in smaller and larger sizes. The design features bumps and ridges that makes chewing the Nylabone more interesting and may give the teeth and gums more stimulation.
If you're worried that your dog won't take to his new Nylabone Dura Chew Plus, it's infused with a tasty chicken flavor (though vegans and vegetarians might be pleased that it contains no animal products), which should encourage him to chew it, if he's not sure right away.
Since the Nylabone is designed to stand up to powerful chewers, it's the perfect option if your pooch usually destroys most chew toys in mere seconds!
Nylabone Dura Chew Key Features:
Made in the USA
Satisfies chewing urge and provides dental stimulation
Chicken flavor
Our Runner Up Pick: Kong Classic Dog Toy
Most dog parents have heard of the Kong Classic Dog Toy or seen one at the pet store, but if you haven't tried one out, now's the time. Made of sturdy rubber, these toys are designed to stand up to medium chewers (though you can also buy virtually indestructible Kongs for heavy chewers), but they're more than just chew toys.
Due to their irregular shape, Kong Classic chew toys have an erratic bouncing pattern, which makes for extra exciting games of fetch. Or, if your dog isn't particularly interested in fetching, you can stuff his Kong with small treats or peanut butter to make him work for his rewards.
The all-natural rubber has a pleasant mouthfeel that many dogs love to chew on, though you should supervise larger dogs or destructive chewers to make sure they don't get any large chunks off. It comes in six sizes from XS to XXL, so there's something to suit all kinds of dogs. Costing between roughly $10 and $25, depending on the size you need, the Kong Classic offers good value for money, considering how versatile it is.
Kong Classic Dog Toy Key Features:
Made from all-natural materials
Can be stuffed with treats as a boredom buster
Comes in six sizes
Best Budget Pick: Outward Hound Bionic Ball
Not only is the Outward Hound Bionic Ball an excellent toy in its own right, it costs just $6 for a medium-sized model, which makes it extremely affordable, too! Thanks to its spherical shape, it's suitable for long games of fetch, but its durable construction means it can be chewed on, too.
It has a hole in the center which can be stuffed with peanut butter or other similar paste-like foods (though make sure they're safe for dogs) to occupy her for even longer as she chews. Made from BPA-free and FDA-approved food grade materials, you don't have to worry what kinds of chemicals your pooch is chomping on, which gives you peace of mind.
With an impressive bounce, the Bionic Ball is perfect for playtime, plus the center hole gives you an unpredictable bounce, which is even more fun for your canine companion. What's more, it floats in water, so your dog can even play with it at the beach or in other bodies of water.
While it is a durable option, it's not completely indestructible, so keep an eye on heavy chewers.
Outward Hound Bionic Ball Key Features:
Floats in water
Center hole can be stuffed with treats
Bounces for fun fetch sessions
Best Puppy Teething Toy: Pet Stages Cool Teething Stick
Teething is a tough time for puppies. What they need is something that will satisfy their urge to chew and also provide relief to their gums, which can get sore as new teeth come through. The Pet Stages Cool Teething Stick helps your puppy feel more comfortable while teething. Plus, it will hopefully avoid any of your belongings ending up destroyed by your puppy's sharp end.
What makes this toy different from many alternatives is that you can wet it, stick it in the freezer, and the outer shell freezes. This provides a layer that's both cool and crunchy, which can give your puppy a lot of relief from teething pain. While it's certainly not indestructible for big dogs, it should stand up to most puppies' teeth. Better yet, it costs under $5, which is exceptionally good value!
Puppies are just babies who love to get into everything to learn about the world, so the tassels and other dangly and crinkly parts give your puppy a variety of textures to explore to keep him occupied and out of mischief.
Pet Stages Cool Teething Stick Key Features:
Measures approximately 6 inches long
Can be frozen for a cooling sensation
Variety of textures keeps puppy entertained
Best Plush Dog Chew Toy: ZippyPaws Warriorz Plush Dog Toy
Some dogs like to scrape their teeth against plastic or nylon chew toys or get stuck into rubber, but other much prefer a soft plush option. If you want a plush dog chew toy that your dog won't tear her way through in five minutes, the ZippyPaws Warriorz Plush Dog Toy is an excellent choice.
With reinforced stitching around the outside, multiple layers of strong fabric, and no dangling parts that can easily be torn off, this plush toy will stand up to heavier chewers. It's a long way from indestructible, so determined, aggressive chewers will eventually get inside, but it won't be easy!
Inside are two blaster squeakers that will provide hours of entertainment for your dog, even though they might get on the nerves of the humans in your household. Measuring roughly 11 by 9 inches, this is a sizable toy that's suitable for larger pooches, as well as smaller ones, though it's certainly too large for toy breeds.
With a price tag under $10, this dog chew toy is reasonably priced, particularly considering the quality of construction.
ZippyPaws Warriorz Plush Dog Toy Key Features:
Available in five cute designs
Two squeakers inside
Z-Stitch Technology provides strong reinforcement
Who Should Buy a Dog Chew Toy?
Essentially, anyone who owns a dog should buy a dog chew toy. Playing with toys helps provide mental stimulation for your canine companion, but all pet parents know that you can't actively play with your dog as often and as long as he'd like you to. However, your dog doesn't need you to play with his chew toy, he can do it all by himself, giving him something to occupy his mind when you're not available. Chew toys can be an effective deterrent when it comes to teaching puppies not to bite; they provide an appropriate alternative to your fingers and arms when your pup needs to satisfy his urge to chew.
Even if you don't think your dog is an avid chewer, you might be surprised at how much she likes her new chew toy, especially if you opt for a plush model or one that can be stuffed with treats to create an extra level of enjoyment. What's more, chewing is good for your dog's oral health, and healthy teeth and gums can aid in keeping their doggy breath a bit fresher. (Read more about keeping your dog's teeth healthy and breath fresh.)
Nylabone Dura Chew Plus
The ridges and nubs of this Nylabone stimulate the gums and make for a satisfying chew.
Important Features to Consider
A dog chew toy should have a few important features. Here's what to consider when selecting a chew toy for your dog:
Size. Make sure you choose a chew toy of an appropriate size for your dog. A large dog could probably swallow a chew toy designed for a toy breed whole, whereas a tiny pooch wouldn't be able to get his mouth around a toy made for a humongous hound.
Material. Dog chew toys come in a wide range of materials. Common options include rubber, dense nylon, real wood composites, and plush fabrics. Some dogs prefer certain materials over others, so if you're not sure what you four-legged friend likes, it may require some trial and error.
Durability. Another important factor to consider is durability. Some options are stronger than others, so you you need to think about your dog's chewing power before you purchase. You'll find plenty of options for aggressive chewers, so don't despair if your pooch normally savages his toys.
Other functions. Some dog chew toys are multifunctional. You can find interactive toys that you dog will have to work to get treats out of, as well as chew toys you can also play tug or fetch with.
Frequently Asked Questions
Why do dogs need chew toys?
Dogs have an innate desire to chew. It's natural for them and you can't hope to stop them, so a dog who doesn't have chew toys may turn to your shoes or upholstery to satisfy her urges. Chewing can help relieve stress and boredom in dogs, and chewing certain toys provides dental stimulation and helps to remove plaque.
Is rawhide bad for dogs?
Rawhide is potentially dangerous for dogs because once it gets wet, it turns softer and it's fairly easy for a dog to bite off a large chunk. Large chunks of rawhide can be a choking risk or cause intestinal blockages.
What can I give my dog instead of rawhide?
You can give dogs all kinds of chew toys instead of rawhide. However, dogs who like rawhide may be particularly keen on Nylabones and similar chews.
How do I make my dog stop chewing everything?
Once your dog has got into the habit of chewing everything in site, it takes some work to break the habit. While you're teaching him not to chew inappropriate items, make sure you put anything you don't want your dog to chew out of his reach to save your belongings. Giving your dog chew toys is the first step to stopping him chewing everything. Some dogs will take to their chew toys right away and stop unwanted chewing, but others take more work.
If you see your dog chewing anything she's not supposed to, give a firm "no" (but never use physical punishment or intimidation techniques), take the item she's chewing away, and divert her attention onto a chew toy. This is teaching her that she can chew some items (her chew toys), but not others (your stuff). When your dog chews her toys of her own volition, give her plenty of praise so she knows it's a desired action.
Other Dog Chew Toys We Reviewed
Nylabone Dura Chew Plus
The ridges and nubs of this Nylabone stimulate the gums and make for a satisfying chew.
We looked at 20 other chew toys for toys. Even though they didn't make our 5 best dog chew toys list, they're the best of the rest and each is still a great option for your canine companion. The information you'll need to compare each one is included with the listing.
Durable Dog Chew Toys
Ethical Pets Play Strong Virtually Indestructible Rubber "S" Dog Bone Toy
This large 12″ chew bone is labelled "virtually indestructible" but note that very strong chewers may still be able to breach it.
Key Features:
Made from safe, non-toxic materials
Floats in water
Hollow center can be stuffed
Cost: $10
The strongest of all the Goughnut toys, this is an extremely heavy-duty chew that will stand up to all but the most aggressive of chewers.
Key Features:
Floats in water
Extremely strong construction
Goughnut will replace the toy is your dog manges to break through the outer layer
Cost: $35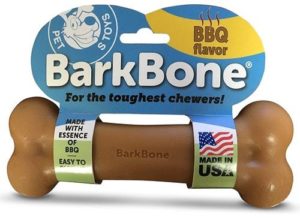 Designed especially with aggressive chewers in mind, your pet can gradually (and safely) scrape away at the bone, but can't bite off large chunks.
Key Features:
Available in large and extra-large sizes
Made in the USA
Two appealing flavors to choose from
Cost: $10 to $15
West Paw Zogoflex Hurley Durable Dog Bone Chew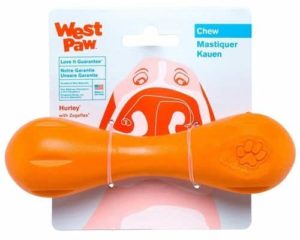 While this chew toy is great for strong chewers, some can still get through. It floats for fun fetch sessions at the lake or the beach.
Key Features:
BPA- and phthalate-free
Available in a range of sizes
Washable in the dishwasher
Cost: $10 to $15
West Paw Design Jive Zogoflex Durable Ball Dog Chew Toy
If you want a ball that can also stand up to some epic chewing sessions, look no further. It's even made in the USA!
Key Features:
Three sizes available
Made from recyclable material
Floats and bounces
Cost: $10 to $15
ZNOKA TPR Squeak Dog Chew Bone Toy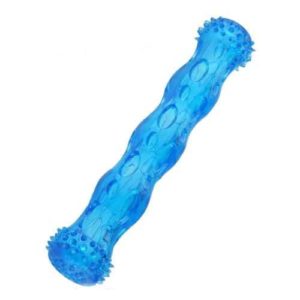 A surprisingly tough dog chew toy that squeaks, floats, and is made from all-natural rubber—what more could you want?
Key Features:
Bumpy design promotes tooth and gum health
Made from non-toxic materials
Large size
Puppy Teething Toys
Comtim Puppy Chew Toy With Rope
This small puppy teething toy features a cute star design, plus an added rope for games of tug with your new arrival.
Key Features:
Textured design helps relieve teething pain
Measures 6 inches long, including the rope
Also suitable for small adult dogs, up to 20 pounds
Cost: $5
KONG PUPPY Durable Rubber Chew and Treat Toy
A smaller version of our runner up pick, the Kong Classic, designed for little mouths. It comes in four sizes to suit puppies big and small.
Key Features:
Hollow center can be stuffed with treats
Bounces and rolls in an irregular manner for more excitement
Made with a special "teething rubber" formula
Cost: $15 to $25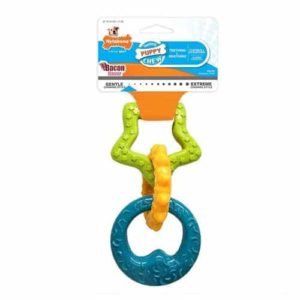 Three textured interlocking rings help to soothe gums and lessen the pain of teething. Plus, the bacon flavor encourages your puppy to chew this toy, instead of inappropriate items.
Key Features:
Helps clean teeth and freshen breath
Made in the USA
Bacon flavor
Cost: $10
Nylabone Just For Puppies Key Ring Bone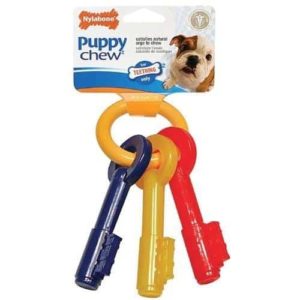 Made from a softer material than standard Nylabones, this chew toy is perfect for teething puppies and helps avoid destructive chewing.
Key Features:
Three size options available
Various textures to satisfy teething pups
Helps clean teeth
Cost: $5 to $10
It might look like a T-Rex, but it tastes like chicken! Another excellent option from Nylabone, this soft but durable puppy chew provide relief during the teething stage.
Key Features:
Textured finish is great for teething
Chicken flavored
Made in the USA
Plush Dog Chew Toys
goDog Furballz Plush Dog Toy with Chew Guard Technology
If your dog is always looking for a weak spot in her plush chew toys, this big, soft, furry sphere should take her a while to breach.
Key Features:
Reinforced for extra durablity
Big, loud squeaker
No loose parts
Cost: $10
HuggleHounds Plush Corduroy Durable Knotties
With 10 cute designs to choose from, in small and large sizes, these plush dog chew toys are designed to be durable enough to withstand moderate to strong chewers.
Key Features:
Five squeakers in each toy
Three-layer design
Knots help satisfy chewing urge
Cost: $15 to $25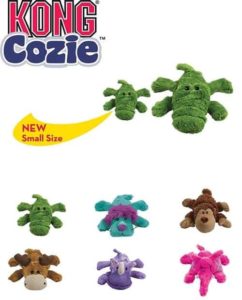 These squeaky toys might not be the most durable out there, but they're reinforced to stand up to some chewing and have low stuffing to minimize mess if your dog does get inside.
Key Features:
10 characters to choose from
Available in small, medium, and large sizes
Double-layered for durability
Cost: $5 to $15
PAWABOO Plush Dinosaur Dog Toys
Made from soft dacron with tricot inside, these may be plush toys, but they're durable enough to be chewed on and dragged around.
Key Features:
Comes as a two pack
Small size
Other designs also available
Other Dog Chew Toys
ONSON Cotton Bone Dog Chew Toys
These simple canine chew toys come as a two pack, which is ideal for multi-dog households or dogs who often lose or destroy toys quickly.
Key Features:
Textured for improved dental health
Squeaker and bell inside
Machine washable
Cost: $15
Petstages Dogwood Durable Real Wood Dog Chew Toy
Made from a kind of real wood composite, this chew toy is safer than your dog chewing real sticks, as it won't splinter or break off in large chunks.
Key Features:
Suitable for moderate chewers
Natural wood flavor
Made in the USA
Cost: $10
Petstages Ruffwood Wooden Dog Chew Toy
A stronger alternative to the "Dogwood" model above, this real wood chew is good for more powerful chewers and comes in three sizes.
Key Features:
Floats in water
Non-toxic
A safer alternative to real sticks
Cost: $5 to $15
Youngever 8 Durable Dog Chew Toys
This multipack of rope and rubber chew toys is perfect for new dog owners or anyone who wants an affordable top up for their four-legged friend's toy collection.
Key Features:
Contains eight small and medium dog toys
Ridged chews support healthy teeth and gums
Made from safe, non-toxic materials
Cost: $15
More Pet Product Reviews:
The Best Fish Tank Pumps
The Best Aquarium Lighting
The Best Sofa for Dogs
The Best Leather Collar for Dogs
The Best Dog Backpack for Hiking
The Best Pooper Scooper for Grass
The Best Cat Food for Hairball Prevention
The Best Dog Life Vests
The Best Flea and Tick Shampoo
The Best Catnip Fish Toy