If you don't bend your neck and scrunch your shoulders to eat, why would you force your dog to do it? In fact, if you could buy an improved version of something your dog already needs to make him a bit more comfortable, we're betting you would certainly look carefully at doing so. A dog bowl stand can provide just such an opportunity and make your furry friend's feeding time a little easier on you, as well. Getting your dog's bowls off the ground will minimize the mess  of a feeding frenzy a bit and relieve any discomfort your dog has, too. So if you want a more hygienic and comfortable way for your pup to eat, but don't know where to start, take a look at our list below.
We reviewed dozens of dog bowl stands to identify the best of the best. We looked at stands that you can simply place your dog's existing bowls on and those that come with a whole new set of bowls. We also looked at sets and singular stands, just in case you had an alternate means of watering your dog. (Perhaps a water fountain?) Whatever type you decide your need, we have something for you.
Interested in dog food or water bowls? Take a look at our pet bowls, feeders and waterers articles.
Early in our research we found the NEATER PET BRANDS Neater Feeder Deluxe Dog and from then on, we knew it had to be our choice for Top Pick. With side walls around the double (and included) dishes, it has probably the best containment available for those sloppy eaters!
The 5 Top-Rated Dog Bowl Stands
*Ratings are from Amazon at the time of publication and can change
Our Top Pick: NEATER PET BRANDS Neater Feeder Deluxe Dog
The NEATER PET BRANDS Neater Feeder Deluxe Dog has a back splash that will keep your dogs mess to such a minimum, it'll be hard to complain about clean up for even your messiest eaters. Even the removable bowls are stainless steel so you'll have no issues cleaning the slobber off them, either. You can take the top splash guard off to clean it separately or keep it off and still take advantage of the splash protection, if the elevation doesn't work out.
This manufacturer knows that elevated bowls can often be a bigger struggle for dogs who struggle restraining themselves while eating, and has therefore made this one compatible with the Neater Feeder slow feed bowl. You'll need to purchase it separately but that it already has a solution before you even know if there's a problem is pretty priceless.
With nearly 2,000 customer reviews and an overall rating of 4.7 stars on Amazon, this has an impressive fan base. Reviews claim this dog stand can eliminate messes and prevent your dog from tipping it over and that alone would be enough to convince most people, but any chance that it can also help your pup with digestion certainly puts us over the edge.
NEATER PET BRANDS Neater Feeder Deluxe Dog Key Features:
Elevated top drains into the bottom
3 size options
6 color choices
Our Runner-Up Pick: PetFusion Elevated Pet Feeder in Premium Anodized Aluminum
The PetFusion Elevated Pet Feeder in Premium Anodized Aluminum is a durable dog bowl stand that includes two stainless steel bowls, as well. Not only will they clean easily, but the anodized aluminum will resist corrosion and, although it's lightweight, it will still stand up to the beating your dog can give it. The color is infused into the aluminum so it won't chip, no matter how long you have it.
The rubber grips on the bottom will help prevent it slipping across the floor if your dog is an enthusiastic eater and the rubber grips on the stand under each of the bowls will keep the bowl from flipping and spinning. – All tricks utilized by the manufacturer in order to get your dog to eat his food a bit more slowly, and maybe even a bit more calmly.
This elevated dog bowl stand has just under 300 customer reviews earning it an overall rating of 4.7 star; quite an impressive feat. One look at the reviews and you'll find the confidence to purchase; 94% are positive reviews.
PetFusion Elevated Pet Feeder in Premium Anodized Aluminum Key Features:
2 height options
Metallic gray in color
Constructed with anodized aluminum
Best Budget Pick: Loving Pets Black Label Collection Layton Diner for Dogs
The Loving Pets Black Label Collection Layton Diner for Dogs includes two stainless steel bowls that will be easily cleaned and resist any bacteria that can come from your dog's mouth or his food. The bowls each remove for easy clean up and for maximum versatility. This will help when feeding multiple dogs or storing wet or homemade dog food, should your dog not finish it all.
There are three sizes for this style dog bowl stand; 1 pint, 1 quart and 2 quarts. The smallest size will be ideal for your toy breeds, while the medium is good for your small dogs and the 2 quarts is best for a medium sized dog. The elevation will ease the strain on your pup's neck but won't be high enough to greatly increase the risk of bloat.
There are just over 300 customer reviews on Amazon for this dog bowl stand and it has an overall rating of a very respectable 4.3 stars. Those numbers certainly invoke confidence, but our favorite number is the price: You can pick up the small size for under $10!
Loving Pets Black Label Collection Layton Diner for Dogs Key Features:
Wrought iron frame
Stainless steel bowls are dishwasher safe
3 size options
Best Adjustable Dog Bowl Stand Pick: Pet Zone Designer Diner Adjustable Elevated Pet Feeder
The Pet Zone Designer Diner Adjustable Elevated Pet Feeder adjusts to three different sizes, making it perfect for a puppy or your family of multiple dogs. By simple attaching the legs in different spots or removing them altogether, your dog will have the elevation options of 2.75 inches, 8 inches and 12 inches. So you can use this same stand for your puppy and keep it throughout his adult years, as well. When not in use, the legs will store under the base, so no additional storage will be necessary as your dog develops. And if you find the elevation isn't working for him as you had hoped, you can remove the legs and keep them under the base permanently.
It includes two stainless steel bowls which will keep off any stains and are durable enough to withstand a puppy and full grown dog's abuse. It's rust-resistant and made of a durable plastic. With non-slip pads along the feet, the stand won't go anywhere when your dog's excitement for his dinner gets the better of him.
This stand has over 1,000 customer reviews, and an overall rating of 4.2 stars on Amazon which should build your confidence in the product; considering nearly 1,000 people are satisfied, there's a good chance you will be, too.
Pet Zone Designer Diner Adjustable Elevated Pet Feeder Key Features:
Includes 2 stainless steel bowls
Dishwasher safe
3 color choices
Best Elevated Dog Bowl Stand Pick: Petmate EZ Reach Diner
Petmate EZ Reach Diner
For a dog bowl stand that will raise your dog's food and your standards, look no further than the Petmate EZ Reach Diner.
The Petmate EZ Reach Diner is an elevated dog bowl stand that will allow your furry friend to eat comfortably without straining his neck, shoulders, back, and hips. The stand features a two-tone color of black and tan that will be more likely to match some of your other decor and the handles on either side make it easier to transport, should you need to relocate it for any reason.
The rims of these bowls are seated deep within the stand and are virtually spill-proof and the stand features noise-softening inserts made of rubber that will keep those bowls even more firmly in place. The bowls themselves are stainless steel, making them a breeze to clean; as for the stand, it's also an easy clean; made with a stable and thick plastic construction to support your dog's food and water and the weight he puts on the bowls as he eats.
For nearly 500 people on Amazon, this dog bowl stand is the picture of perfection. It has an overall rating of 4.5 stars, with over 600 customer reviews. And of those, 91% of those are glowing, positive reviews.
Petmate EZ Reach Diner Key Features:
Spill-free rims of bowls
2 size options
Dishwasher safe
Who Should Buy a Dog Bowl Stand
There are a few really key reasons you may be in the market for a dog bowl stand. If your dog has any kind of arthritis, you will definitely want to look into an elevated dog bowl stand. Proper posture for him will make all the difference in the world in his comfort and if you can help ease his pain with something so simple as a new food and water stand, then of course you'll try it. If he has any digestion problems, you may also be able to help him with these by the switch to a dog bowl stand. Before making the switch for health reasons, you may want to mention it to your vet and see what he thinks the likelihood of an elevated stand helping him. After all, your vet will know more about your dog's specific needs. If your pet needs to eat several smaller meals throughout the day, but you're not home all day to feed him, an automatic dog feeder might solve your dilemma.
Another reason you may really want to look into a dog bowl stand is the potential for a more clean way of life. If you purchase a dog bowl stand that will contain his sloppy eating, then you'll be able to control how much mess he makes that you have to clean up. While this may not be a 100% on success, there's every reason to believe this will improve the mess situation – potentially a great deal. And anything that minimizes your hands-on cleaning time is going to be a big win for you.
Important Features to Consider
A dog bowl stand should have a few important features. Here's what to consider when selecting a stand for your dog's bowls:
Adjustable height. The best benefit of an adjustable height dog bowl stand is that you won't need to be extra careful on your measuring. Not only is it great if you're simply not sure the height you need, it's also perfect for your dog who just isn't done growing yet. Also, if you think the elevated height will be wonderful for your dog and turns out to be a bit too much for him, being able to adjust it back down will prove a huge saving in money and will feel a lot less like a defeat.
Side walls. It may not be especially common in a dog bowl stand, but if you have a dog that splashes as he eats and flings food while he eats, you may want to make the extra effort to find one with side walls to act as a bit of a back splash. One that provides a little enclosure that will allow your pup to eat and drink but still have a bit of a lip to prevent so much mess may just be invaluable for you.
Nonslip stand. If your dog bowl stand is going some place that pins it into a corner, you may not ever see your dog sliding it from one end of the room to another. However, if you don't have such an ideal placing for your dog's food, then non-slip feet will got miles for saving you time. Not only will they save you time, though, they'll likely save a lot of messes, too. And these feet, usually rubber or foam, will serve to prevent your dog from getting worked up by having to essentially chase his food while it runs from him.
Single bowl. If you're quite pleased with your water system, either a water fountain or a reservoir, for example, then you may not want to waste the space by getting a double dog bowl set. Finding a single bowl stand will help you keep your dog well watered and his food on a more strict schedule. Should you have more than one dog, it's always a good idea to provide a bowl for each dog, but keep in mind, even in this circumstance, you may want to keep them a bit distanced from each other and a set may not be the best idea. To prevent food aggression and bullying, two singles may still suit your family better.
Un-flip-able bowls. If your dog pushes aggressively onto the bowl while he's eating, depending on his size and the strength, there's a decent chance he can flip the bowl right out of the stand. The good news is that you can find a stand with precautions to prevent that; if the bowls are set within a stand, perhaps with some rubber tabs to hold them in place, they will be much more difficult for your pup to flip on accident.
Floor mat. No matter how many preparations your dog bowl stand's manufacturer takes to minimize the mess, there's still every reason to expect a bit of mess leaking out of his bowl after a good meal. For this reason, you'll probably want to invest in a rubber or vinyl floor mat that wipes clean with ease. You'll simply place it under the dog bowl stand and protect your floors from slobber, splashes and dog food spills. You may even want to take a few measurements of the mat and the stand to make sure they fit together before you make either purchase.
Frequently Asked Questions
What are the pros and cons of elevated dog bowls?
There are two primary pros for an elevated dog bowl stand: Ease of Access and Cleanliness. The ease of access will be convenient for your pup but also particularly helpful for an older dog riddled with arthritis. Some science even support that digestion will be easier for the pup that does it in a more ergonomically consistent position. As for cleanliness, not only will the bowl stay put, as the stand prevents your dog from sliding it all over the room as he eats, but he'll be less likely to play and splash as well.
The cons list is quite a bit less varied, but the primary item on the list weighs heavy. There's a chance that eating from an elevated dog bowl can cause Gastric Dilatation-Volvulus, commonly called Dog Bloat or Twisted Stomach. If he has an easier time eating, there's a good chance he'll eat more and much more quickly. And while that may not be a concern for all dogs, it certainly is for those prone to bloat or overeating. So you may still want to take care if your pup is one who can't self regulate his food consumption; both in how much and how often you're feeding him if you decide to make the switch.
Do dogs need raised bowls?
Some dogs will need a raised bowl to eat from, but for it to be an actual need, there has to be a very specific purpose or cause to get the elevated bowls. That is, you don't necessarily need an elevated dog bowl stand just because you own a dog. Your pup can benefit from the comfort that it can provide him, though, to be sure. And that will be a call you'll need to determine as you observe him over time. For extra messy dogs, raised bowls may help you, so that will be entirely up to you to determine whether there is a need there.
When your dog actually needs the elevated dish, you'll likely be able to determine on your own, though. If he's struggling with getting down to his bowl that's when there's a need.  When a dog has arthritis or joint pain in his neck, hips or back, you'll need to consider the raised bowl. If he's struggling with his digestion, then he could benefit from an elevated bowl. You can tell if he's eating slow and taking frequent breaks during. If these instances are happening frequently, talking to your vet to make sure it's a good idea to get an elevated bowl is probably a good call.
How tall should a dog bowl stand be?
How tall you'll want your dog's elevated dog bowl stand is entirely dependent on your dog's height. You'll want to measure your dog before you purchase and determine his standing height from paws to the top of his shoulders. Once you have that number, you'll subtract roughly 6 inches. The bowl should be level with your dog, preventing him from lowering or stretching his neck at all; it should sit at about chest height. For small dogs, a ballpark number is 2 to 6 inches off the ground; medium dogs 7 to 14 inches; large dogs will need about 15 to 20 inches clearance; and extra large breeds will want around 21 to 27 inches.
Can raised dog bowls cause bloat?
Raised dog bowls can cause your dog to bloat in certain circumstances. Some dogs, particularly those with large and deep chests, are prone to bloating and you'll want to watch them with their food – even if the food is on the floor. Any dog can get bloat by overeating, so what you'll want to remember is to give your dog smaller portions and make sure he's digesting before he's offered more food. Some dogs will be more likely to overeat than others and if your dog can't be trusted with free access to dog food, an elevated dog bowl stand certainly won't help him slow down.
Dog Bloat is easily treated when caught early, but is still a serious procedure that you definitely want to avoid if possible. While not scientifically conclusive, it stands to reason that food more quickly and easily eaten will be more likely to cause your dog's stomach to bloat, twist or dilate. Talk to your vet if you have any concerns and keep an eye on your dog for a while when you first start him on his new dog bowls.
Other Dog Bowl Stands We Reviewed
We looked at 20 other stands for your dog's bowls. Even though they didn't make our 5 best dog bowl stands list, they're the best of the rest and each is still a great option for your dog. The information you'll need to compare each one is included with the listing and we've categorized them as follows:
Double Stand with Bowls
Bergan Elevated Double Bowl Feeder
These stainless steel bowls are easily removed using the finger holes that allow you to simply lift out of place.
Key Features:
3 size options
Removable legs adjust size
BPA-free plastic stand
Cost: $25
You can match your decor with this dog bowl set that comes in your choice of color.
Key Features:
4 color choices
Wrought iron stand with copper antique finish
Dishwasher and microwave safe stone bowls
Cost: $55
Blue Hole Elevated Dog Food Bowl With Wood Stand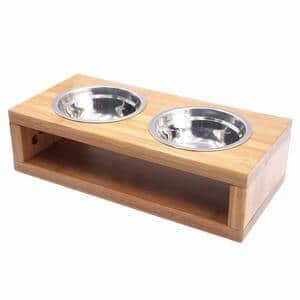 This elevated dog bowl set has a durable and classic wood design that will keep your dog's bowls from being an eyesore.
Key Features:
2 style choices
2 size options
Made of bamboo
Cost: $30
This elevated dog stand will allow your dog to enjoy his food with a little flourish of style along the sides.
Key Features:
Stainless steel bowls
Wrought iron stand
3 size choices
Cost: $25
FOREYY Raised Pet bowls for Dogs
You'll get to choose how tall you want this wooden dog food stand.
Key Features:
3 size choices
Water resistant
Nonslip feet
Cost: $20
Green Birch Pets Elevated Dog Bowl
This dog bowl stand has smooth look with removable and easily cleaned stainless steel bowls.
Key Features:
15 x 9 x 5 inches
Each bowl holds 15 ounces
Constructed with BPA-free plastic
Cost: $25
Loving Pets Black Label Collection Rustic Bone Diner for Dog
These bowls are easily removed for multiple dogs feeding or to save his food in the fridge for later.
Key Features:
3 size options
Dishwasher safe
Stainless steel bowls are bacteria resistant
Cost: $10
Lubber Elevated Acrylic Pet Feeder Stand with 2 Stainless Steel Bowls
This acrylic stand comes with stainless steel bowls for an easy-to-clean set up you'll love.
Key Features:
Food grade stainless steel bowls included
15.1″L x 6.7″W x 4.3″H
Stand made with premium acrylic and nonslip base
Cost: $25
Our Pets Signature Series Elevated Dog Feeder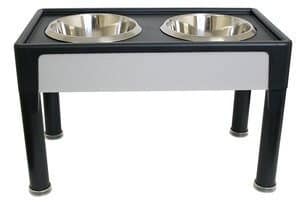 This heavy duty plastic stand will allow your dog to eat and drink while providing plenty of catching space for his slobber.
Key Features:
Nonslip feet
3 size options
Reversible stainless steel-looking panels
Cost: $50
PandPal Adjustable Raised Dog Bowls
This wood dog bowl has a wipe clean surface and an adjustable height perfect for your growing dog.
Key Features:
Bonus silicone mat
4 stainless steel bowls included
Waterproof
Cost: $40
Platinum Pets Modern Double Diner Feeder
With a wire-style frame, this dog bowl stand will leave very little to clean up, making it a win in our book.
Key Features:
5 size choices
18 color choices
Nontoxic, surgical grade stainless steel
Cost: $25
Premium Elevated Dog Pet Feeder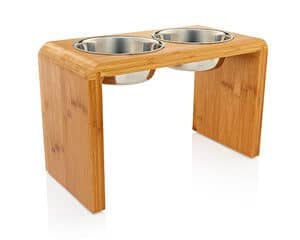 With a premium wood, this elevated dog bowl stand has a smooth finish that is easy to clean.
Key Features:
Spill-proof bowls
4 bowls included; each 56 oz capacity
Leak-proof design
Cost: $50
ProsperDog Pet Products The Dog Feeder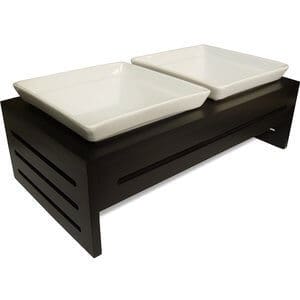 This is an incredibly modern design that will fit that decor beautifully.
Key Features:
Non-skid bottom
Heavy 3 lb bowls will keep stand from moving
Ceramic bowls with 2 cup capacity
Single Dog Bowl Stand
Ethical Pet Spot Hi-Rise Single Diner pet dish
For your extra tall dog who needs a little extra lift in his food stand; we think this would pair with a water fountain perfectly.
Key Features:
No assembly required
8 cup stainless steel bowl
Sturdy wire stand
Cost: $25
Pet Junkie Summit Raised Pet Bowl
What better way to make your beloved dog feel like a king than to give him a chalice from which to drink?
Key Features:
Removable stainless steel bowl
No slide, no tip design
10″H; 44 oz bowl
Cost: $60
PetFusion Innovative SinglePod Magnetic Pet Feeder
With a stainless steel bowl and a heavy-duty acrylic stand, cleaning up after your dog will be easy.
Key Features:
5 size and quantity choices
Magnetic sides to connect to others or side of refrigerator for stability
11″W x 11″L x 9″H
Cost: $40
Super Design Elevated Dog Bowl Raised Dog Feeder for Food and Water
This bowl has a bit of storage beneath it, allowing you to store an extra meal or treats for use later on.
Key Features:
3 size choices
6 color choices
Non-skid bottom
Cost: $30
YML Wrought Iron Stand with Single Stainless Steel Feeder Bowl
For a dog food bowl stand that will allow your dog to eat in style, look no further.
Key Features:
3 size options
Wrought iron stand
Includes stainless steel bowl
Dog Bowl Stand without Bowls
Set The Table Elevated Pet Dining Table
With this dog bowl stand, your dogs' bowls can be as varied as they are.
Key Features:
3 height options
Easy set up with swing down legs
Wire rack with stabilizing bars
Cost: $35
Signature Housewares Dual Pet Bowl Stand
Add your own stainless steel or durable plastic dog bowls to this stand and give your pup a more comfortable way to eat.
Key Features:
3 size options
Choose your own bowls for your dogs with picky preferences or special needs
Plastic feet protect floors and prevent skidding
Cost: $25