Many people choose to put bandanas on their dogs. They are a fun way to express your personality and celebrate special occasions. Some dog bandanas can even keep your dog cool.
We have reviewed dozens of dog bandanas to identify the best of the best. We considered quality, appearance, fit, cooling features where applicable, and the reviews of hundreds of Amazon purchasers.
The FUNPET 4 Pcs Dog Bandana Triangle Bibs came out as our clear winner. This is a four-pack of adorable, 100% cotton bandanas that are perfect for just about any occasion. They are reversible, so you will get a total of eight cute patterns – mix and match to complement what you are wearing!
The 5 Top-Rated Dog Bandanas
*Ratings are from Amazon at the time of publication and can change
Our Top Pick: FUNPET 4 Pcs Dog Bandana Triangle Bibs
The FUNPET 4 Pcs Dog Bandana Triangle Bibs made our top choice. They are a set of four double-patterned bandanas that will allow you to choose from eight designs depending on the occasion. These measure 23.6″ x 16.1″ x16.1″ and are appropriate for small and medium dogs. They might be a bit tight on a large dog with a thick neck.
The designs include various shades of red, blue, yellow, and green, so you can match these to your dog's leash or to your own outfit. You can roll them to fit a smaller dog or simply knot as-is to fit a larger dog.
FUNPET 4 Pcs Dog Bandana Triangle Bibs Key Features:
Four different bandanas
Two-sided to provide 8 different designs
100% cotton
Measure 23.6″ x 16.1″ x16.1″
Our Runner Up Pick: Stonehouse Collection 6 pc Holiday Dog Bandana
The Stonehouse Collection 6 pc Holiday Dog Bandana is a unique and adorable set of scarves that your dog can wear to show off his holiday spirit. The holidays depicted are Christmas, Thanksgiving, Valentine's Day, Halloween, St. Patrick's Day, and Independence Day/Memorial Day. This set is best for medium to large dogs.
Made of polyester, these 35″ x 22″ bandanas are machine washable and dryable, so you won't have to be concerned about dog slobber or food stains. They are thin and light, so many dogs barely notice them, making them a good choice for first-time bandana-wearers.
Stonehouse Collection Key Features:
Set of 6 fun holiday designs
Made of thin polyester
Measure 35″ x 22″
Machine washable/dryable
Best Budget Pick: KZHAREEN 3 Pack Japanese-Style Dog Bandanas
The KZHAREEN 3 Pack Japanese Style Dog Bandanas are a great choice for someone who wants to give their dog an adorable splash of color without breaking the budget. This set includes three high-quality Japanese-style dog bandanas in bold colors – red, blue, and green – making them perfect for any season.
Both sides of these bandanas are printed, making it easy and convenient to get the look you want when they are on your dog. They are 100% cotton and come in two size options – large and small – to fit dogs of all sizes. The neck side measures just under 24″ for the small, and 32″ for the large.
KZHAREEN 3 Pack Japanese Style Dog Bandana Key Features:
Contains three double-printed bandanas
Neck side measures 23.6″ for small; 32″ for large
100% cotton
High-quality stitching
Best Plaid Dog Bandana: 4PCS Segarty Triangle Bibs Reversible Plaid Printing Dog Kerchief Set
This 4PCS Segarty Triangle Bibs Reversible Plaid Printing Dog Kerchief Set will allow you to outfit your dog in a classic style. These are printed with different fabric on each side, giving you eight attractive options every time you dress up your dog.
Made of durable dyed cotton, these high-quality plaid kerchiefs measure 17.5″ x 17.5″. Be sure when measuring your dog that you leave room for the knot. Plaid bandanas are great for any day of the year and every season.
4PCS Segarty Triangle Bibs Key Features:
Made of durable dyed cotton
4 pieces, 8 designs
Measure 17.5″ on each side
Best Cooling Dog Bandana: ALL FOR PAWS Chill Out Ice Bandana
The ALL FOR PAWS Chill Out Ice Bandana is our top pick when it comes to bandanas that keep your dog cool. This bandana is available in three sizes, so you can choose the one that will best fit your pooch.
Soak the bandana in cold water, then wring out and tie onto your pet. The cooling technology will keep your dog's neck nice and cool, which is a great way to help prevent heat-related illnesses on hot days. It is thin and lightweight and the bandana closes with a hook-and-loop fastener for ease and convenience.
ALL FOR PAWS Chill Out Ice Bandana Key Features:
Cooling technology
Lightweight
Fastens with hook-and-loop closure
Available in 3 sizes
Who Should Buy a Dog Bandana
Many people with dogs choose to use a dog bandana to make them look adorable. Some dogs, particularly larger ones, might look threatening to people who don't know them; a bandana can help them look more approachable. Also, a bandana is a great way to dress up your dog for a special occasion such as a holiday or a family gathering. These are all great reasons why anyone with a dog might be in the market for a dog bandana.
There are some other benefits to wearing a dog bandana that your canine friend will enjoy. First, for short-haired dogs, a bandana can help prevent sunburn. For any dog, a cooling bandana will help them stay more comfortable on the hottest days. And for a nervous dog, a spritz of calming fragrance on a dog bandana might help him stay in control. If your dog is anxious, you might also consider a dog anxiety vest or dog anxiety wrap. We've also reviewed the best dog calming collars in a separate post.
Important Features to Consider
A dog bandana should have a few important features. Here's what you should consider when deciding which bandana or bandana set you'd like to purchase.
Washability. You will probably want to choose a fabric that is machine washable, because dogs don't generally keep their bandanas very clean.
Double-sided. Consider buying a bandana that is double-sided. This will make it easier to create the look you want. Some even have different patterns on each side, maximizing your style options.
Size. Be sure to measure your dog's neck and then add enough space for tying a knot. Check the measurement in the product description.
Closure. Some bandanas have hook-and-eye or snap closures, while others tie closed. Choose the type that you prefer.
Cooling features. If your dog overheats easily, consider looking for a bandana with cooling technology.
Frequently Asked Questions
What is a dog bandana?
A dog bandana is a square or rectangle of fabric that you can tie or otherwise attach around your dog's neck. It adds style to his appearance and can have some other benefits as well, such as a vehicle for calming spray and some sunburn protection.
What size is a dog bandana?
The size dog bandana you choose will depend on the size of your dog as well as its closure method. For a tie-closed bandana, you will want to measure your dog's neck and then add about 6 inches for tying. For small to medium dogs, most bandanas are 14 to 18 inches square. For medium to large dogs, most bandanas are 20 to 24 inches square.
How do you tie a dog bandana?
The easiest way to tie a dog bandana is to make it into a kerchief. Fold the bandana in half along the diagonal to create a triangle. Place the triangle against your dog's chest with the point facing downward and simply tie the other corners behind your dog's head. Don't make the bandana too tight, but you don't want to leave it so loose that it can get caught on something. It should be loose enough for you to slip two fingers between the bandana and your dog's neck.
How does a cooling bandana work?
Most cooling bandanas are made of a special fabric or contain a type of gel that will absorb some of your dog's body heat. You wet the fabric of the bandana and wring it out, then put it on your dog. As the water evaporates, it will take some of your dog's body heat with it, making your dog feel cooler.
Other Dog Bandanas We Reviewed
We looked at 20 other dog bandanas for you to consider. While these did not make our top 5, they are all still great options if you are in the market for a bandana for your best canine pal. The information you will need to compare each one is included with the listings.
Plaid Bandanas
This is a set of two bright red plaid kerchief bandanas. They are made from a double layer of pure cotton and is easily machine washable and dryable.
Key features:
Perfect for male and female dogs and all occasions
Thick, double-layered cotton construction
Size is 17.7 x25.19 inches
Cost: $12
This is a four-pack of attractive plaid dog bandanas. Each is double-layered with a different design on the back, so you can dress your dog in a different color every day of the week.
Key Features:
Lightweight cotton yarn construction
Measures 25 x 17 inches
Different plaid patterns on each side
Cost: $13
These soft, lightweight cotton bandanas are printed with different plaid patterns on each side, giving you a total of four styles to liven up your dog's appearance. Great for small to medium dogs.
Key Features:
Measure 17.3 x 17.3 inches
Soft, high quality cotton construction
Easy to tie and place on your dog
Cost: $11
SCENEREAL Dog Bandana Classic Plaid
This package provides eight different classic plaid bandanas. These are made of soft velveteen cotton for comfort and style. These come in triangle shapes, so no folding involved; just tie the ends!
Key Features:
Measures 22.5 x 15.7 x 15.7 triangle
Includes 8 different bandanas
Soft velveteen cotton construction
Cost: $16
TAOBABY 8pcs/Pack Classic Pet Dog Bandanas
This is an eight-pack of classic plaid dog bandanas. There is a nice mix of colors so you can easily match your dog to your own outfit or choose the pattern that will best show off your holiday spirit depending on which time of year it is.
Key Features:
Cotton and velveteen construction
Measures 23.5 x 16 x 16 inches (triangle)
Includes 8 different patterns
Cost: $14
Cooling Bandanas
Go Fresh Pet Ice Band Cooling Bandana for Dogs
This cooling dog bandana has an ice-cooling net to cool your dog off fast. Simply wet, wring it out, and put it on your dog. When it dries, re-wet it for continued use.
Key Features:
Lightweight
Long-lasting comfort
Cool Fresh technology
Cost: $16
Reduce stress and fight heat fatigue with this cooling collar. The relief from the heat lasts for hours and your dog will find it comfortable and lightweight.
Key Features:
Built-in leash hole
Comfort lasts for hours
Machine washable
Cost: $12
SCENEREAL Dog Ice Cooling Bandana
This is a five-pack of crystalline polymer bandanas. Soak one in water, then let sit for up to 10 minutes, wipe off excess moisture, and tie around your dog's neck for long-lasting relief from the heat!
Key Features:
Crystalline polymer construction
Uses gel technology
Includes five bandanas
Cost: $9
Stock Show Dog Cooling Bandana
Made from high-quality canvas cotton and printed with an adorable star pattern, this cooling bandana contains a gel material that aids in evaporation and provides cooling.
Key Features:
Made of canvas cotton and gel
Cute star pattern
Adjustable elastic allows for a customized fit
Cost: $15
The Dog's Right! Cooling Collar for Dogs
This unique cooling collar relies not only on evaporation but also ice packs that are included with the bandana. Place them in the slots and they will keep your dog cool for a long time.
Key Features:
Three-way cooling technology
Includes three ice packs
Adjustable for medium-sized dogs
Cost: $20
Bandanas for Large Dogs
A Party Dog Team Bride Team Groom Bandana
If you are getting married and your dog is going to be part of the festivities, you won't want to miss the chance to put him in this adorable bandana! Available as "team groom" and "team bride."
Key Features:
Available in pink (bride) and black (groom)
Strong, durable fabric
Hook and loop closure for maximum adjustability
Cost: $13
Costume Adventure Camo Dog Bandana
Do you have an outdoorsdog who would like to sport a camouflage bandana? Maybe you are taking your dog to greet your favorite servicemember. This is a great bandana to have on hand for a variety of occasions.
Key Features
Fits most medium to large dogs
Made of a poly-nylon blend for durability
Stylish woodland camouflage print
Cost: $11
Elegant Pup Bandanas for Dogs Paisley Pack of 3
If you want your dog to look elegant, choose this paisley pack of three bandanas. Three colors are included: red, black and blue.
Key Features:
24″ from tip to tip
A unique V shape
Poly nylon blend that resists fraying
Cost: $14
Tail Trends Cinco de Mayo Dog Bandana
This hilarious bandana will have your dog stylishly dressed for a Cinco de Mayo celebration or even Taco Tuesday! Available in both medium and large sizes.
Key Features:
Handmade felt applique
100% cotton base
Stitched edge for longer wear
Cost: $6
Trsen Pet 2 Pack Valentine's Day Heart-Shape Dog Bandanas
Love is in the air with this sweet two-pack of bandanas. Whether it's Valentine's Day, the anniversary of the day your dog became a member of the family, or just about any day, this two-pack will keep your dog stylishly lovable.
Key Features:
Two-pack includes two cute heart designs
100% cotton
Machine washable
Cost: $13
Bandanas for Small Dogs
Combofix 4 Pack Cute Dog Bandana
This four-pack of adorable dog bandanas feature eight floral designs. They are made of soft, lightweight cotton and are double-sided.
Key Features:
High-quality cotton
Double printed
8 designs
Cost: $15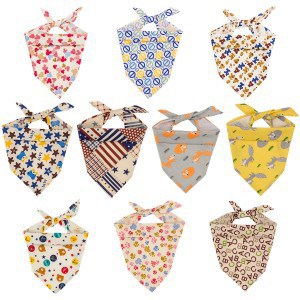 This is an impressive 10-pack of attractive bandanas for your small to medium-sized dog. Choose from a variety of patriotic, dog, fox, and other designs.
Key Features:
Good for both male and female dogs
10 patterns
Made of durable cotton yarn
Cost: $12
PET SHOW Pet Dog Cat Puppy Bandana Bibs
Your small dog will look sweet with these fruit-themed bandanas. A nice variety of pastel and bright colors will brighten up any day with your pup.
Key Features:
Snap closure
100% cotton
Great for small dogs
Cost: $14
Tail Trends 2 Pack Pet Dog Bandanas
With hand-designed felt appliques, your dog will show off his team spirit. These sports-themed bandanas are shaped so no folding is required. Simply tie and go!
Key Features:
2-pack of bandanas
Felt applique
100% cotton base
Cost: $7
This bright design is not only attractive but also easy to put on your small dog: With a plastic clip closure, you will have it on your best furry friend in a matter of seconds.
Key Features:
Clip closure
Available in several sizes
Adjustable
Cost: $7