It's absolutely heart breaking when your dog, who fancies himself your protector, whimpers or shakes with anxiety. Whether we like it or not, no dog -big or small, is immune from anxiety. And they don't always show their anxiety in such timid ways, either. If you're struggling with your dog and his anxious responses to certain objects, being left alone, aging, sharing food or any number of other causes, then it may be time you start looking for ways to ease his struggle (and yours). Depending on how severe his anxiety and his responses are, you made to seek medical intervention from your vet. Before medicating, though, you can try a few tricks and products at home to ease him yourself. (After all there's no one he trusts more than you.) An anxiety vest for your dog is an excellent first step in comforting him during this struggle. We've compiled all the information you'll need on anxiety vests to get you started on finding a way to help your dog.
We reviewed dozens of dog anxiety vests to identify the best of the best. We looked at vests that are designed to target surgical anxiety, and compression vest that will keep your pup feeling safe. We found weighted vests that will, much like weighted blankets for humans, add to your dog's sense of security. No matter what type of anxiety vest you opt to use, it's sure to be on our list below.
Early in our research it became clear that the Surgi Snuggly E Collar Alternative with Antimicrobial would have to be our top pick. The versatility of it makes it a cut above its competitors by potentially easing your dog's anxiety, while preventing any injury licking and anxiety-related accidents all over your house.
The 5 Top-Rated Dog Anxiety Vests
*Ratings are from Amazon at the time of publication and can change
Our Top Pick: Surgi Snuggly E Collar Alternative with Antimicrobial
The Surgi Snuggly E Collar Alternative with Antimicrobial is designed to fit snug enough to keep your fur baby feeling secure. It will simply slip on over her head and Velcro up over her bottom (with a hole for tail.) You'll need to have a plan for bathroom breaks, but this is a great way to ensure she doesn't potty inside as a reaction to her anxiety.
The vest has an antimicrobial agent added to the stretchy fabric that will stop microorganisms from growing and even kill the ones that are already present. This means that this vest is absolutely perfect for any kind of wound; particularly if you're putting your dog in this for her post-op anxiety. Not only will wearing this prevent your dog from needing to wear the cone after surgery, but it will stop other dogs from licking her wounds as well – something the cone doesn't do. All the materials used for this vest, the microbial and the fabric are all made in the United States of America.
With nearly 500 customer reviews on Amazon earning this vest an overall rating of an impressive 4.5 stars, you can be confident that if ever there were an anxiety vest to help your dog, this would be the one.
Surgi Snuggly E Collar Alternative with Antimicrobial Key Features:
79% polyester, 21% spandex
12 size options
6 color choices
Our Runner-Up Pick: Comfort Zone Calming Vests for Dogs, For Thunder and Anxiety
The Comfort Zone Calming Vests for Dogs, For Thunder and Anxiety provides a compression by using a very flexible material that stretches on and compresses to fit tightly around your pup. You'll slip it on over your dog's head, just like any other shirt. Then you'll adjust the tightness (and compression) by pulling a panel around your dog's back and Velcro it into place. You'll need to make sure the fit is snug without the Velcro, though because while it does tighten, it can't adjust a too-big vest to your dog.
Because of the additional panel, you can use this vest all the time and simply tighten the compression in times of anxiety. That means, you can put it on your dog when it starts getting cloudy and tighten it up after the storm starts. If he suffers from separation anxiety, you can leave it on all morning and just tighten it up before you leave – that way he won't associate the vest with the source of anxiety. This is a great vest for conditioning!
With well over 200 customer reviews, earning it a respectable 3.9 stars, it's fair to say that this vest can potentially help your dog with his anxiety. A careful look at the negative reviews suggests that you can't just put this vest on your dog and immediately expect miracles, but, given proper preparation and possibly used in conjunction with other methods, it can certainly help.
Comfort Zone Calming Vests for Dogs, For Thunder and Anxiety Key Features:
Reflective piping for safety
5 size options
Velcro panel to tighten or loosen compression
Best Budget Pick: KINGSWELL Dog Jacket, Dog Anxiety Jacket
The KINGSWELL Dog Jacket, Dog Anxiety Jacket is made of a waterproof and breathable fabric with a taffeta shell that will keep your pup dry and prevent any overheating. It's a foreleg design that acts as a cloak that secures over your pup's chest. You'll just slip this vest over your dog's heat and buckle on either side to secure it to him. And the tighter you make the adjustment, the more likely it is to relief his anxiety.
There is a pocket located on the back of this vest that will allow your pup to carry his own doggy bags and combined with the reflective strips, that makes it an ideal jacket for taking your pup on a walk – even if the walk would normally cause him anxiety. (If he is likely to encounter other dogs, or cars, for example.) If that's the case, maybe start in short walks, and work up to the longer distances and times exposed to the anxiety-inducing scenarios.
There may not be a lot of reviews on this vest yet, but what reviews there are are positive, earning it an overall rating of 4.2 stars on Amazon. But the real number you'll want to take a look at is the price: Under $20! And if you're not sure if your dog will respond well to anxiety vests, this isn't a huge investment to try it out!
KINGSWELL Dog Jacket, Dog Anxiety Jacket Key Features:
Waterproof, 100% polyester
Reflective strip
Back pocket; adjustable belt
Best Anxiety Vest for Large Dogs Pick: Xdog Weight Vest for Dogs, Durable Exercise Dog Vest
The Xdog Weight Vest for Dogs, Durable Exercise Dog Vest is weighted to create pressure just strong enough to make your dog feel secure and safe and ground him, keeping his anxiety at bay. You'll get the sand bags with this vest, but you'll be on your own to fill those bags. That means you'll have complete control on how much weight it puts on your pup. While you can do this with your small dogs also, bigger dogs can certainly handle more weight and that makes it a bit less likely that you'll add too much to him.
As a general rule, you don't want to put a weighted vest on your puppy. Wait until he's 2 years old before trying this tactic for calming his anxiety. Any smaller and you may effect his bone growth. For similar reasons, the design of this vest prevents any weight being applied directly to your dog's spine. The weight is all along his side, so that there will be a comfortable pressure, but not any pain.
It's a bit more involved than other vests, but it has potential to make an anxious and aggressive dog feel a bit calmer and slow down a little. And at the very least, that may make him more manageable for you.
Xdog Weight Vest for Dogs, Durable Exercise Dog Vest Key Features:
Waterproof, lightweight and breathable fabric
Sand bags included (sand is not)
5 sizes available
Best Anxiety Vest for Small Dogs Pick: ThunderShirt Sport Dog Anxiety Jacket
The ThunderShirt Sport Dog Anxiety Jacket applies constant pressure to calm your dog's anxiety and over-excitement making it an ideal vest for you little dog. You'll secure the vest in two different areas along the chest and stomach and the panel along the top will tighten as you see fit, based on his anxiety levels. There are enough size options that you'll definitely be able to find the right fit and securing the panel more tightly will keep your pup feeling all the more secure.
'Thundershirt' may be the only brand on this list that you've ever even heard of, and with good reason: They know what they're doing. The patent of this vest has been around quite possibly the longest of any on our list and they hit the market before a lot of us even knew there was a market. The quality of the product is high enough that several other manufacturers seem to have used their design as a base model.
With over 850 customer reviews and an overall rating of 4.0 stars on Amazon, there's every reason to believe that your dog will respond well to this vest. And you can pick one up for right around $50 – making it a steal.
ThunderShirt Sport Dog Anxiety Jacket Key Features:
7 size options
2 color choices
Money back guarantee
Who Should Buy a Dog Anxiety Vest
If you've noticed signs of anxiety in your dogs, particularly in specific situations, an anxiety vest may very well be your dog's new best friend. In case you haven't been able to identify it, anxiety does manifest differently for every dog (just as with humans) but there are some red flags that should cause concern and send you to get help for your fur baby. For example, if he's responding to certain items or scenarios by holding his ears back or whimpering, wetting himself or tucking his tail, that's a fear-based anxiety that often brings out our protective instincts for our fur protectors. But he could respond to anxiety through aggression and that may be a bit more worrying; particularly if you have other dogs or small children in the home. Don't let his aggression develop into a habit before doing something about it. Even if he's a good dog and the aggression is just food-related; over time his anxiety over his next meal will begin spreading into other aspects of his life and that can be very dangerous. For anxiety symptoms, check out the Wag! site for a more comprehensive list.
Common anxiety-inducing circumstances for dogs include food aggression (like we mentioned above), fear of specific objects, aging, and separation anxiety. Fear of the vacuum, for example, is incredibly common because of the loud noise. Aging can lead to memory, perception and an overall awareness decline. These will naturally lead to a more anxious dog – just as the same leads to more anxious humans! Separation anxiety comes from your dog's whole world revolving around you and when you're gone, it's natural for him to feel anxious. It's more common in shelter dogs who've been abandoned but it's not limited to them, so don't think your puppy is exempt.
It's important to note that anxiety is the same in dogs as it is in humans: there just isn't a cure-all. You'll notice that a lot of the reviews on these vests reflects that fact. The anxiety vest can certainly help your anxious dog, but it isn't magic. You have to keep that in mind, otherwise you're going to be disappointed, even if you find a high quality, effective vest for your pup. The most common cases of success in easing your dog's anxiety, no matter what the cause, is conditioning your dog to the vest and combining anti-anxiety treatments. You may need to medicate, or you may be fine with a vest and a bit of actively training and conditioning him. As always, talk to your vet before you do anything that could harm your pup.
Important Features to Consider
An anxiety vest for dogs should have a few important features. Here's what to consider when selecting an anxiety vest for your dog:
Compression. Compression may be the most difficult to get on, but easiest to fit. Once you have the right fit, then all you need to do to get the vest on is slip it over your dog's head and onto his legs. There won't be as many clips or Velcro, fasteners or buckles. It will usually go on just like a shirt for you. You will need to make sure it's a very snug fit in order for it to actually work. Some will even target certain pressure points to induce calm and relieve stress. And you won't want to leave him alone for long in this until you're certain he's comfortable in it, because if he feels stuck, it may worsen his anxiety. Of course, again, just like your own clothing, the tighter it is, the more difficult it is to get on. So weigh the ease once on with actually getting it on.
"Swaddle" vests. If you put your dog's vest on as any normal clothing and it has a way to tighten it to make it fit more snugly, then there's a good chance it's a swaddle vest. If there is a normal vest "base" and a strip of fabric that secures tightly around his chest or waist, you've essentially use the same kind of swaddle blanket you use on a newborn. And for similar reasons; tightly cuddled into themselves, dogs and babies alike are less likely to feel anxiety.
Weights. You may not have tried a weighted blanket, but if you or a loved one experiences anxiety of your own, a weighted blanket can do wonders for a sense of safety and security. The goal isn't to build strength or increase your stamina or fitness levels with you anymore that it would be for your dog with a weighted vest. The weighted vest is for sometimes use, particularly is he gets anxious out and about. (And a potentially positive side effect of the weight could be that it slows down his bolting, should he take off.) You'll want to make sure you're not putting too much weight on your pup, though. He shouldn't struggle to move with it on; it should just leave him feeling a bit like someone's holding him. That can be a bit difficult to determine in the beginning. For that reason, you may want to stick to only using these on your bigger dogs, but if you can measure it our right, even smaller dogs could theoretically benefit as well. In fact, don't use these on puppies who are still developing, as they may effect his bone growth.
Surgical anxiety. If your fur baby doesn't have anxiety about any of his normal day-to-day, but has struggled post-op with anxiety – Well, who can blame him? There's no chance he understands why he went in for surgery and you simply can't explain it to him. As he's recovering, the "Cone of Shame" that they have traditionally used to prevent your dog from pulling off his dressing or at his stitches can be waived by a surgical anxiety vest that will cover most everything he could have had operated on. And that means he'll be protected from himself, and any other dogs that may be curious about his injuries. You will need to check with your vet before tossing the cone, though.
Potty space.While this may be a non-issue for most anxiety vests, you'll want to make sure your dog has space to use the bathroom outside without going all over his anxiety vest. Surgical anxiety vests, specifically, will need to be removed (or at least "lifted") in order for your dog to void his bladder, so make a plan for that, even before you make your purchase.
Velcro. By its very nature, Velcro tends to be a bit more adjustable than other closures. That means you'll be able to use the vest as snug as you need it. You can tighten it for the anxious moments and let it relax a bit more when not in use. It will involve some more hands-on if you chose to use it like this but there's certainly something to be said about being able to adjust the fit no matter the occasion or anxiety level.
Frequently Asked Questions
What is a dog anxiety vest and how does it work?
An anxiety vest for your dog is a vest he'll wear that will apply pressure in one form or another, typically by compression, swaddling or weights. The applied pressure can cause a calming effect on your dog in a similar way to that of swaddling a baby or hugging a person. Just as a weighted blanket can cause that experience for a person experiencing anxiety, so too will a weighted vest. (And before you judge your pup too harshly for loving this, keep in mind it's the same reason you love to blast the AC while covering yourself in a heavy blanket.)
The weight or pressure of a dog anxiety vest help with nerves and focus, and may help your more scatter-brained dogs as well as your anxiety-ridden ones. It can help your dog feel grounded and safe, like a prolonged hug; and this effect is all the better if you, their most trusted person, are the one to give it to them. By putting it on them, they will associate that pressure and secure feeling with you. Just be careful not to only put it on him right before you leave or he experiences the anxiety-causing occurrence because then he may associate the vest with the negative.
How long should a dog wear an anxiety vest?
You should always "work up" to any extended period of time allowing your dog in an anxiety vest. And while you're in the "conditioning" phase, don't let whatever he's anxious about happen around him. If you want to help him with his fear of the vacuum, then definitely don't use the vacuum when he's wearing it his first time. Start out with smaller increments of time and build up to larger. You'll want to check to see if there are any spots that cause irritation after taking it off and adjust the vest or get another size if so.
Most vests are meant to be worn safely for extended times, but you'll want to be there every minute of the first time you try it for the longer time. That means if you're keeping it on for separation anxiety, then you'll want to try it out on your day off first.
Does a dog anxiety vest work for barking?
An anxiety vest for your dog can work for his barking; but more than likely it won't be a miracle. In fact, you may only see a slight improvement when used on its own. If the barking is anxiety-caused, then the vest can help, but most noticeably in conjunction with other anxiety treatments. If your dog is barking for any other reason, and not anxiety related, then it won't do a thing. And considering barking is a dog's primary source of communication, they bark for plenty of other reasons. So while it is possible the anxiety vest could help, it's a pretty big gamble.
Does a dog anxiety vest work for separation anxiety?
It can work on separation anxiety as well as it can on any other form of anxiety. The only difference between it and the others is that you'll need to take more time conditioning him. Which means you'll likely have a lot more time invested before ever using it for its intended purpose. For example, you shouldn't put it on right before you leave, even if you'll be gone for a short time. That way he won't associate the vest with the leaving. While supervised, start with no more than an hour. Unless you find that he absolutely loves it, build up to two before you leave him alone at all. Then start in short trips before a longer jaunt.
Other Anxiety Vests for Dogs We Reviewed
We looked at 20 other anxiety vests for your dog. Even though they didn't make our 5 best dog anxiety vests list, they're the best of the rest and each is still a great option for your dog. The information you'll need to compare each one is included with the listing.
Standard Dog Anxiety Vests
Agon CozyFur Patent Pending Canine Anti Anxiety Vest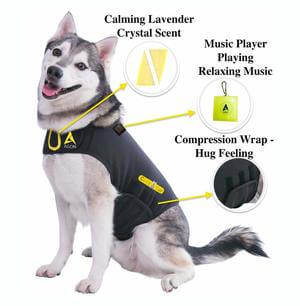 This vest has so many added features to calm your dog, one of them is sure to help!
Key Features:
5 size options
Music player and batteries included
Lavender essential oil crystals
Cost: $40
American Kennel Club AKC Anti Anxiety and Stress Relief Calming Coat for Dogs
This vest is secured by Velcro along the chest and stomach and you can tighten or loosen according to the occasion.
Key Features:
5 size options
3 color choices
Machine washable
Cost: $30
Calmz Anxiety Relief System for Dogs
This vest will secure like a hug, but also has the added benefit of a vibration therapy as well.
Key Features:
Remote controlled vibration and acoustic therapy
5 size choices
Can wear up to 8 hours
Cost: $50
Dog Coat Fleece Lined Warm Jacket
This vest will adjust snug or loose, depending on need and is waterproof for your walks in the rain.
Key Features:
8 size options
2 size choices
Gap along collar for leash
Cost: $15
This vest is so soft to the touch, you won't ever have to worry about it irritating your pup's skin.
Key Features:
2 size choices
Lightweight and breathable fabric
Machine washable
Cost: $20
Emmy's Best Premium Pet Products Two Tone Soft Fabric Jacket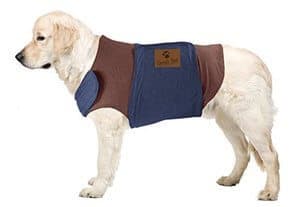 To add a bit of style to your pup, and unlike its competitors, this anxiety vest has two colors, giving your dog a bit of variety.
Key Features:
95% Cotton, 5% Spandex
100% satisfaction guarantee
Machine washable
Cost: $25
KONG Anxiety Reducing Pet Shirt
This full body anxiety vest is perfect for his every day anxiety and post-op.
Key Features:
9 size options
Built-in lavender sachet
Flexible Velcro closures
Cost: $25 (an estimated, rounded cost of the product)
OHF Dog Reflective Anxiety Jacket
This is a jacket that's bulk combines with how snug you close the Velcro strap to give a safe and secure feeling for your pup.
Key Features:
Reflective strip
Warm fleece lining
4 color choices
Cost: $15
Sensfun Retro Dog Jacket Cotton Life Vest
This vest secures with Velcro and tightens snugly around your dog with an elastic waist.
Key Features:
6 color choices
7 size options
Hole for leash
Cost: $15
ThunderShirt Classic Dog Anxiety Jacket
The classic design of the Thundershirt that will allow your dog the high quality without the trim and frills or embroidery of the sport.
Key Features:
7 size options
Secures with Velcro
Money back guarantee
Cost: $45
Thundershirt Dog Anxiety Polo Shirt, MLB Officially Licensed
With this, you'll get the same quality of the Thundershirt brand and have the opportunity to let your pup in on the MLB team love.
Key Features:
Lighter fabric than the classic
5 size options
6 team choices
Cost: $40
Urijk Dog Anxiety Calming Vest Thunder Coat
Due to the Velcro closure, you'll be able to adjust this dog anxiety vest to whatever tightness you need.
Key Features:
2 color choices
3 size options
Reflective strip
Cost: $15
YAAGLE Pet Adjustable Stress Relief Anxiety Vest
You'll secure this vest just as you do any other, with Velcro around chest and waist, but with an additional panel to tighten even further.
Key Features:
Stylish bow along back
5 color options
4 size choices
Compression Dog Anxiety Vests
Contech ZenDog Calming Compression Dog Shirt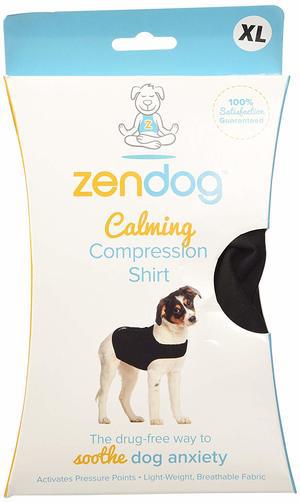 This compression vest will activate certain pressure points to relieve stress and anxiety for your dog.
Key Features:
Lightweight, breathable fabric
Acts as cooling garment when wet
Machine washable
Cost: $40
ProDogg Sleeveless Compression Shirt
There are 5 pressure points targeted with this compression vest and it is 100% made in America.
Key Features:
6 size options
Leash hole
5 color choices
Cost: $40
Swaddleshirt Anti Anxiety Vest For Dogs
This compression vest is lightweight and breathable so you won't need to worry about it turning into an oven and overheating him.
Key Features:
10 size choices
2 color options
Attaches with Velcro
Surgical Dog Anxiety Vests
Shed Defender to Reduce Anxiety
Not only will this help protect wounds and reduce anxiety, but another bonus you'll love with this vest is that it will minimize his shedding all over your home.
Key Features:
8 size options
4 color choices
Full body coverage
Cost: $45
Surgi Snuggly E Collar Alternative
This vest was designed by a veterinarian for post-surgical anxiety to ease your dog's nerves and help protect his stitches.
Key Features:
4-way stretch fabric
Back flap for waste
Machine washable
Weighted Dog Anxiety Vests
There is a half inch of high quality foam padding under the weight pouches so they won't feel the weight too intensely.
Key Features:
4 size options
Sand bags included
Weight pouches secured by Velcro
Cost: $95
There are either eight or ten zippered pouches on this vest, depending on the size you choose, that will hold weights across either side of your dog.
Key Features:
For dogs over 2 years old
2 size options
1/2-1 lb. weights
Cost: $100