Just like us humans, dogs can get bored when they don't have much to do. Not only is agility a great boredom buster for your canine companion, it can also improve fitness levels, and strengthen the bond between you and your four-legged friend. If you want to practice agility at home, you'll need some dog agility training equipment to get you started. There are many kinds of dog agility equipment out there, from tunnels to weave poles to starter sets, so you need to think about what equipment you want and what will work best for your dog.
We reviewed dozens of pieces of dog agility training equipment to identify the best of the best. To compare each item, we considered a number of factors, including equipment type, size, durability, and average customer reviews.
If you're looking for additional training advice, make sure to check out our other pet training articles.
It took a lot of careful consideration, but we ultimately chose the Affordable Agility Agility in the Bag set as our top pick. It's the best option out there for anyone who needs a variety of dog agility training equipment. Containing two types of jumps, weave poles, a pause box, and a closed tunnel, there's plenty to set up a mini agility course in your own backyard.
The 5 Top-Rated Dog Agility Training Equipment
*Ratings are from Amazon at the time of publication and can change
Our Top Pick: Affordable Agility Agility in the Bag
Searching for a full set of basic agility equipment to use at home? The Agility in the Bag set from Affordable Agility is an excellent option. The adjustable nature means it's suitable for dogs of most sizes, except for especially large breeds, like Great Danes or St. Bernards. It arrives partially assembled, but you will need to put some of this set together yourself. Luckily, it's quite simple and shouldn't be a challenge even for those with no affinity for DIY.
So, what's in the set? For your money, you'll get a three foot closed tunnel with an eight foot chute, a set of six freestanding weave poles, a 36 inch wide adjustable bar jump, a "tire" jump (though it features a hoop, not a real tire), a pause box, and a bag to carry it all in. Everything comes undecorated, but vinyl tape is included to do your own decorating.
Although, at $230, it doesn't exactly cost pocket change, it's actually quite reasonable when you consider all the equipment you get and its quality.
Affordable Agility Agility in the Bag Key Features: 
Made from UV-resistant PVC
Solid construction
Made in the USA
Our Runner Up Pick: Dog Agility Shop Complete Package
If you're looking for a more affordable set of agility equipment than our top pick, and you either don't need a tunnel or pause box or you already have them, the Dog Agility Shop Complete Package could be what you're looking for. Priced at $130, this set is more likely to fall within your budget, but the fact it costs less than our top pick reflects the smaller number of items you'll receive. This sturdy set will help you teach your dog about jumping and weaving, or practice skills he's already learned in class.
Included in this set is a hexagonal hoop jump, a bar jump, and six weave poles with spacers. Both jumps are adjustable; the hoop jump can be adjusted so the bottom of the hoop sits on the ground and the bar jump can be set anywhere between four and 36 inches high. As such, this agility equipment is suited to dogs of all sizes. It might not quite be professional grade, but this lightweight dog agility training equipment is perfect for home practice.
Dog Agility Shop Complete Package Key Features: 
Quick and simple assembly
Easy to adjust
Spacers help set the correct distance between weave poles
Best Budget Pick: PawHut Dog Obstacle Agility Training Kit
It might not be of the highest quality, but if you need dog agility training equipment at a bargain price, you should highly consider the PawHut Dog Obstacle Agility Training Kit. You get a single bar jump, weave poles, pause box, and open tunnel all just just $65, which is so affordable that you really can't complain!
The eight weave poles include ground stakes to fix them into soft earth. Since no spacers are included, you'll need to measure the correct distance between the poles. The jump also stays in place via ground stakes, meaning the majority of equipment can only be used or grass, not on hard surfaces. The tunnel is made from heavy duty polyester and measures roughly two feet wide and five feet long. While the overall quality isn't high enough for heavy duty use, this is great for occasional agility practice at home.
PawHut Dog Obstacle Agility Training Kit Key Features: 
Jump is fully height adjustable
Comes with convenient carry case
Ground stakes included
Best Dog Agility Weave Poles: Cool Runners Agility Weave Poles
Need to do some weaving practice on your own time? The Cool Runners Agility Weave Poles are the perfect set to practice with. These six poles come on an adjustable base, which lets you set them up either in a straight line or in an offset configuration, which easily maintaining the correct distance between poles.
Although we like that these poles are lightweight, and easy to pack down and carry around, it does have a drawback. They are technically freestanding, but are easily knocked over due to haw light they are. Luckily, these poles come with a set of ground stakes to anchor them in place.
These weave poles cost around $60, which is more than many alternatives, but since they do meet competition guidelines and are easily adjustable, we think they're worth the extra cost.
Cool Runners Agility Weave Poles Key Features: 
Can be configured as 2 by 2s, but you will need to unscrew the segments
Carry bag included
PVC poles on metal base
Best Dog Agility Jump: Affordable Agility Red Competition Jump
Whether you're buying for an agility school or simply for home use, the Affordable Agility Red Competition Jump is the ideal choice for getting dogs used to the kinds of jumps they'll encounter in official competitions. In fact, this jump complies to all AKC, USDAA, and TDAA trial specifications, so it can technically be employed for competitive use.
Two sturdy red and white striped bars are included, allowing you to use just one or both at the same time. The bars can be set at any height between four and 26 inches. With jump cup strips permanently set up on each side pole, it's extremely quick and easy to set the bar in the desired position.
Affordable Agility Red Competition Jump Key Features: 
Bottom bar makes moving the jump easier
Bars fall off when knocked to prevent injury
UV-resistant PVC construction
Who Should Buy Dog Agility Training Equipment
Anyone who wants to either start doing agility at home with their dog or who wants to practice between classes should buy dog agility training equipment. Although taking agility classes can be fun, there might not be any appropriate classes in your area, or perhaps your dog is reactive toward other canines and can't do agility in a group environment.
That said, even if you do take agility classes, you might want to do some extra home practice, especially if you're trying to work up to competition level or are already completing in agility with your dog. Whatever your reason, practicing agility with your canine companion is great for your dog's fitness and overall well-being. You might also want to check out our review of the best dog treadmills.
Important Features to Consider
Dog agility training equipment should have a few important features. Here's what to consider when selecting agility training equipment for your dog:
Equipment type. It's all very well saying you want to buy some dog agility training equipment, but what type? Do you want jumps, a tunnel, weave poles, a see-saw, an A-frame, or a set with a range of basics? This is the first thing you need to decide when on the hunt for agility equipment.
Size. Take a look at the size of the items you're considering; are they the correct size for your dog? Most pieces of dog agility training equipment is sized to suit the majority of dogs, but if your pooch belongs to a giant breed or a toy breed, you could have some issues. Tunnels, tire jumps, and pause tables are more likely to have size limits than other equipment.
Adjustability. Certain pieces of dog agility equipment, such as jumps, should be easily adjustable so you can tailor them to the size of your dog and their current ability.
Material. The vast majority of jumps and weave poles are made from PVC. This is usually UV-resistant so that it won't fade or degrade when left outdoors. Tunnels tend to be made from heavy duty polyester or nylon. They should be thick enough to avoid being torn by your dog's claws.
Durability. Consider the overall durability of any dog agility training equipment you're thinking about buying. You get what you pay for, as the saying goes, so cheap agility equipment might cost you less initially, but its poor quality will mean it might need to be replaced in a few months.
Frequently Asked Questions
What is dog agility training equipment and how does it work?
As we mentioned above, dog agility equipment is an overall term for a range of equipment that can be used for dog agility, including jumps, tunnels, and weaving poles. Once set up, the equipment doesn't do anything but stay put, it's your dog who must navigate the course of equipment, following your instructions.
When should a dog start agility training?
The minimum age for competing in agility is 18 months old. You shouldn't start training your dog on agility equipment until she reaches at least a year old (or even slightly later for large breed dogs as they mature more slowly). High-impact exercise before this age can damage the joints and should be avoided. That said, you can start laying the groundwork before this age, working on obedience training, and verbal and non-verbal commands, without the use of equipment. It's also worth noting that it's never too late to start agility training with an older dog (as long that they have decent levels of fitness and mobility).
What obstacles are in a dog agility course?
The obstacles in a dog agility competition can vary slightly depending on the organization running it, but an agility course generally includes several bar jumps or hurdles (including spread hurdles), a tire jump, a pause table, a set of 10 or more weave poles, a tunnel, and at least three contact obstacles (such as see-saws, A-frames, and dog walks).
How do I train my dog for agility training?
If you're new to agility training, we'd highly recommend attending some agility classes with your four-legged friend to learn the basics, as there are specific ways of doing things that you might not pick up if you try to go solo. Your dog will need to be able to follow commands reliably, and have excellent recall and off-leash control, though you might choose to start some basic training with your dog on a standard or hands-free leash.
Other Dog Agility Training Equipment We Reviewed
We looked at 20 other pieces of dog agility training equipment. Even though they didn't make our top 5 dog agility training equipment list, they're the best of the rest and each is still a great option for your dog. The information you'll need to compare each one is included with the listing.
Dog Agility Tunnels
Creative Dog Train 14′ Long Dog Agility Tunnel
This 14 foot open tunnel is ideal for teaching dogs how to tackle extra-long tunnels.
Key Features: 
Two feet wide
Six metal ground stakes included
Foldable and portable
Cost: $80
FurryFriends Premium Pet Agility Tunnel
Another extra-large open tunnel, but this one measures an impressive 18 feet long.
Key Features: 
Easily folds into the included carry case
Comes with eight ground stakes
Made from durable material
Cost: $45
HDP Dog Agility Training Open Tunnel
This sturdy dog agility tunnel features tabs with metal grommets for use with ground stakes.
Key Features: 
18 feet long
Two feet wide
Eight metal stakes included
Cost: $40
Pacific Play Tent Agility Dog Training Chute
Features a three foot reinforced tunnel section and an eight foot chute, measuring 11 feet long in total.
Key Features: 
Made from durable 70 denier polyester
Two feet wide
Interior padding around wires for comfort
Dog Agility Jumps
Affordable Agility Travel Jump Set
This set of four lightweight adjustable bar jumps are easy to set up and pack down, so there's no need to keep them in place full time.
Key Features: 
36 inches wide
Adjustable between four and 26 inches
Carry case included
Cost: $140
Dog Agility Shop Practice Tire/Hoop Jump
This hexagonal hoop jump is a lightweight practice version of the tire jumps found in official agility courses.
Key Features:
39 inch hoop diameter
Height adjustable
Made in the USA
Cost: $60
PawHut 4 Piece Adjustable Dog Jump
Although this affordable four piece jump set isn't the most sturdy option, it's great for occasional home practice if you're on a budget.
Key Features: 
Easy to adjust height
Freestanding design
Displaceable top bar increases safety
Cost: $65
This basic hoop jump is great for smaller dogs but might not cut it for large breeds.
Key Features: 
Easy to assemble
Portable with carry case
Lightweight construction
Cost: $40
SportDOG Brand Dog Agility Panel Jump
This impressive blue and yellow panel jump is competition grade but can be used at home or in classes, too.
Key Features: 
Comes with five panels
Height adjustable at 2 inch increments up to 32 inches
Freestanding design
Dog Agility Weave Poles
Affordable Agility Pole Weave Set
Six fixed weave poles with a 24 inch spacing between poles. Connector piece allows you to fix two sets of six together.
Key Features: 
Freestanding design for indoor or outdoor use
36 inches tall
Tape included for decoration
Cost: $60
Lord Anson™ Dog Agility Weave Poles
Choose between a set of six and a set of 12 weave poles depending on your needs and your dog's ability.
Key Features: 
Can be arrange straight or offset
Freestanding
Optional stakes for use on grass
Cost: $100 for six or $180 for 12
These inexpensive weave poles stake into the ground individually, so you can configure them as you please, but they are only suitable for use on grass.
Key Features: 
Set of 12 poles
Metal stake on each pole
Carry bag included
Cost: $50
Triple A Dogs Dog Agility Training Weave Poles
Similar to the set above, these weave poles stake into the ground, which gives you more flexibility over how you arrange them.
Key Features: 
Six poles included
Made from strong ABS plastic
Comes with carry bag
Dog Agility Sets
Similar to our top pick, but with a nine foot open tunnel instead of a closed one, this is an excellent choice for anyone looking for a basic home agility set.
Key Features: 
Bar jump and hoop jump
Six weave poles
Pause box
Cost: $250
Affordable Agility Dog Agility Essentials Set
This set is basically identical to the set above, but without the tunnel and pause box, which is great if you already have those or don't need them.
Key Features: 
Adjustable hoop jump and bar jump
Six weave poles
Made in the USA
Cost: $130
A basic and reasonably affordable small agility set featuring a bar jump, a tunnel, and six weave poles.
Key Features: 
Tunnel measures 16 foot long
Weave poles stake into ground
Bar jump is adjustable up to 39 inches
Cost: $100
Weave Poles Dog Agility Equipment Bundle
This beginners bundle contains four basic pieces of dog agility equipment suitable for beginners and intermediates.
Key Features: 
Tire and double bar jump
Six weave poles
Nine foot tunnel
Other Dog Agility Training Equipment
DogSport Rubber Surface Dog Agility A-Frame
Made from metal with a rubber surface, this agility A-frame is suitable for serious agility fans, but comes at a steep price.
Key Features: 
Seven foot and nine foot options
Foldable for storage or transportation
36 inches wide
Cost: $1,100 to $1,500
This set of cones and poles can be used as hurdles, for ladder training, or you can use the cones to practice weaving.
Key Features: 
Eight cones and four poles included
Height adjustable
Easy to set up and store
Cost: $70
Relaxdays Colourful Wooden Pet Seesaw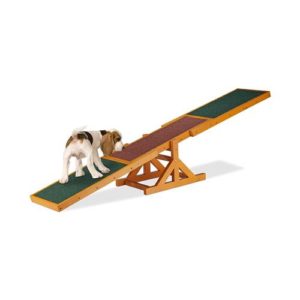 This wooden see-saw is surprisingly affordable given its sturdy solid pine construction.
Key Features:
Six foot long
Two foot wide
Non-slip surface
Cost: $85