Your dog may not be able to tell you outright when something's going on with him but there's a good chance you'll be able to tell, anyway. Whether he's scratching or licking or even if he's chewing more tentatively than usual, you'll be interested in chlorhexidine for your dog as an addition to his care and treatment that will help your pup get back to a normal, healthy state. If you're lost on where to start in finding the right chlorhexidine product for your dog's specific needs, don't worry, we've done the work for you.
We reviewed dozens of chlorhexidine for dogs to identify the best of the best. We looked at sprays for your dog's skin irritants and dental wipes for his mouth. We found the best solutions for his ears and cooling wipes for his hot spots. No matter what you'd like the chlorhexidine to help with, we've found the right one for your dog.
If you'd like some ideas on how to maintain and improve your dog's dental health, check out Doggy Dental Care, as part of our series, Five Days to a Healthier Dog. For those who need a bit of extra support for their joints and bones, try the Best Glucosamine For Dogs. And if you're interested in overall allergy care for your pup, try The Best Dog Food for Allergies.
Early in our research, we found the Curaseb Antibacterial Chlorhexidine Shampoo for Dogs, and it stuck with us throughout as the obvious choice for best overall chlorhexidine for dogs. With its gentle formula that will relieve irritations while eliminating the cause, this shampoo is one you'll want to keep well-stocked!
The 5 Top-Rated Chlorhexidine Products for Dogs
*Ratings are from Amazon at the time of publication and can change
Best Chlorhexidine for Dogs Overall: Curaseb Antibacterial Chlorhexidine Shampoo for Dogs
The Curaseb Antibacterial Chlorhexidine Shampoo for Dogs will eliminate bacteria, yeast, and fungus and by doing so, also get rid of any of the unpleasant moldy smells that are associated with them. With a pleasant cucumber melon scent, you won't have to worry about the overly-chemical smell that often comes with medicated shampoos.
This shampoo is formulated with 2% chlorhexidine gluconate and 1% ketoconazole making it strong enough to tackle generic skin irritants and contaminates as well as the more aggressive and specific fungi, like ringworm. And for one shampoo to help allergies and contagious, invisible microorganisms, that makes it a must-have in any pet home.
With right around 1,500 customer reviews on Amazon, there's plenty of support to back its overall rating. And when that rating is as good as this – 4.6 stars! – This is one chlorhexidine that's not too good to be true.
Curaseb Antibacterial Chlorhexidine Shampoo for Dogs Key Features:
Made with ketoconazole and chlorhexidine
2 size options
Made in the USA
Best Anti Fungal Chlorhexidine for Dogs: Veterinary Formula Clinical Care Antiseptic and Antifungal Spray
Veterinary Formula Clinical Care Antiseptic and Antifungal Spray is perfect for a ringworm flare up for your pup. And if your dog sleeps with you or cuddles up on your lap, this is something that is incredibly sensible to keep on-hand. It's a matter of cleanliness, of course, but ringworm is one of the few infections that your dog can pass to you and your family. Having this spray and making sure you act fast when you catch the first glimpse of it on your pup is a practical way you can protect your family.
Along with the chlorhexidine gluconate, this formula includes both aloe and keratin to calm irritated skin and ease hot spots, as well. Not only will this spray rid your pup of his fungus and bacteria, but it will also soothe the aggravated skin surrounding the area, too. It will obviously work better if your dog doesn't lick it off, but should he do so, it's also nice to know that it won't hurt him.
Right around 1,600 people have purchased this spray from Amazon and felt strongly enough to come back and leave a review; and of those, 80% left glowing reviews. It has an overall rating of 4.3 stars, making it an excellent choice for your dog.
Veterinary Formula Clinical Care Antiseptic and Antifungal Spray Key Features:
Use 2x daily for 1 week, then 1x daily for up to 12 weeks
Made with Chlorhexidine Gluconate, keratin and aloe
Paraben-free
Best Budget Chlorhexidine for Dogs: Davis Dog and Cat Chlorhexidine Spray
The Davis Dog and Cat Chlorhexidine Spray will eliminate the causes behind your dog's mild to severe skin irritations, whether they be bacterial or microbial. This one spray will ease the discomfort of skin allergies, hot spots, insect bites, and habitual scratching and licking. By calming the irritated skin and easing any dermatitis, this will help promote a healthy coat and even stimulate regrowth should his fur have suffered from skin concerns.
There is a concentration of 4% of the chlorhexidine gluconate that is sure to provide localized relief to any of your dog's skin irritations but is still gentle enough to not cause any additional irritations. In fact, even if he licks it off, it won't hurt him and could even help the bacteria in his mouth. (Although it probably goes without saying that this isn't its intended purpose and if it's getting licked off right away, it won't be able to do its job. Spraying and then taking him on a walk or actively playing with him will help distract him from the solution on his skin.)
There are over 200 customer reviews on Amazon giving it an overall rating of 4.4 stars and while those numbers definitely make this a tempting product, the price is what really sells it. You can pick this up for under $10 and if you subscribe and save you'll save even more. Considering you can use this one spray on all your dogs, cats, and even horses, it's a total steal.
Davis Dog and Cat Chlorhexidine Spray Key Features:
Active ingredient chlorhexidine gluconate 4%
8 fl oz
Environment friendly; made in the USA
Best Chlorhexidine Wipes for Dogs: Sogeval Douxo Chlorhexidine Wipes
The Sogeval Douxo Chlorhexidine Wipes are an excellent option to provide localized relief for dogs who don't like the spray. Whether he dislike the wetness left behind or the spray action itself, this is the solution to make sure he still gets the chlorhexidine he needs to calm his irritated skin. These pads give an easy method to wipe in between toes, in ears, or just about any place their skin is irritated that you (or your dog) don't want to douse in a solution.
One spectacular use for the wipes that you can't use with shampoos or spray is for irritations on his face. For dogs who have a regular problem with chin acne, these chlorhexidine pads are probably the best option to wipe away the bacteria and clean out any open sores associated with them without risking the solution getting into his eyes.
Over 1,000 customer reviews on Amazon have awarded these wipes an overall rating of 4.5 stars – not too shabby! And with nearly 90% of those reviews singing of the pads' praises, it's reasonable to expect you'll be one of the majority of satisfied customers.
Sogeval Douxo Chlorhexidine Wipes Key Features:
Includes 30 pads
Solution made with chlorhexidine gluconate, Phytosphingosine-salicyloyl, and climbazol
100% biodegradable
Best Chlorhexidine Spray for Dogs Pick: Douxo Chlorhexidine PS MicroEmulsion Spray
This Douxo Chlorhexidine PS MicroEmulsion Spray will use the chlorhexidine to work towards cleaning your dog's hot spots and eliminating the cause of his irritation before it flares up again. The phytosphingosine salicyloyl also contained within will control inflammation, making it all the easier for your pup's hot spot to settle and for his skin to get back to normal faster.
While this is intended for use with localized or temporary skin issues, it could give your pup more comfort than just then. This may be all your pup needs to ease his chronic skin allergies, too. But in case it's not, don't give up! Several reviewers attest to its ability to ease their dog's problems in between weekly medicated baths or in conjunction with a regular bathing routine and grooming habits.
With over 300 customer reviews on Amazon and an overall rating of 4.4 stars, you can take confidence that this spray may be just what you need to help you get your dog's skin irritations under control.
Douxo Chlorhexidine PS MicroEmulsion Spray Key Features:
Made with phytosphingosine salicyloyl and chlorhexidine
Will continue to work for up to 2 days after application
6.8 fl oz
Who Should Buy Chlorhexidine for Dogs
The most common benefit of chlorhexidine is that of the skin and ear topical relief. You can add a solution to his ears to ease his discomfort, and a wipe with a chlorhexidine solution applied to it can be used for nearly any type of irritation or allergy. For example, if you fur baby gets into a bush that leaves him itchy even after you've cleaned him, a wipe on the skin, paws, or ears can help him a great deal. Chlorhexidine has a unique ability to bind to proteins, making it latch on and stay on your dog's coat and skin longer than other antibacterial cleansers and that means it will provide longer-lasting relief for your dog.
There are also dental uses that may prove beneficial to maintaining your dog's oral hygiene. These are most commonly made in the form of a wipe, but you can also find solutions and toothpastes that contain chlorhexidine, as well. Just as on the coat and skin, the chlorhexidine will bind to the tissue in your dog's mouth, as well as his teeth and mucous. It will release slowly over time, killing bacteria and fungi for up to 48 hours, in some cases.
Chlorhexidine is incredibly useful as a disinfectant with fungi, as well. While it is best used in conjunction with an anti-fungal agent, chlorhexidine will still help get rid of common fungus problems like ringworm. In fact, it can also kill some virus infections, as well. These factors all lend to the idea that keeping some kind of chlorhexidine on hand at all times is a spectacular idea for keeping your dog clean, comfortable, and healthy.
Important Features to Consider
Chlorhexidine for dogs should do several things well. Here's what to consider when selecting a chlorhexidine product for your dog:
Sprays. A chlorhexidine spray is a perfect application to cool your dog's hot spots. It will ease his discomfort and soothe those problem areas that keep flaring up. If your dog has a fungus, simply spraying chlorhexidine directly onto the spot may be a fast over-the-counter way to rid him of it. Take note of the instructions and warnings, in case you're expected to clean it off, but in most cases, it will remain effective for a long period of time. You will want to make sure your dog won't be harmed if he licks it off when left unattended, as well. (Unlikely, but perhaps in conjunction with stronger concentrations could prove unsafe.)

Shampoo. For all-over care for your dog's sensitive or allergic skin, a shampoo will provide consistent and long-lasting relief. Not only will you be washing away the irritants that can cause his skin to flare up, but you'll also be leaving a comforting layer of chlorhexidine on his skin and coat to relax his skin and create a barrier between environmental factors that will cause him issues and his skin. This may not be a permanent fix, but with regular use, you may never see him bothered by irritated skin again.

Dental use. You can take full advantage of the bacteria-killing properties of chlorhexidine by buying toothpaste for your dog with it as an active ingredient. In fact, many vets will recommend you use it at least before and after a dental procedure to help prevent bacteria and protect your dog's gums. Any irritation caused by his over-enthusiastic chewing of toys or bones can also be eased by chlorhexidine, whether it be in his toothpaste or you use the dental wipes.
Wipes. Dental cleanings may actually be the most common use of chlorhexidine wipes, but you can still use the wipes for several other uses, too. You can ease his inflammation topically, with the cooling wipes that will soothe his ears, lips, and the pads of feet, to name a few places. Anywhere that's hot will be comforted with a cool cloth and while these wipes will give that for him, the chlorhexidine contained in these wipes will remain on his skin after you remove it and will help your pup's inflammation stay down long after you've tossed the wipes.
Concentration.While it's usually true that stronger is better, keep in mind that there is such a thing as too much of a good thing, too. A product that's too potent isn't going to help but rather may harm your pooch if used improperly. For regular use, you'll probably want to opt for a lower percentage of chlorhexidine and possibly temper it with other, calming ingredients like aloe, or keratin, for example.
Antifungal. Chlorhexidine isn't an antifungal, strictly speaking, but it is a very efficient cleanser that will eliminate any bacteria surrounding the fungus making the area so inhabitable for fungus, that may work all on its own. It's effective for less aggressive fungus or for fungus that hasn't quite taken "root," so to speak. More commonly, though, chlorhexidine is one of two ingredients that combine to make possibly the most effective antifungal. In fact, it pairs so well with ketoconazole that you'll probably find it as part of this solution just as much as on its own.
Frequently Asked Questions
What does chlorhexidine do for dogs?
Chlorhexidine has several uses for your dog and is, first and foremost, a cleaner. It's been dubbed a biocide, or a chemical/microorganism that will destroy, deter, or exert control over a harmful organism. In other words, it kills bad stuff on or in your dog. It will rid your dog of harmful bacteria, fungus, and microorganisms and, used properly, be completely harmless to your dog. It will eliminate any smells associated with these unseen terrors on your pup and can often lead to a happier, healthier dog.
For practical use, chlorhexidine will kill bacteria in your dog's mouth and remove any germs on your dog's coat. For dental use, you can use it to promote oral health in your dog, cleaning his mouth and teeth of any bacteria and tartar. On his coat, it will remove any irregular substances, killing all harmful microorganisms invisible to the naked eye. Using it on your dog's hot spots can ease the irritated skin by removing even unseen contaminants that are causing the irritation, including some fungi that have taken up residence on his skin.
Is chlorhexidine shampoo safe for dogs?
Not only are chlorhexidine shampoos safe for dogs, but they're also proven therapeutic, too. That means you'll be comforting your dog and treating him to a semi-spa experience when you give him a bath with this shampoo. It will calm his skin and wash away any unseen irritants that are currently still bothering him. After you rinse the shampoo, the effects could last up to a few days, if you're lucky. And while he still has the lasting effects of the chlorhexidine on his skin, he'll have a protective layer that will prevent some irritations from occurring. The one precaution you'll need to take, though, is to make sure you don't let the chlorhexidine shampoo get into his eyes.
Note: You can also use this type of shampoo on a cat or horse, so if you happen to have any combination of these three animals, you'll likely be able to share between them for any skin irritants or allergy flare-ups they experience.
Do dog teeth wipes work?
Dental wipes for your dog are a fast and easy way to remove some of the tartar build-up on his teeth. The wipes will also eliminate the bacteria in your dog's mouth, which can help improve your dog's bad breath. Regular use of dental wipes can also help prevent gum disease, decay, and gingivitis. You'll be able to use them fast and anywhere you are, no water required. You'll just pull a wipe out of the container, hold open your dog's mouth, and wipe his teeth and gums as quickly and thoroughly as he'll let you.
However, they are not a substitute for brushing. If he doesn't particularly enjoy his teeth being brushed, (there are plenty of dog owners who just can't wrestle their large or squirming dog to stay still long enough for a solid brushing) and wipes can help maintain a decent level of oral hygiene. Brushing with a chlorhexidine toothpaste, however, is best for his overall dental health. By regularly brushing, your dog will need his teeth professionally cleaned less often than with just the wipes. Probably the best routine would be to wipe daily, brush weekly, and have dental cleanings done annually. Check with your vet for what your dog, specifically, will need.
Do dogs really need their teeth cleaned?
Oral hygiene is as important for your dog as it is for you; perhaps more important, in fact. While you can sit in a dental office chair and have your teeth cleaned, repaired, and even replaced, a dog's teeth will be the only they have; no fillings, no dental implants. In fact, even just having them professionally cleaned will require your dog to be put under anesthesia; this will cost you a pretty penny and for some dogs, run a significant health risk. It would be a wise decision to invest your time into your dog's teeth cleanings now to avoid the extra pain and financial cost later. You can extend the time between dental procedures by ensuring his teeth are well-maintained. Brushing your pup's teeth at least weekly, perhaps daily, will go a long way in keeping his teeth healthy; Brushing with a chlorhexidine toothpaste will go even further. You can also boost the care by giving him dental chews that can help remove tartar as he chews and using the chlorhexidine wipes to clean his mouth and teeth.
Other Chlorhexidine for Dogs We Reviewed
We looked at 20 other chlorhexidine products for dogs. Even though they didn't make our 5 best chlorhexidine products for dogs list, they're the best of the rest and each is still a great option for your dog. The information you'll need to compare each one is included with the listing.
Chlorhexidine Shampoos
Davis Maximum Chlorhexidine Pet Shampoo
With the addition of aloe vera in this chlorhexidine shampoo, your dog's skin will be soothed to optimal comfort.
Key Features:
Made in the USA
4% Chlorhexidine gluconate
12 oz
Cost: $20
KetoWELL Ketoconazole & Chlorhexidine Shampoo for Dogs
This shampoo will ease your pup's skin irritations and eliminate any fungi issues, as well.
Key Features:
Use 2-3x weekly for 4 weeks, 1x week after
Made with ketoconazole and chlorhexidine
2 sizes available
Cost: $15
Micoseb Medicated Shampoo for Dogs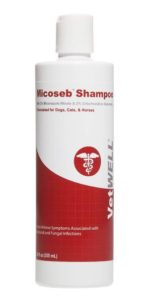 This shampoo is strong enough for a horse, but gentle enough for your puppy's sensitive skin.
Key Features:
Antibacterial and antifungal
Made with 2% Miconazole Nitrate and 2% Chlorhexidine
12 fl oz
Cost: $20
PetHonesty Antibacterial & Fungus Treatment Shampoo
You can heal your dog's broken out, irritated skin with this shampoo, and in doing so, remove any odors caused by these unseen causes.
Key Features:
Antifungal and antibacterial
Contains chlorhexidine, ketoconazole, and aloe
16 fl oz
Cost: $15
Sogeval Douxo-Chlorhexidine PS Climbazole Shampoo
This chlorhexidine shampoo features a formula that will reduce your pup's skin inflammation and eliminate nearly any of the potential topical causes.
Key Features:
Contains chlorhexidine and phytosphingosine salicyloyl
16.9 fl oz
Antiseptic foaming formula
Cost: $35
Stratford Pharmaceuticals KETO-C Medicated Shampoo
This shampoo will eliminate nearly any topical problem your dog has; bacterial infections, fungi, even odors.
Key Features:
Cleanses and deodorizes
16 fl oz
Contains Chlorhexidine 2%, Ketoconazole 1%
Cost: $35
Truseb Wipes Medicated Shampoo for Dogs with Chlorhexidine
This product boasts the ability to ease skin and ear irritants and claims that use after water activities will prevent ear infections that are often associated with them.
Key Features:
Antibacterial and antimicrobial
12 fl oz
Made with 4% Chlorhexidine Gluconate
Cost: $20
Chlorhexidine Sprays and Solutions
Carolina Custom Cages Chlorhexidine Solution
This chlorhexidine comes in a concentrated formula that is marketed for cleaning your reptile tank, but will clean your dog's areas just as well to prevent any contamination or infection. This is an especially helpful step for you to take while your dog is recovering from any illness or procedure.
Key Features:
Made with Chlorhexidine 2%
3-pack
Each 1.5 oz bottle makes 32 fl oz
Cost: $15
Douxo Chlorhexidine PS and Climbazole Mousse
This mousse is designed to be rubbed into your dog's skin and if your puppy loves a good massage, this is the perfect way to spoil him.
Key Features:
Eliminates bacteria, yeasts, and fungi
Made with Chlorhexidine, Phytosphingosine, and Climbazole
6.8 fl oz
Cost: $25
KetoWELL Chlorhexidine & Ketoconazole Antiseptic Medicated Spray
This spray will ease your dog's topical skin irritations fast and protect him from further infection.
Key Features:
Antibacterial and antifungal
Contains Ketoconazole, 1% and Chlorhexidine, 2%
8 fl oz
Cost: $15
PetHonesty Hot Spot Spray for Dogs
Whether your pup is suffering from a topical yeast infection or a bacterial one, this solution will help ease him and rid him of either problem.
Key Features:
Antibacterial and anti-yeast
Ketoconazole, Chlorhexidine, and Aloe
8 fl oz
Cost: $20
Truseb Medicated FLUSH for Dogs with Chlorhexidine
This chlorhexidine solution will kill bacteria, fungus, and yeast and with its nozzle opening, is perfect for use in your dog's ears.
Key Features:
12 fl oz
Chlorhexidine gluconate and ketoconazole
Made in the USA
Cost: $20
Vetoquinol Dentahex Oral Hygiene Rinse
This rinse is made with chlorhexidine and zinc gluconate to provide a safe, pleasant-tasting mouthwash that will keep your dog's mouth healthy and bacteria-free.
Key Features:
Chlorhexidine dental rinse
8 fl oz
Made in the USA
Cost: $15
This spray will help your dog's skin irritations caused by bacteria and several other commonly aggravating microorganisms.
Key Features:
Made with Chlorhexidine, 4%
Non-sting formula
8 fl oz
Cost: $15
Chlorhexidine Wipes
Ketoco Stratford Pharmaceuticals Keto-c ketoconazole Chlorhexidine
This antibacterial and antifungal formula includes 50 pre-soaked pads to make comforting your dog ultra-easy.
Key Features:
Can be used on dogs, horses, or cats
Cucumber Melon scent
50 wipes
Cost: $15
These wipes are perfect for easing your dog's irritation in delicate places without leaving behind too much of the solution to over saturate the area.
Key Features:
Includes 50 wipes
Antiseptic, antibacterial, and antifungal
Made in the USA
Cost: $15
Pet MD Chlorhexidine Wipes with Ketoconazole and Aloe
If your dog happens to get a fungal infection on his face or near his eyes, these wipes will allow you to take care of it without the risk of getting the solution into his eyes.
Key Features:
Antibacterial and antifungal
Includes 50 wipes
Made with chlorhexidine and ketoconazole
Cost: $15
Strawfield Pets Chlorhexidine Wipes for Dogs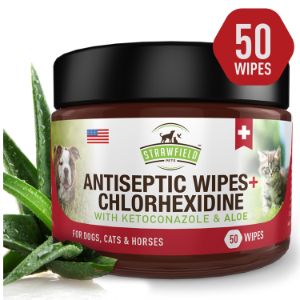 With the addition of aloe to its formula of Chlorhexidine and ketoconazole, these wipes will instantly soothe your dog's inflamed and irritated skin.
Key Features:
Antibacterial, antifungal, and antiseptic
Made with Chlorhexidine, ketoconazole, and aloe
Includes 50 pre-soaked wipes
Cost: $15
Truseb Wipes Medicated Wipes for Dogs with Chlorhexidine
With ketoconazole, this is an effective antifungal, and chlorhexidine makes it as effective as an antibacterial, as well.
Key Features:
Made in the USA
50 pre-soaked wipes
Contains chlorhexidine and ketoconazole
Cost: $10
These dental wipes are perfect to clean your dog's mouth and eliminate bad breath in between brushings.
Key Features:
Includes 50 dental wipes
Made with chlorhexidine gluconate
Eliminates tarter; prevents plague
Cost: $10