Of course, you want your dog to have plenty of fun toys to play with, but you don't have to break the bank buying them. Whether you're on a tight budget or your four-legged friend simply destroys or loses most of his toys within days, look for cheap dog toys to keep your pooch entertained without putting a big dent in your available funds! That said, "cheap" means different things to everyone, depending on their budget. We decided to stick to listing dog toys retailing at a maximum of $10, but you'll find some for well under $5, so there's something to suit most budgets.
We reviewed dozens of cheap dog toys to identify the best of the best. While price was one of our main concerns, we also focused on toy type, quality, durability, and average customer reviews on Amazon. Be sure to check out our reviews of the best indestructible dog toys if you have an aggressive chewer, or for high-energy pups, we also review the best interactive dog toys in a separate post. 
Affordable, adorable, and interactive, the ZippyPaws Panda and Bamboo Interactive Dog Toy stood out as the clear winner of our Top Pick cheap dog toy. Perfect for pooches who love playing games involving finding toys or treats.
The 5 Top-Rated Cheap Dog Toys
*Ratings are from Amazon at the time of publication and can change
Our Top Pick: ZippyPaws Panda and Bamboo Interactive Dog Toy
If your canine companion always has her snout in something, rooting around for treats or toys, she'll love the ZippyPaws Panda and Bamboo Interactive Dog Toy. There are four parts to this toy: a hollow plush bamboo shoot with holes in and three plush pandas. The idea is that you put the pandas into the holes and your dog finds and removes them.
Each panda has a squeaker inside, so once your dog has found them all and removed them from their bamboo home, he'll have fun squeaking and chewing on them. While this isn't a toy designed for heavy chewers who tend to tear apart plush toys, rest assured that you can buy replacement pandas should any little mishaps occur!
Due to the size of the holes and the toys, it's only recommended for small and medium dogs. A large pooch might not be able to fit her nose through the holes to retrieve the pandas and would probably make quick work of them if she did! The interactive nature of this toy means it helps keep dogs occupied, providing mental stimulation.
Retailing at around $9, it's one of the more expensive toys on this list, but we'd still class it as cheap, especially when you consider the complexity of the toy.
ZippyPaws Panda and Bamboo Interactive Dog Toy Key Features: 
Provides mental stimulation for your dog
Each panda contains a squeaker
Suitable for small and medium dogs
Our Runner Up Pick: KONG Senior Dog Toy
KONG Senior Dog Toy
Great for chewing, chasing, or stuffing with treats, this multipurpose toy is a winner
You've heard of the classic KONG, now meet the KONG Senior Dog Toy, which is designed with the older pooch in mind. You distinguished gentleman will love chasing it around at his own pace or licking soft treats out of the center. It costs just $10 for a medium model or $7 for a small model, which we think is a bargain considering this is a quality toy from a known and respected brand.
The difference between this and the classic KONG is that this version is made with slightly softer rubber. This makes it perfect for senior dogs, but also for gentle-mouthed dogs of all ages who might kind the standard version too tough. That said, if old age hasn't slowed your senior dog down at all, and she's still and aggressive chewer, this might not be the toy for her.
Due to its irregular shape, the KONG bounces in an erratic way that keeps dogs on their toes during games of fetch. The hollow middle can be stuffed with treats or pastes for your canine companion to enjoy, which is ideal for when you'll be out of the house for a few hours.
KONG Senior Dog Toy Key Features: 
Helps maintain healthy teeth and gums (when used as a chew toy)
Interactive design
Hollow center can be stuffed with treats
Best Budget Pick: Nylabone Original Dura Chew
Looking for a cheap toy for a dog who loves to chew? The Nylabone Original Dura Chew might be just the thing! Costing just under $3 for a medium size option, this toy is certainly inexpensive, but it's of surprisingly good quality and comes from a trusted manufacturer.
Made from a sturdy nylon material, this bone is safe for your canine companion to chomp on and even stands up to strong, determined chewers. Small grains of nylon may shed while your four-legged fried is chewing, but any that he manages to swallow will safely pass through the digestive tract.
As your dog chews, you get a textured bristle effect on the ends of the bones which helps to scrape plaque off the teeth. The act of chewing in itself stimulates the gums, too. So, your dog is contributing to his dental health while doing something he enjoys!
We're focusing on the medium Nylabone, which measures 5.5 inches long and is suitable for dogs up to 35 pounds, but you can find both smaller and larger options.
Nylabone Original Dura Chew Key Features: 
Promotes healthy teeth and gums
Satisfies the urge to chew
Ideal for heavy chewers
Best Durable Cheap Dog Toy: West Paw Design Jive Zogoflex Durable Ball
You can spend a lot on a toy that your dog is able to rip to shreds in minutes. Conversely, you can spend very little on a toy that's highly durable. The West Paw Design Jive Zogoflex Durable Ball falls into the second category. It might cost just $9, but it's so tough it could last for years to come!
While this isn't the most inexpensive dog ball out there, it's much more than just a standard ball. We'll already talked about how durable it is, but it also bounces, making games of fetch more fun, and floats, so your pup can take it for a swim. Speaking of bouncing, due to the shape of the ball, it has an unpredictable, erratic bounce, providing an extra dimension to a standard game of fetch.
What's more, this ball has some excellent eco-friendly credentials. It's made in the USA out of recycled materials, and is also recyclable once your dog is done with it.
West Paw Design Jive Zogoflex Durable Ball Key Features: 
Made from FDA-approved materials
BPA-free
Floats
Best Cheap Dog Rope Toy: Alvi & Remi Puppy Chew Teething Rope Toys Set
Dog rope toys aren't always of the greatest quality, especially cheap ones, but the Alvi & Remi Puppy Chew Teething Rope Toys Set is an exception. Despite the low prices, these toys are sturdy, well-made, and durable enough to stand up to some rough play.
These rope toys are great for puppies to chew on, which is why they're listed as a set of teething toys, but adult dogs can also have fun with them, so don't let that stop you. The set consists of three rope tug or chew toys, measuring between approximately 7 and 10 inches, and one 2-inch rope ball. The size of these toys means they're suitable for small and medium dogs, but may be too large for toy breeds and too small for large dogs.
They're made from 100% cotton, knotted and woven for extra strength. While they can be destroyed by heavy chewers, they're stronger than your average rope toy and are fairly long-lasting. At a little under $10 for all four toys, this set offers excellent value for money.
Who Should Buy a Cheap Dog Toy
All dogs should have a range of toys to help keep them mentally and physically stimulated, and to stop them from getting bored when you can't be around or don't feel like playing. However, not all owners can afford to keep their four-legged friends stocked up with the latest high-end dog toys, no matter how loved they are. That's why you need to look for cheap dog toys!
You can find some excellent toys for your canine companion for less than $10, and many even for less than $5. While not all cheap dog toys are worth the money, we've scoured the internet for those dog toys that are both cheap any high quality.
Important Features to Consider
A cheap dog toy should have a few important features. Here's what to consider when selecting a cheap toy for your dog:
Type of toy. Perhaps the first thing to decide is what type of toy you're after. You can find all types of cheap dog toys, from plush toys and squeaky toys to tug toys and chew toys. Once you know what kind you're looking for, it will be easier to narrow down your search.
Interactive features. Interactive dog toys have features to keep your pet engaged and interested. For instance, you can buy interactive treat-dispensing toys, "hide and seek" toys, and puzzle toys. These are great boredom busters for when your dog is home alone.
Size. Make sure you choose a toy of an appropriate size for your dog. Too small and it could pose a choking hazard, too large and your pooch might not be able to carry it around.
Durability. When it comes to durability, not all dog toys are created equal. If your dog isn't much of a chewer, any toy will do, but if she tends to shred her toys as soon as look at them, opt for durable dog toys.
Dental toys. Some cheap dog toys, especially chew toys, have properties that promote dental health. These are perfect for dogs reluctant to have their teeth brushed.
Frequently Asked Questions
What chew toys are good for dogs?
You can find a range of excellent chew toys for dogs. Some of our favorites are Nylabones and similar, which are strong enough to stand up to heavy chewers. Rubber chew toys are also good, but some aren't tough enough for aggressive chewers.
What type of toy should I get for my dog?
This really depends on what your dog likes doing and how he acts with his toys. If he's a fairly gentle chewer who enjoys squeakers, you might opt for a plush toy. If he loves playing fetch, a ball or frisbee might be more relevant to his interests. Dogs with excellent senses of smell or who enjoy scent work might like a puzzle toy with treats inside.
Are cheap dog toys dangerous for dogs? 
While you can find some cheap toys that are dangerous for dogs, most are perfectly safe. The most inexpensive of the cheap dog toys can be of poor-quality. These kinds of toys may easily break or be ripped apart, which can prove a choking hazard. If you're unsure about how safe a dog toy is, be sure to carefully supervise your dog when she's playing with it, and take it away if it seems at all dangerous.
Are dog toys hygienic?
Once they've been slobbered on and dragged across the yard a few times, it's safe to say most dog toys aren't very hygienic. In fact, they can be a breeding ground for bacteria, which could be harmful for your dogs and any human family members that come into contact with them. We'd recommend washing your dog's toys every couple of weeks to sanitize them. Most plush toys can go in the washing machine and hard toys can either be washed in the sink with diluted dish soap and rinsed well or some are dishwasher safe.
Other Cheap Dog Toys We Reviewed
We looked at 20 other cheap dog toys. Even though they didn't make our 5 best cheap dog toys list, they're the best of the rest and each is still a great option for your pooch. The information you'll need to compare each one is included with the listing.
Cheap Plush Dog Toys
Coastal Pet Products Rascals Fleece Slipper Squeaky Dog Toy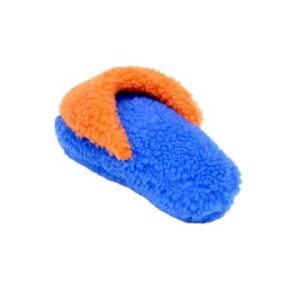 This cozy plush slipper toy is perfect for dogs to play with or even just snuggle up to! Made from an extremely soft synthetic fleece material.
Key Features:
Two tone blue and orange color
Measures 8 inches long
Squeaks
Cost: $6
DanDee Only The Best For My Dog Pet Sock Monkey Toy
A basic plush monkey toy that's relatively durable and has a squeaker inside to keep your four-legged friend interested. It measures approximately 9 inches long.
Key Features: 
Available in a range of colors
Durable
Squeaker inside
Cost: $9
Ethical Pets Skinneeez Extreme 3 Squeaker Stuffing Free Dog Toy
Does your dog generally rip apart any plush toys and pull out the fluff inside? If so, this stuffing-free crocodile plushie might just be the answer!
Key Features:
Double-layered for durability
Contains three squeakers
25 inches long
Cost: $8
ZippyPaws Colorful Caterpillar
This long plush caterpillar measures approximately 34 inches, making it ideal for large dogs, or smaller pooches who enjoy dragging around big toys!
Key Features: 
Contains 6 large "blaster" squeakers
Durable construction
Embroidered detailing
Cost: $10
ZippyPaws Squeakie Pup Border Collie
Although this dog toy comes in a range of varieties, we're looking at the border collie, which happens to provide the best value for money of the lot.
Key Features:
Durable construction
Stuffing-free
Contains around 10 squeakers
Cheap Dog Chew Toys
Benebone Real Flavor Wishbone Dog Chew Toy
Made primarily from nylon with a tasty real food flavor infused all the way through, this is a chew toy your four-legged friend won't be able to get enough of!
Key Features:
Small size suitable for dogs under 30 pounds
Wishbone shape
Available in bacon, chicken, and peanut flavors
Cost: $10
Made from a tough, lightweight EVA foam, this chew toy is quite strong, but not durable enough to withstand heavy chewing, so it's not suitable for all dogs.
Key Features: 
Holds its shape after chewing
Floats in water
One size only
Cost: $5
Even the biggest of dogs can enjoy chomping on this robust USA-made chew toy, which is designed for pooches of 50 pounds and over.
Key Features: 
Chicken-flavored
Helps clean teeth
Durable enough for heavy chewers
Cost: $8
This rugged wishbone-shaped chew toy is suitable for dogs of up to 35 pounds. Strong enough even for aggressive chewers.
Key Features: 
Original flavor
Promotes dental health
Made in the USA
Cheap Dog Balls
Multipack provides two small 2-inch balls for a very reasonable price. What's more, they're tough enough to withstand countless games of fetch!
Key Features: 
Floats in water
High bounce
Made from natural rubber
Cost: $8
Ethical Pets Sensory Ball Dog Toy
With a bell and squeaker, multiple textures, a bright color scheme, and a beef scent and flavor, this ball engages all five of your dog's senses.
Key Features: 
Two size options
Durable construction
Provides sensory stimulation
Cost: $5
Gnawsome Medium Squeaker Ball Dog Toy
The spiky texture of this ball is perfect for massaging gums and promoting dental health, while the squeaker inside will entertain your canine companion.
Key Features:
3.5-inch diameter
BPA-free
Loud squeaker
Cost: $4
Jolly Pets Toys Jolly Bounce-N-Play Dog Toy
This reasonably-sized 4.5-inch ball is perfect for general play with medium and large dogs. While there are various colors available, the blue option is the cheapest.
Key Features: 
Scented
Floats in water
Bounces
Cost: $8
KONG Squeaker Tennis Balls Dog Toy
If you prefer to keep it simple, ball-wise, consider these doggy tennis balls from KONG. Not only are they more durable than standard tennis balls, they also squeak.
Key Features: 
Excellent bounce
Comes as a pack of three
Medium balls have a 2.5-inch diameter
Cheap Dog Rope Toys
EETOYS Dog Chew Toys Ball with Rope
Part ball, part rope toy, your dog will love playing tug with it, chewing on the ball, or shaking it around. Available in small and large sizes.
Key Features: 
Made from natural rubber and cotton
Durable construction
Long enough for games of tug
Cost: $10
With a selection of five rope balls, tug toys, and teething toys, this set offers excellent value for money. The size makes them suitable for small and medium dogs.
Key Features: 
Cotton construction
Buyer receives a random color selection
Durably made
Cost: $9
This 15-inch rope toy with a ball on one end is perfect for playing tug-of-war with your canine companion. The 2.8-inch ball is great for medium-sized dogs.
Key Features: 
Textured ball promotes dental health
Made from cotton and natural rubber
Doesn't fray easily
Other Cheap Dog Toys
Hyper Pet Tennis Chewz Barbell
Is it a tennis ball? Is it a chew toy? Or is it neither? We're not entirely sure, but whatever it is, this toy provides tons of fun for your four-legged friend.
Key Features: 
Squeaks
Floats in water
Perfect for playing fetch
Cost: $9
Multipet Latex Globken Chicken
Made from latex on the outside and a plush filling in the middle, this toy defies categorization, but dogs seem to love chewing on it!
Key Features: 
Measures 5.5 inches
Durable construction
Squeaks
Cost: $6
PetSafe Busy Buddy Squirrel Dude Dog Toy
With its durable rubber construction and hollow center, this toy has many functions. It's great as a chew toy or for playing fetch, but can also be stuffed with treats or peanut butter.
Key Features: 
Available in four sizes
Dishwasher-safe
Stands up to strong chewers
Cost: Between $4 and $10, depending on size