If somebody told you that a single product could help pets with all kinds of problems from skin irritation to pain to anxiety, you'd probably think they were talking nonsense, but CBD for pets delivers on these promises. Derived from the cannabis plant but completely non-psychoactive, CBD reacts with the endocannabinoid system that exists in almost all animals (only insects appear to lack it) to produce a range of positive effects, such as calming, pain relief, and exterior healing when used topically.
We reviewed dozens of different types of CBD for pets to identify the best of the best, comparing various factors, such as strength, formulation, overall quality, and average customer reviews.
CBD FX Pet CBD Oil
This highly bioavailable CBD oil is perfectly dosed for medium sized breeds.
Check Price
After careful consideration, we chose CBD FX Pet CBD Oil as our top pick. CBD oil tends to be the most versatile choice and is easy to adjust the dosage for pets of different sizes. This is a high quality CBD oil you can trust that's rich in the active ingredients of CBD, such as cannabinoids and terpenes.
The 5 Top-Rated CBD for Pets
*Ratings are current at the time of publication and can change
Best CBD for Pets Overall: CBD FX Pet CBD Oil
If you want a quality multipurpose CBD product, CBD oil is the way to go, and our favorite is CBD FX Pet CBD Oil. We're looking at the 300 mg option, which gives you 10 mg of CBD per ml, which is ideal for medium dogs. However, you can also buy a weaker and a stronger option from the same brand, which are suitable for cats and small dogs, and large dogs, respectively. This CBD oil is diluted in a coconut oil carrier, which has it's own health benefits and is perfectly safe for pets.
The CBD contained in this product is CO2 extracted, which gives you a safe and pure CBD that's rich in its natural terpenes and cannabinoids. It's highly bioavailable, so it's easily absorbed into your pet's bloodstream where it can do the work. Users state that it works well for all kinds of anxiety, pain relief, arthritis, appetite stimulation, and more. It costs around $45 for 30 ml, which is an average price for quality CBD oil of this strength.
CBD FX Pet CBD Oil Key Features: 
300 mg strength, which equals 10 mg per ml
Easy to adjust the dosage as required
Also rich in fatty acids and amino acids
Best CBD Treats for Pets: Joy Organics CBD Dog Treats
Joy Organics CBD Dog Treats
Tasty beef  flavor treats containing 2 mg of CBD a piece.
Check Price
For some pet owners, CBD treats are less of a hassle to administer than oil. Our top CBD treats for pets are Joy Organics CBD Dog Treats. They're flavored with beef, making them a palatable choice for dogs who'll never know they're getting their "medicine" in the form of a tasty treat. The full pack of treats contains 60 mg of CBD and with 30 treats in a pack, that works out at 2 mg per treat. This is a good dosage for small dogs, but you may end up needing to feed large dogs a lot of these treats for a noticeable effect, which can be costly. Though marketed as dog treats, there's no reason why you can't feed them to cats of an average weight (around 10 lbs), though they're a little too strong for small cats.
These treats are made using Joy Organics' special phytocannabinoid-rich hemp extract, which is easily absorbed by pets and works quickly. This CBD extract is in the form of a water-soluble powder, which improves absorption even further. This pack of 30 dog treats costs around $35.
Joy Organics CBD Dog Treats Key Features: 
Made using broad spectrum CBD
Contains premium grade ingredients
CBD absorbs into the bloodstream quickly for fast-acting effects
Best Budget CBD for Pets: Charlotte's Web Calming Chews for Dogs
Charlotte's Web Calming Chews for Dogs
These inexpensive treats are a great intro into the world of CBD for pets.
Check Price
Charlotte's Web Calming Chews for Dogs are a great primer into CBD for pets without needing to spend too much. They're primarily designed for calming and anxiety relief but it follows they may offer some pain relief, too. Despite their affordable price these treats are surprisingly potent. Each treat contains 5 mg of broad spectrum hemp extract, of which at least 2.5 mg is naturally occurring phytocannabinoids, including CBD. They also contain a range of other naturally calming ingredients: Valerian root, passion flower extract, and chamomile.
Thanks to their chicken flavor, these treats are highly palatable and dogs are unlikely to pass them up. They can really help anxious dogs, with plenty of users singing their praises and talking about how calmer their dogs are after eating these treats. A pack of 30 treats costs $20, which is very reasonably considering their quality ingredients.
Charlotte's Web Calming Chews for Dogs Key Features: 
Suitable for dogs of all sizes, just adjust the dosage accordingly
Made using hemp grown in the USA
Improves calm both out and about and at home
Best Topical CBD for Pets: Charlotte's Web Canine Hemp Infused Balm
Charlotte's Web Canine Hemp Infused Balm
A soothing balm to heal dry skin.
Check Price
Topical CBD treatments are those used externally on your pet, such as the Charlotte's Web Canine Hemp Infused Balm, which is our favorite topical CBD for pets. The combination of broad spectrum CBD oil, coconut oil, jojoba oil and shea butter create a protective and moisturizing barrier that remains on the surface of the skin. Its primary use is for dry and cracked skin, but it can also provide much needed relief for irritated skin. In addition to moisturizing and helping with faster healing, the CBD is also likely to offer some topical pain relief.
This balm is safe for dogs with sensitive skin. A 1.5 oz pot costs $24.99 but a little goes a long way.
Charlotte's Web Canine Hemp Infused Balm Key Features: 
Contains 450 mg of broad spectrum CBD in the whole container
Formula is moisturizing and healing
Additional ingredients include coconut oil, jojoba oil and shea butter
Best CBD Capsules for Pets: HolistaPet CBD Capsules for Dogs & Cats
HolistaPet CBD Capsules for Dogs & Cats
Hemp extract contained inside capsules for easier dosing.
Check Price
If you'd like to give your pet CBD oil but are worried about getting the dosage right, CBD capsules do the hard work for you, avoiding any dosing errors. HolistaPet CBD Capsules for Dogs & Cats contain 5 mg of CBD per capsule and these full spectrum CBD capsules are highly effective for dogs and cats. For proper recommended dosage read HolistaPet's CBD dosage chart.
These capsules also contain hemp seed powder as a carrier, which is rich in omega fatty acids, protein, and antioxidants, so it's good for your dog all round. The formula is perfect for dogs who are suffering from arthritic joint pain, or severe anxiety. The CBD in the capsules is completely THC-free, so you don't need to worry about any unwanted effects. A pack of 30 capsules costs $25.95.
HolistaPet CBD Capsules for Dogs & Cats Key Features: 
Made with all natural ingredients
Vegan capsules don't contain animal gelatin
No additives or preservatives and free of GMO and Gluten
Who Should Buy CBD for Pets
People buy CBD for pets for a variety of reasons. One of the most common is for pain relief, often from arthritis, but you can use CBD for general pain relief, too (though if you don't know why your pet is hurting, a trip to the vet is warranted first). You might also want to try CBD for your pet due to anxiety. This might be general anxiety, separation anxiety, or phobias, such as loud noises. CBD has natural calming properties, so many pet parents find it's helpful for their pet's anxiety.
CBD FX Pet CBD Oil
This highly bioavailable CBD oil is perfectly dosed for medium sized breeds.
Check Price
Important Features to Consider
CBD for pets should have a few important features. Here's what to consider when selecting a CBD for your pet:
Type of CBD product. First of all, decide what type of CBD product you want to give your pet. The most common types are CBD oil, CBD treats, CBD capsules, and topical CBD products. CBD oil is the most versatile and makes it easy to adjust the dose so it's right for your pet. CBD capsules are great of you want the benefits of CBD oil but without the possible error of getting the dosage wrong, though this means you can't adjust the dose as easily. CBD treats are great for occasional use or if your dog only needs low dose CBD but can work out quite costly otherwise. Topical CBD treatments work well for hot spots, irritated skin, and other external ailments.
Strength. We'll talk more about dosage later, but it's important to choose the right strength of CBD products for the size of your pet. For items such as treats, you'll usually be told the amount of CBD contained in one treat and in the package overall. With CBD oil, the amount of CBD in the whole bottle is listed, and the amount per ml may or may not be included. You can, however, work out the amount of CBD per ml but dividing the total amount of CBD in the bottle by the number of ml.
Reason for use. Some CBD for pets is designed for specific uses. For instance, some CBD treats are marketed as calming treats, for anxiety, and others are advertised as helping with joint pain. These types of products often contain other ingredients to boost calming or pain relief, but any CBD has more or less the same effect.
Ease of administering. Choose a CBD product that will be easy to give to your pet. If using CBD oil, you may need to squirt it straight into your dog's mouth, which can be a challenge with some dogs. You have the option to mix it with food, but if your dog doesn't eat up their whole meal, some will be wasted and you won't know how much they consumed. CBD treats are generally easy to administer, though you may have problems if your dog is a picky eater.
Frequently Asked Questions
How much CBD should I give my pet?
You'll need to work out the correct CBD dosage based on your pet's body weight. Most CBD products will list their recommended dosage on the package, but recommendations can vary. A low yet still effective dose to start with is 0.2 mg of CBD per lb of body weight. So, a 50 lb dog would need 10 mg of CBD per day, for example. However, if you don't notice any improvement after a few weeks, you can increase this gradually up to a maximum of 0.5 mg per lb of body weight.
For more on how much to give to your dog and when, check out our article, CBD Dosage For Dogs: How Much CBD Should I Give My Dog?
Is CBD safe for pets? 
Yes, CBD is very safe for pets. There are no serious side-effects if you stick to the correct dosage, and even an overdose is unlikely to result in more than excessive drowsiness, an unsteady walk, and perhaps some vomiting. You must, however, make sure it contains no THC or a very small amount of THC (no more than 0.2 mg per 30 ml) since the psychoactive effects can feel confusing and unpleasant for pets.
Can I give my pet human CBD? 
In theory, yes (with a few caveats), but in practice we'd highly recommend sticking to CBD that's made specifically for pets. The problem with CBD products for humans is that they're stronger than those designed for pets, so you'd need to be extremely careful with dosage, especially for a small pet. What's more, they can contain ingredients that are unsafe or even toxic for pets, such as artificial sweeteners or alcohol. As such, if you must give a pet human CBD, first check the ingredient list thoroughly to ensure there's nothing in it your pet shouldn't consume.
How long does it take CBD to work?
When administering CBD to calm your pet and relieve anxiety, you should see results in as little as 30 to 60 minutes. However, for long term pain relief, it can take as long as 2 to 4 weeks for the full effects to show themselves.
Other CBD for Pets We Reviewed
CBD FX Pet CBD Oil
This highly bioavailable CBD oil is perfectly dosed for medium sized breeds.
Check Price
We looked at 20 other CBD products for pets. Even though they didn't make our 5 best CBD for pets list, they're the best of the rest and each is still a great option. The information you'll need to compare each one is included with the listing.
CBD Oil for Pets
CBDFx CBD Oil For Small Dogs and Cats
This CBD oil has all the benefits of our top pick but has a lower strength that's suitable for cats and small breed dogs under 20 lbs.
Key Features: 
Contains 150 mg CBD
Organically grown
Lab tested for purity
Cost: $30
HolistaPet CBD Oil For Dogs & Cats
A CBD oil that's formulated with pure CO2 extracted Full Spectrum CBD Oil and Hemp Seed Oil.
Key Features: 
100% Non-GMO and Organic
Uses Full Spectrum CBD and other Cannabinoids
Vegan and cruelty free formula
Cost: $25.95 to $144.95
Joy Organics CBD Oil Tincture for Pets
Quality THC CBD oil for pets in an olive oil carrier that's available in 225 and 450 mg strengths.
Key Features: 
Premium grade, broad spectrum CBD
Lab tested
Made in the USA
Cost: $30 to $54
Petly Pet Hemp CBD Oil for Cats
The 125 mg strength is ideal for cats. The broad spectrum CBD oil sits in a coconut oil carrier, which has a range of health benefits of its own. Don't forget to use their discount code PL20 to get 20% off your purchase!
Key Features: 
Made with organic hemp
Veterinarian approved
Test by a third party
Cost: $40
RE:Botanticals Hemp Tincture for Pets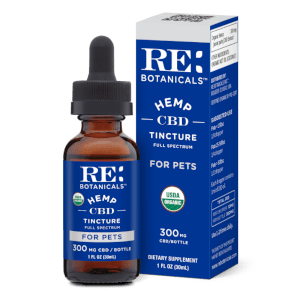 A top notch mid-strength CBD oil that's made using USDA certified organic full spectrum hemp grown in the USA.
Key Features: 
300 mg CBD per bottle
Non-GMO
Olive oil carrier
Cost: $30
This tincture is designed for pets up to 40 lbs and is great for joint health due to the high fatty acid content of the carrier oil.
Key Features: 
Made with natural, organic ingredients
Suitable for all kinds of small pets
Contains 16 mg per dose
CBD Pet Treats
HolistaPet CBD Dog Treats + Stress & Anxiety Relief
Tasty peanut butter and green apple flavor chews that are highly palatable to most dogs and contain 5 mg of CBD per treat with roughly 30 treats per bag.
Key Features: 
Designed to calm and relax dogs
Also contains Chamomile and L-Theanine to reduce anxiety
Recipe superfoods like Hemp Seed Powder and Pure CBD Oil
Cost: $26.95-$64.95
Charlotte's Web Hip & Joint Chews for Dogs
If your dog's suffering from stiff joints or arthritis, she may benefit from these CBD treats specially formulated for dogs with hip and joint troubles.
Key Features: 
30 chews per pack
5 mg hemp extract per treat with at least 2.5 mg of cannabinoids
Also contains glucosamine and chondroitin
Cost: $20
Elixinol Edibites CBD Dog Treats
Soft, chewy CBD dog treats in a tasty pizza flavor with the option of 2 or 5 mg strengths per treat.
Key Features: 
Made with USDA organic hemp grown in Colorado
Full spectrum hemp oil
Grain free
Cost: $10 to $29
Elixinol Pet Releaf Crunchy Edibites
For dogs who prefer crunchy treats to soft chews, these are a great choice. They're available in 1.5 mg dosage for small dogs and 3 mg dosage for medium and large dogs.
Key Features: 
Two flavor options
Smaller trial size available
Made with human grade ingredients
Topical CBD for Pets
Elixinol CannaCare Topical CBD for Dogs
This plant-based topical cream is great for skin irritation, inflammation, insect bites, and more, containing 31 mg of full spectrum CBD.
Key Features:
Made using USDA certified organic hemp
Gentle and moisturizing
Uses a proprietary strain
Other CBD for Pets
HolistaPet Catnip Spray with CBD
Thanks to the proprietary nano CBD contained in this product, it's easily infused in this catnip spray.
Key Features: 
Nanotechnology enhances CBD up to 5X
Spray on toys or scratching posts
Free of additives and preservatives
Cost: $23.95
Charlotte's Web Freedom Service Dog's Bundle
This bundle of goodies includes CBD treats, CBD oil, and a Charlotte's Web bandanna for your dog, plus it helps support Freedom Service Dogs of America.
Key Features: 
Treats for hip and joint health
Chicken flavored CBD oil
5% of all sales goes to Freedom Service Dogs of America
Cost: $76