Cats are playful animals who need plenty of fun and stimulation to keep them happy. Cat tunnels are play tunnels for cats. Some felines like to dash up and down them, popping out of holes and generally causing mischief, whereas others prefer to just hide in them and pounce out at their humans or other animal friends now and again. Cat tunnels can have a range of extra features to make them even more interesting to your cat, such as crinkle material or hanging toys.
We reviewed dozens of cat tunnels to identify the best of the best, comparing various factors including size, shape, collapsibility, overall quality, and reviews from existing users.
It was a tough decision, but the Prosper Pet Cat Tunnel stood out to us as the overall best. The three-way design gives your cat more options and helps stabilize the tunnel, while the crinkle material and peep hole really ups the engagement factor.
The 5 Top-Rated Cat Tunnels
*Ratings are from Amazon at the time of publication and can change
Best Cat Tunnel Overall: Prosper Pet Cat Tunnel
It's easy to see that the Prosper Pet Cat Tunnel is an exceptional choice. It gets consistently good reviews from buyers who say their cats love it and praise its durability, even standing up to cats who usually shred everything in sight. Although it appears a fairly basic three-way tunnel, it has some excellent features that cats enjoy, such as crinkle material inside, a central peep hole, and a hanging toy at the end of one of the tunnels.
Each tunnel is around 10 inches in diameter and 17 inches long, giving your cat around 50 inches of tunnel to play in without taking up too much floor space. You can choose from a massive 13 colors and patterns, so you should find one that will fit in with your home decor. Despite being an excellent all-round cat tunnel, it only costs between $16 and $17 (depending on which color option you select), which is a huge bargain.
Prosper Pet Cat Tunnel Key Features:
Collapsible for storage and transportation
Made from tear-resistant polyester on a steel frame
Protective ends to stop wires poking out
Best Outdoor Cat Tunnel: Outback Jack Fun Run Outdoor Cat Tunnel
Looking to expand your kitty's outdoor horizons? Consider Outback Jack Fun Run Outdoor Cat Tunnel. It's great as a tunnel on its own to give your cat an extra something to play with in your yard, but you can also buy a tent to link it to and close up the end to create a secure play house for an indoor cat to enjoy some outdoor time without being able to run off. The breathable mesh fabric means your cat won't overheat when the sun's beating down on the tunnel, and also makes it lightweight for transportation.
It's larger than a lot of other cat tunnels on the market, measuring 17 inches across and 62 inches long, so your cat has plenty of room to play. Though marketed as an outdoor cat tunnel, you could also choose to use it indoors. At $40, it isn't the cheapest option, but it's durable and versatile enough to be worth splashing some cash on.
Outback Jack Fun Run Outdoor Cat Tunnel Key Features: 
Easy to set up and pack away
Connects to play tent for a larger outdoor play space
Mesh allows proper airflow
Best Budget Cat Tunnel: SmartyKat Crackle Chute
You can't find a much more affordable cat tunnel than the SmartyKat Crackle Chute, which is priced at less than $9. For this price, you'd probably expect to receive something small and sad, but this is a decent tunnel with a nice crinkle interior that entices cats to play. It isn't the largest cat tunnel available, but it's a fairly decent size at around 9.5 inches in diameter and 34 inches long. That's almost three feet of tunnel for your cat to zoom up and down, which is plenty of fun for your cat without taking up an unreasonable amount of space.
You'll also find a peep hole for your cat to spy out of and even pounce from onto unsuspecting passers by. It's collapsible, too, so if you don't want to keep it set up 24/7, you can pack it down small to store it.
SmartyKat Crackle Chute Key Features: 
Meets child safety standard which is important in homes with young kids
Crinkle sound encourages play
Only takes seconds to set up and fold down
Best Collapsible Cat Tunnel: PAWZ Road Collapsible Tunnel
The s-shape of the PAWZ Road Collapsible Tunnel sets it apart from similar straight cat tunnels. The fact that your cat can't see straight through from one end to the other makes it feel like more of an adventure and a better hiding spot for cats who like to lay in wait before pouncing. It has two peep holes for your cat to look out of and for small cats to climb in and out of if they choose.
The tunnel itself measures just under 10 inches across and 47 inches long. This may be a little large to have set up constantly in more compact homes, but luckily the tunnel is fully collapsible and only takes a few seconds to fold up and secure into a small package that you can store almost anywhere. At just $11.99, this cat tunnel is very reasonably priced.
PAWZ Road Collapsible Tunnel Key Features: 
Three colors to choose from: brown, blue, and gray
Sturdy steel frame keeps it in shape
Material has a light crinkle effect
Best Crinkle Cat Tunnel: Speedy Pet Crinkle Cat Tunnel
Cats who can't get enough of crinkle materials will love the Speedy Pet Crinkle Cat Tunnel, which is entirely lined with a crackle material for your pet's enjoyment. The outer layer of the tunnel is a sturdy faux suede with soft faux fur around each end and edging the two peep holes. There's a removable dangling ball toy to add an extra dimension of fun to your cat's play.
This crinkle cat tunnel comes in two sizes: small, which measures 12 inches across and 26 inches long and medium, which measures 12 inches across and 51 inches long. The small size retails at $14 while the medium size retails at $20. You also have the option to attach two tunnels together perpendicular to one another to create a three-way tunnel, with one of the peep holes acting as a door between the two tunnels.
Speedy Pet Crinkle Cat Tunnel Key Features: 
Two sizes to choose from
Made from durable faux suede material
Collapsible for storage when not in use
Who Should Buy a Cat Tunnel
Anyone whose cat enjoys hiding out in boxes or cat condos, or squeezing into tight spaces will probably enjoy a cat tunnel. You may choose to buy a cat tunnel because you're looking for more enrichment opportunities for your cat or because you want to encourage them to be more active.
If you want to win the battle of who's the better pet parent in your household, you should definitely be the first to buy your cat a quality cat tunnel.
Cat tunnels aren't exceptionally expensive, so it's worth trying out a tunnel for your cats even if you're not sure whether or not they'll enjoy it.
Important Features to Consider
A cat tunnel should have a few important features. Here's what to consider when selecting a tunnel for your cat:
Shape. The most common cat tunnel shapes are straight, s-shaped, and three-way, but you can also find u-shaped, circular, and four-way tunnels on offer. All shapes have their merits, so none are particularly better than any other. Just choose whichever you think your cat would like best.
Size. Check both the length and diameter of the tunnel you're considering. Longer tunnels give your cat more room to play but obviously take up more floor space so you must find a middle ground. If you have a large cat, it's especially important to make sure the diameter will accommodate them, as some cat tunnels are fairly narrow.
Color. Your cat won't care what color cat tunnel you choose, but you might since you'll be looking at it on your floor day in, day out.
Peepholes. These are holes set into the sides of the tunnel. Many cats like to peer out of them so they can survey their surroundings while remaining hidden. Some peepholes are also large enough for cats to enter and exit the tunnel through.
Crinkle material. Crinkle material is often used to line cat tunnels so they make exciting crackling sounds as cats run through them.
Collapsible. The majority of cat tunnels are collapsible. They generally fold almost flat so that they take up very little storage space when not in use.
Frequently Asked Questions
What is a cat tunnel?
A cat tunnel is what it sounds likes: a tunnel for cats. Although you'll find exceptions to the rule, this is usually a fabric tunnel with a metal frame. It's designed for cats to both play in and hang out in. Depending on the cat, they may race up and down it or take a more relaxed approach and use it as a hiding spot.
Do cats like tunnels?
Of course, not all cats have the same likes and dislikes, but most cats love tunnels and other small spaces.
How do you make a cat tunnel?
It may be possible to make your own cat tunnel out of either fabric or wood if you either have some craft experience or are well-versed in DIY. However, given that cat tunnels are readily available and usually fairly inexpensive, we'd generally recommend buying one instead.
Where do you put a cat tunnel?
You can put a cat tunnel anywhere in your home, though it should definitely be in a room that your cats spend time in, otherwise they'll be unlikely to use it. Position in on the floor as cat tunnels can roll around (especially straight tunnels) and are likely to fall off a raised surface, which could injure your cat. You can also find outdoor cat tunnels that you can put in your yard.
Other Cat Tunnels We Reviewed
We looked at 20 other cat tunnels. Even though they didn't make our 5 best cat tunnels list, they're the best of the rest and each is still a great option for your feline friend. The information you'll need to compare each one is included with the listing.
Three-Way Cat Tunnels
Each arm of this relatively compact three-way tunnel measures around 14 inches and is just under 10 inches in diameter.
Key Features: 
Central peephole
Hanging toy
Collapsible
Cost: $12
CO-Z Collapsible Cat Tunnel
A similar choice to the above option but with slightly shorter 12-inch arms, which is great for small spaces. There's also a four-way tunnel option available.
Key Features: 
10-inch diameter
Peephole in center
Dangling toy
Cost: $10
Feline Ruff Premium 3 Way Cat Tunnel
This large T-shaped option measures 55 inches down the longest tunnel and 23 inches down the shorter tunnel so there's ample room for cats to play.
Key Features: 
Choose between blue and blue, or leopard print
Hanging ball toy
12 inches in diameter
Cost: $20
If you're looking for a novelty cat tunnel, this one looks like a pair of pants. It's not just for show, though, as it's durable and decently sized.
Key Features: 
Measures around 25 inches down each pant leg
Several hanging toys
Crinkle material inside
Cost: $11
This three-way tunnel is available in two sizes. The medium size measures 16 inches down each arm and the large size measures 21 inches down each arm.
Key Features: 
Six color options
Central peephole
Hanging toy
Crinkle Cat Tunnels
ALL FOR PAWS Crinkle Cat Tunnel
This relatively compact crinkle tunnel is roughly 25 inches long and 10 inches across. Though there are three colors available, you'll be sent one at random.
Key Features: 
Crinkle lining
Made from faux suede and synthetic lambswool
Hanging toy
Cost: $14
This cute cat tunnel is made to look like a cucumber and features crinkle paper under the lining for that satisfying crackling sound.
Key Features: 
Made from durable materials
Measures around 22 inches long
10-inch diameter
Cost: $28
A straight cat tunnel made from crinkly leopard print fabric. It features a couple of peepholes for your cat to look out of.
Key Features: 
Hanging toy
50 inches long
Fully collapsible
Cost: $15
Pet Craft Supply Magic Mewnicorn
You can't get more whimsical than this cat tunnel that looks like a bright pink unicorn. Each leg is a smaller tunnel, giving your cat plenty to explore.
Key Features: 
Main tunnel measures 4 feet long and 1 foot wide
Smaller tunnels are 7 inches in diameter
Dangling tail is fun for cats to play with
Cost: $27
With motion-sensitive lights and a crackling lining, this cat tunnel is hugely engaging for cats who need a bit more stimulation than a plain tunnel can give.
Key Features: 
Easy to activate and deactivate lights
33 inches long
Large peephole
Collapsible Cat Tunnels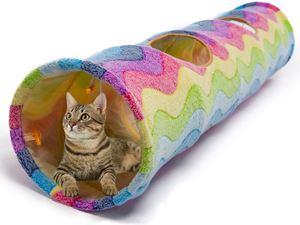 Thanks to its rainbow hue, this cat tunnel stands out from others on the market, although some buyers may prefer something more muted to blend in with their decor.
Key Features: 
Roughly 47 inches long
Two peepholes
Easy to collapse and expand
Cost: $17
This collapsible mesh tunnel has a small collapsible cube at one end to give your cat an additional hideout spot.
Key Features: 
Tunnel measures 35 inches
15-inch cube
Extremely compact when folded
Cost: $17
Pet Magasin Collapsible Cat Tunnels
When just one cat tunnel won't do, buy this pack of two, featuring one long 35-inch tunnel and one short 18-inch tunnel.
Key Features: 
Peephole in longer tunnel
Hanging toys in both
Pops up easily
Cost: $15
Petmate Jackson Galaxy Cat Crawl
The lightweight mesh of this tunnel is breathable, which is great for hot days. It's compatible with the Jackson Galaxy Base Camp Hub and Carrier.
Key Features:
Solid tunnel encourages stalking
Can be used indoors or outdoors
Approximately 35 inches long
Cost: $9
Shop4Omni Kitty Cat Play Tunnel
This simple and inexpensive straight tunnel expands to around 4 feet and packs down small when collapsed.
Key Features: 
Two large peepholes
Hanging toys
Easy to set up
Other Cat Tunnels
This totally circular cat tunnel is a bit different from most on the market. It gives your cats plenty of room to play without taking up too much room.
Key Features: 
Single opening
Hanging cat toy
Available in pink or yellow
Cost: $30 to $32
Dezi & Roo Hide and Sneak Collapsible Paper Cat Tunnel
If your cat loves paper bags, this combines the exciting crinkling of paper with the large size of a cat tunnel.
Key Features: 
Around 32 inches long
Biodegradable
Made in the USA
Cost: $14
eenk Cat Toy Tunnel and Cubes Bundle
This cat tunnel set includes a tunnel with two play tents, one at either end, providing an enriching and exciting feline play area.
Key Features: 
Tunnel measures 50 inches
Each tent approximately 20 inches long
Peephole in tunnel
Cost: $28
Kitty City Jungle Cat Cube Combo
Another play tent and tunnel set, this one with an adorable jungle theme that will make your cat feel like a tiger.
Key Features: 
Two play tents
36-inch tunnel
Crinkle lining
Cost: $23
Kitty City Large Cat Tunnel Bed
This two-in-one tunnel and bed can either be configured in a donut shape or a U-shape depending on your needs and preferences.
Key Features: 
12-inch tunnel diameter
Spacious inside
Various configurations
Cost: $38