The 25 Top-Rated Scratching Posts & Pads to Please Your Cat (and Save Your Furniture)
If you've ever had the privilege of being owned by a cat (because we all know we don't own cats – they own us!), you're well aware of cats' insatiable desire to scratch, sharpening their claws and leaving their scent to let would-be invaders know that it's their territory. Of course, if you discovered this endearing kitty trait too late, you probably sacrificed a couch or two in the process.
Whether you're an experienced cat servant or thinking about adopting your first-ever kitty, a cat scratching post is a must-have item for anyone who shares their home with a finicky feline. According to The Humane Society of the United States, cats scratch for several reasons, including:
To remove the dead outer-layer of their claws
To mark their territory with a scent and a visual mark
To stretch their bodies and flex their feet and claws
Whatever the reason behind your cat's desire to scratch her surroundings, one thing's for sure: it's an instinct that comes naturally to cats, and the only real way to preserve your furniture is to provide your feline friend with a desirable alternative to your couch. Enter cat scratching posts and scratching pads: these seemingly-odd items do a remarkably good job at redirecting cats' scratching activities to a more suitable object, giving your cat the joy she craves from giving her claws a workout while your favorite recliner breathes a sigh of relief.
While it's true that you're buying what's essentially a piece of kitty furniture that's meant to be destroyed, you don't want a cat scratching post that your cat can shred to oblivion in a matter of days. To help you choose the perfect scratching post, pad, or other scratch-friendly gear for your kitty, we've rounded up 25 of the top-rated scratching posts and related products to make your search simpler, listed below in alphabetical order for easy reference. Note that the current ratings reflect Amazon.com ratings; ratings and estimated costs are current at the time of this writing.
Current Rating: 4.5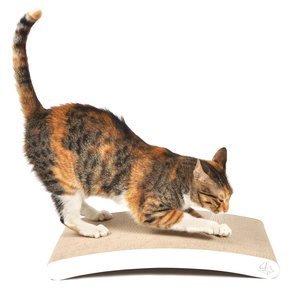 4CLAWS makes a variety of cat scratching posts and scratching pads, all of which are well-received by reviewers and their favorite felines. Aside from this particular product, other options include an inclined scratching pad, a scratching lounge and bed, a wall-mounted scratching post, and a wall-mounted pad.
Key Features:
Curved surface allows a comfortable posture for your cat
Ample, 10-inch surface
Made from recycled cardboard
100% recyclable
Premium pressed cardboard provides dense, durable surface
Reversible for two different configurations (& greater longevity)
Cost: Est. $16
Current Rating: 4.5
The Bergan Turbo Cat Scratcher Cat Toy features a flat scratching surface surrounded by a track with a ball that spins easily around when your cat paws at it but won't come out, providing hours of fun for your favorite feline.
Key Features:
Channel with a small ball your cat can easily nudge
Durable, replaceable center scratch pad
16-inch diameter
Colors vary (blue, purple, etc.)
Cost: Est. $10
Current Rating: 4.8
This two-in-one cat scratcher doubles as a lounge, so your cat can simply lay down for a nap after wearing herself out sharpening those claws.
Key Features:
100% satisfaction guarantee
Highest-quality durable cardboard for longevity
One bag of catnip included
Cost: Est. $20
Current Rating: 4.8
This cat head-shaped cat bed/scratcher combo is the perfect addition to any cat lover's home, allowing your cat to scratch until her heart is content and then curl up for a nap inside.
Key Features:
Comes with silver vine to stimulate your cat
13.8-by-13.8 inches; 5.9 inches high
Scratchable material with soft borders
Cost: Est. $30
Current Rating: 4.6
The Catit Scratcher with Catnip is one of the most basic cat scratching pads available, but more than 1,500 reviewers say their cats approve. In fact, it's one of the highest-rated cat scratchers on Amazon.com.
Key Features:
Corrugated cardboard scratching surface
Wide design
Comes with a bag of catnip to attract your kitty
Cost: Est. $8
Current Rating: 4.7
Similar in design to the Catit Scratching Pad above, the Fat Cat Kitty Hoots Scratchy Box also earns positive feedback from hundreds of reviewers.
Key Features:
100% recycled paper; imported
Tassels on the corners to entertain your cat
Comes with a bag of catnip
18 1/2″ x 10″
Cost: Est. $10
Current Rating: 4.2
This product listing actually includes 33 different configurations of cat scratching posts and cat trees. If you're looking for a simple scratching post, you can't go wrong with the Cream Fuzzball Scratcher, which features plush balls on springy wands for hours of kitty entertainment.
Key Features:
Natural sisal post
Fuzzy plush balls on the end of springy wands
Carpeted base
Cost: Est. $27
Current Rating: 4.3
This multi-activity scratching pad and toy provides three different surfaces for your cat to scratch and rub, complete with holes of two different sizes to allow your cat to explore her curiosity.
Key Features:
Made of recycled cardboard and non-toxic glue
Bell toy for hours of fun
3 surfaces for climbing, scratching, rubbing, and relaxing
17″ long x 8.5″ wide x 7.5″ high
100% money-back guarantee
Cost: Est. $19
Current Rating: 4.4
Max and Marlow's 26-inch sisal scratching post has a stylish fabric cover, so it not only entertains your cat, but complements your decor, too.
Key Features:
Coarse, fibrous texture to condition cats' nails
Covered in durable fabric
Wrapped in sisal rope from top to bottom
Cost: Est. $25
Current Rating: 4.6
Another sisal scratching post, the MidWest Homes for Pets Curious Cat Scratching Post is a whopping 41 inches tall, enabling your favorite feline to climb, play, and scratch away.
Key Features:
19×19 inches wide, 41 inches tall
Durable, thick sisal for tough scratchers
Ideal for larger cats
Easy assembly
1-year manufacturer's warranty
Cost: Est. $38
Current Rating: 4.8
For the cat that loves to lounge around after a good scratching session, the Molly and Friends Scratching Post is just the ticket, featuring a cozy, carpeted bed perched on top of the 27-inch sisal scratching post.
Key Features:
Large bed suitable for cats of all sizes
High-quality carpet and other durable materials
All-natural thick sisal rope
18-by-18 inch base; 35 inches tall (27-inch post)
Cost: Est. $99
Current Rating: 4.8
This cat scratcher is part scratching pad, part kitty lounge to satisfy two of your cat's most important needs. Plus, it's unique curved design looks rather trendy for discerning felines and their style-conscious owners.
Key Features:
Naturally attracts cats
Premium-pressed cardboard construction
100% recyclable corrugated cardboard
Comfortable headrest and sleeping enclosure
23.6 inches long, 11 inches wide, and 5.5 inches high
Cost: Est. $24
Current Rating: 4.7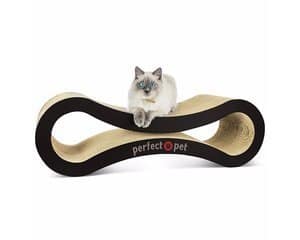 Similar to the Ollieroo cat couch /scratcher combo above, the Perfect Pet Cat Scratcher Lounge has a trendy curved design that's perfect for an afternoon snooze plus a large scratching surface that's suitable for multi-cat use.
Key Features:
Eco-friendly cardboard
Catnip included
Constructed of high-density cardboard
Unique curved design is comfortable for your kitty
30-day satisfaction guarantee
Cost: Est. $27
Current Rating: 4.4
This 3-sided, vertical, triangular-shaped cat scratcher comes in two different sizes, standard and large, so you can choose the size that's just right for your favorite kitty. Cats love to crawl through the middle opening, and they can scratch on all sides. If you need an even bigger cat scratcher, check out the Jumbo version (in a rectangular, rather than triangular shape) or the Ultimate Cat Scratcher Lounge (shaped like a figure-8) for other options.
Key Features:
Includes premium organic catnip
Standard: 18 x 10.5 x 16 inches
Large: 24 x 10.5 x 21.1 inches
Rotate this scratcher for more use
Recycled cardboard and non-toxic cornstarch glue
6-month warranty
Cost:
Standard: Est. $40
Large: Est. $60
Jumbo: Est. $70
Ultimate Cat Scratcher Lounge: Est. $50
Current Rating: 3.9
The Petlinks Scratch Ramp is a floor cat scratcher with an inclined surface that's just right for your cat's scratching needs, providing a sturdy surface for a good stretch-and-scratch session. Made with seagrass, it offers a unique texture for cats who like a little variety beyond the usual corrugated cardboard and sisal scratchers.
Key Features:
Durable seagrass scratching surface
Comes with catnip
15.25″ x 7″ x 6.875″
100% satisfaction guarantee
Sits on the floor with an inclined surface
Cost: Est. $15
Current Rating: 4.6
This cat scratcher is a kitty hammock and scratching pad in one, with a comfortable bowl-like shape that's perfect for the cat who likes to curl up for an afternoon nap.
Key Features:
Sturdy construction for scratching and cat naps
Corrugated bowl creates a perfect napping spot
Includes cat nap
Cost: Est. $15
Current Rating: 4.1
Another innovative cat scratcher/hammock combo from Petstages, this cat scratcher has a unique X-shaped design that folds up for easy storage when not in use. The top of the X creates a cradle-shaped perch that's ideal for afternoon cat naps.
Key Features:
Cats can stretch and scratch or rest
Made of sturdy corrugate to support your cat
Includes catnip
Folds up when not in use for easy storage
Cost: Est. $18
Current Rating: 4.7
The Premium Pets Kitty Sofa Deluxe is a modern designer sofa for your favorite feline and scratch pad in one. While some cat scratching posts and pads are made with loose, non-durable cardboard, this one is designed to last up to four times longer than the typical cat scratcher.
Key Features:
Scratcher and lounger in one
Made with furniture-grade cardboard
100% money-back guarantee
Cost: Est. $50
Current Rating: 5.0
The Proffcenter 2-in-1 Sisal Cat Scratching Tower is a post and toy in one, providing hours of entertainment for your cat while saving your furniture by giving her a suitable outlet all her own to satisfy her scratching needs.
Key Features:
Sturdy wooden base
Safe and eco-friendly
Wooden base can be used as a game or puzzle feeder
15-inch sisal post
100% risk-free satisfaction guarantee
Cost: Est. $25
Current Rating: 4.8
The Scratch Lounge is dubbed "the world's best cat scratcher," and reviewers agree, noting that it's durable and roomy enough to accommodate bigger cats.
Key Features:
Extra-large surface to accommodate cats of all sizes
15″x 22″x 5.5″
Replaceable and reversible floor board
Three-sided scratching surface
Cost: Est. $25
Current Rating: 4.3
With a fibrous, woven sisal surface, the SmartCat Bootsie's Three-in-One Cat Scratcher proves irresistible to your favorite feline friends.
Key Features:
Easy-setup wall-mounting system
Can be used wherever your cat is scratching
Rubber feet provide stability and prevent sliding on hard floor surfaces
Woven sisal is more durable than wound sisal
Cost: Est. $17
Current Rating: 4.6
If you prefer woven sisal but want a more traditional post, the SmartCat Ultimate Scratching Post is another SmartCat scratcher that gets rave reviews from thousands of cat lovers. It's sturdy and 32 inches tall, allowing your cat to get a good stretch while she gets her scratch on.
Key Features:
Made with fibrous, woven sisal that attracts cats
Durable
2 included screws for easy assembly
Sturdy base eliminates tipping and wobbling
Cost: Est. $60
Current Rating: 4.4
The SmartyKat Corugated Cat Scratcher is the simplest iteration of the standard cat scratching pad, made with corrugated cardboard. Both simple and affordable, cat owners say it does the job at the right price.
Key Features:
Hangs or sits on the floor
Can be hung on most door knobs
20-1/4″ x 5-1/3″ x 7″
Cost: Est. $4
Current Rating: 4.4
If your cat has a fondness for scratching the corners of your couch, the Sofa-Scratcher Cat Scratching Post and Couch Corner Protector will be your furniture's savior. It's designed to cover the corner of a couch or chair that cats tend to find so appealing, giving them a more appropriate scratching surface that's not nearly as costly to replace as your couch.
Key Features:
Contoured, sisal-covered scratching post
Comes in a variety of colors to blend in with your decor
Hand-made from scratch in the USA
Ideal for wide or rounded couch corners
Cost: Est. $50
Current Rating: 4.1
The TRIXIE Pet Products Parla Scratching Post is more than 24 inches tall and wrapped in sisal that cats love to scratch. A sturdy, plush-covered base keeps it from wobbling and tipping while your cat enjoys it. TRIXIE makes a number of other cat scratching products that garner good feedback from cat owners, such as the Espejo Scratching Post, which has a platform at the top of the post for your cat to perch on, and the Baza Cat Tree, which features two scratching posts that provide support for a plush kitty hammock.
Key Features:
Wrapped in natural sisal
Plush-covered base
CARB Phase II complaint wood
24.25″ post; base is 15.75″ x 15.75″
1-year warranty
Cost:
Parla Scratching Post: Est. $16
Espejo Scratching Post: Est. $22
Original Baza Cat Tree: Est. $22
Whether you're adopting your first feline companion or your cat of many years has suddenly developed a habit of scratching the corners of your favorite couch, a scratching post or pad is the perfect addition to any home shared with felines, and one of these options is sure to please your curious furry friend. If you're after more tips on how to effectively deal with your cat scratching, check out this cat scratching guide by Porch.
More Pet Product Reviews: 
The Best Probiotic for Dogs
The Best Pet Strollers
The Best Pet Monitor
The Best Pet Gate
The Best Professional Dog Clippers
The Best Automatic Pet Feeder
The Best Food Mats for Cats
The Best Natural Jerky For Dogs
The Best Pet Water Bottle