Finding the right litter box or litter pan for your cat will make both of your lives easier. The litter box you should use varies depending on the size of your cat, their litter habits, your preferences, and aesthetics, which makes finding the right one a challenge. Some cats love to kick their litter and make a mess, and there's nothing worse than having to clean up a pile of litter outside of the box. To minimize clean up, you'll need the right litter box for your unique cat.
It can be difficult to find the perfect litter box, so we reviewed dozens of cat litter boxes and litter pans to find the best, highest quality, and most durable based on their prices, design, ratings, and whether they were self-cleaning. We narrowed our search down to 5 of the top-rated litter boxes and pans that cat owners can buy for their favorite pet.
The Catit Jumbo Hooded Cat Litter Pan is the perfect litter box for just about any cat. It's spacious enough for large cats to use with no problems, and they'll have no problem fitting through the door opening. It offers the privacy that most cats prefer when doing their business, yet the hood lifts up effortlessly, making it very easy to clean. This product also comes equipped with a carbon-trapping filter that eradicates all unpleasant odors, making it perfect for all cat owners.
The 5 Top-Rated Cat Litter Boxes and Pans
*Ratings are from Chewy at the time of publication and can change
Our Top Pick: Catit Jumbo Hooded Cat Litter Pan
Regardless of the size of your cat, the Catit Jumbo Hooded Cat Litter Pan is guaranteed to satisfy both you and the pickiest of felines. It's a very large litter box that is even recommended for multi-cat households. It isn't the cheapest option on the market, but it's well worth the cost according to over 6000 reviewers who gave it a very solid average rating of 4.4 out of 5 stars.
If your cat needs privacy, this litter box will do the trick. The hood gives them the privacy they need to do their business in peace while maintaining the aesthetic of your home thanks to its ability to hide the litter. The door opening is also quite large, ensuring that any cat can effortlessly get in and out. But the real appeal of the hood is that it keeps the litter inside the box – ask any cat owner and they'll tell you that there's nothing worse than having soiled cat litter find its way outside of the box.
The hood itself is very easy to snap onto the pan thanks to the high-quality construction. And when you need to clean the litter, simply remove the hood and hang your bag on the built-in bag anchor, freeing up both of your hands to do the cleaning. But the real reason all cat owners need this litter box is the built-in carbon filter that absorbs all odors and prevents unpleasant smells from filling your home. You do have to replace the filters from time to time, but it's well worth the cost.
Catit Jumbo Hooded Cat Litter Pan Key Features:
Jumbo-sized box that fits multiple cats
Large door opening
Built-in carbon filter that absorbs odor
Easy to clean with the bag anchor
Our Runner Up Pick: Good Pet Stuff Company Hidden Cat Litter Box
If you're someone who doesn't want to throw off their whole decor with an unsightly litter box, the Good Pet Stuff Company Hidden Cat Litter Box is for you. At first glance, you'd think it was just a simple clay pot with a plant, but it's actually a very spacious litter box in disguise. This litter box will cost you around $53, but it's worth the cost as you're also getting an aesthetically appealing piece of furniture that looks like a terra cotta planter.
The plants and moss are situated between the top and bottom part of the litter box, so on the inside, there are no plants peeking in to disturb your cat. It's designed for large cats and multi-cat households, as it's made of durable polypropylene and is 20″ wide. Simply turn the base so that entry is facing the wall, and your cats will be able to use it in privacy without anyone knowing.
The box itself is filtered, which is great considering that litter can be quite dusty. The filtration system controls unpleasant odors and stops dust from finding its way out of the box and onto your walls and floor. The design is also quite good at keeping litter where it's supposed to be: inside the pan. And to top it all off, you get a one-year limited warranty with your purchase.
Good Pet Stuff Company Hidden Cat Litter Box Key Features:
Very spacious interior
Acts as both a litter box and home decor
Allows you to hide your cat's litter box in plain sight
Unique filtration system that keeps out odors and dust
Best Budget Pick: IRIS Cat Litter Box with Scoop
If you're on the hunt for a budget-friendly litter box that is just as functional as more expensive options, look no further. The IRIS Cat Litter Box with Scoop is perfect for those who want a no-frills litter box that's affordable yet spacious. It's quite large, coming in at around 19″ by 15″, and most cats should have no problem using it comfortably. Unlike hooded litter boxes, your cat can effortlessly climb into this one to do their business. It's a great choice for those who don't mind an open-top litter box.
The height of the pan itself is high enough that it can prevent litter from finding its way onto the floor, but as an added safety measure, there's a removable litter guard that ensures everything stays in the pan. The litter guard blocks the back and sides while leaving the front open for easy entry. And when it comes time to clean the box, you can use the included matching litter scoop to sift through the litter. The polished interior is easy to clean, and when you're done, there's a clip to hang the scoop inside.
The pan itself has a unique, recessed bottom that allows you to slide it into just about any space in your home. It has durable feet that keep the box in place and molded rims that keep the litter guard secured onto the pan – even the most rambunctious kitten won't be able to knock this box over.
IRIS Cat Litter Box with Scoop Key Features:
Removable litter guard keeps litter in the pan
Easy-to-clean polished interior
Includes a matching scoop in the purchase price
Molded rims and durable feet keep the litter box in place
Best Enclosed Cat Litter Box: Purina Tidy Cats Breeze Hooded Cat Litter Box System
For picky cats and stylish owners, an enclosed cat litter box is crucial. The
Purina Tidy Cats Breeze Hooded Cat Litter Box System
is a high quality hooded litter box that's comfy and durable. The hood helps block odor from getting out and filling your room.
The hood is easy to put on and remove as well as open and close, and when it comes time to clean the litter, the flip top and removable pan make it effortless. Anyone looking for a litter box that keeps litter inside the box, gives their cat the privacy they need to go in peace, and keeps unwanted spray from finding its way onto the floor, this is the litter box for you.
Purina Tidy Cats Breeze Hooded Cat Litter Box System Key Features:
Hood keeps litter inside the pan
Spacious interior
Simple to clean
Best Self-Cleaning Litter Box: Omega Paw Self-Cleaning Litter Box
Tired of having to clean out your cat's litter box? With the Omega Paw Self-Cleaning Litter Box, you won't have to. This is a large litter box suitable for big cats or multi-cat households. Two cats could comfortably fit in it at once – that's how spacious it is. But what's unique about it is its shape. This litter box is round and perfectly rolls onto its top. In fact, that's how the litter cleans itself.
Inside the litter box there's a grill that catches all of the clumped waste when you turn the box over. When you return it to its natural position, the dirty litter is separated into its own pull-out tray. Simply empty the tray into the trash and the litter is clean. It's truly handy for those who don't want to have to do the scooping themselves. However, you do need enough space to roll the litter box onto its top, so keep that in mind when planning where to put it.
It's also a perfect litter box for those who want both the self-cleaning and enclosed aspect. The top and bottom halves are held together by sturdy plastic clips that prevent litter from leaking out of the sides, and the halves are easy to separate should you need to. The door opening itself is also quite large, giving ample space for all cats to get in and out.
Omega Paw Self-Cleaning Litter Box Key Features:
Self-cleaning; simply roll it onto its top and empty the tray
Hooded
Large enough for multi-cat households
Easy to clean
Who Should Buy a Cat Litter Box
No one enjoys having a litter box in their home, but if you have a cat it's a necessity. Put simply, anyone with a cat needs at the very least one litter box. If you have multiple cats or a large home, you may want to have more than one so your cats have somewhere to go no matter where in the house they are.
Many people use cat litter boxes for their other pets too. Rabbit owners tend to use the same litter boxes cat owners use, as rabbits are as easy to litter train as cats. They're the best way to keep both you and your pets happy. They get their personalized area to do their business and you get a clean home.
Important Features to Consider
A cat litter box should have a few important features. Here's what to consider when selecting a cat litter box:
Choose the right size. If you get a litter box that's either too big or too small, your cat may not want to use it, leaving a mess for you to clean up. Before purchasing a litter box, make sure that it's the appropriate size for your cat. If your cat is overweight, you'll also want to ensure that the door opening is big enough that they can comfortably get in and get out. Finally, if you have a multi-cat household, you'll want a large litter box so they both can use it in peace.
Enclosed or open top? Another factor to consider is whether you want an open top litter box or one that's enclosed. There are pros and cons of each. Enclosed litter boxes offer your cat more privacy to do their business and are usually quite good at keeping odors out of the air. They're also more aesthetically pleasing, keeping the waste out of sight. On the other hand, you may want an open top litter box if your cat is too anxious to climb into an enclosed litter box. Open top boxes are also easier to clean, and you'll be able to tell when they need maintenance without taking the lid off, as you would with an enclosed box.
Front or top entry? When you think of a litter box, you probably picture one with a front door (or no hood at all). While that's the most popular design, there are litter boxes on the market that have the door on the top. There are many benefits to this, the main one being that there's less of a chance that litter and waste will end up outside of the box. If your cat is used to a front door, it may take them some time to get used to the top entry.
Self-cleaning. If you're tired of cleaning our cat's litter yourself or you're unable to do it for whatever reason, a self-cleaning litter box is the perfect feature. Many different litter boxes use different methods to self-clean, but the end result is the same.
Colors and design. Believe it or not, this might be the most important thing you should consider before buying a litter box. A good design will not only make it more comfortable for your cat, but it'll give you peace of mind. If it's important to you, pay a little extra money for a litter box that doubles as furniture. You don't want it to become an eyesore.
Frequently Asked Questions
What kind of litter box should I get?
The first thing you want to consider is how big of a litter box you need. A large litter box is usually a better option, although kittens and smaller cats do just fine with medium sized boxes. The classic rectangular, plastic litter box is the gold standard for a reason: cat's love them. However, if you have a kitten or an elderly cat, you may want to consider getting a litter box with low sides so they can easily get in and out.
Most cats do fine with hooded litter boxes, though they are more for the humans of the household. If your cat doesn't mind, you may want an enclosed litter box for its ability to not only keep the litter concealed, but to keep odors at bay. If you do opt for an enclosed litter box, make sure there's enough room for your cat to comfortably move around inside.
What room should I place the litter box in?
Cats aren't too picky about the location of their litter boxes, though they do like to have some privacy. Place the litter box in an area your cat is comfortable visiting that preferably has low foot traffic. Common places include a laundry room or basement, though if you're in a condo or apartment, your cat will do just fine.
I have multiple cats. How many litter boxes do I need?
There's a simple rule that veterinarians recommend you follow: have the number of litter boxes as you have cats plus one. This way, there's always a free litter box available to be used, and your cats are less likely to fight over them. You'll want to purchase large, multi-cat litter boxes and place them on each end of your home to give you cats the best chance of creating good litter habits. Also, keep in mind that you'll need to clean the litter boxes more often if you have multiple cats.
Why won't my cat use his litter box?
This isn't a simple question to answer, and it's best you talk to your vet about your cat. If your cat isn't making it to the litter box, it could be a sign of a medical problem, or they could be unhappy with the litter box itself. Try changing the location of the litter box, cleaning it more often, and using different types of litter. If none of this helps, you should definitely contact your veterinarian. However, the top reason for inappropriate elimination is the easiest to fix: the litter box isn't clean enough.
Other Cat Litter Boxes We Reviewed
We looked at 20 other cat litter boxes. Even though they didn't make our 5 best cat litter boxes list, they're the best of the best and each is still a great option for your cat. The information you'll need to compare each one is included with the listing.
Open Top Litter Boxes
Arm & Hammer Large Sifting Litter Pan
The large sifting litter pan makes it especially easy to clean your cats litter while prolonging its life, while the anti-microbial plastic keeps the pan fresh.
Key Features:
Anti-microbial protection
Includes a sifting pan for easy cleaning
Sifting keeps litter fresh for longer
Cost: $17
iPrimio Ultimate Stainless Steel Litter Box
This unique stainless steel litter pan does not absorb any odors, collect residue, or stain due to the material, making it exceptionally easy to clean.
Key Features:
Stainless steel
Large litter box
Long lasting
Cost: $59
Kitty's Wonderbox Disposable Litter Box
A leak- and tear-proof disposable litter box that comes in a 3-pack. Each tray lasts up to 4-weeks and has excellent odor control thanks to the paper's pH
Key Features:
Paper neutralizes ammonia
3 litter boxes per purchase
Non-leak and non-tear
Cost: $11
Nature's Miracle Advanced High Sided Corner Litter Box
Corner litter boxes are perfect for those who need to maximize their space without sacrificing size and comfort for their cats, and this one is no different.
Key Features:
High sides
Fits corners
Non-stick surface
Cost: $21
Nature's Miracle Disposable Litter Box
This litter box is made of recycled paper and is landfill safe, meaning it's disposable. It doesn't sacrifice quality, as it comes protected with baking soda to fight against odor and ammonia.
Key Features:
Pack of 3
Disposable
Coated in baking soda
Cost: $8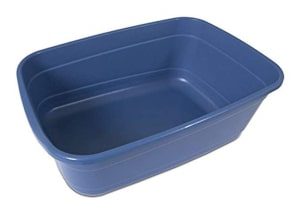 A standard high back litter box that no cat will have a problem using thanks to its tried-and-true design, and the high back prevents a mess.
Key Features:
High back
Prevents litter from making its way out of the box
High-quality plastic
Cost: $15
You can't go wrong with this classic litter pan that features smooth sides and a sturdy side-grip, making it easy to pick up.
Key Features:
Very easy to clean
Comes in different sizes
No sharp edges
Cost: $8
This standard litter box is stain and odor resistant, made with sturdy plastic, and supports the use of a liner thanks to the latches that lock it in place.
Key Features:
Resists stains and odors
Made of sturdy plastic
Prevents spills
Enclosed Cat Litter Boxes
AmazonBasics Hooded Cat Litter Box
This is a standard hooded litter box with a snap-on hood that gives your cat the privacy he needs, with the added bonus of a carbon filter to get rid of odors.
Key Features:
Carbon filter eliminates odors
Snap-on hood for privacy
Large door opening
Cost: $20
Whisker Doodle Hooded Cat Litter Pan Set
The raised-back pan contains litter scatter and spray in the rear area of the pan to ensure that litter doesn't get stuck to the bottom of the pan, which is a common problem for many litter boxes. That in combination with the lid makes this the perfect enclosed litter box.
Key Features:
Raised-back pan
Hood for privacy and cleanliness
Sturdy with ribbed bottom
Cost: $21
Modkat Flip Litter Box with Scoop and Reusable Liner
With a large interior and high door opening, this litter box is perfect for keeping waste inside the box, and the reusable liner gives this added value.
Key Features:
Includes a reusable liner that's easy to clean
Spacious litter box for even the biggest of cats
Convenient hook for your scoop
Cost: $75
PetMate Clean Step Litter Dome
This unique, dome-shaped litter box has a built-in ramp that prevents your cat from tracking litter outside of the box, and the built-in odor-control will keep your home smelling fresh.
Key Features:
Built-in ramp prevents tracking and overflowing litter
Larger than other boxes thanks to the dome shape
Includes a carbon filter for odor control
Cost: $33

Petphabet's Litter Box is the most colorful option on this list, with seven different eye-catching colors that are sure to stand out in your home.
Key Features:
Many color options
Made with anti-microbial plastic
Non-stick pan
Top Entry Litter Boxes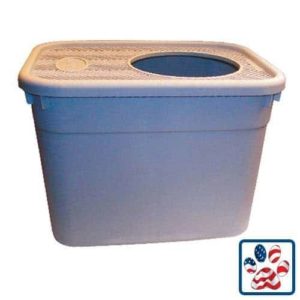 The top entry design opens up into a spacious litter box that keeps dogs out, minimizes litter tracking, and eliminates odor.
Key Features:
Minimizes litter box odor
Easy to get into
Almost no litter tracking with this box
Cost: $40
This stylish litter box is large enough for the biggest cat to comfortably get in and out of and prevents litter from ending up all over the floor. It's also dog proof!
Key Features:
Very stylish design
Keeps dogs from disturbing the litter
Easy to clean thanks to rounded corners
Cost: $50
Modkat's top entry litter box has a very modern design, allowing it to blend in with all households. The swivel lid makes it easy to clean and the reusable liner keeps the box itself fresh.
Key Features:
Comes in 3 different colors
Includes a reusable litter box liner
Modern design
Cost: $90
This spacious litter box is suitable for multi-cat homes. The inside is large enough that any cat will feel comfortable, and the grated lid minimizes clean-up on your end.
Key Features:
Grated lid allows litter to fall back into the box when tracked out
Spacious interior suitable for multi-cat households
Non-slip lid
Furniture-Style Cat Litter Boxes
This litter box doubles as an eye-catching end table that's easy to clean and is available in two different colors. It resists moisture, so if your cat misses, you don't have to worry about the wood suffering any damage.
Key Features:
Made of liquid resistant wood
Eye-catching end table design
Doesn't require any tools to assemble
Cost: $76
Merry Products Cat Washroom Bench
A large bench that doubles as both a litter box and a storage area for your cat supplies, this is the perfect option if you want to keep everything out of sight.
Key Features:
Acts as both a litter box and a storage space
Holds even the biggest litter boxes
Looks good with most decors
Cost: $130
Merry Products Nightstand Pet House
If you're looking for a stylish nightstand that's also a litter box, this option has you covered. It requires very minimal assembly and is very spacious on the inside.
Key Features:
Provides a quiet area for your cat to do his business
Classic style
Minimum assembly required
Cost: $140
More Pet Product Reviews:
The Best Dog Harness with Handle for Lifting
The Best Large Dog Pillow
The Best Dog Ramp for Car
The Best Outdoor Dog Houses
The Best Pet Ranitidine
The Best Cow Hooves for Puppies
The Best Glucosamine Supplements
Top-Rated Hydrogen Peroxide For Pets
The Best Inflatable Collars for Dogs
The Best-Rated Food Containers for Pets Food