You may have never thought you'd be getting your cat a leash – it isn't an automatic necessity for a cat like it is for a dog, after all. Cats can usually exercise themselves, don't tend to enjoy walks like a dog does, and usually stay pretty close to the home that feeds them, so that leash isn't always a given. Your cat may have entirely different ideas on needing a leash, though, and if that's the case, you're going to want to look into the right one for his needs. When you start your research, start here; we've done the leg work for you.
We reviewed dozens of cat leashes to identify the best of the best. We looked for long leashes that will let your cat roam your backyard without the risk of running off and the bungee leashes that will give you a bit of protection from him unexpectedly taking off. We found leashes that will give you just what you need and no extra frills, and the retractable leashes that will let you customize the length of the leash to fit the mood and circumstance.
In conjunction with your new cat leash, you'll want to pick out a harness, so check out our article on The Best Cat Harnesses. For cats that are going with you, but you don't want to give the freedom, then you can try a Cat Backpack. If you're still worried about him getting out, though, you can always pick up a GPS Cat Tracker & Collar.
Early in our research, we found the PetSafe Come with Me Kitty Harness and Bungee Leash, and it didn't take us long to determine it was an obvious winner. With an included harness and a high-quality bungee leash, this will give you all you need to get your cat walking.
The 5 Top-Rated Cat Leashes
*Ratings are from Amazon at the time of publication and can change
Best Cat Leash Overall: PetSafe Come with Me Kitty Harness and Bungee Leash
The PetSafe Come with Me Kitty Harness and Bungee Leash is a set that will give your cat all he needs to start walking with you on your adventures. An included harness is available in three different sizes, so you'll easily be able to fit this to your cat, no matter his age or size. Make sure you're measuring to ensure a proper fit, but there are some adjustments that can be made when you're putting it on him. There are also two clips that will allow you to put it on without needing to contort your cat in all kinds of uncomfortable angles (which will probably mean fewer scratches for you).
The leash features a bungee that will allow your cat a bit of forgiveness when he goes bounding after something and he reaches the end of his line. And that forgiveness extends to you as well, because you won't be jerked this way and that while you're trying to calm him down from his pursuit.
There are well over 2,500 customer reviews on Amazon for this leash and harness set, with an overall average rating of 4.2 stars.
PetSafe Come with Me Kitty Harness and Bungee Leash Key Features:
6 color options
3 Sizes available
Bungee leash and adjustable harness included
Best Retractable Cat Leash: TUG Patented Heavy Duty Retractable Leash
The TUG Patented Heavy Duty Retractable Leash is made with a strong, woven nylon leash that your cat won't be able to claw or chew through. The interior high-end steel coil spring is reliable, and the impact-resistant nylon plastic containing the winding mechanism within uses fiberglass to make sure that all the moving pieces and parts work optimally, no matter how long you have it. The length is adjustable with a locking button that will allow you to give your cat some freedom sometimes and keep him closer to you when you want that, as well. It's entirely up to you and the situation you and your cat are in, from moment to moment.
With that quick-lock system, you can roll-on and roll-off the button with just your thumb so quickly that you'll easily be able to contain your cat and stop him short before he reaches his target. And if you catch him mid-hunt this is sure to come in handy – especially if he's hunting something you want to stay alive!
This leash sits on Amazon with right around 3,000 customer reviews and an overall rating of 4.2 stars. We think that's plenty enough to build confidence in your purchase.
TUG Patented Heavy Duty Retractable Leash Key Features:
Ergonomic anti-slip design
3 sizes available
3 color options
Best Budget Cat Leash: PetSafe Nylon Leash
PetSafe Nylon Leash
For a leash that will maintain control of your cat and your monthly budget, try the PetSafe Nylon Leash.
With the PetSafe Nylon Leash, you have plenty of options to make sure this leash fits your cat – both in size and in style. Its simple design makes it easy to use. It's just a strip of durably woven nylon that securely clips to your cat with a robust metal hook. No frills, no complications.
The easy-to-use clasp is built for long-lasting use and swivels to prevent tangling. It opens and closes with one hand, though you may need the other to keep the harness stationary. In conjunction with a harness or collar (we recommend the harness for your cat), picking this up will have you all set to take your cat on his walk.
There are nearly 2,000 customer reviews on Amazon for this leash and they've awarded it an overall rating of 4.4 stars. That in and of itself is likely enough to tempt you, but to really seal the deal, check out that price! You can get this leash for under $5!
PetSafe Nylon Leash Key Features:
3″ hook and clip
6 color options
3 width options, 2 length options
Best Yard Cat Leash: Hi Kiss Lead Leash
Hi Kiss Lead Leash
For a cat that loves to spend his time in your yard, even when you're not there, give him the most freedom with the least risk with the Hi Kiss Lead Leash,
The Hi Kiss Lead Leash is perfect for keeping your cat safe while he's outside, even when you can't be there to watch him every second. The woven nylon is plenty durable so you can trust that your cat won't be able to claw or chew through it before you make it back out to get him.
The nickel-plated clip will secure your cat wherever you need it to. You can loop it onto a hanging wire strung across your yard, giving your cat a range that will have him convinced he's actually free, or wrap it around a tree, securing it to itself wherever you want your cat to stay. That means you can take it camping, or to the beach – anywhere you go that you'd like to bring your cat along becomes an option with this leash.
Well over a thousand customers purchased this from Amazon and felt strongly enough about it to come back to give it a positive review. It has an overall rating of 4.3 stars and that's plenty enough to convince us that it's a good investment.
Hi Kiss Lead Leash Key Features:
Handle loop for walks or yard use
5 sizes available up to 100′
Swivel-style clasp
Best Bungee Cat Leash: OutdoorMaster Bungee Leash
OutdoorMaster Bungee Leash
To protect both your arm and your cat's neck from his instinctual springing to action on your walk, try the OutdoorMaster Bungee Leash.
The OutdoorMaster Bungee Leash will let you take your cat on walks without worrying about what happens when he reaches the end of his line. In fact, though this leash may not vary in length like the retractable leash does, it will probably give you the most control over your cat, overall. So if he's a particularly skittish or hyperactive sort, you won't want to look past this leash for him.
While you may not use the second handle for his walks very often, you may still use that second handle for any time you sit down. When your cat is in your lap, that dual-handle will help you maintain control of him and the situation – no matter what he sees or how he pulls.
With a 6-month warranty and friendly customer service, you can trust that if anything happens you'll be able to resolve it painlessly. There are nearly 1,000 customer reviews on Amazon that have earned it an overall rating of 4.6 stars and with a price tag right around $10, there's a good chance you'll be swayed to purchase.
OutdoorMaster Bungee Leash Key Features:
3 color options
36.5″ to 48″ length
100% satisfaction guarantee
Who Should Buy a Cat Leash
If your cat is a curious type, then what better way to let him see the world than to actually take him out into it? Anxious cats may respond poorly to being stuffed into a crate and if that's the case, a leash could help you keep him more comfortable when you take him places like the vet. (The dogs in the vet's office may not thank you, but if your cat's more anxious about being closed into tight places than he is about barking dogs, that may be well worth the trade-off.
For the chubby kitty who needs a bit more exercise than his daily routine allows, then you may be forced to change his routine. There are few better ways to do that than to take him out and force those calories off yourself. Picking a leash that will let him take off or lay down while you're out and about with him might be just the extra movement he needs to make sure he's shedding those extra pounds and living a healthier life.
When your cat is the inside-outside kind, you may think you'll never need a cat leash – but that may change! If you move to a new home, if he is no longer content in just your backyard, or if he's begun bringing too may dead rodents as gifts for the family, you may want to leash him, even in your backyard. As most cat owners know, a cat can fit through more spaces than you think, climb more things than you think they can, and if he wants to get out of even your high fenced-in back yard – he will find a way. If he's secured to a long leash that will allow him some free range but keep him in his designated areas, then he can still have the outdoors he loves and you may be cleaning up fewer "presents."
Important Features to Consider
A cat leash should have a few important features. Here's what to consider when selecting a leash for your cat:
Bungee. The shock-absorbing benefit that a bungee leash will provide may not have the appeal when walking a cat that it does with a dog, but they do still bolt; maybe even more unexpectedly. So you'll need that buffer to keep you from tripping up when he does the unexpected. (And he definitely will.)

Dual-handled. You're probably not going to use this in the same way you would for a dog; after all, cats are generally much lower to the ground when you're walking together and they don't weigh nearly as much as your large breed dogs. Using it the way you would a dog would have you bending over quite a bit. However, consider what happens with you sit with him at the vet and you try to keep him in place. This extra, closer handle will come in especially handy if your cat is a big one or if he's just incredibly persistent.

Basic. No muss, no fuss; a basic leash will be the simple kind that requires no training or prior knowledge. You'll just clip it to your cat and be on your way. He'll be able to yank and pull and may jerk you around a bit (depending on his strength and stubbornness), but considering it's a cat, not a dog, you'll probably be absolutely fine with this option. Keep in mind that the heavy leashes may not be needed to withstand your cat's strength, and in fact may be too much weight for your cat to support. But alternatively, the weight may help keep him still or calm, not just knowing but feeling that he won't be able to get anywhere with that extra weight.

Harness. If you don't have one already, you need to invest in one. There are no two ways around this, if you're taking your cat on walks, he needs a harness. Simply put, cats won't be "trained" into not pulling and they have claws. That may mean that once he realizes he can't go where he wants when he likes, he's going to try to get out of it. He may begin to pull and that will choke him. Scratching and biting are certainly possibilities, too, and when he sees you connected to the other end of the leash, that could invite his wrath. If you're not paying close attention, he may even try to get his collar off and get himself stuck.

Yard lead. If you have a yard without a fence, then you can't just let your cat have free reign outside. Not only will he run the risk of getting hurt by other animals (or hunting other pets), he could get into your neighbor's yards and cause trouble. He could also run away, get lost, or the worst could happen and he be hit by a car. Even if you do have a fence, you may still need a leash to contain him. Cats are climbers and even a tall privacy fence has been known to be but a minor obstacle to a determined cat. For these cats who still love to go out, a yard leash is a must.

Retractable. A retractable leash will give you maximum customization for the length of your cat's leash. This will come in especially handy when you want to keep him in close to you when you're concerned for his safety and when you are comfortable giving him a wider breadth, let the leash out and give him more slack. This kind of leash will give you full control on your walks.
Frequently Asked Questions
What are cat leashes and how do they work?
A cat leash can be a simple or complicated thing, just as any dog leash. Because cats don't get to be the size of some dogs, you won't need as many bells and whistles on your cat leash, though, and that can save you both time in learning and teaching it – plus the money that more complicated leashes require. Some features will be unnecessary and others will come in quite handy and these will depend on your cat's temperament and his personality. For a calm cat that's content to walk beside you and is laid back enough to handle outside stimulation without reacting too much, a standard, straight leash will work just fine. If he likes a wide breadth, but you want to be able to control exactly how wide depending on your environment, then a retractable leash will help you out with that. A bungee leash is perfect for the skittish cat who's bound to take off and if you plan on just letting him wander your yard a bit, a yard lead could give him all he needs.
You can use some dog leashes for your cat, but you'll need to make sure you're not just buying the first one you look at. A large breed dog will need a drastically different leash than an eight-pound cat does.
Do cats like leashes?
Well, to be fair, it's not a natural state for a cat to be leashed, no. But there are no hard and fast rules for whether or not a cat likes something. Cats love to shirk what you think they should be and should like. Some cats love baths, for example. In that same light, sometimes your cat will love his leash straight away. We dare say the more likely scenario is that your cat loves the outside and tolerates the leash to get to it. If you find he's more apathetic than he usually is and you think the outdoor experience may not be living up to his happiness potential, try another type of leash. Maybe he wants more freedom to wander and would appreciate a longer range. Conversely, perhaps he'll feel safer being kept closer to you and would get the most out of a leash that keeps him there.
With all that in mind, you may find that no matter what you do, your cat does not like any leash or going on walks at all. You can try to help him learn to like it, but you may never get there. While he should be given the opportunity to enjoy walks with leashes, his personality and anxiety will be the real determiner, not you.
Can a cat be leash trained?
Yes, cats are, as a species, capable of being trained to use a leash. Your cat, specifically, though, may require more advanced training than you can give. But don't get ahead of yourself and admit defeat before giving it a genuine try. The first step is where a lot of people go wrong: Get a harness! Your cat will be more comfortable walking in a harness because, should he pull on the leash while wearing a collar (and he will), it will choke him. And in case you didn't know this, cats are prone to holding grudges. You don't want to start his training off on the wrong foot; you may never be able to go back.
Put the time in to convince him to love his leash and be sure to encourage him with your words and treats every step of the way. Get him used to the harness, starting with wearing it for short periods of time and working up to longer periods before you ever even let him see the leash. When he's ready, attach the leash but don't hold onto it. Let it drag behind him and let him get used to the idea. After he's not really bothered by the leash or harness anymore, then take practice walks around the house. Again, do this for short periods of time that work up to longer ones and then eventually, let him go outside with you. Don't force him out; patience is probably most critical in this step. Let him walk out on his own. Leave the door open for however long he needs. If he doesn't want to go out, try again another time. When you do go out the first time, make sure you're not out there long. A short trip of just about five minutes is ideal for this first adventure. The more often you do it, the faster he'll adjust, and the better he'll be with his leash.
Keep in mind that cats can be trained to use a toilet and flush it – so don't give up! If your cat enjoys being outside and doesn't mind being near you, then you'll very likely be able to get him to wear his leash without complaint – eventually.
Should I let my cat outside?
You'll need to make the decision about what's more important for your cat when you consider the benefits and risks in order to determine if your cat should be let outside. Allowing your cat to go outdoors will give him a decreased risk of obesity and for many, it's excellent for their overall mental health. He'll get more vitamin D, and you'll have fewer scoops to make in his litter box because he'll go outside some, too. It will also give him an outlet for his more wild instincts that he won't ever get inside. That means he's going to try to hunt. On a leash, he probably won't get far and that may frustrate him, but the act of pouncing a butterfly or two will still satisfy his more feral desires. One of the risks, though, is that he may like it too much and not want to come back in. He may even stop using his litter box in protest, wanting to go only outside, which leaves a mess for you if you don't let him out. If you leave him in a fenced-in yard, he will likely be able to Houdini a way out, and you may never see him again. Either he gets lost, finds another home, or worse, is killed by another animal or car.
Even indoor cats can enjoy the outdoors – but they may not know how to act in the new environment. If you've had a cat since it was a kitten and it has never been outside alone, then you can't just open your door and expect him to come back safe and sound – even if you have your backyard fenced. There's a lot to be said for allowing your cat outside, but you can't ignore the risks to gain the benefits. Make sure you're considering all possible outcomes and consequences. And then imagine how much a leash will help you and your cat balance outdoor time with his safety.
Other Cat Leashes We Reviewed
We looked at 20 other leashes for cats. Even though they didn't make our 5 best cat leashes list, they're the best of the rest and each is still a great option for your cat. The information you'll need to compare each one is included with the listing.
Bungee Cat Leashes
Bagoo Pets Bungee Leash for Training and Walking
The bungee on this leash ensures you won't be jerked this way or that when your cat goes a-pouncing.
Key Features:
31″ relaxed; 47″ stretched
1″ wide
3 color options
Cost: $15
Elastic Retractable Leash dual Handles
You can use the double handle with your more difficult-to-control cat when you have him at the vet or on your lap.
Key Features:
Stretches from 5′ to 7′
100% money-back guarantee
1-year warranty
Cost: $15
The bungee will prevent jerking and the dual handle will give you even more confidence that your cat won't be taking off.
Key Features:
2 color options
Zero-shock technology
Lifetime warranty
Cost: $15
Retractable Cat Leashes
The hook that connects your cat's leash to his collar (or harness) will rotate 360 degrees, preventing him from getting tangled.
Key Features:
16.5′ leash
Ergonomic handle grip
Easy lock to keep a certain length
Cost: $10
With a quick braking system, you'll be able to stop your cat before he gets too far into a hunt.
Key Features:
5 color options
4 sizes available
Reflective for nighttime visibility
Cost: $10
With a durable cord and ergonomic soft-grip handle, you may be surprised just how lightweight this leash is.
Key Features:
3 size options
6 color choices
Made in Germany
Cost: $15
MigooPet Heavy Duty Retractable Leash
You can lock the leash on a certain length or give him his freedom with a "Free Mode."
Key Features:
6 color choices
2 sizes available
100% satisfaction guarantee
Cost: $20
Peteast Retractable Leash Small Breed
You'll easily be able to lock and unlock this leash in place at a specific length with the roll-on thumb button.
Key Features:
2 color options
1-year warranty
10′ cord length
Cost: $15
Basic Cat Leashes
If this leash gets dirty, the clean up is a breeze: just place it right into the washing machine and lay flat to dry!
Key Features:
4 length options
19 color choices
Nylon fabric with high-density webbing
Cost: $15
Friends Forever Durable Nylon Dog Leashes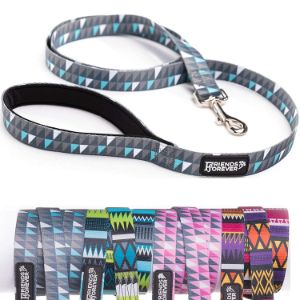 With the uniquely geometric patterns available with this leash, you can be sure your cat stands out while you walk him.
Key Features:
2 style options
360-degree swivel hook
2-year warranty
Cost: $10
Walking your cat when the weather isn't ideal doesn't need to be a no-go and with this reflective leash, you'll be minimizing the risk.
Key Features:
4 sizes available
13 color choices
360-degree swivel hook
Cost: $15
PET ARTIST Extra Soft Genuine Thin Leather Pet Leash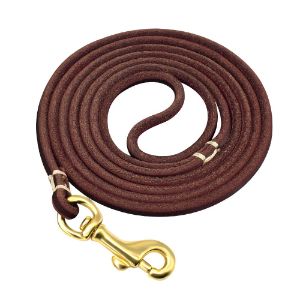 This soft leather leash is made with little pets in mind and with its thin cut, it's lightweight enough your cat won't struggle with it at all.
Key Features:
5.2′ long, 6 mm wide
Weigh limit: 15 lbs
100% quality guarantee
Cost: $15
If you just absolutely do not want to mess around with your cat and think he'd benefit from the weight of a heavier leash, this may be the answer to your worries.
Key Features:
Made with 100% braided nylon
Hooks to collar, harness, belts, raincoats, and more
360-degree swivel hook
Cost: $5
Yard Cat Leashes
This leash may be metal, but being that it's coated in a PVC material, it's also rust-resistant. That means leaving it in the rain when your cat is safely indoors won't be the end of it.
Key Features:
Made of rugged steel and PVC
1-year warranty
3 size options
Cost: $10
CHERPET Reflective Cat Tie Out Leashes
The heavy-duty hook on each end of this leash will allow you to secure it without worrying your cat will ever be able to break it.
Key Features:
26′ length
2 360-degree swivel hooks
Reflective stitching
Cost: $10
Coastal Poly Cat Tie Out with Nickel-Plated Swivel Snaps
With 15 feet of weather-resistant material, this leash will withstand all types of weather, so you won't need to run to take it in when the snow hits.
Key Features:
15′ long
2 swivel, nickel-plated hooks
Weather-resistant
Cost: $10
OFPUPPY Cat Tie Out Pet Rope Leash
With heavy-duty clasps, you'll easily be able to wrap this leash around anything to create a lead from a tree, a post, or table (as long as you trust your cat can't budge it if he bolts).
Key Features:
4 sizes available
Made of braided nylon
3/16″ wide
Cost: $10
Petest Reflective Tie-Out Cable
The all-steel cable is covered with a vinyl that is both resistant to rust and reflective.
Key Features:
6 color options
7 sizes available
Steel cable
Cost: $10
This leash is made of a heavy-duty nylon fabric that's webbed and woven for added strength.
Key Features:
3 color options
3 length choices
Swivel, trigger hook
Cost: $15
This leash has a spring at the base that will allow your cat a bit of give to keep him from choking himself when he gets to the end of his line.
Key Features:
20′ long
Tangle-free swivel clip
Steel with plastic cover
Cost: $20