Taking your cat on walks isn't necessarily something you expect to do when you adopt a cat; but it's definitely something you should consider. Not all cats will love the leash experience at first, but finding a way to take them out and let them experience the world is hugely beneficial to their quality of life. And even if it doesn't seem to be doing much for them, there's a good chance you'll see a decrease in overall havoc wreaked in your home the more you get your cat out. The easiest way to do this is a leash and the best way to convince your cat to use the leash is to buy a harness that's well suited to him. Navigating where to start in picking the right harness can be a bit tricky, though. So we've taken the liberty of gathering all the information you'll need below.
We reviewed dozens of cat harnesses to identify the best of the best. We looked at traditional harnesses and vests, as well as harnesses that the manufacturers deem "escape proof" and even a few universal harnesses that can work for cats, bunnies, or a small dog. No matter how you choose to harness your kitty, we've got the right one for you.
Kitty Holster Cat Harness
For a cat harness that will keep your cat comfortable and safely with you, look no further than the Kitty Holster Cat Harness.
Early in our research we discovered that the Kitty Holster Cat Harness stood out among its peers as the obvious choice for our Top Pick. It is a vest style harness that will be very tricky for your pet to escape and it has a variety of sizes and styles available for you to choose, so there's every chance you'll get a harness that's just right for you and your cat.
The 5 Top-Rated Cat Harnesses
*Ratings are from Amazon at the time of publication and can change
Our Top Pick: Kitty Holster Cat Harness
The Kitty Holster Cat Harness secures around your cat's chest and stomach for a nearly escape-proof vest that will let you take him on your walks worry-free. Because cats are such a curious bunch, plastic buckles look like a target for your cat and after fiddling, they can often figure out how to open it. A good Velcro strap secured snugly to your cat's chest, though, will be virtually seamless, less noticeable and much more difficult for your kitty to escape.
The breathable cotton is a lightweight design for this harness, making it comfortable and secure enough that you won't need to worry about tearing. The cotton vest is a smooth one-piece design with a nylon strap down the back securing the D-loop to it so you can hook your leash into the harness easily and it will distribute the pressure from the leash more evenly than without that nylon strap.
With over 1,300 customer reviews on Amazon and an overall rating of 4.2 stars, there's a reasonable chance you'll be just like one of the thousand people who are satisfied with this harness. And 10% of the profits are donated to Crazy K Farm Poultry and Livestock animal rescue, so you can feel good about where your money is going.
Kitty Holster Cat Harness Key Features:
Machine washable cotton construction
4 size options
7 style and color options available
Our Runner Up Pick: Voyager All Weather No Pull Step-in Mesh Harness
Voyager All Weather No Pull Step-in Mesh Harness has a nearly escape-proof design for your cat. Not only does it have a sturdy plastic buckle that will secure along your cat's back, but underneath that buckle the harness meets with adjustable Velcro that will allow you get the perfect fit for your cat. So even if your cat does figure out how to unclasp the buckle, (and we have no idea how he could with it resting along his spine), he's not going to get through the Velcro, too.
The harness is easily put on, your cat just needs to step into it and you close it on his back; which is where the two D-rings are located, as well. The slight gap between the harness and the D-rings will allow you to walk your cat without pulling or putting pressure on any one particular point. It will be distributed relatively evenly and that will make your cat all the more comfortable; especially when you combine that with the padded, yet breathable, mesh fabric construction.
There are an impressive number of customer reviews for this harness: over 3,500. And what makes those reviews all the more important to your choice is that they've given it an overall rating of 4.2 stars on Amazon. Nearly 2,500 people gave it a perfect 5-star rating!
Voyager All Weather No Pull Step-in Mesh Harness Key Features:
5 sizes available
16 color and style choices
Designed with ultra-plush mesh
Best Budget Pick: Niteangel 2-Pack of Adjustable Cat Harness & Leash
The Niteangel 2-Pack of Adjustable Cat Harness & Leash comes in a set because if you need one leash and harness, you're more likely to have a need for another. Cats may not be pack animals, but adding another cat into your family is so much easier once you've seen how much love they add to your life. So this two pack is one purchase that can take care of your two cats. And even if you don't have two, it's also just nice to have a backup for your singular cat.
Each harness has two different adjustments, one on each circular strap; and each of these straps secures to your cat with a hearty plastic buckle. The leashes are each 50-inches long and connect to the harness with a D-ring located on the back strap to more evenly balance the pressure put on the leash.
The two pack may not have an over abundance of reviews; less than 100, but what reviews it does have earned it an overall rating of 4.2 stars, which isn't bad at all. More than the reviews, though, we're focused on the cost: For 2 leashes and 2 harnesses it's only $10!
Niteangel 2-Pack of Adjustable Cat Harness & Leash Key Features:
2-pack of harnesses and leashes
5 color options

Neck 7-10″ chest 10-17″ lead length 50″
Best Cat Harness and Leash: PUPTECK Adjustable Cat Harness Nylon Strap Collar with Leash
The PUPTECK Adjustable Cat Harness Nylon Strap Collar with Leash is a traditional style harness with a straightforward leash included in your purchase. The harness is adjustable on both the neck and waist straps and the cross strap connecting the two will also slide, allowing you to adjust where you want the buckles and the leash connector. The durable nylon construction will ensure its longevity and prevent your cat from fraying or tearing it apart.
The D-ring on the back strap slides and adjusts along your cat's spine, to balance and evenly distribute the pressure put on her should she pull on the leash at all. And with a leash that's just under 50 inches, (that's almost 4 feet), you'll have plenty of room to give your cat the illusion of freedom on your walk. The lead has a sturdy metal buckle that will keep your cat connected to you for as long as you hold onto the end.
With right around 500 customer reviews on Amazon, this harness has an overall rating of 4.1 on Amazon. This is certainly more than enough to support confidence in the product, but the price tag of $10 for the set isn't too bad, either.
PUPTECK Adjustable Cat Harness Nylon Strap Collar with Leash Key Features:
Adjustable with snap-lock buckles
Neck: 7-10″; Chest: 10-17″; Lead: 47.2″
10 color choices available
Best Cat Harness Vest: EcoBark Rapid Fastener Super Comfort Fully Adjustable Double Padded Step in Harness
The EcoBark Rapid Fastener Super Comfort Fully Adjustable Double Padded Step in Harness is an efficient harness that your cat won't be able to escape. The harness closes with a strip of Velcro on either side and it attaches at the top, just along your cat's spine. Above that is a buckle that is just under where the leash connects to the harness and while the leash is connected, the Velcro is supported with yet another means of closure. The two D-rings, located on either side of the harness, is pulled together and secured close with the leash buckle, as well.
The mesh construction of the harness is padded, yet breathable to keep your cat comfortable at all times. The straps are made from recycled material and highly durable. There is a reflective strip along either side of the harness to make sure that your cat is visible, even in the dead of night. And when you have a dark or even black cat, you definitely want to take these types of precautions.
There are over 450 customer reviews for this harness on Amazon and they've awarded it a 4.5 star overall rating – that's nothing to scoff at!
EcoBark Rapid Fastener Super Comfort Fully Adjustable Double Padded Step in Harness Key Features:
6 color choices available
5 size options
Double layered mesh construction
Who Should Buy a Cat Harness
You probably don't see nearly as many cats walking on leashes as you do dogs, and that may lead to you wondering if you really actually need to get a harness and leash for a cat. In fact, you may find yourself thinking, as we once did, that a harness for a cat is just a gimmick; a way to spoil a cat for people with too much time on their hands. But it turns out, that's just not the case; and if you stopped to think of it, you'd probably easily be able to talk yourself into trying it out. Cats may not need as much exercise as dogs to work out their poor behavior and crazy antics, but if you are struggling with these and your cat, then you should give the walks with harnesses a chance. Not all cats will want to do this, but every cat should be given the opportunity.
Cats are typically very curious creatures who want to see and watch the world. If you leave your cat's perch by a window so he can watch the world, why wouldn't you take him out in it to get a closer look? It could be particularly beneficial if you have a shy or scared cat. The more he experiences the world, the less likely he is to shy away from it. You may want to start slow, take him to less populated areas or parks, but even just lying with you on a blanket in the park can get him a bit of fresh air and relieve some of his tension.
Kitty Holster Cat Harness
For a cat harness that will keep your cat comfortable and safely with you, look no further than the Kitty Holster Cat Harness.
Important Features to Consider
A cat harness should have a few important features. Here's what to consider when selecting a harness for your cat:
Velcro. Velcro is an incredibly convenient method of securing a perfect fit. You can use it to adjust a vest, harness or sweater with ease and that is hard to pass up when thinking of your squirmy, clawing cat. But you'll want to keep in mind that any exposed Velcro after the adjustments will likely be an attention grabber for your cat. It may bother her or she may love it. (She may be completely unfazed by it, if she's a laid-back kind of gal.) But either extreme seems likely to prevent a calm walk for her or you. You may be best off trying to hash out your cat's view on Velcro before purchasing such a harness.
Universal harnesses. By universal harness, we mean a harness that isn't specifically designed for a cat, but rather any small animal, roughly the size of a cat; a small dog, a large bunny. If your leash is made to work for any and all, then you'll probably have a harder time getting a snug and true fit for your cat. However, if you have multiple animals, or multiple types, or even if you plan on having more throughout your life, a universal harness may just be the best bet for you and your family. You certainly can get a universal harness to fit your cat, it just may require a bit more work on your part
Traditional design. The traditional harness will have, essentially, two circle straps that are connected by a flat strap that will go along your cat's spine. This is sometimes called an "H-design" because if the shape it gives looking down on your cat's back. The larger circle will loop around the waist of your cat and secure around her. (Most of the time with a plastic buckle.) You'll be able to slip it on and off fairly easily once you (and your cat) get the hang of it, but there is a bit of a learning curve. And while this type of harness isn't one that your cat will be likely be bothered by, it probably isn't quite as comfortable as the wider strapped vest types. You will need to get it pretty snug to keep your cat from escaping, little Houdini that he is. And, the traditional style harnesses tend to be a bit less expensive.
Vest design. The vest design is a simple one that you'll be most familiar with, as it's very similar to your own clothing. You'll have to figure out how to keep your cat calm while you pull his arms through the arm holes, but, just like any style, it won't be too bothersome after you both get used to it. You'll either pull it over his head like a sweater or secure it with a buckle, zipper or Velcro; possibly more than one of these options. The biggest perk for a vest design is that they tend to be a lot more difficult for your cat to figure a way out of; certainly it's less likely for them to escape without you noticing way in advance. You will want to keep in mind that because these aren't as old, they still qualify for the "Hot new thing" tax; meaning that because they're newer to the market, they're a bit more pricey.
Combination sets. If you're in the market for a harness, you're probably in the market for a leash, as well. There's every reason to believe that you can find a set that will be high enough quality to meet your needs. In fact, because both a leash and a harness are both so reasonably priced, often times manufacturers will group them together so they can get a bit more bang for their buck on shipping costs. Some sets will have one product that is high quality but have the other cheaply made and tossed in as an after thought; so you will need to be careful of that. For the most part, though, you'll be able to find leashes and harnesses combined to make it a simple one and done purchase.
Waste bags. It is much less likely that cats will urinate or defecate while on a walk compared to their dog counterparts, just for the sake of habit. That being said, you will always want to prepare for it, just in case. There's no faster way to make enemies of your neighbors than to leave your animal's feces on their lawn. Some leashes have waste bag storage included or are just better suited for that them others. You may even be able to find a harness that has a spot especially for clipping those bags on. Check out our review of the best dog poop bags to find the best waste bags for your pet.
Frequently Asked Questions
What is a cat harness and how does it work?
A cat harness is just like any other harness, but it's designed for your cat. It will clip, zip, slip, or Velcro into place and the more snug you get it the less likely it is for your cat to escape. Because cats don't vary in size as much as other pets (dogs, for example), there won't be as big of a worry in finding a good fit, but you still want to make sure that the harness isn't loose enough to give any wiggle room whatsoever. If you've ever seen your cat slide under a pet gate or through the smallest of holes then you know your cat can contort her body into all kinds of odd shapes to escape and a harness may just bring out that escape master in her. A harness is mush less likely to be escaped than a collar, but even the harness will need to be checked and rechecked. You'll even need to do a dry run inside the house before taking your cat out to the world of temptations.
How do you measure a cat for a harness?
The easy answer for how you should measure your cat for a harness is to measure all the measurements that the manufacturer gives you. That is, if the harness you're looking to purchase gives you measurements around the chest, stomach and neck, take all of those measurements to ensure a proper fit. You'll want to make sure it's a snug fit that won't be easily escaped. Keep in mind, even if he hasn't shown signs of it just yet, your cat has escape artist in his blood and you'll have to be prepared for it. A good fit should allow for you to put a finger in between the harness and your cat. He shouldn't have any problems breathing or walking but you will really want to remember: snug. Especially in the beginning, your cat will want to explore and may panic at any number of things during a walk. You'll want to be prepared for that with a harness that's tight enough to prevent escape.
As a general rule, you'll want to measure just the neck and girth of his chest just behind the front legs of your cat for proper sizing. Use a flexible tape measure and wrap it around the widest part of his chest for the girth measurement and do the same for the neck measurement. Look at your potential purchase of harness carefully to make sure you can adjust it to your cat.
How do you put a harness on a cat?
Not all harnesses are created equal and some are much more difficult to put on than others. The easiest to figure out how to put on is probably a vest style that will go on just as a vest would for you, with buckles or a zipper to secure it to your cat. There is also a pull-over style of vest/shirt harness that just secures over your cat's head and you can sometimes tighten as you prepare for your trip.
The more difficult harness to figure out how to put on is a traditional harness; but the good news is that once you've figured it out, it isn't a problem to actually put on. The wider strap opens with a buckle, and you'll slip the smaller strap over your cat's head with the back strap and hook for the leash facing up. You'll place the wider strap around the chest, just behind his front legs and buckle in. You can adjust most of these style of harness to make sure the fit is snug enough.
How do you train a cat to walk on a harness?
You'll want to make sure from the get-go you have the right size harness for your cat and that means measuring and remeasuring your cat and comparing it closely to the manufacturer's notes on its harness. You'll also need to get your cat used to the idea of a harness before ever putting it on her and take it slowly. Let her play with it if she wants, put it in her cat tower of mischief, or by her food; anything to make sure she's familiar with it and can identify that it is not a threat. While she plays with it, give her plenty of treats so she associates the harness with good things. Put the harness on loosely before making it snug. Let her wear it around the house for a while before putting the leash on. Once the leash is on, hold the leash but don't put pressure on it; just follow the cat wherever she goes around the house. When she gets used to these steps, brave the outdoors. Start in a quieter area to keep your cat from becoming overwhelmed and build up to busier areas and start with short trips.
Be prepared when you go out; every time. That means take waste bags and a towel so you can wrap her up and carrying her home if she's just had enough before your planned outing was over. And if she doesn't do well on the leash, consider a stroller to still allow her some of the benefits of outside time without the strain of leash training. (A leash and harness will still likely be a good investment even so, though, to keep her from taking off on you.)
Other Cat Harnesses We Reviewed
We looked at 20 other harnesses for cats. Even though they didn't make our 5 best cat harnesses list, they're the best of the rest and each is still a great option for your cat. The information you'll need to compare each one is included with the listing.
Traditional Cat Harnesses
This harness has breathable fabric incorporated to ensure your cat doesn't overheat.
Key Features:
2 adjustable points
Easy-secure plastic buckle
D ring attachment for leash
Cost: $10
GOOBY Escape Free Sport Harness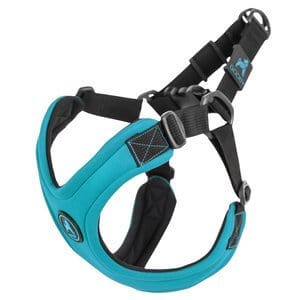 This escape-free sport harness will let your cat experience your adventures without holding you back.
Key Features:
3 size choices
6 color options
Padded chest straps
Cost: $35
Puppia Authentic RiteFit Harness with Adjustable Neck
With two neck adjustments, you can loosen this harness to get it on and secure snugly after to avoid the fight.
Key Features:
4 size choices
9 color options
3 buckles for easy on/off
Cost: $25
This harness is ideal for a cat under 12 pounds and distributes pressure on the back and front straps evenly.
Key Features:
Made with durable nylon straps
5 color options
2 buckles for easy on/off
Cost: $10
The Original EcoBark Control Harness
While this may be originally intended for dogs, the reviews are full of pictures of it being used safely and effectively with a cat, as well.
Key Features:
No-choke design
6 size options
10 color choices
Cost: $15
Voyager by Best Pet Supplies – Fully Adjustable Step-In Mesh Harness
The straps on this harness feature reflective piping that will let your cat be easily seen, even at night.
Key Features:
4 color options
4 size choices
2 D rings for balanced pressure
Cat Harness and Leash Set
BINGPET Escape Proof Cat Harness – Adjustable Vest and Leash Set
You'll be able to fit this to your cat perfectly with the long strips of Velcro that secure this harness.
Key Features:
Chest: 12.5″-16″, Neck: 9.78″-11″, Leash: 59″
4 style options
Soft mesh material
Cost: $15
DogJog Mesh Harness with Padded Vest
This vest style harness set comes with, not only a leash, but a seat belt to strap your cat safely into the car, as well.
Key Features:
3 size options
4 color choices
Made with padded mesh for comfort
Cost: $10
Niteangel 2-Pack of Adjustable Cat Harness with Elastic Leash
This harness comes with a leash made of elastic to ensure it's always taut and untangled.
Key Features:
8 color choices
3 size options
Breathable mesh construction
Cost: $15
Petetpet Puppy Harness and Leash Set
This harness has a reflective strip along the side and the included leash matches whatever color you choose.
Key Features:
3 size choices
3 colors available
Adjustable chest belt
Cost: $10
PetSafe Come with Me Kitty Harness and Bungee Leash, Harness for Cats
The bungee leash included in this set will keep your cat from pulling or tangling while you're on your walk together.
Key Features:
3 size choices
6 color choices
2 adjustment points
Cost: $15
SCENEREAL Escape Proof Cat Harness and Leash
This harness has two adjustable Velcro straps that are doubly secured with durable elastic, which should keep your cat all the less likely from escape.
Key Features:
2 plastic buckles
Dark denim fabric
3 size choices
Cost: $15
SELMAI Puppy Cat Small Girl Vest Harness Leash Set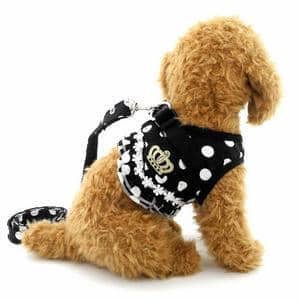 This harness includes a strong Velcro closure and a durable nylon leash with buckle and hoop design.
Key Features:
2 color choices
4 size options
Breathable mesh fabric construction
Vest Cat Harnesses
Best Pet Supplies Voyager Soft Harness for Pets
This harness is luxuriously plush, keeping your kitty warm for those cool walks outside.
Key Features:
5 size choices
14 colors available
Machine washable
Cost: $15
Cute Elegant Pink Mesh Cat Vest Harness
This fashionable harness will keep your cat safely leashed to you and looking her absolute best.
Key Features:
3 size choices
Includes flexible tape measure
Uses lightweight mesh fabric in construction
Cost: $15
Escape Proof Cat Harness with Padded Cat Vest with Velcro
The strong Velcro straps ensure your cat can't chew or unbuckle this harness in order to take off.
Key Features:
3 color choices
4 sizes available
Extra layer of mesh for more ventilation
Cost: $15
This vest harness uses both Velcro and buckles to make sure there's no escape artist who can flee without your knowledge.
Key Features:
9 color choices
Choice of mesh or corduroy fabric
Reflective strip around girth
Cost: $15
Mynwood Cat Jacket/Harness Caramel Adult Cat
As long as your cat is fully grown, or 12 months and up, this harness can work wonders for you and your walks together.
Key Features:
2 adjustable Velcro straps
D loop for leash attachment
Easy on/off
Cost: $30
This vest-style harness is a universal fit that will have your cat looking gorgeous in the quilt-like design.
Key Features:
4 sizes available
4 color options
2 buckle closures
Cost: $15
Ruri's Cat Jeans Jacket Harness Vest
If you're wearing your jean jacket or vest on any particular day, why not have your kitty match you for your walk?
Key Features:
4 size choices
Real denim, faded effect and textured feel
Machine washable
Cost: $15
More Pet Product Reviews: 
The Best Organic Dog Foods
The Best Dog Chew Toys
The Best Cat Food Mats
The Best Chicken Jerky For Dogs
The Best Dog Hair Dryers
The Best Rawhide For Dogs
The Best Small Dog Crates
The Best Dog Food Delivery Services
The Best Dog Foods For Puppies