If you have a cat, you know she loves to lounge around. Soft, comfortable furniture is the key to keeping your feline friend happy and content. Another feature that cats love is a high vantage point. Kitties enjoy being up off of the floor; sometimes, they even like being as close to the ceiling as possible! One type of cat furniture that you might consider purchasing that is both comfortable and elevated is a cat hammock.
A cat hammock can be standalone and come with its own frame, or it can attach to a wall or window. There are also cat hammocks that you can hang from the ceiling or some other elevated surface. We have reviewed dozens of cat hammocks in an effort to bring you a list of the best. We considered comfort, ease of installation where applicable, and how Amazon users (and their cats) seemed to like the products.
Our top pick is the CatastrophiCreations Fabric Raceway Hammock Lounger. It's perfect for a first-time hammock and gives your kitty a place to climb and lounge. The solid wood and canvas hold a lot of weight, so this is a great pick for people with several cats or with a couple of large kitties.
The 5 Top-Rated Cat Hammocks
*Ratings are from Amazon at the time of publication and can change
Our Top Pick: CatastrophiCreations Fabric Raceway Hammock Lounger
The CatastrophiCreations Fabric Raceway Hammock Lounger was our top pick, paws down. It is made of real wood and canvas. The canvas can hold up to 62 lbs and the wood hammock itself can hold over 80 lbs, making it an amazing choice for multi-cat households.
The hammock attaches to the wall and gives your cat not only a place to lounge while keeping an eye on what's happening below but also much-needed climbing pleasure. Cats need to climb and jump to keep themselves in good shape, and this product will help your cat stay svelte and in good condition.
CatastrophiCreations Fabric Raceway Hammock Lounger Key Features:
Solid wood
Strong canvas
Attaches to wall
Handcrafted
Attractive and functional
Our Runner Up Pick: Art of Paws Cat Shelf
The Art of Paws Cat Shelf is perfect for the cat who wants a bird's-eye view of what is happening in the household. This cat hammock is elegant and comes with a choice between two covers. If your kitty enjoys cuddling up and going to sleep, the soft wool cover will be just her style. On the other hand, you could also choose to put on the fiber cover if your cat likes to scratch and sharpen her claws before retiring.
The cat shelf comes fully assembled and will install in a matter of minutes. The package includes the tools you need. This product also comes with a three-year guarantee.
The Art of Paws Cat Shelf Key Features:
Comfortable bed for cats
Includes necessary tools
Three-year guarantee
Two covers to choose from
Best Budget Pick: UsefulThingy Cat Hammock
The UsefulThingy Cat Hammock made our top pick for a budget-friendly hammock. If your cat uses any type of cage or crate, this hammock is perfect for making it more comfortable.  You can even vary how it looks by flipping it over; one side is white and the other side has a tiger pattern to appeal to your cat's wild nature.
The hammock is made from soft fleece that can be either handwashed or put in the washing machine. It measures 21 x 15″ and can be attached either to a cage or a cat condo with sturdy clips. It will safely hold a cat up to 20 lbs and comes with a lifetime guarantee.
UsefulThingy Cat Hammock Key Features:
Two-sided design
Made from soft fleece
Machine washable
Attaches with sturdy clips
Holds a cat up to 20 lbs
Best Cat Hammock With a Stand: Trixie Pet Product Baza Cat Tree
If you are looking for a cat hammock with its own stand, you will love the Trixie Pet Product Baza Cat Tree, which made our top pick in this category. The first feature you'll notice is the silky-soft cover, which your cat will love to snuggle up in. In addition to the hammock itself being covered in this material, there is more of it at the bottom, making it a great choice if you have more than one cat.
The posts are covered in sisal, which can encourage scratching. In addition, there's a fluffy pompom for playful cats. The product is available in three sizes and will hold a 20 lb cat on the top part of the hammock.
Trixie Pet Product Baza Cat Tree Key Features:
Comes with its own stand
Sisal covered posts for scratching
Silky soft cover
Fluffy pompom for playing
Available in three sizes
Holds 20 lbs
Best Hanging Cat Hammock: CUSFULL Cat Hammock Bed
The CUSFULL Cat Hammock Bed made our top pick for hanging cat hammocks. This space-saving bed hangs under a chair or in any cage, giving your cat a pretty and comfortable place to hang out. It has two sides; a waterproof side is perfect for warm days, while a soft side is great for snuggling when the mercury drops. You can handwash the hammock or put it in the washing machine as long as you use a laundry bag.
Extra straps are included to make the hammock as versatile as possible. It is available in three colors, too, to suit any decorating style or kitty preference. The bed can hold pets up to 35 lbs.
CUSFULL Cat Hammock Bed Key Features:
Space-saving
Fits under a chair or in a cage
Two sides
Several colors to choose from
Holds up to 35 lbs.
Who Should Buy a Cat Hammock
If you own a cat, you should consider purchasing a cat hammock. Cats love to be elevated, and a cat hammock gives your kitty a dedicated place to be while lounging. If your cat has her own bed or hammock, you will probably end up with less cat hair on your own bed, sofa, and other furniture. Also, cat hammocks often come with extras like scratching posts or attached toys. While a cat hammock is not a need when you get a cat, it makes a nice accessory for them and can keep them from getting into trouble elsewhere in your home. Be sure to check out our review of the best heated cat beds for more cozy options for your favorite feline.
Important Features to Consider
Every cat hammock is a bit different, so you will need to look for the features that are important to you. Here are some to keep in mind as you decide which cat hammock you would like to purchase.
Location in your home. The type of cat hammock you buy will depend on where in your home you want to keep it. For example, if you have an area that would be able to accommodate a standalone cat hammock, consider one that comes with its own stand. If you are going to be placing it on a window, you will want a window cat hammock. You might also decide on one that attaches to a wall or that hangs from hooks, a cat condo, or a cage.
Washable. It makes sense to consider a cat hammock that is easy to wash and that you can remove hair from easily. While cats are clean animals, they do shed and occasionally track dirt onto surfaces, vomit, or otherwise cause a mess that needs to be washed up.
Size and weight limit. While most cat hammocks will easily fit an average-sized cat, if you have a larger cat, you will want to look for one that will hold 20 lbs or more. Also, if you have more than one cat, add up all of their weights to determine the weight limit you want to look for. If you are buying one cat hammock for several cats, chances are good that it will be holding more than one kitty at a time.
Frequently Asked Questions
What is a cat hammock?
A cat hammock is a bed, sling, or other surface that you mount at an elevated height for your cat to sit, lay, or sleep on. Some come with their own stands and others mount to a wall, window, or other surface. They are made in different types of materials and some have soft covers. Others don't have a cover and the intention is for the owner to place a cat bed or blanket on the hammock to make it softer. Some include toys; of course, you can always add your own. Check out our review of the best catnip toys that your cat would love.
How do you mount a cat wall hammock?
The way you mount your cat wall hammock depends on the type that it is as well as the characteristics of your wall. Often, you need to mount a wall hammock into at least one wall stud; if this is the case, locate the stud with a stud finder and simply drill into the stud with a screw. You can also use a drywall anchor or a toggle to hold the bracket in a location that doesn't have a stud behind it. Follow the directions that come with the hammock.
How much weight can a cat hammock hold?
Check the description of each product you are considering to be sure that it will hold your cat. Most hammocks hold cats up to 20 lbs, and some hold cats up to 40 or even 50 lbs or more. This higher weight limit is helpful if you have more than one cat. If you are using a wall hammock, you will need to be sure that the anchors or toggles that you are using (if applicable) are able to hold your cat's weight.
How do you wash a cat hammock?
Some cat hammocks have removable covers that are machine-washable. Others are meant only to be hand-washed or spot-cleaned. If yours has a removable cover, check the label to find out whether it can go in the washing machine. If it does not have a removable cover, you will not be able to machine-wash it; in this case, spot clean it with a damp cloth.
Other Cat Hammocks We Reviewed
In addition to the top 5 cat hammocks reviewed above, looked at an additional 20. These didn't make the top cut, but they are still the best of the rest and a great option for your cat. Take a look at the information included with each one so you can compare them and make your decision.
Cat Hammocks on Stands
AmazonBasics Cat Scratching Post and Hammock
This elevated cat hammock provides your kitty with dual scratching post pillars and a fluffy pompom to bat around and play with. Comfortable surface, neutral color tones, and long-lasting construction.
Key Features:
Two scratching posts covered in jute fiber
Plush, soft hammock
Holds cats up to 25 lbs
Cost: $26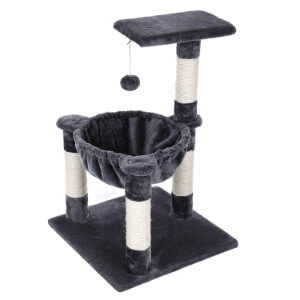 This cat hammock has everything your kitty needs for hours of entertainment and relaxation, including scratching posts, plushy perches, and a soft, deep hammock that is perfect for catnaps and hiding.
Key Features:
Includes tools necessary for assembly
Sisal-covered scratching posts
Neutral tones to fit into decor
Cost: $45
Mindful Grasshopper Wooden Hammock Bed For Cats
A high-quality wooden frame and a soft hammock surface combine to create an upscale cat hammock that will look great with your decor and please the most discerning kitty.
Key Features:
Machine-washable soft cotton cover
Stable mounting base
Holds cats up to 30 lbs
Cost: $40
Paws & Pals OxGord Cat Tree House
This two-story cat hammock encourages scratching, stretching, playing, and, of course, napping. It is constructed from pressed wood and wrapped in soft, fluffy faux fleece. Sisal rope on the posts are great for your cat's claws.
Key Features:
Promotes exercise
Includes a ball on a string
Assembles in minutes
Cost: $30
This comfortable cat hammock has a washable cotton and linen cover over a natural beech frame. It looks great with any decor and will keep your cat happy as she naps, rests, or simply watches the happenings of the household.
Key Features:
Suspended rack hammock
Natural beech frame
Washable cover
Cost: $60
Trixie Pet Products Miguel Fold and Store Cat Tower
This tower is topped with a hammock that is wrapped in soft push. The removable cushion insert can be machine-washed, and the entire tower can be folded to put it away when desired.
Key Features:
Entire tower folds shut
Ideal for small spaces
Sisal scratching surface
Cost: $40
This soft, comfortable hammock for cats is easy to assemble and sturdy. It can hold cats up to 30 lbs and it includes a plush pillow for your cat's ultimate satisfaction.
Key Features:
Includes a pillow
Holds up to 30 lbs
Designed to support your cat's spine
Window Cat Hammocks
Your kitty will be the king or queen of the room on this comfy window hammock. It is large enough to hold two cats comfortably and can accommodate up to 55 lbs.
Key Features:
Movable suction cups and adjustable height
Metal frame
Machine washable plush mattress
Cost: $35
MoMaek Sunny Seat Window Mounted Cat Bed
Your cat can enjoy the sun in style with this plush window hammock. It attaches easily to a freshly cleaned window thanks to strong suction cups that can hold 50 lbs.
Key Features:
Plastic construction
Installs in seconds
Washable cover
Cost: $30
Noyal Cat Resting Seat Perch Window Hammock
Cool and comfortable will describe your feline friend when you choose this hammock, thanks to breathable fabric. Industrial strength suction cups allow the hammock to hold 30 lbs.
Key Features:
Easy to clean; hand-wash cover
Installs in seconds with no tools
Holds up to 30 lbs
Cost: $16
Oster Sunny Seat Window-Mounted Cat Bed
This space-saving cat hammock will install in seconds, last for years, and provide comfort and security for your small or large cat. It holds up to 50 lbs, making it ideal for multi-cat households.
Key Features:
Strong suction cups hold hammock to window
Machine washable polyester cover
High-grade plastic frame for durability
Cost: $17
Pakeway Cat Window Perch Hammock
If your cat loves to sunbathe (and what cat doesn't?), consider this window perch hammock. The platform is large enough to hold two big cats; it can hold up to 50 lbs.
Key Features:
Large perching space
Strong suction cups
Easy to clean mesh
Cost: $20
If you have multiple cats, consider this heavy-duty window hammock. It can hold an impressive 60 lbs and is over 28″ wide. No tools required and includes an extra suction cup in case one becomes damaged.
Key Features:
Large suction cups
No-tools-required assembly
Accommodates up to 60 lbs
Hanging Cat Hammocks
This hanging cat hammock gives your feline pal a great place to hide. Made of linen for breathable, washable fun. Attaches to ceiling, wall, or any other elevated surface.
Key Features:
Includes hanging ring
Wash the loft and the mat inside
Holds up to 15 lbs
Cost: $62
This handy cat hammock fits under any chair, allowing you to take advantage of space you aren't using anyway. Your cat will love the ability to hide while elevated off of the floor.
Key Features:
Attaches to nearly any chair
Non-slip strap design
Creates hiding place for your cat
Cost: $20
CatastrophiCreations Cat Mod Lounge
Hidden brackets give this attractive cat hammock a floating look. It fits neatly on the wall, allowing your cat to lounge up high and out of the way.
Key Features:
Holds up to 62 lbs
Hidden brackets
Washable fabric
Cost: $65
This hammock offers a faux wool side for cool days and a faux leather side for warmer weather. High-quality details like logo embroidery, layered fabric and uniform stitching will stand up to the test of time.
Key Features:
Accommodates up to 30 lbs
Easy to clean (by hand or washing machine)
Space-saving design
Cost: $10
This warm, comfortable hammock will accommodate a kitty up to 44 lbs. It attaches easily under a chair or in a cage with spring clips to give your cat a soft and relaxing place to lounge, take a catnap, or watch what's going on.
Key Features:
Attaches with spring clips
Can hold up to 44 lbs
Soft pad included
Cost: $10
Strong clips and extra strong straps will support a cat up to 20 lbs. The pattern is an adorable and colorful fish design. The hammock is collapsible to save space.
Key Features:
Suitable for cats and other small animals up to 20 lbs
Unique design
Attaches to a cage or a chair
Cost: $8
This easy-to-wash hammock has a flannel interior to give your cat a soft and cottony place to relax. It is available in two sizes and both can support up to 22 lbs.
Key Features:
Strong clips and straps
Hangs in a cage or under a tree or cat tower
Machine washable
Cost: $11