Despite cats being obligate carnivores, they still like to nibble on a little grass. Experts are divided on why cats do this; it could be to get some trace vitamins and minerals in their diets or it may just be a behavioral instinct leftover from back when cats' diets consisted entirely of live prey. Whatever the reason, growing your own cat grass is a great way of providing your feline friend with some safe, conveniently-located greenery to munch on.
We reviewed dozens of cat grass products to find the best out there. We considered a range of factors, such as seeds versus growing kits, whether you receive a planter, whether the seeds are organic and/or GMO-free, and the opinions of people who've bought and used these products.
Our favorite cat grass product is the Handy Pantry Reclaimed Barnwood Style Planter Wheatgrass Kit. It features a generously-sized reclaimed wood planters, organic wheatgrass seeds, and soil pucks. There's enough of everything for three plantings.
The 5 Top-Rated Cat Grasses
*Ratings are from Amazon at the time of publication and can change
Best Cat Grass Overall: Handy Pantry Reclaimed Barnwood Style Planter Wheatgrass Kit
Cat grass might be beneficial to your cat but it doesn't always look good in your home. With the Handy Pantry Reclaimed Barnwood Style Planter Wheatgrass Kit, however, you get the best of both worlds. Not only does it include everything you need to grow cat grass, it also includes an attractive reclaimed wood planter that's as stylish as it is practical. Now your feline friend's cat grass is a fun design feature, as well as an enjoyable snack.
Whereas some other cat grasses include a mixture of grass species, the included seeds are for hard red wheat only. Wheatgrass is a great form of cat grass, but some buyers may be disappointed by the lack of diversity. You can, of course, mix in other cat grass seeds if you choose but unless you have a reason to require a range of cat grass species, wheatgrass should do just fine. In addition to the seeds and planter, you get three soil pucks. Once rehydrated, each one provides enough soil to fill the planter.
At $33, it's a little pricier than most cat grass, but considering the size and quality of the planter, we think it offers great value for money.
Handy Pantry Reclaimed Barnwood Style Planter Wheatgrass Kit Key Features: 
Included wheatgrass seeds are certified USDA organic
Kit contains enough soil and seeds for three plantings, so you can regrow once your cat eats it all or the blades get too thick
Planter is handmade in the USA
Best Cat Grass with Planter: The Cat Ladies Organic Cat Grass Growing Kit
If you'd prefer to grow cat grass in a more compact planter than the one included in our best choice overall, The Cat Ladies Organic Cat Grass Growing Kit is an excellent alternative choice. The included planter is adorably shaped like a cat head. While it might not be to everyone's decorative tastes, it does make a fitting addition to a cat lover's home. In addition to the planter, you'll receive one soil puck to use as a growing medium and a small pack of organic cat grass seeds.
Unlike the option above, this cat grass contains a range of different grasses, giving your four-legged friend more variety. This organic, non-GMO seed blend includes oats, rye, wheat, flax, and barley. These seeds are guaranteed to germinate and within around 5 to 7 days from planting, you'll have fully grown cat grass on your hands. All this cost just $16 and you can use the planter to grow more cat grass for years to come (though you will need to buy more seeds and soil).
The Cat Ladies Organic Cat Grass Growing Kit Key Features: 
Extremely easy to grow, even if you don't have a green thumb
Provides natural hairball control
Planter has a handle to make it easier to move
Best Budget Cat Grass: Smartykat Sweet Greens Cat Grass Kit
Already have a suitable pot or planter to grow your cat grass in? Smartykat Sweet Greens Cat Grass Kit provides seeds and soil for the surprisingly low price of $3. This is the ideal way to try growing cat grass on a budget without spending out a lot of cash on a larger kit or a large bag of cat grass seeds and soil. If you think you'd get low quality products for such a low price, think again. The seeds you receive are certified organic, though they are simply oat seeds rather than a blend of grasses. The included soil puck expands enough to fill a small potting container, once you add the specified amount of water to rehydrate it.
Sure, this isn't a fancy cat grass growing kit and there are certainly no bells and whistles, but it's a great starter kit for first time cat grass growers and when you discover whether your cat likes it, you can buy larger kits or a bag of seeds.
Smartykat Sweet Greens Cat Grass Kit Key Features: 
Comes with a shallow planter (not deep enough for root formation, so use your own)
Takes just a handful of days to sprout
May be interesting enough to cats to keep them away from other houseplants
Best Cat Grass Seeds: Todd's Seeds Wheatgrass Seeds
Any avid gardener will already have all the potting soil and planters they need. In this case, you generally get the best value by buying cat grass seeds on their own. Todd's Seeds Wheatgrass Seeds are a high quality choice if you don't mind single-varietal cat grass (most cats really aren't fussy about cat grass). Though not certified organic, they are chemical-free, so they'll be perfectly safe for your cat if you stay away from the pesticides while growing.
The large one-pound bag is enough to grow a lot of cat grass, so it should keep you and your feline friend going for a while. Although it's most common to grow cat grass indoors, you could even use these seeds to grow a cat grass patch in your garden, if your cat is allowed to roam outdoors. Each bag costs around $10, which is very reasonable when you consider how much can grass you can grow from it.
Todd's Seeds Wheatgrass Seeds Key Features: 
Seeds are laboratory-tested for germination rates and pathogens
Nearly 100% of all seeds go on to germinate
Consists of hard red wheat seeds, a variety known for its large range of nutrients
Best Cat Grass Kit: Window Garden Pop Up Cat Grass Kit
The Window Garden Pop Up Cat Grass Kit is one of the easiest cat grass growing kits around, so if you've never grown anything from seed before, this is a great place to start. Each kit contains cat grass seed and three pop-up grow bags that are preloaded with soil. All you need to do is add water to the grow bags, sprinkle on some seeds, and leave them to germinate. While you can grow all three at once if you want, it's also easy to stagger the growing buy moving on to the next grow bag when it's time for new cat grass.
The included seeds are organic wheatgrass seeds, which make the ideal cat grass. Though the containers aren't the most attractive out there, you can pop them inside a more decorative pot. These set of three cat grass grow bags costs just $10.
Window Garden Pop Up Cat Grass Kit Key Features: 
Organic seeds limit your cat's exposure to pesticides
Grows to full length within 5 to 10 days if kept moist and near a window
Helps keep cats away from houseplants
Who Should Buy Cat Grass
If you own a cat, we'd highly recommend buying cat grass. All cat owners should try growing cat grass at least once and you're likely to find that your cat gets pleasure from it.
All cats can benefit from cat grass, so it's something that every cat owner should buy. It's even more important for indoor cats when don't have access to grass outdoors, but even free-roaming kitties can enjoy it.
Whether your cat stays inside full-time, lives in a barn, or some combination of inside and out, you'll want to keep him comfortable, so check out The Best Flea Sprays For Cats.
Important Features to Consider
Cat grass should have a few important features. Here's what to consider when selecting cat grass for your feline friend:
Growing kits vs. seeds. You generally need to grow your own cat grass as its short life cycle makes it hard to buy already grown. You can either buy a growing kit (which contains seeds, soil, and sometimes a growing container) or just seeds. Seeds often offer better value, especially if you already have potting soil and pots, but growing kits are easier.
Planter. Some cat grass kits also come with decorative planters, usually made of ceramic or wood. These are different from the plastic trays or grow bags that are included in cheaper kits.
Organic. It's preferable to choose organic cat grass seeds since your cat will be eating the grass. Ideally, look out for certified USDA organic seeds, but some are pesticide-free without certification, since it costs money to get certified.
GMO-free. Cat grass that's GMO-free doesn't contain and genetically modified organisms. While there isn't anything inherently wrong with GMOs, they're often exploited by large corporations (such as Monsanto patenting seeds) so some people prefer to avoid GMOs on ethical grounds.
Plant species. Cat grass isn't one particular plant, it's a generic name given too the young sprouts of a range of plant species, including wheat, oats, and rye. Some cats have a preference for one variety of cat grass over others, but most cats aren't bothered which plant species is used.
Frequently Asked Questions
What is cat grass and what are the benefits for cats?
Cat grass is simply the young shoots of grass-like plants. Cat grass can be a mix of several grass species or may simply be a single species (100% wheatgrass is an extremely common type of cat grass). One of the main benefits is that it's a source of micro-nutrients for cats, and may contain some vitamins and minerals lacking in a carnivorous diet. It's also a good source of insoluble fiber, which can aid in hair ball reduction. An added bonus is that cats just seem to enjoy nibbling on it, so it adds some environmental enrichment.
What kind of grass is good for cats?
If it's labelled as cat grass, it's probably good for your cat, or at least feline-safe. Common types of cat grass include wheatgrass, oat, alfalfa, rye, flax, and barley.
Do indoor cats need cat grass?
Yes, indoor cats have more need for cat grass than cats who have access to the outside world, since indoor cats won't have any other grass available to them and may resort to munching on house plants. Of course, outdoor kitties can still enjoy cat grass in the home.
How often should I water cat grass?
After the initial watering and it starts to sprout, lightly spray your cat grass with a plant mister daily. Don't over-water it as it can lead to mold in the roots, which will kill the plants.
Other Cat Grasses We Reviewed
We looked at 20 other cat grasses. Even though they didn't make our 5 best cat grasses list, they're the best of the rest and each is still a great option for your feline friend. The information you'll need to compare each one is included with the listing.
Cat Grass Kits
Catit Senses 2.0 Cat Grass Kit
A cat grass growing kit including seeds and vermiculite as a growing media. It's designed for use with the Catit Senses 2.0 Planter, but you can grow in a different planter.
Key Features: 
Vermiculite is less messy than soil
Includes three sets of seeds for three plantings
If you use the planter, it can be combined with other Sense 2.0 products
Cost: $10
Handy Pantry Organic Cat Grass Kit
You get great value for money with this three-pack including three planting trays, three soil discs, and three packs of wheatgrass seeds.
Key Features: 
Certified USDA organic
Grows in days
GMO-free
Cost: $13
Peach Tree Farm Easy Cat Grass Kit
This comprehensive growing kit includes three basic card pots, three chalkboard labels and chalk to mark them with, and enough soil and seeds to grow three containers of cat grass.
Key Features: 
Certified organic seeds
Includes clear growing instructions
Biodegradable pots
Cost: $10

Want a simple and affordable cat grass growing kit? This one contains seeds, soil, and a plastic container to grow in; everything you'll need to get started.
Key Features: 
High germination rate
Contains enough seeds for two plantings
Non-GMO seeds
Cost: $7
The Cat Ladies Cat Grass Growing Kit
You'll receive soil, seeds, and three BPA-free plastic growing containers. Enough for a multi-cat household or to keep your feline friend in cat grass for a while.
Key Features: 
Contains a mix of oats, wheat, barley, and flax seeds
Seeds are organic and GMO-free
Extremely easy to grow
Cost: $15
The Cat Ladies Compostable Cat Grass Grow Bag Kit
An easy but eco-friendly options with three single-use compostable grow bags, soil, and seeds. Just add water and let the magic happen!
Key Features: 
Seeds grown and harvested in the USA
GMO-free and organic
Blend of barley, flax, wheat, rye, and oats
Cost: $10
The Cat Ladies Pet Grass Refill Kit
Assuming you already have pots to use, this is an affordable option, providing enough soil and seeds for three plantings.
Key Features: 
100% organic and non-GMO seeds
Helps with hair ball control
Mix for five different grasses
Cost: $12
TotalGreen Holland Cat Grass Grow Kit
The lidded tray included provides an excellent environment for your cat grass seeds to germinate. Soil and seeds are also included, which is all you need to grow cat grass.
Key Features: 
Grows in as little as five days
100% wheatgrass
Non-GMO seeds
Cost: $10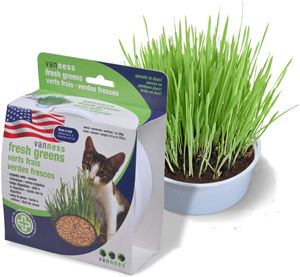 This oat seed cat grass kit makes a nice change from wheatgrass if that isn't your cat's favorite option. It's affordable and easy to grow.
Key Features: 
Kit includes soil, seeds, and pot (though it's too shallow to be of much use)
Organic seeds
Uses seeds grown in the USA
Cat Grass Seeds
Handy Pantry Organic Cat Grass Seed Blend
This 12-ounce pack of cat grass seeds consists of a blend of barley, oats, rye, and wheat, so your cat will have ample variety.
Key Features: 
Certified USDA organic
Grows to near full length in just five days
Comes from a respected brand with a US customer service team
Cost: $9
Perfect Plants Cat Grass Seeds
These cat grass seeds from Perfect Plants are guaranteed to grow, so if they don't sprout, you can get your money back.
Key Features: 
Large one-pound bag
100% wheatgrass
Non-GMO and grown without harmful chemicals
Cost: $10
Rex Products Magic Grow Wheatgrass
You can grow a large amount of wheatgrass for your cat from this one-pound bag. More than enough to grow some for yourself to juice, should you wish.
Key Features: 
Germination rate over 95%
Non-GMO
Resealable bag for freshnCostess
Cost: $10
Rose and Branch Organic Wheat Grass Seeds
Considering they're organic and GMO-free, these wheatgrass seeds offer exceptional value for money. With the 16-ounce bag, you won't run out any time soon.
Key Features: 
Seeds grown in the USA
Guaranteed to germinate
Extremely easy to grow
Cost: $11
The Cat Ladies 100% Organic Cat Grass Seed
This 8-ounce pack of cat grass seed might be a little more expensive, ounce for ounce, than other options, but we love the blend of barley, flax, oats, rye, and wheat.
Key Features: 
Organic and non-GMO
Grows in 5 to 7 days
Also safe for human consumption
Cost: $10
Thunder Acres Premium Wheat Seed
Grown in Kansas, this wholesome wheat seed makes excellent cat grass for your feline friend to enjoy.
Key Features: 
Comes in a large two-pound bag (though smaller and larger options available)
Non-GMO and chemical-free
High germination rate
Cat Grass with Planter
FATPLANTS Complete Organic Wheatgrass Kit
The large wooden planter is big enough for your cat to get stuck into, plus it has a trendy rustic look. You'll also receive soil and eight ounces of wheatgrass seeds.
Key Features: 
Planter measures 18 inches long by 8 inches wide
Includes organic, non-GMO wheatgrass seeds
Made in the USA
Cost: $40
If you're looking for a slightly quirky planter, this one is made from engineered with a vintage-looking cat design around the edges.
Key Features:
Seeds and soil also included
Bland of barley, oats, wheat, and rye
Designed to resist tipping over
Cost: $10
The Cat Ladies Cat Grass Kit with Planter
The ceramic planter than comes with this kit might be slightly kitsch, but it is adorable, plus it does its job well.
Key Features: 
Comes with organic, GMO-free seeds and soil
Uses a mix of five different grasses
Extremely easy to grow
Cost: $17
Window Garden Cat Grass Growing Kit with Kitty Pot
These cute planters feature cats painted on them. You're able to choose from six designs so you can pick the one that looks most like your feline friend.
Key Features: 
Also contains wheatgrass seeds and fiber soil
Bottom drainage hole
Bamboo saucer included
Cost: $19
Window Garden Organic Wheatgrass Growing Kit
Grow wheatgrass for your cat from quality organic seeds. The kit includes soil, seeds, and an attractive acrylic planter that gives you an interesting view of the root system.
Key Features: 
Large 15- by 6-inch planter
Easy to set up and care for
Acrylic planter is BPA-free
Cost: $25