Seeking out enclosed spaces is a natural and instinctive behavior for cats. And just like humans, our feline friends enjoy having their own special place to relax and unwind. Cat condos provide a safe and comfortable environment that your cat can call their own. After all, we all like a little bit of privacy from time to time!
We reviewed dozens of cat condos to identify the best of the best, based on factors including comfort, design, durability, affordability, and Amazon reviews. We then narrowed down our search to 5 of the top-rated cat condos available to buy today.
We've identified the Midwest Curious Cat Cube as our top pick of the cat condos we reviewed. Key features include a cozy private den, comfortable cushioned top, and hide-and-seek cutouts to bring out your cat's playful side.
The 5 Top-Rated Cat Condos
*Ratings are from Amazon at the time of publication and can change
Our Top Pick: Midwest Curious Cat Cube
The Midwest Curious Cat Cube is a popular cat condo with an attractive and functional design. It features a cozy hideaway with a luxurious faux fur lining, cushioned top for elevated lounging, and hide-and-seek cutouts to encourage play. The cat condo also comes complete with a hanging plush toy to provide your kitty with hours of fun and engagement.
The product is sturdy, easy to assemble, and collapses flat when not in use. It also features a stylish and understated design that will compliment any home décor. Overall, this cat condo is an excellent choice for most cat parents. Reviewers say it is well-made, sturdy, and provides the perfect hideaway for cats.
Midwest Curious Cat Cube Key Features: 
Cozy hideaway with faux fur lining
Cushioned bed topper
Hide-and-seek cutouts
Hanging plush toy
Stylish design
Our Runner Up Pick: feandrea Cat Condo
The feandrea Cat Condo offers premium relaxation for cats. It features 2 luxury condos for relaxing and napping, an extra-large viewing perch, and a pair of reinforced scratch posts. The sturdy cat condo is designed to house multiple cats. It's also compact enough to suit the smallest of homes.
Available in 3 neutral colors, this cat condo will make a fantastic addition to any cat parent's home. Reviewers of the product say it's well constructed, easy to assemble, and perfect for smaller cats.
feandrea Cat Condo Key Features: 
Dual condo design
Extra-large viewing perch
2 scratch posts
Available in 3 colors
Best Budget Pick: Easyology Cat Condo
Looking for a high-quality cat condo that won't break the bank? Check out the Easyology Cat Condo. Premium features include an ultra-plush cushion, durable faux suede fabric, and spacious interior. It's also lightweight and portable, yet designed to remain stable.
The cat condo is easy to assemble and features a removable, fully washable cushion cover. Many reviewers say the product is attractive, affordable, and hardwearing.
Easyology Cat Condo Key Features: 
Ultra-plush cushion with washable cover
Durable faux suede fabric
Lightweight and portable
Spacious interior
Best Single-Story Cat Condo: Kitty City Cat House
The Kitty City Cat House provides the perfect resting place for your feline friend. Inside the extra-large interior you'll find a soft polyester pillow that's fully machine washable. On top, there's a fleecy lounging bed for your cat to stretch out and relax.
The single-story cat condo sets up in seconds and can be folded flat for easy storage. It can also be stacked with another condo of the same type to create a multi-story cat house. Reviewers of this condo say it's spacious and sturdy enough to accommodate large cats.
Kitty City Cat House Key Features: 
Extra-large interior
Sturdy construction
Machine washable polyester pillow
Fleecy lounging bed
Suitable for large cats
Best Multi-Story Cat Condo: K&H Pet Products Hanging Cat Condo
The K&H Pet Products Hanging Cat Condo is a convenient multi-story cat condo with an ingenious design. It can be mounted onto virtually any door to to save precious space in your home. The functional condo features 5 connecting layers and 7 peepholes to keep your cat engaged and active. It's also made from tough, waterproof fabric that will withstand daily wear and tear.
The product is available in 2 sizes, and installs in minutes without the need for tools. Reviewers of this multi-story cat condo say it's perfect for cat parents with limited space in their home.
K&H Pet Products Hanging Cat Condo Key Features: 
Space-saving door-mounted design
Features 5 connecting layers and 7 peepholes
Made from tough, waterproof material
Available in 2 sizes
Who Should Buy a Cat Condo
Anyone who shares their home with a feline friend should consider buying a cat condo. Cats are independent creatures, and it's important for them to have a special place where they can relax and unwind. Enclosed spaces also help cats feel safe and secure in their environment.
Aside from providing a hideaway for your kitty, many cat condos include other useful features such as scratch posts (we've covered other cat scratching posts in a separate review), elevated sleeping areas, and multiple levels. These design features encourage your cat's natural instincts and help prevent damage to furniture caused by scratching and climbing.
Important Features to Consider
Cat condos should have a few important features. Here's what to consider when selecting the perfect condo for your feline friend:
Size. Cats can vary in size, and it's important to make sure the condo you select is big enough to provide them with plenty of space. As a general rule, enclosed spaces should be large enough for your cat to stand up, lie down, and turn around comfortably. If you have a kitten, make sure to buy a condo that will be large enough to accommodate them when they are fully grown.
Durability. Many cats like to scratch and chew, so make sure to choose a cat condo that's durable enough to withstand daily wear and tear. You should also select a condo that's sturdy enough to support your pet's weight when climbed on. Cat condos with frames made from metal or plywood are a reliable and long-lasting choice.
Comfort. A good cat condo should keep your cat comfortable. Look for a condo with cushioned sleeping areas and soft surfaces.
Washable cushion covers. A cat condo is one item that's likely to be used daily. For this reason, it's a good idea to choose a condo with removable and washable cushion covers that can be kept clean.
Interactive features. Some cat condos include interactive features that help satisfy a cat's natural instincts. Examples of these include scratch posts, peepholes, and hanging toys. Choosing a cat condo with one or more of these features can be a great way to help keep your cat engaged.
Single-story or multi-story. Single-story cat condos provide a cozy place for your cat to relax and sleep. By comparison, multi-story cat condos often include features such as scratch posts and climbing platforms. When deciding on which style of condo to choose, consider the available space in your home and your cat's activity levels. Multi-story condos are usually best suited to more active cats, but they can also be useful for encouraging indoor cats to exercise more frequently.
Foldability. If you're short on space, consider a foldable cat condo that can be stowed away when not in use. Foldable condos also have the advantage of being lightweight and portable.
Frequently Asked Questions
What is a cat condo?
A cat condo is a piece of furniture designed to provide a cozy space for cats to hide in. Unlike cat trees and cat towers, cat condos are primarily designed for relaxing rather than climbing and playing (we reviewed cat trees in a separate post).
Do cat condos have scratching surfaces for cats?
Yes. Some cat condos have scratching surfaces or posts that satisfy a cat's natural instinct to scratch. However, simple single-story cat condos are usually designed primarily as a hideaway.
How do I get my cat to use a cat condo?
Position the condo in an area your cat usually frequents so they become accustomed to it. It's also a good idea to place a soft blanket inside to make it more inviting. Some cat parents find that scattering treats inside the condo will encourage their cat to explore it.
Can cats share a cat condo?
Some cats are happy to share a cat condo, but others exhibit more territorial behavior. If this is the case, it's a good idea to provide several cat condos in a multi-cat household.
Other Cat Condos We Reviewed
We looked at 20 other cat condos. Even though they didn't make our top 5 best cat condos list, they're the best of the rest and each is still a great option for your pet. The information you'll need to compare each one is included with the listing.
Single-Story Cat Condos
AmazonBasics Collapsible Cat House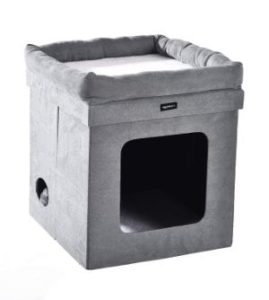 This cube-shaped cat condo from AmazonBasics offers your kitty a fun, relaxing place to lounge, hide, and play.
Key Features: 
Soft suede with cozy sherpa top
Interior hiding space
Cutouts to promote play
Easy to assemble
Folds flat for storage
Cost: $30
AmazonBasics Cat Condo Ottoman
A high-quality cat condo ottoman that provides a soft and comfortable place for your cat to play, nap, and lounge. This product also doubles up as a comfortable and stylish footrest.
Key Features: 
Cat condo and ottoman
Stable and sturdy construction
Cozy plush surface and wooden legs
Easy to assemble
Several colors to choose from
Cost: $35
A lightweight and sturdy cat condo with a soft cushioned top. This condo can be assembled in seconds and folds flat for easy storage.
Key Features: 
Lightweight and stable
Cushioned lining and top
Elegant tweed fabric
Foldable and easy to assemble
Cost: $30
This fun and functional cat condo includes an elevated lounging area, fleecy padded interior, and cutouts to encourage play.
Key Features: 
Comfortable, compact design
Cutouts to promote play
Fleecy padded interior
Elevated lounging area
Cost: $47
A compact and cozy single-story cat condo with a padded interior and comfortable elevated sleeping area. Reviewers of this cat condo say it's durable and well made.
Key Features: 
Simple, understated design
Cushioned sleeping areas
Durable linen fabric
Compact and foldable
Cost: $30
A simple 1-story cat condo made from high-quality carpet material that's designed to withstand scratching and chewing.
Key Features: 
High-quality, durable material
Cozy hideaway design
Neutral color will compliment any home décor
Cost: $27
This luxurious single-story cat condo features a removable and reversible microfiber pillow and plush flocked fabric.
Key Features: 
Cozy enclosed cat cave
Removable and reversible pillow
Microfiber and plush flocked fabric
Available in a variety of colors
Cost: $12
A circular cat condo covered in soft plush fabric with a dangling pom pom toy to keep your cat active and engaged.
Key Features: 
Plush outer fabric and lining
Dangling pom pom toy
Cushioned top
Perfect for rest and play
Multi-Story Cat Condos
This sturdy modular cat condo can be arranged in a variety of combinations to create a playground of tunnels that gives your kitty a place to play, sleep and relax.
Key Features: 
Versatile modular design
Sturdy construction
Easy to assemble
Available in several stylish designs
Cost: $30
CO-Z 4-in-1 Multi-Functional Cat Condo
A versatile 4-in-1 cat condo that includes an elevated sleeping area, playhouse, scratching post, climbing ladder, and more.
Key Features: 
Multi-functional condo keeps your cat engaged
Detachable design for easy washing
Easy to assemble
Extra-tough Oxford fabric
Cost: $35
This luxurious dual cat condo features cozy cat caves, padded lounging areas, a viewing perch, scratch posts, and a removable bowl.
Key Features: 
Ultra-soft plush padding
Elevated viewing perch
Inbuilt scratch posts
Removable bowl
Cost: $70
A stylish modern cat condo with removable wooden legs and soft microfiber seats. Reviewers say this product is attractive and functional.
Key Features: 
Removable wooden legs
Soft microfiber material
Sisal scratching surface
Multi-level resting areas
Cost: $60
A compact and cozy cat condo with a scratch post, ladder, and spring-mounted mouse toy. Reviewers say this cat condo is a good choice for kittens.
Key Features: 
Durable sisal covered scratch post and ladder
Cozy padded hideaway
Spring-mounted mouse toy
Ideal for kittens
Cost: $27
PAWZ Road Luxury Double Cat Condo
This wide and spacious double cat condo from PAWZ Road comes complete with an extra-large top perch, cushioned cubbyholes, a ladder, and a hanging cat toy.
Key Features: 
Stable, reinforced base
Extra-large top perch
Covered with plush felt material
Designed to satisfy a cat's natural instincts
Cost: $65
A 2-story cat condo covered in a soft plush fabric with 3 comfortable places for your cat to rest and play. This cat condo also features a jumbo-sized scratching surface on the rear.
Key Features: 
Easy-clean soft plush fabric
Comfortable top platform
2 spacious covered hideaways
Jumbo-sized scratching surface
Cost: $39
This compact, easy-to-assemble cat condo from Plemo features a plush top lounge with raised edges for prime relaxation.
Key Features: 
Plush top lounge
Padded dual condos
Reinforced sisal posts
Easy to assemble
Cost: $50
This engaging cylindrical cat condo from Tangkula features a hanging plush toy, 3 cozy hideaways, and a scratch-resistant outer layer.
Key Features: 
Unique cylindrical design
3-story condo
Hanging plush toy
Durable and stable
Cost: $40
A stylish and unique multi-story cat condo with padded lounging platforms, sturdy scratch posts, and a comfortable den.
Key Features: 
Stylish and functional
2 levels and 1 large room
Inbuilt scratch poles
Padded lounging platforms
Cost: $55
Trixie Pet Products 2-Story Cat Condo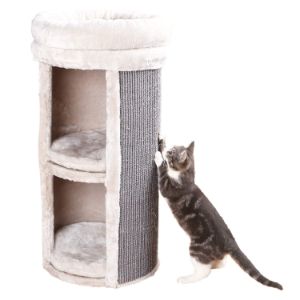 This plush and sisal wrapped 2-story cat condo features a top platform with a removable bed that can be used separately. Reviewers say the product is compact and well designed.
Key Features: 
Removable bed and washable cushion inserts
Comfortable top platform
Wrapped in plush and sisal
Ideal for cats that like to climb, scratch, and relax
Cost: $53
Trixie Pet Products 3-Story Cat Condo
A 3-story plush-lined cat condo with removable cushion inserts on each level. This cat condo also features a durable sisal exterior to encourage your cat's natural scratching instincts.
Key Features: 
3-story condo
Sisal exterior
Removable cushion inserts
Sturdy and well balanced
Cost: $97