All cats have their own individual personalities, complete with likes and dislikes. While some cats like to pounce, stalk, and bat at their toys, others like to chew them. You won't find a huge amount of dedicated cat chew toys, but there are plenty of cat toys that can stand up to a good chewing should the need arise. Plus, if you'd like to encourage your cat to chew more to promote healthy teeth and gums, we've also found some feline chew sticks and dental chews to work those jaws.
We reviewed dozens of cat chew toys to identify the best of the best. We looked at a range of features and properties, including strength, durability, material, how appealing they are to cats, and customer reviews. 
We searched the world of cat chew toys far and wide and, of all the options, the KONG Cat Wubba Mouse was the clear choice for Top Pick. Cats love to chew on both the main body of the Wubba Mouse and the long, trailing parts. It's strong enough to stand up to the most determined chewers.
The 5 Top-Rated Cat Chew Toys
*Ratings are from Amazon at the time of publication and can change
Our Top Pick: KONG Cat Wubba Mouse
Looking for a toy that will entertain your cat for hours? The KONG Cat Wubba Mouse is a prime contender! This toy comes from a respected brand and the difference shows. The people at KONG have clearly thought about how cats play and what will appeal to them, and the result is an excellent all-round cat toy.
Of course, if you're here, you're probably specifically looking for cat chew toys, and the Wubba Mouse fits the bill. It's a rugged toy that can stand up to a lot of chewing. The large body of this toy is perfect for chewing, but some kitties like to chomp on the trailing "tail" parts, too. The design helps fulfill a cat's natural urge to stalk and capture prey. It's perfect for batting about, wrestling with, and kicking against the tail, as well as chewing.
What's more, it contains a rattle, as well as crinkle paper in the tail, which helps keep your cat interested for longer. If that wasn't enough, it's infused with premium North American catnip! Retailing at less than $8, it's a small price to pay to keep your cat happy!
KONG Cat Wubba Mouse Key Features: 
Rattles and crinkles
Soft fleece outer
Infused with catnip
Our Runner Up Pick: Petstages Dental Health Cat Chew Toys
Next on the agenda is our runner up, the Petstages Dental Health Cat Chew Toys, which is actually a set of two toys. Although this set was just pipped to the post by the KONG, it's still a fine choice and is specifically designed for cats who love to chew.
To make these toys satisfying to chew, they're filled with both regular catnip and more fibrous catnip stalks, giving them a pleasing crunch. This combined with the netting on the outside helps promote dental health, by massaging and stimulating gums, and scraping soft tartar from the teeth. Although it looks like the netting could come loose, it's actually extremely durable and won't unravel.
In addition to being great for chewing, they're designed to be fun for your feline friend to bat around or carry. The added knotted streamers appeal to a lot of cats. With a price tag around the $7 mark, you don't have to spend out a lot to keep your kitty in chew toys!
Petstages Dental Health Cat Chew Toys Key Features: 
Filled with catnip and catnip stalks for a satisfying crunch
Durable and well-made
Promotes healthy teeth and gums
Best Budget Pick: SmartyKat Catnip Cat Toys
If you're on a tight budget, or you don't like to spend too much on cat toys because your feline friend quickly loses or gets bored of them quickly, don't worry. We've got you covered! These SmartyKat Catnip Cat Toys cost just $2 for a trio of mice, leaving you with plenty of change to spend on even more cat chew toys!
Although they're designed more for batting around than chewing, there's no reason why your furry friend can't sink her teeth into these mice. Infused with quality catnip, produced without chemicals or pesticides, these toys are extra appealing to animals of the feline persuasion, and there are few things more fun than watching your cat freak out over catnip! The fiber filling is made from 100% recycled plastic, which is a bonus for anyone who prefers to buy eco-friendly items.
Although basic, these toys are surprisingly durable and stand up well to biting and chewing!
SmartyKat Catnip Cat Toys Key Features: 
Made with recycled materials
Catnip-infused
Durably made
Best Cat Chew Sticks: CatTwig Silver Vine Sticks
You might think we'd knocked our heads on something hard if we told you to buy some sticks for your cat to chew on, but these silver vine sticks have an effect similar to catnip on many felines. Enter the CatTwig Silver Vine Sticks. Not only can chewing on these sticks help with dental health, but it can also send cats into a euphoric state, causing them to exhibit behaviors such as licking, rolling, meowing, and chin and cheek rubbing.
These cat chew sticks are completely natural and unprocessed, so you don't have to worry about them containing anything harmful for your feline friend. You get six to a pack and each one measures around 4.5 inches long. The pack itself is resealable, which helps keep them fresh and free from mold.
Much like catnip, not all kitties react to them. Some aren't interested in chewing them and others don't seem to have a euphoric reaction, even if they do chew them. However, it's worth a try to see if your cat is one of the large percentage of felines that go wild for them! Each pack costs around $15, which isn't cheap, but they do last a long time.
CatTwig Silver Vine Sticks Key Features: 
Improves dental health
Provokes a euphoric reaction in cats
100% natural
Best Dental Chews for Cats: Greenies Feline Dental Chew Treats
If you're looking for cat chew toys less because your kitty enjoys chewing and more because you want to improve his dental health, consider picking up some dental chews. It can be tough to encourage a cat to chew toys, but most will happily munch down on a dental chew treat! Our favorite of all the dental chews on the market are Greenies Feline Dental Chew Treats.
While there are always some picky eaters out there, the vast majority love the taste of these dental chews. That said, there are six flavors available, so there's bound to be one your cat likes, even if she's fussy.
The shape and texture of these chew treats is specially designed to scrape tartar off your cat's teeth, keeping them clean and healthy. They might not be as effective as brushing your cat's teeth, but many kitties won't tolerate tooth-brushing, so this is passable alternative. In fact, they work well enough that they're the number one veterinarian-recommended dental chew treat.
These dental chews will set you back somewhere between $5 to $20, depending on the flavor and the package size.
Greenies Feline Dental Chew Treats Key Features: 
Help clean teeth and freshen breath
Six flavor options
Low calorie
Who Should Buy a Cat Chew Toy
Sick of your feline friend chewing on your furniture and leaving little bite marks in anything she can sink her teeth into? If so, you definitely need some cat chew toys! Not only will cat chew toys help your cat direct her chewing onto something more appropriate, it will also provide her with fun and stimulation. If you're looking for more ways to keep your cat engaged and entertained, check out our review of the best interactive cat toys.
Cat chew toys are also great for cats that don't like to have their teeth brushed (so, basically, all cats), as they cat help to remove soft tartar and stimulate gums, to improve overall dental health.
Important Features to Consider
A cat chew toy should have a few important features. Here's what to consider when selecting a chew toy for your cat:
Durability. A cat chew toy has to be tough enough to take a pounding from your kitty's teeth. Look for chew toys made from durable materials with strong stitching or hidden seams.
Design. Your cat won't mind much whether his new chew toy looks utilitarian or so cute you could die, but you might!
Cat-friendly features. Look for features that will encourage your cat to play or keep her interested longer, such as rattles, crinkle paper, or having catnip inside.
Dental health properties. Some cat chew toys are specifically designed to remove as much tartar as possible, which is good news if kitty's teeth need sprucing up.
Other play possibilities. Is your chosen toy only good for chewing, your cat pounce on it, wrestle it, and kick it while he tussles with it? Feline chew toys with other play possibilities are likely to get more use.
Frequently Asked Questions
What are cat chew toys?
As the name suggests, cat chew toys are toys for cats to chew. Some are specifically designed to be chewed on, whereas others have different primary purposes, but can be used for chewing, too.
Do cats like to chew on things (like dogs)?
Cats don't have the same natural urge to chew as dogs do, but all cats are individuals, and there are plenty out there that get their kicks out of chewing!
How do you stop cats from chewing on things?
If your cat is chewing on items he shouldn't be, there are a couple of things you can try to get him to stop. First, try buying him some extremely tempting chew toys to direct his attention to should he get in the chewing mood. If this doesn't work, you can find bad-tasting sprays that you can apply to objects to deter your cat from chewing them.
Do cats need teething toys?
You may find your kitten gets extra bitey when she's going through teething. Teething can be uncomfortable, and chewing and biting helps relieve this discomfort. As such, it's a good idea to buy teething toys for your kitten.
Other Cat Chew Toys We Reviewed
We looked at 21 other chew toys for cats. Even though they didn't make our 5 best cat chew toys list, they're the best of the rest and each is still a great option for your feline friend. The information you'll need to compare each one is included with the listing.
Catnip Chew Toys
Coolfm Catnip Toys Set Simulation Fish Shape Chew Supplies for Cat
This three-pack of fish-shaped toys is perfect for your cat to chew on. What's more, they're laced with catnip to stimulate play and make kitty happy.
Key Features: 
Large size ideal for chewing while wrestling
Non-toxic
Catnip grown pesticide-free
Cost: $8
Similar to our top pick, but with a cute bunny design. Catnip inside the main body of the toy encourages play, while the crinkly tail is great for biting and kicking.
Key Features: 
Durable construction
Rattles and crinkles
Catnip inside
Cost: $8
MAMACHU Interactive Fish Cat Toy
Measuring almost 15 inches, cats love to wrestle with and kick these fish toys while they chew on them. the crinkle paper in the tail adds another layer of fun.
Key Features: 
Brightly colored with non-toxic dye
Contains catnip
Crafted from a durable cotton material
Cost: $9
Tons of Tails Catnip Toy For Cats
Not only is this toy perfect for your cat to bat around and chew on, it's also infused with catnip to keep her coming back!
Key Features: 
Lightweight
Three different fabric textures
Floppy streamers satisfy prey drive
Dental Chews for Cats
GaoX-H Catnip Ball for Cleaning Teeth
The slightly rough texture of these catnip balls will help clean your cat's teeth when he chews on them, as well as producing a euphoric reaction in many cats.
Key Features: 
Made from organic catnip
Fun to play with, as well as to chew
Comes as a two-pack
Cost: $8
Greenies FELINE Dental Cat Treats
This variety pack of Greenies dental chew treats will allow your cat to try three tasty flavors:  chicken, salmon, and tuna.
Key Features: 
Contains six 2.5-oz packages
No artificial flavors or preservatives
Made in the USA
Cost: $17
In Clover Smile Daily Dental Health Soft Chews for Cats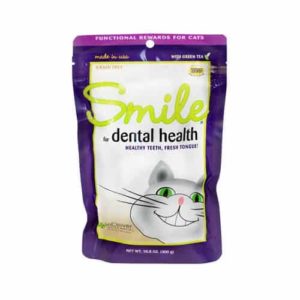 Feed your cat one of these dental chews each day and she'll be on her way to good dental health. They kill bacteria in the mouth, which helps prevent a buildup of plaque.
Key Features: 
Natural ingredients
No artificial colors, flavors, or preservatives
Scientifically formulated to control plaque and freshen breath
Cost: $25
Ying-D Catnip Lollipop Cat Dental Chews
A catnip ball on a catnip stalk stick, this dental chew helps scrape plaque off your cat's teeth and stimulate her gums while giving her all the pleasure that comes from playing with catnip.
Key Features: 
Made from 100% catnip
Organic catnip grown without pesticides
Comes as a pack of four
Cat Chew Sticks
Made Terra Seagrass Chew Sticks
These seagrass chew sticks are great snack treat and teeth grinding chew toys for your cat (and also other small domestic animals such as rabbits, bunnies, mice, and guinea pigs). They are fun to play with and delicious to chew and healthy to digest. The natural smell of seagrass attracts your cat and improves their appetite. Moreover, as seagrass contains low protein and high fiber, it helps to improve your cat's digestive system.
Key Features: 
100% organically made; no added chemicals
Good for your cat's health and prevents them from teeth grinding
Directly brought to your pet from a Vietnamese artisan village
Cost: $4.75 (pack of 10); $6.95 (pack of 20)
Matatabi Silver Vine Cat Chew Sticks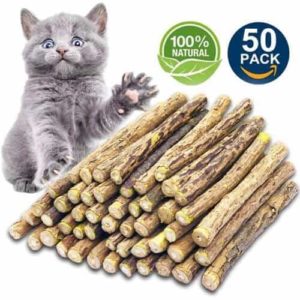 As discussed up the page in our top five, these silver vine sticks produce a similar effect to catnip while helping to clean teeth.
Key Features: 
Large pack of 50 provides exceptional value
100% natural
Comes in resealable pack for freshness
Cost: $11
MR-BABULA Cat Chew Stick Catnip Set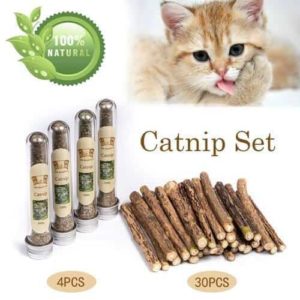 Not only do you get 30 silver vine cat chew sticks, you also get four vials of catnip in this set—everything you need for your cat to get his party on!
Key Features: 
Help eliminate plaque
Stress relieving properties
Can help promote healthy digestion
Cost: $13
NAZVA Pets Supplies Silver Vine Catnip Sticks
These high quality silver vine chew sticks are completely unprocessed and handpicked, so you get only the best specimens.
Key Features: 
Provokes a euphoric reaction in most cats
Organic
Pack contains 16 sticks
Cost: $13
TKOnline Natural Cat Chew Sticks
This large 30-piece pack offers great value for money and will keep your cat going for a long time. Perfect for multi-cat households.
Key Features: 
Each stick approximately 4.7 inches long
Catnip-like effects
Improves dental health
Other Cat Chew Toys
Celendi Rubber Cat Dental Chew Fish Bone
A single rubber chew toy that comes in one of three colors, randomly selected. Measures approximately 5 inches long.
Key Features: 
Made from durable rubber
Helps clean teeth
Lightweight enough to carry around
Cost: $2
Fashion's Talk Cat Toys Variety Pack for Kitty
Not every toy in this 20-piece cat toy selection pack is suitable for chewing, but there are some good feline chew toys in the mix.
Key Features: 
Plenty of toys to keep your cat busy
Helps fulfill the urge to chew
Excellent value
Cost: $13
IQ Treat Ball Chew Toy for Dogs and Cats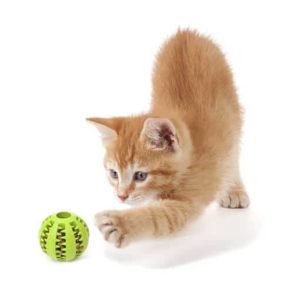 This durable, chewable treat ball is suitable for cats, as well as dogs. Stick treats in the rubber jaws and your cat can chew on it while he attempts to release the treats.
Key Features: 
Made from non-toxic, BPA-free materials
Rubber jaws massage gums, which aids in dental health
Helps occupy your cat when you're not home
Cost: $10
Natural Pet Company Cat Toys Collection
These natural sisal toys are perfect for cats to bat around and chew on, though they may unravel over time, if your cat plays rough.
Key Features: 
Comes in an attractive gift box
Made from natural materials
Eight toys to a pack
Cost: $12
Nylabone Insert-A-Treat "Crinkly Critters™"
Specially designed netting helps clean your cat's teeth and promotes dental health. You can insert treats into the pockets, too.
Key Features: 
Two toys per pack
Encourage reluctant chewers by putting treats inside these toys
Crinkle sound keeps cats interested
Cost: $9
Petstages Dental Kitty Chew Wheel
Cats who love chewing will really enjoy this toy. The spokes on the wheel feel good on the teeth and gums, satisfying avid chewers.
Key Features: 
Satisfying to chew on
Helps exercise jaw muscles
Fabric streams add interest
Cost: $10
Petstages Orca Wiggle Worm Cat Toy
With its textured nubs, this plastic cat chew toy feels satisfying to chomp on and can stage up to your kitty's sharp teeth.
Key Features: 
Measures 4 inches long
Helps keep teeth clean
Highly durable
Cost: $6
SunGrow Rope Ball Chew Toy for Cats
It might be simple, but many cats like chewing on these rope balls, and the texture of the rope massages gums for better dental health.
Key Features: 
Made from 100% cotton
Safe and non-toxic
Machine washable
Cost: $9