While your cat may love to sleep in your bed with you at night, a cat's sleeping schedule does not adhere to your own. That means he'll be sleeping a lot more of the day than you do and as such will need a place to sleep while you're awake and moving. So even if you've never needed a place for him to sleep at night, his cat naps may make a cat bed of his own necessary. Finding one to meet your cat's specific needs is important; he has meticulous tastes after all. Training him to like and use anything is definitely more difficult than just getting something he'll like from the beginning. So you'll want to do your research on what features are best for which cat.
We reviewed dozens of cat beds to identify the best of the best. We looked for the cat beds that will give your cat ample privacy and those that will let him maintain a constant eye on you. We found the cat beds that will have him warm on those cold winter months and those that will make sure he's always at a comfortable temperature, no matter what the weather.
If you're looking exclusively for your outside cat, then check out our 25 Best Outdoor Cat Enclosures.
For the chill cat who likes to swing for his bedtime, though, you'll be interested in our article on the Best Cat Hammocks.
From the beginning of our research, we knew that the Aspen Pet Self Warming Bed had to be the winner of our top pick spot. Its open-top design allows your cat to snuggle in without worrying if it will fit, and the lightweight polyester material will make sure he stays warm without overheating.
The 5 Top-Rated Cat Beds
*Ratings are from Amazon at the time of publication and can change
Our Top Pick: Aspen Pet Self Warming Bed
The Aspen Pet Self Warming Bed has a non-slip design along the bottom to prevent it from slipping on even the smoothest tile surface and that means your cat won't need to use any of its nine lives to catch himself in a fall from this bed. It includes a walled-design that will give him the opportunity to snuggle in, without feeling claustrophobic like he may in a covered bed.
The inner, heat reflective layer of this bed features a special material that will reflect your cat's body temperature back to him to make sure he maintains a comfortable temperature all year long. The plush cushion will make the bed all the more tempting and the fact that it's so lightweight makes it ideal for the bed you take with you wherever you and your cat go.
There are roughly 3,000 customer reviews on Amazon for this cat bed and they've awarded it an overall rating of 4.6 stars. And considering you can get this round cat bed for just under $15, there's more than enough to tempt you to purchase it for your fur baby.
Aspen Pet Self Warming Bed Key Features:
Machine washable
5 size options
3 color and style choices
Our Runner Up Pick: Milliard Thermal Cat Mat
Milliard Thermal Cat Mat
The Milliard Thermal Cat Mat will keep your cat warm without the added worries of an electric mat.
The Milliard Thermal Cat Mat will use your cat's own body heat to reflect back his warmth and make sure he's lying on a cozy, warm bed for as long as he's there. It is double sided with a plush fabric allowing your cat the ability to snuggle in some with a thermal core that allows it to act as a self-heating bed.
Because the mat isn't plugged into anything, you won't have to worry about all those added complications. It can go anywhere you want it to and it won't jack up your electric bill just to keep your cat comfortable. You'll also be able to use it as a furniture protector for a cat who tends to claw as he stretches after waking, plus anything that creates a barrier between your furniture and all that cat hair he sheds is a huge win, too.
Nearly 1,000 people have purchased this cat bed and come back to Amazon to give it an overall 4.6 rating. In fact, of those 1,000 people, 88% percent gave it positive reviews and that certainly suggests you'll be one of the majority of satisfied customers, too.
Milliard Thermal Cat Mat Key Features:
list of key features as bullets
2 sizes available
Machine washable
Best Budget Pick: MidWest Homes for Pets Deluxe Pet Beds
The MidWest Homes for Pets Deluxe Pet Beds may be simple in design, but when it comes to your pet, there aren't many who really need more than this. You can place this in his favorite napping spot and then easily transfer it to the crate for when you're taking him with you on travels or to the vet. And if you've ever had your poor cat slide around, unable to catch his footing in a crate without a pad, then you know how tough those trips can be on your fur baby.
The bed is machine washable so you can just pop it in the washer so you won't need to worry about any messes they make or how much hair they shed while on it. (And for the cat prone to motion sickness, this is another big addition to the benefit category.)
With over 7,500 customer reviews on Amazon and an overall rating of 4.2 stars, there's a lot to sell you on picking up this particular bed. But the real determining factor will definitely be the price. You can get this bed for your cat for under $10!
MidWest Homes for Pets Deluxe Pet Beds Key Features:
1-year manufacturer's warranty
7 sizes available
3 color options
Best Outdoor Cat Bed: The Original Elevated Pet Bed by Coolaroo
The Original Elevated Pet Bed by Coolaroo is a suspended cat bed that is up off the ground, making it a great fit for your outdoor cat. The flexible fabric bed will breathe to keep your cat cool in hot weather and you can always add a blanket to block his body heat from releasing as quickly in cooler weather. That fabric also happens to be flea, tick, and mite resistant, making it all the safer for your cat to spend his days on.
Even if your cat is only sometimes outside, he'll still appreciate the ability to lounge up off the ground while he's out there; because even if the mud is cool, that doesn't mean you want him lying in it when he goes out. The cat will get a bit of fresh air and possibly a better nap while sun bathing in unfiltered light that will keep him warm and relaxed.
There are an impressive number of customer reviews on this cat bed, nearly 14,000! And with that many people behind the overall rating of 4.2 stars, there's every reason for you to be confident it the quality before purchase.
The Original Elevated Pet Bed by Coolaroo Key Features:
3 sizes available
4 color options
Made with a powder coated steel frame
Best Covered Cat Bed: Midwest Curious Cat Cube
Midwest Curious Cat Cube
For a covered cat bed that will let your cat enjoy his alone time away from the craziness in your home, take a good look at the Midwest Curious Cat Cube.
The Midwest Curious Cat Cube is perfect for the cat that likes to sleep under secluded cover sometimes and out in the open other times. If your cat loves to sun bathe but hates people, this covered cat bed will give him the cushion on top that will let him catch some rays for his afternoon nap while everyone's gone and a nice, comfy cave bed for when your house is alive with people.
When this cat bed isn't in use (although there probably won't be many times it isn't), you can fold it flat and possibly the best part of this is that you can take it with you when you travel. And for those of us who normally take our kitty with us, this is a huge help in keeping him comfortable even if he's an anxious traveler. Having his bed anywhere he goes, will surely help ease some of his worries.
This cat bed will give plenty of reason justify your purchase in its listing alone. It has an overall rating of 4.6 stars, given by right around 3,000 customer reviews. And if you're still concerned about the investment, it comes with a one year manufacturer's warranty, so your risk is significantly less.
Midwest Curious Cat Cube Key Features:
3 colors available
Double stacked cube option
15.5″W x 15.5″L x 16.5″H
Who Should Buy a Cat Bed
If you have a cat, then it's probably a good idea to give it a place to sleep. He will still probably end up sleeping with his rear in your face sometimes, but maybe, just maybe, if you get him a nice enough bed, he won't want to wake you up by walking on your head and body. Plus, if he has a space that's all his, he'll not only feel more comfortable like your home is also his, he'll be less likely to bolt when the door opens and you have your arms full of groceries. (Please note we said less likely, not unlikely.) At the very least, if he has a bed he likes, he won't sleep on your clean laundry quite as much, making your overall cat hair content on wardrobe less, too.
If your cat is an outdoor cat (perhaps a barn cat that helps you keep down the mice and rat population), you may think you don't need to give him a bed, but the truth is, even a pile of hay pales in comparison to the comfort his own bed can bring your cat. And don't discount the fact that you want to make sure he keeps coming back to your barn to keep the rodent population down. Besides feeding him (and the rodents in the barn may do some of that), giving him a comfortable bed is probably the best way to achieve him staying.
Important Features to Consider
A bed for a cat should have a few important features. Here's what to consider when selecting a cat bed:
Indoor/outdoor. Just because your cat is an outdoor cat doesn't mean he won't benefit from a cat bed. In fact, even though he's been sleeping on your deck and under your patio furniture to hide, he may still prefer a bed of his own. And you may love that he stops scratching up your patio furniture. Picking a cat bed that can work inside and outside, depending on the weather may save you on the cat that switches from inside to outside freely. Just make sure you're either bringing in the cat bed that's not intended for poor weather, or that you're getting one that can withstand a bit of rain. A true outdoor cat bed will lack the stuffing and extra padding that is typical in the indoor cat bed and instead opt for the elevated and stretched fabric bed.
Heated. If you have an indoor cat that likes it in the basement, where it gets a bit chilly, you may want to invest in a heated cat bed for him. If, however, you have an outdoor cat in the Northern half of the hemisphere then a heated bed is an absolute must; even if he stays in the garage or barn. Your particular cat may be more or less resilient based on the life he's led, but as a general rule, you'll want to make sure they're protected from temperatures below 45 degrees F. That means either bringing them in the house, or giving them a heated cat bed inside of the shelter you've provided.
Fits the location. Once you have an area in mind that you want to place it, getting the right cat bed becomes substantially easier. You won't want to buy the bed without considering the location or you may end up with an unused bed. Because cats are particular about their things, a bed that's not just where she wants it will likely be a waste of money. If she likes napping on a window sill, you may want to consider a narrow bed that fits on the sill, or a placing a bed on top of a cat tree, or scratching post by the window. Maybe just moving a table in front of the window will make it easier on you to plop a cat bed on top. You should take note where your cat is napping to decide what kind of bed you'll need to get. It's always a good idea to place the bed in an area he's already favoring.
Scratching. Your cat is probably going to scratch his bed up a bit while he's getting it comfortable. Even with the scratching posts and toys, cats stretch when they wake up and in doing so, they're going to extend their nails as part of the stretch. If they're doing that in their bed, that equates to scratch marks on the bed. (Better their bed than your couch, though!) So it makes sense to do one of two things for this: One, you can get a high quality bed that won't be destroyed by the scratching. Two, you can get a bed that may get destroyed but won't cost you much when it comes time to replace, should the need arise. Either way, it's a smart idea to plan for the inevitability of cat scratching.
Self warming. A self warming cat bed will let your cat stay outside for longer in the Fall and go out sooner in the Spring because he'll be able to utilize his own body heat to keep himself warm in a bed that reflects his temperature back to him. You can't use this type of bed in the snow, or outside in freezing temperatures, of course, but if the cat enjoys it outside, or in your garage, then the self heating will help him enjoy it for a greater amount of time throughout the year.
Machine washable. You may not be able to win the war on cat hair, but if the thing in your home with the most cat hair on it can be popped into the washer, there's a better chance at winning a couple battles every now and again. Whether it's a cover that comes off or the entire bed that goes into the washing machine, something that's easily cleaned will make the struggle easier and therefore, you more likely to do it regularly. After all, if you're constantly fighting the cat hair but never seeing any victories, how likely are you to keep at it? And beyond cat hair, fur balls and puke are pretty big downsides to cat ownership and if you're lucky enough that he does it on the cat bed and the cat bed is machine washable, you may just feel like you've won the lottery.
Frequently Asked Questions
What is a cat bed and what does it do?
A cat bed is a padded cushion of some kind that will give your cat an excellent place to lounge, relax, and sleep. It can be a variety of different sizes and layers of plush, but the main take away is that they will provide a bit of luxury for your cat to sleep more comfortably. They can be covered with a roof of some kind, and that may be greatly appreciated for the cat who likes to stay hidden. The cover could also be a plush blanket for your cat to slip under and that's ideal for a cat who loves to snuggle. If your cat gets cold frequently, or would still like to be outside in just slightly colder temperatures, a bed that can be plugged in and heat the bed for him may be just the ticket. (We still don't recommend him staying outside all through the winter in most areas, though.) Otherwise, the standard cat bed will be a flat bed that will give him a pillow top of sorts to sleep at ease.
A cat bed shouldn't be confused with a cat condo or a cat tree. Both of which are larger contraptions that will give your cat the area to sleep, but not the comfort. You can combine the two and find a cat bed that fits perfectly atop your cat's condo and give your kitty the best of both worlds.
Does a cat need a bed?
Cats tend to have pretty particular personalities. (AKA, they're picky fur friends.) We dare say, in most homes, cats pretty much sleep where they want with just a few limitations. If they don't ever have a cat bed, they won't miss one, and in that regard, no, they don't need a cat bed. However, a cat bed can certainly up their comfort level and if you're looking for a way to get your cat to form an attachment to you and your home, giving him his own bed can certainly help do that. There's also something to be said for the fact that the cat sleeping in his bed is a cat who is not sleeping on your couch or a basket of your clean laundry that you haven't put away yet. Not only will you save the spread of all his cat hair, but you'll also contain the bacteria on his paws from the liter box a bit better if he's spending a good deal of his time lying on his own bed.
Do your cats sleep on your bed?
Roughly two thirds of cat owners report sleeping with their cats in their own bed. Cats don't keep the same schedule as you do, but because they nap a lot (about two thirds of their lives), at some point during your sleep schedule, they'll probably jump in bed with you for a bit. If your cat is anything like ours, he does it at 5:30 am to remind you to feed him. Whether or not you should let your cat sleep with you is entirely up to you, but you may want to consider the risks a bit. It may be a nice bonding experience for you, but your cat is prone to transmitting diseases because it's paws maintain bacteria from their litter boxes. Additionally, while you may not worry about the cat disrupting your sleep, if you find that you wake up feeling less rested, you may be tossing and turning more with the cat moving around in your bed, preventing you from getting a quality night's sleep without you even knowing it. And while it's up to you if these are deal breakers to spending the night snuggled in with your cute fur baby, keep in mind that it is absolutely not recommended for anyone under the age of 5 to sleep with a cat. The tossing and turning may frustrate the cat to the point of lashing out, or worse, he may smother your child while snuggling them.
Side note: If you've ever wondered why your cat likes to sleep wrapped around your head, it's because that's where a lot of your body heat is released. They're not being affectionate, unfortunately, they just want to steal your warmth.
How do I choose a cat bed?
The first thing you'll have to do to make sure the bed is going to work for your cat is to measure the length of your cat. It may not be exact if your cat isn't keen on the tape measure, but it doesn't really have to be exact; just a ballpark will usually set you up well enough to find the right size for your cat. Then you'll want to find a bed that has the features you want and that will be most pleasing to your cat. For example, if he tends to stick close to the heating vents in the winter, a self warming bed will probably be a good choice. If he's a hiding cat, you'll want to give some thought to a bed that has a cover. If he loves to sleep while sun bathing in the light from a window, a flat bed with short walls (more like a cup style) or a plain, old, padded mat could be right up his alley. Finding a bed that is made of natural materials (or at least those that are nontoxic) is a definite plus so you'll want to make sure you're giving that some thought when you're picking the best bed for your cat.
Other Cat Beds We Reviewed
We looked at 20 other cat beds. Even though they didn't make our 5 best beds for cats list, they're the best of the rest and each is still a great option for your cat. The information you'll need to compare each one is included with the listing.
Covered Cat Beds
Aeromark International Armarkat Cave Shape Pet Cat Bed
This covered cat bed looks so warm and comfortable, we wish they made it in people sizes.
Key Features:
3 color options
Removable pillow
Machine washable
Cost: $20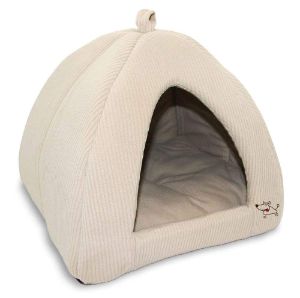 This tent bed will keep your kitty feeling safe and secure in her own little space.
Key Features:
3 sizes available
8 color and style options
Machine washable
Cost: $25
Ethical Pets Sleep Zone Cuddle Cave Pet Bed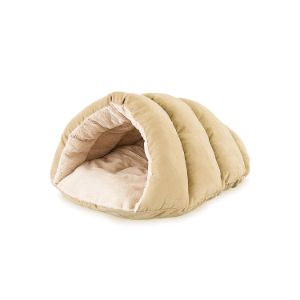 Somewhere between bed and sleeping bag lies this comfortable, cuddly cat cave.
Key Features:
Filling is made with 100% recyclable material
Faux suede exterior, plush interior
Machine washable
Cost: $20
MEOWFIA Premium Felt Cat Bed Cave
This felt cat bed is the perfect little home for your cat to make her own.
Key Features:
Fits cats up to 12 lbs
4 color and style options
Antibacterial merino wool
Cost: $45
Pet Magasin Self Warming Cat Cave Bed with 4-Way Cat Hideaways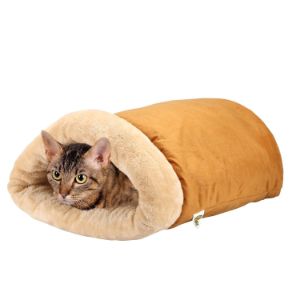 This flexible tube of plush is perfect for making your cat into a kitty burrito.
Key Features:
4 configuration options: cup, flat, cave, and pod
Fleece and foam filling with faux fur lining and microfiber shell
 22″L x 17″W x 17″D inches
Cost: $20
Smiling Paws Pets Unique 2-in-1 Cat Bed
Use this cat bed as a covered one, or let your cat plop on top and have a double layer of padding under him.
Key Features:
Removable Sherpa pillow
Machine wash delicate
100% guaranteed
Cost: $40
Twin Critters – Handcrafted Cat Cave Bed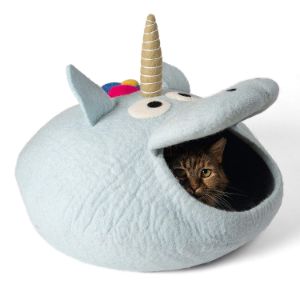 Your cat may not care that this is a unicorn bed, but how cute will you think he is while peeking out of the unicorn's mouth!
Key Features:
Made with 100% New Zealand wool
11 style choices
Flatten for mat, open for cave
Flat Cat Beds
This flat, faux fur bed can button and fold into a sided bed to meet his changing needs – and moods!
Key Features:
Convertible mat to bed
24″W x 20″L mat; 15″D bed
Machine washable
Cost: $30
Best Friends by Sheri Calming Shag Vegan Fur Donut Cuddler
This vegan fur cat bed will work to make your little one cuddle in with comfort.
Key Features:
Machine wash and dry; do not air dry
8 style and size options
2 color options
Cost: $40
Cat Tunnel Bed with Cushion Tube
Your cats can cuddle in on the pillow center or play in the tube encircling it.
Key Features:
Tunnel length 98″
3 color and style options
100% satisfaction guarantee
Cost: $25
This padded cat bed is perfect for the cat who needs that little bit of extra comfort when taking his cat naps.
Key Features:
2 sizes available
Lifetime warranty
Removable, machine washable cover
Cost: $25
MidWest Deluxe Bolster Pet Bed for Dogs & Cats
This cat bed works great to make your cat's normal napping spot more luxurious.
Key Features:
5 color options
8 sizes available
Machine washable
Cost: $10
Pet Craft Supply Co. Round Self Warming Cat & Dog Bed
This cat bed is lavishly padded to make sure your cat is getting the soft and relaxing sleep he needs.
Key Features:
Memory foam cushion
18 L x 18 W x 6 H inches
Machine washable
Cost: $25
Precision Pet SnooZZy Mod Chic
This is a perfect addition to any favorite cat spot to make him feel all the more at home and relaxed.
Key Features:
21″ Diameter
5 color and style choices
Machine wash cold, air dry
Cost: $20
SportPet Designs Foldable Travel Cat Carrier – Front Door Plastic Collapsible Carrier
This is the Moses Basket of cat beds, for when your cat is as precious to you as a baby.
Key Features:
Includes 3 grams of catnip
Removable plush pillow
100% machine washable
Heated Cat Beds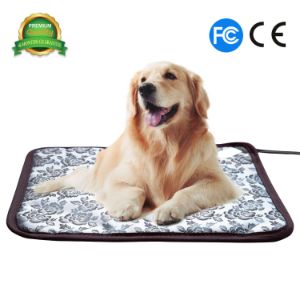 Lying this on a covered porch or in a garage (clear of any flammable materials to be extra safe if you're leaving it unattended) is an excellent way to let your outside cat enjoy his outdoor life well into fall and possibly even winter (weather dependent).
Key Features:
17.7″W x 17.7″L
6-month guarantee
10 minute heat-up time
Cost: $20
K&H Pet Products Thermo-Kitty Heated Pet Bed
This circular heated cat bed is perfect for adding a little extra warmth to a cat's favorite spot next to a drafty window.
Key Features:
2 sizes available
1-year warranty
2 color options
Cost: $30
K&H Pet Products Thermo-Kitty Heated Cat Bed
This thermal cat bed offers all the best of a cat bed in its plush sides with the added bonus of insulation and electric heat added.
Key Features:
2 color options
2 sizes available
1-year warranty
Cost: $45
This flat cat bed will work perfectly for the cat who likes to sprawl out on a flat surface without the hindrances of a bed's sides.
Key Features:
Chew resistant cord
Waterproof, removable cover
2 size options
Cost: $25
This flat, heated cat bed will give your pet the best warmth you can give him by offering you full control on it.
Key Features:
Removable polyester cover
Auto off function
1-year guarantee
Cost: $30