Watching birds is a fun hobby, and one of the best way to see birds up-close-and-personal is to attract them to your yard. In addition to bird feeders, which you can find in our list of the best bird feeders, consider adding a bird bath to your yard or patio. Bird baths come in many different styles to suit any size limitations, budget restrictions, or personal preferences you have, so there's sure to be one that will work for you!
We have reviewed dozens of bird baths to bring you a list of the best ones. We looked at the materials they were made from, how much they cost, and what customers had to say about them.
Our top pick is the Vivohome Double Birds Garden Bird Bath. Made of polyresin, this birdbath is going to be a sturdy addition to any yard. It's also quite attractive: It has two sweet birds perched on the edge, and it has a faux patina that will really add charm to your outdoor living area. It is weather-resistant and you can use the stakes or add gravel to prevent tipping.
The 5 Top-Rated Bird Baths
*Ratings are from Amazon at the time of publication and can change
Best Bird Bath Overall: Vivohome Double Birds Garden Bird Bath
The Vivohome Double Birds Garden Bird Bath made our top spot among the best bird baths. The first thing you'll notice is its charm. While it is made of polyresin, it has the old-fashioned look of aged concrete or metal. The two birds on the edge of the shell-shaped bowl add more whimsy to your yard and will give solo visitors some company.
This bird bath is weather-resistant; don't worry about summertime rains or frost. You might choose to bring it in during the winter if you tend to get heavy snow. It comes with three ground stakes to keep it standing during windy weather, but you can also fill the base with gravel, stones, or sand to weigh it down more.
The Vivohome bird bath is easy to assemble. Simply fill the base with material if you want to, then screw on the bowl, place water in the bowl, and enjoy the birds who come to splash around.
Vivohome Double Birds Garden Bird Bath Key Features:
Polyresin construction
Weather-resistant
Bronze patina
Easy to assemble
Three ground stakes
Hollow base to fill with sand or stones
Best Metal Bird Bath: Monarch Abode Hammered Copper Bird Bath
The best bird bath in the metal category goes to the Monarch Abode Hammered Copper Bird Bath. This is a very attractive, appealing piece that you can hang on your porch or in a tree. It comes ready to hang: Just put the copper bowl into the iron hanging apparatus, hang, and you're good to go. Note that there is also an option to purchase this product with a stand if you'd prefer not to hang it.
The bowl itself is made of hammered copper, which is both weather-resistant and durable. It is 2.5 inches deep–the perfect depth for a bird bath. The diameter is 11 inches. Customer reviews tend to focus on its solid weight and stability. Once you put it in the hanging ring, it won't fall out.
Monarch Abode Hammered Copper Bird Bath Key Features:
11 inches in diameter
2.5 inches deep
Includes hanging apparatus
Made of hammered copper
Weather-resistant
Best Budget Bird Bath: Lixit Quick Lock Bird Bath
The Lixit Quick Lock Bird Bath made our top spot for being the most budget-friendly bird bath. This bath can be installed on a bird cage if you keep feathered pets or outside to give outdoor birds a place to bathe. It is inexpensive, so you can set up a few of these in different trees or areas of your yard to see what you can attract. It is best for small and medium-sized birds.
This bird bath is made of durable plastic. Only one or two birds will fit in it at once, and squirrels should leave it alone. If you have a place to install it right outside your window, that would be ideal–it would give you a great vantage point to enjoy the pleasure of bird watching.
Lixit Quick Bird Bath Key Features:
Small in size for one or two birds
Can be used indoors or outdoors
Installs quickly
Made of plastic
Best Glass Bird Bath: MUMTOP 11-inch Bird Bath
If you are looking for an elegant glass bird bath, you will want to consider our top pick, which is the MUMTOP 11-inch Bird Bath. This product comes in several colors and designs, so you can choose the one that would go best in your garden or yard. You can choose to hang it from a tree branch or porch rail; you can also hang it from the 20″ metal stake and mount it somewhere in your yard.
The bird bath comes already assembled with the hanging mechanism. Because it is glass, you will want to bring it inside if you expect high winds, hail, a heavy snowstorm, or other extreme weather. Users have reported that the bright colors didn't fade under normal outdoor use.
MUMTOP 11-inch Bird Bath Key Features:
Comes in four different designs
Brightly colored
Already assembled
Hang from a tree/porch or from the included metal stake
Fade-resistant
Best Bird Bath Fountain: Hiluckey Solar Bird Bath Fountain
Many bird enthusiasts like to add a fountain to their bird baths. Our top pick among bird bath fountains is the Hiluckey Solar Bird Bath Fountain. The solar panels allow the fountain to absorb solar power while working, so it will run continuously as long as it is being exposed to sunlight. It will also shut off automatically if the water level gets too low, so you don't have to worry about the motor burning out.
There are eight spray patterns to allow you to customize how your fountain sprays. If the solar panels get too dirty or if the water inlet becomes blocked, the fountain will stop working. It works best in full sun. As long as you place it in a sunny spot and you keep it clean and covered with adequate water, the fountain will spray and attract playful birds who need a bath.
Hiluckey Solar Bird Bath Fountain Key Features:
Has a battery backup
Works best in full sun
Should be kept clean and clear of debris
Automatic shutoff
Eight spray patterns
Measures 7.2 inches across
Who Should Buy a Bird Bath
Anyone who would like to enjoy the pleasures of seeing birds in their garden or yard should consider purchasing a bird bath. These come in many different styles, sizes, and materials, so there will probably be one that suits your budget and that will work in your yard, even if it is very small. They can also be placed on porches and patios to attract birds to the area.
Setting up a bird feeder in the same area as your bird bath will help encourage more birds to come to your yard. If you already have one bird bath and you have a large population of birds, you might want to purchase a second one to add more space for playing and bathing.
Important Features to Consider
There are a few features you should keep in mind as you decide what type of bird bath to buy. Here are some of the considerations you will want to think about.
Type of bird bath. Do you have room for a freestanding bird bath, or would you prefer to hang your bath from a branch or overhead porch rail? You might like a mounted bird bath, which will attach to a pole, porch rail, or other structure. Think about what you have the space for and what would look best in your garden.
Size. Again, you will want to consider how much space you have as well as what type of birds you are likely to attract. A very small birdbath might get knocked over if you have larger birds who visit. On the other hand, a large birdbath can be difficult to empty and the water might become stagnant.
Material. Bird baths come in a wide variety of materials, including glass, metal, clay, ceramic, and plastic. Some of these materials (such as plastic and metal) will be more durable than others (such as glass). If you live in an area with frequent extreme weather, you might want to opt for a material that is more sturdy; otherwise, you should take care to bring in your bird bath
Frequently Asked Questions
Are bird baths good for birds?
Yes, birds need a place to bathe and to drink water, and a bird bath can suit both needs. There is one caveat: If the water is not kept clean, it can become a danger. It's important to clean your bird bath regularly to keep it safe for your feathered friends.
What kind of bird baths do birds like?
There are a few ways you can make your bird bath more attractive to local birds. The first is to keep the water to two inches or less, as birds don't typically go in water deeper than that. You might also consider putting it close to the ground. That is where most natural water is, so it's where birds will look for a place to bathe and drink. Adding some gravel to the bottom of the bird bath will give birds something to grip.
Where should you put a bird bath?
If your goal is to watch birds, then you will want to put your bird bath where you can see it from your patio or window. Next, look for a spot where there is cover (such as a tree or a bush) nearby. This will allow birds to fly away and hide if a predator approaches. Finally, think about what type of bird bath you have. A brightly colored plastic bath might be better off in the shade, where it will be shielded from the sun. On the other hand, if you have a solar-powered fountain, you will need to keep it in a sunny spot.
What can I use to clean my bird bath?
It is important to keep your bird bath clean for the safety of the birds. You have to be careful not to use anything that can hurt birds, however. Washing it frequently with a hose on a strong setting will be good for removing most debris. On a weekly basis, you can use a bit of diluted vinegar (one part vinegar to nine parts water) to help disinfect it. Scrub the bird bath and be sure to rinse it well.
Other Bird Baths We Reviewed
We looked at 20 other bird baths. Even though they didn't make our top 5, they're still great options and any of them would make a great choice for your deck, porch, patio, or yard. The information you'll need to choose your favorite is included with each listing.
Standing Bird Baths
Allied Precision Industries Bird Bath
This is a heated bird bath with an included metal stand. Keep your feathery friends hydrated even on the chilliest days and enjoy birdwatching all year long.
Key Features:
Includes a thermostat
Comes with a metal stand
Easy-to-grip rim for birds to perch
Cost: $75
Best Choice Products Garden Pedestal Bird Bath
This is a bird bath made of resin and finished in a vintage coating to add charm to your yard. It is weather-resistant and has a hollow base to allow you to fill it with gravel or sand for better stability.
Key Features:
Hollow base
Resin construction
Antique finish
Cost: $25
Burley Clay Hummingbird Bird Bath
Constructed of clay, this beautiful green bird bath features a hand-painted hummingbird design. The bowl locks onto the pedestal for stability and ease of assembly.
Key Features:
Locking bird bath
Made of clay
Beautiful design
Cost: $130
Panacea Vintage Metal Bird Bath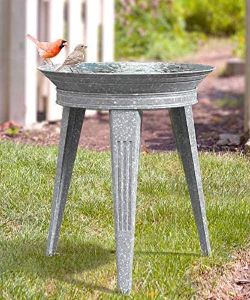 If you enjoy a rustic look, this metal bird bath will look great in your yard. Galvanized metal stands up to the elements, and the rolled rim will give birds a handy place to perch.
Key Features:
Large top basin
Made of galvanized metal
Rolled rim for perching
Cost: $55
This vintage-inspired resin bird bath will look beautiful and also provide a sturdy, comfortable place for birds to bathe and drink. It's both lightweight and strong.
Key Features:
Sturdy base
Vintage inspired
Hollow post that can be filled with sand or gravel
Cost: $30
VIVOSUN 2-in-1 Outdoor Garden Bird Bath
Made of weather-proof polypropylene, this bird bath is sturdy and lightweight (only 2.5 kg). It has an open base for flowers, rocks, or anything else you want to put in it.
Key Features:
Choose from green or orange
Tough plastic construction
Lightweight and sturdy
Cost: $35
World Source East Harbor Gardens Bird Bath
This is a ceramic bird bath with a blue glaze. It is durable and meant to last for years. While it is frost-proof to -4 degrees Fahrenheit, it should not be left in freezing weather for long periods of time.
Key Features:
Made of ceramic
Measures 17 x 17 x 24 inches
Extremely durable
Hanging Bird Baths
Bits and Pieces Hanging Flower Petal Birdbath
This tempered glass bird bath hangs from triple chains. You can use a stake or a hook to suspend it from any rail or branch. The colors are aqua, white, and green.
Key Features:
Measures 8″ in diameter
Chain is 15″ long
Made of tempered glass
Cost: $17
Kimdio Bird Feeder and Bird Bath
This metal bird bath (which can also be used as a bird feeder) features three adorable birds perched along its edge. These can attract real birds and also helps to keep the bird bath stable.
Key Features:
Made of antiqued metal
Easy to hang
Measures 9.65″ in diameter
Cost: $20
Add a nice pop of color to your garden or porch with the Liffy Hanging Bird Bath. It comes in several different colors to complement your existing outdoor decor. It's made of painted glass and has a rust-resistant metal chain.
Key Features:
Available in four colors
Metal chain is rust-resistant
Measures 10″ in diameter
Cost: $20
This unique iron bird bath is designed to reduce the chances of it tipping over, which makes it quite stable. Hang it in a tree and fill it with water for a bird bath or, if you prefer, seeds to use it as a bird feeder.
Key Features:
Made of antiqued iron
Designed to prevent tipping
Can be used as a bird feeder
Mounted Bird Baths
Allied Precision Industries Mounted Heated Bird Bath
Mount this heated bird bath on your porch railing and watch your backyard friends bathe and drink all year long. You can turn off the heat and store the power cord during the warmer months.
Key Features:
120-volt heater
Built-in thermostat
"Tilt to clean" mounting bracket
Cost: $65
Deck Mounted Bird Feeder and Bird Bath
Most bird baths can be used as bird feeders (and vice versa). Get the best of both worlds with this double-bowl feeder/bath. Fill the clear side with water and place seeds in the mesh side for hours of entertainment.
Key Features:
Feeder is made of steel mesh
Bath is made of clear plastic
Mounts to deck
Cost: $40
Esschert Design Cast Iron Birdbath
This cast iron birdbath is designed to mount to a pole or to the side of a porch or patio. It features a hook that can hold a birdfeeder, which allows you to more fully enjoy the birds in your neighborhood.
Key Features:
Constructed of cast iron
Features two birds perched on the edge
Includes a hook for a separate bird feeder
Cost: $22
Gray Bunny Deck Mounted Songbird Spa
You can mount this bird bath on your deck or porch rail with no tools: Just clamp and tighten by hand. The bowl is made of plastic and the clamp is cast iron, so this should last a long time.
Key Features:
Fits rails up to two inches thick
Cast iron and polypropylene construction
No tools needed for installation
Cost: $20
The plastic bowl of this bird bath snaps out of the steel mounting clamp to allow for quick and easy cleaning. No tools are required for installation.
Key Features:
Polypropylene and steel construction
No tools needed to install
Bowl detaches for easy cleaning
Bird Bath Fountains
IDEALHOUSE Solar Fountain for Bird Bath
This solar-powered fountain doesn't use any electricity or battery, making it budget-friendly as well as ecologically sound. Four sprayer types so you can vary the appearance and strength of the stream.
Key Features:
Completely solar powered
Four spray patterns
10,000 hour service life
Cost: $10
Nova 3-Tier Pedestal Bird Bath Fountain
This is a resin bird bath fountain that is both rust- and fade-resistant. It circulates water with its own pump and emits a trickling sound for relaxation and enjoyment.
Key Features:
Three-tier design
Internal pump
Sturdy and durable
Cost: $35
This solar fountain works when the sun is shining and shuts off automatically once the sun sets or it gets very cloudy. It comes with four different nozzles for a variety of spray patterns.
Key Features:
Works only in the sun
Shuts off automatically
Four different nozzles
Cost: $20
This pump for this fountain floats on the top of your birdbath to create four different spray patterns. It doesn't require a battery or electricity and will shut off automatically at night.
Key Features:
Four different water heights
Eco-friendly
Works in direct sunlight
Cost: $10