Aquarium owners know that finding the right sand can be difficult. There are tons of different types of sand on the market, and differentiating between them can be tough. Not any sand will do, it comes in different colors and can be made of different types of materials and sizes, some of which aren't the best for your aquarium.
It can be difficult to find the best aquarium sand, so we reviewed dozens of them to find the best, highest quality, and most beneficial aquarium sand based on their prices, color, and Amazon ratings. We narrowed our search down to 5 of the top-rated aquarium sand that will make your aquarium stand out.
The Carib Sea Arag-Alive Fiji Pink Sand is an affordable Fiji sand that's safe to use and is actually beneficial to the life of your aquarium. It's made of an aragonite substrate that is attractive and functional, providing millions of beneficial marine bacteria that enhance the filtration capabilities of your system.
The 5 Top-Rated Aquarium Sands
*Ratings are from Amazon at the time of publication and can change
Our Top Pick: Carib Sea Arag-Alive Fiji Pink Sand
The Carib Sea Arag-Alive Fiji Pink Sand is an exotic-appearing type of aquarium sand that will really make your aquarium pop. Developed with the help of zoologists and public aquariums, you can rest assured that you're only getting quality substrate when you purchase this product.
Without adding harmful chemicals, the sand maintains the proper pH balance for optimal life, allowing it to combat unpleasant algae growths. In fact, this sand contains millions of beneficial marine bacteria that are designed to optimize waste reduction in aquariums. So, it's not only an appealing type of sand, but it's highly functional, making it a must-have for anyone serious about their aquariums.
The Arag-Alive sand begins to cycle almost immediately upon putting it into your aquarium, combatting "new tank syndrome." Labs have proven that the Arag-Alive sand cycles much faster than competitors, so it really is a necessity. It's affordable and comes in convenient sizes and multi-packs too.
Carib Sea Arag-Alive Fiji Pink Sand Key Features:
Made out of aragonite substrate
Comes in different styles and sizes
Contains beneficial marine bacteria
Enhances the filtration system
Our Runner Up Pick: Carib Sea Aragonite Reef Sand
If you're looking for a versatile type of aquarium sand, the Carib Sea Aragonite Reef Sand is what you want. It comes in natural colors that pop all while supporting a balanced, healthy pH to keep your fishy friends happy. The aragonite reef sand is coarser than some types of sand but suits most filtration systems. If you have another type of sand and are just suffering from imbalanced pH levels, adding this sand as an accent can help with that.
There are crushed coral and shells mixed in with the sand which serves as excellent additions to aquariums filled with fish and invertebrates that love to burrow. They will use these as building materials and thank you for them!
Aside from that, this sand is suitable for marine aquariums, as well as hard water and freshwater aquariums. Again, if imbalanced pH is your problem, this sand is your best friend.
Carib Sea Aragonite Reef Sand Key Features:
Combats built-up detritus
Supports a stable pH
Can be used in all types of aquariums
Free of impurities
Best Budget Pick: GloFish Aquarium Gravel
The GloFish Aquarium Gravel is excellent aquarium gravel for those on a budget. It comes in seven different colors and designs, ensuring that there's an aesthetic for every type of aquarium out there. With that said, where this aquarium gravel really shines is its ability to glow.
Under blue lighting, you'll notice that the sand will become fluorescent. If you're looking to set up a glow tank, or maybe you just want a pop of color in the dark, this gravel is a great accent. It goes well with any sands you already have purchased for your aquarium and is completely safe for your fishy friends. In fact, many users report that the sand helps their fish stand out even more.
GloFish Aquarium Gravel Key Features:
Comes in a variety of colors and designs
Glows under blue lighting
Large gravel pieces serve as an accent to smaller granules of sand
Very affordable
Best White Aquarium Sand: Nature's Ocean Bio-Activ Aragonite Sand
White sand lends itself to a clean, healthy aquarium. Nature's Ocean Bio-Activ Aragonite Sand is a fine particle sand that provides a ton of benefits to any aquarium. It's made so that it removes nitrogenous waste from the aquarium, including ammonia and nitrates, which can be very harmful to your plants and your fish.
It's made with aragonite substrate, as is a lot of the best sand because it is so beneficial to the life of the aquarium. This sand guarantees instant cycling so that you don't have to wait long at all while reducing chemicals without adding anything unnatural into the water. And if you're worried about the pH of your water, this sand can help to regulate it.
Nature's Ocean Bio-Activ Aragonite Sand Key Features:
Removes nitrates and ammonia
Instant cycling
Supports a proper pH
Fine particles
Best Black Aquarium Sand: Imagitarium Black Aquarium Sand
For those looking for black aquarium sand, the Imagitarium Black Aquarium Sand is your best bet. It's an affordable option that includes 20 pounds of sand (or you can opt for a 5-pound bag.) The black sand helps to simulate a natural ocean environment right in your fish tank, which is something your fish will love. It's a bold look that looks brilliant when used alongside iridescent materials and bright colors.
With this sand, you'll be promoting the growth of healthy bacteria in your aquarium all while breaking down waste from your fish. It also works to eliminate unhealthy debris that naturally occurs in the water. It's suitable for both fresh and saltwater fish, so you don't have to worry about that either.
Imagitarium Black Aquarium Sand Key Features:
Simulates a natural ocean environment
Supports the growth of healthy bacteria
Breaks down harmful waste and chemicals
Reduces unhealthy debris
Who Should Buy Aquarium Sand
If you have an aquarium, odds are you'll want to fill it with aquarium sand, especially if you'll have fish and invertebrates living in it. Aquarium sand provides a more natural environment, reducing the stress your fish may feel, ensuring they stay comfortable. In addition to that, some fish and other animals prefer to burrow in substrate, so keep that in mind when purchasing an aquarium.
Aquarium sand has plenty of other benefits. The most critical function of aquarium sand is that it provides natural, biological filtration. It helps to eradicate waste produced by fish and plants by allowing beneficial bacteria to grow. Without sand or gravel, the bacteria won't be able to grow.
Lastly, aquarium sand keeps your habitat looking fresh. There are plenty of sands designed with specific patterns and colors, allowing you to get the perfect aesthetic for your aquarium. If you're looking for a specific looking, using aquarium sand can help you attain that goal.
Important Features to Consider
Aquarium sand should have a few important features. Here's what to consider when selecting aquarium sand.
Color and design. When selecting aquarium sand for your tank, make sure you know beforehand what color and design you're going for with your overall look. You can get aquarium sand in just about any color, so be creative. But aside from just color, also consider whether you want your tank to glow, as there is a specific type of sand you can purchase that does so under blue light.
Size of the particles. Are you looking for really fine granules of sand, or a larger piece of gravel? The various sizes generally do the same thing, but depending on the purpose, you may want a specific size or mixture of both. For example, some fish prefer to burrow in fine sand and are unable to do so in thicker gravel. Many aquarium owners layer their sand with gravel, so that's an option too.
Material. There are various types of sand available for aquariums, some are more beneficial than others. You'll want to pick a type of sand that provides the benefits you're looking for. After all, it's for more than just aesthetics.
Filtration and pH Balance. This goes along with the previous feature. Certain types of sand and gravel promote beneficial bacteria, which help to filter out harmful debris and waste. You'll ideally choose a type of sand that does this, namely aragonite substrate. Another factor to consider is whether the sand you choose balances the pH, another crucial element. Choosing this type of sand will make cleaning your fish tank much easier.
Frequently Asked Questions
What is aquarium sand?
Aquarium sand, or substrate, refers to the material used at the bottom of a fish tank. It's generally a type of sand or gravel that provides plenty of benefits to any aquarium. It contributes to the aesthetics of the aquarium while also affecting filtration, the chemical balance of the water. It's also useful for simulating a more natural ocean environment, something fish benefit from.
Is sand good for a freshwater aquarium?
Yes, sand is good for both salt water and freshwater aquariums. In fact, the majority of aquarium sands can be used in both. Make sure to read product details before purchasing, just to be sure. With that said, the recommended sands on this page are all safe for freshwater aquariums.
Is gravel or sand better for an aquarium?
This isn't a case of which is better, rather when to use each. Gravel is usually recommended for freshwater aquariums as it allows water to flow through it, eliminating amoebas and bacteria. Sand, on the other hand, is better suited for aquariums filled with fish that prefer to burrow.
What is the best substrate for a planted aquarium?
This also depends on the types of plants you have in your aquarium. There are two types of plants: those that get their nutrients from the substrate (root feeders), and those that get nutrients from the water (water column feeders). If you have water column feeders, you won't need a substrate that's packed full of nutrients. Gravel or coarse sand is ideal for water column feeders, whereas complete substrates that contain nutrients are necessary for root feeders.
Other Aquarium Sands We Reviewed
We looked at 20 other aquarium sands. Even though they didn't make our five best aquarium sands list, they're the best of the best and each is still a great option for your fish. The information you'll need to compare each one is included with the listing.
White Sand
A white sand that is safe and non-toxic. It's one hundred percent natural and comes in small granules.
Key Features:
Safe and non-toxic
One hundred percent natural
Small grains
Cost: $10.02
African Chichlid Substrates Bio-Activ Sand
This white sand contains live bacteria to stabilize your tank and maintain a balanced pH.
Key Features:
Contains live bacteria to support your aquarium
Prevents bio-fueling
Completely natural
Cost: $24.32
Carib Sea Super Natural Moonlight Sand
A pH neutral white sand that contains no dyes or paints, providing a natural and safe environment.
Key Features:
pH neutral
No dyes or paints
5-pound bag
Cost: $10.29
Imagitarium White Aquarium Sand
A large, 20-pound bag of white sand that simulates the natural ocean environment.
Key Features:
20-pound bag
Reduces unhealthy debris
Restores a natural pH
Cost: $17.99
Marina Betta Aquarium White Gravel
A small bag of white gravel that is ideal for mixing with other types of sands and gravel. It's made to not disturb the water chemistry.
Key Features:
Won't disturb water chemistry
Ideal for aquariums with betta fish
240 g of white gravel
Cost: $7.20
This sand is heat sterilized and derived from the ocean floor, giving it marine elements that will benefit aquatic life.
Key Features:
Heat sterilized
Straight from the ocean floor
Provides marine trace elements
Cost: $23.16
Nature's Ocean Marine White Sand
A large bag of white sand that effectively reduces nitrates from your water, an unhealthy compound that could harm your fish.
Key Features:
Solid white sand
Increases carbonate hardness
Reduces nitrates
Cost: $15.99
Reptile Sciences Sand for Aquarium
Silica and phosphate free white sand that's all natural. It's ideal for reptiles but suitable for aquariums as well.
Key Features:
Digestible calcium carbonate
All natural grains
Silica and phosphate-free
Cost: $8.90
Royal Ram Natural White Marble Sand
Made with naturally crushed marble, this white sand is medium grain and isn't coated with any chemicals.
Key Features:
Natural crushed marble sand
Medium grains
Not coated with any chemicals
Cost: $20.99
Stoney River White Aquatic Sand
Off-white aquarium sand that is completely neutral, not affecting the pH of the water. It has a non-toxic coating and is an off-white color.
Key Features:
Completely neutral, not affecting pH
Non-toxic coating
Off-white
Cost: $14.17
Black Sand
CaribSea Aquatics Eco-Complete Sand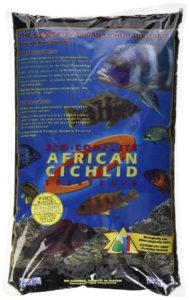 A biologically complete substrate packed with minerals for aquatic life, including plants and fish.
Key Features:
Full of minerals
Maintains a high pH
Keeps your fish healthy
Cost: $30.68
CaribSea Arag Alive Substrate Black
Containing millions of beneficial bacteria, this black aquarium sand is ideal for most freshwater aquariums.
Key Features:
Contains millions of beneficial bacteria
Ideal for freshwater aquariums
Enhances filtration
Cost: $16.19
Este Marine Sand Black for Aquariums
This safe and non-toxic black aquarium sand was made for marine and freshwater tanks. It's quite affordable too.
Key Features:
Safe and non-toxic
Made for freshwater tanks
Anchors down plants
Cost: $13.99
Flourite Black Natural Substrate
If you're looking for black sand for your planted aquariums, look no further. This bag of gravel is solid black and made with porous clay gravel.
Key Features:
Stable porous clay gravel
Best for planted aquariums
Solid black
Cost: $22.48
Pisces 11 lb Diamond Black Gravel
This bag of diamond black gravel naturally shines underwater, making an underwater environment eye-catching. The grains are medium sized and reduce the build-up of algae naturally.
Key Features:
Shines underwater
Medium-sized grains
Reduces build-up of algae
Cost: $24.63
Spectrastone Special Black Aquarium Gravel
A pH balanced black sand that is non-toxic. It's suitable for both salt water and freshwater aquariums and is quite affordable to boot.
Key Features:
Non-toxic coating
Won't destabilize pH
Ideal for freshwater aquariums
Cost: $9.37
Glow-in-the-Dark Sand
Alan Stone Glow-in-the-Dark Sand
Glow-in-the-dark sky blue gravel that can be used in your aquarium or even placed outdoors.
Key Features:
Non-toxic and completely safe for aquatic life
Sky blue color
Gravel and rocks that are about 3 mm each
Cost: $20.99
CFKJ Glow-in-the-Dark Aquarium Decoration
A multi-colored pack of glow-in-the-dark stones to be used in your aquarium.
Key Features:
Comes in a variety of colors, 1000 pieces
Made of polystyrene material
Large stone pieces
Cost: $13.99
230 pieces of glowing garden pebbles in every bag. Premium, eco-friendly stones that are safe for aquatic life.
Key Features:
Non-toxic and completely safe for aquatic life
Sky blue color
Gravel and rocks that are about 3 mm each
Cost: $13.99
SHJNHAN Glow-in-the-Dark Luminous Sand
Small bags of luminous sand that's very fluorescent, making your aquarium glow.
Key Features:
Small bags of sand
Fluorescent particles
Small granules
Cost: $0.29