Your aquarium is your fish's entire world, so you need to create a healthy environment for them. Aquarium and fish tank filters help clean and purify tank water, removing fish waste, old food, decaying organic matter, and potentially harmful chemicals, such as ammonia. As such, an aquarium filter is a must-have for any fish tank, even a small one. It's one important factor in providing a suitable home for your fish or other aquatic critters. Of course, you still need to clean and heat your fish tank, but you shouldn't overlook filtration.
We reviewed dozens of aquarium filters to identify the best of the best. To reach our conclusions, we examined a range of factors including filtration type, flow rate, media, noise levels, and average customer reviews.
After considering a huge number of choices, it was clear the Fluval FX4High Performance Aquarium Canister Filter should be our top pick. It turns over 700 gallons of water an hour and holds a whopping gallon of media; mechanical, chemical, and biological.
The 5 Top-Rated Aquarium & Fish Tank Filters
*Ratings are from Amazon at the time of publication and can change
Our Top Pick: Fluval FX4High Performance Aquarium Canister Filter
Need a powerful filter for a large aquarium? The Fluval FX4High Performance Aquarium Canister Filter should be high up on your list! It has an effective five-stage filtration system, providing all three types of filtration: mechanical (removing particles from the water), biological (utilizing colonies of nitrifying bacteria that turn ammonia into nitrites), and chemical (using media that removes chemical impurities from water).
This filter can pump 700 gallons of water through its system each hour and is suitable for tanks of up to 250 gallons. Like all canister filters, it sits outside the tank, making it easy to maintain the unit and change the filter media. The convenient outlet pipe and smart pump make it extremely easy to carry out water changes, siphoning water off via the filter, rather than manually bailing it out.
The large, stackable media baskets can hold as much as a gallon of filtration media. All media is included, but you can choose to use your own, if you prefer. This is an excellent filter overall, but at $280, it doesn't come cheap.
Fluval FX4High Performance Aquarium Canister Filter Key Features: 
Microchip in the Smart Pump monitors and improves performance
Self-starting mechanism
Compact design to fit under aquarium
Our Runner Up Pick: MarineLand Emperor Filter System
Not everyone needs an aquarium filter as powerful as our top pick, or has the budget for it. The MarineLand Emperor Filter System is a much more affordable choice, with a price tag of roughly $65. The quality might not quite live up to the standards of our number one choice, but it provides simple and effective filtration for tanks of up to 80 gallons.
The included MarineLand Rite-Size E Filter Cartridges provide both chemical and mechanical filtration, but you can use your own choice of media, if preferred, or add extra media to fit your needs. This filter also comes with a "Bio-Wheel" that provides biological filtration. This will last the life of your filter and never needs to be changed.
MarineLand Emperor Filter System Key Features: 
Flow rate of 400 gallons per hour
Bio-Wheel helps keep tank free from ammonia
Replacement filter cartridges are widely available
Best Budget Pick: Marina Power Filter
If you're searching for a simple option for a compact fish tank, the Marina Power Filter is an excellent choice. It comes in three sizes, for up to 10, 15, and 20 gallons, ranging in price between $14 and $18. Four filter cartridges are included: two Bio-Carb and two Bio-Clear, however,  it is possible to customize this filter by adding your own choice of media.
The slimline design makes the Marina Power Filter easy to fit even in small spaces where you don't have much room around your tank. The downside is that it doesn't provide as much space for media as bulkier alternatives. The flow rate of this filter is adjustable, which is great for fish who don't like too much movement in their water.
Marina Power Filter Key Features: 
A great choice for small aquariums, such as betta tanks
No priming required
Quiet operation
Best Under-Gravel Aquarium Filter: Lee's 40/55 Premium Undergravel Filter
Under-gravel filters aren't the most common aquarium filters, but their simple operation makes them a great choice for fish-keepers who prefer minimal upkeep. Lee's 40/55 Premium Undergravel Filter is our favorite under-gravel option on the market right now. As the name suggests, it sits under the gravel at the bottom of your tank, where it can build a colony of bacteria that goes largely undisturbed. There's no need to change media or service moving parts, but it is much easier to install in a bare tank than add to an existing aquarium setup.
This model measures 12 inches by 48 inches, so it's designed for use in fairly large tanks. The under-gravel plates are made from extremely durable material, which resists cracking and should last for years to come. Retailing at less than $30, this is a fairly inexpensive choice, especially for a large tank. Though, if your fish produce a large amount of waste, you may find you need to use it in conjunction with another type of filter, such as a power filter or canister filter.
Lee's 40/55 Premium Undergravel Filter Key Features: 
Suitable for marine and freshwater use
Filters water naturally
Comes with free carbon filter
Best Canister Aquarium Filter: Polar Aurora 4-Stage External Canister Filter
Looking for a powerful canister filter without an astronomical price tag. At $85, the Polar Aurora 4-Stage External Canister Filter isn't exactly inexpensive, but it's reasonably priced compared to other filters with its capacity, and it arguably does just as good a job. That's why it's our favorite canister filter (after our overall top pick). It comes with four internal trays, to which you can add your own choice of mechanical, chemical, and biological filter media. Plus, it has a 9-watt UV sterilizer that helps kill algae spores and bad bacteria for cleaner, healthier water.
It's overall flow rate is 525 gallons per hour and it's suited to tanks of up to 200 gallons. The self-priming pump makes this filter extremely easy to set up and use, with no manual siphoning necessary to get it going.
Polar Aurora 4-Stage External Canister Filter Key Features: 
Super quiet operation
Easy to customize the media you use
Two spray bars included
Who Should Buy a Fish Tank or Aquarium Filter
Anyone who keeps fish (or other aquatic critters, such as shrimp or water snails) should buy an aquarium filter. It's imperative that you use some kind of filter in your fish tank to keep the water clean. Otherwise fish waste and other dirt and debris will build up, ammonia levels will rise, and your fish will get sick and likely die.
An aquarium filter isn't an optional extra in your fish-keeping arsenal, it's an essential.
Important Features to Consider
An aquarium filter should have a few important features. Here's what to consider when selecting a filter for your aquarium:
Filter type. You'll find a range of filter types available. Power filters are perhaps the most common option as they're fairly inexpensive and generally let you customize the media you use, but they can be loud and require a fair amount of maintenance. Canister filters are an effective choice for large aquariums providing superior filtration to any other type of filter, but they are large and expensive. Sponge filters are cheap and easy to use, providing mechanical and biological filtration. However, they can look bulky in the tank and you need to use them with an air pump. Under-gravel filters are great at building a colony of beneficial bacteria but you may find you need additional mechanical and chemical filtration, especially in a large tank.
Media. Filtration media are the various substances used to filter water in your tank. Many types of filter come with media cartridges included, which may provide mechanical, biological, or chemical filtration, or a combination of the three. However, the majority of aquarium filters also let you add your own media.
Flow rate. The flow rate is measured in gallons per hour and is the amount of water that the unit can filter in an hour. It's important that you choose an aquarium filter with an appropriate flow rate for the size of your tank. More on that later.
Noise levels. Unfortunately, some aquarium filters can be quite noisy. This isn't a problem if your fish live in a room that you don't frequent too often, but it can become irritating if your fish tank is in your bedroom or main living room. That said, some modern filters are designed to be extremely quiet, if not silent. Look for models that advertise their low volume as a selling point.
Frequently Asked Questions
What is an aquarium filter and how does it work?
As the name suggests, an aquarium filter is a device that removes dirt and potentially-harmful chemicals from the water in your fish tank, as well as oxygenating it so your fish can "breathe." Different types of aquarium filters work slightly differently, but they generally feature a tube that sucks dirty water in from the aquarium and pushes it through the media inside. The media traps dirt and removes impurities from the water, leaving it clean and fresh. This clean water is then returned to the aquarium via another tube or a waterfall-style system.
What size aquarium filter do I need?
It's important you choose the right size of filter for your aquarium. The larger your aquarium the larger the flow rate you'll need from your filter. Most aquarium filters list what size aquarium they're suitable for, but generally the hourly flow rate should be three to four times the total volume of your aquarium. So, if you have a 40-gallon tank, your filter needs a flow rate of between 120 and 160 gallons.
Do I need an air pump if I have a filter?
Most aquarium filters oxygenate the water, so there's no need to have an air pump, too. The exception is sponge filters that require an air pump to work.
Can a fish survive without a filter?
In theory, hardy fish can survive without a filter, but they won't have a good quality of life and their lifespan is likely to be shortened. Fish more sensitive to water conditions might not survive at all. Plus, it will mean a huge amount of extra work for you, since you'll need to perform water changes every few days just to keep the tank relatively clean.
Other Aquarium & Fish Tank Filters We Reviewed
We looked at 20 other aquarium filters. Even though they didn't make our 5 best aquarium filters list, they're the best of the rest and each is still a great option for your fish tank. The information you'll need to compare each one is included with the listing.
Power Filters
A solid power filter that comes in five different size/flow rate options to suit tanks from 5 to 110 gallons.
Key Features: 
Includes biological, chemical, and mechanical media
Patented refiltration system
Lots of space for additional media
Cost: $20 to $80
Aqueon Quietflow Internal Power Filter
This is different from your average "hang on back" power aquarium filter, in as much as it's fully submersible and sits inside the tank.
Key Features: 
10, 15, 20, and 40 gallon options
Three-stage filtration
Adjustable return flow
Cost: $15 to $30
With five stages of filtration, this filter provides great mechanical, biological, and chemical filtration.
Key Features: 
Available in three sizes
Indicator light shows when polyfoam needs cleaning
Refiltration system lets you reduce the return flow without making the filter less effective
Cost: $40 to $55
Penn Plax Cascade Hang-on Aquarium Filter
The quad filtration system mechanical, chemical, and biological filtration while providing maximum oxygenation.
Key Features: 
Six size options for tanks up to 100 gallons
Adjustable flow rate
Self-leveling case
Cost: $15 to $30
Another internal power filter with whisper-quiet operation and sturdy construction.
Key Features: 
Five size options
Bio-bag filter cartridges
Easy setup
Cost: $10 to $20
An inexpensive aquarium filter suitable for tanks of between 20 and 50 gallons.
Key Features: 
Adjustable inlet pipe
Quiet operation
Plenty of room for media of your choice
Canister Filters
AquaTop CF Series Canister Filter
A durable canister filter that comes in three sizes for tanks between 20 and 175 gallons.
Key Features: 
UV sterilizer
Four-stage filtration
Three large compartments to add your own media
Cost: $85 to $120
Aqueon QuietFlow Canister Filter
This powerful canister filter includes four types of media for mechanical, chemical, and biological filtration.
Key Features: 
Runs almost silently
Suitable for aquariums up to 155 gallons
Easy to access to maintain or change media
Cost: $170
Fluval Advanced Filtration System
This innovative canister system is far more high-tech than most on the market. The LCD screen lets you check water temperature, flow rate, and conductivity.
Key Features: 
Two size options (one for 40 80 gallon tanks and one for 80 to 160 gallon tanks)
Self-priming
Quick-release filter cartridge system
Cost: $250 to $380
Jebao 4-Stage Aquarium Canister Filter
If you're looking for a basic canister filter on the lower end of the price spectrum, this one is worth your consideration.
Key Features:
Suitable for tanks between 60 and 100 gallons
Large media capacity
Buy with media included or add your own
Cost: $60 to $70
MarineLand Magnum Polishing Internal Canister Filter
Unlike other canister filters, this one sits inside the tank. While it does take up room, the submerged motor means there's no need for priming.
Key Features: 
Suitable for aquariums up to 97 gallons
Dual chamber media container
Comes with carbon filter media included
Cost: $45
Polar Aurora 3 Stage 100 Gallon Aquarium Fish Tank Canister Filter
A smaller version of our top canister filter, this model can filter tanks of up to 100 gallons in total.
Key Features: 
Plenty of room for included media or to add your own
9-watt UV sterilizer
Height-adjustable inlet tube
Cost: $75
Sunsun HW-704B 525 GPH 5-Stage External Canister Filter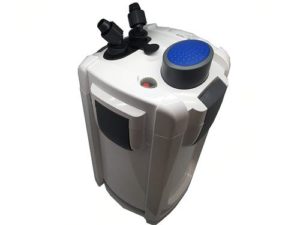 With its five-stage filtration system, this canister filter does an excellent job of keeping water clean.
Key Features: 
Suited to tanks up to 150 gallons
Built-in UV sterilizer
Provides biological, mechanical, and chemical filtration
Sponge Filters
Hook this sponge filter up to an air pump for biological and mechanical filtration.
Key Features: 
Suitable for small tanks up to 10 gallons
Comes with all the accessories you need for setup
Produces bubbles for oxygenation
Cost: $10
Bacto-Surge High Density Foam Filter
Another sponge filter designed for use with an existing air pump.
Key Features: 
Available alone or in a two-pack
Provides mechanical and biological filtration
Great for small tanks, breeding environments, or slow-moving fish
Cost: $10 to $20
Huijukon Double Super Biochemical Sponge Filter
This durable double sponge filter just needs to be connected to an airline to run.
Key Features: 
Suitable for tanks up to 35 gallons
Comes with suction cup to attach in inside tank
Seven-layer ribbed sponges
Under-Gravel Filters
Aquarium Equip Under Gravel Filter
A 7.8 by 5.5 inch under gravel filter suitable for compact tanks.
Key Features: 
Provides biological and some mechanical filtration
Requires an air pump
Sturdy design
Cost: $7
Imagitarium Undergravel Filter
This compact under-gravel unit comes with two filter cartridges which provide additional filtration, on top of the biological filtration the plate provides.
Key Features:
For tanks up to 10 gallons
Suit saltwater or freshwater tanks
Low maintenance
Cost: $20
Lee's 70/90 Premium Undrgravel Filter
A slightly bigger version of our top under-gravel choice, measuring 48 by 18 inches.
Key Features: 
Large plate size
Extremely durable
Powerful enough for large tanks
Cost: $50
With four filter plates and large lift tubes, this under-gravel filter is a solid, affordable choice.
Key Features: 
Suitable for the majority of 40 and 50 gallon aquariums
Comes with carbon filter cartridges
Easy to set up
Cost: $15